If you have taken the wise decision to develop your business and increase profitability by accepting credit cards using iZettle's ingeniously simple card reader for your smartphone or iPad, you might also want to think about combining this great mobile technology with a functional, but super-stylish, Bouncepad tablet enclosure.
Bouncepad: what is it?
If you are not familiar with the name, Bouncepad is a customisable enclosure for your iPad or tablet that has as many variations as you can think of: floor-standing, wall-mounted, flexible bases, flip-style, free-standing, tilted, fixed, etc. The only limitation is your imagination.
The original Bouncepads were created for the Applounge in Soho, which is a new retail experience bringing together style, design, and technology in the trendiest of urban environments, so you can browse the latest apps while sipping a cocktail or two.
Bouncepads are compatible with all makes of tables, including iPads, Android and Windows tablets.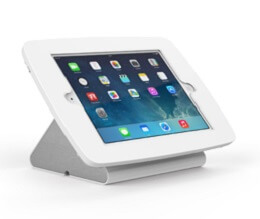 The cabling is hidden, creating an elegant design and you can opt for either a landscape or a portrait mounting. But there are a myriad other features that you can choose to customise your Bouncepad ranging from tilting and branding it to the use of sound, to name just a few.
Bouncepads are already being used in all kinds or retail and business sectors from small boutiques to more large scale retail operations and settings, as well as events and exhibitions.
High design quality
The ethos of Bouncepad products is all about design perfection and quality, and the range of product solutions is surprisingly comprehensive.
Browsing the Bouncepad website is easy as the product categories are clear and sensible: desktop, wall, floor, rail and extras. So it doesn't matter whether you are using your iZettle to sell handmade bags or for larger retail operations, there is a stylish solution for you.
Prices range from £235 for a desk Bouncepad to £445 for a full floor-standing tilting version.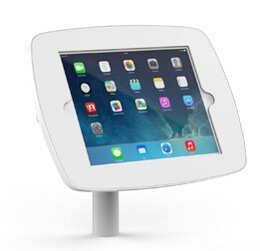 Customer service
If you just need one Bouncepad or are planning a major installation, you can contact Bouncepad's customer service or alternatively you can specify your requirements using the Build my Bouncepad tool online, which is an app that puts together your Bouncepad by going through your requirements step by step. Smaller orders should take 1-2 weeks to deliver.
The company also offers a dedicated Bouncepad Business Service for larger scale custom projects, where customers can benefit from the company's experience in customising and installing Bouncepads in business environments on a major scale.