The iZettle Pro Contactless card reader has been discontinued. Zettle by PayPal now offers a newer model, called Zettle Reader, to new customers.
After disrupting the European mPOS market with its free card reader Lite, mobile payment processor iZettle is at it again. Whereas the simplified Lite card reader, introduced in February 2015, was a calculated step back with its audio jack cable and no display of its own, the newly launched Pro Contactless reader is a bold step into the future.
The defining feature of the iZettle Pro Contactless is, perhaps somewhat unsurprisingly, its ability to accept contactless payments. This is a much anticipated feature already overdue with rival PayPal Here's upcoming NFC reader, as well as Payleven's NFC-enabled reader (promised for late 2014) still nowhere in sight.
Contactless payments are gaining momentum fast. Embraced by both consumers and merchants, payment cards with this feature offer a quick and convenient way to pay for small purchases by just tapping the card on the reader instead of inserting it and entering a PIN number. With the number of contactless transactions more than tripling in the UK last year, merchants should take notice.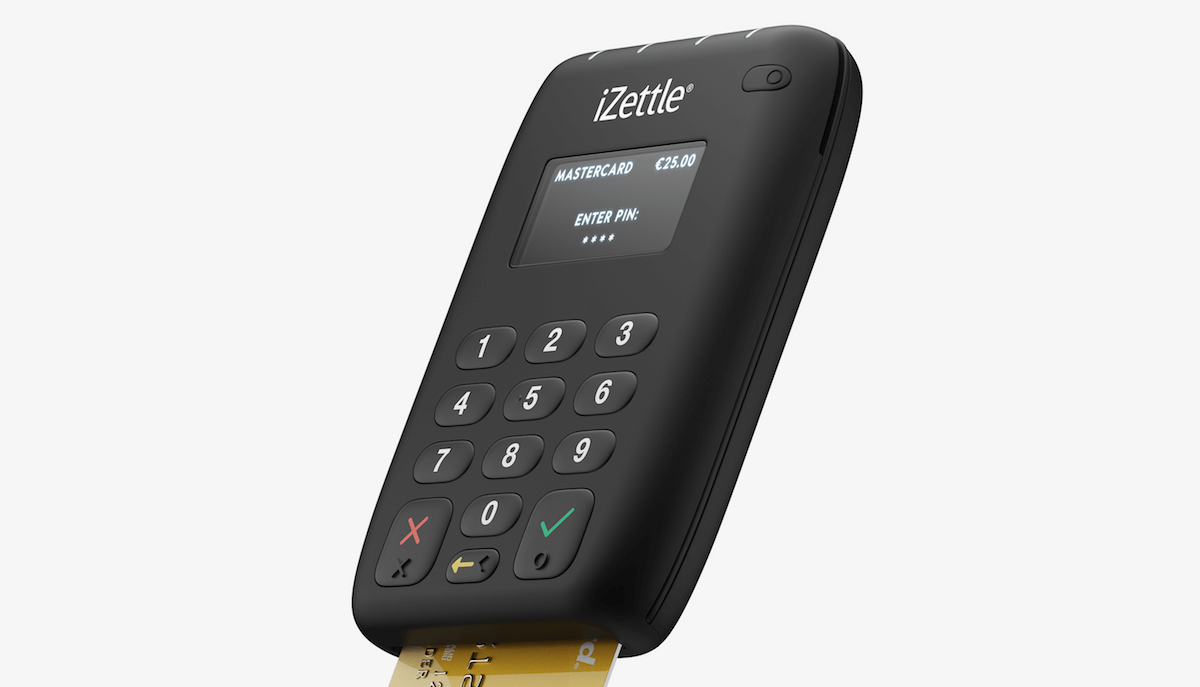 On the other hand, contactless cards also have the ubiquitous chip and may be inserted into the reader just as well – in fact, that is currently required for purchases over £20
Chip, contactless, magstripe

PIN authorisation

USB charging

Wireless

Fast processing
So merely giving customers the possibility to tap a card instead of inserting it may not be enough of a gimmick to warrant upgrading existing POS systems.
The real story of contactless payments, then, may not be so much about Visa payWave and Mastercard PayPass, but rather about emerging mobile payment systems such as Apple Pay. And here, iZettle's timing is more than perfect.
Support for Apple Pay
Launched in the UK in July 2015, Apple Pay is an NFC-based payment system that gives consumers the option to pay using their iPhone or even Apple Watch. To support growth, some UK retailers are planning to entirely waive the cumbersome £20 limit (which will soon rise to £30 anyway) for Apple Pay users.
Separately, Google and Samsung are rushing to introduce similar payment systems of their own. While iZettle's device will initially support just Apple Pay, we see no reason why it would not support other NFC-enabled mobile payment options as well.
Previously, contactless payments of any kind could only be accepted when the Pro Contactless reader was paired with an iOS device. With iZettle app 3.0 published in October 2015, support for Android has now been added.
[fusion_testimonials design="classic" backgroundcolor="" textcolor="" random="" class="" id=""][fusion_testimonial name="" avatar="none" image="" image_border_radius="" company="" link="" target="_self"]"Initially, contactless payments can only be accepted when the Pro Contactless reader is paired with an iOS device."[/fusion_testimonial][/fusion_testimonials]
In addition to contactless payments and chip cards, the new payment terminal can also be used for swiping old-fashioned magstripe cards. As a last resort, iZettle even supports entering card details manually, however terms and conditions prohibit using it for remote transactions such as telesales.
When it comes to card selection, Pro Contactless accepts more cards than iZettle's Lite model, with JCB and Diners Club added to the already broad array of Visa, Visa Electron, V Pay, Mastercard, Maestro and American Express.
Battery good for 100 transactions
Like other mPOS readers, iZettle Pro Contactless needs a compatible phone or tablet to connect to for processing payments. It uses Bluetooth to achieve this, giving it a wireless range of approximately ten metres. A slight drawback of this method is that Bluetooth drains battery faster than using cable. The Pro model can handle approximately 100 transactions with one charge, whereas the cable-wielding Lite model can process twice that amount. Charging the Pro reader is simple with a standard USB cable, and takes around 1.5 hours.
The Pro Contactless OLED display is a step up from the old iZettle Pro reader with a viewing area of 3.5 cm x 2 cm with 128 x 64 pixels. It provides crisp text with a wide reading angle and easy reading in low light. It is light at 118 grams, and the look and feel give an overall more upgraded impression compared to the old iZettle Pro reader.
All told, with one of the first mPOS solutions in the UK to support NFC and contactless payments, iZettle gives small merchants the ability to be on the forefront accepting new payment methods without great investments or infrastructure. At £59 + VAT, the new reader is slightly more expensive than non-contactless models offered by competitors, but for most merchants, being able to accept emerging payment methods should justify the price.