Payleven and SumUp have merged under the name of SumUp in 2016, so information in this article is no longer updated and likely to be outdated.
The Payleven Chip and PIN card reader has been established as one of the successful entrants in the mobile point-of-sale sector in the UK. With a clear pricing structure and easy sign-up, it is also possible to buy the mobile Payleven printer too upon signing up.
While you can also send receipts electronically via email using your Payleven mPOS system, it is a good idea to have a receipt printer because you are then free to give receipts wherever you happen to make a sale – be that outside, at a fair or market or if you provide a service at somebody's home.

Bixolon SPP-R200II – a 2-inch Payleven printer
Bixolon is an ambitious global printing solutions provider headquartered near Seoul in South Korea. In just over a decade, the company has built up a strong, global brand, developed innovative new products and received several business and industry accolades.
The Bixolon SPP-R200II is packed full of features despite its mere 2-inch size, and is a versatile and high-performance mobile printer that connects with the Payleven Chip and PIN reader using Bluetooth. Pairing the mobile receipt printer to your mobile card reader is easy and takes just a minute following four simple steps for both iOS and Android devices.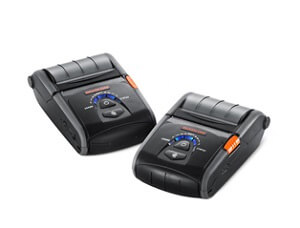 The printer is a thermal printer, which means the image is produced when the thermal paper passes over the special printhead, and as it does so, a selected area is heated, turning the paper black – this way producing the image.
The receipt printer is compatible with both iOS and Android smartphones and tablets. It is delightfully fast, printing at up to 90 mm per second with a print width of up to 48 mm.
Long battery life
The Bixolon is robust too, and damage-resistant to drops of 1.2 m. Furthermore, it is dust and water resistant (with a protective case). Obviously for a mobile device, the battery life is an important factor, and the Bixolon SPP-R200II comes with a rechargeable lithium-ion battery that has a battery life of 6 hours if used continuously, and a standby time of 14 hours. The battery and battery charger are included in the standard package, as is a belt strap and paper.
The mobile printer weighs just 293 grams with the paper roll and battery. Loading the paper is easy too, since the printer features the simple drop-in paper loading mechanism, which is as easy as dropping in the paper to start printing.
Payleven warranty
If you decide to buy the mobile receipt printer from Payleven in a bundle together with the chip and PIN reader, the printer comes with a warranty of two and half years from the date of purchase. The battery has a warranty of six months.
The cost of the chip and PIN reader and the portable printer is £269 excluding VAT.