As a fast-growing payment company with the small business in mind, SumUp regularly adds to their product range and offers. So what are the special deals on card readers at the moment?
Let us start with SumUp Air. This is a sophisticated card reader, utilising the latest Bluetooth technology to connect with a smartphone or tablet running a payment app. The card reader accepts chip and PIN, contactless cards, Apple Pay and Google Pay.
Read the full review of the SumUp Air card reader
A £0 voucher is currently applied to the Air so it sells for £16 excl. VAT through this link instead of the regular price of £29. The offer will be applied at checkout.
You can also buy SumUp Air as a bundle with a charging cradle for £39 + VAT.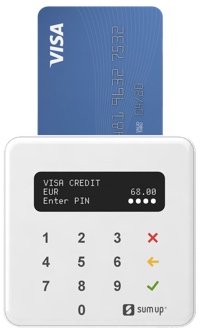 If you don't want to use your mobile device with a card reader, the SumUp 3G terminal works without a mobile app or connected phone.
The inbuilt SIM card (free of charge) connects to the internet anywhere with a 3G connection to complete each transaction. It also accepts contactless and chip and PIN payments.
SumUp 3G costs £94 + VAT through our special link.

A £40 discount applies to the SumUp 3G and Printer bundle, which can be bought for £94 + VAT instead of the regular price £149 + VAT.
Read our full review of the SumUp 3G card reader here
In contrast to most competitors, SumUp has developed their terminals and payment app in-house, instead of using card reader models from a third-party provider.