Update: Amazon Register was discontinued in February 2016, so this review is no longer updated and the information will be out of date. For current card readers in the US, read about Square and the alternatives.
Amazon's POS card reader with a reliable swipe surface and low rates.
Amazon Local Register enters the growing field of mobile card readers that can be used with an app on a smartphone or tablet. This wireless card reader can be used anywhere in the US and offers some of the lowest fees in the industry. While not EMV-ready, the card reader might be worth trying out, especially if Amazon can smooth out some of the initial shortcomings.
Highs: Amazon brand. Low rates. Larger swipe fast for easier processing.
Lows: Software can be cumbersome. Sign-up process can be lengthy. Not EMV-ready.
Buy if: Looking for a reasonable way to take card payments from anywhere.
New card readers, like the Amazon Local Register, are changing the way small businesses look at card sales. There are no more sliding fee scales dependent on which card a customer chooses to use, and no more complicated contracts that take days to pay. Having been less than a year in the market, Amazon has set its mark on the space by mid-2015.
Low flat fee, no hidden fees
Amazon Local Register is designed with simplification in mind. There is one set low rate of 2.5% for swiped cards and 2.75% for manually entered information (manually keyed transactions cost a premium because there is a higher rate of fraud and identity theft when the cardholder is not present). Foreign credit cards are not charged a premium. And tight-margin businesses will like that there are no fees for refunds or chargebacks.
Compared to PayPal Here and Square, Amazon Local Register offers competitive rates. PayPal Here and Square charge 2.75% on swiped transactions from Visa, Mastercard, Discover and American Express. Manually entered transactions are charged 3.5% plus a 15 cents fee for each transaction. These are the fees for US cards. PayPal Here charges an additional 1% fee on foreign credit cards.
There are no hidden fees and no administrative, transfer or chargeback fees. The lack of fixed fees makes this card reader a great choice for small businesses or even individuals who want to accept credit cards at youth ball games, yard sales or other business ventures.
The upfront cost of the reader is only $10. Amazon offers a promotional credit of $10 for the first transactions to cover the cost of the reader, making it essentially free.
Compatible Android and Apple devices
While iPhone users from iPhone 4 and up will be catered for as long as they run iOS 7.0+/8.0+, the selection of Android phones has been limited to Galaxy.
At present, Amazon Local Register is compatible with:
iPad Mini, Air and 2, 3 and 4 versions
iPhone 4, 4s, 5, 5s, 5c, 6, and 6 Plus versions
Android Samsung Galaxy S3, S4 and S5 versions
Fire HD and HDX tablets
Mobile devices that have been jailbroken or rooted are not compatible.
Payouts and reserves
Amazon offers next-day processing which means you'll receive funds in your account as early as the next business day. A US bank account and separate Amazon account are required. Transfer options include a daily or weekly transfer, along with the ability to move money manually.
Swiped transactions and the first $1,000 of manual transactions will generally transfer the next business day. Manually keyed funds of over $1,000 may be held in reserve for up to 7 days.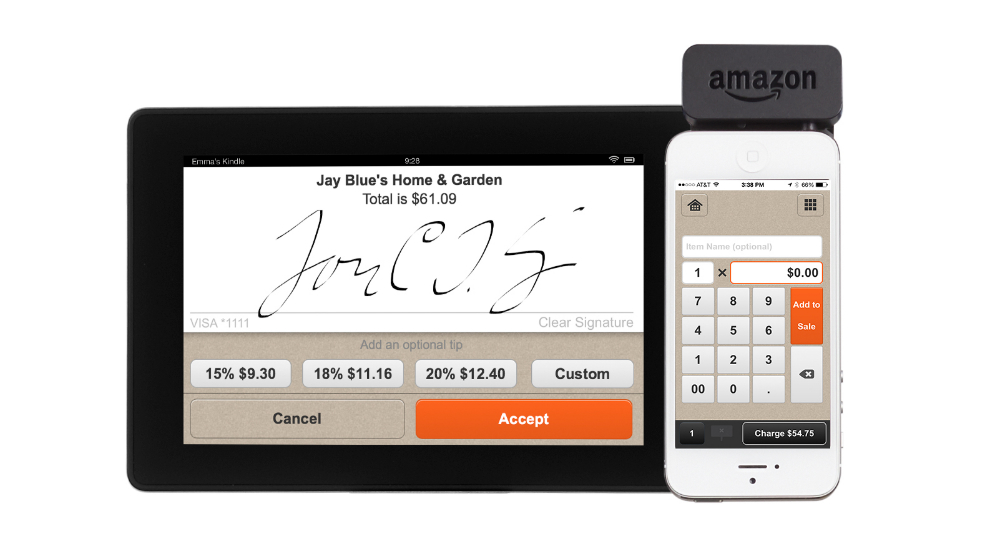 All major credit cards including Mastercard, Visa, American Express and Discover are accepted with the Amazon Local Register, and it will work in all 50 states. Debit cards can also be accepted for the same transaction fee and will be run as a credit. The reader will not work in international locations or U.S. territories, and HSA cards will not work.
Customer service is offered through a call center or by email.
Bottom line
Customers love the low rates, brand and size of the card reader. The rates are some of the lowest in the industry and will save small businesses money almost immediately. The size of the reader makes it easy to use. The larger surface allows the reader to capture the card information in one swipe, where the Square reader often takes two or three attempts to get a reading.
The downside is that customers feel the app software is cumbersome and slow. They also complain that sign-up often requires phone calls to customer support and faxing information to the company. Another reoccurring complaint amongst customers is the holding of manually keyed transactions.
With no contracts to keep customers, Amazon will have to rely on more than low rates if they want to build a loyal customer base. Increased compatibility and a smoother sign-up process need to be addressed if they want to become a serious contender in the card reader space.