Google's first take on mobile payment did not pan out well for the company. Google Wallet never appealed to the masses as its privacy issues security holes never really allowed it to take off. The second take, Android Pay, looks more rewarding. With more than one billion active Android users, Google will give a huge boost to mobile payment, especially in the United States.
Research conducted by eMarketer has concluded that in the past year, smartphone payments at POS totaled $3.5 billion in the United States alone. With mobile payment platforms on the rise, the figure is expected to surge to $118 billion by 2018. Android Pay will be a crucial contributor in this due to the sheer number of users worldwide.
Critics and techies who had the chance to use Android Pay at Google I/O 2015 are raving about the new features integrated in the platform. This shows that Google is not making a half-hearted attempt at mobile payment this time around. Some claim the new system may even be better than Apple Pay.
How to accept Android Pay in your store
Like Apple Pay, Android Pay uses NFC technology. With around 70% of Android handsets supporting NFC and 50% using KitKat 4.4+ (requirements for Android Pay), the potential audience is massive.
Google says it's very easy to accept Android Pay, as just an industry-standard contactless-enabled POS terminal is needed.
Many NFC terminals are indeed capable of taking Android Pay payments straight out of the box, so the only thing to do is to let customers know they are accepted. Not all NFC terminals may be integrated by default, though, so the payment processor may need to turn on this function separately.
From the merchant's perspective, it's safe to accept Android Pay. The platform uses tokenization to keep account information secure, so the retailer will receive a virtual one-time credit card number instead of the actual account number, securing customers' credit card data.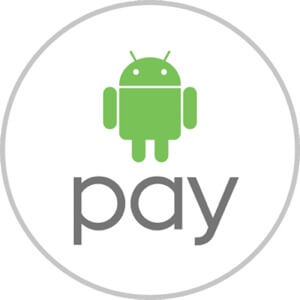 As of today Android Pay can be used for payment in almost 700,000 stores throughout the United States. The solution can also be integrated with apps such as Groupon and Lyft so it can be used for in-app payments. The four major US credit card companies – Visa, Mastercard, American Express and Discover – are on the system so whether the customer has a debit, credit, or prepaid card, Android Pay will be able to accommodate it.
Android Pay rewards for purchases
Merchants can integrate their own loyalty schemes, offers, and gift cards with Android Pay. Rewards and offers can be redeemed using NFC or on-screen barcode redemption.
Google has also integrated MyCokeRewards with its Android Pay solution. Each time customer buys a Coke from a vending machine, MyCokeRewards will be applied. Several large retailers will integrate their loyalty programs in Android Pay, so rewards will not be restricted to just Coke. When checking out at retailers that are part of the reward program, rewards will automatically apply.
To use fingerprint or not to use fingerprint?
Android Pay is set to launch along with Android's new operating system, Android M. Android M will be standardized for fingerprint scan functionality, hence Android Pay utilizes fingerprint scan for transactions.
What does that mean for previous Android phones that may not be fingerprint enabled? Android Pay does have another option for these phones with its tap to pay method. This method requires the phone's lock screen to be enabled. Like any lock screen, unlocking would mean entering a pin, pattern, or the face unlock functionality. Just unlock the phone and place it on top of the reader and voilà, transaction complete.
Apple Pay users have complained about its fingerprint scanner at times not recognizing the print and asking to retry. The tap to pay method in Android Pay eliminates that issue. However, fingerprint scan is more secure when it comes to mobile payment as only the person whose fingerprint is stored would be able to make transactions.
With the increasing popularity of mobile payment and new platforms, Android Pay is one of many, on the rise it is important for businesses to adapt to the changing trends. There are currently around 700,000 outlets that accept NFC payments in the US and that figure is set to rise.
Mobile payment is a trend that is here for the long run as it speeds up the process of shopping for consumers and allows them to store all their credit cards in one secure place. For businesses it is important to come on board and adapt NFC payment to help them grow and evolve.