Disclosure: Our editorial staff write reviews independently. We may be compensated if you sign up for a service through our affiliate links.
When the iPhone was first introduced, few thought it would stimulate growth for small businesses, but that is exactly what happened. Now, even food trucks and cash-strapped merchants can afford to accept credit cards on iPhone.
To take credit card payments on iPhone, you need:
Apple device (iPhone or iPad) connected to WiFi or cell phone coverage
Credit card reader by a mobile payment provider
Credit card processing app downloaded on the mobile device
Choosing the right service is essential, as monthly fees and transaction charges can sneak up on you. We've pinpointed the six best credit card apps with the most bang for the buck.
Square – lots of POS and payment tools
No contract, no monthly fees

Swipe, EMV & tap fee: 2.6% + 10¢
Keyed-in cards: 3.5% + 15¢
Card reader options:
Reader /Magstripe: First one free
Reader /Contactless & Chip: $49
Square stands out with its comprehensive, easy-to-use free tools and back office. Merchants have no obligations and no need to sign a contract. You pay only a single fee of 2.6% + 10¢ per swipe, dip and tap payment through any of Square's card terminals or 3.5% + 15¢ per keyed transaction. Square is also one of the few mobile card reader companies that do not require a credit check.
Square transfers the amount the next business day if the transaction takes place before 5pm – otherwise, you get it the following business day. There is also an Instant Transfer option for immediate bank account payouts (1.5% fee applies), or you can order the free Square Card for real-time access to funds.
Square's best credit card reader for iPhone – Reader for Contactless & Chip – costs $49 and comes with a free magstripe reader with a Lightning plug for newer iPhones or audio plug for older models.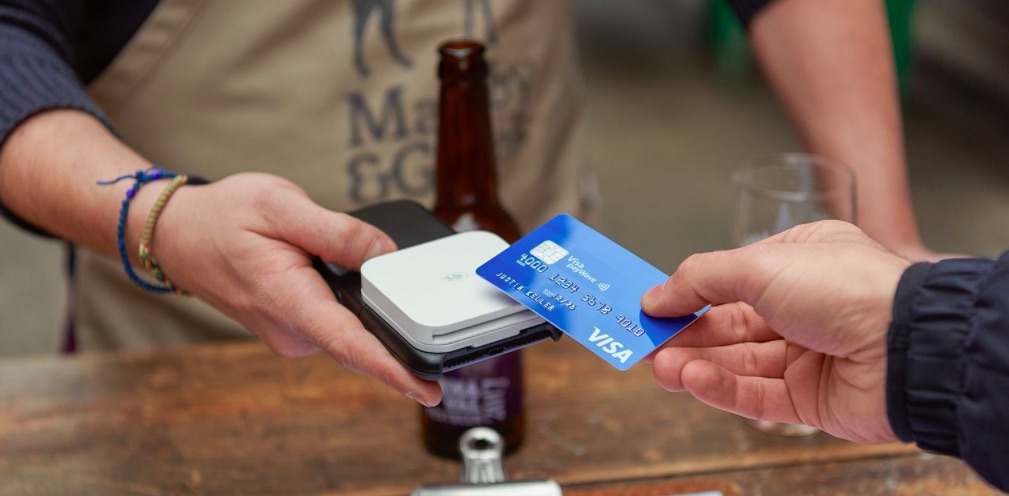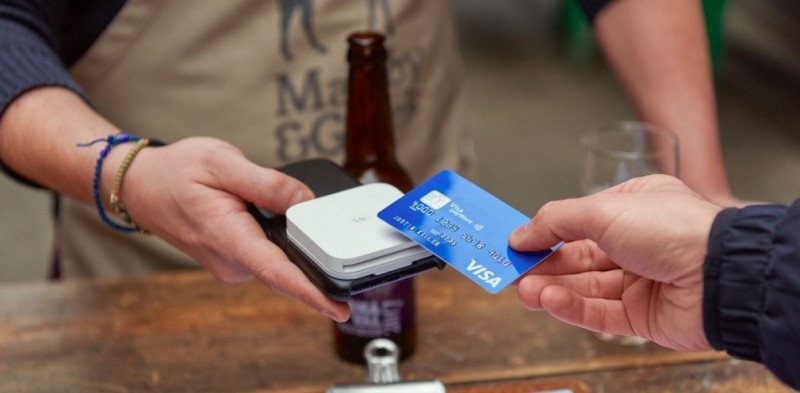 Contactless tap on Square Reader. Magstripe requires Square's credit card swiper for iPhone.
Apart from a beautiful product library with detailed product information, you can add several staff accounts (advanced permissions come at a cost), add discounts, track inventory and much more with the free software. Square can be expanded with more advanced POS systems for retail and restaurants, booking systems, marketing, customer loyalty tools, ecommerce and many partner apps.
It is recommended you use the most recent app available for iOS for the best app performance. The most frequent complaint about Square has been lackluster customer service, leading people to look for alternatives to Square.
PayPal Here – payouts in online account
No contract, no monthly fees

Swipe, EMV & tap fee: 2.7%
Keyed-in cards: 3.5% + 15¢

Other costs: 1.5% cross-border fee, currency conversion fee
Card reader options:
Chip & Swipe Reader: $24.99
Chip & Tap Reader: $59.99
Chip Card Reader: $99.99
PayPal is already popular for online payments, and with PayPal Here, the company possesses a slice of the mobile payments market too.
The PayPal Here app allows merchants to accept payments from most credit cards for 2.7% per swipe and 3.5% + $0.15 per manually entered or scanned card. For foreign cards, there is a 1.5% additional cross-border fee plus a currency conversion fee (2.5% or 3% have been quoted) if relevant.
There are three iPhone credit card readers to pick from. PayPal Chip & Swipe Reader for $24.99 is the cheapest one, but it doesn't accept contactless. The PayPal Chip & Tap Reader (pictured below) costs $59.99 and accepts tap, swipe and chip payments. The Chip Card Reader is also 3-in-1, with a keypad built in as well.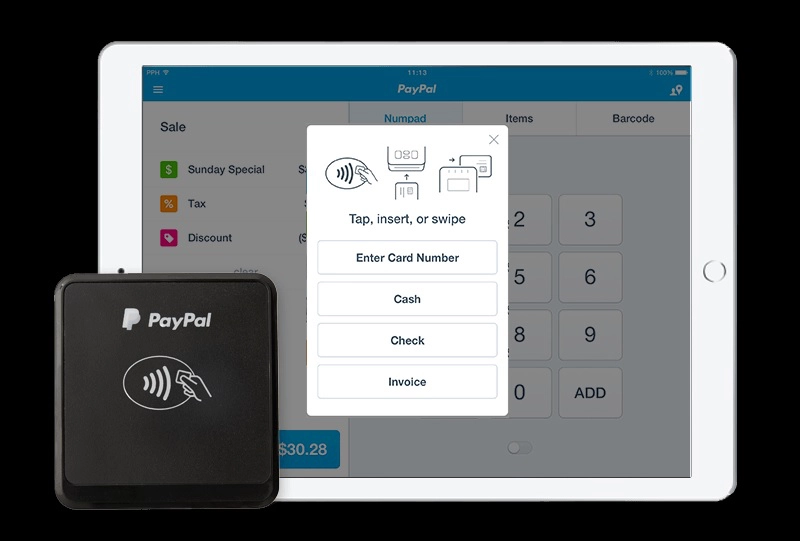 PayPal's iPhone and iPad credit card reader for contactless and chip payments.
All transactions are automatically deposited in your online PayPal account and have to be transferred manually to your bank account. Alternatively, you can get the PayPal Business Debit Mastercard to spend funds directly from the e-money account.
Besides the ability to record cash sales, PayPal Here merchants can accept eChecks and let customers pay with PayPal via the mobile app Check-In feature.
The main advantage of PayPal is the ability to integrate the account with ecommerce and other online payment features.
SumUp – cheapest 3-in-1 card reader
No contract, no monthly fees

SumUp Plus Card Reader: $19
Swipe, EMV & tap fee: 2.75%
Keyed-in cards: 3.25% + 15¢
SumUp card readers have no monthly fees, minimum sales requirements or other ongoing costs. You only pay $19 for the SumUp Plus Card Reader (the lowest price for any credit card reader with contactless, chip and swipe functionality), then a fixed 2.75% for all payments through it.
Every SumUp merchant gets access to a virtual terminal for remote payments, which can be used in the app or web browser. Payment links and QR codes can also be sent to customers for them to pay on their phones. These key-in transactions cost 3.25% + $0.15 each.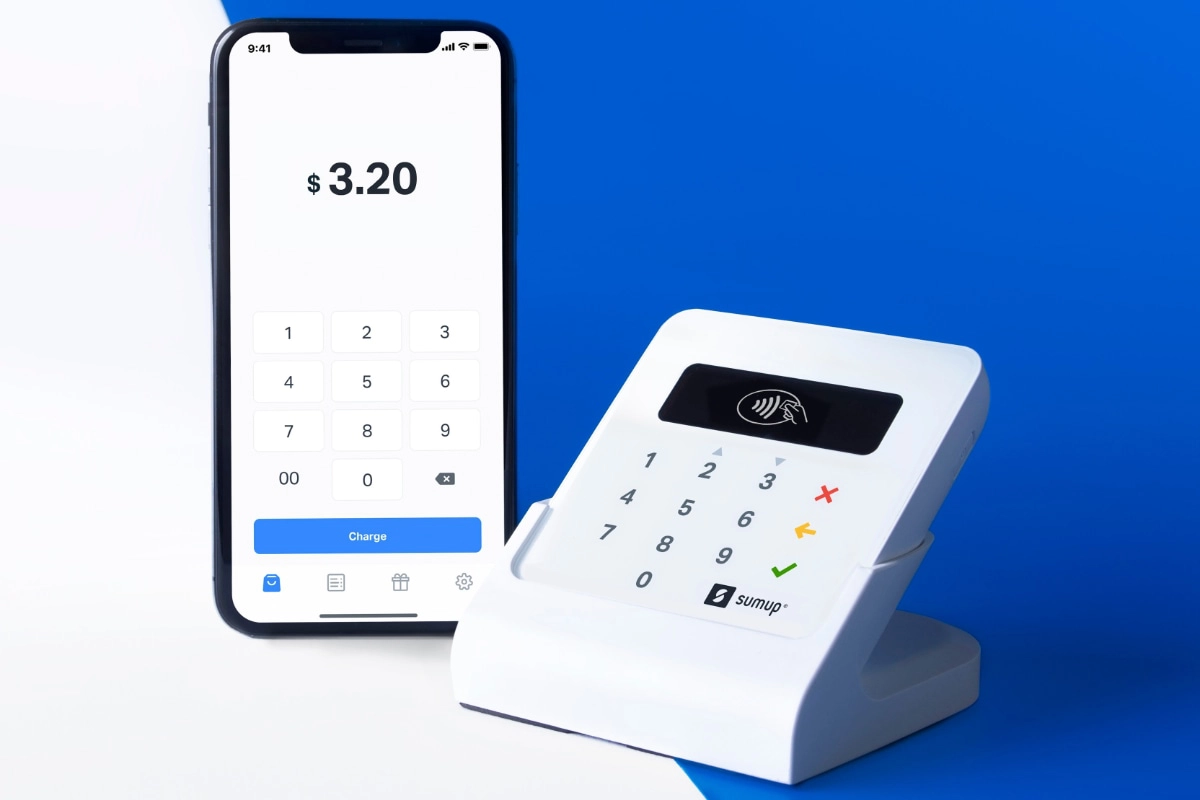 SumUp Plus Card Reader is a high-performing, cheap terminal from SumUp.
The app is free to use, including backend dashboard analytics and basic sales reports for any business. Transactions are paid in to your chosen bank account within 1-2 business days.
Although simple, SumUp has useful features like a product library, the option to create different user accounts for staff, and e-gift cards. You can also process refunds and connect the card reader with compatible receipt printers if emailing or texting receipts are not enough.
Payanywhere – competitive for low-volume merchants
No monthly fee on Pay As You Go, only $3.99 monthly inactivity fee after 12 months of no transactions

For monthly turnover of less that $10k
Swipe, EMV & tap fee: 2.69%
Keyed-in cards: 3.49% + 19¢

Card reader options:
Swipe & chip reader: First one free
Swipe, chip & tap reader: $49.95
Payanywhere's pay-as-you-go app for businesses doesn't cost anything monthly, and even comes with a free EMV and swipe reader (if in stock). The 3-in-1 card reader that also accepts contactless is $49.95. The rate for swipe, dip and tap payments is 2.69% on this plan, while keyed transactions incur a fee of 3.49% + 19¢.
If you have not had a single transaction in the last 12 months, you pay a monthly inactivity fee of $3.99. This fee stops applying as soon as you take the first payment again.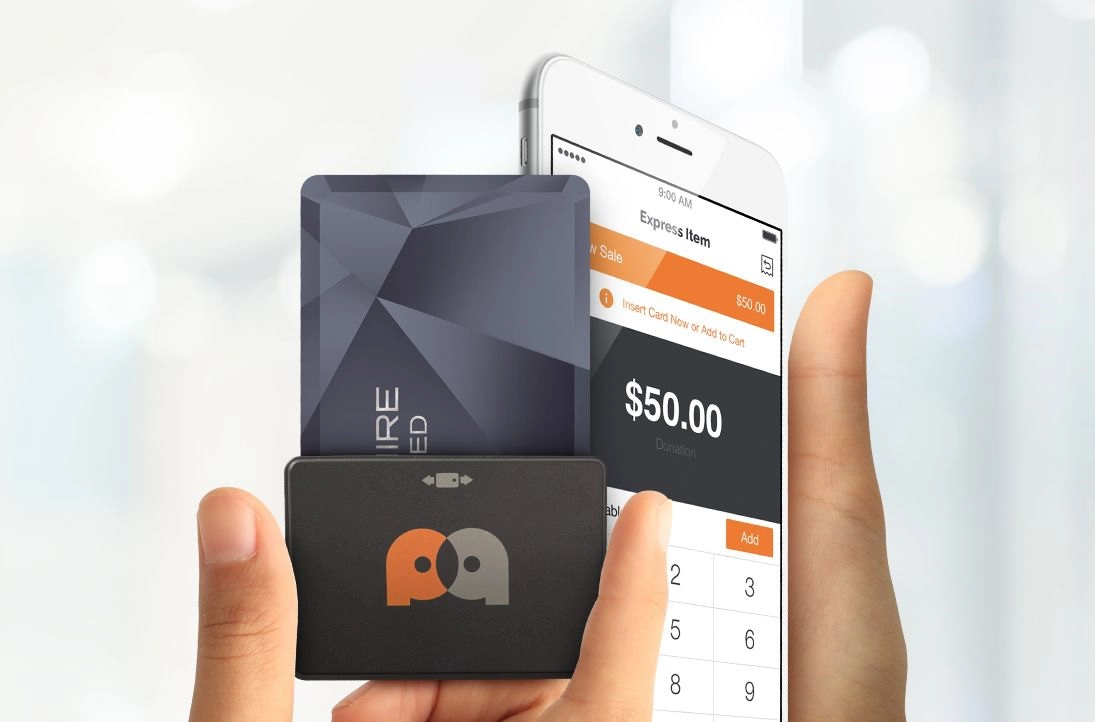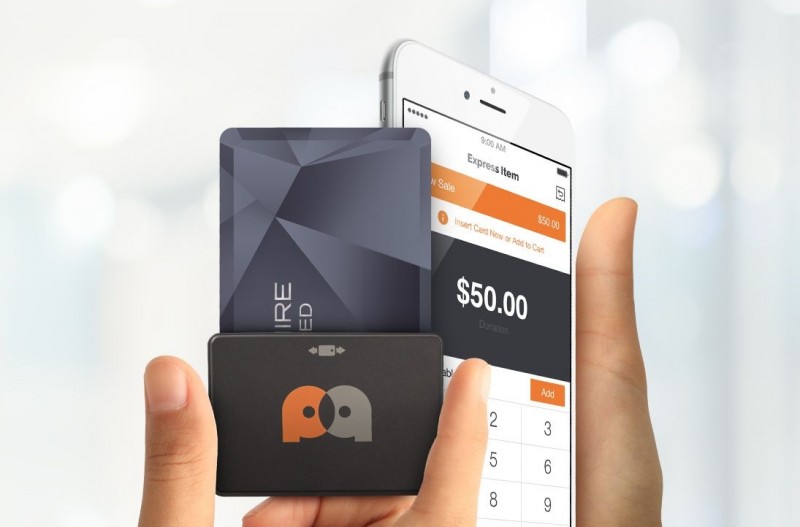 Payanywhere card readers connect wirelessly to your cell phone via Bluetooth.
The pay-as-you-go plan is only suitable for businesses with a monthly card turnover of less than $10k. If you reach this limit, Payanywhere has been known to automatically roll you into a different merchant contract with new fees and terms.
Transactions processed before 5pm are deposited in to your bank account the next business day for free; those processed after 5pm may reach your bank account the weekday after. There's also a same-day transfer option for an additional 1% fee.
The Payanywhere app has some great reporting functions where you can customize analytics to focus on sales, payment methods and employee performance. You also get open tickets and tabs, invoicing, inventory features and more. Overall, Payanywhere is good value for money.
Clover Go – comes with merchant account
Register Lite: $9.95/mo, 2.7% + 10¢ per card reader payment
Register: $39.95/mo, 2.3% + 10¢ per card reader payment
All keyed-in cards: 3.5% + 10¢

Clover swipe, chip & tap reader: $69
Clover offers a full range of point of sale (POS) products that can be adapted to most checkouts, spanning from an iPhone credit card reader (Clover Go) to full-fledged hardware and POS software. All the Clover products come with a merchant account for stable mobile credit card processing.
The fees have been simplified a little in recent years. Before, you had to get a contract through partner banks like Bank of America. Now, you can subscribe to the Clover Go app on the Clover website for $9.95 a month on the Register Lite plan or the markedly higher $39.95 per month for the Register plan.
The former has fewer features and a higher transaction rate at 2.7% + 10¢. The Register subscription has more POS features and the lower card rate 2.3% + 10¢ for EMV, swipe and NFC (contactless) payments. The card reader costs $69 regardless of the plan. Both plans charge 3.5% + 10¢ for key-in card payments.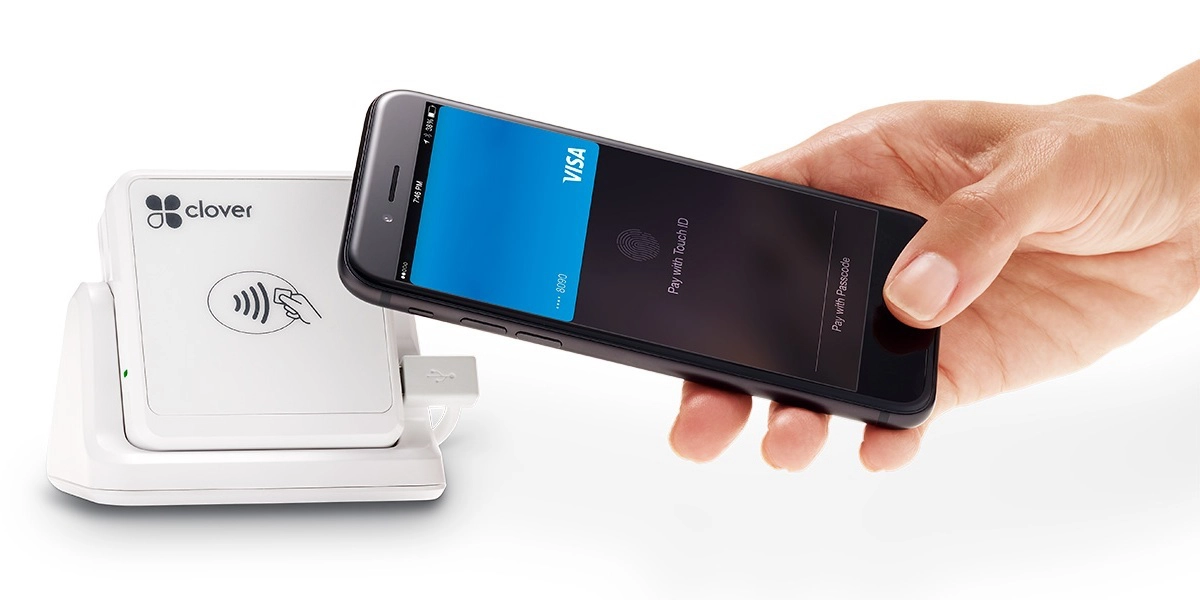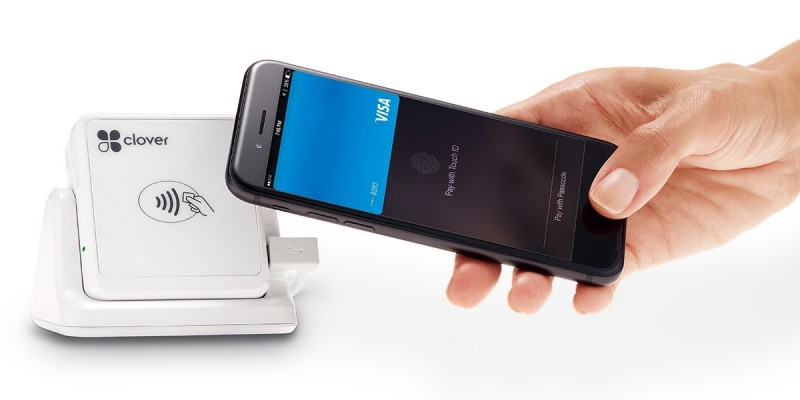 Clover Go accepts tap, swipe and chip and keyed-in transactions from customers not present.
You can also get an offer with a monthly (cancellable) subscription from Payline, where rates are based on the specific payment card accepted. Payline requires a monthly minimum charge of $25 in card processing fees, so this option is better suited for those with a consistent sales volume.
Register Lite provides handy features like employee management (e.g. payroll, work shifts, permissions), refunds and dashboard reports. The Register app can process exchanges, send coupons in response to customer feedback, add gratuity to checks and more.
QuickBooks GoPayment – good accounting integration
Pay as you go: No monthly fee, 2.4% + 25¢ per tap/swipe/dip, 3.4% + 25¢ keyed-in
Monthly plan: $20/mo, 1.6% + 25¢ per tap/swipe/dip, 3.2% + 25¢ keyed-in
Card reader options:
Swipe & chip reader: $19, first one free with subscription
Swipe, chip & tap reader: $49
QuickBooks GoPayment (previously Intuit GoPayment) was among the first players targeting small businesses with the option to accept payments any time, anywhere.
The credit card payment app can be used with or without a monthly subscription, and with or without an accounting plan.
On the free standalone pay-as-you-go plan, card reader payments cost 2.4% + 25¢ and keyed transactions cost 3.4% + 25¢. The monthly GoPayment subscription costs $20 per month which excludes accounting software, but then the transaction fees are only 1.6% + 25¢ per swipe, dip and tap, and 3.2% + 25¢ per keyed transaction.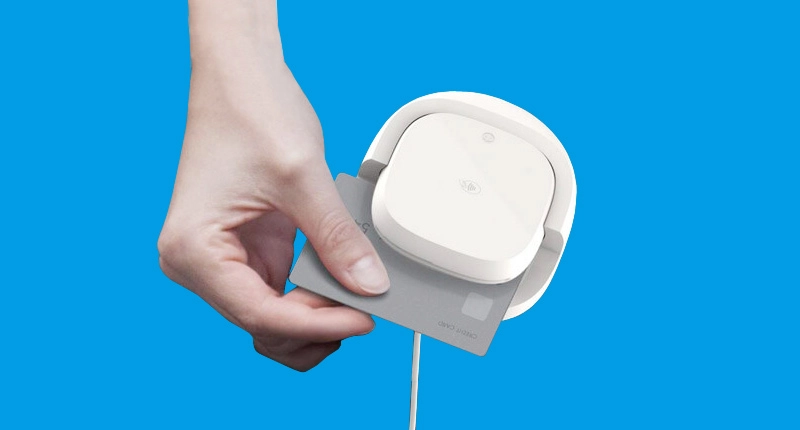 GoPayment's All-in-One card reader connects with iPhone to accept chip, tap and swipe cards.
PCI compliance can cost $9.95 per month on pay-as-you-go, but is included on the monthly plan. In general, QuickBooks offers different fee plans when signing up for GoPayment depending on which QuickBooks subscriptions you're on, so make sure you know what you're subscribing to before committing.
POS features include personalized digital receipts and up to 50 user accounts, which means all your employees can accept payments on the go.
Since Intuit is the maker of QuickBooks accounting software for small businesses, one of the notable features is the automatic synchronization with QuickBooks, although this requires an additional subscription.