Disclosure: Our editorial staff write reviews independently. We may be compensated if you sign up for a service through our affiliate links.
Thanks to inexpensive credit card readers, most small businesses can now afford to take card payments with the help of an Android phone or tablet.
To accept cards with an Android phone, you need to:
Create an account with a card reader company
Buy a card reader to connect with your Android device
Download the associated mobile payment app on your tablet or smartphone
Swipe-only readers are plugged into your phone with an audio plug. Typically, an Android card reader for chip (EMV) and contactless (NFC) payments are wireless, connecting with your phone via Bluetooth. When the app is connected with the reader, you can accept your first card payment.
So which credit card reader for Android is best? We've sifted through options and picked the top five credit card readers that give you the most value.
Service
Reader price
Ongoing costs
Offer
Square
$49
No monthly fee
2.6% + 10¢ card rate
Payline
$100
$10+/mo
Varying card rates
SumUp
$19
No monthly fee
2.75% card rate
PayPal Here
$24.99 – $99.99
No monthly fee
2.7% + non-US card fees
Shopify
$29 – $49
$9+/mo
2.7%-2.4% card rate
Service
Ongoing
costs
Offer
Square
No monthly fee
2.6% + 10¢ card rate
Payline
$10+/mo
Varying card rates
SumUp
No monthly fee
2.75% card rate
PayPal Here
No monthly fee
2.7% + non-US card fees
Shopify
$9+/mo
2.7%-2.4% card rate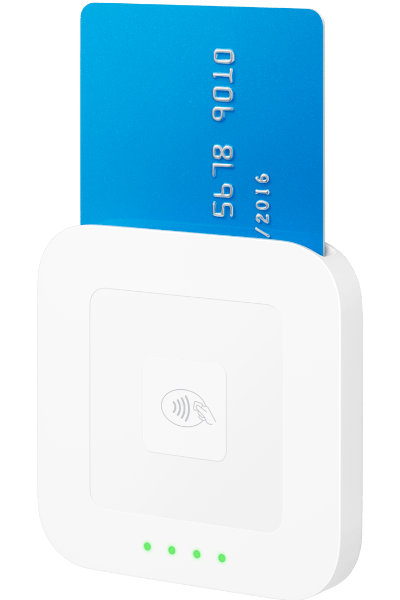 Reader /Magstripe: First one free
Reader /Contactless & Chip: $49

Chip, swipe & tap rate: 2.6% + 10¢
Keyed-in rate: 3.5% + 15¢

Free payouts in 1-2 business days
Instant Transfers for 1.5% fee

Works with Square Point of Sale app
Out of all low-cost solutions, Square offers the most comprehensive card reader service while managing to maintain a user-friendly experience of all its products.

Square has two card readers: Square Reader for Magstripe (with an audio plug for Android devices) and Square Reader for Contactless and Chip. The first card swiper for Android is free – additional ones costing $10 – and the Contactless and Chip Reader is $49. They both work with the free Square Point of Sale App.
There's no contract lock-in, no monthly fees, no PCI compliance fees and refunds are free to process. If you need more POS features, Square offers a booking system and POS systems designed for retail or restaurants for a monthly fee.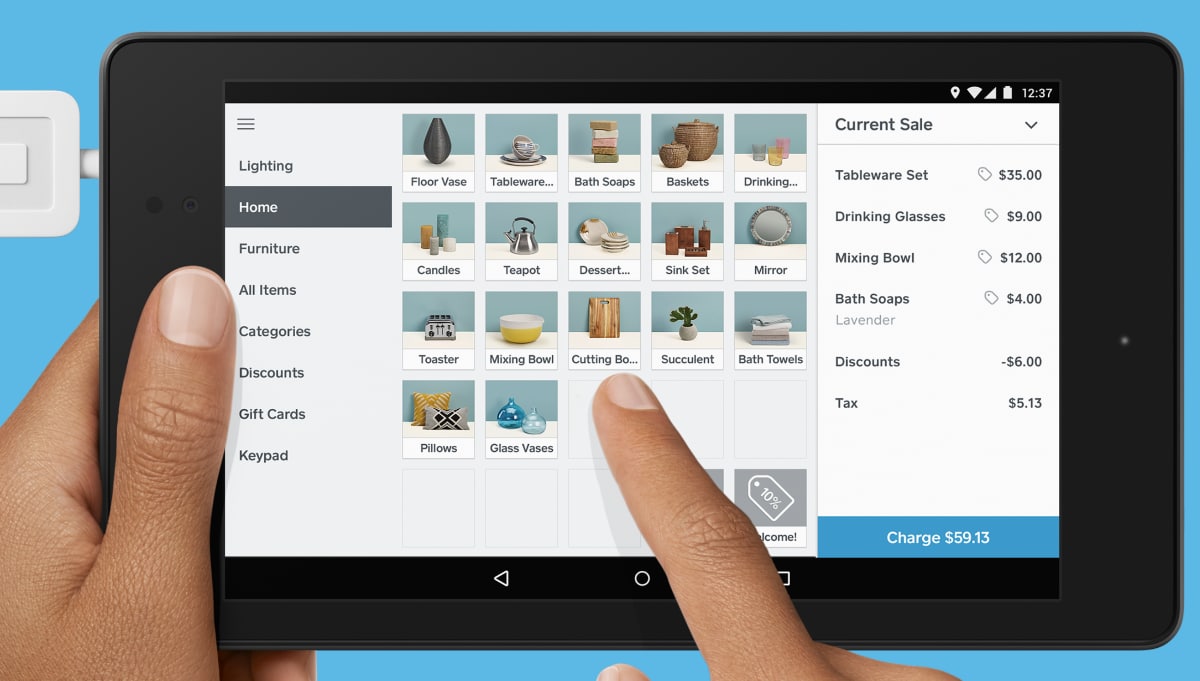 The Square app looks good on an Android tablet, here pictured with a Square swipe reader.
Transactions via tap (card or mobile wallet), swipe and chip cost 2.6% + 10¢ and keyed-in transactions cost 3.5% + 15¢. The regular payouts take 1-2 business days to arrive in your bank account, but for a 1.5% extra fee, you can instantly transfer payments to your bank account. There is also a Square Card (Business Debit Mastercard) allowing you to spend funds directly from on online account balance.
The Square POS app is simple to use, yet still with more features than alternatives in this article. For example, you can send invoices from the app, split bills, track inventory levels, issue gift cards, control employee permissions, use offline mode and analyze sales in lots of different ways. These are free features, but certain more advanced functions can be added for a monthly cost.
Learn more: Square – feature-rich card reader app with online extras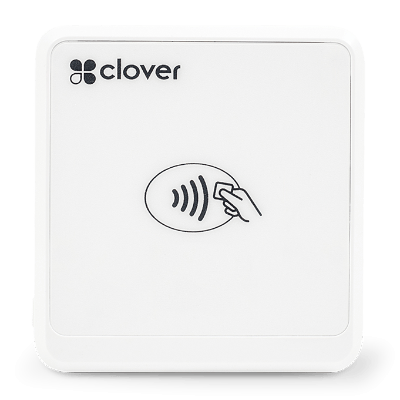 $10/mo if most transactions are in-person (+ $11/mo for Clover products)

No lock-in, no cancellation fee

Card reader prices from $100

Card rates: Interchange fee + 0.2% + 10¢ (monthly minimum of $25 in card processing fees required)

Free payouts in 1-2 business days

Works with Clover Go app or Payline Mobile app
Though many small businesses prefer a simple transaction rate and no ongoing costs, those with a higher sales volume can benefit from a monthly subscription with low transaction rates. Payline is a merchant service provider that offers just that.
On Payline's $10/month plan, you can accept in-person payments through your choice of card reader by Ingenico or Clover. If most transactions are keyed-in, the fixed monthly cost is $20. PCI compliance is included, but a $19.95 non-compliance fee applies if you haven't completed the associated documents within 90 days. There are no setup fees and all plans can be terminated any time without a cancellation fee.
Payline is mainly offering Clover Go as its reader of choice for Android, but Ingenico also produces mobile card readers that Payline may suggest to you. The price is specified at sign-up, but a Clover Go reader typically costs $100. If that's your choice, you can expect to pay an additional $11 monthly fee to Clover as well.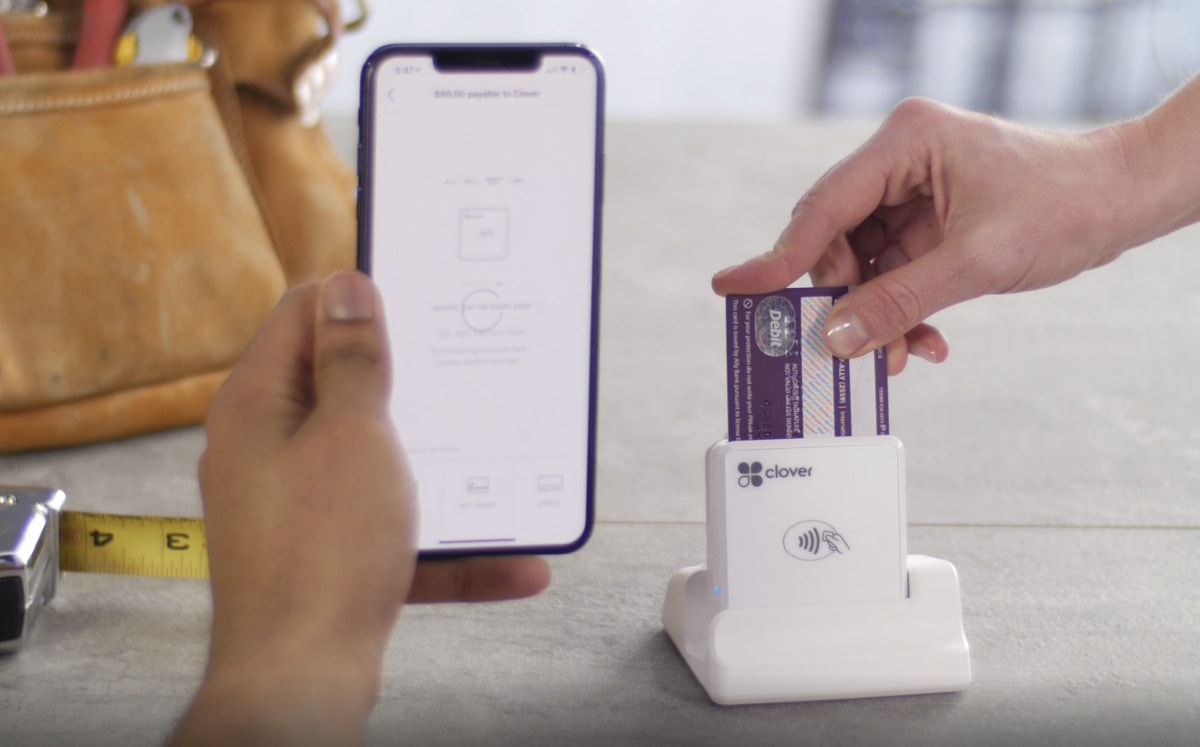 Payline provides Clover credit card readers, here pictured in a charging dock.
The card transaction rate of the in-person subscription is the interchange fee (varies depending on card) + 0.2% + 10¢. If most of your cards are keyed-in, the fee will be interchange fee + 0.3% + 20¢. The interchange rate can be as low as 0.05% + 22¢ for a Visa Debit card or as high as 3% + 10¢ for certain American Express cards.
With a high volume of Visa Debit cards, for example, the overall cost of transactions can be quite low compared to the fixed rates of other card readers. If you have lots of corporate, foreign or premium credit cards, the rates could get higher than alternatives.
You have to pay a minimum of $25 in card processing fees a month to Payline, which would be achieved with at least a monthly turnover of $1,500.

Payline gives you a dedicated account manager and offers custom packages with, for example, a virtual terminal, POS systems and hardware solutions for any setup. This makes it a good long-term choice for those who make several thousands of dollars a month and want to start small with an Android credit card reader.
More about the card reader: Clover Go – how does it work?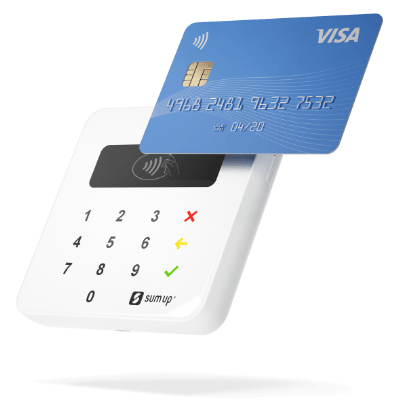 Chip, swipe & tap rate: 2.75%
Keyed-in rate: 3.25% + 15¢

Free payouts in 1-2 business days
SumUp Plus Card Reader is the least intimidating credit card terminal for Android: it costs only $19 upfront and accepts NFC (contactless), EMV (chip) and magnetic stripe cards and mobile wallets. There is no contractual commitment or monthly cost, and the transaction rate is a fixed 2.75%.
Because the fee is only a percentage per transaction, SumUp is a great alternative for merchants with small transaction sizes. If there was a fixed fee added like Square has, the overall cost of the transaction fee would be high for small transactions.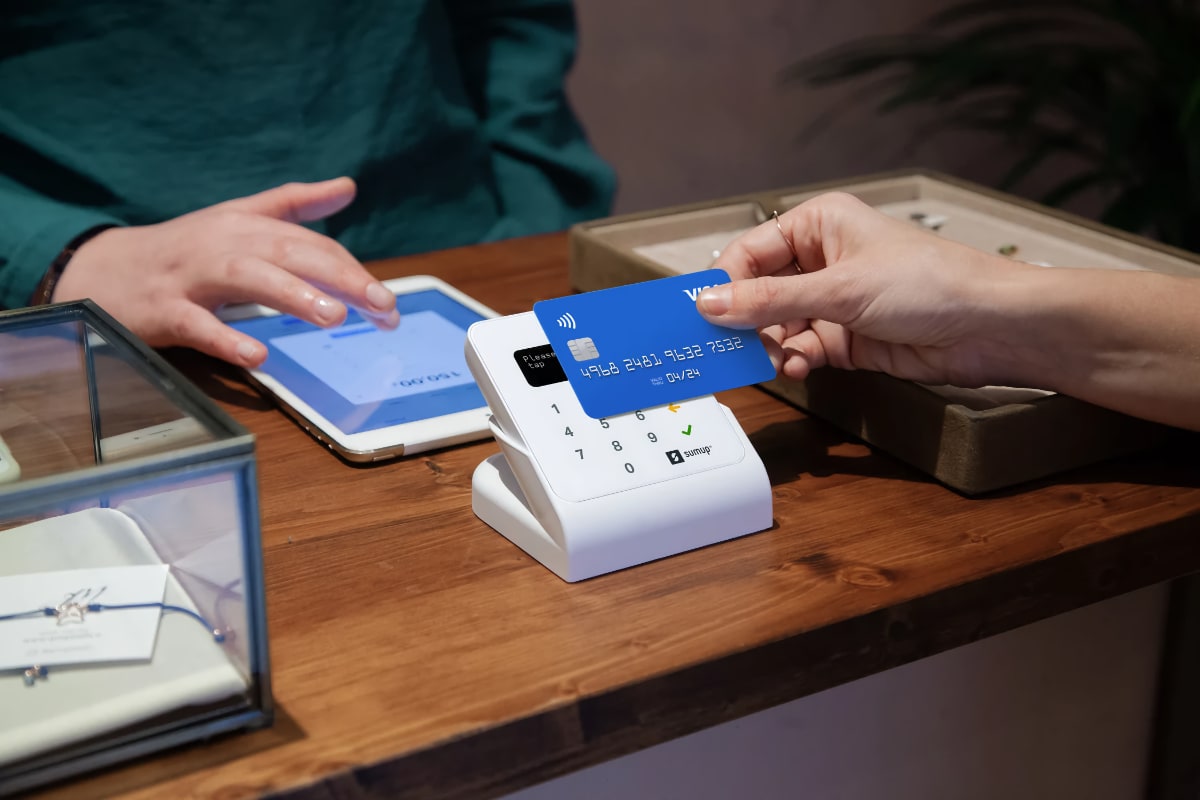 The SumUp card reader works with the SumUp App that's free to download.
While all other card readers for Android in this article only accept Visa, Mastercard, Discover and Amex, SumUp also accepts Diners Club cards. Payouts take up to two business days to settle in your bank account.
All SumUp merchants get a virtual terminal for over-the-phone and other remote payments. These key-in card transactions cost 3.25% + $0.15 each.
SumUp's credit card payment app is easy to use. It has a product library where you can add anything you're selling, or you can choose to enter transaction amounts manually. You can add user accounts for staff members, taxes, tips and connect with a compatible receipt printer for paper receipts (not all payment apps can do this).
Learn more: SumUp credit card reader – as good as Square?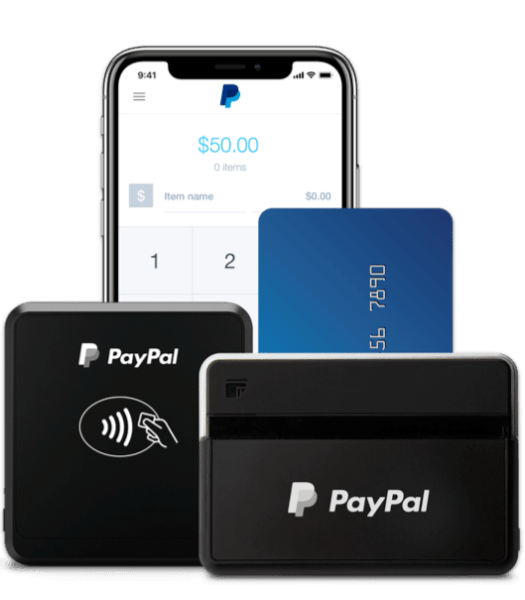 Chip & Swipe Reader: $24.99
Chip & Tap Reader: $59.99
Chip Card Reader: $99.99

Swipe, tap & dip rate: 2.7%
Keyed-in rate: 3.5% + 15¢
+ cross-border & currency conversion fees

Immediate payouts in online account, 0-1 business days to bank account

Works with PayPal Here app
PayPal Here has the widest choice of credit card readers. The Chip & Swipe Reader (no tap function) can be purchased for $24.99, or you can opt for a Chip & Tap Reader (swipe included) for $59.99. The $99.99 Chip Card Reader also accepts all card methods including swipe, tap and chip and has a keypad for PIN entry.
The transaction fee is a fixed 2.7% for all domestic debit and credit cards. A cross-border fee of 1.5% is added to all non-US cards, and a further currency conversion charge – we've seen 3% quoted, but this may vary – is added where a currency was converted. This can make PayPal quite expensive for those with lots of tourists or foreign customers.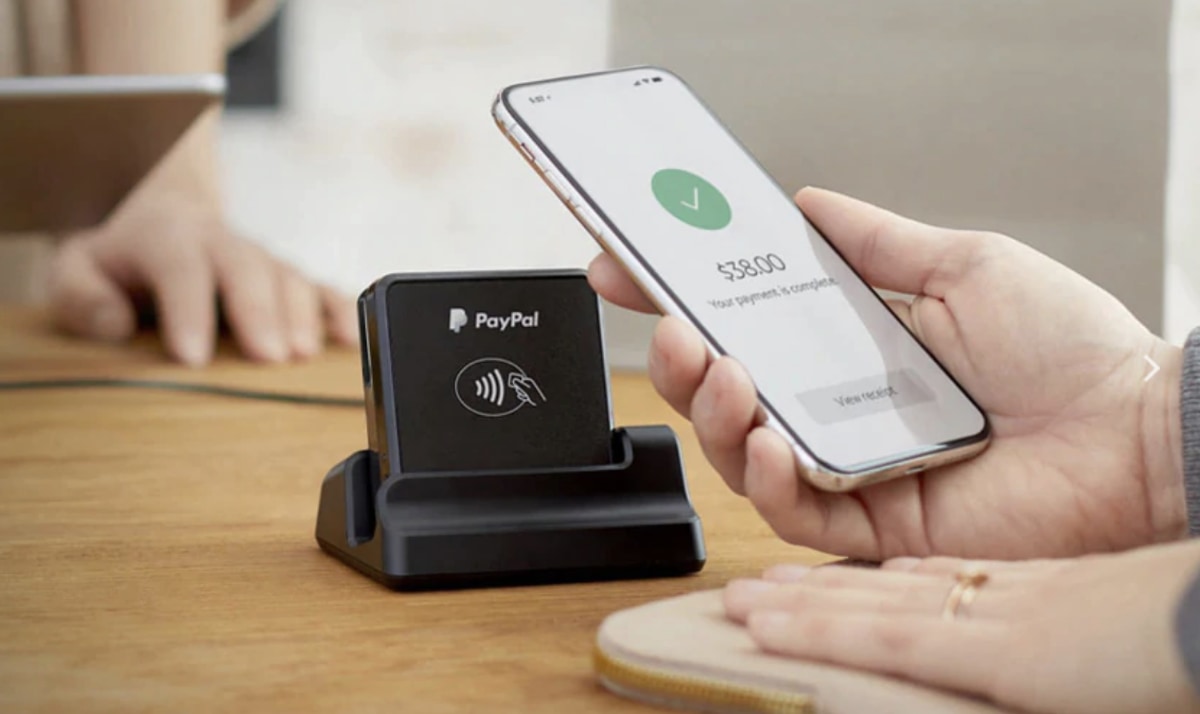 The Chip and Tap Reader looks discrete in its charging stand on a counter.
The free payouts go directly in to your online PayPal Business account. To transfer money into your bank account, you have to manually "withdraw" it to your linked bank account which takes one business day. For a 1% fee, you can transfer money instantly to your bank account. Alternatively, you can order the free PayPal Business Debit Mastercard linked to your e-account so you can spend money without withdrawing it to a bank account.
The PayPal Here app gives you essential features like tipping, discounts and a product library to keep track of items sold. You can even accept PayPal Check-In from customers, email invoices and keyed-in payments directly from the app.
Learn more: PayPal Here review – what's the draw, and drawbacks?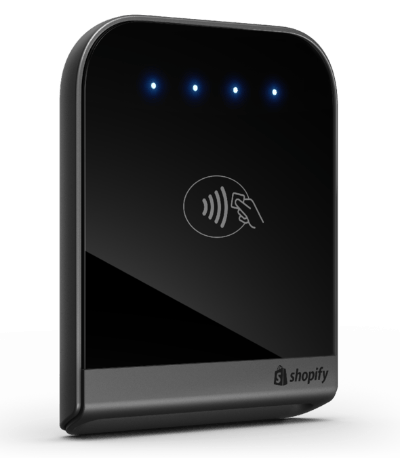 Required ecommerce plan: $9-$299/mo

Chip & Swipe Reader: $29
Tap & Chip Reader: $49

Card rates: 2.7%-2.4% depending on plan

Free payouts take about a week

Works with Shopify POS app
Best known for its online store builder, Shopify also sells two card readers for Android phones and tablets: the Chip & Swipe Reader (no contactless function) for $29 and Tap & Chip Reader (no swipe function) for $49. These are used in conjunction with the "classic" Shopify POS app for Android, which is totally different from the new iOS app that also has a POS Pro subscription option.
You can only use a Shopify mobile card reader for Android when you're on an active ecommerce subscription. The cheapest subscription is Shopify Lite for $9/month (the monthly price is lower if you pay 1, 2 or 3 years upfront) which includes Buy Buttons to embed on your existing website, but no features for building an online store. The swipe, tap and chip fee for transactions on Lite is 2.7%.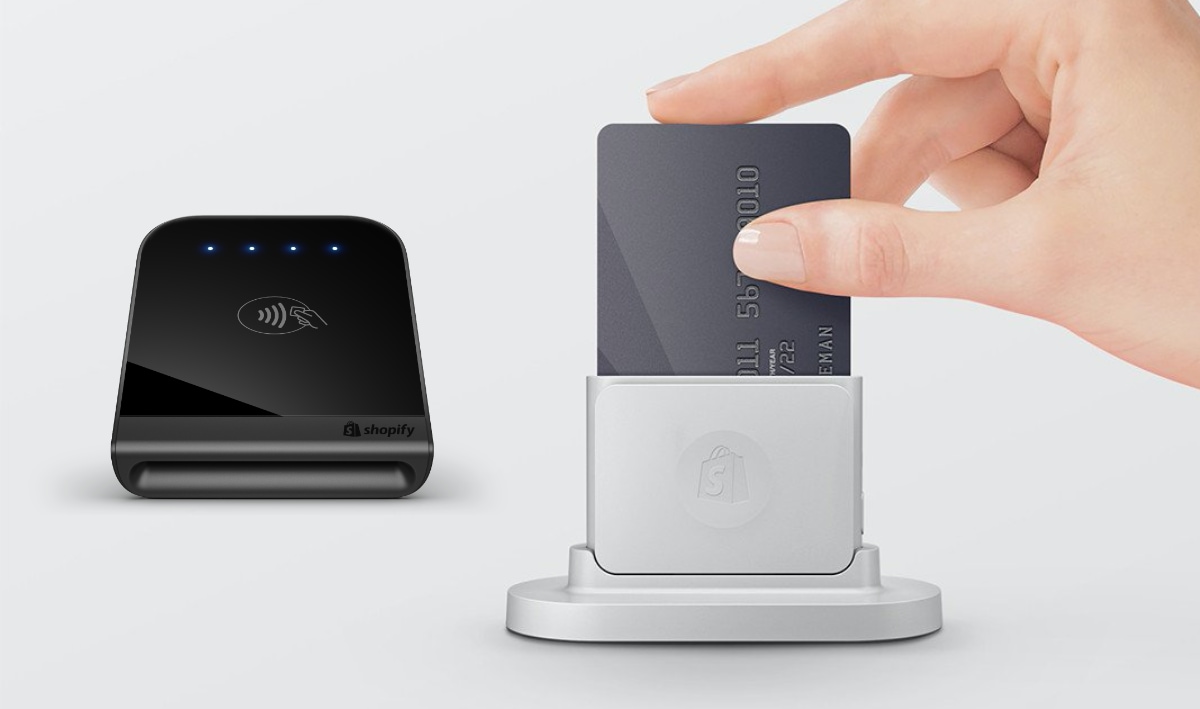 Shopify sells two credit card readers that work with Android devices.
Basic Shopify includes a full-fledged online store for $29/month and the same card rate of 2.7%. The Shopify plan for $79/month lowers the transaction rate to 2.5%. You have to pay $299 monthly (Advanced Shopify) for the lowest rate of 2.4% and most advanced ecommerce features.
Payouts take a couple of business days to reach your bank, plus 24-72 hours for your bank to clear the money in your account. This makes Shopify the slowest in terms of payouts in this article. You can cancel the plans any time, but you won't get subscription fees refunded, so think carefully before deciding to pay for 1+ years.
Shopify card readers are convenient for retailers who primarily sell online but want to keep face-to-face transactions connected with the online sales in their reports and analytics. The monthly subscription can otherwise make Shopify readers expensive for what it's worth when you're not selling online at all.
Learn more: Shopify Lite – minimal ecommerce tools with simple POS