Disclosure: Our editorial staff write reviews independently. We may be compensated if you sign up for a service through our affiliate links.
Thanks to inexpensive credit card readers, most small businesses can now afford to take card payments with the help of an Android phone or tablet.
To accept cards with an Android phone, you need to:
Create an account with a card reader company
Buy a card reader to connect with your Android device
Download the associated mobile payment app on your tablet or smartphone
Swipe-only readers are plugged into your phone with an audio plug. Typically, an Android card reader for chip (EMV) and contactless (NFC) payments is wireless, connecting with your phone via Bluetooth. When the app is connected with the reader, you can accept your first card payment.
So which credit card reader for Android is best? We've sifted through options and picked the the best-value credit card readers.
Service
Reader price
Ongoing costs
Offer
Square
$49
No monthly fee
2.6% + 10¢ card rate
SumUp
$39
No monthly fee
2.75% card rate
PayPal Zettle
$29
No monthly fee
2.29% + 9¢ + other fees
Clover Go
$99
$0+/mo
2.6% + 10¢ rate on free plan
Shopify
$29 – $49
$9+/mo
2.7%-2.4% card rate
Service
Ongoing
costs
Offer
Square
No monthly fee
2.6% + 10¢ card rate
SumUp
No monthly fee
2.75% card rate
PayPal Zettle
No monthly fee
2.29% + 9¢ + other fees
Clover Go
$0+/mo
2.6% + 10¢ rate on free plan
Shopify
$9+/mo
2.7%-2.4% card rate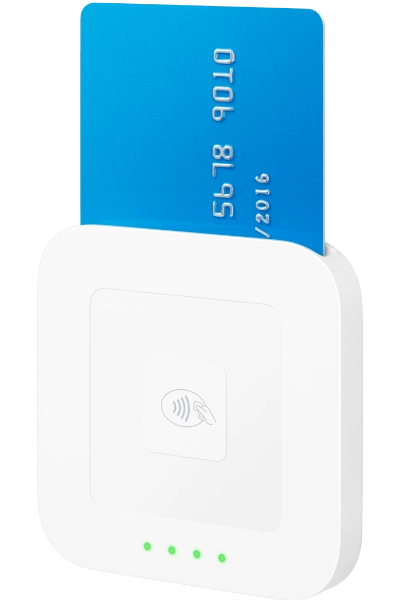 Reader /Magstripe: First one free
Reader /Contactless & Chip: $49

Chip, swipe & tap rate: 2.6% + 10¢
Keyed rate: 3.5% + 15¢

Free payouts in 1-2 business days
Instant Transfers for 1.5% fee

Works with Square Point of Sale app
Out of all low-cost solutions, Square offers the most comprehensive card reader service while managing to maintain a user-friendly experience of all its products.

Square has two card readers: Square Reader for Magstripe (with an audio plug for Android devices) and Square Reader for Contactless and Chip. The first card swiper for Android is free – additional ones are $10 – and the Contactless and Chip Reader is $49. They both work with the free Square Point of Sale App.
There's no contract lock-in, no monthly fees, no PCI-DSS compliance fees and refunds are free to process. If you need more POS features, Square offers a booking system and POS systems designed for retail or restaurants for a monthly fee.
Photo: Mobile Transaction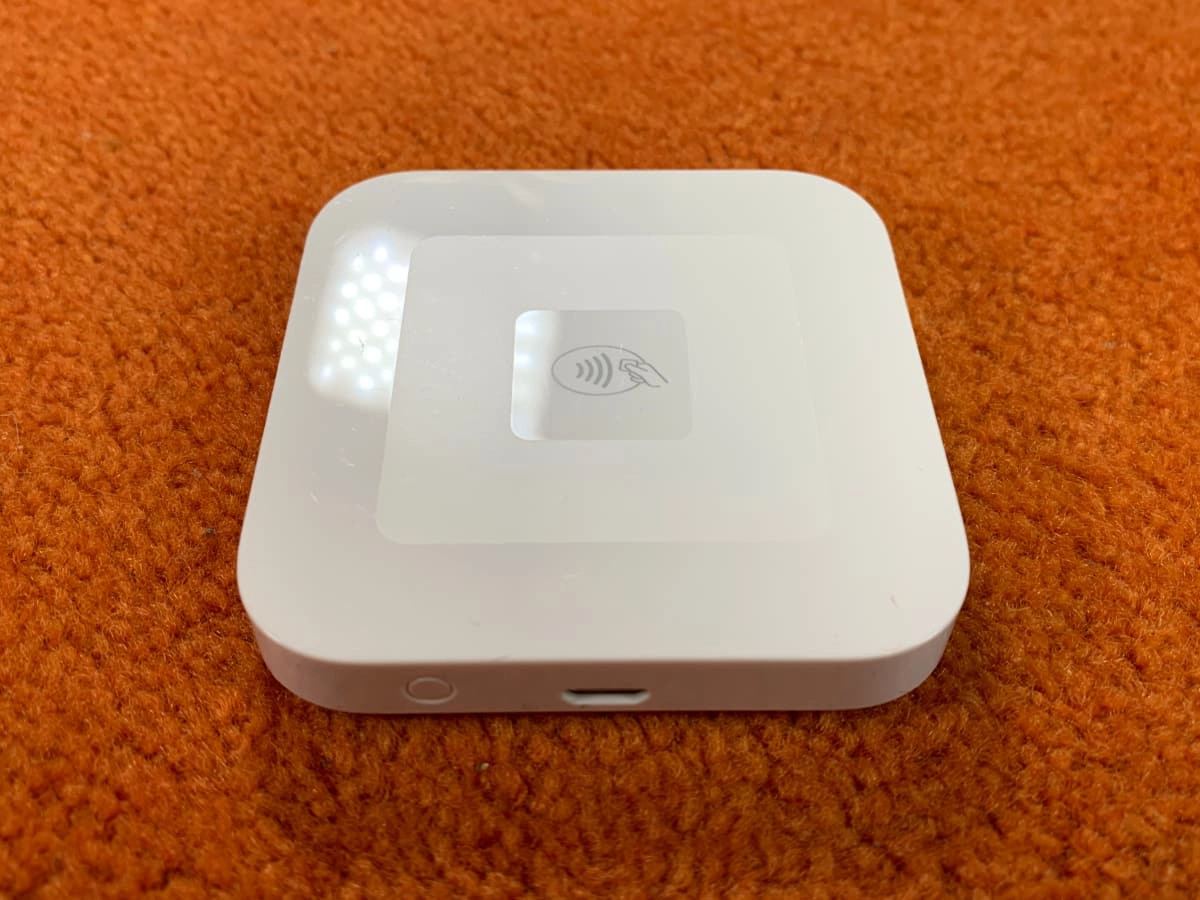 Square Reader for Contactless is a timeless-looking, little card reader.
Transactions via tap (card or mobile wallet), swipe and chip cost 2.6% + 10¢ and keyed transactions cost 3.5% + 15¢. The regular payouts take 1-2 business days to arrive in your bank account, but for a 1.5% extra fee, you can instantly transfer payments to your bank account. There is also a Square Card (Business Debit Mastercard) allowing you to spend funds directly from on online account balance.
The Square POS app is simple to use, yet still with more features than alternatives in this article. For example, you can send invoices from the app, split bills, track inventory levels, issue gift cards, control employee permissions, use offline mode and analyze sales in lots of ways. These are free features, but certain more advanced functions can be added for a monthly cost.
Learn more: Square – feature-rich card reader app with online extras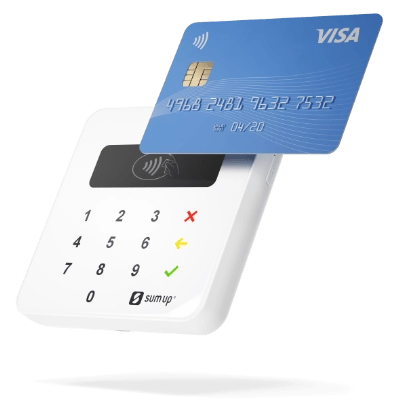 Chip, swipe & tap rate: 2.75%
Keyed rate: 3.25% + 15¢

Free payouts in 1-2 business days
SumUp Plus card reader is the least intimidating credit card terminal for Android: it costs only $39 upfront and accepts NFC (contactless), EMV (chip) and magnetic stripe cards and mobile wallets. There is no contractual commitment or monthly cost, and the transaction rate is a fixed 2.75%.
Because the fee is only a percentage per transaction, SumUp is a great alternative for merchants with small transaction sizes. If there was a fixed fee added like Square has, the overall cost of the transaction fee would be high for small transactions.
Photo: Mobile Transaction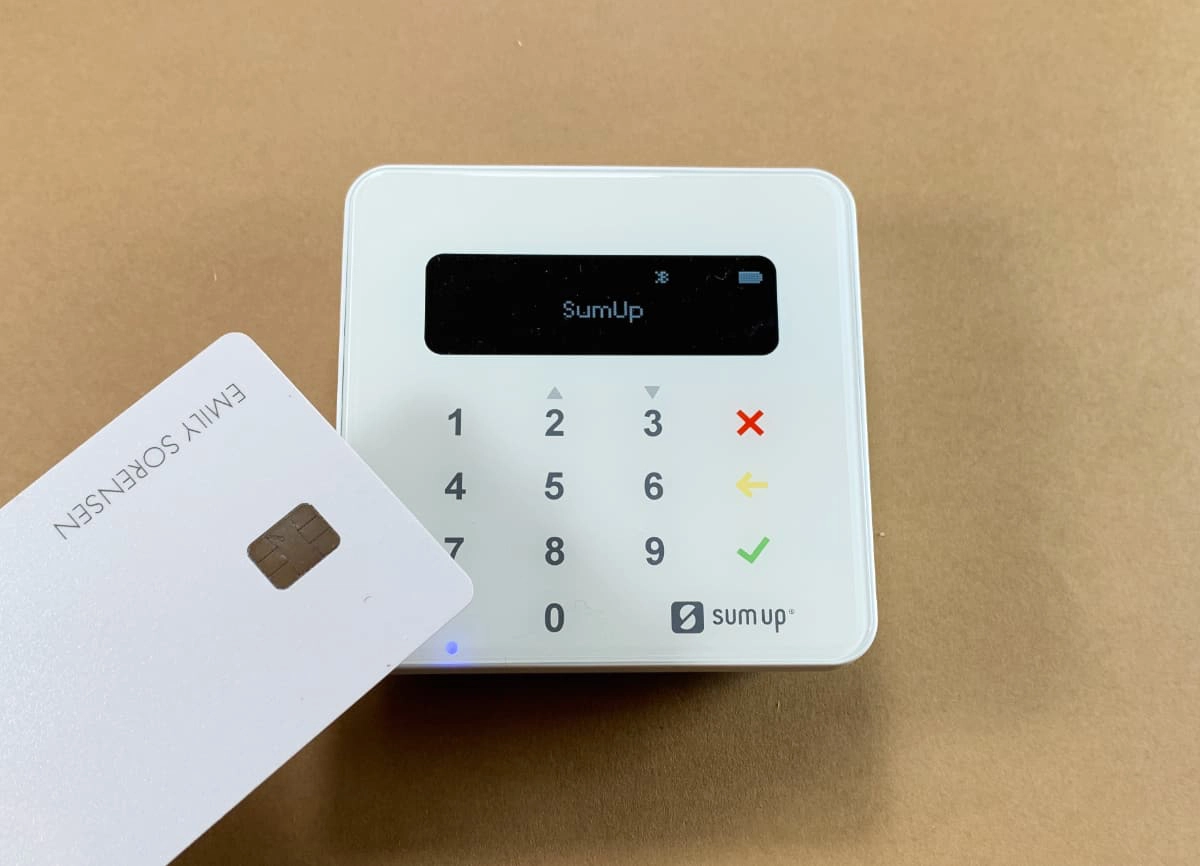 The SumUp card reader works with the SumUp App that's free to download.
While all other card readers for Android in this article only accept Visa, Mastercard, Discover and Amex, SumUp also accepts Diners Club. Payouts take up to two business days to settle in your bank account.
SumUp merchants can apply for a virtual terminal for over-the-phone and in-person keyed payments. These key-in card transactions cost 3.25% + 15¢ each.
SumUp's credit card payment app is easy to use. It has a product library where you can add anything you're selling, or you can choose to enter transaction amounts manually. You can add user accounts for staff members, taxes, tips and connect with a compatible receipt printer for paper receipts (not all payment apps can do this).
Learn more: SumUp credit card reader – as good as Square?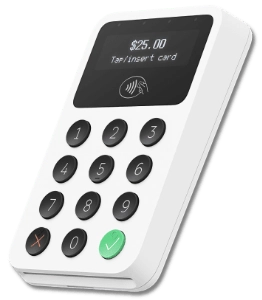 PayPal Zettle reader: $29

Tap & dip rate: 2.29% + 9¢
Keyed rate: 3.49% + 9¢
+ cross-border & currency conversion fees

Same-day payouts in online account
The latest credit card reader from PayPal – the PayPal Zettle reader – is quite affordable at $29. The card reader accepts contactless and chip (EMV) card payments and has a keypad for PIN entry.
The transaction fee is a fixed 2.29% + 9¢ for all domestic debit and credit cards. A cross-border fee of 1.5% is added to all non-US cards, and a further currency conversion charge of 3% is added where a currency was converted. This can make PayPal quite expensive for those with lots of tourists or foreign customers.

Photo: Mobile Transaction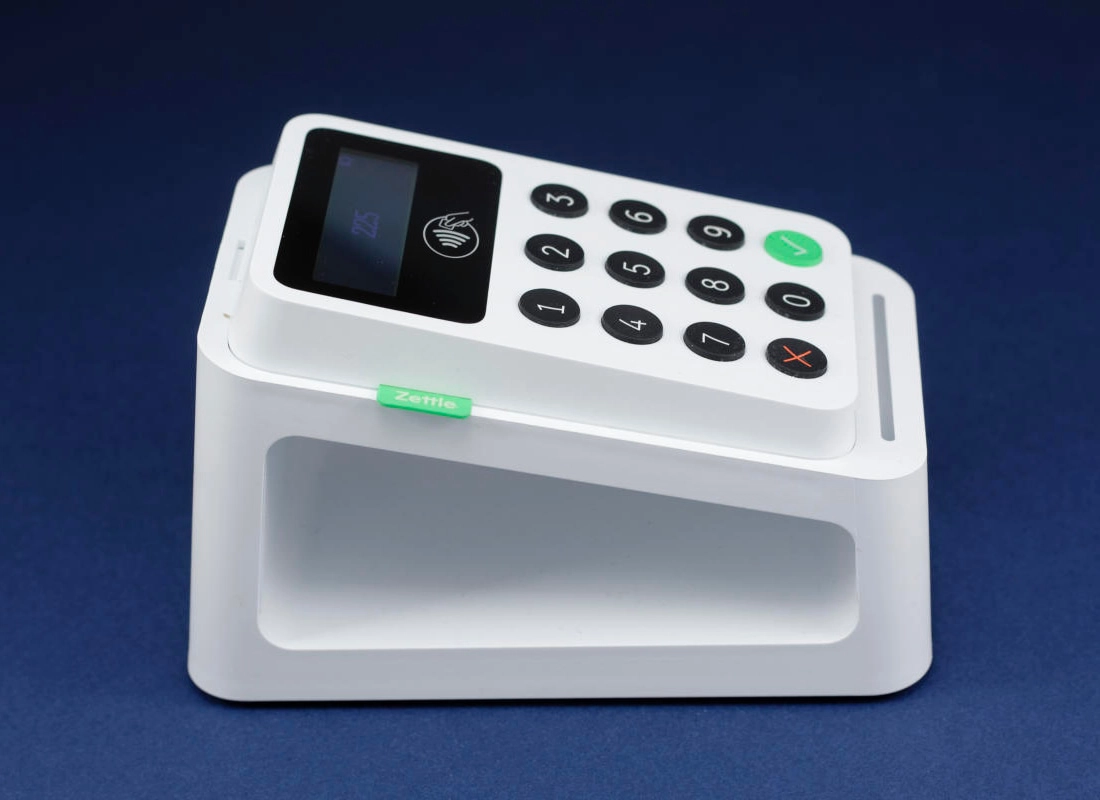 The PayPal Zettle reader looks good in its charging stand.
The free payouts go directly in to your online PayPal Business account. To transfer money into your bank account, you have to manually "withdraw" it to your linked bank account which takes one business day. You can transfer money instantly to your bank account for an extra fee. Alternatively, you can order the free PayPal Business Debit Mastercard linked to your e-account so you can spend money without withdrawing it to a bank account.
The greatest value of PayPal Zettle is its integration with your PayPal account, which may be linked to ecommerce sales. When in-person sales are recorded in the same account, it makes it easier to analyze your overall sales.
The PayPal Zettle app gives you essential features like tipping, discounts and a product library to keep track of items sold. You can even accept PayPal QR codes, keyed payments and cash, and send payment links and email invoices from the app.
Learn more: PayPal card reader review – new package any good?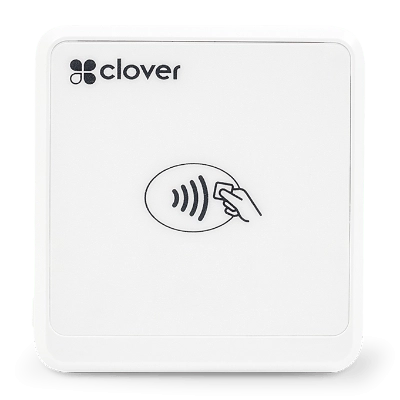 No lock-in, no cancellation fee

$0/mo or $9.95/mo plan: 2.6% + 10¢ per tap/EMV payment
$39.95/mo plan: 2.3% + 10¢ per tap/EMV payment

Free payouts in bank account
Clover Go is a card reader that looks similar to Square's, but it accepts swipe as well as EMV cards and contactless payments. At a higher price point – $99 to purchase – it is the most expensive device on this list, though.
The credit card reader works with the Clover Go app on Android devices. The amount of app features depends on your chosen subscription.
There's a free plan where you just buy the card reader and pay 2.6% + 10¢ per per contactless or chip card payment, but then you only have core functions like accepting cards, viewing transactions and sending digital receipts.
On the Clover Essentials plan for $9.95 per month, you can also set up a product library with modifiers, categories and more. It's possible to get a higher plan with more point of sale features, but this isn't really worth it unless you buy Clover's more expensive card terminals (there's a selection of touchscreen models). If you go for a higher POS plan, your card rate is a bit lower (2.3% + 10¢).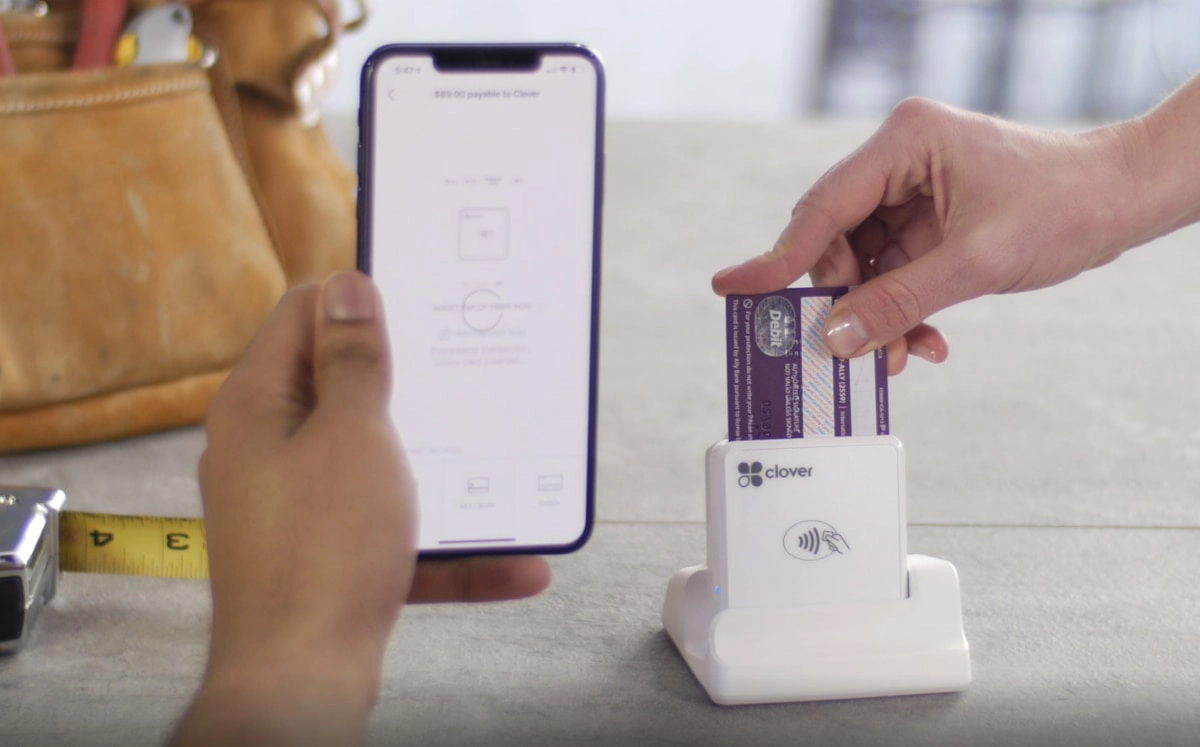 Clover's credit card reader can be placed in a charging dock.
As the only solution on this list, Clover Go can accept cards offline where the transaction is finalized when back online. So if your internet is patchy, it's worth considering this solution.
Clover merchants also get a full-fledged merchant account, ensuring better account stability than, say, Square or PayPal. There is no termination fee, as you can cancel the contract any time.
More about the card reader: Clover Go – how does it work?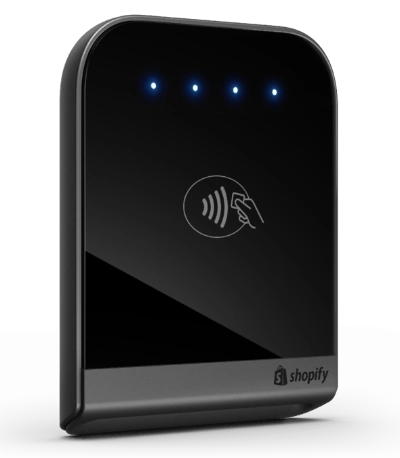 Required ecommerce plan: $9-$299/mo

Chip & Swipe Reader: $29
Tap & Chip Reader: $49

Card rates: 2.7%-2.4% depending on plan

Free payouts take about a week

Works with Shopify POS app
Best known for its online store builder, Shopify also sells two card readers for Android phones and tablets: the Chip & Swipe Reader (no contactless function) for $29 and Tap & Chip Reader (no swipe function) for $49. These are used in conjunction with the Shopify POS app for Android, which has a POS Pro subscription option for $89 per month, if the free app isn't enough.
You can only use a Shopify mobile card reader for Android when you're on an active ecommerce subscription. The cheapest subscription is Shopify Lite for $9/month (the monthly price is lower if you pay 1, 2 or 3 years upfront) which includes Buy Buttons to embed on your existing website, but no features for building an online store. The swipe, tap and chip fee for transactions on Lite is 2.7%.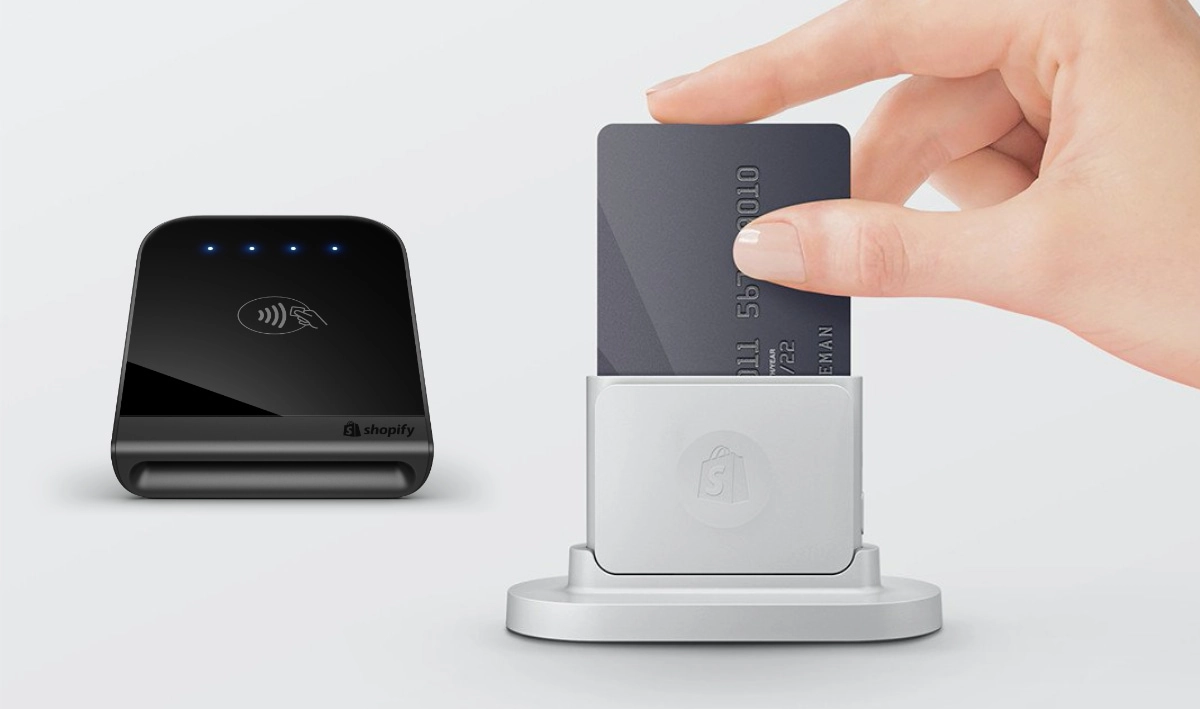 Shopify sells two credit card readers that work with Android devices.
Basic Shopify includes a full-fledged online store for $29/month and the same card rate of 2.7%. The Shopify plan for $79/month lowers the transaction rate to 2.5%. You have to pay $299 monthly (Advanced Shopify) for the lowest rate of 2.4% and most advanced ecommerce features.
Payouts take a couple of business days to reach your bank, plus 24-72 hours for your bank to clear the money in your account. This makes Shopify the slowest in terms of payouts in this article. You can cancel the plans any time, but you won't get subscription fees refunded, so think carefully before deciding to pay for 1+ years.
Shopify card readers are convenient for retailers who primarily sell online but want to keep face-to-face transactions connected with the online sales in their reports and analytics. The monthly subscription can otherwise make Shopify readers expensive for what it's worth when you're not selling online at all.
Learn more: Shopify Lite – minimal ecommerce tools with simple POS