Disclosure: Our editorial staff write reviews independently. We may be compensated if you sign up for a service through our affiliate links.
On the surface, Clover and Square could look similar with their white, shiny POS equipment – but they are very different payment companies.
For a start, Clover focuses on complete packages of POS software, trademark equipment and credit card processing from the same company, Fiserv (previously First Data). You can get different Clover pricing through many merchant service providers, but Clover is an exclusive solution that cannot be paired with other hardware, software or payment processors.
Square offers POS and payment systems for iPad, iPhone and Android devices paired with a Square credit card reader. This gives you freedom to test and combine the software with different hardware setups. Square handles the card processing with the same, transparent fees for everyone, and many additional business tools are included for free or expandable via specialized Square subscriptions or external integrations.
Let's compare the main differences between Square and Clover.
| | | |
| --- | --- | --- |
| | | |
| Terminal price | $0-$799 | $69-$1,649* |
| Chip, tap, swipe fee | 2.5-2.6% + 10¢ | 2.3-2.7% + 10¢* |
| Keyed transactions | 3.5% + 15¢ | 3.5% + 10¢* |
| Core software fee | $0-$60/mo | $9.95-$69.95*/mo |
| Contract | No commitment | Commitment may apply |
| Payouts | 0-2 business days | Payout times vary |
| Accepted cards | | |
| Contactless | | |
*Pricing if signing up through Clover directly.
Terminal price
$0-$799
$69-$1,649*
Chip, tap, swipe fee
2.5-2.6% + 10¢
2.3-2.7% + 10¢*
Keyed transactions
3.5% + 15¢
3.5% + 10¢*
Core software fee
$0-$60/mo
$9.95-$69.95/mo
Contract
No commitment
Commitment may apply
Payouts
0-2 business days
Payout times vary
*Pricing if signing up through Clover directly.
Similar terminals and POS hardware
User-friendliness is central to both Square and Clover. This comes across in their hardware packages that can typically be used straight out of the box with minimal or no instructions.
Clover and Square have credit card machines for similar scenarios. Both companies have designed their own:
Credit card reader that works with a mobile point of sale (POS) app

Handheld, touchscreen card terminal with built-in POS software

All-in-one POS register with a big touchscreen and customer-facing screen
On top of these, Clover has a compact tablet terminal with POS software, card reading capabilities and other handy features. There is also an accompanying cash drawer and receipt printer by Clover with the full register setup. Square has accessories too, mainly an iPad holder with a built-in swipe slot to go with the app-based Square Reader for chip and contactless cards.
Mobile card reader for phone app
The mobile card readers are the cheapest way to accept cards with Clover and Square. Square actually has two app-based card readers: a very small Reader for magstripe (first one free, then $10 each) and Square Reader for contactless and chip card payments ($59). Clover has one small card reader for swipe, EMV and contactless, Clover Go ($69).
Common to these readers is the fact they have to connect to a mobile app on a compatible smartphone or tablet. It is the connected phone or tablet that utilizes 3G, 4G or WiFi in order to process the card payments read by the mobile card reader. The card reader cannot, on its own, accept payments.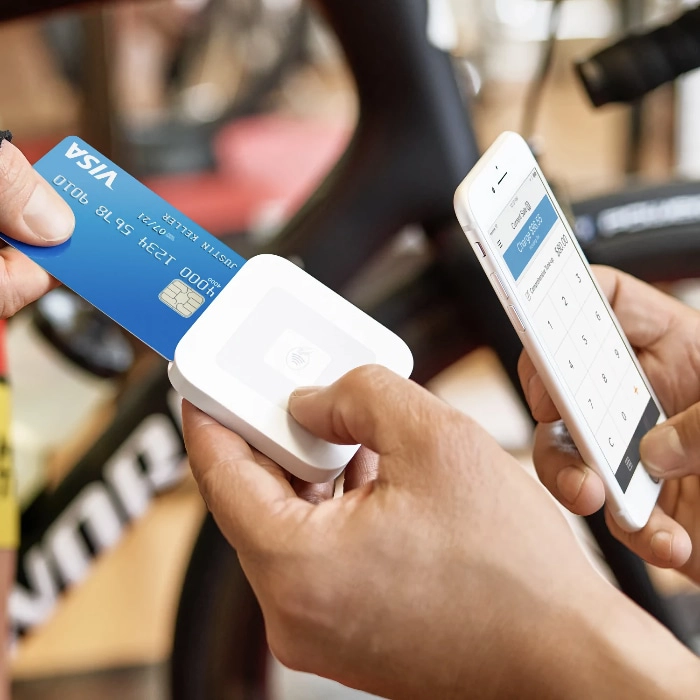 Square Reader is a lightweight card reader.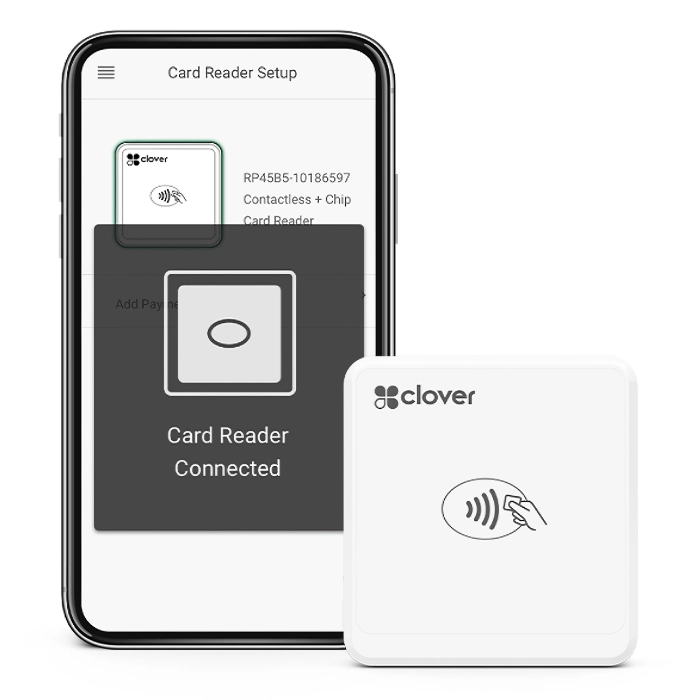 Clover Go looks similar to Square Reader.
Square readers can be used with the free Square Point of Sale app (downloadable on any Android or iOS device), Square for Restaurants (iPad only) and Square for Retail (iPad only). Clover Go can only be used with the basic Clover Go app, which has limited features compared to the free Square app.
Handheld credit card machine
The handheld, standalone card terminals with built-in checkout software are Clover Flex ($499) and Square Terminal ($299). Both can print receipts, are wireless, and with a big touchscreen and swipe, contactless and EMV technology for any card payments. Only the Clover terminal has a barcode scanner built in.
Clover Flex automatically works through a WiFi connection and can be connected with 3G or 4G on the Register ($39.95/month) plan. The Flex is therefore ideal for on-premise payments away from a stationary checkout, or on the go provided you have upgraded to mobile connectivity.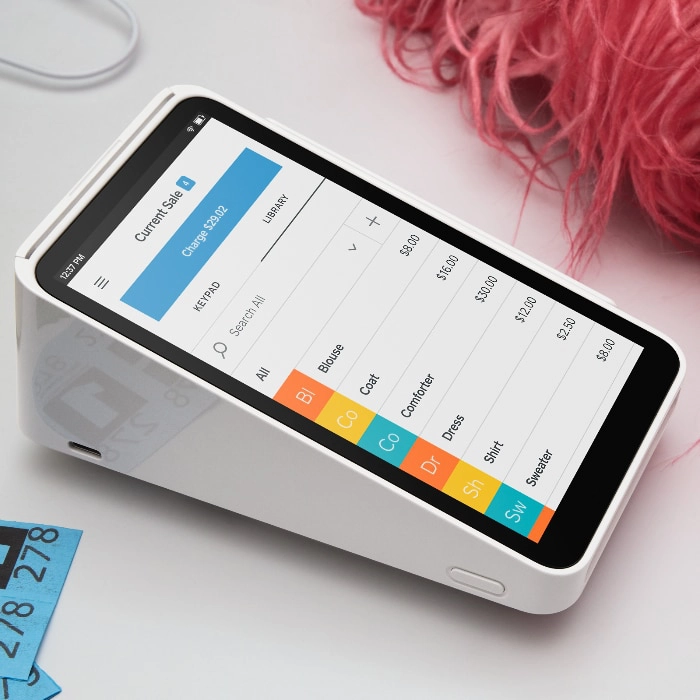 Square Terminal can be used with fixed WiFi.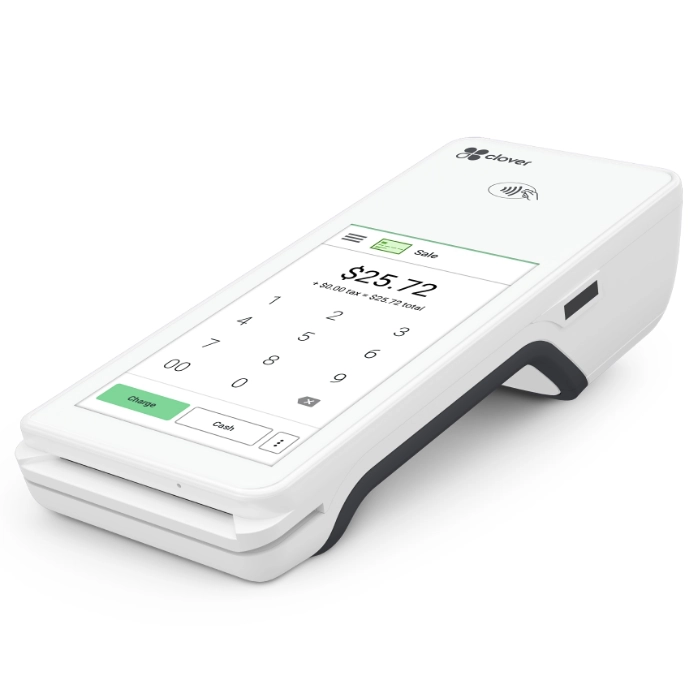 Clover Flex is a handheld touchscreen terminal.
Square Terminal can only be connected with a secured WiFi connection or through an Ethernet cable, not a mobile network. This makes Square Terminal best for table-side ordering within your premises and unsuitable for on-the-go payments unless you're stationed at a location with secure WiFi, such as a conference venue or market.
Complete point of sale bundles
Then we have larger constellations of point of sale hardware bundles. Clover and Square have several options for the countertop.
If using a compatible iPad, you can get Square Stand ($169) with a built-in swipe slot. The swivelling iPad stand is ideal with Square Reader for contactless and chip ($59) placed in a charging dock ($29).
If you prefer an all-in-one POS terminal without an iPad, there's the stylish touchscreen terminal Square Register ($799) which takes any cards as well. Register has a large touchscreen for the staff member and smaller touchscreen terminal for card payments facing the customer. You can detach the customer-facing terminal to respect social distancing, or click it into a slot at the front of the main terminal for a unified POS register. It is compatible with the free Square Point of Sale app, free Square for Restaurants software and all Square for Retail plans.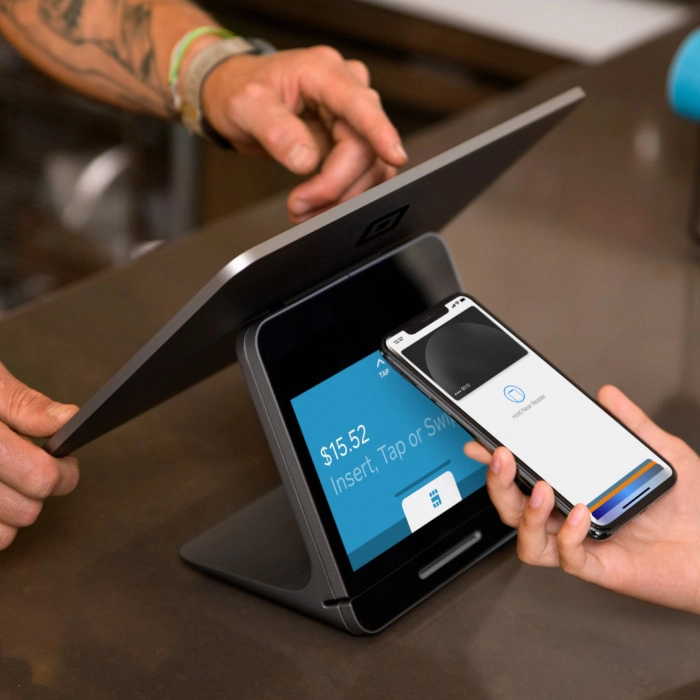 Square Register has a detachable touchscreen terminal at the front.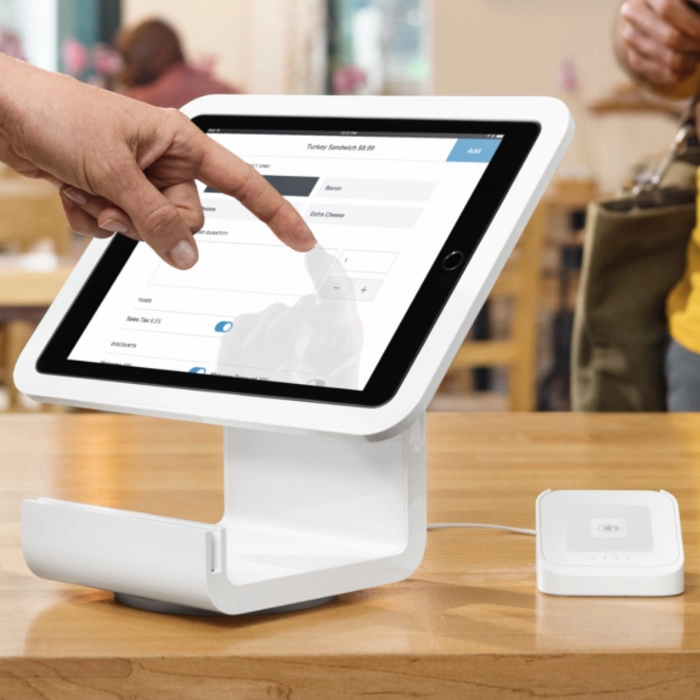 Square Stand can hold a compatible iPad.
Clover offers POS terminals for various checkouts. For a start, Clover Mini ($749) is a compact, tablet-like terminal that can take credit cards, print receipts, scan barcodes and be either staff- or customer-facing. You can manage a store or restaurant entirely from Mini through Clover's software.
The next step up is Clover Station ($1,399) that includes a large touchscreen, separate receipt printer and separate cash drawer. For $250 more, you get a customer-facing screen as well that looks like Clover Mini – this bundle is called Clover Station Pro.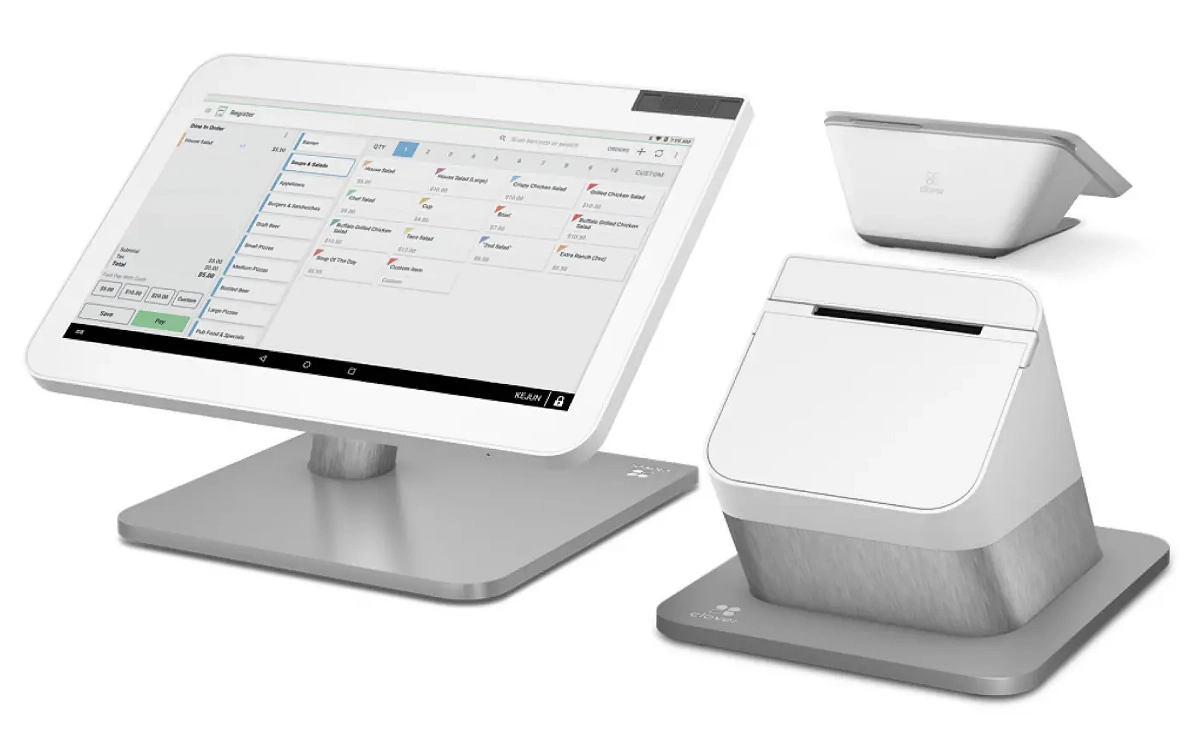 Clover Station Pro includes a large touchscreen terminal, receipt printer and customer-facing terminal.
Clover Station can be used with a barcode scanner, weight scale and kitchen printer, and all Clover devices can be associated with the same merchant account for a scalable solution for any size business. While Square equipment can also be combined for any setup, Square is compatible with a wider choice of POS accessories than Clover.
A crucial difference between the two platforms is the fact that all of Clover's software only works on Clover devices. This means you can't just download and test the software on your own tablet like you can with Square. A Clover terminal has to be purchased or leased before you can try it for the first time.
For a new business with limited capital, this could prove risky given how expensive the Clover hardware is. To compare prices:
Clover Go is $20 more than Square Reader for contactless
Clover Flex is $200 more than Square Terminal
Clover Station is at least $600 more than Square Register
There is much less risk involved in downloading a Square app for free, test it and only then purchase equipment and subscribe to one of their commitment-free POS systems.
That being said, Clover hardware does have more features like barcode scanning, optional 4G connectivity (Clover Flex), fingerprint login (latest Clover Station), a separate cash drawer and receipt printer, and a tablet checkout (Clover Mini) with all POS features in a compact device.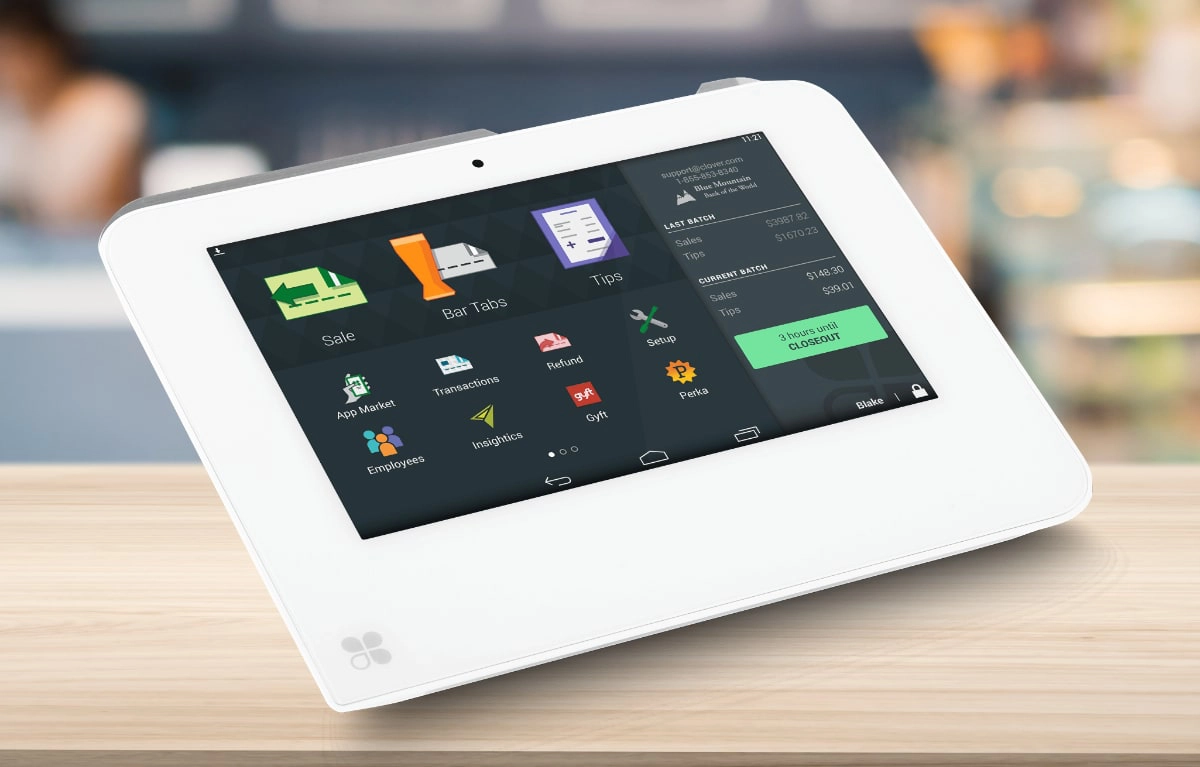 Clover Mini is a standalone checkout with card payments, receipt printer and POS software.
Contract, charges and credit card processing
The way you sign up with Clover and Square is fundamentally different:
Square merchants always sign up on Square's website and use Square's own payment system, meaning everyone gets the same price for the software, hardware and payment processing. You can purchase Square hardware at certain retailers, but using it requires registering with Square directly.

Clover products can be purchased from many different banks and merchant service providers in the US. This means you can get different pricing of the software, payment processing and hardware depending on where you sign on, but Fiserv will always be the credit card processor.
Square's costs are a lot more transparent – you can find all charges and terms on the website without too much digging. Since Square handles credit card processing, there is no separate contract for this and no contractual commitment. You can sign up for free and decide not to use it without having to do a thing, as there is no termination fee or ongoing charges (unless you're on a paid subscription for certain features – but these are cancellable any time without charges).
Clover, on the other hand, requires a monthly, paid software subscription just to use the basic POS software with any of the card terminals. You may also be sold a dedicated merchant account from Fiserv (no other credit card processors can be used). Dedicated merchant accounts typically have ongoing fees and require a fixed contract of 1-3 years, but if you sign up through Clover directly – or certain other merchant service providers such as Payline – you can cancel the agreement any time.
| | | |
| --- | --- | --- |
| Mobile card reader | $0-$59 | $69* |
| Handheld terminal | $299 | $499* |
| Tablet terminal | n/a | $749* |
| POS station | $799 | $1,399-$1,649* |
| Setup fee | None | Fees may apply |
| Core POS software | $0-$60/mo | $9.95-$69.95*/mo |
| Contract lock-in | None | Depends on package |
| Chip, tap, swipe fee | 2.5%-2.6% + 10¢ | 2.3%-2.7% + 10¢* |
| Keyed card fee | 3.5% + 15¢ | 3.5% + 10¢* |
| Ecommerce & invoice fee | 2.9% + 30¢ | Depends on solution |
| Bank account deposits | Free (+1% fee for Instant Transfers) | Depends on contract |
*Listed costs are from Clover directly. Other Clover providers may charge differently.
Mobile card reader
$0-$59
$69*
Handheld terminal
$299
$499*
Tablet terminal
n/a
$749*
POS station
$799
$1,399-$1,649*
Setup fee
None
Fees may apply
Core POS software
$0-$60/mo
$9.95-$69.95*/mo
Contract lock-in
None
Depends on package
Chip, tap, swipe fee
2.5%-2.6% + 10¢
2.3%-2.7% + 10¢*
Keyed card fee
3.5% + 15¢
3.5% + 10¢*
Ecommerce & invoice fee
2.9% + 30¢
Depends on solution
Bank account deposits
Free (+1% fee for Instant Transfers)
Depends on contract
*Listed costs are from Clover directly. Other Clover providers may charge differently.
Credit card rates depend in part on the POS subscription. Square's card reader transactions cost 2.6% + 10¢ through any Square terminal and software except on the Square for Retail Plus subscription where it's 2.5% + 10¢.
Clover's own transaction charges for card reader payments are 2.7% + 10¢ on Register Lite, 2.3% + 10¢ on Register, 2.5% + 10¢ on Counter Service Restaurant and 2.3% + 10¢ on the Table Service Restaurant subscription.
These rates apply to any Visa, Mastercard, American Express and Discover cards.
Key-in payments apply to card details entered manually in the POS app or virtual terminal. Those transactions cost 3.5% + 15¢ with Square and 3.5% + 10¢ with Clover. Ecommerce and invoice payments where the customer enters their own card details cost 2.9% + 30¢ with Square. Clover integrates with online stores via additional apps, but ecommerce rates are not publicized.
Both Square and Clover let you either buy the equipment upfront or pay it off in monthly installments. With Square, you need an iPad for the retail or restaurant system, unless you get Square Register that includes the touchscreen interface. Only Clover offers leasing agreements, which would result in a separate contract where you end up paying a lot more than the upfront price.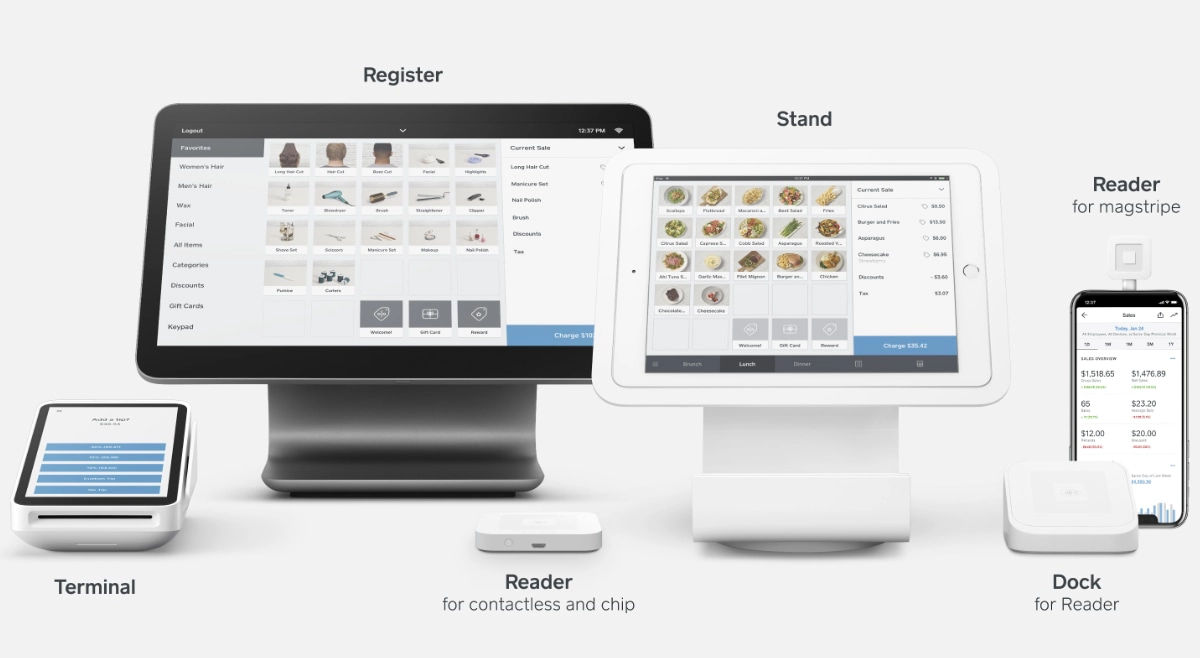 Square's hardware and software are generally cheaper, but you may need an iPad.
Square payouts take 1-2 business days to process to your bank account, with the option to activate 'Instant Transfers' for an extra 1% transaction fee for payouts within minutes. Alternatively, you can get a free Square debit card for real-time access to transactions (without the Instant Transfer fee) – something Clover doesn't offer. Fiserv deals with Clover's card processing and doesn't advertise specific settlement times, but this can be clarified through your Clover provider.
Clover also has fees for chargebacks ($25 each) and an active SIM card for 3G connectivity ($15 per month). Depending on the merchant account agreement, there may be several other costs associated with e.g. repairs, service, shipping, account termination, payments and software. Square does not charge for chargebacks, nor are there any hidden account costs.
Software features
As avid all-in-one solutions, Clover and Square don't shy away from promising wide breadths of POS features. The companies just have a different approach to meeting that.
Clover POS equipment comes with software that can be expanded with additional apps available on Clover terminals.
Through Clover, retailers have to subscribe to the general POS plans Register Lite ($9.95/month) or Register ($39.95/month), depending on which terminal it's for and how extensive the software should be. Restaurants can subscribe to Counter Service Restaurant ($39.95/month) or Table Service Restaurant ($69.95/month – also called Clover Dining) for more relevant features including online ordering. In any case, it costs $9.95 per month per additional device for the same location.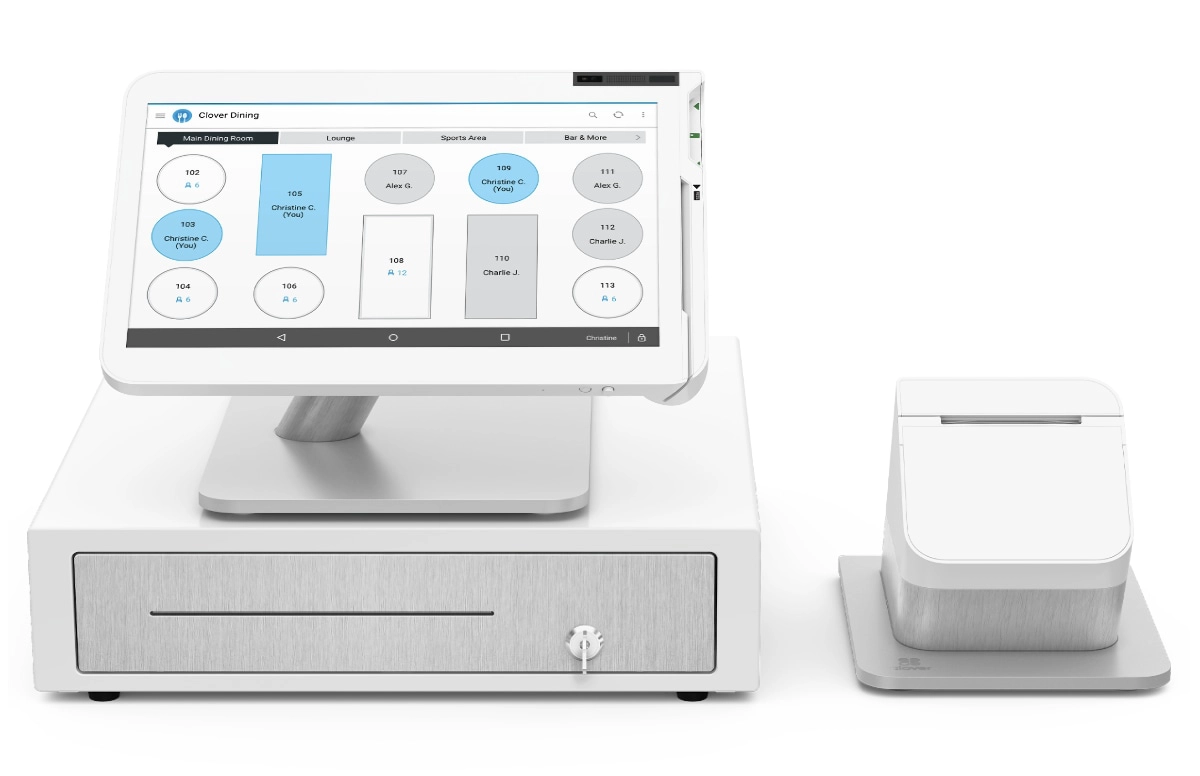 Clover Dining for restaurants has features like table plans, split bills and order management.
Then you can add additional apps from Clover App Market to supplement the general features in the main POS software. Some of these apps are free, but many have a monthly fee after a free trial period which will rack up ongoing costs. A Clover virtual terminal for over-the-phone payments is included for free. The hundreds of business apps you can add include functions for employee management, email marketing, inventory management and much more. It's also possible to use an integration to sync products in the Clover system with an external ecommerce platform like BigCommerce.
With Square, you can opt for the free Square Point of Sale (POS) app accessible in App Store on iPad and iPhone or Google Play on Android devices. The Square POS app has more features than Register Lite, plus access to a free virtual terminal for telephone sales, free invoicing, free payment links, free ecommerce and free gift cards. Sales reports are genuinely useful as well.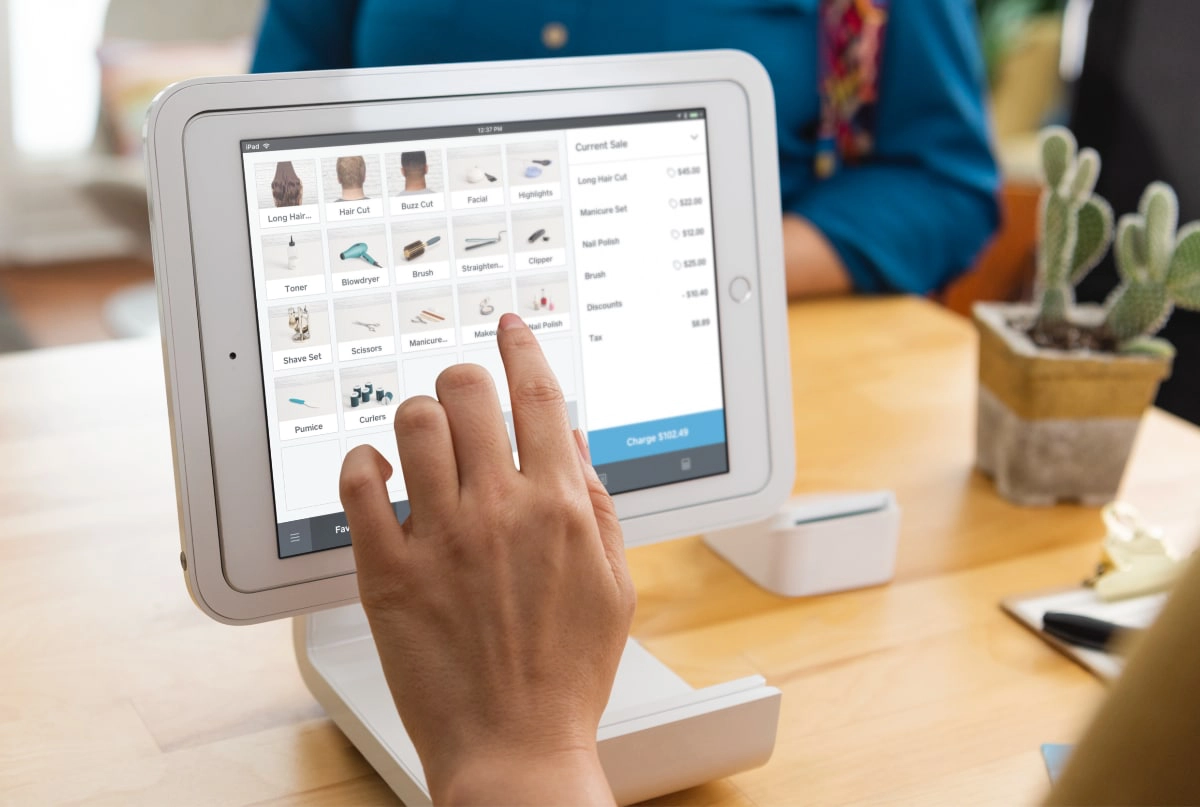 The free Square Point of Sale app is accessible on your iPad, iPhone and Android device.
Restaurants can subscribe to Square for Restaurants (Free for $0/month or Plus for $69/month), and shops can subscribe to Square for Retail (Free for $0/month or Plus for $60/month).
Then you have add-on Square features like Appointments (booking system for e.g. hairdressers), Payroll, Marketing, Loyalty and Team Management. Some of these have free features but mostly, you pay a monthly subscription for each. You can use Square Online to build an online store with products integrated with in-store items. In addition, there are many integrations with external platforms enabling you to sync Square with online ordering systems like Uber Eats, delivery tools, complex accounting, ecommerce platforms and much more.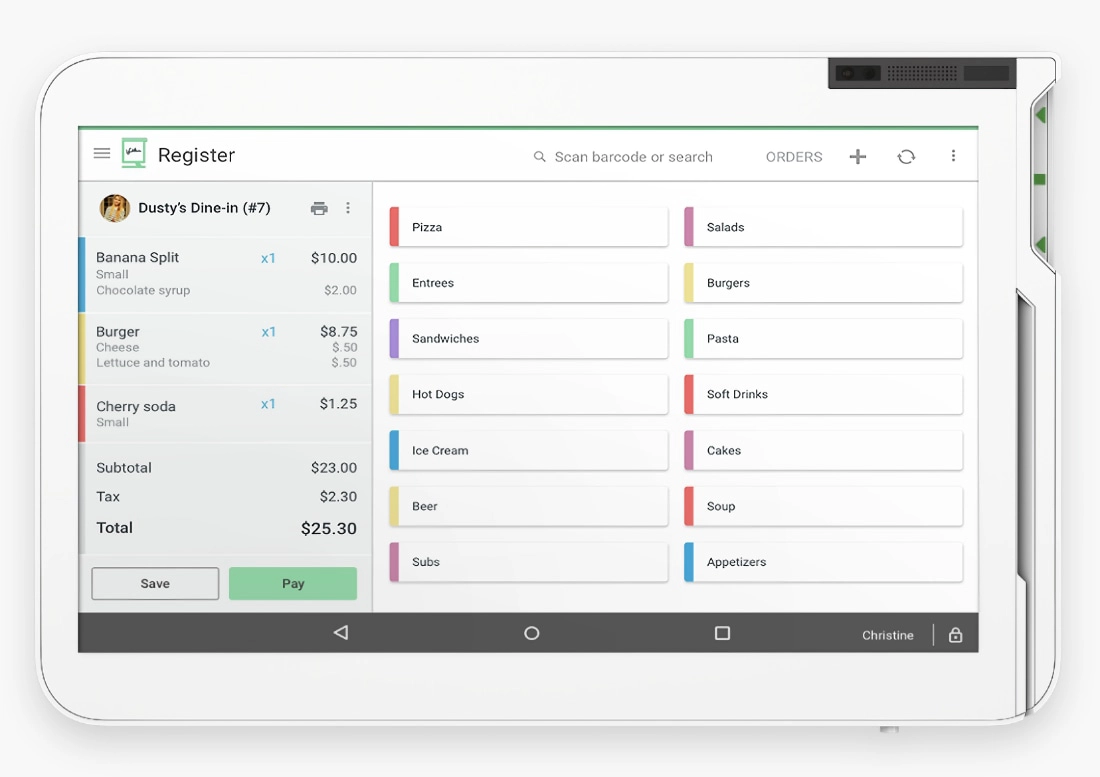 Clover Register is the general POS system for retailers and simple food businesses.
Clover comes with a merchant account
A merchant account is required for any credit card processing – it's just a question of whether you have one dedicated to your business, or whether the payment company uses a collective ('aggregate') account for all their users. In both cases, transactions are processed to your bank account.
Square merchants have to use Square's aggregate merchant account. This means you don't get a dedicated merchant account with its own ID and contract terms. This is great for businesses that don't want to lock into contractual commitment and want to be accepted quickly, but it means some transactions can more easily be flagged due to stricter security protocols.
Clover can be used with your own merchant account provided by Fiserv. The terms and fees of this will differ between banks and merchant service providers, but Clover appears to offer an aggregate merchant account just like Square if you go directly through their website. Given the amount of complaints online about Fiserv/First Data, it's fair to say you should check – before signing a Clover agreement – the terms of the merchant account.
While First Data has received overwhelming amounts of negative reviews in the US, at least the stability of payments is somewhat better than Square's.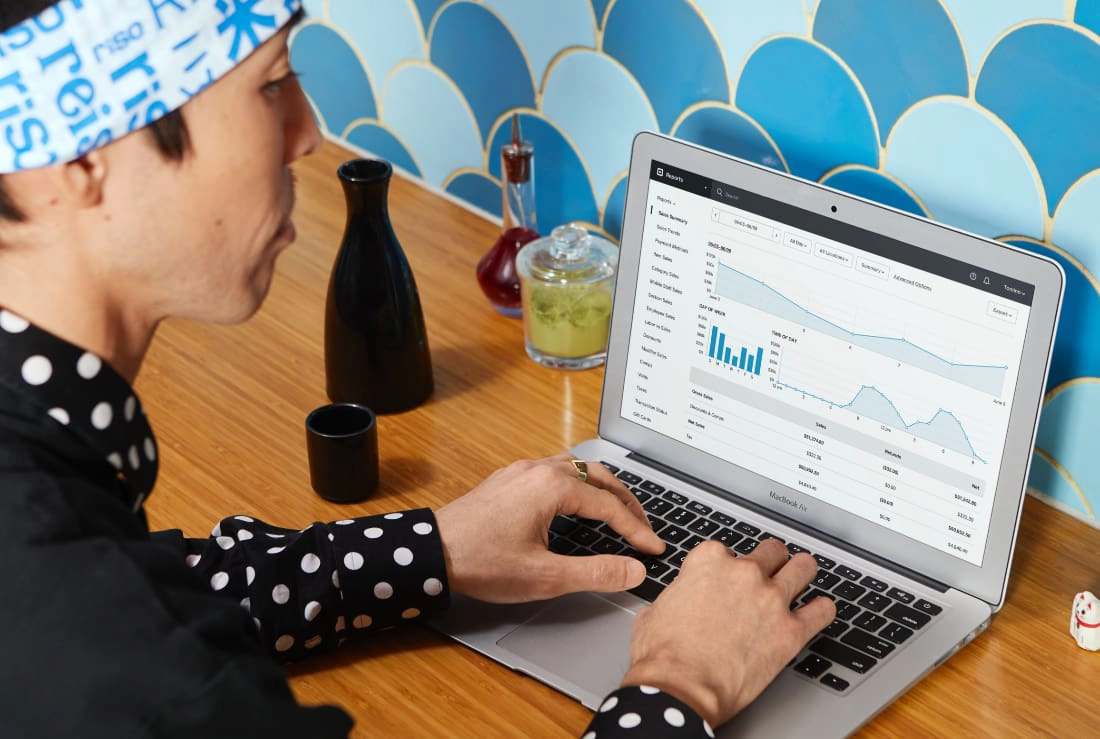 Square sales reports are accessible in a web dashboard or the POS apps.
Customer reviews and service
Square provides free support on business days between 6am-6pm (PT) or 24/7 support on paid POS plans. Clover's customer service is available 24/7 on all subscriptions.
Most payment companies get many negative reviews from their users, but those users are typically the victims of stringent security measures that block them out of their accounts. Since most Clover users get their own merchant account, payments are more stable and that's why they get fewer complaints about that. Square, on the other hand, has received more complaints about frozen accounts and funds withheld, which is a typical mechanism to verify suspicious merchant activity.
On the other hand, customer support is some of the worst with Clover. Initially, you deal with the reseller who may provide great onboarding, but once you run into problems with the software, hardware or card payments, you have to deal with Fiserv.
It is rare to find positive reviews about Fiserv support, and many complain of hidden fees, faulty hardware and software glitches. Furthermore, each app from the Clover App Market has separate contact details for support, which can complicate matters.
Square also gets negative reviews about support, but at least they have the same contact information to handle all issues.
Our verdict
The choice between Square and Clover depends on how stable your company is, which features you need and how much money you have.
Square is great for starting out because the hardware costs can be low, there's no lock-in and it has a good selection of free business tools and remote payment methods. At the same time, the Square system is expandable with integrations and business subscriptions to advance operations in any business sector.
Clover can also be good for new businesses, but you may need to sign on to a merchant contract with terms locking you into a year or more. There's a lot of choice in costs between Clover providers so it could suit those willing to negotiate better processing rates. The high cost of hardware would require more upfront investment, unless you're willing to lease the terminals (raising long-term costs).
You'll need to be happy with Clover's own app selection because that's what you're limited to without a special integration setup. Square easily bridges its own system with tons of external software
Both systems are great for growing with your business. With Square, you can start with a free POS app that's enough for many micro-businesses and subscribe later for paid, more specialized POS systems. Clover's pricier POS subscriptions can be good value for money (particularly in hospitality), but the general POS software has posed limitations for some users.
That said, Clover's app market is great for adding specific business tools – but integrations with external software are more complicated. You'll need to be happy with Clover's own app selection because that's what you're limited to without a special integration setup. Square easily bridges its own system with tons of external software for accounting, ecommerce and more, so you can advance your setup without help.
Both systems are great for ease of use. Perhaps it's easier to use Clover's POS terminals since everything is right there on their own devices, but Square is more accessible since it works on your phone and tablet. Clover is certainly the bigger commitment and Square better for those on the fence.