By linking a credit card or PayPal to Facebook Pay, users can make payments across the apps of Instagram, Facebook, Messenger and WhatsApp.
Launched in 2019, Facebook has roughly 2.9 billion monthly active users, and it's that extended reach that makes Facebook Pay such an attractive payment option for small business owners. But how does it work?
What is Facebook Pay?
Facebook Pay is a mobile wallet that can only be used online on participating platforms.
This includes all of Meta's (Facebook's parent company) apps – Facebook, Messenger, Instagram and WhatsApp – but also ecommerce platforms like Shopify.
Only businesses and freelancers are allowed to offer it as a payment method, but any Facebook user can use it to make a payment.
How does it work?
There's nothing groundbreaking or particularly innovative about Facebook Pay. It's built on existing financial infrastructure and partnerships, meaning that Facebook doesn't handle any of the payment processing itself. Instead, it uses payment providers Stripe and PayPal to process payments.
To accept payments through Facebook Pay, sellers first have to link their PayPal account and credit or debit card, most of which Facebook accepts. This is done by navigating to the 'Settings' section on your Facebook or Instagram account ('Payments' in the WhatsApp app), then adding a payment method.
The seller then has to enable Facebook Pay as a payment method for Shops or Facebook Marketplace, after which customers who have enabled Facebook Pay themselves can pay you via these platforms.
With Facebook Pay enabled, merchants allow customers to pay on a checkout page without re-entering their credit card details, like when clicking on a PayPal button to make a payment.
For merchants selling through Facebook Marketplace or Shops on Facebook and Instagram, customers simply click on the Facebook Pay icon when purchasing their goods.
For merchants selling through WhatsApp and Messenger, Facebook Pay works like peer-to-peer payments with Venmo or Zelle: sellers request money through the service or send payment links to customers via chat to complete a sale.
Facebook Pay is also available for integration on the ecommerce platform Shopify. So far, Facebook has not made the service available on other online shop services, but we expect more offerings in 2022.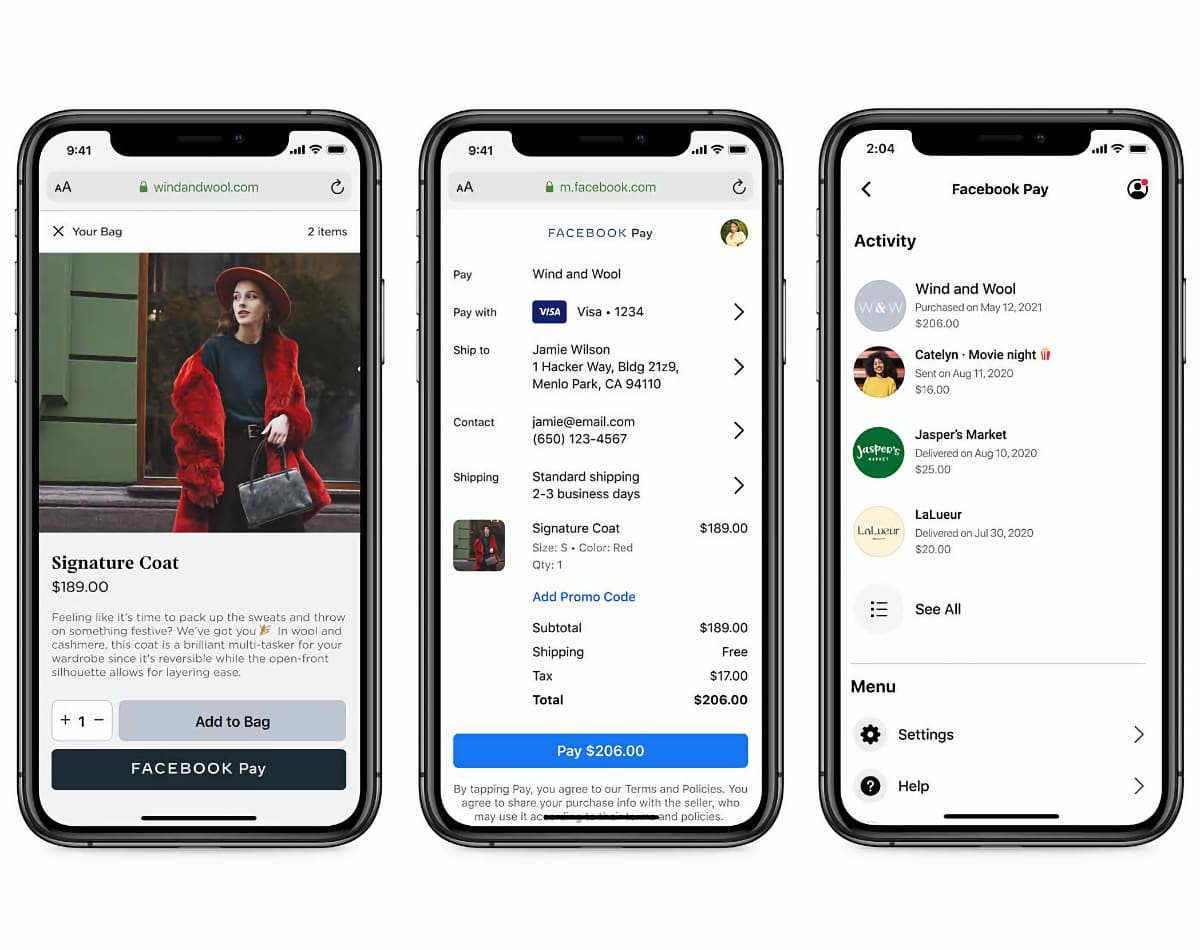 The fees for sellers
Facebook Pay is not free, despite what the platform implies. To accept payments through the feature, merchants must have a Stripe or PayPal account registered with the service and pay the processing fees set by these payment providers – the same as if they didn't have Facebook Pay.
Where merchants sell their goods will affect what fees they pay. Meta charges merchants selling through Shops and Facebook Marketplace a fee of 5% of the total transaction value (with a minimum fee of $0.40).
Merchants selling through Messenger or WhatsApp, however, will just pay Stripe's or PayPal's processing fees. Typically for US card payments online, Stripe charges processing fees of 2.9% + $0.30 per transaction, while PayPal fees are usually higher.
Merchants who have enabled their customers to pay through Facebook Pay in their Shopify store will pay the Shopify Payments fees.
Is it safe for customers?
Facebook deploys anti-fraud monitoring technology to detect nefarious activity. This technology also lets users of Facebook Pay see their complete transaction history, meaning they can check payments themselves. Facebook also offers 24/7 customer support for fraud matters.
Additionally, unusual activity alerts will notify an account holder via push notifications if any abnormal activity is detected on their account.
Finally, Facebook Pay encrypts and securely stores payment card and bank information. This sensitive information is stored separately to account details, further ensuring the security of this transaction process. Like any payments service, Facebook Pay does not share customer credit, debit or PayPal information with buyers or merchants, and stores this data separately from users' account data.
Is it safe for sellers?
As with any online payment gateway, buyers can dispute sales with their bank, resulting in a chargeback fee ($20 through Facebook). Should this occur, sellers should try to resolve the issue with the customer directly.
If the disputed sale is found to be fraudulent, sellers are protected. For any fraudulent transactions where the transaction is reversed (if a buyer uses a stolen credit card, for example), Facebook covers the chargeback cost.
If Facebook Pay is used through Shopify, sellers will pay Shopify's chargeback fee of $15 instead of Facebook's chargeback fee.
Facebook gets valuable buyer data
The data sellers get has the sole purpose of enabling them to fulfill the order. This data includes shipping, contact and order information, like when selling any products online.
But by using Facebook as a platform to sell, sellers relinquish some control of the buy-sell process – along with other valuable data – to the platform. That includes a user's online activity and purchases. This data is incredibly valuable to Facebook as it helps it to refine its advertising algorithms.
For better or worse, whenever a merchant uses Facebook Pay, it's making Facebook more valuable and more powerful.
Should you use it?
From a seller's perspective, Facebook Pay works a lot like other payment services. Facebook and Instagram can be very useful platforms for merchants, with access to an enormous user base of potential customers that already spend time there.
Adding Facebook Pay as a checkout method may increase the chance of closing a sale when a potential customer already has the feature set up. If you are already selling on Facebook, you therefore might want to enable it.