Disclosure: Our editorial staff write reviews independently. We may be compensated if you sign up for a service through our affiliate links.
Our rating
PayPal Zettle is an easy way to branch into face-to-face payments when you sell online too.
PayPal Zettle is PayPal's latest card reader to replace the old PayPal Here readers. It works with the Zettle POS app on a connected cell phone or tablet, and fits in your pocket for credit card payments on the go.
Pros: Nice card reader. No monthly fees. Fast deposits in PayPal account. Integration with other PayPal services. No commitment.
Cons: Customer service not the best. Cross-border fees. Manual transfers to bank account. No swipe function.
Best for: PayPal Business users wanting a contract-free card reader for chip cards and contactless payments.
How does it work?
Here's what you need to accept credit cards with PayPal Zettle:
PayPal Business account
Smartphone or tablet
PayPal Zettle Point of Sale app
Zettle card reader
Go to PayPal's sign-up form on the website to register. The service is available to every business or non-profit with a valid email address, but it does require additional information such as business name, address, city, phone, type of business, category, estimated monthly sales and tax ID.
The credit card reader can be ordered online through PayPal's Zettle shop, not other websites. Download the app from the App Store on iPad or iPhone, or Google Play if you have an Android device.
The app has an intuitive, easy-to-use interface and you can do things like tracking inventory and monitoring sales.
Card reader specs
There is only one credit card reader to choose: Zettle Reader. It can be ordered in black or white.
The card reader measures 0.6 x 4.3 x 2.8 inches and weighs 4.41 oz. It accepts EMV (chip) and NFC (contactless) card payments from the brands Visa, Mastercard, Discover, American Express, JCB and Diners Club, as well as the mobile wallets Apple Pay, Google Pay and Samsung Pay.
It does not accept swipe payments, which are not as secure as EMV and contactless anyway, but could be a problem for prepaid cards that still do not have a chip.
Photo: EC, Mobile Transaction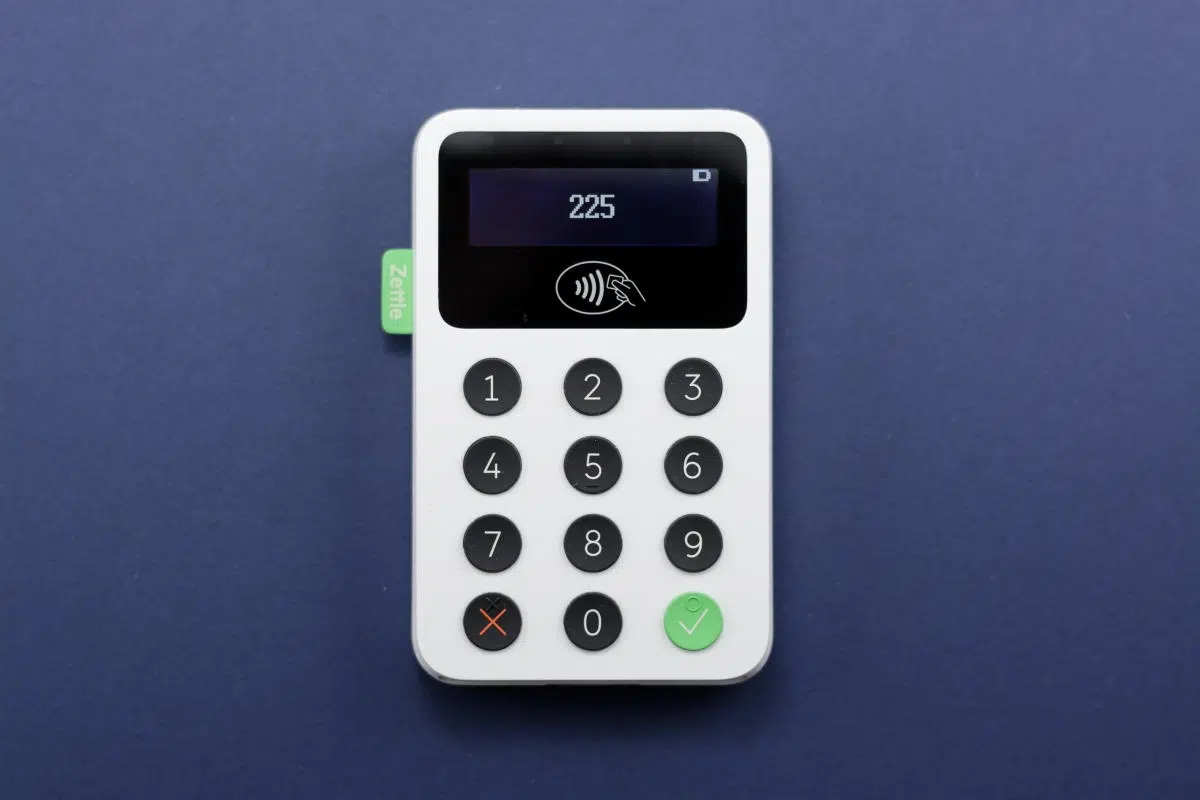 Zettle Reader has an ergonomic PIN pad for ease of use.
Zettle Reader can be purchased with a nice-looking Zettle Dock (charging stand) suitable for a point of sale (POS) counter. The card reader's battery lasts 8 hours or around 100 transactions from a full charge. It charges quickly with its included USB charging cable, or you can keep it charged all day in the dock.
The credit card reader has a push-button keypad for customers entering a PIN code. With this physical PIN pad, customers don't need to use the screen of your tablet or cell phone for PIN entry like with many other mobile card readers on the market.
Photo: EC, Mobile Transaction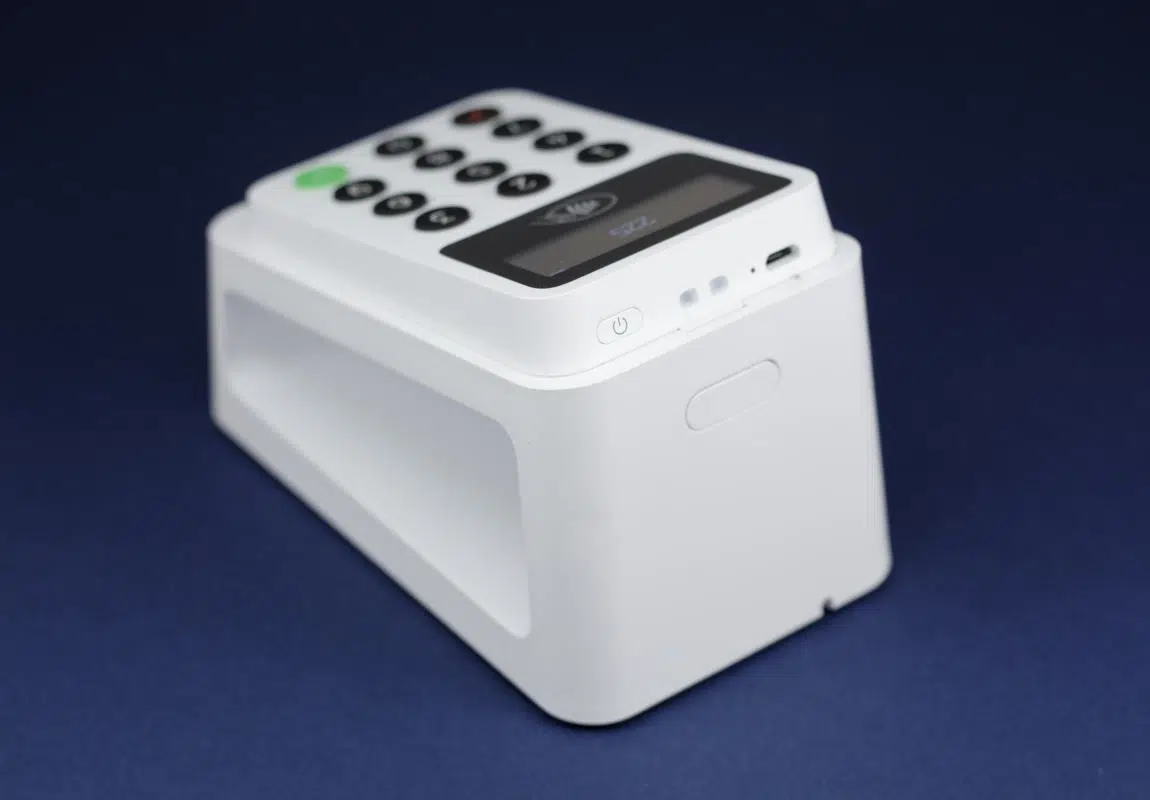 Neither the reader nor charging dock have a swipe slot for magnetic stripe cards.
Zettle Reader connects wirelessly to your phone or tablet via Bluetooth, using the mobile device's WiFi, 3G, 4G or 5G connection to process payments over the internet.
Although suitable on the go with just a cell phone, you can expand the system with a tablet, compatible receipt printers, a cash drawer and barcode scanner. Alternatively, receipts can be sent via email or text message, if unnecessary to print them.
PayPal Zettle fees
PayPal Zettle does not have a contract lock-in, and there are no setup or monthly fees. You only pay the upfront price of $29 + applicable sales tax for the first card reader (subsequent ones are $79 each), and then it is shipped free within 1-3 business days.
The cost of each contactless and chip card payment is 2.29% + 9¢ of the transaction total. This applies to all domestic debit and credit cards.
| | PayPal Zettle fees |
| --- | --- |
| Account creation | Free |
| Contractual commitment | None |
| Zettle Reader | $29 (excl. sales tax) |
| Mobile app | Free |
| Chip, tap, QR code payments | 2.29% + 9¢ transaction fee |
| Keyed payments | 3.49% + 9¢ transaction fee |
| Payment link, invoice payments | 3.49% + 49¢ transaction fee |
| Cross-border fee | Extra 1.5% per transaction |
| Currency conversion fee | 3% or 4% |
| Instant deposits to bank account | 1.5% of transfer amount |
| Refunds | Original transaction fee is charged |
| Chargebacks | $20 each + possible $15 dispute fee |
PayPal Zettle
fees
Account creation
Free
Contractual commitment
None
Zettle Reader
$29 (excl. sales tax)
Mobile app
Free
Chip, tap, QR code payments
2.29% + 9¢ transaction fee
Keyed payments
3.49% + 9¢ transaction fee
Payment link, invoice payments
3.49% + 49¢ transaction fee
Cross-border fee
Extra 1.5% per transaction
Currency conversion fee
3% or 4%
Instant deposits to bank account
1.5% of transfer amount
Refunds
Original transaction fee is charged
Chargebacks
$20 each + possible $15 dispute fee
Manually entering card details in the app is also possible for 3.49% + 9¢ per transaction. Pay-by-link and invoice payments online cost a bit more at 3.49% + 49¢ per transaction.
Those are transaction fees for US-issued cards. If a foreign card is accepted, there's a cross-border charge of 1.5% added to the payment. Non-US cards also incur a 4% or 3% (depending on the type of transaction) currency conversion fee if at any point the transaction currency needs to convert to USD.
So if you take many foreign-issued cards, the overall transaction rate can get expensive compared to other card reader companies such as Square.
When you process a customer refund, PayPal will charge you the original transaction fee paid for the refunded transaction. Chargebacks incur an admin fee of $20 each, plus a $15 dispute fee if the seller decides to dispute the chargeback.
PayPal or Venmo QR code payments (possible through the Zettle app) cost the same as chip and contactless transactions (2.29% + 9¢).
Photo: ES, Mobile Transaction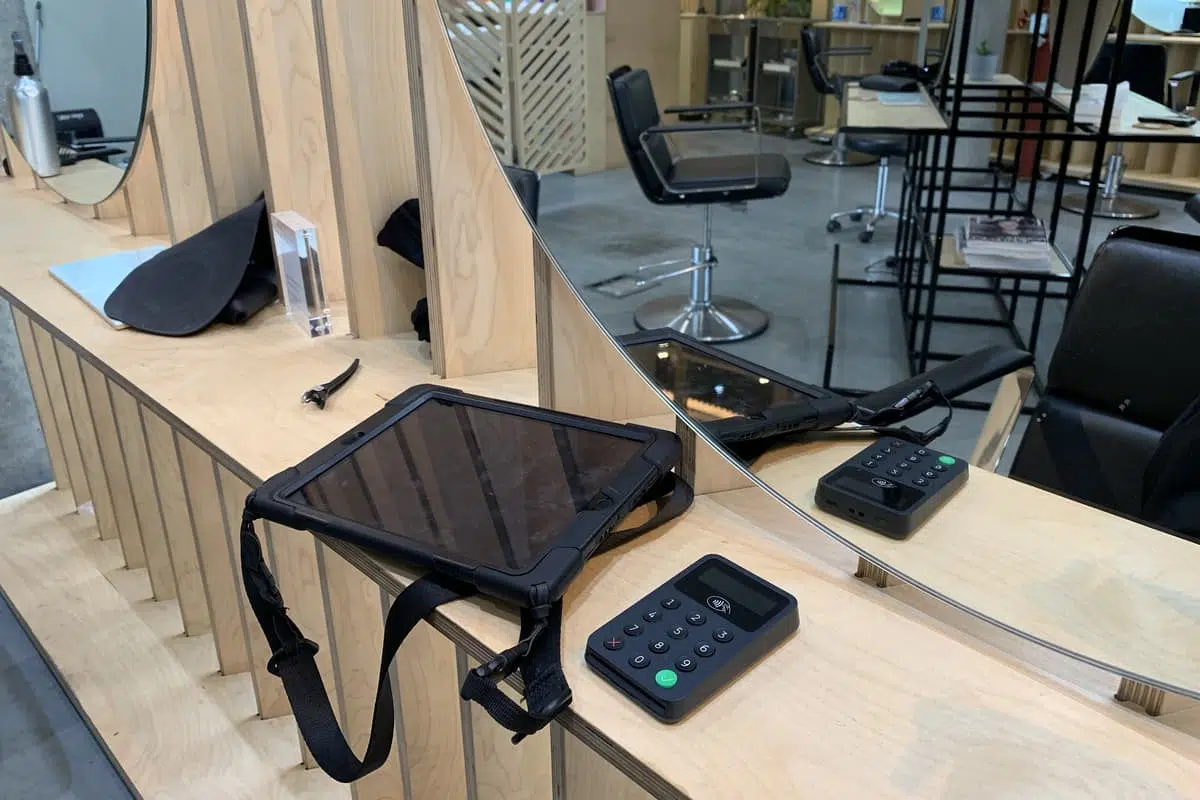 Zettle Reader alongside its iPad app in a salon.
PayPal Zettle app features
The PayPal Zettle app is compatible with most iPhone, iPad and Android phones and tablets. iPhone or iPad require iOS 12.1 and up while Android devices should run Android 8.0 and up.
In the app, you can add products and services to an inventory library showing as a neat grid layout so you can tap on items to add them to the bill. You can add a tip, taxes and discounts too.
If you haven't got a barcode scanner connected, you can actually scan barcodes through the in-app scanning features, requiring your mobile device camera.
Sales reports and transactions can be viewed in the app, allowing you to easily refund transactions or reissue receipts over email, text or print. Multiple logins can be added to separate team member sales.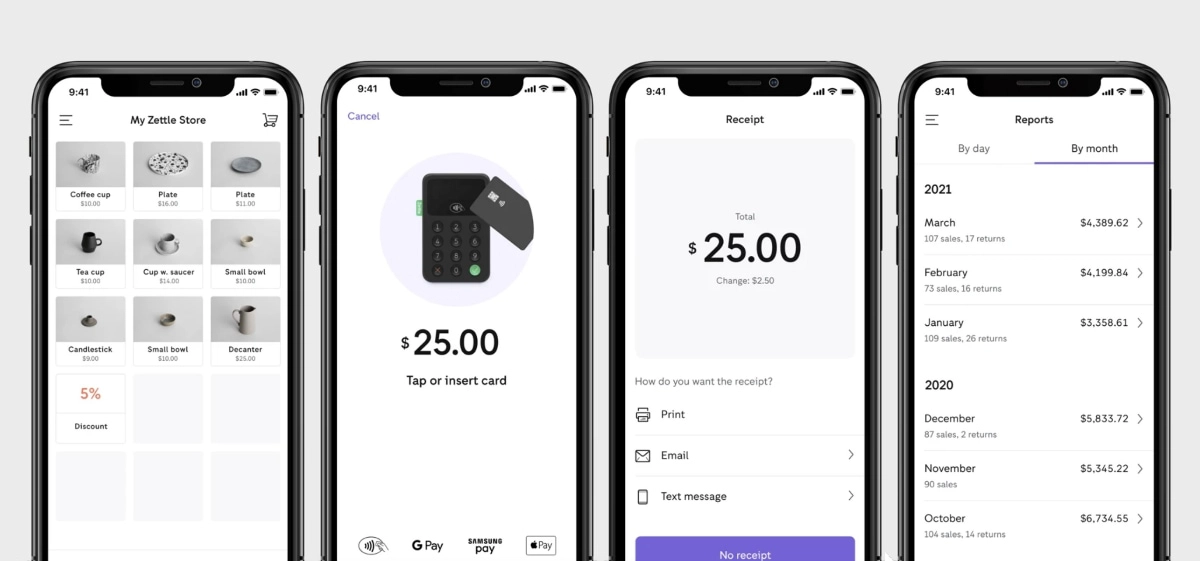 The PayPal Zettle app has enough features for mobile merchants.
Apart from accepting cards, digital wallets and PayPal or Venmo QR code payments, the app allows you to accept cash, custom gift cards and manual entry card payments. The app can even send email invoices and payment links for remote payments that the customer can complete in their phone browser.
Generally speaking, the iOS app seems to work more reliably than the Android app. Some Android users have reported issues connecting the card reader with the app, which can be a bit tedious when a customer is waiting to pay.
Fund availability and reserves
This is where it will get a bit complicated, but any business owner should be aware of the limitations before signing up.
Card transactions are available by the next business day in your PayPal account in most cases. But merchants may have one or more types of reserves applied to their business account, where you won't be able to access parts of your transactions until after a set amount of time.
The most common kind of reserve employed is a rolling reserve. This is where a percentage of each transaction is held every day and released after a certain number of days. For example, 10% of your daily turnover could be kept for 90 days, then released on the 91st day into your online account.
Reserves are determined case-by-case based on risk analyses. They are based on things like your payment history with PayPal, frequency of chargebacks, whether you are selling services in advance, delivery time frames and your credit history.
Since manually entered (keyed) payments carry a higher risk of fraud, PayPal applies more limits to such transactions compared to the more secure EMV and NFC technologies.
Withdrawals and PayPal Mastercard
Except for possible reserves, card reader payments go into your online PayPal account's 'available balance' the following business day. The available balance can be withdrawn, i.e. transferred to your bank account, which takes about one business day for a standard transfer.
There is also an instant transfer option for 1.5% of the transfer amount, but then you receive the deposit in your bank account within minutes.
To spend the PayPal Balance without needing to make manual withdrawals, you should apply for the PayPal Business Debit Mastercard.
The card gives instant access to your online balance within the limit of $400 per day for cash withdrawals from any ATM.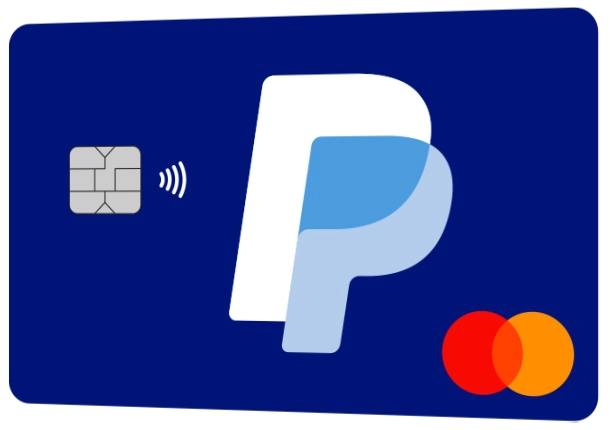 You can earn back 1% of the cash (i.e. cash back) spent on eligible purchases.
The card can help you access funds immediately – but it is also another plastic card to carry around, and you pay $1.50 per ATM cash withdrawal. It costs $3 to take out cash at a checkout where a signature is required.
The card can be used abroad to take out cash or pay in shops for an extra 1% fee on top of each transaction amount regardless of whether there's a currency conversion or not.
Customer service
With PayPal Zettle, you get 24/7 email support which sounds promising compared to most card reader companies with limited business hours.
However, our own experience of the website chat has been bad, where we are either cut off before a chat has even started, or the support person has no resolution to a question. PayPal has received a lot of slack for its customer service over the years, and there's definitely still some way to go to offer faster responses to users.
The reports for PayPal Zettle customer service are still mixed. Most negative ratings deal with how PayPal responds to account limitation issues and reserves.
Security and fraud protection
PayPal adheres to PCI-DSS and provides secure transactions through the encrypted Zettle Reader and end-to-end encrypted transactions. It also monitors every transaction 24/7 to prevent fraud.
On top of that, the business owner cannot retain, track, monitor or store user data unless you have received express consent of the customer to store card data. If you do not have such consent, all card data must be completely removed from your system within 24 hours of receiving authorization.
PayPal may contact your customers if it is investigating potential fraud.
Verdict
PayPal Zettle is best for small-business owners because it's free to get started, you don't sign up to an ongoing contract, and it's connected to PayPal's other online payment services.
Zettle Reader is very secure and stylish, as well as being very easy to hold and use. We think it's the most attractive card reader on the market, but the accompanying app may not have enough POS functions for a retailer or food venue – that's your call and something to check before committing.
A large volume of keyed transactions can be a problem unless you are fine with PayPal's reserve system. What's more, there's no swipe function (despite the mention of it on the website), meaning old prepaid cards without a chip cannot be accepted in the card reader.
| PayPal Zettle criteria | Rating | Conclusion |
| --- | --- | --- |
| Product | 4.1 | Good |
| Costs and fees | 3.7 | Passable/Good |
| Transparency and sign-up | 4 | Good |
| Value-added services | 4 | Good |
| Service and reviews | 3.5 | Passable/Good |
| Contract | 4.5 | Good/Excellent |
| OVERALL SCORE | 3.9 | Good |
PayPal Zettle
criteria
Rating
Conclusion
Product
4.1
Good
Costs and fees
3.7
Passable/Good
Transparency and sign-up
4
Good
Value-added services
4
Good
Service and reviews
3.5
Passable/Good
Contract
4.5
Good/Excellent
OVERALL SCORE
3.9
Good
The app is very easy to use and enough for a mobile merchant taking card payments on the go. If you're dealing with remote payments, choosing PayPal Zettle can be a convenient way to keep all transactions together in your sales reports, whether from email invoices, ecommerce or card reader sales.
That being said, the fees are high with a large proportion of tourists or foreign customers, as the transaction charges for non-US cards are higher than what you can get elsewhere. A more affordable option for that is Square or SumUp who do not add additional fees to their tap or EMV charges.
Pros
No fixed monthly fee or lock-in

Stylish, sophisticated card reader

Next-day access to funds with card

Integration with online payments

Great all-round payment app
Cons
Delayed access to funds with reserves

Cross-border fees on non-US cards

Bank account deposits not automatic