If you are already using PayPal for payments online and happy with the experience, PayPal Here is an easy way to branch out to face-to-face payments.
Instant funds on PayPal account

Chip, swipe and contactless in one card reader

Integrates with other PayPal services
The usual PayPal objections: account holds and customer service
After Square stepped into the mobile payments industry in 2010, another renowned player, PayPal, launched an almost identical solution for transforming your smartphone into a mobile POS two years later.
How does PayPal Here measure up against the Square competition in 2018? In this review, we dig deeper.
How does it work?
To start accepting payments from customers with credit or debit cards, small-business owners need to own a smartphone or tablet (more details on which models are compatible follow below), have a PayPal account (of course), download the PayPal Here app from the App Store or Google Play, and obtain one of their card readers.
Customers have two possibilities: they can either order the card reader through PayPal or buy from select retailers.
PayPal Here's free swipe card reader only takes magnetic stripe cards. It is a small, black, triangular swipe reader you plug into your cell phone's audio jack (not all mobile devices have an audio jack, so check compatibility).
In order not to be liable for possible fraud, we recommend the Chip Card Reader. It costs $79 and accepts all the card types you need – be it swipe, chip and contactless cards, as well as Apple Pay and Google Pay payments. Its keypad ensures that customers who need to enter a PIN instead of producing a signature can type their PIN code directly on the card reader rather than your phone screen.
PayPal Here also sells two newer card readers: the Chip and Tap Reader ($59.99), which looks like a black Square Reader, but accepts swipe on top of chip dip and contactless tap, and the Chip and Swipe Reader ($24.99) that only accepts swipe and chip cards.
The app comes with a clear, intuitive, easy-to-use interface. It also allows business owners to provide basic information about their business, which will appear on customer receipts, and comes with the ability to manage inventory.
You may also like: Square vs SumUp: which one is best for your business?
Cards and payment methods
PayPal Here allows small-business owners to accept credit and debit cards, cash, mobile check-in, checks and invoice payments. All the most common cards are accepted, including Visa, Mastercard, American Express, and Discover credit and debit cards. The contactless card readers also accept Apple Pay and Google Pay.
The app is set up to accept PayPal check-in, which allows customers to pay using their phone only – no card needed.
You can also keep records of cash and check payments. The app supports check scanning and acceptance using the camera on your phone.
PayPal Here costs
The swipe reader can be obtained for free without signing a contract or long-term commitment, and there are no setup or monthly fees. We do, however, strongly recommend going for one of the newer card readers, since swipe is no longer the most secure payment method, while chip and contactless methods are.
The cost for each swipe and check-in payment is 2.7% of the transaction total.
Although the PayPal Here app is able to scan credit card information, you still need to enter the amount or missing data – such as the security code – manually. Manually keying in the card details is also possible in the app. Such cardholder-not-present transactions will cost 3.5% + $0.15 for business owners, compared to the 2.7% if processing the cards through a card reader.
This is the case if you are dealing with a US card. If not, cross-border transactions are charged and extra 4.2%, while keyed or scanned transactions with a foreign card will cost you 5% of the amount + $0.15. All non-US card transactions may also incur a 2.5% currency conversion fee, but that's not always the case.
Fund availability and withdrawals
This is where it will get a bit complicated, but any business owner should be aware of the limitations before signing up (*but please note that the amounts and information in this section were correct in April 2017 and may have changed since – contact PayPal directly for confirmation about this).
Theoretically, all magstripe, chip and contactless card payments are available immediately in the receiving PayPal account, except once the accounts exceed a $4,000 weekly limit. Amounts received (swiped) above $4,000 will be allocated to your account after 30 days.
If you have more than $2,500 in keyed transactions or scanned transactions during any rolling 7-day period, your funds will be delayed by 30 days by PayPal. Since manually entered (keyed) payments carry a higher risk of fraud — because swiping a card involves an additional layer of security — PayPal applies further limits to such transactions.
This means that PayPal can take actions in regard to the user's account such as placing a reserve on funds held on the account, and that even includes swiped transactions.
To summarize, under the first scenario, the first $200 to $4,000 that you, the business owner, accept in swiped transactions during any 7-day period will be available immediately in your PayPal account.
Under the second scenario, the 30 days delay for swiped transactions over $4000 for 7 days can go up to 60 days, or under the third scenario, all of the payments a business gets can be put on hold for a certain period. It is customized depending on the type of account the business owner opens and the specific risk analysis applied by PayPal.
The available balance can be withdrawn. If you opt to transfer funds to your bank account, this will typically take up to 5 business days.
But if you want to access your money in an instant, you should apply for the PayPal Debit Mastercard Business Card issued by The Bancorp Bank, based in Wilmington, Delaware.
To qualify, businesses need to have operated the account in good standing for 60 days.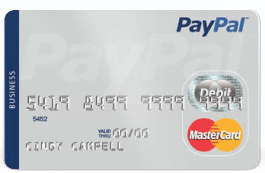 The card provides instant access to your available balance within the limit of $400 per day for cash withdrawals from any ATM.
You can earn back 1% of the cash spent on eligible purchases, limiting purchases to $3,000 per day. The card can help you access funds, but it is another plastic card you need to carry around and remember the PIN number for, in addition to taking transaction fees into account when withdrawing money, currently at $1 per withdrawal.
Compatibility with iOS and Android
Before jumping into PayPal Here, check if the app is compatible with your device. The app is compatible with most iPhone, iPad and Android devices. iPhones or iPads need to use iOS 8.0 or later. There is at least one difference between the iPhone and iPad versions, though: the latter offers barcode scanning.
Like with Square, you'll need an microphone jack adapter to use the basic card reader for iPhone 7 and newer iPhones. PayPal does not sell one, so you would need to get one separately. However, the chip and contactless card readers accept swipe cards and connect through Bluetooth to your phone, so choosing one of these will not be any hassle for the newer iPhones.
Users owning an Android device should keep in mind that the device needs to run Android 4.0.3 or later, have a 3.5 mm jack with microphone if using the swipe card reader, and support location services – important for check-ins and, of course, internet access.
PayPal Here is compatible with some Android tablets, such as several of the Samsung Galaxy Tab ones.
Customer service
PayPal has received a lot of slack for its customer service, but has reportedly tried to improve its ratings in the last couple of years. PayPal Here offers multiple ways to access customer service: you can call them, contact them via email within the app, or get in touch with an agent through an online chat.
The reports for PayPal Here customer service are still mixed: most negative ratings deals with how PayPal responds to account limitation issues and frozen accounts.
Security and fraud protection
PayPal adheres to PCI DSS and provides secure transactions with the help of the encrypted PayPal Here card reader and end-to-end encrypted transactions. It also monitors every transaction 24/7 to prevent fraud.
It is worth noting an important aspect of PayPal Here transactions: to get paid, customers need to sign transactions greater than $25, which will be helpful in defending the business owner in the event of unauthorized transaction claims.
Also, you as a business owner cannot retain, track, monitor or store user data unless you have received the express consent of the customer to store card data. If you do not have such consent, all card data must be completely removed from your system within 24 hours of receiving authorization. PayPal may contact your customers if it is investigating potential fraud.
PayPal Here is available for every individual, business or non-profit with a valid email address, but it does require some additional information such as business name, address, city, phone, type of business, category, estimated monthly sales and a tax ID.
Pros
No fixed monthly fees
Free swipe card reader
Multiple ways to access customer service
Can turn your iPad into a cash register
The app has got more sophisticated
Cons
Limited, delayed access to funds (instant access to available funds requires you apply for a card, which carry fees for use)
Cross-border fees are added to transactions with non-US cards