Disclosure: Our editorial staff write reviews independently. We may be compensated if you sign up for a service through our affiliate links.
PayPal Zettle (replacing PayPal Here) and SumUp are competing card reader services for merchants who want a convenient way to accept credit cards in person.
While PayPal is famous for its online payments platform, SumUp is a younger European company that has focused on easy face-to-face payments from the beginning. SumUp has definitely mastered simplicity when it comes to costs and products, but PayPal is more nuanced with a wide choice of payment tools online.
We compare the two platforms to help you decide what's right for your business.
| | PayPal Zettle Reader | SumUp Plus Reader |
| --- | --- | --- |
| | | |
| | | |
| Technology | EMV (chip), NFC (contactless) | EMV (chip), NFC (contactless), magnetic stripe (swipe) |
| Price | $29 | $39 |
| Transaction fee | 2.29% + 9¢ + cross-border & currency conversion fees | 2.75% |
| Monthly fee | None | None |
| Commitment | No lock-in | No lock-in |
| Payouts | Next business day in PayPal account | 1-2 business days to bank account |
| Accepted cards | | |
| Contactless | | |
PayPal
Zettle
Reader
SumUp
Plus
Reader
Accepts chip, contactless
Accepts chip, contactless, swipe
$29
$39
2.29% + 9¢ + cross-border & currency conversion fees per transaction
2.75% per transaction
No contract, no monthly fees
No contract, no monthly fees
Next-business day payouts to PayPal account
1-2 business days' payouts to bank account
Card readers: more choice with SumUp
SumUp offers two card readers: the SumUp Plus priced at $39 and SumUp Pro for $69.
SumUp Plus works in conjunction with a mobile app – SumUp App – on a compatible iPhone, iPad or Android smartphone or tablet (not Kindle Fire). It connects via Bluetooth to the mobile device to process cards over the internet through the phone's or tablet's mobile network or WiFi connection.
SumUp Pro, on the other hand, is a standalone card terminal that connects directly to the internet without a mobile app. It comes with a free SIM card that has unlimited cell phone data.
Emmanuel Charpentier, Mobile Transaction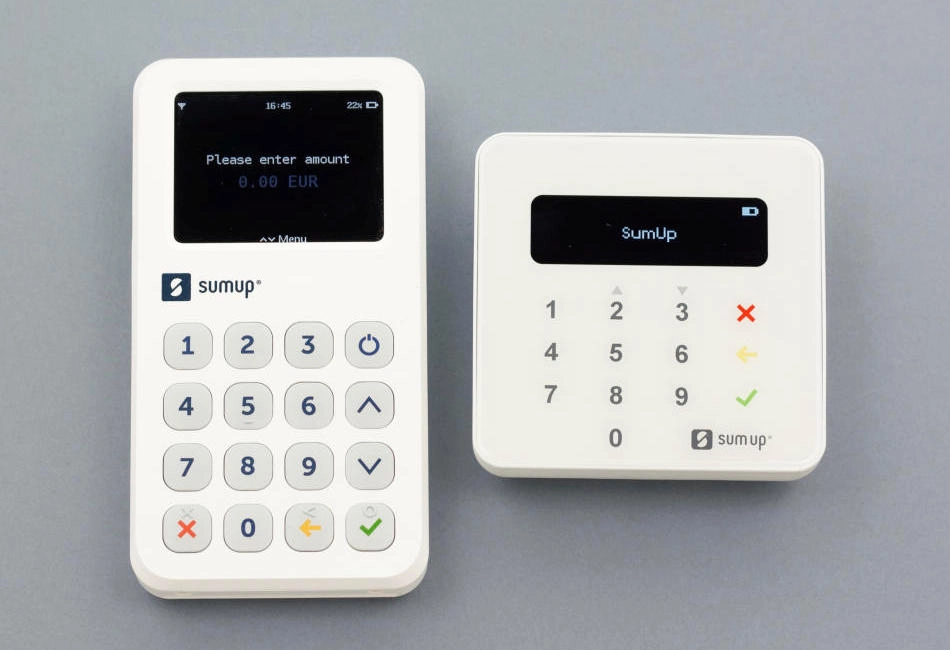 SumUp Pro next to SumUp Plus card reader.
Both terminals accept EMV/chip cards, contactless cards and mobile wallets via NFC, and magnetic stripe cards.
PayPal only has one credit card reader: Zettle Reader 2. Although the European company Zettle has designed the card reader, the name PayPal Zettle describes the service since PayPal now owns Zettle.
Zettle Reader needs a mobile app – Zettle POS – to accept payments. When ready to accept a card or digital wallet, the app communicates with the reader to finish processing the transaction.
The card reader accepts chip and contactless cards including mobile wallets. There is no swipe functionality, since magnetic stripe payments are not as secure to accept. Zettle Reader has a push-button keypad for PIN code entry, and customers can also sign for transactions in the accompanying app if required.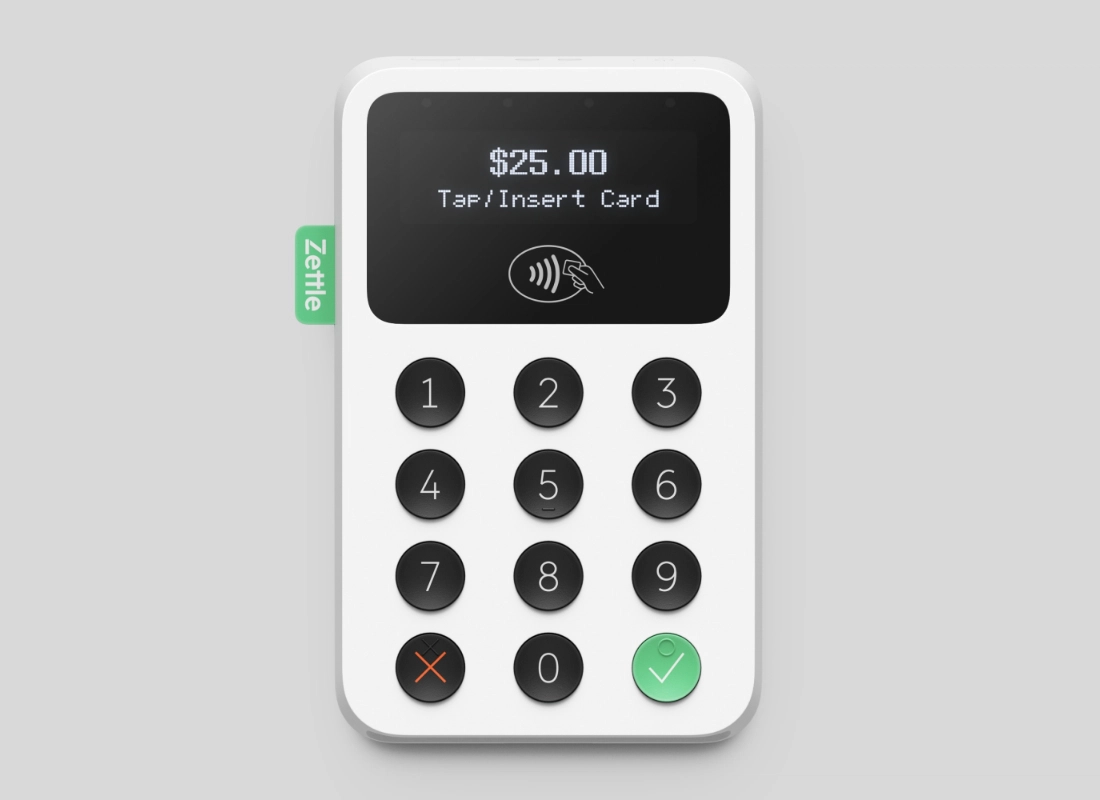 PayPal Zettle's credit card reader accepts chip and contactless payments.
None of the card readers have an inbuilt receipt printer like you see on larger credit card terminals. Instead, you can connect the PayPal Zettle app or SumUp App with a compatible Bluetooth receipt printer. SumUp Pro can be purchased with a special receipt printer attachment that also acts as a charging station.
PayPal has more fees
SumUp Plus Card Reader costs only $39, compared to $29 for Zettle Reader. The standalone SumUp Pro reader is more expensive at $69, but this includes a built-in SIM card and the lack of a need to connect it with a mobile app. The card readers are shipped free within a few days in both cases.
Neither of the companies charge monthly fees or other fixed costs, and there's no setup fee or contractual commitment either.
| | | |
| --- | --- | --- |
| Setup fee | None | None |
| Fixed monthly fee | None | None |
| Chip, tap rate | 2.29% + 9¢ | 2.75% |
| Keyed rate | 3.49% + 9¢ | 3.25% + 15¢ |
| Payment link rate | 3.49% + 49¢ | 3.25% + 15¢ |
| Invoice payment rate | 3.49% + 49¢ | 2.9% + 15¢ |
| Cross-border fee | 1.5% | None |
| Currency conversion fee | 3% | None |
| Standard payouts | Free | Free |
| Instant payouts | 1.5% fee added | n/a |
| Refunds | PayPal retains transaction fee | No refund fee |
| Chargebacks | $20 + possible $15 dispute fee | Free |
Setup fee
None
None
Fixed monthly fee
None
None
Chip, tap rate
2.29% + 9¢
2.75%
Keyed rate
3.49% + 9¢
3.25% + 15¢
Payment link rate
3.49% + 49¢
3.25% + 15¢
Invoice payment rate
3.49% + 49¢
2.9% + 15¢
Cross-border fee
1.5%
None
Currency conversion fee
3%
None
Standard payouts
Free
Free
Instant payouts
1.5% added fee
n/a
Refunds
PayPal retains transaction fee
No refund fee
Chargebacks
$20 each + possible $15 dispute fee
Free
EMV and contactless payments cost 2.75% with SumUp and 2.29% + 9¢ with PayPal Zettle. Although PayPal Zettle's rate appears lower for domestic cards, the fixed cost of 9¢ added to transactions can make small transaction values expensive. SumUp only has a percentage rate for card reader payments and no fixed dollar fee, making it the cheaper option for many small transactions.
SumUp does not differentiate between US and international cards, nor does it charge extra for currency conversion – the rate stays the same regardless of the card brand or type.
What about PayPal? If you're accepting a foreign card, a 1.5% cross-border fee will be added no matter what. If currency conversion is involved, another 3% is added on top of the exchange rate. That is quite a difference from SumUp's fixed 2.75% rate.
Key-in card transactions cost 3.49% + 9¢ and email invoicing and payment links are 3.49% + 49¢ with PayPal, plus applicable cross-border and currency conversion fees. SumUp accepts keyed card payments through its free virtual terminal and payment links for 3.25% + 15¢ per transaction, while e-invoices cost 2.9% + 15¢ per transaction.
Refunds are free to process through SumUp, whereas PayPal charges the full cost of the original transaction per refund. Chargebacks incur no admin fees with SumUp, but do cost $20 each with PayPal, plus a $15 dispute fee in specific cases.
Standard payouts are free in both cases, but PayPal has an additional option to instantly transfer money from your online PayPal account to your bank account for 1.5% of the transfer total.
Payouts in bank account versus e-money account
If you prefer automatic payouts to your bank account, SumUp is the only choice. It takes 1-2 business days for SumUp transactions to clear in your bank account (minus the transaction fee).
Payments through PayPal Zettle, on the other hand, settle in your PayPal Business account the next business day (again, minus transaction fees). From here, you need to manually "withdraw" any amount to a connected bank account, i.e. your business or personal bank account or debit card. It is only possible to link accounts and debit (not credit) cards in your personal or company's name to the online PayPal account.
It takes 1-2 business days for SumUp transactions to clear in your bank account. Transactions through PayPal Zettle, on the other hand, settle in your PayPal Business account online.
With a 'Standard' transfer from PayPal, money should be deposited in your bank account the following business day. There's also an option for an 'Instant Transfer' (costs 1.5% of transfer total) – these payouts take just minutes, maximum 30 minutes, to appear in your bank account.
SumUp does not have a fast-track way to deposit money into your bank account.
PayPal also offers a free PayPal Business Debit Mastercard that's linked to the online account. The card can be used for free everywhere, online and in stores, where Mastercard is accepted. You only pay $1 .50 per ATM withdrawal, $3 for over-the-counter cash withdrawals and a 1% Foreign Transaction Fee.
This card is great if you need to spend the PayPal balance immediately after it's in the online account, instead of manually transferring money and waiting for deposits to clear in your bank account. You are only allowed to use the card for business expenses, though.
PayPal offers more payment methods
PayPal accepts more in-person and remote payment methods than SumUp.
The card readers of both companies accept Visa, Mastercard, American Express, Diners Club and Discover credit and debit cards, but PayPal Zettle also accepts JCB. Of the mobile wallets, both can process Apple Pay and Google Pay, but only PayPal Zettle guarantees Samsung Pay acceptance too.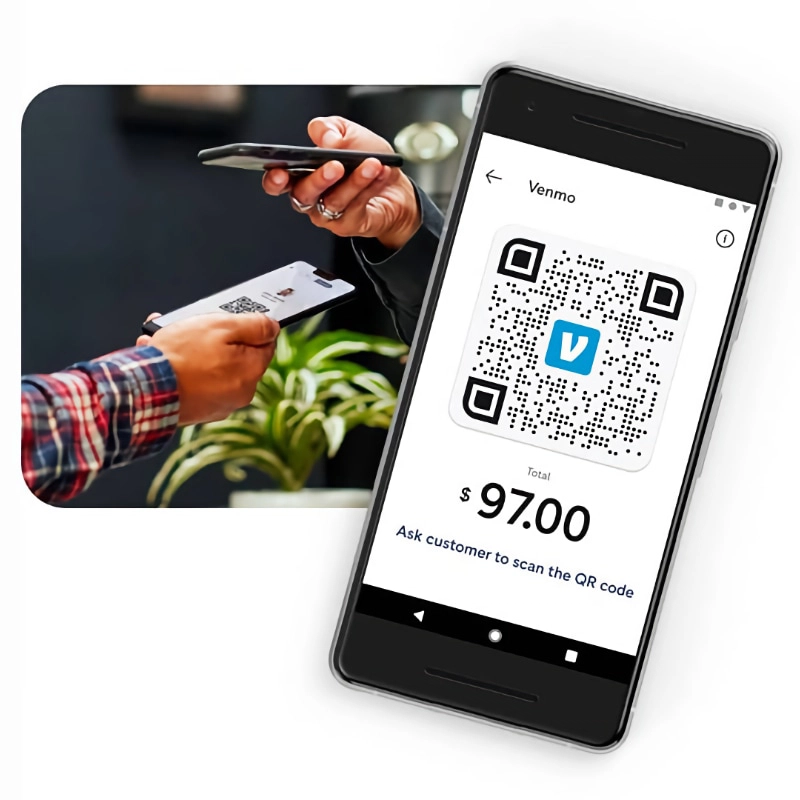 The Zettle POS app accepts QR codes via Venmo and PayPal.
You can accept keyed card payments and send email invoices or payment links through both the SumUp and PayPal Zettle apps. Cash payments are also recorded for an overview of all transactions in sales reports.
In the PayPal Zettle and SumUp apps, you can generate a QR code at checkout for the customer to scan with their phone camera. In SumUp's case, the customer then manually enters their card details and confirms the payment on a web page. In PayPal Zettle's case, the customer has to scan the QR code with their Venmo or PayPal app and process the transaction via those apps.
| Payment method | PayPal | SumUp |
| --- | --- | --- |
| | | |
| | | |
| | | |
| | | |
| Cash, keyed card payments, email invoices, payment links, QR code payments | | |
| Online store integration | | |
PayPal
SumUp
Cash, keyed card payments, email invoices, payment links, QR code payments
Online store integration
When it comes to ecommerce and browser-based features, PayPal has a clear advantage.
In your PayPal Business account, you can use a Virtual Terminal for telephone and mail order payments, but this has a monthly fee and is not cheap. All users can send email invoices asking the recipient to pay via PayPal. Then you have international PayPal transfers, buy buttons to integrate on your website and other integrated ecommerce solutions.
SumUp does not (yet) offer online store integrations in the US, but does have a virtual terminal and e-invoicing features in its browser-based Dashboard.
Apps designed to be a simple POS system
The SumUp and PayPal Zettle apps have a lot in common. For a start, they work on an Android tablet or cell phone, iPhone or iPad.
As a point of sale (POS), it is most convenient to use a tablet fixed to a countertop with a stand (PayPal Zettle sells its own for iPad). You can also add a cash drawer and stationary or mobile receipt printer to SumUp's and PayPal Zettle's apps. Only PayPal Zettle lets you add a barcode scanner too.
Both apps have a product library where you can add individual items with variants (types), each with different price points that enable you to analyze sales down to products sold. Otherwise, you can just enter a transaction amount if it's not important to itemize a bill.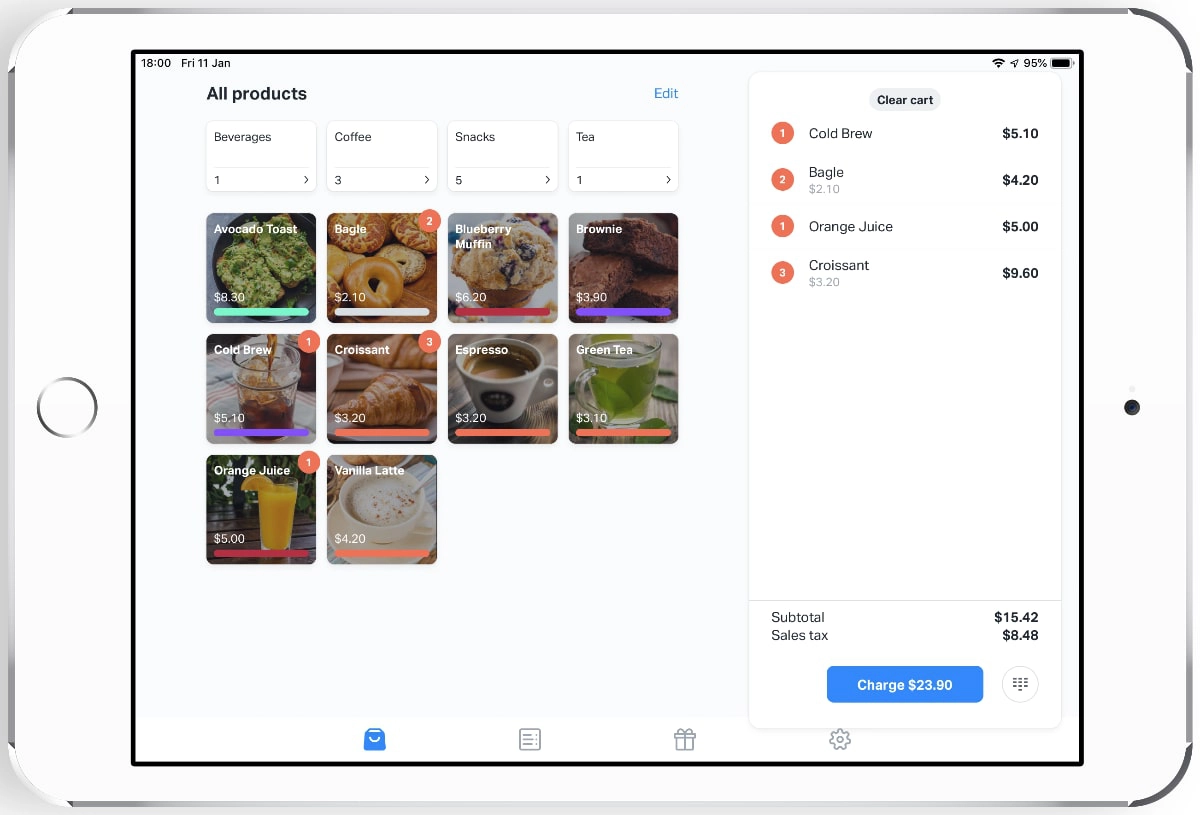 The two apps let you add taxes to transactions and view a transaction history. Receipts can be sent via email or text message, or printed with a connected printer. If you have a team of employees, you can set up multiple user accounts with their own logins to differentiate sales.
A definite shortcoming to SumUp App is the lack of discounting functions, which PayPal Zettle includes.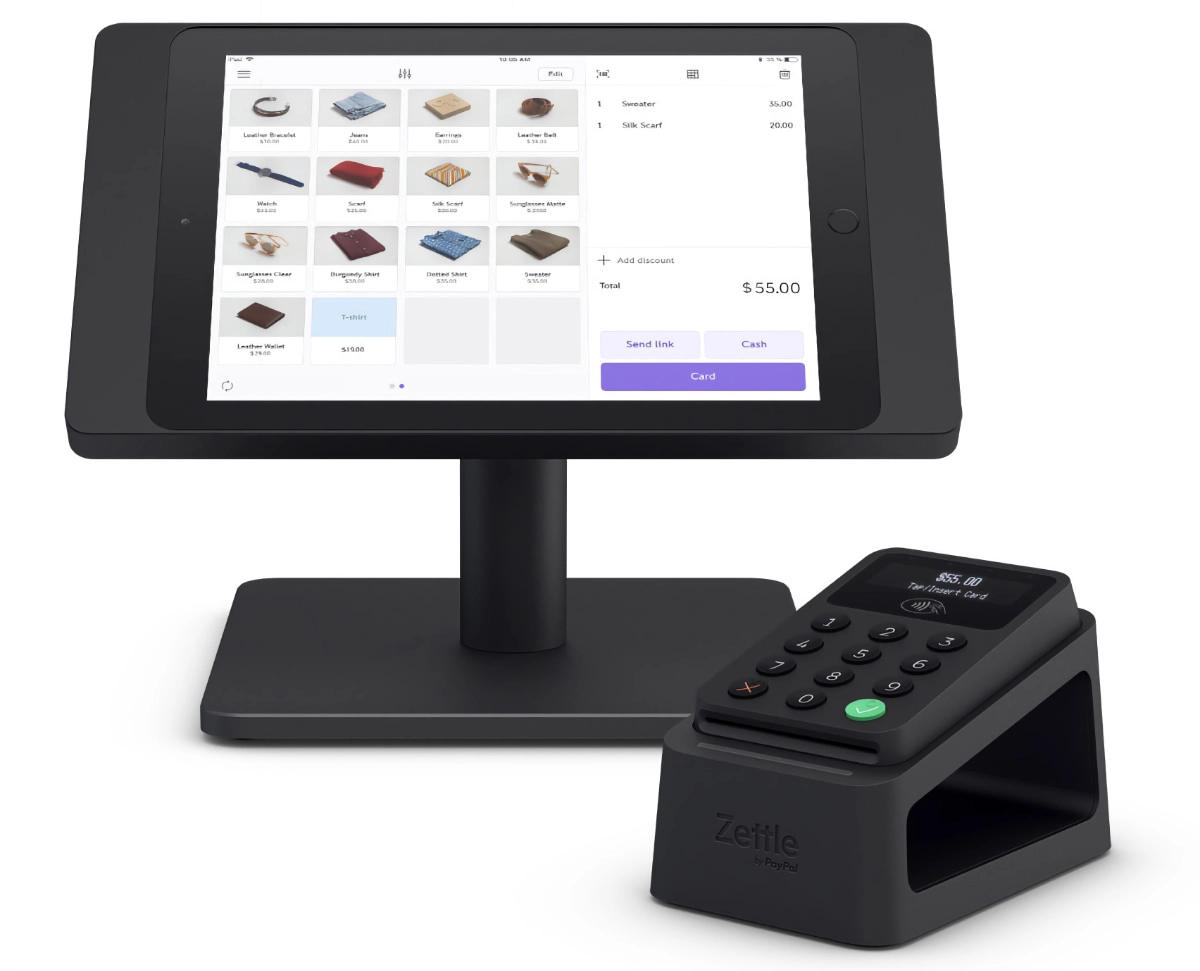 A PayPal Zettle point of sale with iPad.
The apps are so simple and user-friendly that no training is required to use them. Neither of them are suitable as a complicated POS system where advanced inventory systems are required, though.
So how does the freestanding SumUp Pro fit into a POS system? It doesn't really, because it doesn't integrate with a Bluetooth receipt printer or cash drawer, nor does it have more features than just accepting cards and making refunds.
Instead, it is intended as a standalone card reader to take payments out and about, for instance to serve customers at their table or sell from a market stall. All sales going through SumUp Pro link to your SumUp account, however, so it is a great supplement to a fixed register using the full POS app.
Customer reviews, complaints and support
What are merchants' experience of the two companies? Both have positive and negative customer reviews, but the issues are somewhat different.
SumUp's customer service team is available by phone or email on weekdays between 9 AM and 7 PM (EST). Their user base in the US is relatively small, so it is limited how many people are reporting issues.
The most common thread of SumUp complaints is how slow and sometimes inaccessible customer support is.
There are also occasional issues with the card reader's Bluetooth connectivity, and chip transactions requiring a signature where other American card readers don't require a signature.
PayPal's security is top-notch, but that is exactly why they have a wave of merchants at the wrong end of the stick – because transactions looked suspicious, their business type was not approved or the transactions volume exceeded what PayPal allows
PayPal, on the other hand, offers 24/7 customer support over email, not over the phone. It may be possible to get phone support if you ask them over email, but this is not something they're promoting.
The negative reviews for PayPal Business services are staggering. Complaints involve account holds, withheld funds and expensive transaction fees (which – let's face it – is definitely true for most of their services).
PayPal's security is top-notch, but that is exactly why they have a wave of merchants at the wrong end of the stick – because their transactions looked suspicious, their business type was not approved or the transactions volume exceeded what PayPal allows for that merchant.
Our verdict
If price is the main driver of your choice, there's no way around it: SumUp has the cheapest card reader and (generally) lowest transaction fees. In addition, PayPal's added charges for foreign cards can make the total cost high with a lot of international customers.
If you need a freestanding credit card machine, SumUp also wins with its inexpensive SumUp Pro that works anywhere with cell phone connectivity. PayPal has only ever offered app-based credit card readers, and Zettle Reader is no exception.
PayPal is better for merchants who prefer keeping ecommerce transactions connected with in-person payments. This can make bookkeeping much easier, as well as the general customer experience since there's round-the-clock email support.
SumUp does not connect with ecommerce platforms like PayPal does. Instead, SumUp is best as an easy solution for taking credit card payments in person with a simple app, great choice of remote payments and no complicated fees.