Although Square was one of the first to sell mobile card readers and PayPal was a trailblazer in online payments, they now offer similar services. PayPal's shot at in-person payments is called PayPal Here – and it's easy to see where at least some of the inspiration is coming from (Square).
That said, there are some differences in fees, deposits and integrated features. Let's contrast the two card reader services.
| | Square Reader | PayPal Chip and Tap Reader |
| --- | --- | --- |
| | | |
| | | |
| Technology | EMV (chip), NFC (contactless) | EMV (chip), NFC (contactless), magnetic stripe (swipe) |
| Price | $49 | $59.99 |
| Transaction fee | 2.6% + 10¢ | 2.7% + cross-border & currency conversion fees |
| Monthly fee | None | None |
| Commitment | No contract | No contract |
| Deposits | 1-2 business days to bank account | Immediate in PayPal account |
| Accepted cards | | |
| Contactless | | |
Square
Reader
PayPal
Chip & Tap
Reader
Accepts chip, contactless
Accepts chip, contactless, swipe
$49
$59.99
2.6% + 10¢ per transaction
2.7% per transaction + cross-border & currency conversion fees
No contract, no monthly fees
No contract, no monthly fees
1-2 business days' transfers to bank account
Immediate transfers to PayPal account
Card terminals look similar, but PayPal's is 3-in-1
Square sells different kinds of card terminals, Square Reader for Contactless and Chip being the only low-cost solution for both chip and contactless payments (the next one up, Square Terminal, normally costs $299).
PayPal Here has a wider range of app-based card readers. At the lower end is Chip and Swipe Reader for $24.99, which is one of PayPal's most popular models. The most expensive PayPal card reader is the Chip Card Reader, costing $99.99 – it accepts chip, NFC and swipe and features a keypad on the terminal for easy PIN code entry.
In this comparison, we will focus on the mid-range model PayPal Chip and Tap Reader, since it is the most similar to Square Reader for Contactless and Chip.
None of these card readers have an inbuilt receipt printer. The main difference between the two is that the PayPal card reader accepts chip, contactless AND magnetic stripe cards, while the mentioned Square Reader only accepts chip and contactless payments.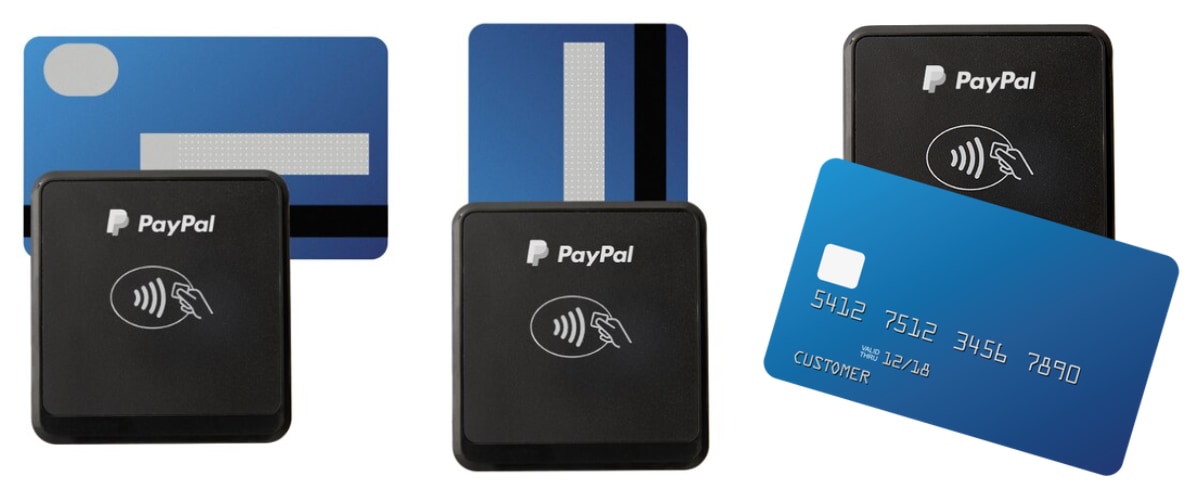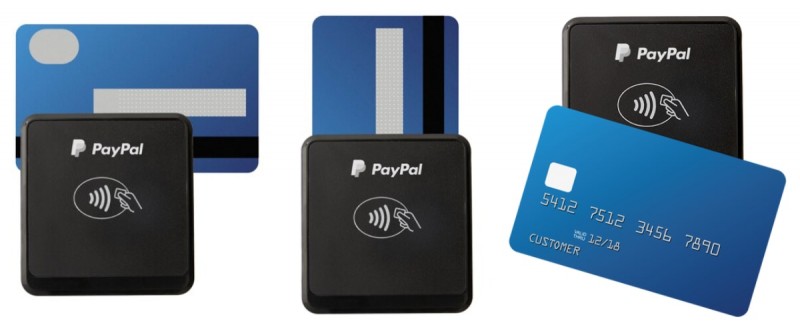 PayPal Chip and Tap Reader accepts magstripe, chip dip and contactless cards.
Both companies sell a tiny swipe-only reader that comes free for new users. Square merchants would benefit from having one of these as a backup for customers who still only use swipe cards. PayPal accepts it all in the Chip and Tap Reader, so you don't need that extra backup.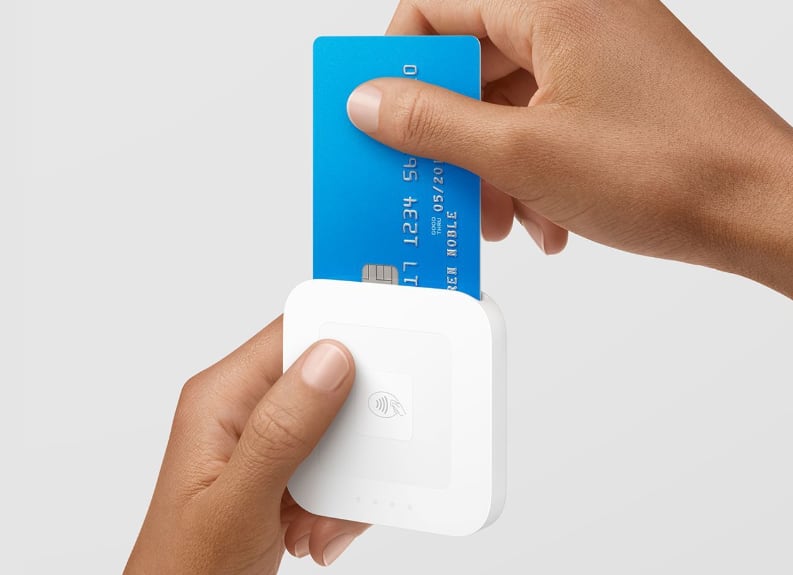 Square Reader accepts chip and contactless cards.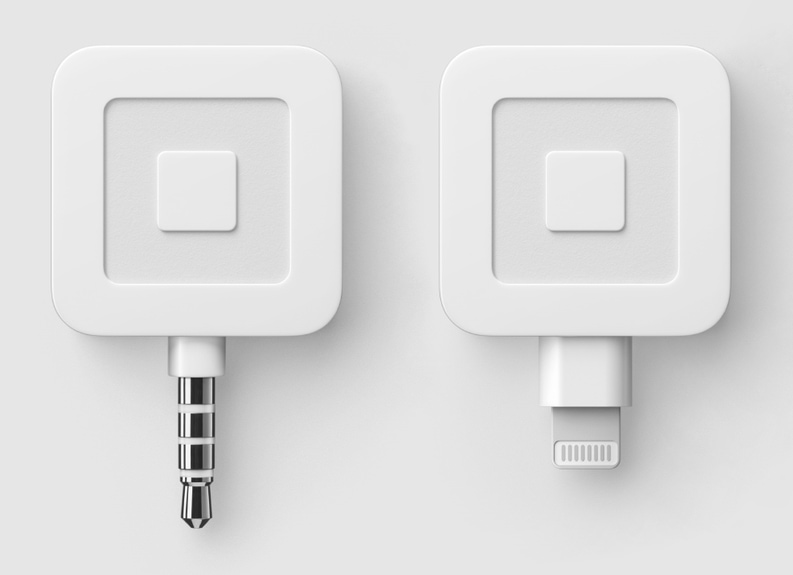 You can get Square Reader for Magstripe with a headset jack or Lightning connector.
Square Reader is the smallest at 1.98 oz. and 0.4 x 2.6 x 2.6 inches, which can be expected since it has no inbuilt swipe functionality. PayPal Chip and Tap Reader weighs 2.3 oz. and is 0.74 x 2.64 x 2.64 inches big.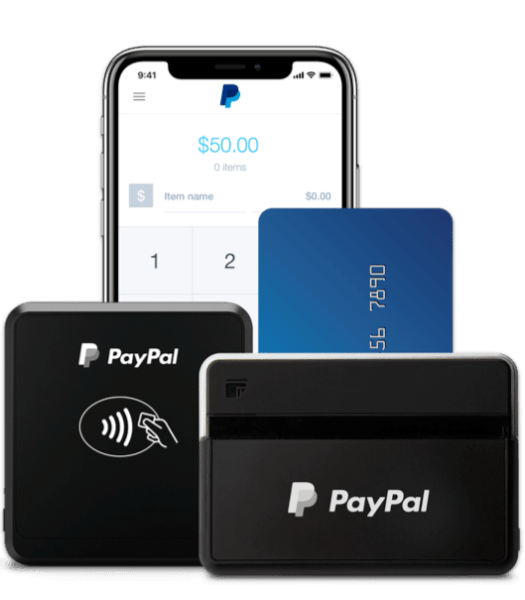 PayPal card readers with app.
None of the card readers work on their own. They need to be connected to their associated payment app on either a compatible smartphone or tablet. The app connects to the card reader via Bluetooth (or the plug of a swipe reader), which will then be ready to accept the card.
You take a payment by first entering a payment amount, or adding products from your in-app library to the cart, then picking the card payment option.
Transactions are processed over the WiFi or network of the connected phone, iPad or Android tablet.
That being said, Square does have an offline mode that allows you to swipe a card when the internet out. The card payment will then be finalized when you're next online.
Fees very similar, but PayPal has more charges
On the outset, transaction costs look similar, but the card readers have very different prices: $49 for Square Reader for Contactless and Chip and $59.99 for PayPal Chip and Tap Reader (so you're paying $20.99 extra for swipe functionality compared to Square). The first Square Reader for Magstripe is free to order, then it costs $10 per swipe reader.
The transaction fee for swipe, EMV and contactless payments is a fixed rate of 2.6% + 10¢ for Square and 2.7% for PayPal. Which is then cheaper? If you accept foreign-issued cards, refund payments regularly or get more chargebacks than the average merchant, PayPal can be significantly pricier.
| | | |
| --- | --- | --- |
| Setup fee | None | None |
| Fixed monthly fees | None | None |
| Swipe, chip & contactless transaction fee | 2.6% + 10¢ | 2.7% |
| Keyed-in transaction fee | 3.5% + 15¢ | 3.5% + 15¢ |
| Added fee for non-US cards | None | 1.5% |
| Currency conversion fee | n/a | 2.5% added to exchange rate |
| Standard deposits in bank account | Free | Free |
| Instant transfers to bank account | 1% fee added | 1% fee added |
| Refunds | No refund fee | Costs the original transaction fee |
| Chargebacks | Free | $20 each |
Setup fee
None
None
Fixed monthly fee
None
None
Swipe, chip & contactless transaction fee
2.6% + 10¢
2.7%
Keyed-in transaction fee
3.5% + 15¢
3.5% + 15¢
Added fee for non-US cards
None
1.5%
Currency conversion fee
n/a
2.5% added to exchange rate
Standard deposits in bank account
Free
Free
Instant transfers to bank account
1% added fee
1% added fee
Refunds
No refund fee
Costs the original transaction fee
Chargebacks
Free
$20 each
Square's fees are simpler because they don't differentiate between what country the payer's card is from – it's the same fee regardless.
PayPal, on the other hand, can pile on a few extra charges if it's not an American Visa, Mastercard, Discover or Amex card. For a foreign-issued card payment, you pay the 2.7% base rate plus 1.5% for the fact it is foreign, plus a 2.5% currency conversion rate if paying in a different currency. In total, that is 6.7%. To be fair, not all foreign cards will incur the conversion rate, so you may "only" pay 4.2% to PayPal for foreign cards. There is no currency conversion fee applied to Square payments even if the accepted card is foreign.
Note that you can only accept transactions in US dollar amounts with PayPal Here and Square as a registered user in the US.
Key-in payments are the same card rate for both companies: 3.5% + 15¢ – but again, PayPal will add the foreign-card fee and conversion rate where applicable, so either 5% + $0.15, or 7.5% + $0.15, depending on whether currency conversion is required.
Square's fees are simpler because they don't differentiate between what country the payer's card is from – it's the same fee regardless.
Refunds are free to process with Square, so the receiver gets the full refund amount including the transaction fee Square kept for the original payment. PayPal, on the other hand, charges you the original transaction fee (including applicable currency conversion and cross-border fees) for payments that are refunded.
Chargebacks do not incur an admin fee with Square, but they will withhold the payment amount being disputed until the case is resolved. PayPal also holds the disputed payment amount until the case is resolved, but they charge $20 on top of that.
Deposits to bank account automatic with Square
Unless you use PayPal for everything, Square is arguably the most convenient for transfers. PayPal deposits transactions (minus card fees) directly in to your PayPal Business account, which is based online. Then you have to manually "withdraw" the money to a connected bank account. A standard PayPal withdrawal takes one business day to reach your bank account.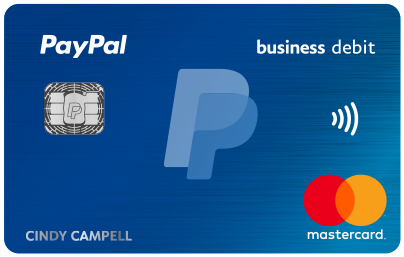 PayPal Business Debit Mastercard is subject to approval. Photo: PayPal
Those who want to be able to spend the PayPal takings immediately after making the money can apply for the PayPal Business Debit Mastercard, which can be used anywhere accepting Mastercard, including ATMs for cash withdrawals.
Square doesn't have a separate online account to manually transfer money from. Instead, transactions clear directly in your connected bank account within 1-2 business days.
For an extra 1% transaction fee, i.e. a total of 3.6% + 10¢ for Square Reader payments, you can receive the money within 20 minutes. This is called Instant Transfers.
PayPal Here similarly allows deposits to the bank account within minutes, also costing 1% on top of the card fees, but you still have to withdraw this manually from your PayPal account.
PayPal has… well, PayPal payment options
Square and PayPal accept the same cards in their terminals: Visa, Mastercard, American Express and Discover cards. They also accept the mobile wallets Apple Pay, Samsung Pay and Google Pay and can register cash, checks and manually entered card details in the mobile apps.
PayPal, however, offers more payment methods, namely PayPal Check-In payments through the PayPal Here app. It works like this: customers with a PayPal account can find your business through their personal PayPal app, "check in" under your listing, after which you can charge the payer's PayPal account through your app. These cost the same rate as domestic cards in the card reader.
And – surprise, surprise – PayPal accepts PayPal transactions. Does Square accept PayPal? No, Square has no plans for that in their card reader app, online store or other sales channels. This is only really relevant for online payments, as that is where PayPal is most popular among customers.
| Payment method | PayPal Here | Square |
| --- | --- | --- |
| | | |
| | | |
| Keyed-in cards, cash, checks, electronic invoices | | |
| Ecommerce payments | | |
| PayPal Check-In, other PayPal payments | | |
Payment
method

Keyed-in cards, cash, checks, electronic invoices

Ecommerce payments

PayPal Check-In, other PayPal payments
The companies offer a similar range of payment methods when it comes to remote payments. Square and PayPal have email invoicing, a virtual terminal for over-the-phone payments and both have ecommerce options.
Square's app features and add-ons are better
Since these are app-based card readers we're talking about, let's not forget the point of sale (POS) features in the app. There's a reason why Square calls their card reader app "Point of Sale" – it is essentially a checkout that can be expanded through many add-ons and integrations. The PayPal Here app does similar things, but it is not as pretty, feature-rich or reliable as Square's.
Both apps are free to use and can manage product inventory (complete with photos), send email invoices, show sales reports and have multiple user accounts.
While Square works pretty consistently, PayPal Here is known to run slower, with bugs reported from several users. Another negative with PayPal Here is that you can't use it without getting one of PayPal's card readers – even if you want to enter card details manually. In contrast, Square allows you to accept manually entered card details without getting a card reader.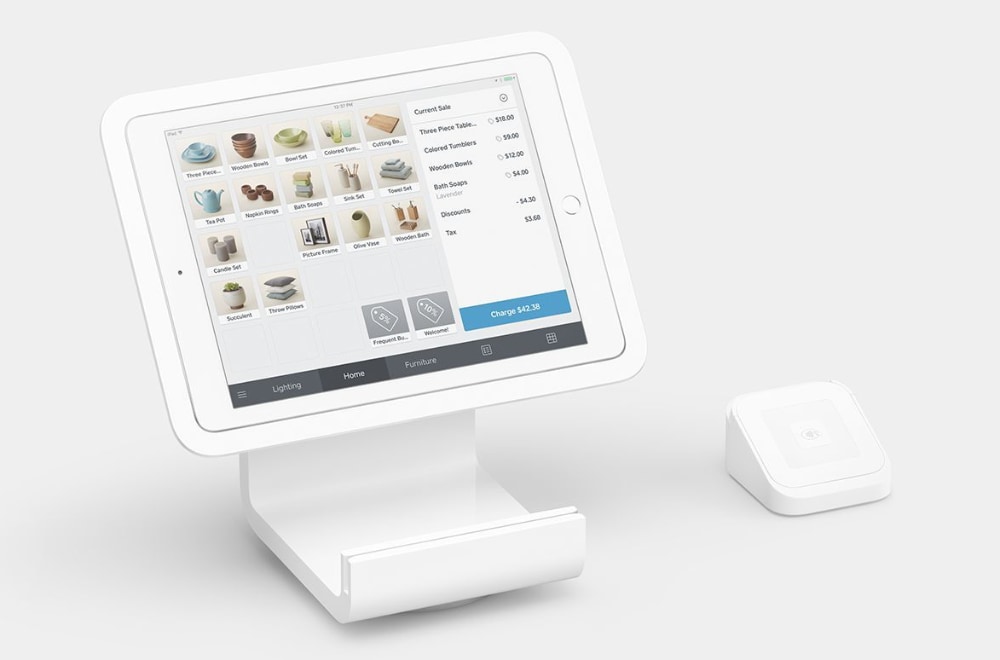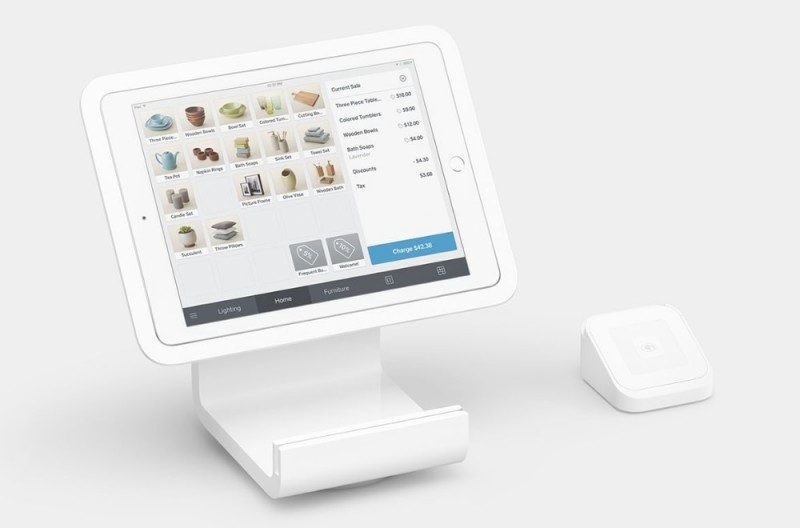 Square Stand with Point of Sale app and Square Reader placed in a charging dock.
PayPal is well-known in ecommerce and integrates with many website platforms, but so does Square. Should you need a more complex POS system, PayPal can be upgraded to Vend, Lavu and Talech among others. It is also possible to integrate PayPal with accounting platforms and other business tools.
Square has their own more advanced POS system called Square for Retail and Square for Restaurants – and a ton of other advanced add-on features such as Square Payroll, Square Loyalty, Square Marketing and a separate invoice app that's free to use. Oh, and Square integrates with lots of different platforms too, for tools such as accounting and booking systems.
Since PayPal and Square work on iPad and Android tablets, they can be used in tablet holders and connect to a cash drawer, receipt printer and other hardware to form a respectable checkout. Square Stand has an inbuilt swipe reader, charging dock for the Reader and higher-end terminals for a higher budget. PayPal also has a charging dock for the Chip and Tap reader, but not a PayPal-branded iPad register like Square Stand.
Reserves affect both, but most users experience no issues
Given how easy it is to sign up with either companies, it comes as no surprise that they can impose rigid (read: frustrating) security protocols down the line.
For Square, this means the sign-up is super-easy, but if your business activities fall under a restricted category or you process a suspicious-looking transaction, you can experience a sudden account hold after you have started using the service. In that case, transactions can be withheld while Square requests information from you. Most merchants will accept payments without hassle, though.
PayPal imposes similar reserves on transactions, but they have somewhat clearer guidelines on limitations: there's a $500 weekly limit on swipe and keyed-in transactions. Money above this threshold is held for 30 days before releasing it in your account. Note that this doesn't apply to EMV or contactless payments, since those are more secure. Apart from this, they can hold transactions for less obvious reasons if their algorithms deem it suspicious.
Which of them is least likely to cause account holds? Customer reviews and complaints talk about similar issues, but there are also many more positive ratings with Square. PayPal's ratings tend to be lower than Square's – sometimes much lower.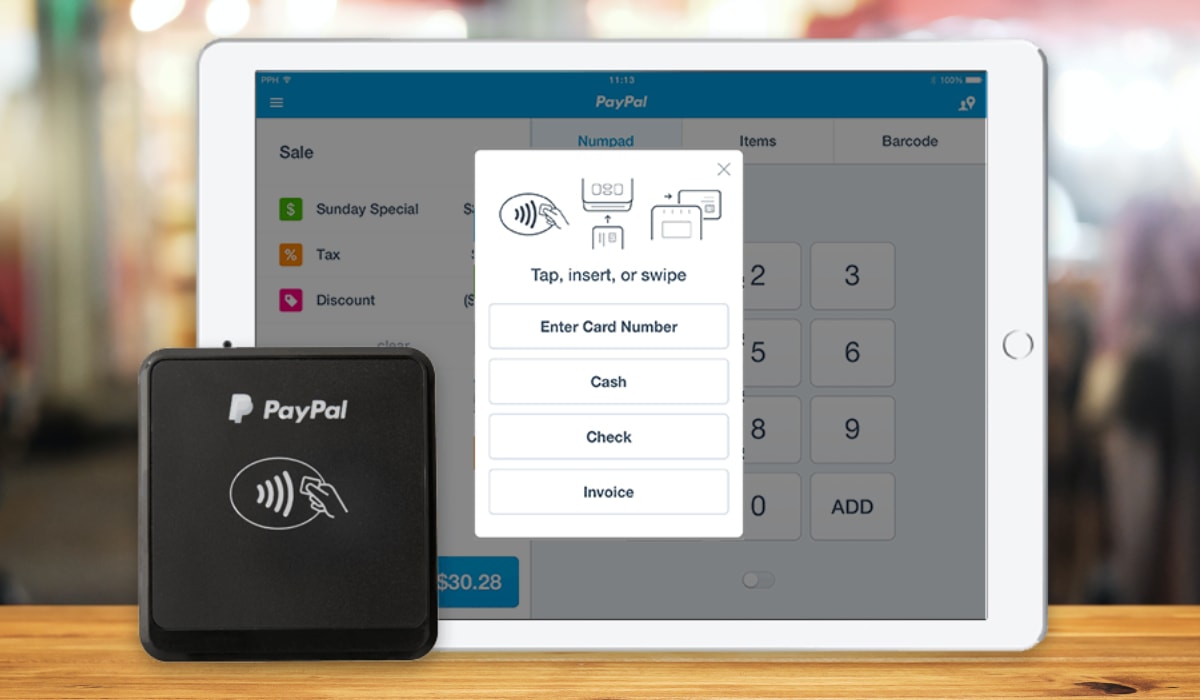 PayPal Chip and Tap Reader with iPad app.
Which is best for whom?
Square and PayPal are for small-business merchants, whether on the go, running a small shop or café, taxi drivers, beauty parlors and others.
If you're just accepting domestic credit and debit cards and it doesn't matter whether you receive transactions in an online PayPal account or bank account, it may be most convenient to get the PayPal Chip and Tap Reader, simply because it accepts swipe as well as tap and chip cards. Some merchants also value the fact that PayPal Here is linked to the PayPal Business account, integrating (PayPal-only) ecommerce payments with in-person sales.
If you tend to sell to tourists or business travellers, Square will cost you less. Lots of coffee shops and small retail stores get started with Square, in part because Point of Sale is built to work as an entire POS system, frontend-to-backend. The hospitality-focused features like tipping and split bills make it great for small food businesses.
Our verdict
It can be easier to go with Square that offers plenty of advanced features for shops, restaurants, freelance professionals and online merchants. PayPal is able to integrate with other checkout systems, but it is not as straightforward as with Square.
On the other hand, online PayPal merchants preferring the best integration with face-to-face sales may prioritize PayPal Here to have all transactions in one place.
Although PayPal has been around for longer, Square is an expert on what small face-to-face businesses want in a card reader service. PayPal can seem a tad complicated compared to Square's transparent fees and direct transfers to a bank account.