Square's idea was a stroke of genius in its simplicity: use your smartphone or tablet to take credit and debit card payments.
But in the US, businesses looking for mobile credit card processing solutions have an increasing number of alternatives to choose from. PayPal's own card reader solution called PayPal Here might be the most well known, but other players have entered the market too. Some, like Flint and Amazon Local Register, have shut down. Below, we show some viable alternatives to Square in 2019.
| Provider | Price | Ongoing costs | To site |
| --- | --- | --- | --- |
| | $14.99 – $99.99 | No monthly fees, pay-as-you-go | |
| | $69 $19 | No monthly fees, pay-as-you-go | |
| | $49 | $20/mo or pay-as-you-go | |
| |  Free – $49.95 | Pay-as-you-go, but $3.99/mo after 12 months' inactivity | |
| | $69 |  $14-$29/mo, cancellable contract | |
Provider
Pricing
To site
Terminal: $14.99-$99.99
No monthly fees, pay-as-you-go
Terminal: $69 $19
No monthly fees, pay-as-you-go
Terminal: $49
$20/mo or pay-as-you-go
Terminal: Free-$49.95
Pay-as-you-go, but $3.99/mo after 12 months' inactivity
Terminal: $69
$14-$29/mo, cancellable contract
1. PayPal Here – payouts in online account
PayPal Here has managed to stay in business, and their combined swipe, tap and dip card readers are fairly reliable, although the Chip Card Reader (with keypad) is not the most elegant. The Chip and Tap Reader, on the other hand, looks like a black Square Reader – but accepts magnetic stripe as well as EMV and contactless cards. Payouts automatically go to your online PayPal account, so if you don't mind manual transfers to your bank account, then PayPal Here offers a fairly competitive way to take cards in person.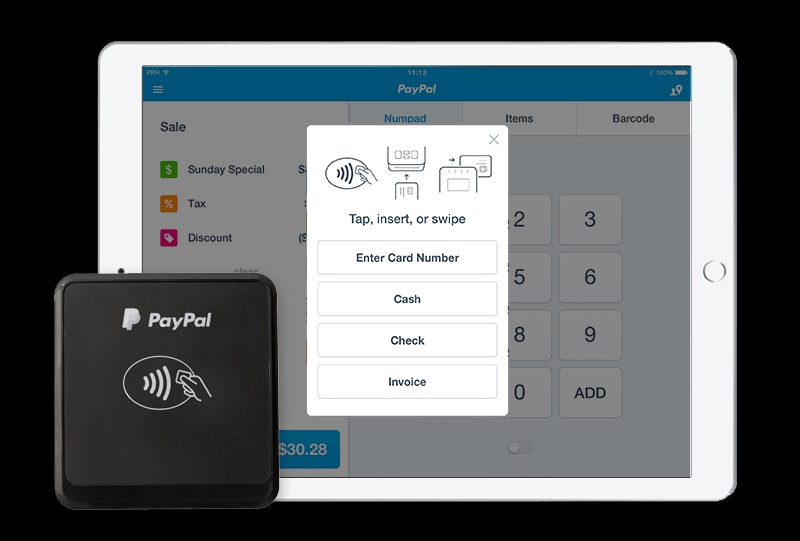 The PayPal Here Chip and Tap Reader accepts swipe, chip dip and contactless card payments. Photo: PayPal
The small PayPal Here swipe card reader, which connects through an audio jack, is still sold for $14.99, but the all-in-one Chip and Tap Reader for $59.99 is a better investment. The app used to be fairly basic, but has evolved, and there's plenty of backend integrations too.
The standard rate for swipe and dip is 2.7%. Keep in mind that for international cards issued outside the US, you pay an additional cross-border fee of 1.5%. You can key in cards for 3.5% + $0.15.
2. SumUp – low-cost, simple fees
German SumUp offers an all-in-one swipe, dip and tap card reader that looks very much like Square Reader. The transaction rate is 2.65% for magstripe, chip and contactless cards – a bit lower than Square's fee. There are no additional fees for foreign cards. You'll be able to take Visa, Mastercard, Maestro, American Express, Discover and Diners Club, as well as Apple Pay and Google Pay.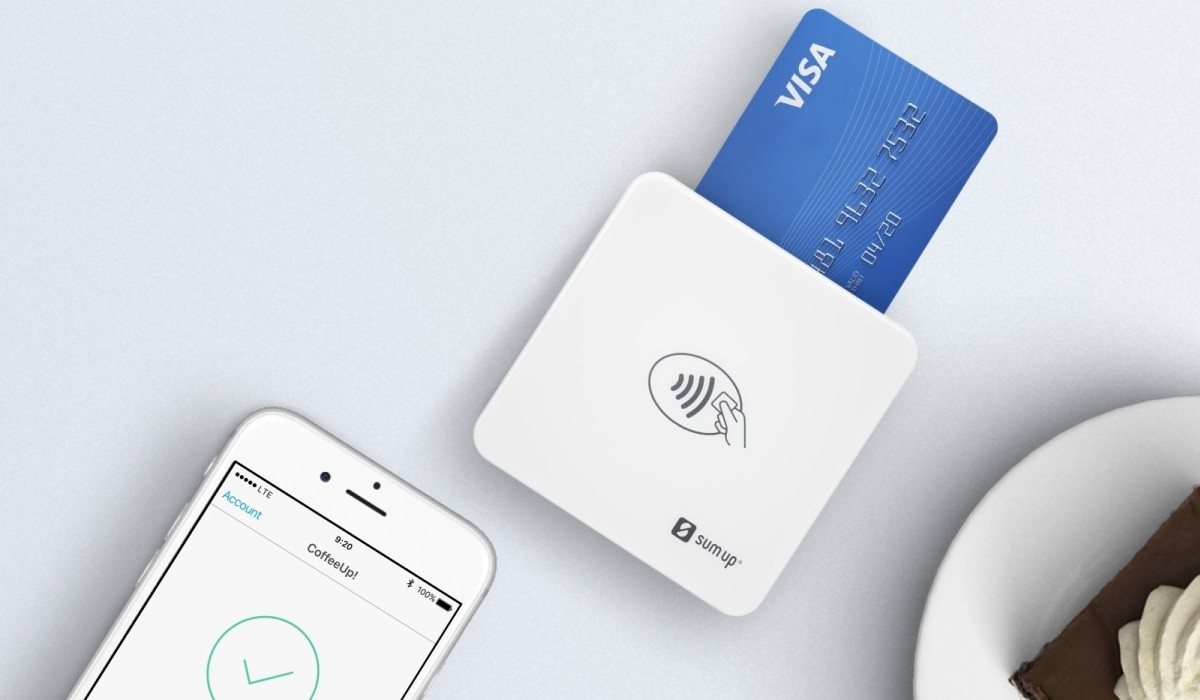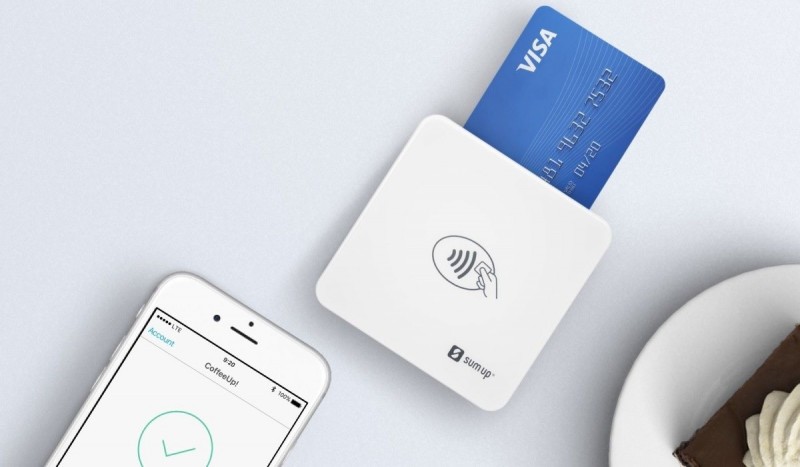 SumUp Card Reader appears similar to Square Reader, except it also accepts swipe without a separate swipe reader. Photo: SumUp
App features are basic compared to Square's, but those who do not plan to run a food and beverage place – or require integrations with third-party software – will in most cases be satisfied. If you only need it for sporadic use, SumUp is ideal since you're not committing to a long-term contract and pay the same rate regardless of card type.
Like Square, deposits to your bank account take 1-2 days. To get the card reader, you complete the 5-minute sign-up form online, then pay $19 (if ordered through our link).
3. Intuit GoPayment – best accounting integration
Intuit GoPayment is the mobile payment solution from Intuit, best known for their QuickBooks accounting software. If you use or plan to use QuickBooks, choosing Intuit GoPayments might make sense as it integrates perfectly.
To get Intuit GoPayment, download the free app available for both Android and iOS devices (but not for Windows or Blackberry devices), and then start to key in card details – or even take a photo of the customer's card – which the customer can sign for using the app. New customers receive their cheapest card reader, accepting only chip and swipe, for free once the account is approved, or can purchase their All-in-One reader (accepting chip, swipe and contactless) for $49.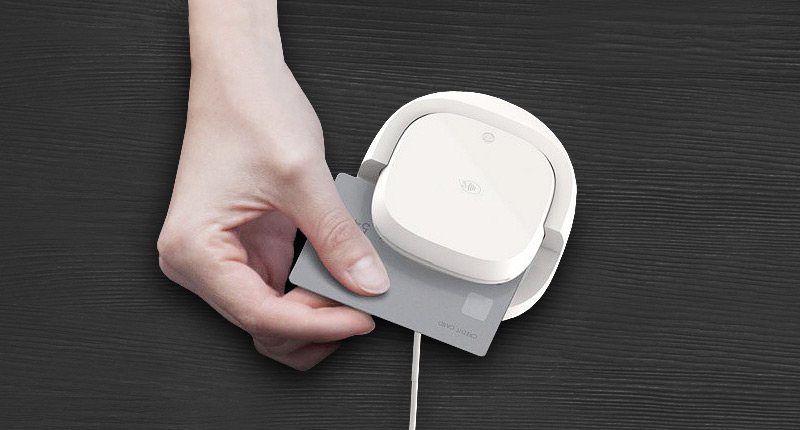 GoPayment's All-in-One card reader accepts swipe, EMV chip and contactless cards and looks neat on a counter in a charging dock.
There are two types of accounts available with the card reader: pay as you go and a monthly subscription. The fees for the pay-as-you-go plan are a swipe rate of 2.4% + 25¢ and a keyed rate of 3.4% + 25¢ per transaction. For the monthly plan, you pay a monthly fee of $20, but the swipe and keyed rates drop to 1.6% and 3.3% respectively plus a 30¢ transaction fee. But note: the monthly plan is only available for QuickBooks Desktop users which has a separate subscription.
The rates are pretty competitive. On the downside, the free Magstripe Card Reader only accepts swipe and chip dip, so in order to accept contactless cards, Apple Pay, Google Pay and Samsung Pay, you'll need to pay for the All-in-One Card Reader.
4. PayAnywhere – free terminal on pay-as-you-go plan
The PayAnywhere website might lead you to think you are dealing with a technology startup, but the company is a subsidiary of Wells Fargo. They've made rates transparent and simple.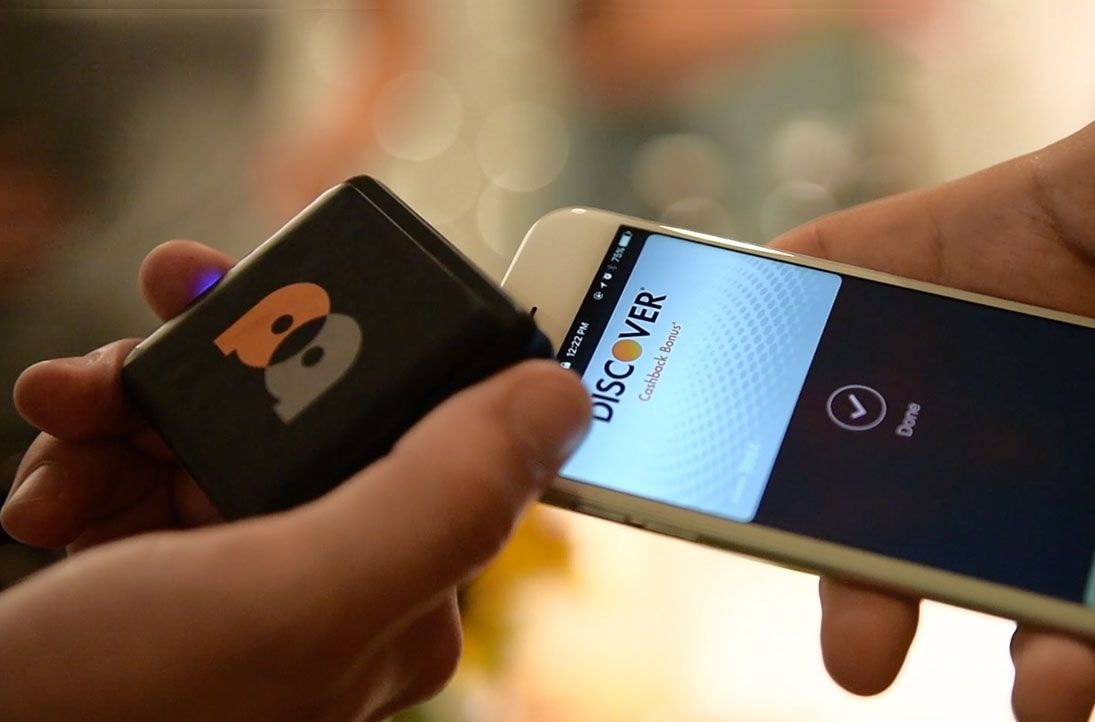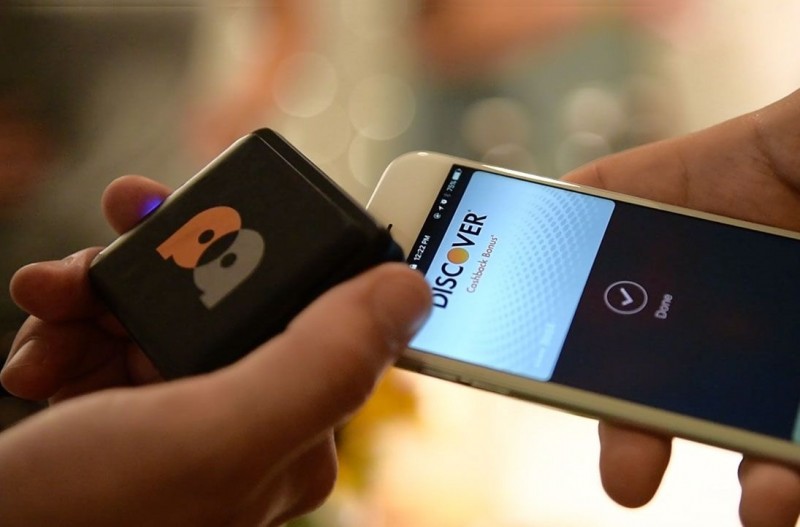 PayAnywhere's 3-in-1 card reader accepts swipe, EMV chip and contactless cards. Photo: PayAnywhere
The system works with iPhone, iPad and Android devices.
Businesses making less than $10,000 a month can be on the pay-as-you-go plan which comes with no monthly fee or setup cost, and you get a free 2-in-1 magstripe and EMV card reader. Make sure you get the 3-in-1 reader for $49.95 if you want to be able to accept NFC contactless payments too.
Note: if you haven't processed a card sale for 12 months, an "inactivity fee" of $3.99 is charged every month until you next accept a card.
On pay-as-you-go, each swipe, dip and tap transaction costs 2.69%, and keyed transactions cost 3.49% + $0.19. Those making over $10,000 a month can ask for custom pricing.
5. Clover Go – with merchant account
Clover Go's card reader looks similar to Square Reader, but accepts swipe as well as EMV chip and contactless cards, Apple Pay, Google Pay and Samsung Pay. It connects through Bluetooth with your cell phone's Clover Go app.
Clover used to only offer their services through partners such as Bank of America (each with different rates), but now they sell Clover Go directly from their website for standard fees. The Go card reader costs $69, and then you pay a monthly fee for the Clover Go app ($14/month for Register Lite, $29/month for Register) and card rate according to the monthly plan. Register Lite charges 2.7% + 10¢ and Register 2.3% + 10¢ for each in-person card payment.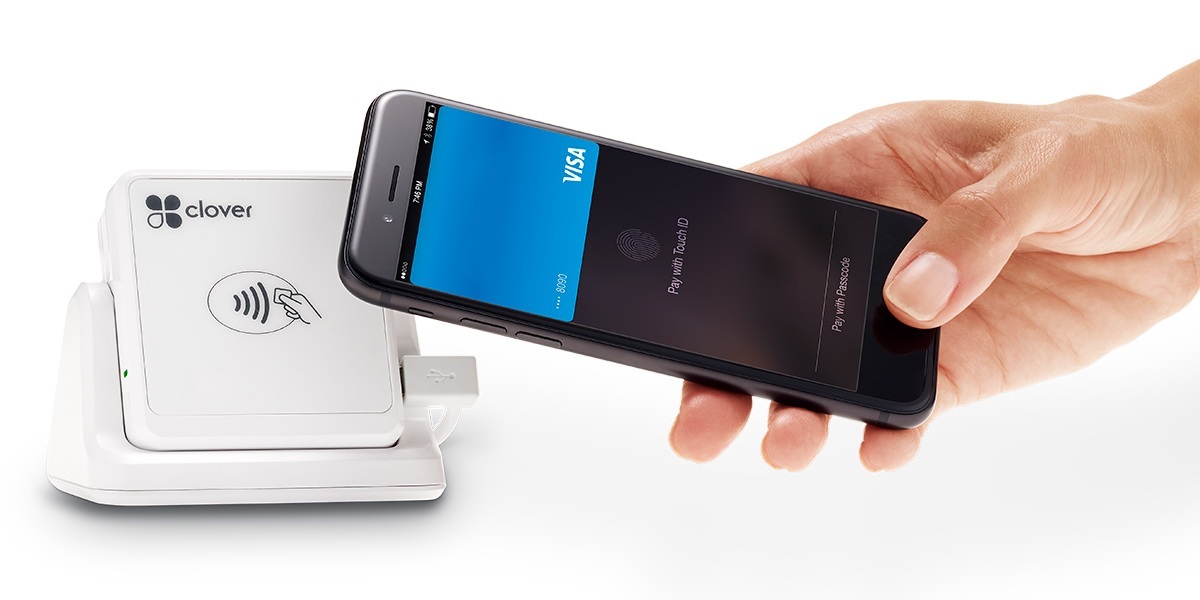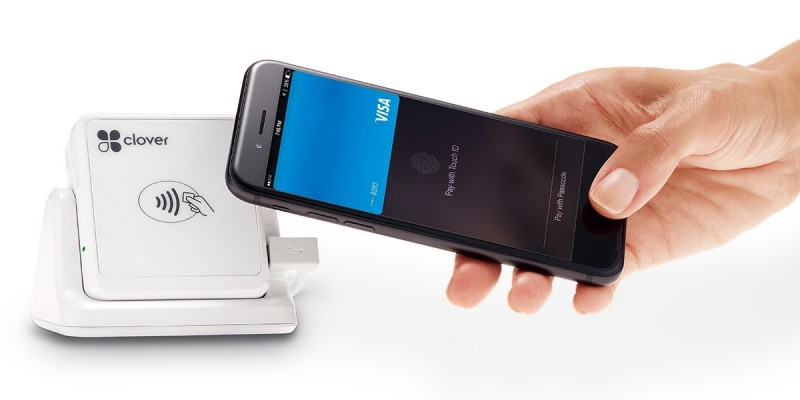 Clover Go is another card reader that looks like Square Reader, but accepts swipe as well as contactless and EMV payments. Photo: Clover
Alternatively, Payline offers a personalized deal with fees based on card and transaction type accepted.
This card reader is a good choice for existing Clover merchants, since more features and integrations are possible though Clover's own system. It also comes with your own merchant account by First Data, which some businesses might prefer for account stability.
In summary
There's a big difference in card fees and terminal prices, the latter sometimes provided free of charge. Monthly costs can rack up with GoPayment and Clover Go if you don't use them every month, so these are best for committed merchants with a steady turnover (PayAnywhere is the best for low card fees). The pay-as-you-go solutions by PayPal Here, SumUp and PayAnywhere have similar card fees, with SumUp leading as the cheapest.
It's clear that mobile card readers are heading in the wireless direction, i.e. headphone jacks are no longer required to connect the newest card readers with a cell phone. Instead, Bluetooth connectivity is the norm. It's also clear that manufacturers love the square-shaped card reader as much as Square.
As for Square, they still lead as the most innovative payment provider with the broadest offerings for small businesses. Square Reader is now just one of several terminals, able to integrate with many more tools and features than ever.