Our rating
Card reader for EMV, contactless and magstripe cards with a flat rate of 2.65%.
Small businesses, entrepreneurs and sole proprietors can accept card payments in person with SumUp's very affordable solution.
Highs: Fixed 2.65% transaction rate. No monthly costs. One device works for all cards.
Lows: Support mainly by email.
Buy if: You need an affordable and easy solution for taking payments.
Why would anyone in their right mind choose an obscure German company over Square to handle their card payments? Does SumUp offer anything other than a me-too service? Let's find out what the solution offers a small US business.
Regular price for the card reader is $69, but get it for $19. No monthly fees or contract to worry about. Free delivery in 4-5 days.
Mobile Transaction is an independent payments industry resource trusted by over a million small businesses yearly.
We allow solution providers to offer product discounts for the benefit of our readers, and may receive a commission if you purchase through our links. These discounts do not influence our editorial content. Rating scores are based on full retail price. (Full policy)
Card reader specs: German precision at its best
Featuring the latest EMV, swipe and contactless technology, the SumUp Card Reader is the result of years of work, designed and produced in-house. The card reader exudes superior reliability, quality and user experience.
In addition to a wide range of accepted cards, it accepts NFC payments such as Apple Pay and Google Pay. Just note that payments can only happen while connected via Bluetooth to a mobile device with the SumUp app, so you do need a cell phone or tablet too.
SumUp Card Reader appears slightly better than PayPal Here's all-in-one device and looks a lot like Square Reader. The battery life is 500 transactions from a full charge.
Costs
Card reader: $69 $19
Transaction fee: 2.65%
All card types incur the same transaction fee, even premium and foreign cards. Cardholder-not-present transactions are not possible, meaning you won't be able to take, say, phone payments by keying in card details manually.
The SumUp Card Reader usually costs $69, but you can get it for $19 through our link.
If the customer or cardholder's bank disputes a payment, you may be charged the payment total and an admin fee of $10. If the dispute is resolved, you should receive the transaction amount back.
How to get started
The online registration for a SumUp account is quick and easy. After completing the online form, it takes a few days for SumUp to approve your business and bank account. You can order the card reader in the meantime, delivered by post within five business days.
Then download the free SumUp app for iOS or Android. SumUp's wireless card reader connects to your cell phone or tablet via Bluetooth. The app then uses the internet (3G, 4G or WiFi) to process card payments while connected to the card reader.
How payments work
The credit card processing is straightforward: you key a payment amount into the app. The customer then dips an EMV chip card into the reader or swipes a magnetic stripe card, then confirms with a signature on the cell phone or tablet screen. Alternatively, tap a contactless card or smartphone with Apple Pay or Google Pay an inch or two from the card reader. Purchases below $30 won't require a signature or PIN code.
Add products to a simple overview in the app, allowing you to quickly tap on items in the app to add them to the bill.
When the payment has gone through, an email or SMS receipt can be sent to the customer, or you can print a receipt from a connected printer.
SumUp accepts Visa, Mastercard, Maestro, Discover, American Express and Diners Club, whether international or American.
Payments are initiated to your bank account daily, although it can take 1-2 business days for payouts to reach your account.
Cards accepted








Some reporting functionality
The online dashboard is a nice feature for accounting and business decisions, but also a given with any kind of card reader available today. You can view sales data and export your entire sales history – or daily, weekly and monthly reports – to an Excel file.
After each payout, SumUp will send you an email with a PDF attachment of your sales.
Receipt printers
Receipts can be sent by email or SMS, but those who want to offer paper receipts need to buy a compatible printer.
The only compatible desktop printers listed are Star Micronics TSP100 and TSP143 (LAN/Ethernet models), available in white, putty or grey. The older versions are discontinued, but newer ones are available for around $270+.
The most popular mobile printer is Star Micronics SM-L200 connecting via Bluetooth. You can get it for around $250 and has been the go-to mobile printer for SumUp over the last couple of years.
Another great portable option is Bixolon SPP-R210iK/BEGE which connects to your smartphone or tablet via Bluetooth. This is a lightweight printer at 266 grams including paper roll, which can either be fixed to a belt or slid into a bag. It will also cost you around $250.
The Bixolon SPP-R200lliK/BEGE is another mobile receipt printer, which you can be lucky to find for around $150.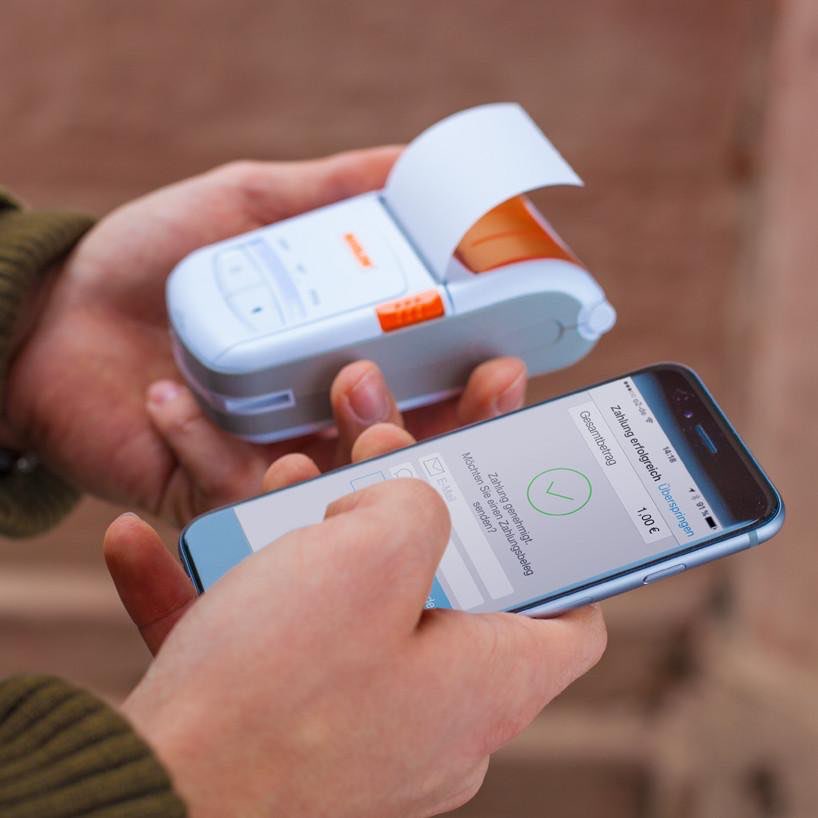 Receipt printer Bixolon SPP-R210iK/BEGE looks good with SumUp. Photo: SumUp
What about customer service?
SumUp offers an online Support Center answering the majority of questions. To contact customer support, emailing is encouraged, although a phone number is also provided for registered customers.
The service is geared towards businesses who do not require much customization.
Who is SumUp ideal for?
SumUp is efficient for sole proprietors, small businesses and non-profits preferring a single device for all card transactions. Square will better serve businesses needing a more sophisticated app with point-of-sale features.
If you have more than one person accepting cards, it is possible to link several card readers to the primary account and set up multiple user accounts with different logins.
Our verdict
SumUp has a broad presence in Europe and was the first to cross the Atlantic. Does that mean Square has met its match? For the payment part, SumUp more than measures up. The single EMV card reader leads with its technology and ease of use. As for advanced features and backend possibilities – not yet.
So it really depends on what you need. If you are primarily looking for a way to get paid rather than, say, schedule appointments, manage inventory and integrate with payroll, SumUp wins the prize of simple and cheap, hands down.