Our evaluation
Holvi eases small-business bookkeeping, but account features are limited in the UK.
Company: Holvi Payment Services Ltd

Card: Business Prepaid Mastercard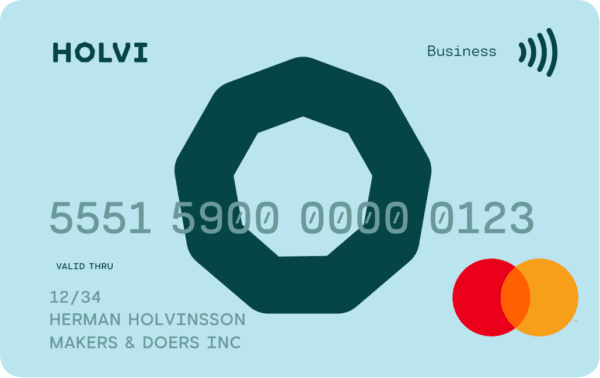 Type of account: E-money account for business

Intended for: Sole traders and small businesses

Loans & overdrafts: Not available

Monthly fee: £0-£25 + VAT
Holvi is a Finnish company providing business current accounts for the self-employed, startups and other small businesses across Europe. 'Holvi' is actually the Finnish word for 'vault', which says something about their preferred image.
Although Holvi is not a bank, the business account comes with a sort code and account number so it can be used as a current account for your income, payments and business expenses.
The aim is to make money management and bookkeeping easier through features like:
Invoicing
Income and expense management
Help with tax and accounting
Everything is managed in the app or online account. You also get a a Prepaid Mastercard linked to the account.
Important information:
On 12 August 2020, Holvi announced they are no longer taking sign-ups from UK customers and that all existing UK accounts will be closed by 31 October 2020.
Who can open a Holvi account?
You don't have to live in the UK to open a Holvi account, but you must be over 18 years old and primarily reside in the country where your business or self-employment is fully registered. It is possible to add editors and beneficial owners that live in another country within the EEA.
For a Holvi UK account, you should be one of the following to qualify:
Sole trader
Limited company (private company limited by shares)
Holding companies are not accepted, nor are ownership structures involving one or more legal entities with at least 25% shares or investments. Foreign Account Tax Compliance Act (FATCA) reporting is not supported either, and business sectors considered high risk will be rejected.
Holvi account
Costs
Subscriptions
Starter: £0/mo
Grower: £5*/mo
Tax Bundle: £25*/mo
Faster Payments transfers
Free
Prepaid Mastercard
Starter: 1 included
Grower: 3 included
Tax Bundle: 3 included
Additional cards
Replacement cards: £5* per card
Extra cards: £3* each/mo
Card payments
In euros: Free
In other foreign currency: Exchange rate + 2% fee
Cash withdrawals
Starter: 2.5% of withdrawal amount
Grower & Tax Bundle: 2% of withdrawal amount
Add-on: 1% fee on cash withdrawals for £10*/mo
Chargebacks
£10 each
Payment reminders
First one free, then £5* each
*VAT is added to the price.
Holvi plans
Starter
Grower
Tax Bundle
Monthly cost
£0
£5*
£25*
Faster Payments transfers
Free
Prepaid Mastercard
1 included
3 included
3 included
Additional cards
Replacement cards: £5* per card
Extra cards: £3* each/mo
Card payments
In euros: Free
In other foreign currency: Exchange rate + 2% fee
Cash withdrawals
Starter: 2.5% of withdrawal amount
Grower & Tax Bundle: 2% of withdrawal amount
Add-on: 1% fee on cash withdrawals for £10*/mo
Chargebacks
£10 each
Payment reminders
First one free, then £5* each
*VAT is added to the price.
UK bank transfers and payments via the Faster Payments method are free. Card transactions for purchases in EUR do not incur extra charges, but any other foreign-currency transactions incur a Holvi currency conversion fee of 2% on top of the Mastercard wholesale rate.
The Starter account comes with one Mastercard, and Grower and Tax Bundle plans come with three cards. Regardless of the plan, you can order additional cards for a monthly fee of £3 + VAT per card. A replacement card costs a one-off fee of £5 + VAT.
For an extra £10 + VAT a month, you can get the ATM withdrawal fee of 2.5% (standard rate on Starter) or 2% (standard rate on Grower and Tax Bundle) lowered to 1% of the withdrawal amount.
If you dispute a card payment, resulting in a chargeback, this will set you back £10.
If you haven't paid service fees (e.g subscription cost) to Holvi, you get payment reminders. Each of these incurs a £5 + VAT fee after the first reminder is sent. There are also administrative fees for recalling the wrong payment instructions (£15 per recall) and the rather vaguely worded "individual processing" (£15 per request).
Account, security and Holvi Business Mastercard
Holvi is regulated by the Financial Supervisory Authority of Finland (FIN-FSA) – not as a bank, but as an 'Authorised Payment Institution' providing e-money accounts. The lack of banking status means Holvi does not offer business loans, overdrafts or credit cards.

The Holvi card is a Business Prepaid Mastercard issued by Wirecard Card Solutions Ltd, authorised by the Financial Conduct Authority (FCA) in the UK to conduct electronic money services under the Electronic Money Regulations 2011.
Given the 'prepaid' status of the card, there will be some limitations to its uses compared with a universally accepted Debit Mastercard.
For example, you can't connect Holvi to SumUp to receive card reader payments in the UK because it isn't protected by the Financial Services Compensation Scheme (FSCS). In other countries, Holvi is able to connect with SumUp. Moreover, the account can't be connected with Stripe or Google AdSense, and some merchants do not accept the Holvi card due to technicalities of the prepaid status.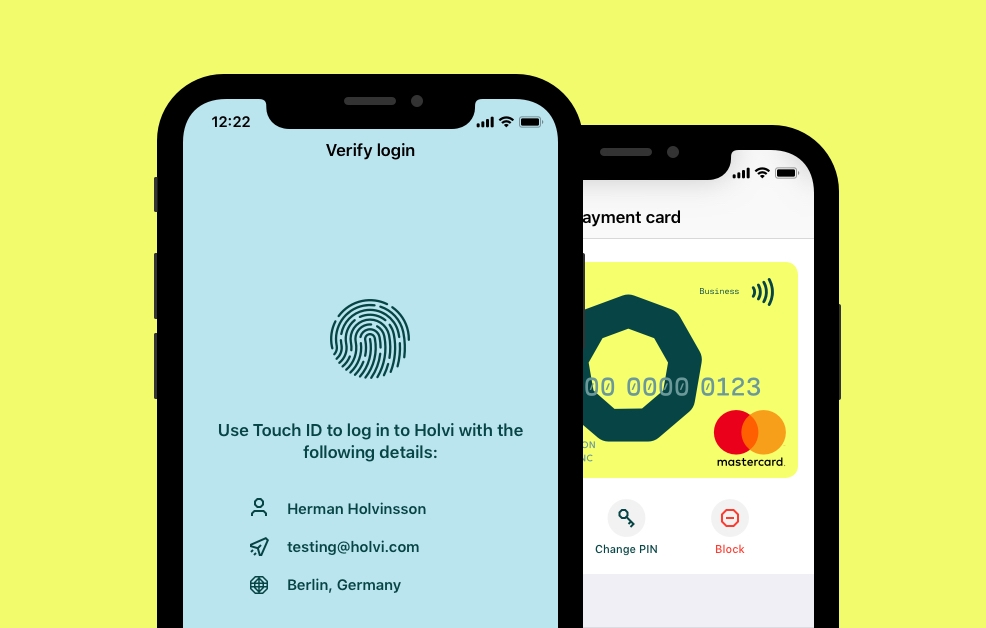 You can log in to the Holvi app via fingerprint, face recognition or password.
Is your money secure? Holvi says all customer funds are held in separate accounts at partner banks under the protection of deposit insurance. This means that if Holvi becomes insolvent, your funds will be unaffected.
However, recent problems with Wirecard meant Holvi accounts were frozen for several days at the end of June 2020, then unblocked in the beginning of July. This was outside of Holvi's control, and other e-accounts such as ANNA Money were equally affected. But it meant that many cash-strapped businesses were struggling to make ends meet due to the account freeze.
Holvi still needs to confirm how they will ensure this doesn't happen again – whether that be through changing the card issuer, additional security measures or getting a full bank licence. We think Holvi could have done a lot more to reassure their customers of next steps, like we've seen with ANNA Money who have provided outstanding communications throughout the time their accounts were frozen. Holvi has been more quiet, with much left to users' imaginations of what will happen next.
Cash and cheques
It is not possible to deposit cash or cheques into your Holvi account. This could be an issue for brick-and-mortar shops taking cash payments, but those working online or taking card payments only may not find it a problem.
You can withdraw cash from ATMs for a fee of 2% of the withdrawal amount. An optional add-on costing £10 per month reduces this fee to 1% of the withdrawal amount. Either rate isn't cheap considering most other digital business accounts in the UK have lower fees or no fees at all for cash withdrawals.
Domestic and international transfers
The Holvi account does not come with an IBAN or BIC number for international transfers, so it is only possible to make domestic bank transfers.
Even with the domestic transfers, there are limitations. Holvi can only transfer money to others via Faster Payments. Inbound BACS payments are possible but sending BACS payments from your account is not, and you cannot set up Direct Debits.
As for international transfers, Holvi recommends using TransferWise. Basically, the only way to send money abroad is to transfer money from Holvi to your TransferWise account and then send the money through TransferWise. Conversely, you can receive international payments in your TransferWise account, then transfer that to your Holvi account.
TransferWise charges a small fee for currency conversion and transfers, which will vary depending on the type of payment. The UK Holvi account is in British pounds only, so any incoming payments will convert to GBP.
Holvi app and bookkeeping
Conveniently, you can use Holvi either from a computer or the mobile app. The web account is full-featured with even more options than the mobile app – in stark contrast to alternative e-accounts in the UK that have laid all their eggs into the app.
Every user can add unlimited additional users to manage the account, or for sharing access with an accountant.
That said, every time you try to log in to the web account, you have to verify the login on your phone to successfully enter on your computer. If you're away from your phone, this could be a big nuisance.
Apart from sending payments to other UK accounts, the features of Holvi can be split into two broad categories: invoicing and bookkeeping.
Invoicing
On the free Starter plan, you can only send three invoices a month. To send more, you have to upgrade to Grower or Tax Bundle which give you unlimited invoices. The invoicing function is provided by a third party: the Finnish software company Basware Oyj.
We noticed that tapping to create the first invoice in the app takes you to the browser account, so it is not entirely done in the app. Once you've set up the first invoice, they can be managed from the app, but certain features are still only accessible in a browser.
Image: Mobile Transaction (MT)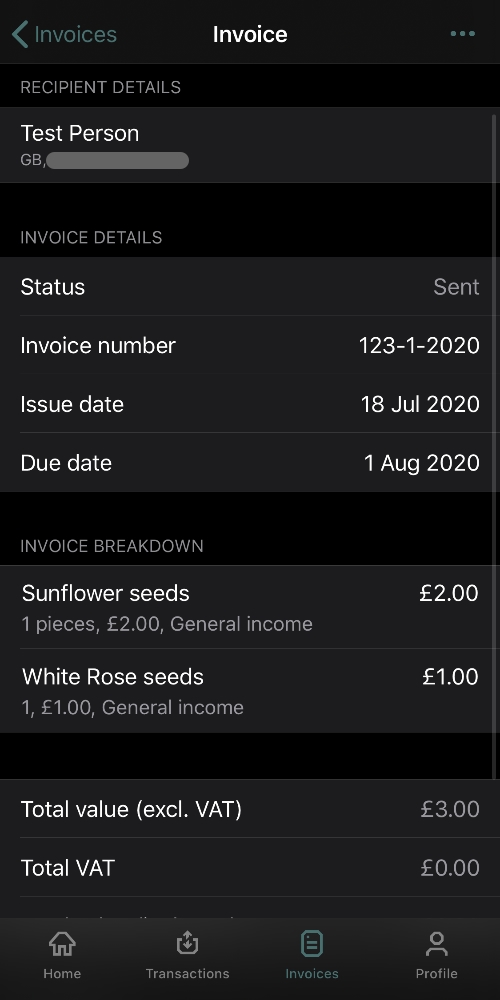 Invoice creation in the Holvi app.
The invoices are quite detailed with logo, item categorisations (for accounting purposes), detailed customer information and much more. Items added to an invoice can even be saved in an inventory library so you can quickly add the same items on future invoices. You can also save recipient information so you don't have to fill that in from scratch every time.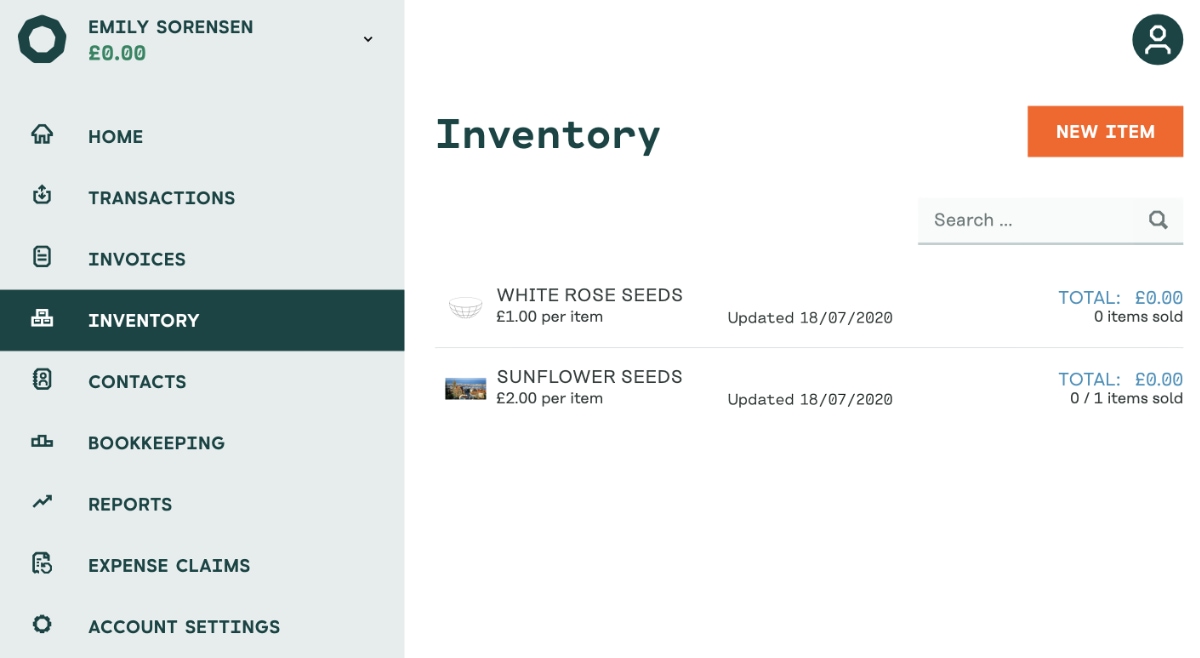 In a web browser, you can manage your inventory for easy invoicing.
Overall, the invoicing features are good – unsurprising, since the invoicing module comes from a provider specialising in it. However, not all links on the web pages work on a mobile phone. For example, the information ("i") links that are supposed to explain what each text field means do not work on a phone. Over and over again, you also have to close the same warning pop-ups (e.g. for Cookies) that are a lot more imposing on a small screen than a computer.
Invoices can be downloaded and sent manually, sent by email or by "e-invoice" (also by email). They contain your Holvi sort code and account number so the client can manually transfer the money to you.
Expenses, transactions and bookkeeping
All users can take pictures of their expense receipts to save in the app with a note for an orderly record of expenses. You can then match the receipt with outgoing transactions and categorise the payment as an expense type.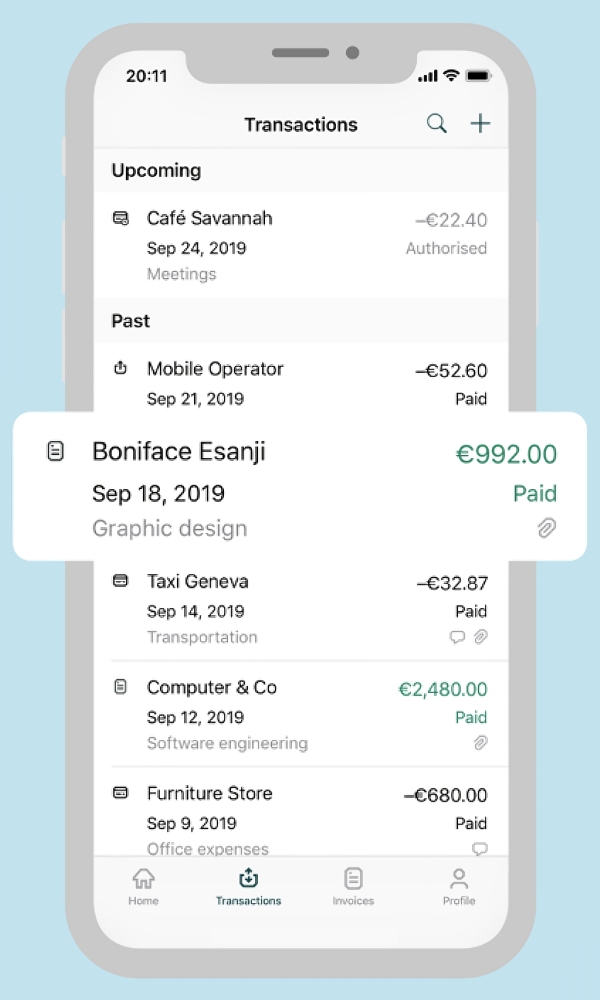 View transactions in the app.
Invoice and expense reports can be downloaded to share with an accountant. You can download account statements or just monitor transactions in the app and get notifications every time the Mastercard is used.
The card can be managed in the app, so if you notice an unauthorised payment, you can immediately cancel or reorder a new card.
Only sole traders can benefit from the Tax Bundle upgrade. It includes support from a certified accountant from TaxScouts who will complete and submit your entire self-assessment form for you. This means your accountant will get access to your Holvi account to sort your finances while you don't have to do anything (except maybe answer some questions). You also get access to a private chat for any tax-related questions.
This could be a big draw for many freelancers, even with the £25 + VAT high monthly price tag.
Holvi accounts generally have more features and services in the Eurozone, with UK lacking behind on many aspects. For example, the British Holvi does not offer an integrated Online Store for your products, nor are expense management features developed to the same extent as in Eurozone accounts.
Customer service and Holvi reviews
There is no UK phone number to call for support, but the web account has a messaging chat where you can send questions any time, or you can submit queries via a contact form. The Holvi support team is available to reply between 10am and 6pm on weekdays only.
Holvi actively encourages finding your own answers on their support pages online before contacting them, and chat queries yield slower responses than phoning them (but there is no UK number to call).
Generally, the support isn't very accessible. There is no direct access to the contact form or messaging support in the mobile app.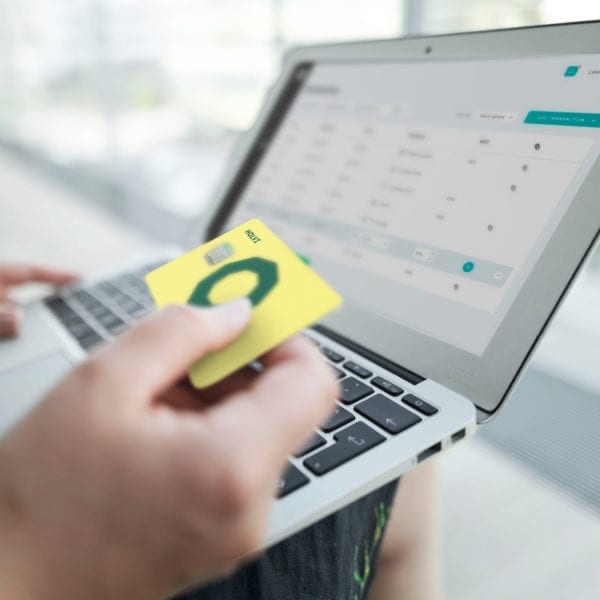 Support is easier to reach online than in-app.
When you click the 'Help and support' link from the Profile tab in the app, it opens up the browser page with the Holvi Support pages with a tiny link in the upper right corner for the (slower-response) contact form. The rather inconspicuous 'How to contact us' link further down the page leads to more links, which finally shows a link to the "Live Chat" – but the link is not clickable on a phone.
So you end up having to use your laptop to log into the browser account where you can finally click on the chat to submit your query.
Then you can expect to wait for a good while for a response. Overall, this is a frustrating experience that doesn't leave a favourable impression of Holvi's service or interest in their customers.
From customer reviews online, you mostly see positive feedback from Holvi users across Europe. The main negative reviews are about issues getting a new account verified, which could be due to not meeting eligibility requirements, and sometimes about poor customer service.
The recent account freezes due to Wirecard's insolvency also triggered complaints. Holvi tried to reassure their customers that their funds are protected, but the communications could've been prompter, more transparent and more frequent.
Signing up
It is pretty easy and quick (maybe 10 minutes) to sign up with Holvi, provided you have relevant documents at hand and fulfil eligibility requirements. You can start the application on the Holvi website by creating a user account, but soon after will be prompted to download the app on a phone or tablet to continue. Alternatively, just complete the whole sign-up from the app.
Basic information about your identity and business need to be answered, a scan of your photo ID (passport or national ID) submitted through your mobile device, and a selfie taken to verify your identity. The ID scan is more comprehensive than sign-ups for other business accounts we've tried, as you need to move the ID at different angles for a while to verify the authenticity of it.
After everything is submitted, our sole trader account was immediately accepted and ready to use, but some businesses may experience a delay and requests for more documentation. The Business Mastercard is automatically ordered and delivered within 10 working days, which is quite a while compared to other account providers.
Our verdict
Despite the good intentions of this entrepreneur-friendly account provider, it would be a long stretch to call it a sweet deal for all small UK businesses. The main advantage is the Tax Bundle plan that offloads all your self-assessment work onto a real accountant – but this is only suitable for sole trades, not companies.
We also found that certain features are better done in the web account than the mobile app, which is great for those handling finances on their computer, but not so convenient for those hoping to bank entirely through their phone.
On the subject of domestic transactions, the lack of Direct Debits and BACS compatibility can be big hindrances. International payments are only possible through an external transfer service like TransferWise, so regularly receiving payments from clients abroad can be a hassle.
Certain features are better done in the web account than the mobile app, which is great for those handling finances on their computer, but not so convenient for those hoping to bank entirely through their phone.
If you handle a lot of invoicing, a Holvi business account could be the best account for your small business, though. The inventory library is a standout feature that could help professionals with lots of products or services to speed up invoicing.
Customer service-wise, there is much to be desired. With no out-of-hours support, no UK phone number and slow responses, Holvi isn't the best for British account holders. We found it very frustrating with the lack of support access from a phone, so it would be a nightmare if you relied on a mobile device for impromptu support requests.
The Holvi account is best for those who don't rely on cash, since cash deposits aren't possible and ATM fees are not the lowest. More generally, Holvi offers fuller features for eurozone accounts.
So who should consider Holvi? Freelancers and entrepreneurs can really benefit from the feature-rich invoicing tool on all plans and the personal accounting support on the premium Tax Bundle plan. But if you're not using one of those features, the account will have more limitations than Holvi alternatives in the UK. If you're residing and registered outside the UK but need a GBP account, Holvi could also be valuable.

Pros
Can be used in both app and web browser

Great for sole trader bookkeeping

Advanced invoicing features

Personal tax accountant a valuable service

Not a requirement to reside and be registered in the UK
Cons
Customer support not very accessible

Domestic payments limited to Faster Payments

International transfers only through TransferWise

No loans, credit card or overdrafts

No cash or cheque deposits

Some limitations with prepaid card