Our evaluation
Tide is not a bank, but offers an app-based e-money account for businesses and sole traders.
Company: Tide Platform Limited

Type of account: E-money current account for businesses

Intended for: Limited companies and sole traders

Card: Prepaid Mastercard included

Credit card: Not available

Overdrafts: Not available

Loans: Available for some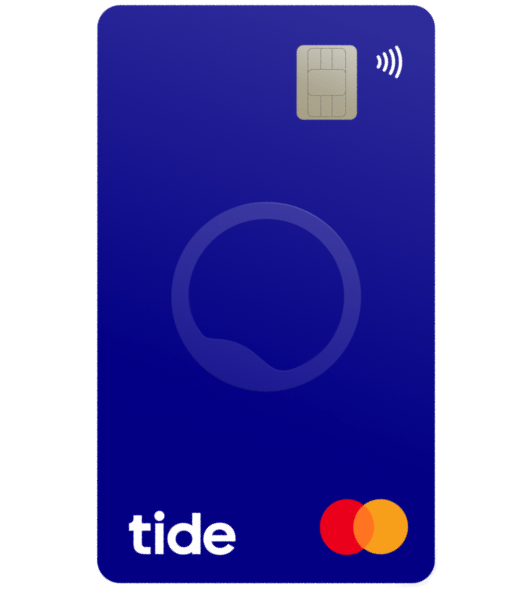 Tide is a financial technology company providing online current accounts to small businesses and sole traders in the UK. Their mission is to "help business owners spend less time on money admin".
The Tide business account is not a full-fledged bank account (Tide is not a bank), instead functioning as an e-money account with an accompanying Debit Mastercard to use online and in stores.
Just like a bank account, a Tide current account comes with a UK account number and sort code, but not an IBAN or BIC for international transfers. You can use the account to:
Manage income and expenses

Receive payments to/from UK accounts (international payments are limited)

Deposit cash into the account

Manage direct debits and standing orders

Set up multiple accounts for different purposes
As a digital fintech platform, Tide's strengths lie in their financial tools to manage money through the Tide app. For example, you can send invoices through the app and store photos of expense receipts for bookkeeping.
Who can open a Tide account?
To open a Tide business account, you need to be a UK-registered business or sole trader.
Companies should be registered at Companies House, and only the director or that business or partnership can apply for the Tide account. Sole traders and freelancers should be registered with HMRC as self-employed. Charities need to be registered with the Charity Commission and Companies House UK, but CIOs and CICs are not eligible to apply.
Moreover, you need to be at least 18 years old, have a UK phone number and address and use a compatible Apple or Android device registered with the UK App Store or Google Play.
Not all types of business are permitted with Tide, such as those providing money services, gambling, sales of precious stones and metals, cryptocurrency trading, charities, the adult industry, bidding fee auctions and sales of unlicensed pharmaceuticals.

Manage cards, send invoices and categories transactions in the Tide app.
Fees and costs of plans
It is free to open a Tide account and use the basic account features, plus you receive a prepaid Mastercard when your application is approved.
Tide primarily offers a Free plan to all new account holders, but there are actually two others that some businesses can upgrade to: Plus (£9.99 + VAT/mo) and Premium (£49.99 + VAT/mo) plans.
These all include a main current account with an option to create four more accounts to help ring-fence money to e.g. expenses, read access for team members/an accountant and a range of tools like scheduled payments.
On the Free plan, all inbound and outbound transfers cost 20p each, which includes Direct Debits, Faster Payments bank transfers, BACs and CHAPS. This only includes UK transfers as there is no option to transfer money internationally.
Tide Free plan
Tide Plus plan
£0/mo
£9.99 + VAT/mo
Team & accountant read access, scheduled payments, accounting integration, hold up to 5 business accounts
In/out transfers (Faster Payments, CHAPS, BACs, Direct Debits) 20p each
20 free in/out transfers (Faster Payments, CHAPS, BACs, Direct Debits) a month, then 20p each
Basic in-app support
Priority in-app support
Limited phone support
24/7 phone support
No legal helpline
24/7 legal helpline
Tide Free
plan
Tide Plus
plan
£0/mo
£9.99 + VAT/mo
Team & accountant read access, scheduled payments, accounting integration, hold up to 5 business accounts
In/out transfers (Faster Payments, CHAPS, BACs, Direct Debits) 20p each
20 free in/out transfers (Faster Payments, CHAPS, BACs, Direct Debits) a month, then 20p each
Basic in-app support
Priority in-app support
Limited phone support
24/7 phone support
No legal helpline
24/7 legal helpline
Compared to the Free plan, Plus gives you "exclusive" membership perks (basically, discounts at participating companies) as opposed to Free's basic perks, 20 free UK transfers monthly, priority in-app support and 24/7 phone and legal support.
However, upgrading to Plus is not possible for everyone, and eligibility and exact benefits of the plan are not explained properly on the Tide website.

The same applies to the Premium plan that gives you "exclusive premium" member perks, a dedicated account manager and a "£1,000 flexible balance". Reports from users indicate you get free processing with this, but that Tide only offers this upgrade to select customers.
ATM withdrawals cost £1 each regardless of where in the world you're taking out cash with the Tide Business Mastercard. It costs £1 to deposit cash at a Post Office and 3% of the cash total to deposit it at a PayPoint.
| Tide account features | Charges |
| --- | --- |
| Tide card payments (UK & abroad) | Free |
| ATM withdrawals (UK & abroad) | £1 each |
| Cash deposits | £1 at Post Office, 3% fee at PayPoint |
| Transfers between Tide accounts | Free |
Tide
account
features
Charges
Tide card payments (UK & abroad)
Free
ATM withdrawals (UK & abroad)
£1 each
Cash deposits
£1 at Post Office, 3% fee at PayPoint
Transfers between Tide accounts
Free
It is free to transfer money between Tide accounts, and it's free to use the Business Mastercard in shops and online anywhere in the world.
Tide's email invoices ask the recipient to transfer the amount in to your Tide account, so invoice payments count as a transfer (20p each on Free plan).
Accounts, security and card options
Contrary to Starling and Monzo, you can't really say "Tide bank"because Tide is not a bank. It is a so-called e-money account provided by PrePay Solutions (PPS), an electronic money (e-money) institution authorised by the Financial Conduct Authority (FCA) under the Electronic Money Regulations 2011 for the issuing of e-money.
Is a Tide business account then safe for your money? It should be because PrePay Solutions holds an amount equivalent to the money in your Tide current account in a safeguarding account. This gives you protection if PPS becomes insolvent.
However, some customers report issues with slow response times from Tide after an unexpected account closure, in effect holding the money until they get around to releasing it to the user.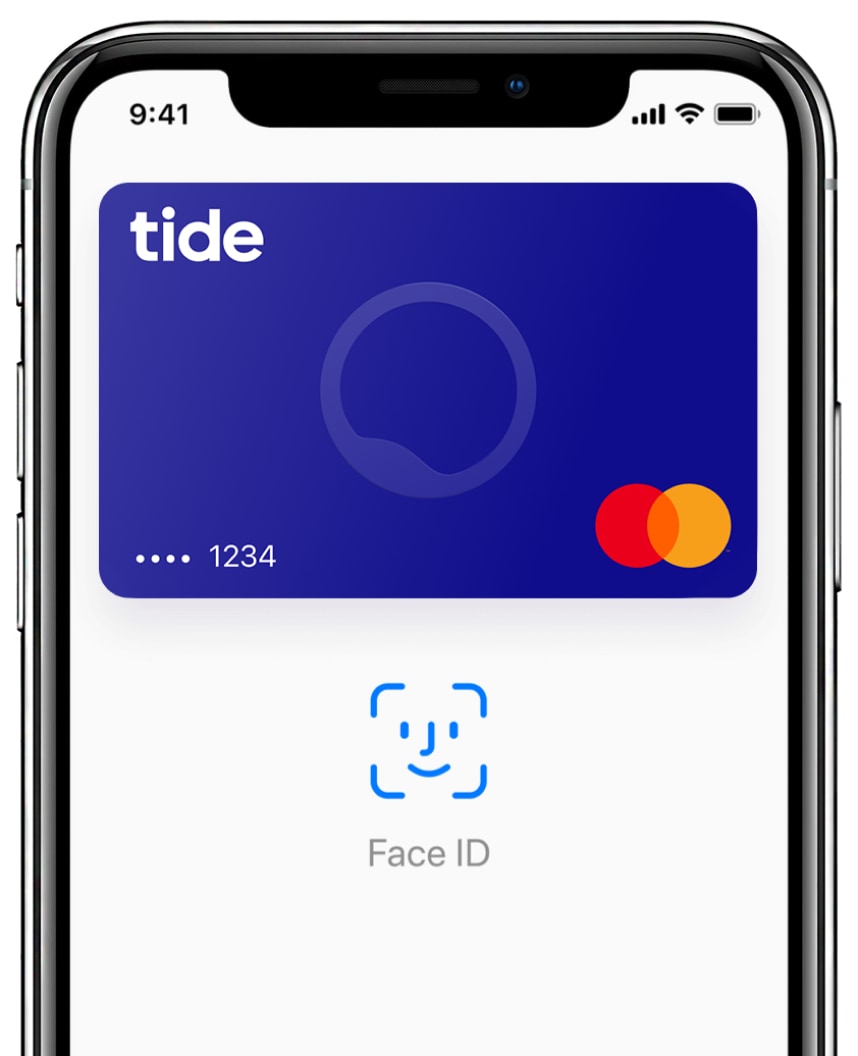 The prepaid card works with Apple Pay. Credit: Tide
This can cause a lot of pain for businesses relying on that money urgently. Most users will not experience frozen accounts, though.
Sole traders and registered companies have different account limits, which can be viewed in the app. Tide uses Faster Payments to process standard one-time transfers, standing orders, scheduled payments and Direct Debits.
Each account comes with a Prepaid Commercial Mastercard, which is a limited type of debit card. This has caused some issues for business customers who have tried – and failed – to link it with PayPal, Google Adwords, or get it accepted for government-backed lending schemes.
A full-fledged Debit Mastercard from a bank would not have these issues.
You can, according to Tide, link the account to iZettle, Stripe and GoCardless, but the company also claims to work with PayPal, which has not been the case for every Tide user.
Up to 35 Tide cards can be ordered for free for colleagues so you can see who is spending what. There is currently no credit card or Debit Mastercard available for Tide customers.
If your primary motivation is to have somewhere to manage business ingoings and expenses, a Tide account could work just fine. But your income should come from another UK-based account, as international transfers are not possible with the current account.

Registered businesses can have up to five Tide current accounts with a different account number and sort code. These can help distinguish different budgets e.g. for marketing and buyer teams or to save for your tax bill.
International transfers and use abroad
The Tide current account can only deal with GBP currency and does not come with a BIC or IBAN code for international transfers. This means you cannot receive money from abroad, and you cannot send money to a non-UK account and foreign currencies.

However, select Tide members with limited companies have access to an International Currency Accounts feature that allows transfers to or from lower-risk countries. This feature is an additional account (linked to Saxo Bank) where euros or other accepted currencies can be stored. As of yet, only few members have been granted access to this feature, so new members can't expect this to be available.
If you do get an international currency account, the following costs apply.
| International Currency Accounts | Charges |
| --- | --- |
| Number of currency accounts included | Unlimited, but max. 1 account per currency |
| Currency conversion fee | 0.5% on FX exchange rate |
| Inbound transfers in same currency as account | Free |
| SEPA transfers | €0.70 |
| SWIFT transfers | £5 (or equivalent in other currency) |
International
Currency
Accounts
Charges
Number of currency accounts included
Unlimited, but max. 1 account per currency
Currency conversion fee
0.5% on FX exchange rate
Inbound transfers in same currency as account
Free
SEPA transfers
€0.70
SWIFT transfers
£5 (or equivalent in other currency)
The Tide Business Mastercard, on the other hand, can be used anywhere in the world where Mastercard is accepted. When using the card abroad, Tide recommends processing the transaction in the local currency for the best exchange rate.
Cash and cheques
Not all e-money accounts enable cash deposits, but Tide does. This can be done at any Post Office for £1 per deposit or a PayPoint for 3% of the deposited amount. Just hand your Tide card with the cash to the person at the till who will then count and register the deposit.
Post Office deposits should reach your current account the following working day if deposited before 6pm. PayPoint deposits appear in your account much sooner; around 10 minutes after the deposit was processed.
The maximum that can be deposited in a day is £500 (min. £10 per deposit), which could be a limitation for those with a steady cash flow from a retail or hospitality business. Other currencies than GBP are not accepted.
You can withdraw cash from any ATM accepting Mastercard. The daily withdrawal limit is £500 for all users.
There is no way to deposit cheques into your Tide account. If HMRC, for example, issues a cheque, you will have to ask HMRC to give you the money via bank transfer instead. It could also have implications if you're closing the Tide account, because remaining funds can only be returned to you via bank transfer rather than a cheque – unless, of course, you withdraw all the money from a cash point.
Business loans
There is no Tide credit card or overdraft option with a Tide current account. However, a partnership with the small-business lender Iwoca means Tide offers business loans of up to £150,000 of credit. You can apply for this through the app, but such loans are typically just offered to registered businesses rather than sole traders.
Other kinds of loans through Tide are not possible at the moment. In fact, it isn't possible to apply for the government-backed Bounce Back Loan Scheme (BBLS) through Tide to support your business through the coronavirus pandemic. Tide is currently working on becoming an accredited lender, but there's no timeline on when this will be finalised.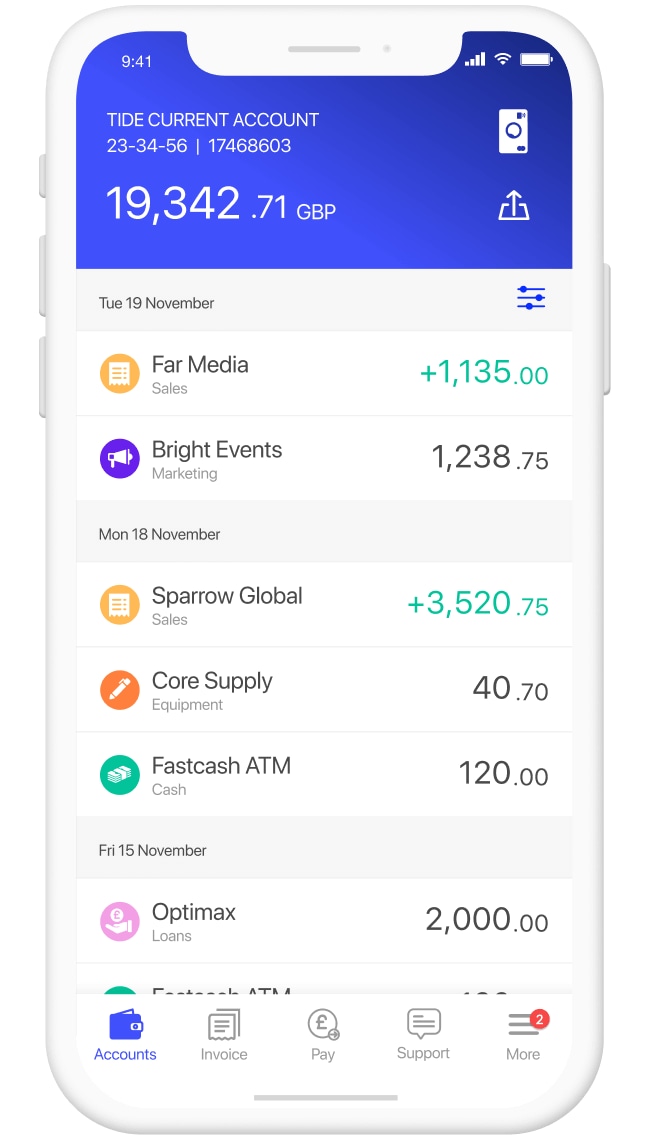 Tide mobile app. Credit: Tide
The mobile app is divided into these sections accessed via a bottom menu:
Account: View transactions grouped into categories, account details and prompts to complete account actions (e.g. "Activate card" if not activated yet). Export transactions or manage cards (e.g. freeze, unfreeze, cancel or reorder card) via this screen.
Invoice: Create, send and view email invoices from this section. The invoices are quite basic, with few customisation options, and the receiver will be encouraged to pay you via bank transfer.
Pay: From here, you can pay someone via bank transfer or schedule and manage payments. New recipients are added when a transfer is being created/scheduled.
Support: Browse answers to FAQs or message the support team from here. Previous chats with customer service are also viewed from this section.
More: Everything else can be accessed from here, e.g. manage accounts and account limits, create colour-coded categories for types of transactions, approve transactions, manage payments, cards and statements (like in other tabs above), edit profile details and manage login and security information.
A handy feature from the More tab is the Receipt Importer. Simply snap a picture of your expense receipts and attach it to a transaction. It will then be stored digitally so you can get rid of the paper receipt.
You can easily sync Tide transactions with Xero from here to automate accounting. Doing this can save you the task of exporting data to CSV files manually. Other Tide accounting integrations are FreeAgent, QuickBooks, Sage, Reckon and KashFlow, but they require a slightly more complicated setup process. No other integrations are available through the app.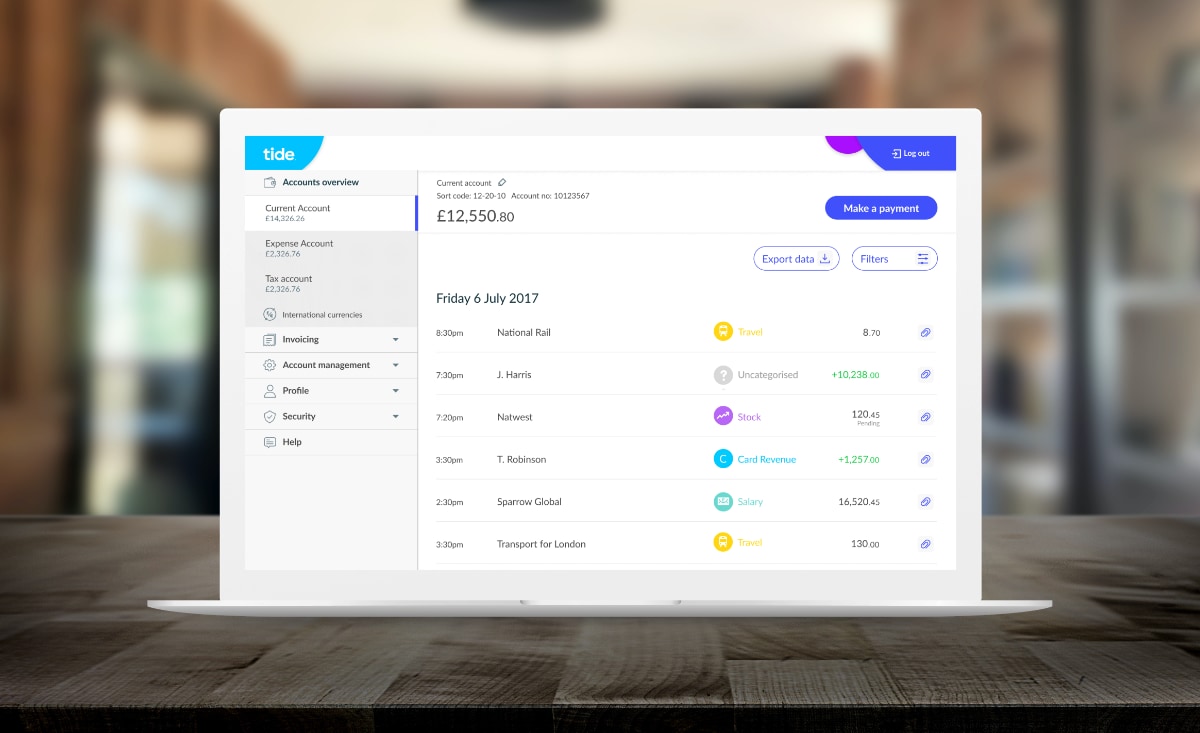 It's possible to log in to your Tide account in a web browser – with the help of your phone.
It's possible to log into your Tide account from a web browser, but in order to do this, you should have your phone handy to scan a code displayed on your computer screen. This is to verify you're the account holder, but it could cause a problem if away from your phone.
Team members and an accountant can get read access to the web account.
Customer service and Tide reviews
Tide offers in-app chat and email support 24/7 every day of the year. There is also a community forum where users can ask questions and receive answers from other users or Tide personnel. If you're one of the lucky businesses offered an upgrade to the Plus plan, you get "priority" in-app support and 24/7 legal and phone support.
However, customer service is not up to scratch according to many Tide reviews. The most common complaint is a lack of response or inadequate service once the customer does hear back from Tide. Some are complaining of issues using the account with external services due to Tide's lack of bank status.
Others are experiencing account closures where the balance is held for an undetermined amount of time, accompanied by no (or very slow) responses by Tide.
The most common complaint is a lack of response or inadequate service once the customer does hear back from Tide
Repeated, inadequate handling of chargebacks have also been mentioned which goes against the FCA's requirements, and issues getting accounts accepted.
All that being said, we had a smooth experience setting up our account. We also noticed that Tide doesn't get a suspicious amount of overly positive reviews on TrustPilot that could be seen as incentivised. Instead, Tide answers most customer reviews promptly – a positive sign, at least externally.
Signing up
Signing up with a Tide account is easy for most registered businesses and sole traders. As long as you are not on a list of high-risk business areas, you can have your account accepted in a matter of minutes, after which a Tide card is dispatched. It took only a couple of minutes for our sole trader account to be accepted. 81% of users have their accounts opened within 48 hours.
Just download the Tide app and go through the sign-up questions there, or start on a laptop and continue on mobile (you can't sign up entirely on a laptop). At some point, you'll need to take a picture of a valid photo ID and your face for identification. In some cases, Tide may ask for extra documentation about your business, in which case the sign-up will take longer.
Tide doesn't perform credit checks, but electronic checks are run by third-party providers to verify your details. These will not affect your credit score but will appear on your credit report.
Our verdict: enough for some, very limited for others
Tide provides decent features for managing business income and budgets through a basic e-account. Keeping business or freelance income separate from personal money is valuable in itself, and Tide is one of several UK-based neobanking services lowering the threshold for entrepreneurs to open a business account easily and cheaply.
But there are clear shortcomings with the Tide account. For one, you cannot receive or make foreign transfers so anyone with regular clients outside the UK would not be able to use Tide, at least not in an easy way.
Secondly, it's worrying to see users experiencing problems with the prepaid Mastercard that could've been avoided by choosing another platform with a proper debit card or/and a challenger bank with a full banking licence. Customer support is not the best either, but there are users who are really happy with the service.
Tide is one of several UK-based neobanking services lowering the threshold for entrepreneurs to open a business account easily and cheaply
And good things? Having multiple accounts, different Tide cards for staff, invoicing, no monthly fee, cash deposits (which is not a given for online accounts) – and more perks if you qualify for a Tide Plus account.
The bottom line is this: if Tide's features cover everything you need, this could well be a good solution. Just be aware of its limitations and compare with alternatives if Tide lacks clarity on the services you need.
Pros
Create 5 accounts for one business

Both browser and app access

Order up to 35 Tide cards
Cons
Prepaid card an issue for some

Only handles GBP currency

No credit card or overdraft available

International transfers only available for few businesses