Our rating
Revolut Business is an online current account for businesses and freelancers.

Type: Online multi-currency current account for professionals

Loans and overdrafts: Coming soon

Apple Pay & Google Pay: Coming soon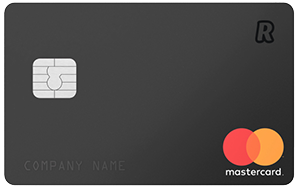 Businesses can pick between two designs for the prepaid Mastercard: black or white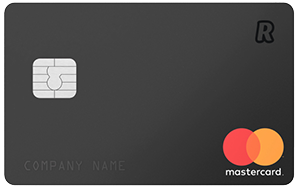 Company
Revolut Ltd
Type
Online multi-currency current account for professionals
Card network
Mastercard
Monthly cost
From £0
IBAN
Yes (GBP)
Loans and overdrafts
Coming soon
Cash withdrawals
Yes
Apple Pay / Google Pay
Coming soon
Revolut for Business offers two types of bank accounts:
We've tested Revolut Business, setting up a Freelancer account to try the features and service.
Let us go through the offering and rates to determine whether professionals and companies in the UK should consider Revolut.
Core features
The main difference between Revolut Freelancer and Company is that the latter can be used by multiple employees. As for similarities, the two Revolut Business plans share the following main features.
Multi-currency account: Revolut's business accounts allow you to receive and send money in 28 different currencies. Money transfers in the Eurozone and UK (via Faster Payments) don't cost much or are included on the paid plan, while global transfers cost Revolut's transfer fee plus potential hidden fees by intermediary banks.
Image: Emily Sorensen, Mobile Transaction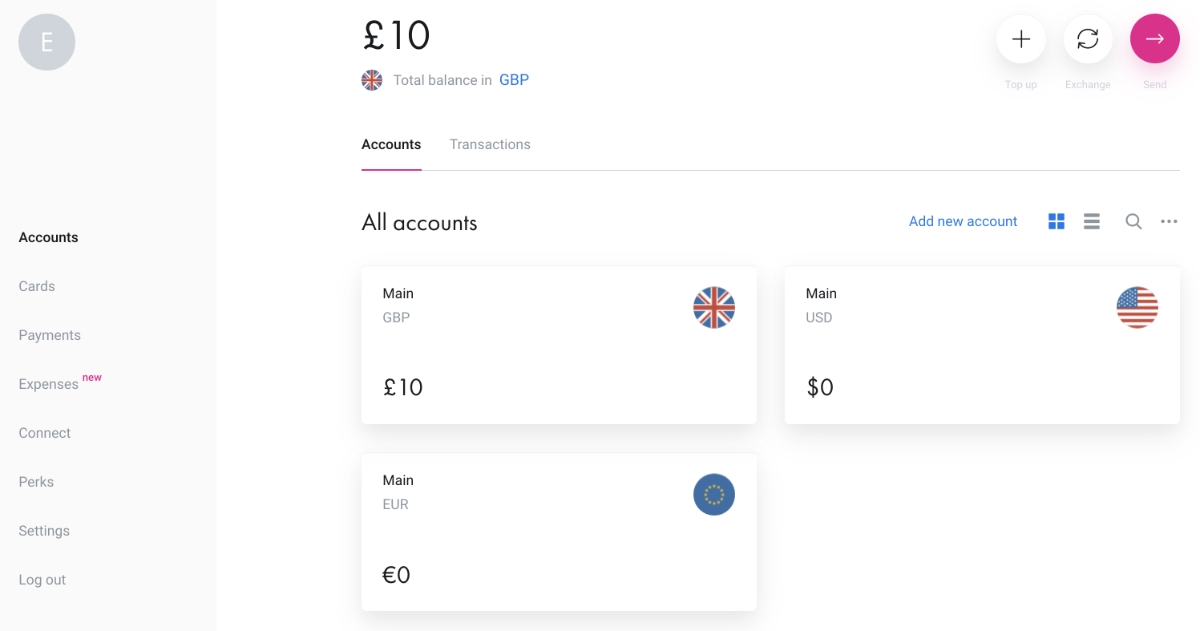 Business users can create sub-accounts in several different currencies, as seen on the web dashboard.

Payment cards: A Revolut Business account includes the option to order several prepaid Mastercard debit cards. These will allow you to withdraw money at ATMs and pay in most shops in the UK and abroad (chip and PIN or contactless). You can also create virtual bank cards in your choice of currencies for secure online transactions.
The main account manager can set up custom restrictions for each card – and block the cards with just a click.
Revolut still does not offer loans or overdrafts to any user, but the company says these options are "coming soon". Card payments are therefore subject to authorisation, and the account can never be overdrawn (i.e. it is a prepaid account).
Image: Stéphanie Garrel (SG), Mobile Transaction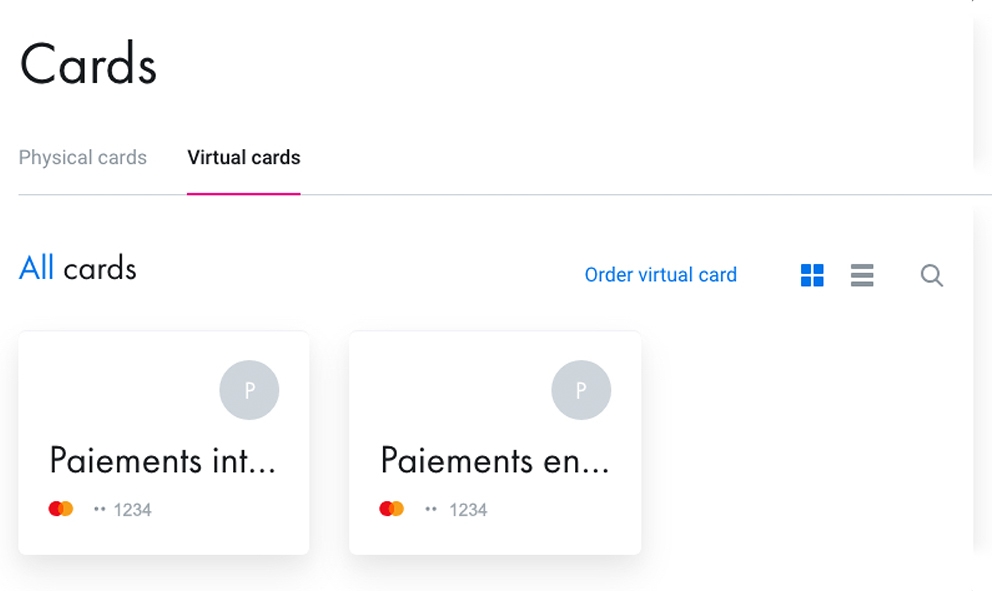 Virtual cards allow the account holder and staff to make secure purchases over the internet.

Mobile app: You can manage the account entirely through the Revolut Business app for phones and tablets, although the web account has a slightly more detailed interface.
Revolut Connect: Users can link their Business account to different apps for accounting (Xero, QuickBooks or FreeAgent), task automation (Zapier) or communication (Slack).
Open API: Advanced users can use Revolut's application programming interface (API) to integrate with other software and applications. This allows you to automate your own workflows such as cross-border payments and payouts to clients and staff.
Perks: The paid Revolut plans give you discounts and benefits from partners like Google Ads, Slack and Deliveroo for Business.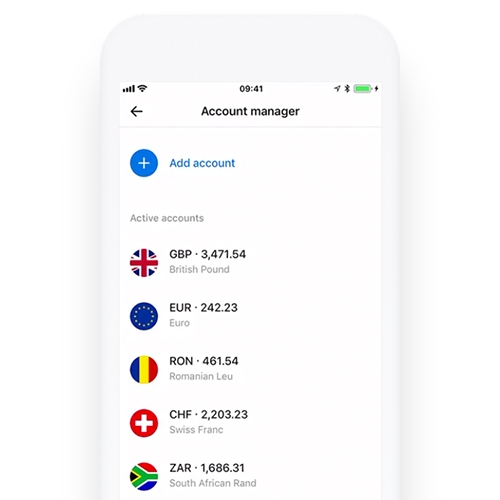 The mobile app allows you to do banking any time.

The Freelancer account is in the name of the self-employed person, with his or her name appearing on bank transactions.
There are actually two account options for freelancers: the Starter (also called Free because it is free) account and Professional account costing £7 a month.
We tested both the free and paid account. 'Free' is suitable for those with few transactions monthly, while the Professional subscription is better value for self-employed workers with multiple incoming and outgoing transactions a month in different currencies.
You can order up to two physical Mastercard prepaid cards on a Freelancer plan, and up to 20 virtual cards for online purchases per month.
The professional plan has some handy extras like expense management where you can capture payments on the move, bulk payments and the ability to give your accountant limited access to the Revolut account.
Free
Professional
Team members
1
1
Payment cards
2 physical cards
20 virtual cards a month
2 physical cards
20 virtual cards a month
Free UK/SEPA transfers
5 per month
20 per month
Free SWIFT transfers
0 (hidden transfer fee may apply)
5 per month (hidden transfer fee may apply)
Free currency conversion
None included
Up to £5000 per month
Free
Profes-
sional
Team members
1
1
Physical payment cards
2
2
Virtual payment cards
20
20
Free UK/SEPA transfers
5/mo
20/mo
Free SWIFT transfers (hidden transfer fee may still apply)
0/mo
5/mo
Free currency conversion
None included
Up to £5k/mo
The paid plans give you access to some of the same features as the Freelancer plans, e.g. bulk payments and expense management. Otherwise, the Company plans have identical features, but with the varying limitations indicated in the following table.
| | Free | Grow | Scale | Enterprise |
| --- | --- | --- | --- | --- |
| Users allowed | 2 | 10 | 30 | ∞ |
| Free UK/SEPA transfers | 5 | 100 | 1000 | ∞ |
| Free SWIFT transfers* | 0 | 10 | 50 | ∞ |
| Free currency conversion | None included | £10k | £50k | ∞ |
*A hidden transfer fee may be applied before reaching the Revolut account.
Revolut Business
Company
Free
Team members
2
Free UK/SEPA transfers
5
Free SWIFT transfers*
0
Free currency conversion
None
Grow
Team members
10
Free UK/SEPA transfers
100
Free SWIFT transfers*
10
Free currency conversion
Up to £10k
Scale
Team members
30
Free UK/SEPA transfers
1000
Free SWIFT transfers*
50
Free currency conversion
Up to £50k
Enterprise
Team members
∞
Free UK/SEPA transfers
∞
Free SWIFT transfers*
∞
Free currency conversion
∞
*A hidden transfer fee may be applied before reaching the Revolut account.
The following companies are eligible for a Revolut Company account: private limited companies (LTD), public limited partnerships (PLC), limited liability partnerships (LLP), other partnerships and unlimited companies. Associations, charities or publicly traded companies cannot open one of these accounts.
Some high-risk areas of business are also not accepted by Revolut, for example adult entertainment, promotion of illegal content, armament, art dealers, auctions, gambling, video game arcades, cryptocurrencies, precious metals and stones dealers, client money management, non-profits or religious organisations, political parties and used-car dealerships.
Freelancer
Company
Monthly cost
Free: £0
Pro: £7
Free: £0
Grow: £25
Scale: £100
Enterprise: £1,000
UK/SEPA transfers beyond free quota

20p per transfer
SWIFT transfers beyond free quota*
£3 per transfer
Transfers to or from another Revolut account
Free
Currency conversion fee beyond free quota

0.4% markup on FX rate
Cash withdrawal rate
2%
*A hidden transfer fee may be applied before reaching the Revolut account.
Freelancer
Company
Monthly cost
Free: £0
Pro: £7
Free: £0
Grow: £25
Scale: £100
Enterprise: £1,000
UK/SEPA transfers beyond free quota
20p each
SWIFT transfers beyond free quota*
£3
Transfers to or from another Revolut account
Free
Currency conversion fee beyond free quota
0.4% markup on FX rate
Cash withdrawal fee
2%
*A hidden transfer fee may be applied before reaching the Revolut account.
Revolut for Business accounts differ from competitors by the absence of conversion fees. In case of withdrawing or transferring in a currency other than the pounds sterling, only the interbank exchange rate (FX) applies. Revolut does not take any additional commission on the currency conversion within the limits determined by the chosen plan. Beyond the limits of your chosen plan, a conversion fee of 0.4% applies to each transaction involving currency conversion.
That said, we had a£15 fee applied to each international transfer received from outside the EU to a UK Revolut account.
Credit card (when opening an account)

Bank transfer (Faster Payments, SEPA, SWIFT)
There are no limits to the number or size of transfers you can receive, but if you receive more than £250k per day, Revolut may contact you to perform some security checks.
When you just open the account, you get the option to to credit he Revolut account with a credit card in your name. After this initial transfer, credit card deposits will no longer be an option – only Faster Payments (UK), SEPA and SWIFT deposits will be possible.
To top up your account using PayPal, you must register the RIB of your Revolut account and make a SEPA transfer. It takes about two days for such a payout to process.
Different Revolut accounts can also – free of charge – send each other money instantly, whether from a Personal Revolut account or Business Revolut account.
Alternatively, you can fund the account by having a customer make a first SEPA or SWIFT transfer.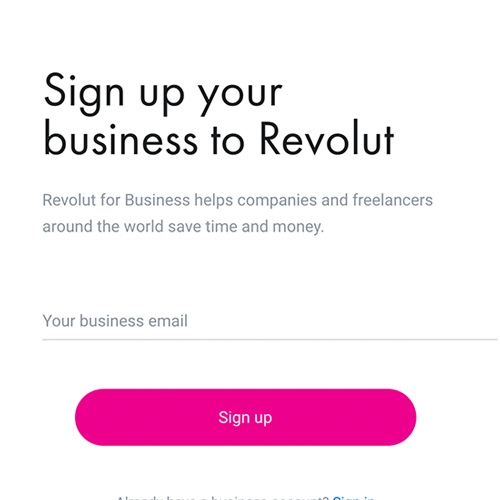 Signing up requires email and identify verification, but it is a simple procedure with step-by-step guidance.

Then come the verification steps, including giving general information about your business.
Simply submit the required information about your business and take a picture of your identity document (passport, driver's licence or other photo ID), then finalise the application. You receive an email saying it may take up to a week to approve the application, but we actually got approved the day after.
Once opened, you're encouraged to transfer money to the new account so subscription fees can be deducted from it (if applicable). It wasn't possible for us to transfer less than £10 into the new account by debit card.
To order a prepaid Mastercard, pick between free shipping taking up to 9 working days, or £11.99 express delivery taking up to two working days – in which case you need £11.99 in the new account.
Every time you log into your Revolut account, a number code is sent to your email address, ensuring only the approved user can access it. Clicking on that code logs you into the account which opens up in a new tab.
Revolut Business is without contractual commitment. Only two weeks' notice is required to properly close the account.

Our experience of Revolut for Business
We performed our own tests of Revolut by opening two separate Freelancer accounts: a Free account in the UK and Professional account in France.
In both cases, opening the account took less than 24 hours, which is a significant improvement if we are to believe the complaints in user reviews of this neobank.
We tested the account's funding by debit card (UK), credit card (French) and PayPal. The transactions by credit and debit card were received immediately, but PayPal's took less than 24 hours, similar to an incoming SEPA credit transfer.
The prepaid Mastercard was supposed to arrive after two weeks, but we were pleasantly surprised to receive it three days in advance. In the meantime, we had already been able to make online purchases using the virtual card on the same day the account was opened.
Image: SG, Mobile Transaction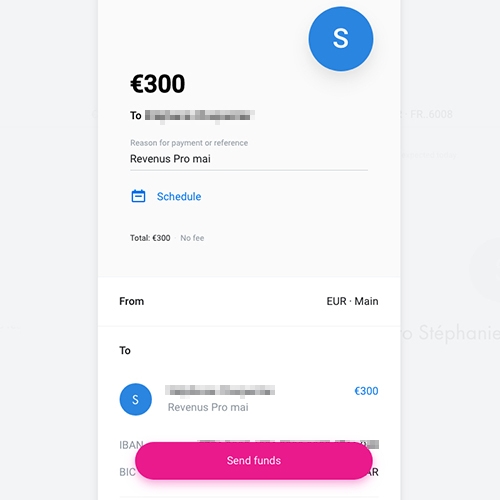 Example of a free international transfer.

We were also curious whether the lack of transfer fees – one of Revolut's big selling points – was real.
Indeed, there were no transaction fees for a SEPA transfer received in the Eurozone. This may of course vary depending on the issuing bank, but from our tests in France, that promise was kept.
However, when we performed an incoming SWIFT transfer from outside Europe to a UK Revolut account, both from GBP to GBP currency and euro to GBP currency, exactly £15 was deducted before reaching the Revolut account.
We know this fee was deducted in the UK, but Revolut did not include it in the total – they only included the £3 Transfer Fee they advertise online. So in total, we were charged £18 for each international SWIFT transfer to GBP.
We contacted Revolut to ask about this, and they replied: "sometimes there are fees, which are applied by the intermediary banks". They refused to refund the £15 as it was not applied by them, despite us pointing out that Revolut does not mention the existence of such an extra fee on their website.
Please also note: be careful when communicating bank details to your debtors so you don't leave out the BIC code when necessary (for transactions outside SEPA).
Another drawback: Revolut for Business is in principle a multi-currency account. When activated, it first offers three accounts: in GBP, EURO and USD. To benefit from the promised multi-currency account, you must go through an additional verification step and make the request via the chat. After our request in France, our multi-currency account was activated that day.
It's regrettable that this procedure is not clearly explained at the time of account creation and in the FAQs. We had to browse the Revolut user forum to discover this step-by-step activation.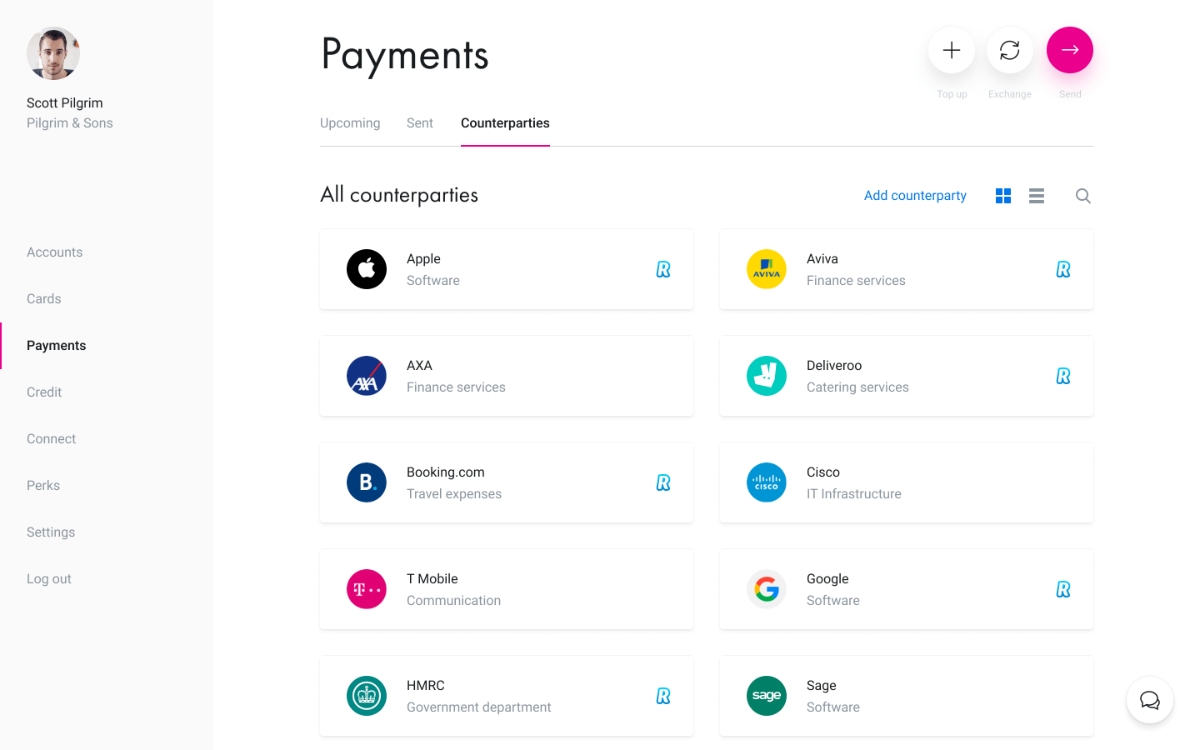 Save all your payees in the 'counterparties' section.
The lack of clarity in customer communication is also not great. While generally reactive during the day, customer service is only available via chat. It may be necessary to use the dedicated forum to solve your problems on the free plans, but any of the paid plans should include 24/7 support when you need to reach a member of the Revolut team.
Our verdict
This business account is particularly valuable for small businesses with employees abroad or that regularly carry out transactions within SEPA, whether that be payments, direct debits, outgoing or incoming transfers.
It is not the cheapest business account for international SWIFT transfers to the UK – as we found out when we uncovered the hidden fee that wasn't even shown in the Revolut account. You have to compare the amount sent by the payer with the amount received in Revolut to find out all the fees. Revolut is not transparent about this on their website.
Revolut has recently made many changes to their offering, including the creation of free plans with fewer features, and higher prices for paid plans. These changes could attract a new user base: low-income, self-employed people.
Sole traders will indeed find the Freelancer account interesting, especially as it is very simple to switch from the Free to Professional plan when it looks like you will receive more transfers than included on the free plan.
The no-fuss interface and speedy transactions are clear draws for freelancers.
The Revolut Freelancer Professional account is ideal for entrepreneurs and sole traders who depend on UK or SEPA transfers – the no-fuss interface and speedy transactions are clear draws. Just keep an eye on the fees applied to international transfers.
The absence of an authorised overdraft is limiting and requires regular verification of the balance, which can be prohibitive for a company using several bank cards. Some companies will also not like that you cannot apply for credit from Revolut.
Those negatives should soon be resolved as Revolut plans to have an overdraft and credit option to the Business accounts.
Revolut is constantly evolving, regularly promising new features that are sometimes slow to arrive. At the moment, the use of Google Pay is reserved for Beta users, and the integration of Apple Pay is still in the planning stages.