Thibaut Genevrier wants sellers to feel proud of Revolut Reader at the till, but with a checkout process so smooth you forget about it.
Over 8000 businesses globally sign up for a Revolut Business account each month, according to the company's own figures. Particularly popular with those doing business across borders, it has challenged the traditional banks' high charges and time-consuming online interfaces. Thibaut Genevrier says offering payment acceptance was a no-brainer: "Every business needs to accept payments".
Payment links and an online checkout solution for ecommerce were made available to Revolut Business users at the start of the pandemic. This year, Revolut entered the face-to-face payments market – dominated by the likes of SumUp, Square and Zettle – by launching its own card reader.
The plans do not end there. Having acquired Nobly last year, an iPad-based point of sale solution, Revolut wants to offer merchants software tools too.
Revolut is not alone in offering small businesses the simplicity of only dealing with one platform for multiple needs. Yet it is one of the first neobanks to go so deep into payment acceptance. Head of Merchant Acquiring at Revolut, Thibaut Genevrier, says there is a benefit to starting with a business account:
"You are in one place and you see all the money you have. You can use the money within 24 hours of the transaction. Others usually take 3 days before the funds are sent to the business account where they can actually spend it. All in the same place, you can see all your money from different sources, use it and manage it faster."
Revolut Reader
Our first look at the Revolut Reader brought robotics to mind. The device has no physical PIN pad and connects via Bluetooth to a mobile device to harness its processing power. There is something cute, yet futuristic, about it. In the age of Instagram, the card reader has to look good on a desk. Old-school Ingenico and Verifone designs have become somewhat of an archetype of what to avoid. Design was definitely not an afterthought, says Thibaut:
"The first intention was to design the product to create something that fits into the store so that it can be visible. In the past, we have seen devices which were quite bland, a small screen and lots of buttons. We wanted to create something merchants would be proud to have on their desk and not hide."
In the end, Revolut opted for a simple touchscreen and no PIN pad, using its insights from the payment behaviours of its retail customers:
"Revolut is a bank. We issue a lot of cards, so we can see how people use PINs. We see that this is slowly decreasing. People are paying more and more with Apple Pay, Google Pay and card-tapping without the need to enter a PIN. Exemption limits go higher.
We opted for a bigger screen, the primary objective being to keep the customer informed of the amount and the status of the payment. The PIN entry is possible, but it is not the prime objective."
Transactions should be as fast as possible, the customer should be kept informed of the status. For the merchant, it should just work.
While the design is important, the transaction itself should be effortless:
"Payments should be something in the background, it should not be something the merchant or buyers should think too much about. Transactions should be as fast as possible, the customer should be kept informed of the status. For the merchant, it should just work."
Expanding to point of sale
Before joining Revolut, Thibaut helped point-of-sale software provider Lightspeed expand their offering to payments. Prior to that, users of Lightspeed signed separate contracts to obtain a card machine, which again had to be integrated with the point of sale software. To him, a point of sale app is the natural extension to face-to-face payments for Revolut:
"We are serious about point of sale, though we know we are a newcomer in the market. A few hundred merchants are testing the Revolut Reader with our integrated point of sale app for hospitality. We are soon ready to launch in the UK and Ireland."
The lucrative food-and-drink segment is the first target market of Revolut. UK consumers spend £240 bn on food, drink and catering with a total of 155,280 businesses offering food and beverage services in 2021.
"There is a lot to be done in hospitality to decentralise the way we order and pay, such as ordering from the table," says Thibaut.
A solution for retail is also in the works, he says: "We are also launching what we call a mini POS inside the Revolut app, which is for lighter retail, which will give sellers the ability to not have to enter the amount every time."
Taking on PayPal and Klarna
While face-to-face sales are a new territory for Revolut, the company has experience in tools for online sales. Already in 2018, Revolut allowed retail users (i.e. those with a personal account, not business account) to request payments from friends and family – whether they were Revolut users or not – by text message.
Payments were made on a Revolut page by entering card details. It became a popular feature, and Revolut noticed a demand from businesses for the same, especially at the start of the pandemic.
Payment links for businesses was launched at the end of 2020 and proved useful for a range of businesses:
"We have real-estate agents taking deposits, yoga teachers using it as their main way to get paid from clients, and people selling expensive truck parts all over the world. It is easier than communicating bank details and tracking payments. You can use it across borders, such as sales to the US where people are not familiar with IBAN. The average ticket size is high too: 4-5 times higher than what is coming through from website sales."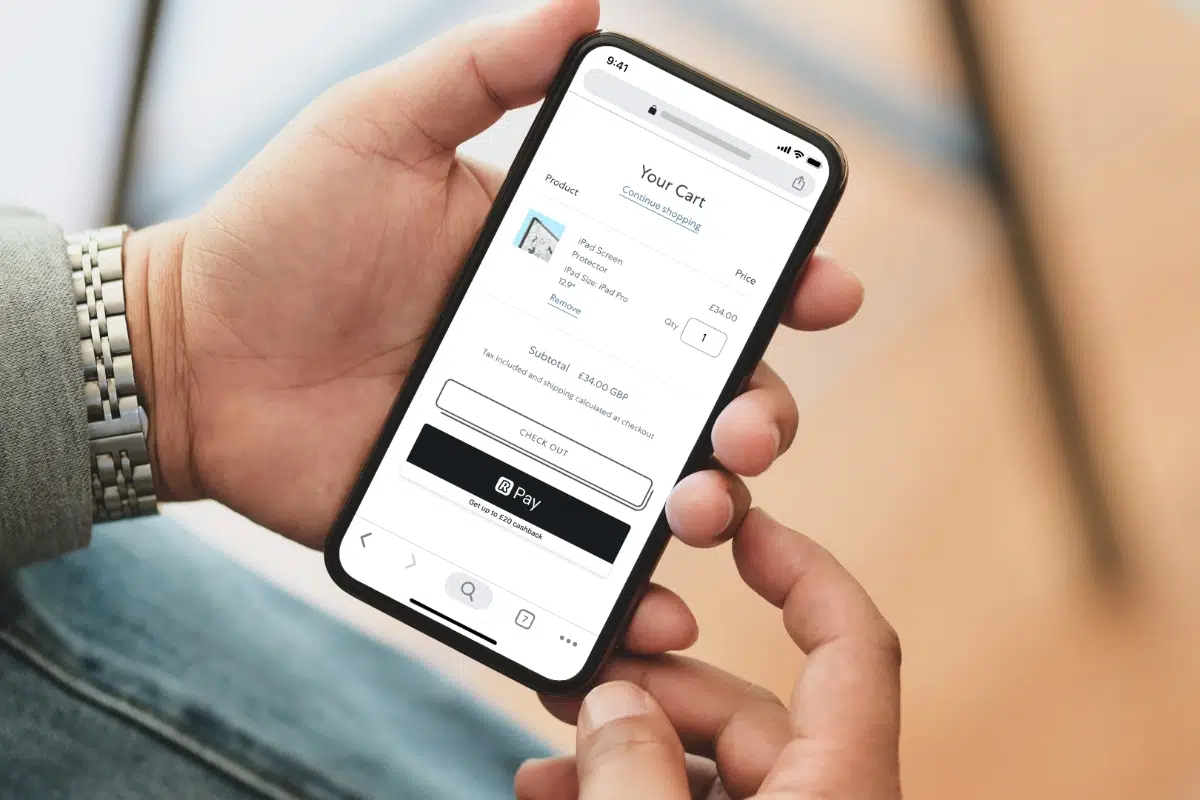 Revolut Pay speeds up the checkout experience for customers.
The multi-currency Revolut Business account has been popular with ecommerce businesses selling globally. An API for online checkouts has been available since 2020.
The newly revamped Revolut Pay is aiming at making that checkout experience faster by saving customer information, challenging the likes of PayPal and Klarna. "Entering your card details is a hurdle", says Thibaut. Revolut Pay can also be used by those without a Revolut account, giving them, he says, "a sneak peak of what Revolut is."
Saving customer data opens up possibilities for a Buy Now, Pay Later (BNPL) offering, where customers pay for a purchase over time in instalments while the seller gets paid in full. Payment competitor Square has recently entered this segment, while Klarna is the market leader with its over 20,000 retail partners in the UK.
"We launched Revolut Pay Later in a small number of European markets earlier this year, but Pay Later is not currently integrated with Revolut Pay. It is definitely something we aim for down the line, but the objective of Revolut Pay is to make payments easier," says Thibaut.
Thibaut is overall confident that the payment products will continue to grow: "Initially, all our payment customers were existing Revolut Business customers. Now, we have a significant number of new customers who join Revolut to accept payments. Some of these are not using the business account."
How Revolut Reader will be received in the UK market remains to be seen, but the growth of merchants who use Revolut just for payments seems to show that the move to payment acceptance has been smart.