Our rating
SumUp Air is an easy-to-use card reader with an affordable, flat card rate.
SumUp Air is a compact, low-cost card reader for contactless and chip card payments. It works in conjunction with a mobile app and is super-easy to get started with. The only ongoing cost is a 1.69% transaction fee.
Highs: Easy to use. Low price. Affordable, fixed transaction rate. No ongoing costs or contractual commitment.
Lows: Not that many app features. No phone support in the evening or on Sundays.
Buy if: You need an affordable and easy solution for taking card payments.
Mobile Transaction readers can get a SumUp Air card reader for £29 + VAT. No monthly fees or contract to worry about. Free delivery in 4-5 days.
Mobile Transaction is an independent payment industry resource trusted by over a million small businesses per year.
We allow solution providers to offer product discounts for the benefit of our readers. These discounts do not influence our editorial content such as reviews or recommendations. Ratings are based on full retail price. (Full policy)
Accepted cards











The card reader accepts chip (PIN or sign) and contactless NFC payments from any credit or debit cards with the Visa, V Pay, Mastercard, Maestro, American Express, Diners Club, UnionPay and Discover logo displayed. Apple Pay and Google Pay are accepted too.
SumUp is a no-fuss service with only the essential tools needed to take face-to-face payments easily with no contractual obligation. You just sign up (takes 5-10 minutes), purchase the card reader and pay a fixed-rate transaction fee. There are no hidden fees and no monthly fixed costs.
Having merged with Payleven, SumUp rivals iZettle and Square and offers more competitive rates than PayPal Here.
Photo: Emily Sorensen (ES), Mobile Transaction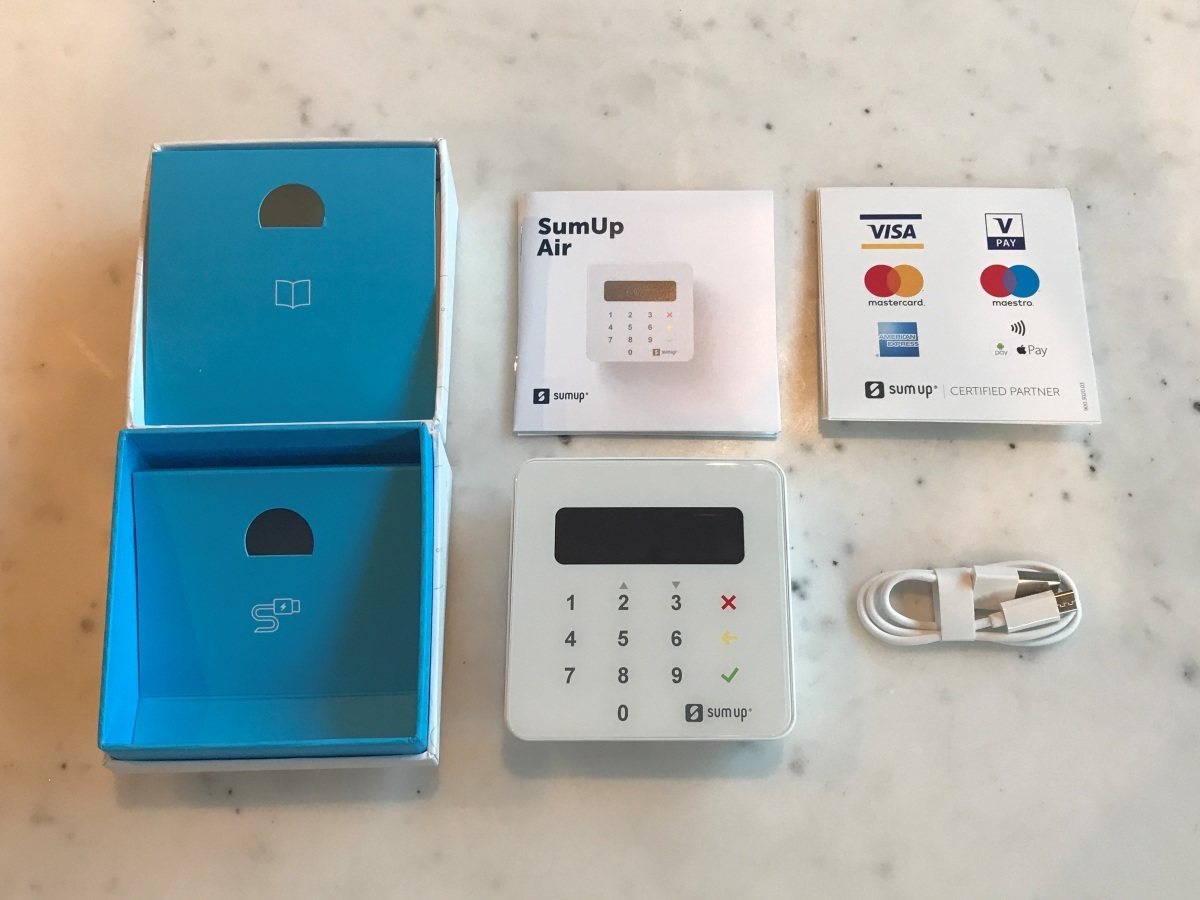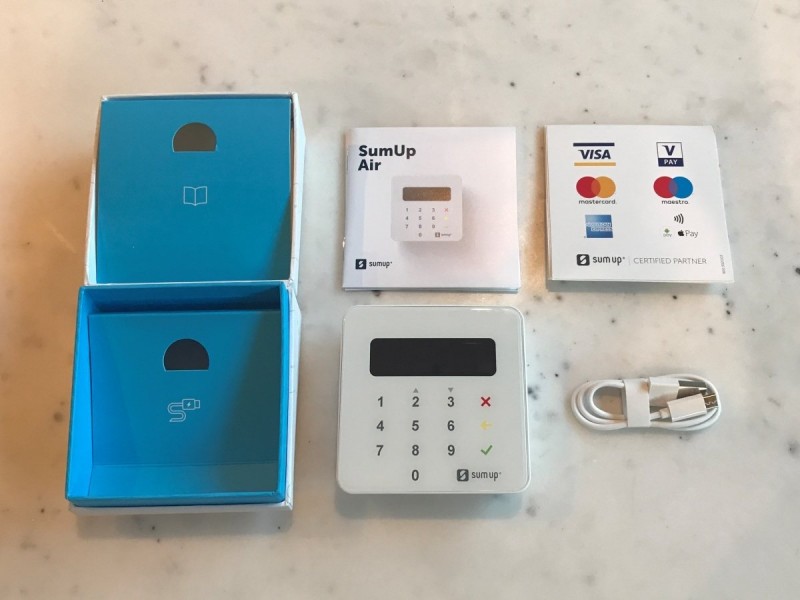 Box contents of our SumUp Air delivery.
How SumUp payments work
The payment process is simple: the main screen of the app shows the product menu (with products you've added) and the option to manually enter an amount in pounds. Entering an amount allows you to type a description of the purchased item/service. You can enter more than one price if wishing to itemise the bill manually.
When ready to pay, you tap "Charge". If cash payments are enabled in settings, you can enter an amount paid in cash. If choosing card payment, the transaction amount will be sent to the card reader – provided it is connected and nearby – and the card reader display will switch on prompting the customer to insert or tap their card or phone.
Once the payment has gone through, an email or text receipt can be sent to the customer, or you can print a receipt from a wireless printer connected in the app.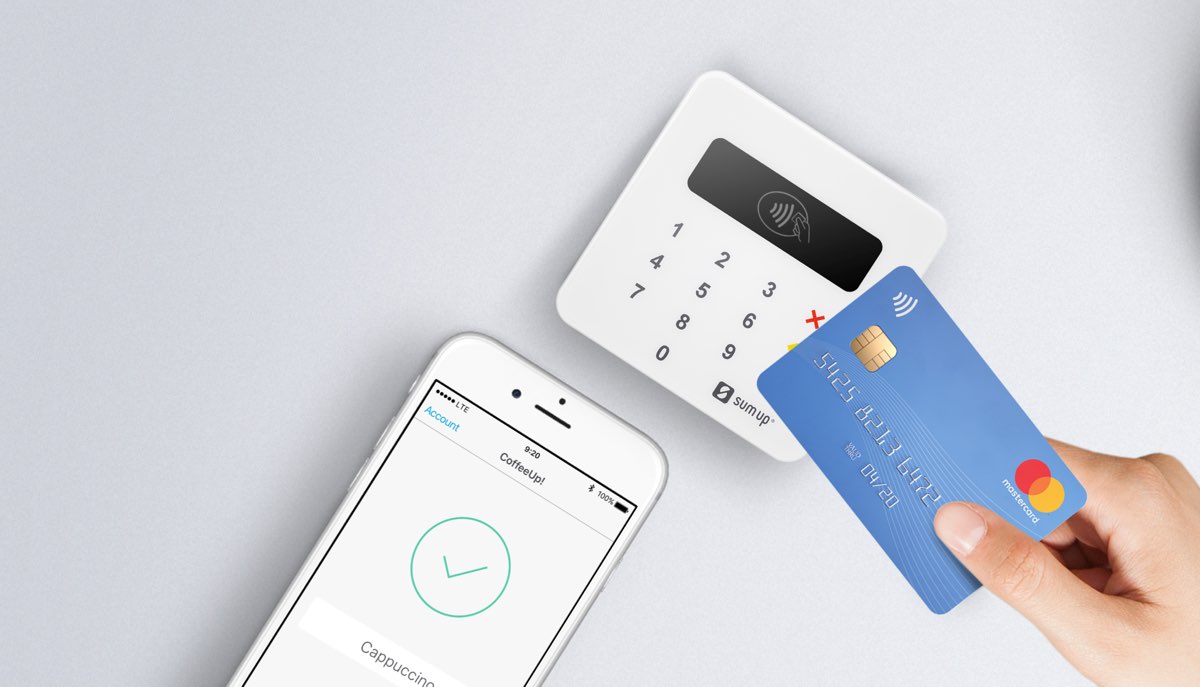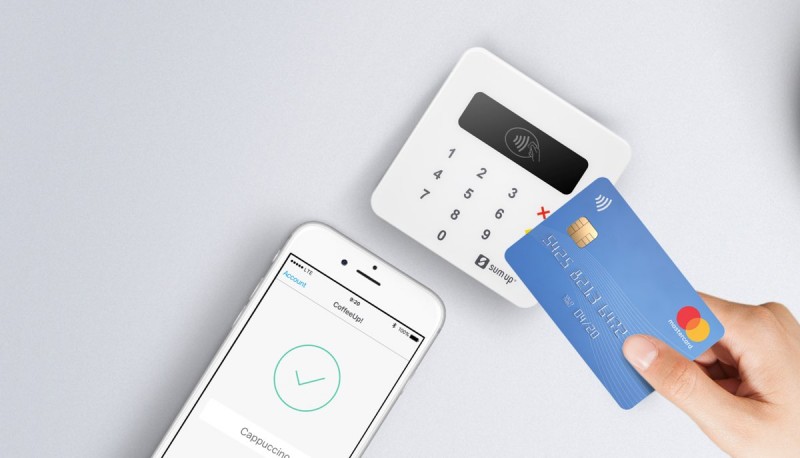 The SumUp Air card reader is operated from an app on a smartphone or tablet.
The minimum possible payment amount is £1. Customers can tap a contactless card or phone for amounts up to £30 without entering a PIN, but the card terminal will require authentication for amounts above. There's no transaction limit on Apple Pay and Google Pay payments.
SumUp initiates payments – minus transaction fee – to your bank account daily, although it takes 2–3 working days to clear in the bank account.
You can also choose to be paid weekly or monthly on a schedule.
The new SumUp Card offers an alternative way to get paid the next day (including weekends), instead of clearing in your bank account.
SumUp Card is a prepaid card linked to your SumUp transactions. Since it is Mastercard-branded, you can use it in shops as much as you want, or withdraw from a cash point up to three times a month without monthly fees.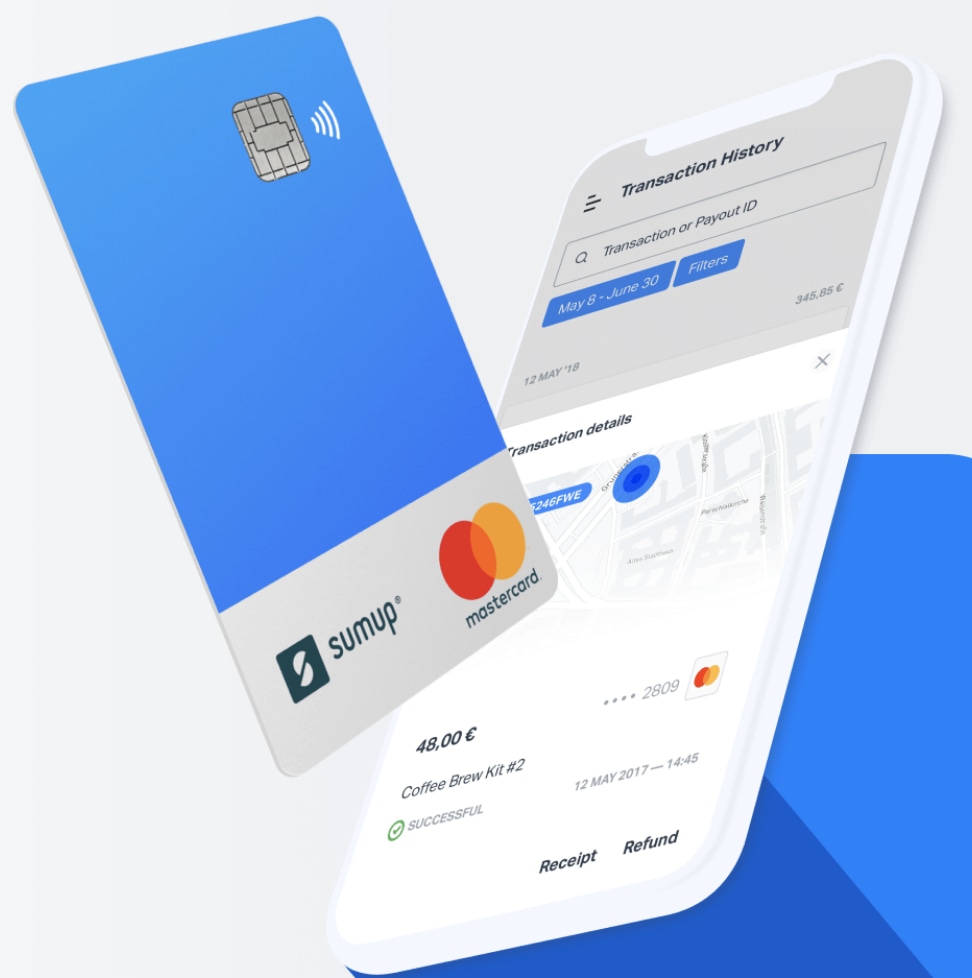 Affordable, fixed transaction rate
Like its competitors iZettle and Square, there are no ongoing or monthly fees with SumUp – you only pay a flat rate of 1.69% per transaction. The Air card reader costs £29 excl. VAT.
No monthly minimum sales volume is required, so you're not charged anything if you don't make sales for any length of time.
Refunds are free if processed before the transaction has been paid into your bank account, i.e. within a couple of days of the original purchase. After that, you can only process refunds if there are enough outstanding payouts (money not yet settled in bank account), and SumUp will keep the 1.69% card fee originally paid.
Chargebacks have an admin cost of £10 each.
| | SumUp charges |
| --- | --- |
| SumUp Air price | £29 + VAT |
| Setup fee |  Free |
| Delivery |  Free |
| Monthly cost |  Free |
| Card reader transactions | 1.69% (any card) |
| Cancellation fee |  None – no contract |
| Refunds |  Free within 1-3 days, 1.69% after |
| Chargeback fee | £10 |
| Minimum monthly sales volume |  No minimum, no fees |
| Virtual terminal & mobile payments |  2.95% + 25p |
Additional payment methods are over-the-phone, SMS, payment link and QR code payments, but these are not automatically available in the SumUp account. You'll need to contact customer support, answer some questions about your business and payment usage, then they will review your account as a whole and activate the payment options if all is well.
These keyed-in or remote payments cost 2.95% + 25p per transaction. SumUp is currently one of a few providers in the UK who can offer card-not-present transactions without a mandatory monthly charge (another one is Square).
Many businesses making £5,000 or less per month in card payments find SumUp an affordable option, along with iZettle and Square.
Card reader specs
SumUp Air is compatible with most Android tablets and smartphones using at least Android 4.4. iPod Touch 5G-6G, iPhone 5 and newer models, as well as 3rd+ generation iPads, are compatible provided you have iOS 9.0 or higher. Bluetooth 4.0 is required to connect the mobile device with the card reader.
The Air comes with a free micro USB cable, which you can plug into a computer or power supply when the card machine needs charging (a wall plug is bought separately).
At full charge, it will last about 500 transactions. Busy stores may want to opt for SumUp's charging station, which not only keeps the Air charged all day – it also looks good and keeps the reader in place on a countertop.
Photo: ES, Mobile Transaction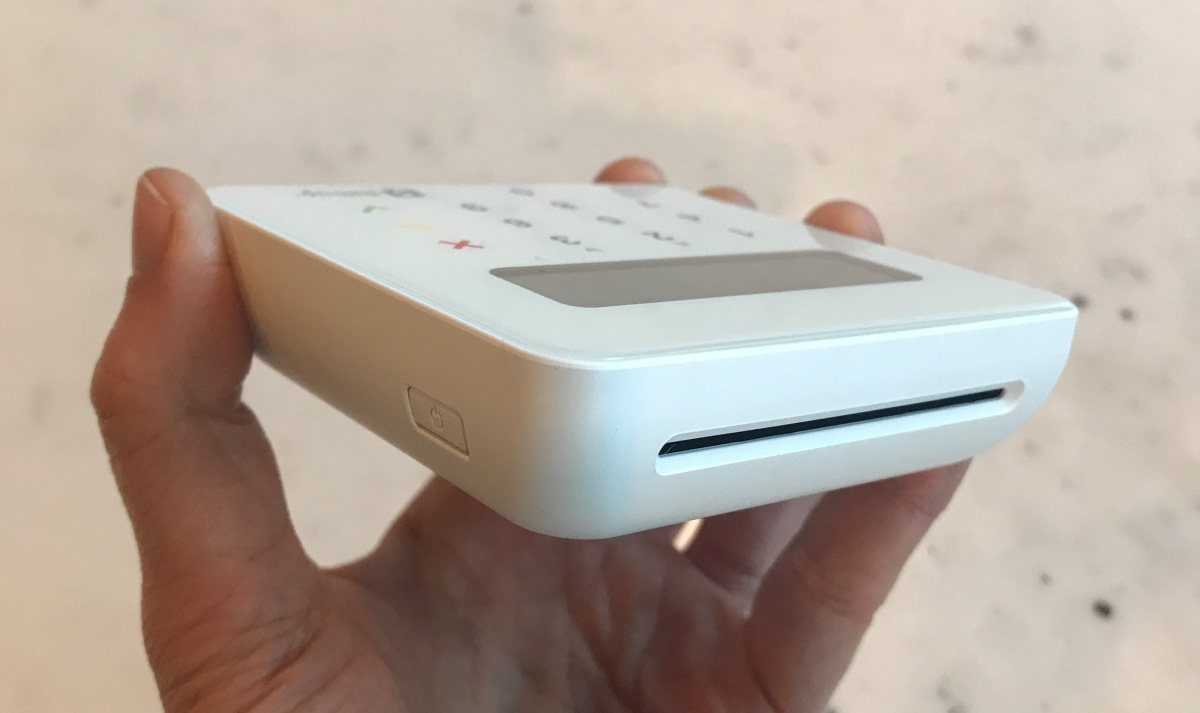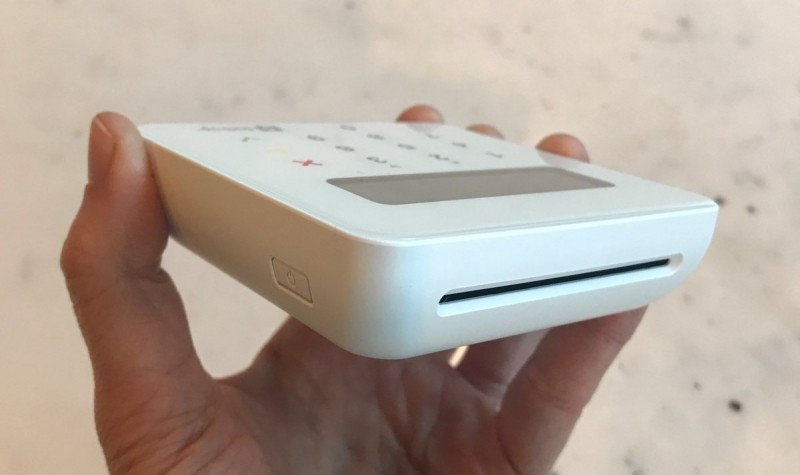 SumUp Air from the top, showing chip card slot and power button.
The card reader is quite stylish with a glass surface and plastic base that's nice to hold in the hand. It's tamper-proof, meaning any external effort to manipulate its technology will shut it down so it can't be used it any more. That's great for security, but you need to make sure it's not near highly magnetic fields, which could inadvertently deem it permanently unusable.
Photo: ES, Mobile Transaction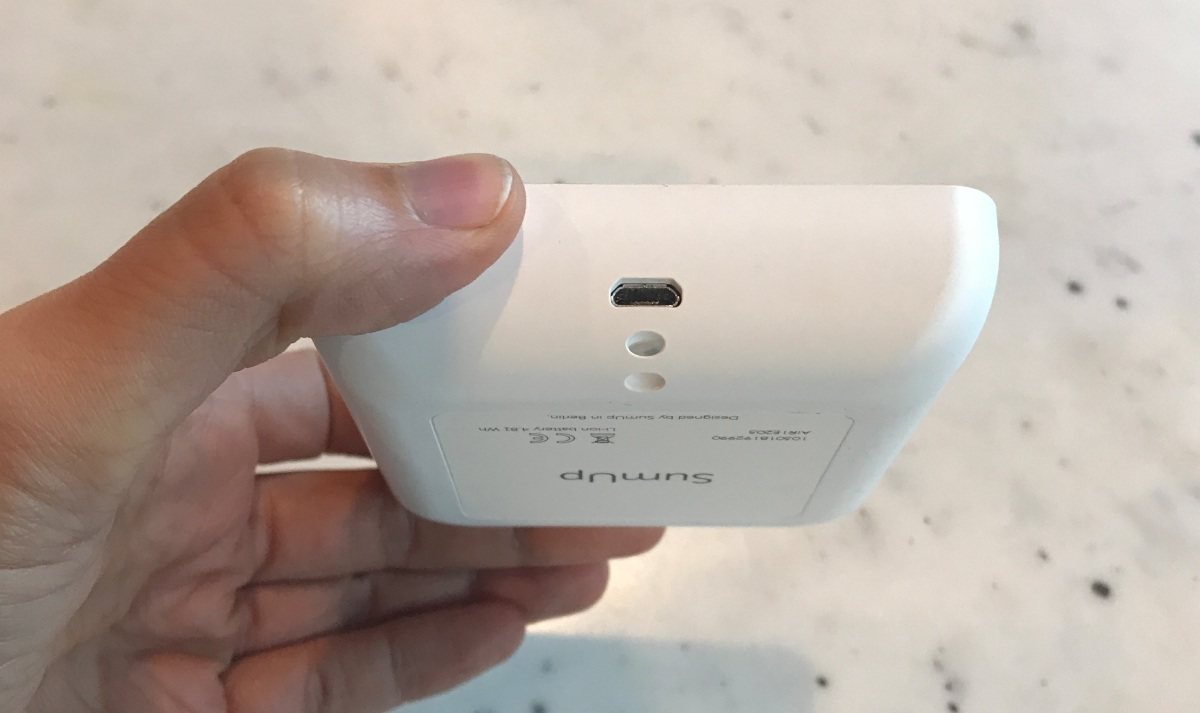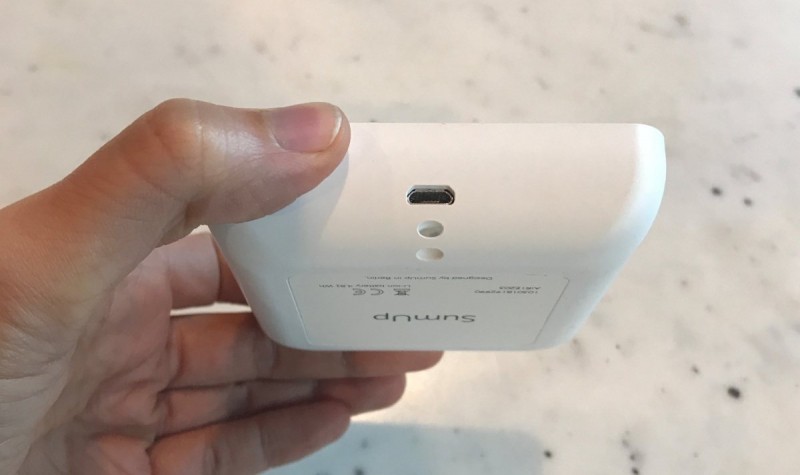 SumUp Air from the bottom, showing charging socket.
It's possible to link several SumUp terminals to your main account, but you can't link any other brand of card machine to it. The SumUp app does not directly connect to POS accessories like cash drawers or barcode scanners, except for compatible receipt printers that may link to a cash drawer that way.
SumUp Air vs SumUp 3G
If you prefer a card machine that doesn't require a mobile app to accept payments, the standalone terminal SumUp 3G is an alternative.
The 3G model has an inbuilt SIM card with unlimited data, so you don't need a connected mobile device to process card payments through the terminal. This could be a handier solution for those who don't need elaborate POS features, but instead prefer one portable device for card payments or just an extra terminal to use independently from the point of sale.
The card fee is the same as Air's, i.e. 1.69% for all payments, but the upfront cost is higher at £99 + VAT. As with Air, there are no other ongoing costs, and you can expect the hardware quality to be the same.
| | SumUp Air | SumUp 3G |
| --- | --- | --- |
| | | |
| | | |
| Price | £29 + VAT | £99 + VAT |
| Works without phone/tablet | | |
| Network | WiFi, 3G, 4G | GPRS, EDGE, 3G |
| Size | 84 x 84 x 23 mm | 133 x 71 x 19 mm |
| POS system integration | SumUp app, certain third party POS software | SumUp app |
| Receipt printing | Connects with compatible Star Micronics printers | Prints via SumUp 3G Printer cradle |
SumUp Air
SumUp 3G
£29 + VAT
£99 + VAT
Works without phone/tablet

Network
WiFi, 3G, 4G
GPRS, EDGE, 3G
Size
84 x 84 x 23 mm
133 x 71 x 19 mm
POS system integration
SumUp app, certain third party POS software
SumUp app
Receipt printing
Connects with compatible Star Micronics printers
Prints via SumUp 3G Printer cradle
Although SumUp 3G works independently, it can still connect with the SumUp app over Bluetooth and accept cards in conjunction with the app just like SumUp Air. That being said, the 3G reader is intended as a standalone solution and does not connect with any other POS software, which the Air in some cases does.
Furthermore, the Air connects with specific Star Micronics printers for paper receipts, while SumUp 3G only works with a SumUp-branded printing cradle.
App and dashboard features
SumUp's app for the Air reader is an efficient system for accepting cards and cash, but those looking for a feature-rich point of sale (POS) system will probably struggle with the limitations. Let's see what SumUp can and cannot do.
Checkout features: The app accepts cash and cards (via SumUp Air). If SumUp has approved you for mobile payments and the setting is switched on, you also see options to send a payment link, SMS or QR code through which the customer can pay.
The app does not accept manual card entry, vouchers, cheques, gift cards or other special payment types. You cannot add tips or accept partial payments split between cash and card.
Taxes can be shown on the receipt, as enabled in your settings. After each transaction, you have the option to send a receipt via email and text or print a paper receipt. A newer handy feature is receipt sharing, enabling you to share the receipt to an app on your – or a nearby – device via the cloud or Bluetooth.
Image: Mobile Transaction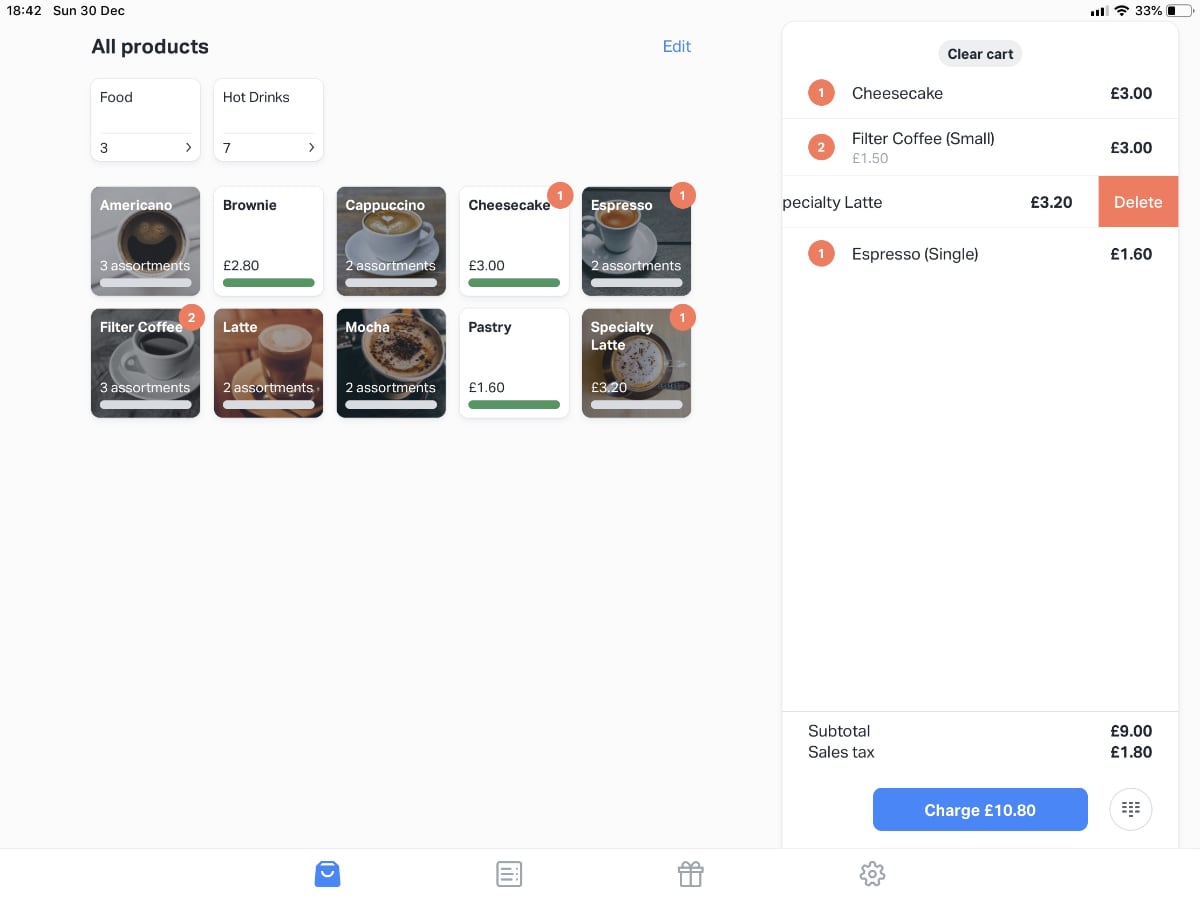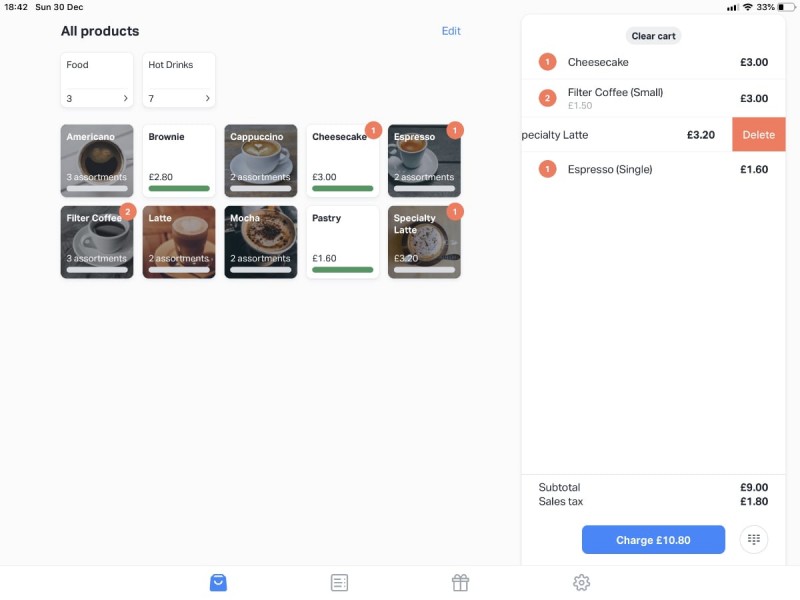 The product menu is user-friendly on iPad.
Product management: In either the app or web dashboard, add products with image, category, tax rate, variants and prices. Products will be shown in the app menu so you can just tap to add them to the bill.
It's possible to create different category labels, e.g. "Hot Drinks" and "Food", shown as separate tabs on the screen to switch between. However, SumUp does not track stock levels or allow you to add more than one level of variants per product.
Image: Mobile Transaction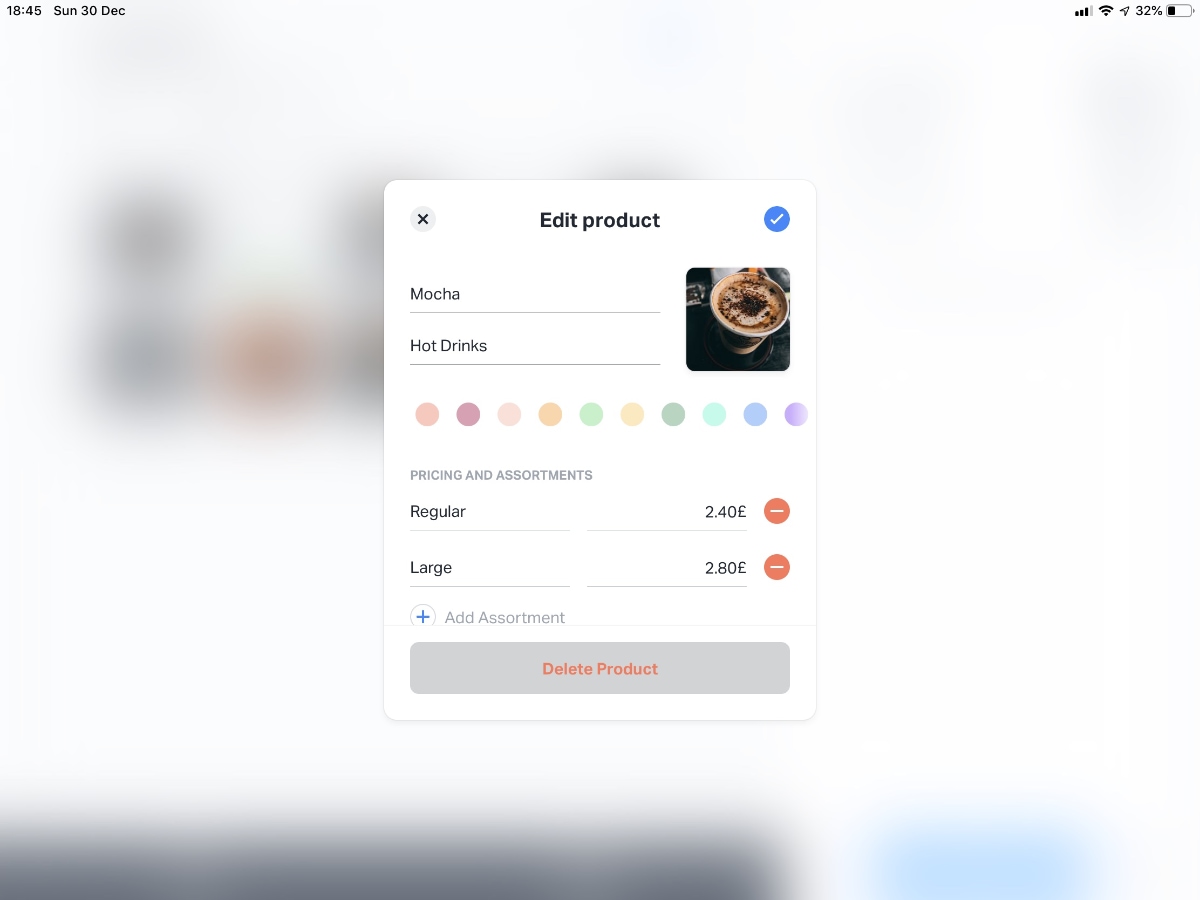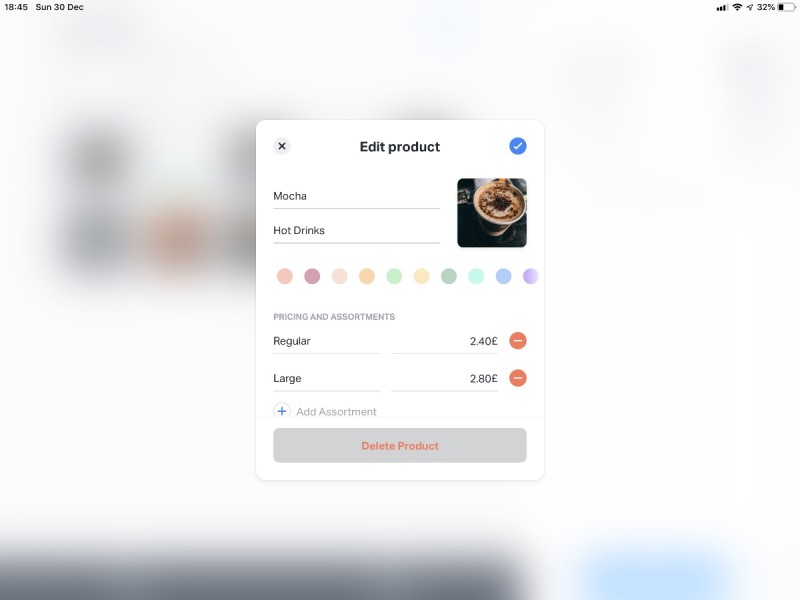 You can add products from the SumUp app, with one level of variants.
Reports and analytics: The online dashboard shows a nice overview of basic sales information within the selected time period. Export the sales history from a particular day, week or month to a CSV file for accounting. Payout reports are sent via email when settlements are completed, downloadable as a PDF file, or you can view them in the app.
Staff accounts: SumUp gives the option to create multiple staff logins with basic restrictions. The only two things to restrict are whether the staff member can view all transactions and whether they are allowed to process refunds. In the SumUp account, you can sort transactions according to each user to monitor sales activities.
Image: Mobile Transaction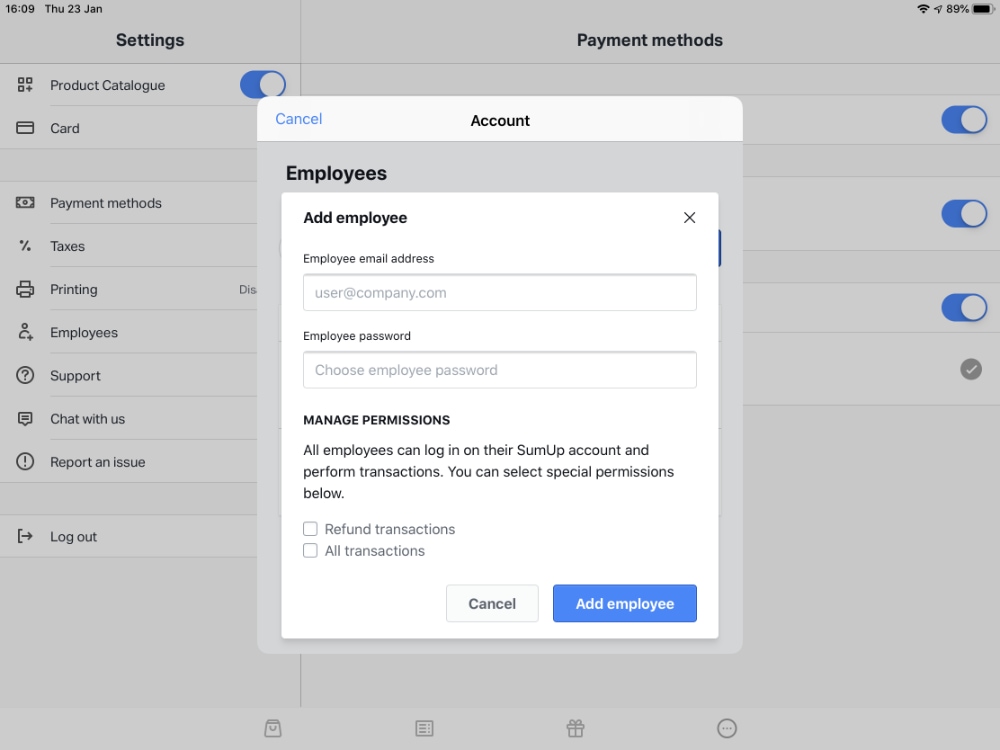 Staff accounts can have refunds and transaction overviews restricted.
Refunds: SumUp allows you to refund a complete or partial transaction amount via the original payment method. If the customer paid by card, the refund will be processed to that card. A refund can only be processed if there is enough balance, i.e. outstanding payouts currently underway to your bank account, to fund it.
As your business grows, SumUp can offer more extensive POS systems aligned with your needs. To learn more, you'll have to fill in a contact form on their website to request a call-back. SumUp partners with the POS specialists Vend, Kounta, Goodtill, Paymash and iKentoo, so what you get may come from those providers.
The point is: you shouldn't be afraid to start with the really simple SumUp app if all you want is to receive payments now (and SumUp is what you prefer), but later anticipate growth.
Receipt printers
For those with SumUp Air who want to offer paper receipts, compatible receipt printers are available at an extra cost. SumUp's listed options are mostly mobile, but one is stationary.
But firstly, we should mention: if you're set on the lowest-cost option, the SumUp 3G and Printer duo is the cheapest UK card terminal that prints receipts. Full price is £199 + VAT, but you can buy it for £129 + VAT through our link.
Photo: Emmanuel Charpentier, Mobile Transaction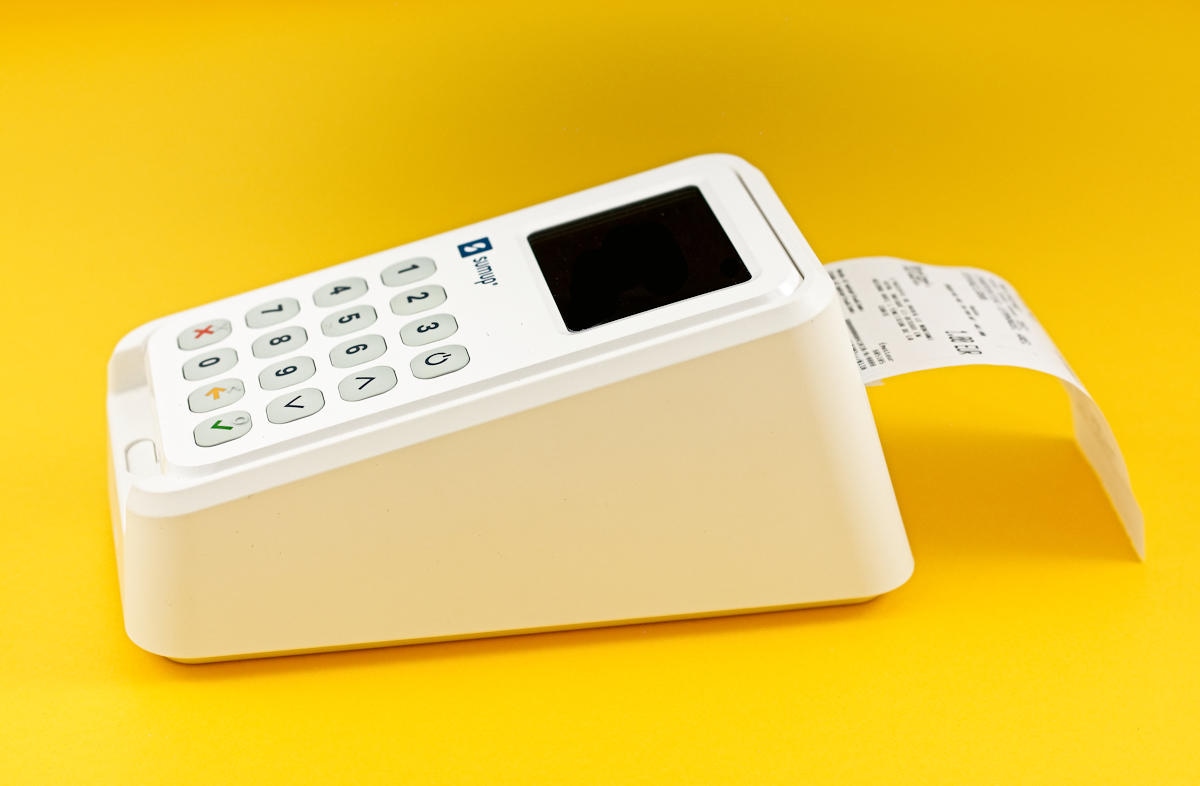 The SumUp 3G terminal and printer combo is the cheapest UK card machine with receipt printer.
If you get one of the following Star Micronics printers for SumUp Air, the total cost will be higher.
The most lightweight of the mobile printers for Air is the small Bixolon SPP-R210iK (Bluetooth), weighing only 266 g including the paper roll.
This is the printer that SumUp sells directly from your SumUp account. It costs £249 + VAT including a belt clip and power supply.
The slightly bigger Bixolon SPP-R200IIiK/BEGE connects to your smartphone or tablet via Bluetooth. It's a rugged, yet lightweight, portable printer that can either be fixed to a belt or slid into a bag. It costs less than the SPP-R210i, around £175 + VAT.
The Star Micronics SM-L200 (Bluetooth) is the only other mobile printer compatible with SumUp, costing £170 + VAT. It is the go-to choice for London cab drivers.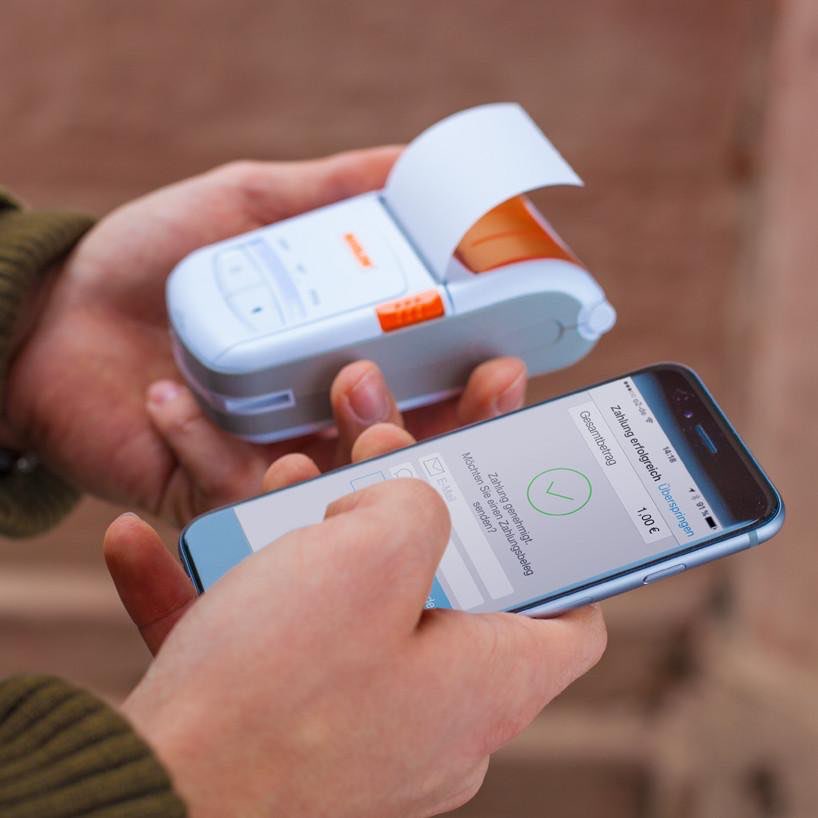 Bixolon SPP-R210i with the SumUp app.
The only stationary printer officially compatible is the Star Micronics TSP100/TSP143 WiFi model. This is a high-performing printer that works wirelessly and can be attached to the wall if you don't have room on a countertop. This printer tends to cost around £225 + VAT.
Alternatively, you can use an AirPrint printer for iOS or Google Cloud Print for the SumUp Android app.
Who is SumUp best for?
SumUp suits sole traders, entrepreneurs and small businesses requiring an extremely user-friendly card machine with no inessential extras. For instance, taxi drivers, barbers, small shops, beauty salons and hairdressers like the straightforwardness of the product. Many cafés and restaurants also use SumUp Air.
Photo: ES, Mobile Transaction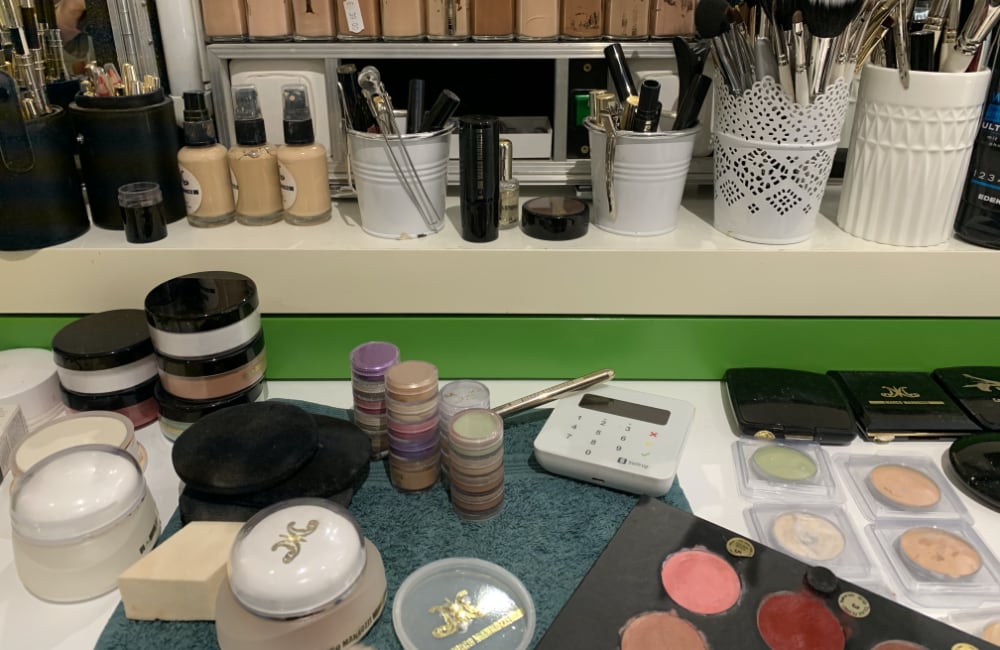 SumUp Air is a convenient choice for beauty salons, and generally for small businesses.
As a rule of thumb, SumUp is good if you only need a single mobile card reader and your products or services don't need a complicated POS system with detailed analytics or things like stock level tracking (although you can always integrate with SumUp's EPOS partners for advanced features). The low, flat card rate is very competitive for lower-volume merchants.
SumUp accepts registered sole traders and businesses with a bank account owned by the organisation, business or self-employed person. SumUp also accepts not-for-profit organisations and private individuals – provided they meet certain criteria. If you're a non-profit or private user, SumUp can advise further if you get in touch.
Photo: ES, Mobile Transaction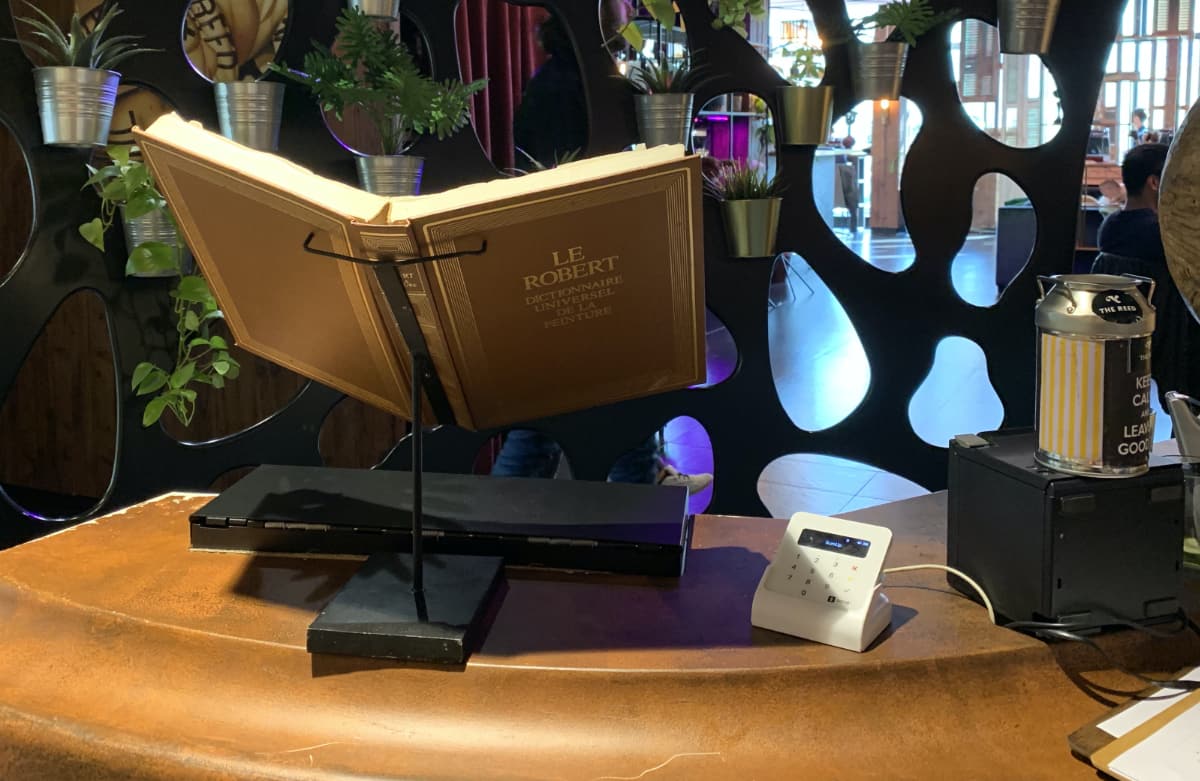 The SumUp Air with charging dock looks great at a till point – here seen in a restaurant.
As with all payment companies, there are certain high-risk business types SumUp will not support, e.g. multi-level marketing, any kind of adult entertainment, door-to-door sales, and unlicensed counselling.
Those travelling abroad for business – to trade shows, for example – can use SumUp on their travels if prior arrangements have been made with the customer service team. This arrangement is available for almost all of Europe.
Customer service and user reviews
SumUp's online support section will answer the majority of users' questions. To contact customer support, you can phone them on weekdays between 8am and 7pm and Saturdays between 8am and 5pm. To put that into context, the closest competitors, iZettle and Square, only offer weekday support – not weekends.
Alternatively, you can always email SumUp, but getting a reply can take several days. We've experienced response times of over a week for non-urgent queries, but you can deal with pressing issues on the phone or by email if you contact SumUp during working hours.
Users tend to rate SumUp highly compared to several other mobile card readers. On Trustpilot UK, the average rating is 4.5 out of 5.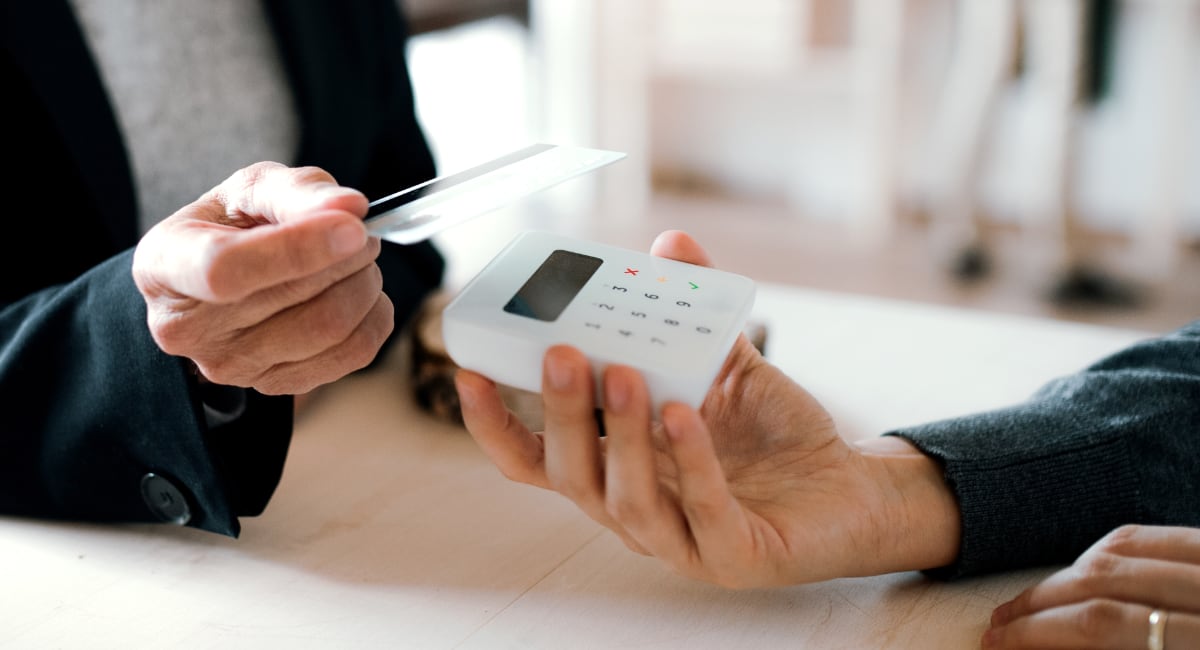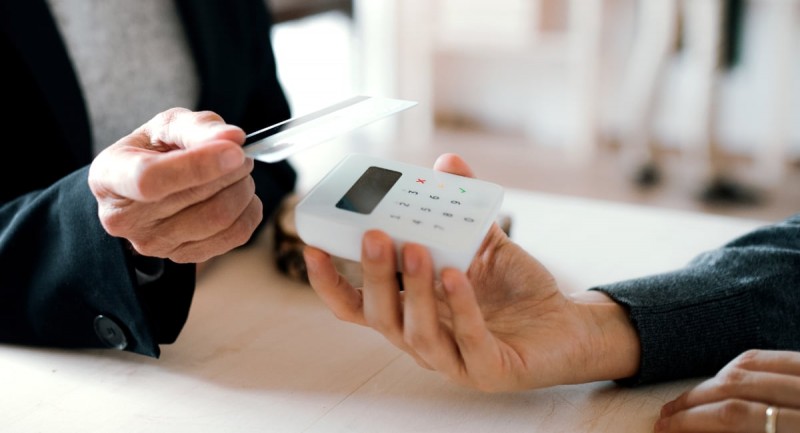 SumUp Air fits comfortably in the palm of your hand.
How to get started
It is very easy to get started with SumUp, but you'll have to wait about a week to receive the card reader to accept any payments.
You sign up on SumUp's website, filling in basic information about yourself and your business. Like any other payment provider, they perform a check against the business details you provide, but as long as you are not classed as a "restricted business", and your bank account is the one used for your business takings, they will most likely accept it all pretty swiftly.
During the sign-up, you can order the SumUp Air reader. The card reader will be sent from Germany and arrive within five working days. When we placed the order, it stated "5-7 working days" in our confirmation email which is different from the "3-5 business days" stated on the website, but be received ours after four working ways.
Image: Mobile Transaction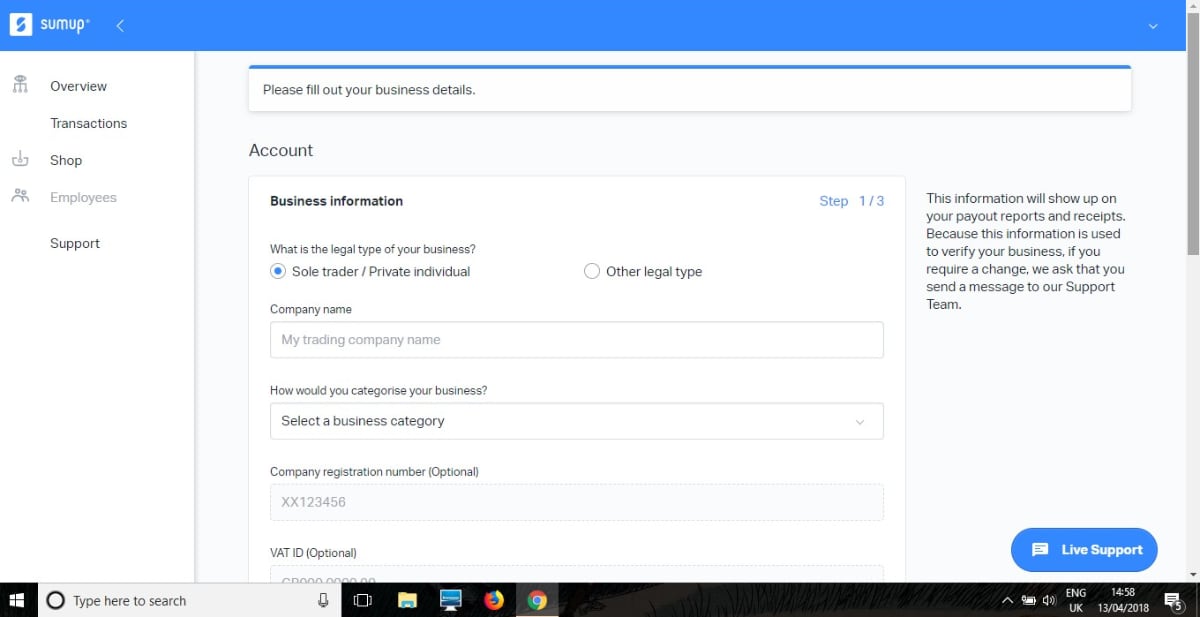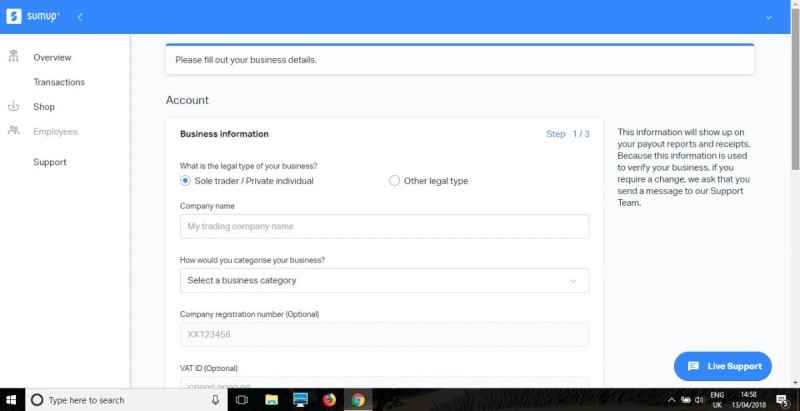 The online sign-up form is short and does not, as default, require that you submit documents.
While you wait for the card reader, you can download the free SumUp app on an iOS or Android device with an internet connection (WiFi, 3G or 4G) and start adding items to the product menu.
Once your card reader arrives, you only need to switch it on, enable Bluetooth on your phone or tablet and go to the Payment Methods section in the app where you can set up the card reader (it really only takes a few steps).
After this, the card reader will automatically switch on when it's in the vicinity of the mobile device with the SumUp app open and you select card payment at checkout. It's all automatic and intuitive from here on. Just make sure you have the card reader charged when you need it.
Our verdict
SumUp is great for low-volume merchants who just need to start accepting cards, for example in a shop, café, bar, market stall or on the go. The service has a low barrier of entry with the cheap, one-off cost of the card machine, no contract and only the pay-as-you-go fee for transactions.
Moreover, the SumUp app and terminal have just the essentials you need, without compromising on efficiency and build quality – overall, an economical choice for a lot of small businesses.
Bottom line: With its low flat rate and no-fuss offering, we highly recommend SumUp's app-based terminal for small merchants.
Lowest price:
Get SumUp Air for just £29