You can send text and email receipts with the SumUp Air card reader, but if you need to print them, you'll need a compatible receipt printer too.
SumUp Air can be used with all AirPrint (iOS) and Google Cloud Print (Android) printers and three other receipt printers. All are mobile printers, meaning they can be carried around for use anywhere where it's possible to connect with the SumUp app on your phone or tablet. They all use thermal receipt paper, a heat-based printing technology that doesn't require ink.
Before we list the printers for SumUp Air, let us look at the other available card terminal, SumUp 3G.
The SumUp 3G and Printer bundle
In February 2020, SumUp UK launched a bundle containing the SumUp 3G card reader with a charging cradle that prints receipts too.
Emmanuel Charpentier, Mobile Transaction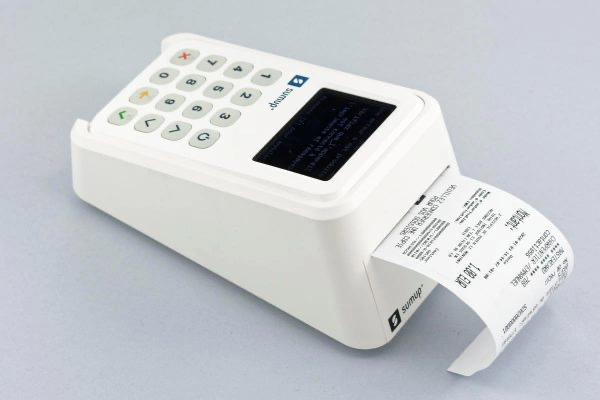 This receipt printer can be bought as a set with the card reader for £129 (£129 through our link) + VAT, or separately for £109 + VAT. If you already have the card reader, the printer cradle will be compatible with that.
This set is the cheapest card terminal with receipt printer currently available in the UK – even cheaper than buying SumUp Air with one of the printers below.
SumUp Air-compatible receipt printers
Let's now take a look at all the printers compatible with SumUp Air:
Bixolon SPP-R210iK/BEGE (Bluetooth)
Bixolon SPP-R200lliK/BEGE (Bluetooth)
Star Micronics SM-L200 (Bluetooth)
Bixolon SPP-R210i – the most lightweight
The Bixolon SPP-R210i is the only printer SumUp sells in their online shop. It's mobile, lightweight and has a belt clip, making it ideal for printing receipts anywhere where the customer is –  for instance, on the road or at the customer's table in restaurants.
The receipt printer weighs 232 g and fits in the palm of a hand with its 79 x 116 x 36 mm dimensions. The printing speed is fast at 90 mm/sec.
The printer's Easy Paper Loading mechanism makes it easy to install the standard 58 mm wide paper rolls it needs for the receipts.
Despite its small size, it can withstand splashes of water and a drop from a height of 1.2 m.
The printer can be used in a variety of environments, including outside in temperatures as cold as -15°C.
Although the printer can connect with other devices via WiFi, it connects with the SumUp app on your phone or tablet via Bluetooth.
Typical price: £220 + VAT
Bixolon SPP-R200II – rugged, good-value printer
The mobile Bixolon SPP-R200II is a bit older and larger than the SPP-R210i (1 cm wider in width and height) and a little more robust.
Capable of withstanding a drop from a height of 1.5 m, it is suitable in any area where mobility and durable equipment are needed. This could, for example, apply to train or bus controllers, catering, logistics and busy food establishments.
The accompanying belt strap keeps the printer securely in place when you're on the move.
As with the newer model, it prints 90 mm/sec on receipt paper that is 58 mm wide.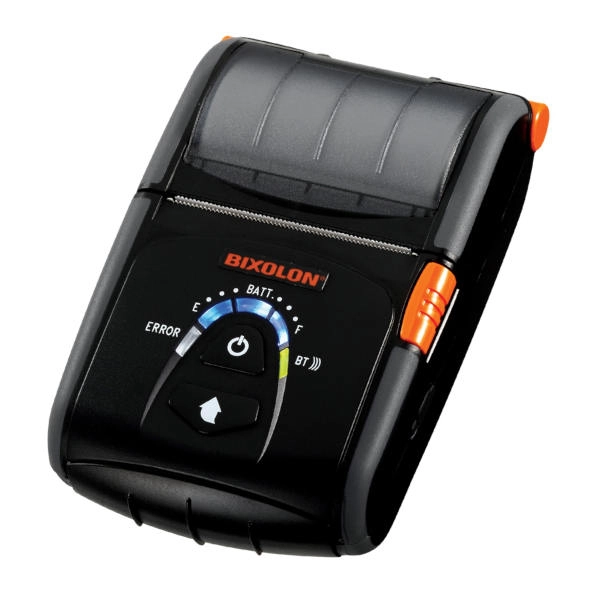 This printer can be harder to find in shops since it is an older model, but it is good value for those who need a rugged, portable solution.
Typical price: £175 + VAT
Star Micronics SM-L200 – automatic connection to multiple devices
The mobile Star Micronics SM-L200 receipt printer is slower than the Bixolon SPP-R210, but nevertheless interesting for those using SumUp on multiple smartphones and tablets. Why? Because it automatically connects with all newer mobile devices without going through the traditional pairing process.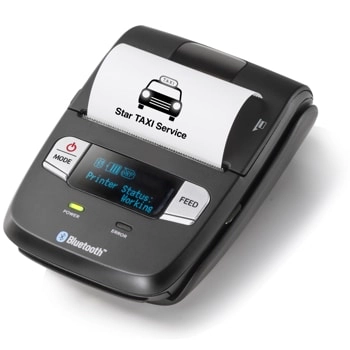 At 83 x 122 x 44 mm, the size is similar to SumUp's marketed Bixolon model, but the printing speed is lower at 35 mm/sec compared to Bixolon's 90 mm/sec.
The printer can be placed on a desk, hung on a wall or worn attached to a belt. It is highly adaptable to all sorts of environments.
It is recharged through a USB cable or in a docking station you can get separately.
With taxis and other vehicle drivers in mind, Star has a charger that plugs into car cigarette lighter sockets.
In fact, the SM-L200 is the recommended receipt printer for London's licensed cab drivers.
From a full charge, it can (impressively) do up to 13 hours of printing, calculated with a 5 minutes' gap between each print.
A handy feature is the printer's LCD screen that displays battery status and printing errors when they occur.
Typical price: £170 + VAT
What about countertop printers?
SumUp used to be compatible with the stationary printer models Star Micronics TSP100/TSP143, but the latest app and SumUp Air no longer support these.
For most merchants using SumUp Air, the mobile Bluetooth printers are a more versatile choice than desktop printers that take up more space and cannot be used away from a fixed till point.
Cloud printing option through iOS or Android
In addition to the above printers, you can connect with any AirPrint-compatible printer through the SumUp iOS app and any Google Cloud Print-compatible printer through SumUp's Android app.
We do not have an exhaustive list of all these printers, but according to SumUp, any printer with either of those cloud labels can work with SumUp Air. Just beware that some of these printers are not receipt printers, so it may take a bit of research to find a suitable cloud printer.
How to use the printers with SumUp
All the receipt printers connect easily to your smartphone or tablet through the SumUp app.
To do this, you go to settings in the SumUp app, then "Printing" where you manually enable printing. It then allows you to search for nearby printers to connect to wirelessly. When your printer appears, choose it from the list. You will need to activate Bluetooth and enter a PIN, except for the Star SM-L200 which connects automatically.
If you're using an Android device, you need to also check that the iOS mode of the printer is deactivated before you can connect it.
You should then be ready to print invoices and receipts for your customers. If using a compatible cash drawer, it is only possible to connect this after you have a receipt printer connected.