Choosing a POS system is not easy, especially when you're a small shop with a limited budget for a point of sale. Many UK providers do not display pricing openly and often require the kind of commitment and investment only large companies can afford.
But several affordable, cloud-based point of sale systems are available today, whether it's for an off-licence, gift shop, florist, bike shop or other independent store.
We have weeded through the options and chosen the most trustworthy, affordable till systems for retail.
Vend – best for inventory-rich shops

Works online, some features offline

24/7 email and phone support
Vend is arguably the best retail POS system for small shops (or best-known, at least). The interface is user-friendly, but with advanced inventory functions while encompassing a well-rounded breadth of features to maximise retail performance. This makes it especially suitable for extensive stock systems required in, for example, jewellery, clothing and fashion outlets, book stores and grocery shops. It works on any choice of iPad, Mac or PC, but not Android tablets.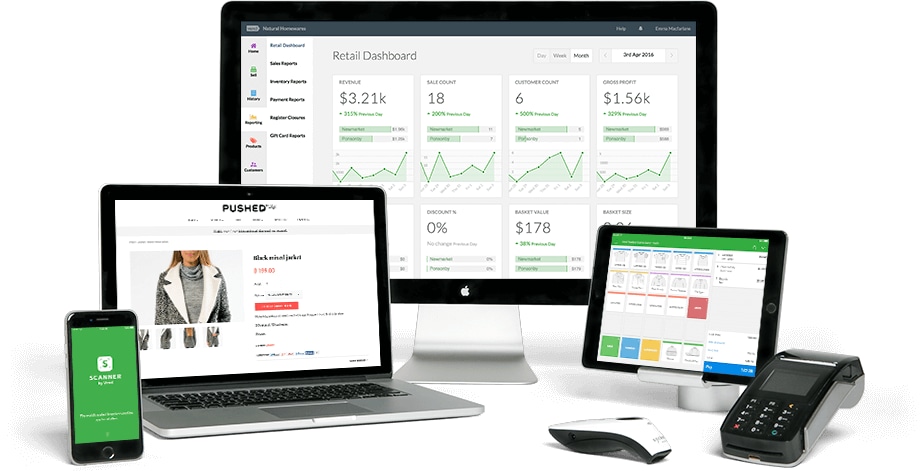 Vend offers 24/7 online and phone support to all their users. They have a comprehensive resources section online with e-books, tools, articles and tips, courses, and even hosts events around the world about running a retail business. It is no wonder they are well-regarded among retailers – whether small, medium or large.
Pricing depends on turnover, number of registers (you pay per iPad or computer using the application), and whether you pay monthly or annually. All plans include general POS operations, real-time inventory management, unlimited products and unlimited users.
The Lite plan can be used with a turnover of up to £15k a month and one outlet. The Pro plan can be used with any turnover and includes advanced reporting, promotions, gift cards, multi-outlet management and access to all add-ons. Both include one register licence – more till licences cost extra.
Price per licence
Lite: £49/mo (annual), £59/mo (monthly)
Pro: £69/mo (annual), £89/mo (monthly)
Per extra licence: £39/mo (annual), £49/mo (monthly)
Note: VAT is added to prices.
The custom-priced Enterprise plan is only for large businesses.
There is no minimum commitment, so it's possible to cancel any time. The Pro plan allows you to connect with additional business tools, including the ability to link in-store sales with an online store. The software can be integrated with card terminals from SumUp, PayPal, iZettle, Square, Paymentsense, Windcave and Klarna and works with most POS equipment.
How do I learn more? On the website, you can sign up for a 14-day free trial, book a consultation or view a demo video.
Lightspeed Retail – advanced features with good service

Works online, can work offline
Runs on iPad, iPhone and iPod Touch

No long-term contract needed
Lightspeed Retail is an expansive solution to retail point of sale. The advanced POS system runs from an iPad or desktop computer and can integrate with Lightspeed's own ecommerce platform, advanced analytics, customer loyalty and other add-ons to enhance the in-store service. The system comes with a fully-fledged inventory management system and standard reporting.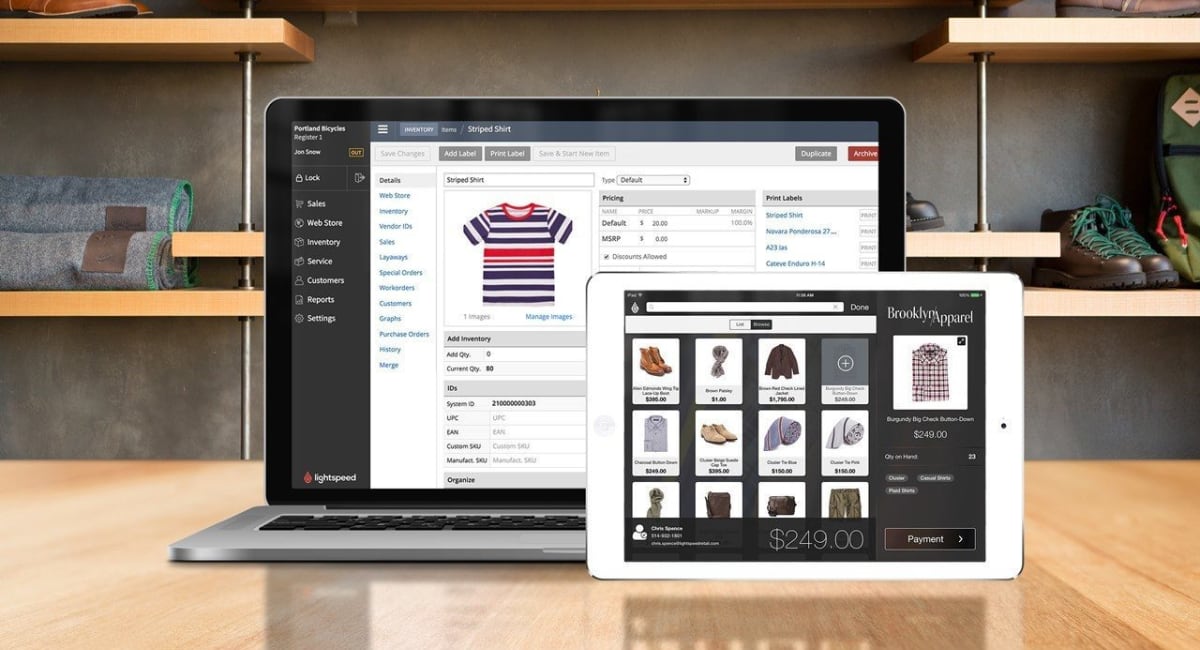 Round the clock (except for holidays), you can call or message customer support. Every new customer gets a personalised onboarding session, and there are plenty of online resources and tutorials to support your business.
The cheapest plan is Basic, which includes just the EPOS system and backend management features. This costs £69 per month for one till and store location if paying yearly (monthly payments cost more).
The Standard subscription adds on ecommerce, and Advanced takes it a step further with a customer loyalty module too. Finally, the Pro plan tops it off with advanced store analytics. Additional register licences cost extra. All plans can be cancelled any time, but anything paid upfront isn't refundable.
Since Lightspeed is cloud-based, the POS features are meant to be used with an internet connection.
Pricing
Basic: £69/mo (annual), £79/mo (monthly)
Standard: £99/mo (annual or monthly)
Advanced: £129/mo (annual), £139/mo (monthly)
Pro: £199/mo (annual), £219/mo (monthly)
Per extra licence: £29/mo
Note: VAT is added to prices.
For card payments, the system can be integrated with iZettle Reader and Barclaycard card machines.
The Lightspeed EPOS interface is generally user-friendly, but can sometimes be more advanced than intuitive i.e. you may rely on user guides to understand certain features. The features are most comprehensive for inventory and vendor management.
How do I learn more? On their website, you can book a demo or sign up for a free 14-day trial allowing you access to the POS app.
Square Point of Sale – best free EPOS software in UK