Whether you're a bike shop, off-licence, florist or other independent store, you'll want a retail POS system that saves you time, money and frustrations.
Unless there are few products, retailers need a robust inventory management system that links stock levels to the shop floor till. Checkout times are faster with barcode scanning, your service is better with a loyalty scheme, and customer satisfaction higher with more payment methods.
But till features are not the only factor in choosing a till – cost and hardware options can make or break a deal. Can you commit to a contract of 1+ years? You don't have to with some providers. Do you want an industry-grade touchscreen monitor or commercial tablet that's cheaper? That's down to your budget.
We have weeded through the options and chosen the most trustworthy, affordable till systems for retail in the UK.
Comparison of retail POS systems:
Retail POS
Review
Best for
Offer
Lightspeed
/Vend

New independent shops looking for good value and user-friendly till
Square for Retail

Shop needing flexible options to sell via many channels
Epos Now

Small-to-medium retailers looking for flexible, traditional setup
Shopify POS

Online retailers needing a perfect omnichannel till solution
Erply

New, growing retail stores with complex inventory needs
Zettle Go

Small shops that just need a basic till and basic inventory features
Retail POS
Review
Best for
Offer
Lightspeed
/Vend

New independent shops looking for good value and user-friendly till
Square for Retail

Shop needing flexible options to sell via many channels
Epos Now

Small-to-medium retailers looking for flexible, traditional setup
Shopify POS

Online retailers needing a perfect omnichannel till solution
Erply

New, growing retail stores with complex inventory needs
Zettle Go

Small shops that just need a basic till and basic inventory features
Main differences to look for
Your brick-and-mortar shop may prioritise certain functions above others, but these things are more fundamental:
Software device compatibility
Intended users
Pricing
Billing frequency/contract
Customer service
All of the below are cloud-based POS systems with a monthly subscription available. To save money, you can sometimes go for an annual or longer plan where you pay for the year(s) upfront, which works out cheaper per month. Just beware that any subscription payment is non-refundable.
You'll also need to work out what operating system is best for your shop. Commercial Android tablets are cheaper upfront, but iPad is more universally used for small-business retail. Mobile merchants might prefer a POS app that also works on a smartphone, for impromptu sales. Those with the space might want a PC computer (touchscreen or not) or Mac for a stationery till on a roomy countertop.
Merchants new to the retail scene benefit from personalised support, while anyone can end up needing 24/7 support options if the till runs into trouble. Finally, each POS system suits different sizes and complexities of retailers.
Compare key aspects of each EPOS system for retail shop:

Lightspeed Retail

Square for Retail

Epos Now Retail

Shopify POS

Erply
Software
iPad, PC, Mac
iPad, iPhone, Square Register
iPad, Android tablets, PC, Mac, custom register
iPad, iPhone, Android devices
iPad, Android tablets, PC, Mac
Suited for
Small-medium retailers
Small retail shops
Small-large retailers
Small-large retailers
Small-medium retailers
Plans*

Licence/mo for 1 till


Lean: £39-£69
Standard: £59-£89
Advanced: £99-£139

Licence/mo for 1 location


Free: £0
Plus: £49

Licence/mo for 1 till


From £50
Add-ons from £14/mo

Licence/mo for 1 location


POS Lite: Free
POS Pro: US$89
+ E-comm subscription

Licence/mo for 1 location


POS only: Free
POS + inventory: US$69-$79
Billing
Monthly or annual
Monthly
Monthly or one-time payment for software,
1-3-year hardware lease
Monthly
Monthly or annual
Support
24/7 helpline & email support
Weekday 9am-5pm helpline & email support
Email only, or 24/7 helpline with add-on
24/7 helpline, email & chat support
Limited email support, helpline optional
Trial

Works online, some features offline

24/7 email and phone support
Vend POS has been around for a while, then acquired by Lightspeed and renamed to Lightspeed Retail (X Series). It is arguably the best retail POS system for small shops. It works on any choice of iPad, Mac, PC and standard POS equipment, but not Android tablets.
The interface is user-friendly with advanced inventory functions and a well-rounded breadth of features to maximise retail performance. This makes it especially suitable for extensive stock systems required in, for example, jewellery, clothing and fashion outlets, book stores and grocery shops.
Image: Mobile Transaction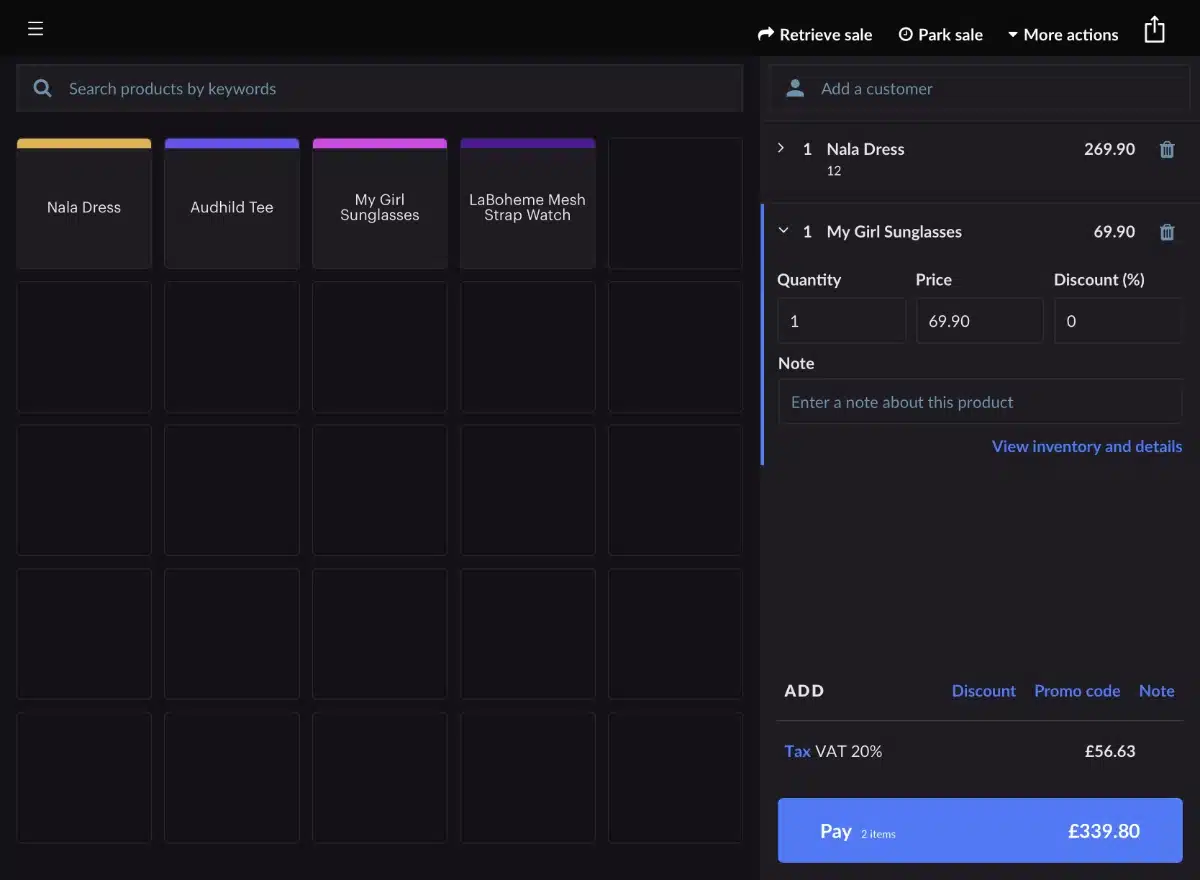 Lightspeed offers 24/7 online and phone support to all users. The company has a comprehensive resource section online with e-books, tools, articles and tips, courses – and even hosts events around the world about running a retail business. It is broadly well-regarded among retailers – whether small, medium or large.
Pricing depends on the number of registers (you pay per iPad or computer using the application) and whether you pay monthly or annually. All plans include general POS operations, real-time inventory management, unlimited products and unlimited users.
The Standard plan adds accounting and ecommerce integrations on top of the POS features of the cheap Lean plan. The Advanced plan has detailed loyalty, analytics and serial number features on top. They all include one register licence at one outlet location – more till licences cost extra.
The custom-priced Enterprise plan is only for large businesses.
Plans incl. 1 till licence and Lightspeed Payments
Lean: £39/mo (annual), £49/mo (monthly)
Standard: £59/mo (annual), £69/mo (monthly)
Advanced: £99/mo (annual), £119/mo (monthly)
Without Lightspeed Payments, £20 is added to above costs
Note: VAT is added to prices.
There is no minimum commitment, so it's possible to cancel any time, but annual plans work out cheaper per month.
The monthly and annual subscriptions cost less if you opt to use a fully integrated Lightspeed Payments card machine. If integrating with card terminals from SumUp, Zettle, Square, Paymentsense or Windcave, the plans are £20 more expensive on a monthly basis.

Support Monday-Friday, 9am-5pm
Runs on iPad, iPhone and Square Register
Square for Retail is a user-friendly POS software system for iPhone and iPad only. It is not the most extensive retail till system, but certainly the most versatile of the simpler POS apps.
For face-to-face card payments with an iOS device, it is necessary to use Square Reader. You can otherwise purchase the all-in-one Square Register which includes a tablet screen and touchscreen card terminal compatible with the software.
Photo: Mobile Transaction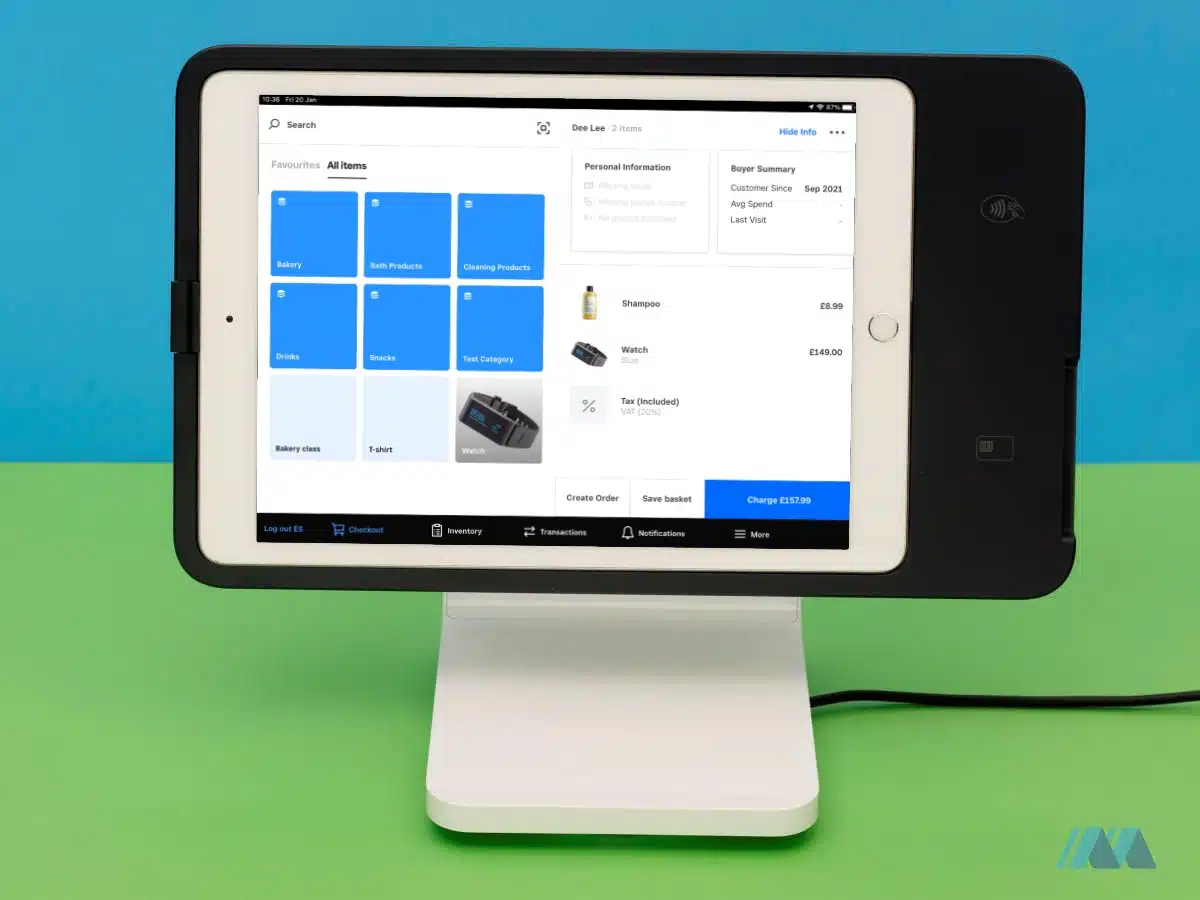 There are two Square for Retail plans: Free (no monthly fees) and Plus (£49 a month per location). The free plan gives you more retail-specific features than Square's other free app, Point of Sale (which can also be used for retail). Plus also gives you vendor management tools, advanced inventory features and retail reports, as well as staff management features.
All users can add products with details and images, manage multiple users, add customers, use gift cards, and more. Apart from accepting cards electronically, it is possible to manually enter card details in the app, send payment links, send invoices, delve into ecommerce and use the complimentary Virtual Terminal for phone payments in the backend Dashboard.
Overall, it has quite a few extras that many POS apps don't include, plus it integrates with many partner platforms to allow for more customisation – including upgrading to other POS systems.
Pricing
Free plan: Free, 1.75% per card reader payment
Plus plan: £49*/mo per location, 1.6% per card reader payment
Square is excellent for those who want to start taking payments quickly without commitment. Since it has a free shop till system plan, you can just sign up, download the app, order the card reader and use the system indefinitely even after the Plus trial ends.
Customer support is only available during work hours from Monday to Friday through either phone or email. That being said, Square has a good online support section that covers most questions.
How do I learn more?
Sign up on Square's website to start a 30-day free trial of Plus, or just use the Free retail plan indefinitely.

iPad, Android, Mac or PC register

1 month's to 3 years' contract
Customer support requires add-on
Epos Now Retail is a highly adaptable EPOS that's available as an app on iPad and Android or software on Mac and PC computers. You can subscribe to the app on a monthly basis or purchase the software upfront.
The cheapest plan includes important till, inventory and shop management features, but plenty of add-ons are available through the browser dashboard.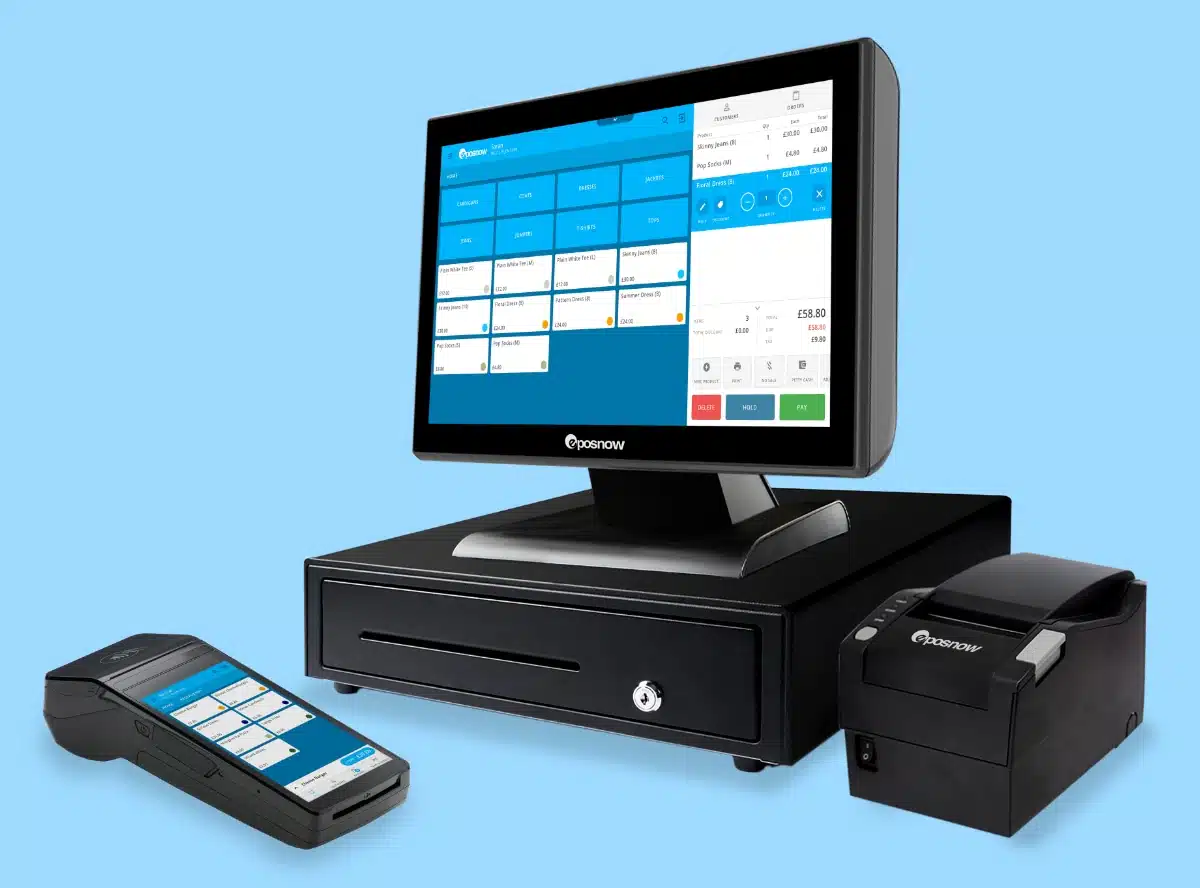 One of Epos Now's main advantages is its hardware bundles sold at affordable prices (usually from £399 + VAT). These include your choice of equipment such as an industry-grade touchscreen PC with swipeable staff card slots, cash drawer, barcode scanner and receipt printer. "Free" or cheap bundles are available upfront, but only with a contract locking you into 1-3 years.
Apart from general point of sale features like a product library, discount options, variants and cash management, the Retail software offers a detailed inventory management system with stock levels, SKUs, location management, pricing options and much more.
Still, there are shortcomings, e.g. importing products from a spreadsheet needs a paid add-on. Some of the buttons in the till interface also have small text, making it difficult to read.
Pricing
Retail Subscription from £50*/mo per till
Epos Now Payments: 1.7% per card transaction
If you go for the cheapest POS module, there is no proper customer support apart from self-help resources. An additional module of £25 + VAT is required to access a helpline, onboarding support and training when needed.
The till system has the Epos Now Payments system built in. To use it, you need to rent a card machine from Epos Now and pay 1.7% per card transaction. Otherwise, card readers from Zettle, Paymentsense, Global Payments, Retail Merchant Services, Worldpay and Verifone can be integrated.

Runs on iPad, iPhone and Android

Monthly, annual, 2- or 3-yearly plans
Works online, offline limited

24/7 email and chat support
The Shopify POS system is one of the most approachable options on the market for retail shops that sell online through Shopify. It's one of the most seamless omnichannel solutions, since your online storefront is completely aligned with your point of sale.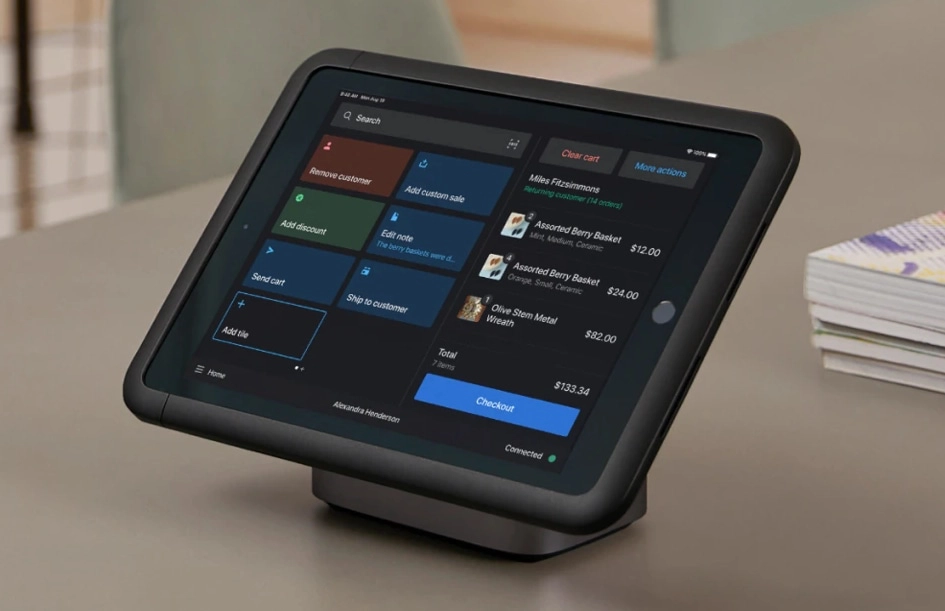 However, you have to be subscribed to a Shopify ecommerce plan to use any of the POS features. The cheapest ecommerce plan is Shopify Starter for £5 a month, which includes 'buy buttons' to embed on a website and invoicing. More expensive plans – starting at £25 monthly for Basic Shopify – let you run an entire online store.
The POS app is free to download while subscribed to Shopify, but the amount of accessible features depends on your chosen POS plan: Shopify POS Lite (free) or Shopify POS Pro ($89 USD a month per location). This subscription is in addition to your online plan.
POS Lite is only really suitable for shops primarily selling online, but occasionally also face-to-face. POS Pro has enough to run a serious brick-and-mortar store alongside an online store.
Frankly, the only way to justify the higher cost of POS Pro is by making good use of the ecommerce features. Otherwise, there are better POS systems out there.
Pricing
Shopify POS Lite: Free with any Shopify plan
Shopify POS Pro: US$89/mo per location
Ecommerce plans: £5-£344/mo
* VAT is added to all prices.
With Shopify POS, you can manage the shop inventory, employees and orders. Online and POS sales are constantly synced through the cloud. The system is compatible with iPad, Android devices, receipt printers and cash drawers, and cards are accepted with the Shopify card reader for a fee of 1.5%-1.7% depending on the chosen Shopify plan.
Customer support is available round the clock over the phone, email or chat.
How do I learn more?
On the website, you can sign up for a 14-day free trial without committing to anything.

Runs on iPad, Android, PC and Mac

Monthly or annual contract
Support Monday-Friday, 9am-5pm
US-based Erply started out as a comprehensive inventory management platform, but have since become a decent retail POS system in several countries including the UK. Its point of sale software works on iPad, Android tablets and computers through an internet browser.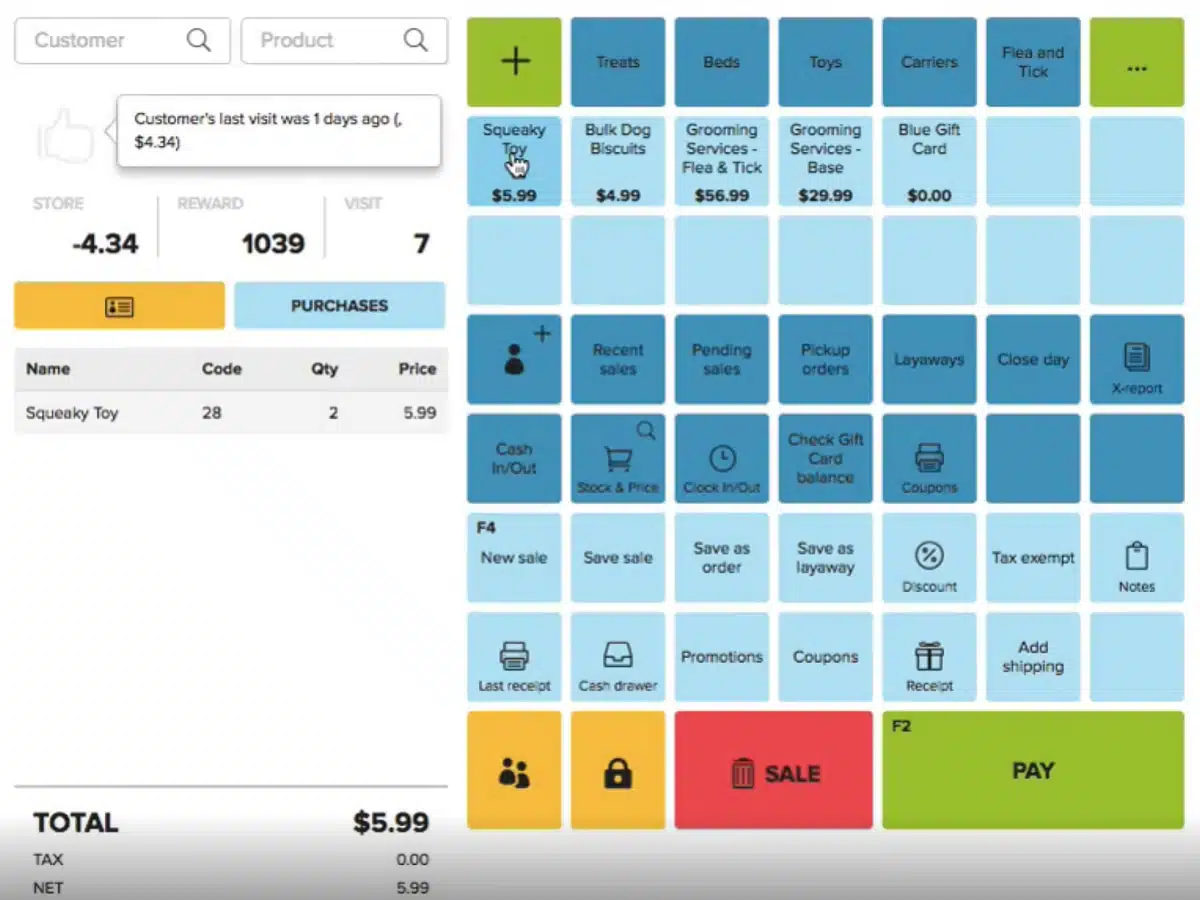 Erply's free Point of Sale plan includes one user account and one till licence to use the Android or iPad POS app. Only basic POS functions (incl. simple X and Y reports) and customer management features are included, and there's no access to the back office where comprehensive inventory features are used. In other words, the free plan suits mainly a small shop with not that many products.
For shops with many products or multiple locations, we recommend the Inventory + Retail POS plan. This includes 2 users, the full inventory system, back office access, advanced reports, store credit system, warehouse management and much more. Each till does need its own subscription, though.
A third plan, Inventory for E-commerce, does not include the till system, but gives you one warehouse licence and complex inventory management that's integrated with Shopify or another online store front.
Pricing
Point of Sale only: Free
Inventory + Retail POS: $69/mo (monthly contract) or $79/year (annual contract)
Note: USD pricing, excluding VAT.
The till works through the cloud (online), but many features – like accepting cash – also work offline. In the UK, only card machines from Windcave integrate with the EPOS.
Customer support is limited to emailing on the free plan, but phone support is available on other plans. To end a contract, you have to email Erply a 30 days' cancellation notice. Even changing your card payment details requires emailing, which we find odd when other providers just let you do it straight away in your account.