What is Square for Retail?
Square for Retail is a cloud-based point of sale (POS) system that works on iPad and iPhone only. It is a more advanced EPOS system than the free Square Point of Sale app that is more general than retail-specific. With Square for Retail, you get features only relevant to retail, whether selling in person or online.
The only payment system that works with it is Square's. You can use the software directly with Square Reader and standard till equipment, and there are various online selling tools available for free in Square Dashboard (accessible in any web browser) or via the EPOS app.
The software is suitable for managing multiple locations, stock, vendors, teams of staff and more. Regardless of the sales channel, transactions are always synced in the account through the cloud.
Pricing
Square for Retail pricing is simple: you subscribe to one of two plans, a Free tier (no monthly cost) or Plus tier for £49 + VAT monthly per shop location. This can be cancelled any time, as there is no contractual commitment.
New users can get a 30-day free trial of Plus before subscribing to a plan.

Square for Retail
Costs
Monthly fees
Free plan: £0/mo
Plus plan: £49 + VAT/mo per location
Contract
No commitment
Chip, tap, swipe payments
Free plan: 1.75% per transaction
Plus plan: 1.6% per transaction
Online store, links & eGift card payments
1.4% + 25p per transaction w/European card
2.5% + 25p per transaction w/non-European cards
Virtual terminal & invoice payments
2.5% per transaction
Payouts
Standard: Free
Instant: 1% added to transaction
Refunds
Free
Chargebacks
Free
Square
for Retail
Costs
Monthly fees
Free plan: £0/mo
Plus plan: £49 + VAT/mo per location
Contract
No commitment
Chip, tap, swipe payments
Free plan: 1.75% per transaction
Plus plan: 1.6% per transaction
Online store, links & eGift card payments
1.4% + 25p per transaction w/European card
2.5% + 25p per transaction w/non-European cards
Virtual terminal & invoice payments
2.5% per transaction
Payouts
Standard: Free
Instant: 1% added to transaction
Refunds
Free
Chargebacks
Free
There is also a Premium plan with custom pricing, which has the same features as the Plus plan, but with lower costs to suit businesses processing over £250k per year.
Businesses on the Free plan can accept any Visa, V Pay, Mastercard, Maestro and American Express card (including Apple Pay, Google Pay and Samsung Pay) for 1.75% per transaction through any Square card reader.
Apart from the extra POS features, merchants get a lower card rate for chip, tap and swipe transactions on the Plus subscription: 1.6%.

Payments through Square Online Store, payment links and purchases of e-gift cards cost 1.4% + 25p for European cards and 2.5% + 25p for non-European cards. All other keyed transactions cost 2.5% each, including for email invoices, customer-not-present transactions in the Virtual Terminal and keyed in at the POS checkout.
Standard settlement in your bank account in 1-2 working days is free. Optionally, you can switch on an Instant Transfer setting that pays transactions into your bank account immediately after payments for a 1% fee added to the transaction fee.
Chargebacks and refunds are free to process with Square, and there is no minimum monthly turnover requirement.
Square Reader that connects to the POS software costs just £19 + VAT. The standalone card machine, Square Terminal, is more expensive at £149 + VAT.
Checkout and payments
Square for Retail can be used on iPad and iPhone, but it is better experienced on iPad with the larger screen size.
Square's expertise in user experience comes across in the product: the buttons are large to minimise typing errors (surprisingly many POS systems have small buttons), the layout is intuitive and the interface isn't cluttered with unimportant features. It is so simple that anyone can learn to use the system quickly.
Photo: Mobile Transaction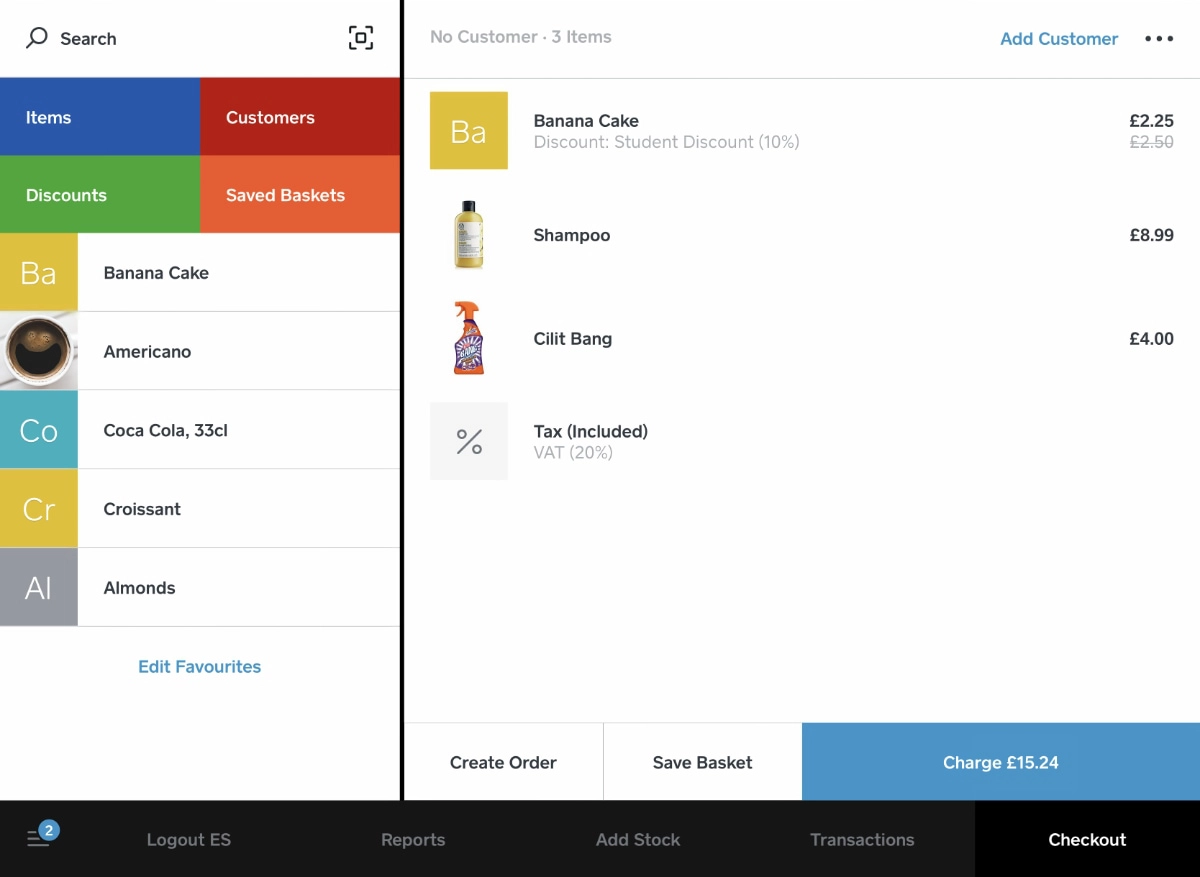 The Square for Retail checkout on iPad is not very complicated.
While other POS systems tend to dedicate most of the till interface with a gridded view of products to add to the bill, Square for Retail only shows a narrow column on the left with an intuitive search function, your choice of "favourite" buttons, and quick access to categorised items, customer profiles, discounts and saved baskets.
You can save the current bill ('basket'), attach a customer to the basket, create orders, sell physical or electronic gift cards (e-gift cards), redeem vouchers and add custom amounts where needed.
Photo: Mobile Transaction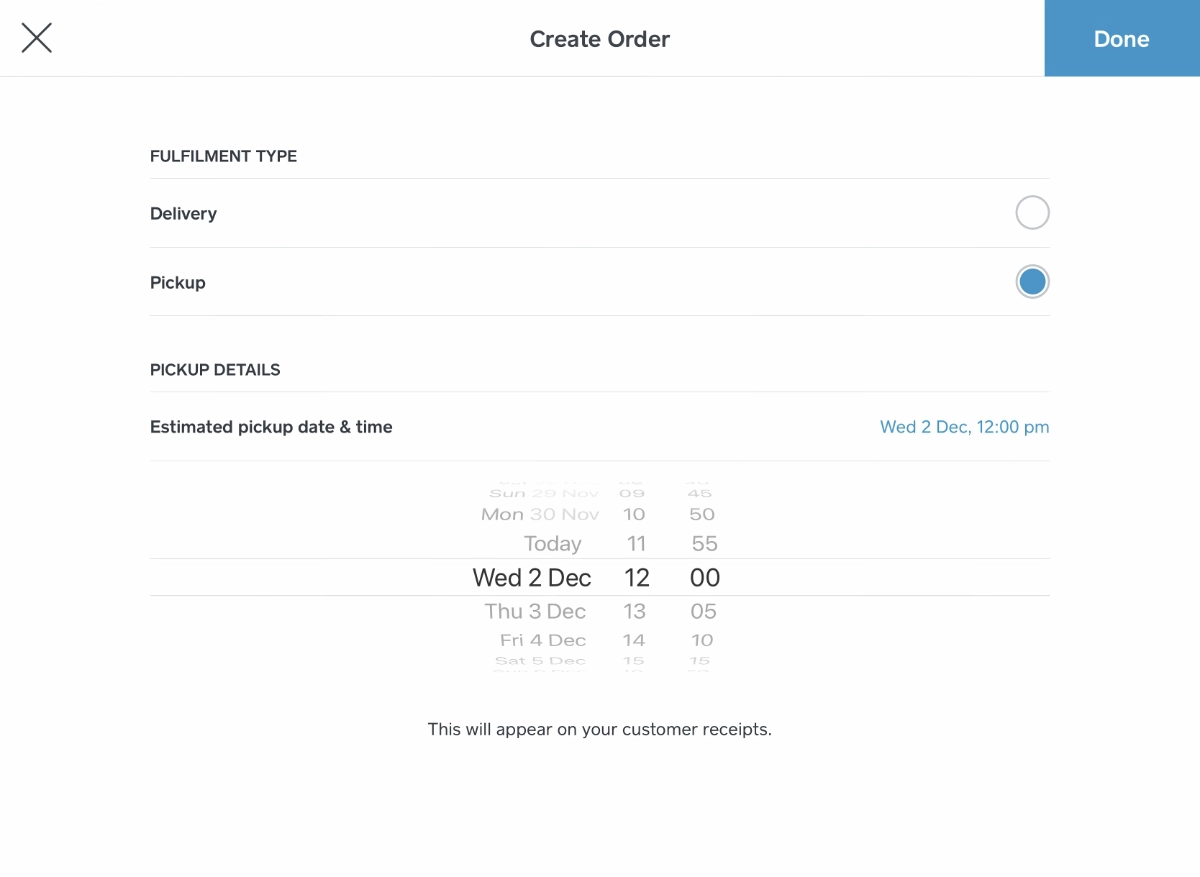 Create orders for pickup or delivery directly from the till screen.
The payments screen gives options to accept cash, card (either via Square Reader or manually keyed in), gift cards or certificates, invoice, card on file, cheque or any other payment types confirmed manually at the till.
After a transaction is complete, you can send an email or text receipt, or print one off from a connected receipt printer.
Inventory management
Retailers need a robust inventory system for managing stock, and Square for Retail does that well.
The Free and Plus subscriptions can bulk-import items from an Excel spreadsheet, and categories, options, modifiers, units (e.g. grams, litres, inches, square feet) and stock counts can be added to individual items. You can also receive email reminders for low stock or out-of-stock items, and scan barcodes from the iPad camera via the Square Retail app (not possible on iPhone).
The Plus subscription includes the following extra features:
Barcode labels can be printed (Dashboard only)
Receive stock from the app and track the stock received
Process exchanges that automatically adjust stock levels
Stock transfers across locations (Dashboard only)
Create, send by email, edit and annotate purchase orders
Create, import and export vendor lists, and keep item libraries for each vendor
Bulk inventory intake
Advanced inventory reporting
Photo: Mobile Transaction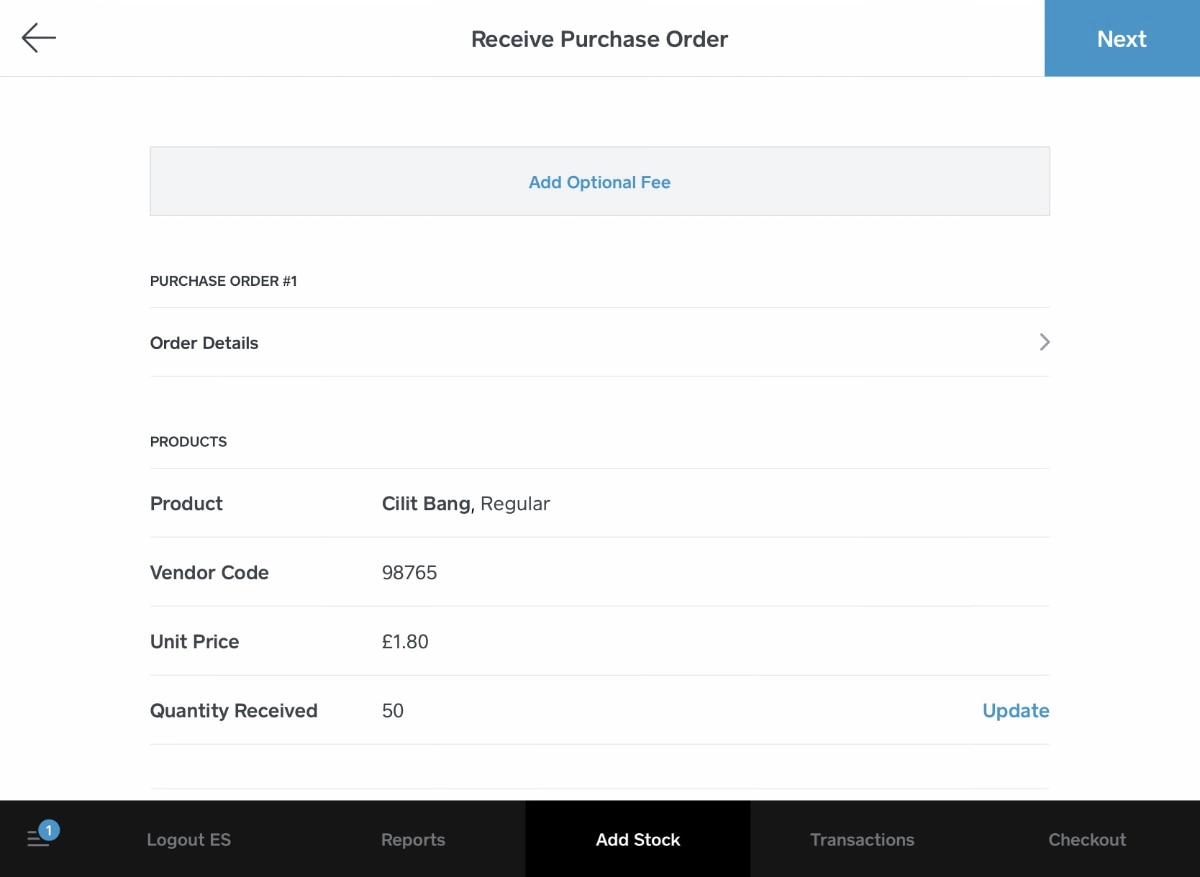 Receive stock straight from the app.
Accordingly, if you want any purchase order and vendor management features, and the ability to transfer stock between different locations or generate barcodes, a Plus subscription is required.

This allows staff to clock in and out of shifts, and the admin can track team breaks, hours worked, view overtime reports and export timecards to a payroll system. The Free tier only has a predefined permissions set.
On Plus, you get the Team Plus subscription (normally £20/month per location) included in the Retail package. This allows you to set detailed permissions for an unlimited number of roles, set different wage rates, add timecard notes, view break violation reports, activity logs by members and detailed staff analytics.
Photo: Mobile Transaction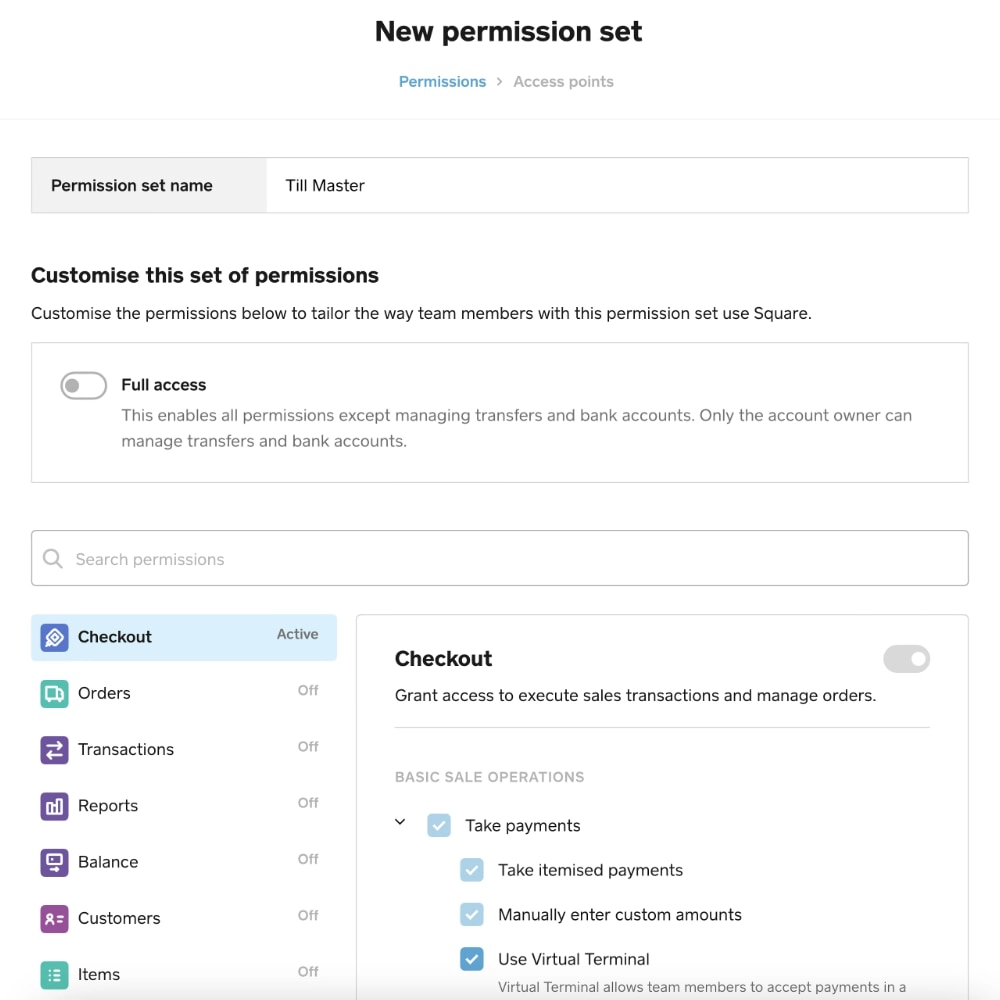 Square Team Plus permissions.
Customer loyalty tools
Even on the Free Retail subscription, you can create a detailed customer directory. These customer profiles can be attached to orders and transactions, making it possible to manage orders for collection or delivery smoothly. Customer profiles can be auto-created from payment cards, and segments created to distinguish defined groups of customers.
Photo: Mobile Transaction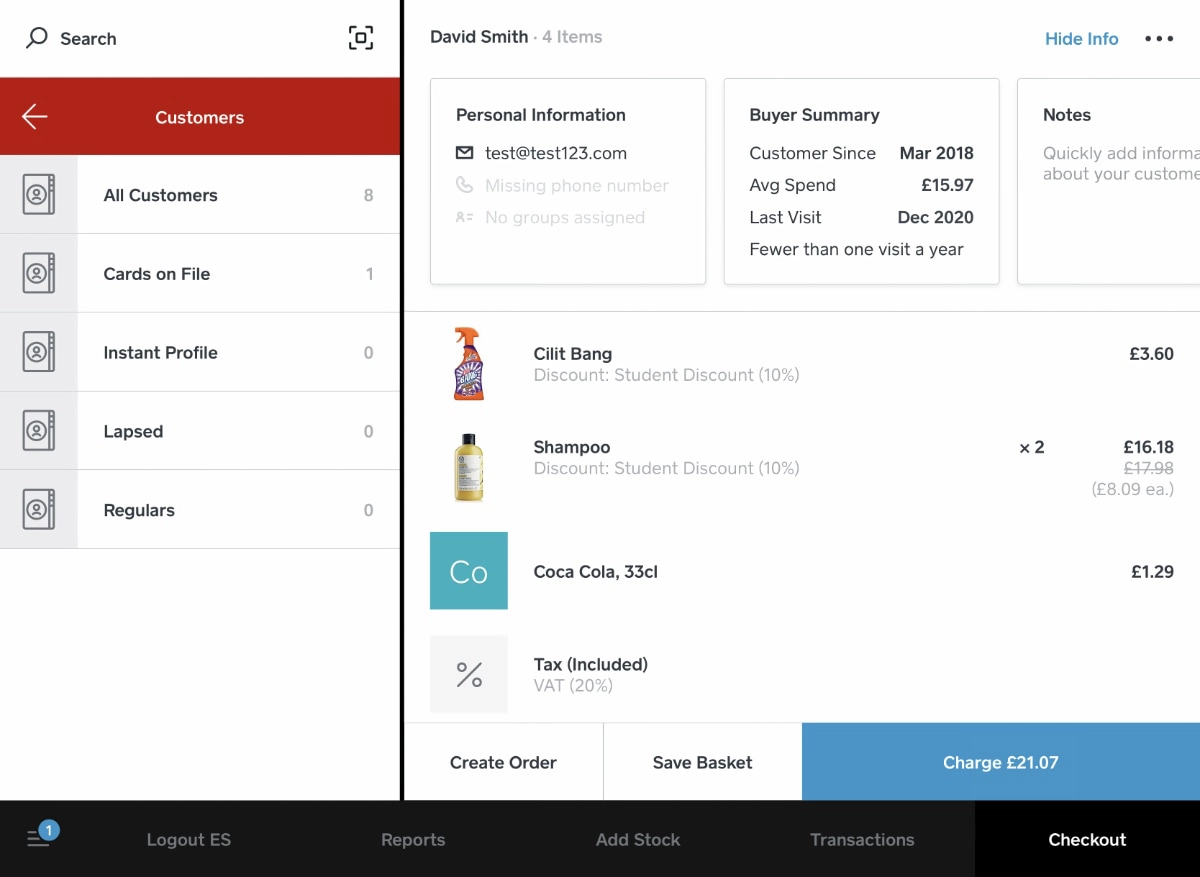 A customer profile attached to the current basket.
Having these profiles is an invaluable way to track their purchase history, which is useful for personalising your service to individuals. Square even gives actionable guidance based on the data. You can direct-message customers from Square, and add card details to profiles (requires permission from the cardholder) for processing repeat payments expected by the customer.
The only real addition to the customer loyalty features on Plus is the ability to track several timestamped notes from customer profiles. The rest of the above are included on the Free plan.
Reports and sales analytics
The Square for Retail Free subscription has detailed sales analytics, but Retail Plus really stands out with its in-depth inventory analytics
While Free provides great sales reports and an overview of stock moved between locations, a Plus account has reports for:
Profit margins incl. projected profit estimates and profit margin
Vendor sales
Inventory by category
Inventory value by item
Cost of goods sold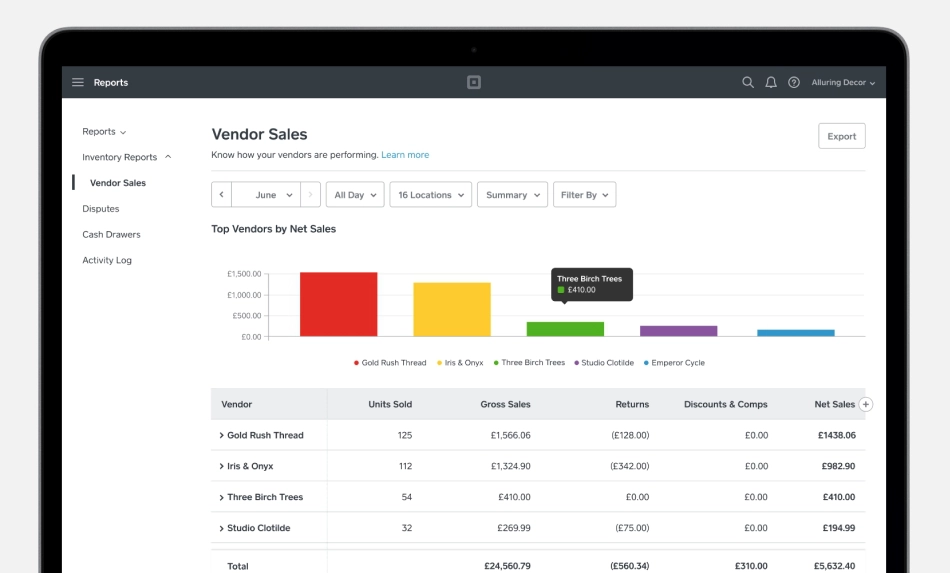 Vendor analytics on a Square Retail Plus plan.
You can edit historical unit costs, where updates are subsequently reflected in the reports, and filter reports in different ways.
On Plus, you also get labour vs. sales reports that help forecast labour costs so you can schedule shifts accordingly.
Hardware for the point of sale
Square for Retail works best on iPad, as many features are missing in the iPhone app. For example, you can't handle purchase orders, connect a cash drawer, transfer stock, or search for products by scanning a barcode since barcode scanning isn't possible with this app.
Unless you're getting a suitable iPad holder for the till, there is a Square Stand for £109 + VAT which holds an iPad and has a swipe card slot. The only card machine that works with the Retail software is Square Reader.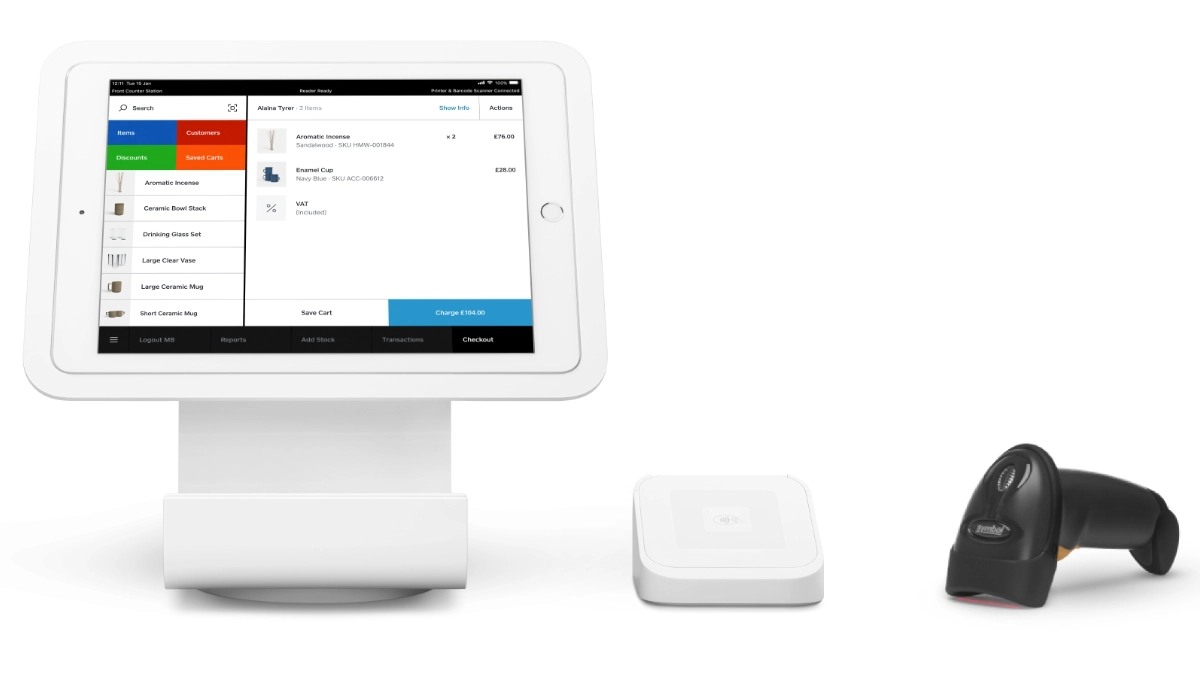 Square for Retail on iPad in Square Stand, with a barcode scanner.
Square Terminal only has the Point of Sale app features, not Square for Retail features, but you can use it as a portable device for transactions around your premises if you can do without advanced Square for Retail features (all Square transactions are synced in the cloud).
You can connect the Retail iPad software with compatible barcode scanners (if the in-app scanner is too much faff), receipt printers and a cash drawer. The iPhone app only works with receipt printers.
Free Square for Retail vs. Square POS
You might wonder what the difference is between the Free Square for Retail plan and Square Point of Sale app, since they are both free to use indefinitely. Firstly, they are two different apps. Secondly, Point of Sale works on iPhone, iPad and Android tablets and smartphones, whereas the Retail app only works on iPad and iPhone.
Both can track stock across locations and set alerts for low or out-of-stock items. You can add tips and several different discounts, itemise refunds and save baskets ('open orders') for later.
While Point of Sale does work with a physical barcode scanner, the Square for Retail app has a barcode scanning function built in, allowing you to use the iPad (not iPhone) camera to scan product barcodes.
The other significant difference is the checkout layout. In Point of Sale, you can switch between viewing products in a large grid or a list view with a search field. The Retail app only shows a small list of products ('favourites') and a search field, but there's also a button letting you search manually through product categories.
| Square feature | Free Retail app | Point of Sale app |
| --- | --- | --- |
| Device compatibility | iPad, iPhone | iPad, iPhone, Android devices |
| Checkout layout | Wide cart, list of products w/search field | Narrow cart, big grid or product list w/search field |
| In-app barcode scanning (iPad) | | |
| Several time-stamped notes on customer profiles | | |
Square
Retail
(Free) app
Square
Point of
Sale app
Device compatibility
iPad, iPhone
iPad, iPhone, Android devices
Checkout layout
Wide cart, list of products w/search field
Narrow cart, big grid or product list w/search field
In-app barcode scanning (iPad)
Several time-stamped notes on customer profiles
Most of the customer profile features are the same in the apps, including auto-creation of customer profiles, automatic tracking of buying history and transactions of customers, segmentation of customer groups, customer analytics, saving a payment card on file, and the option to direct-message customers. The only thing that's different is that Retail allows you to track multiple time-stamped notes from customer profiles.
You can create user accounts for staff members in both apps, and a £20/month subscription to Team Plus is also required in both cases for unlimited user accounts with advanced permissions settings.
All in all, you'll have to upgrade to the Square for Retail Plus plan to really notice the differences between Point of Sale and Square for Retail.

Square Online and other integrations
Not only is the software connected to Square's own online store builder powered by Weebly – it also includes payment links you can generate for individual products, embed on an existing website or use for taking donations.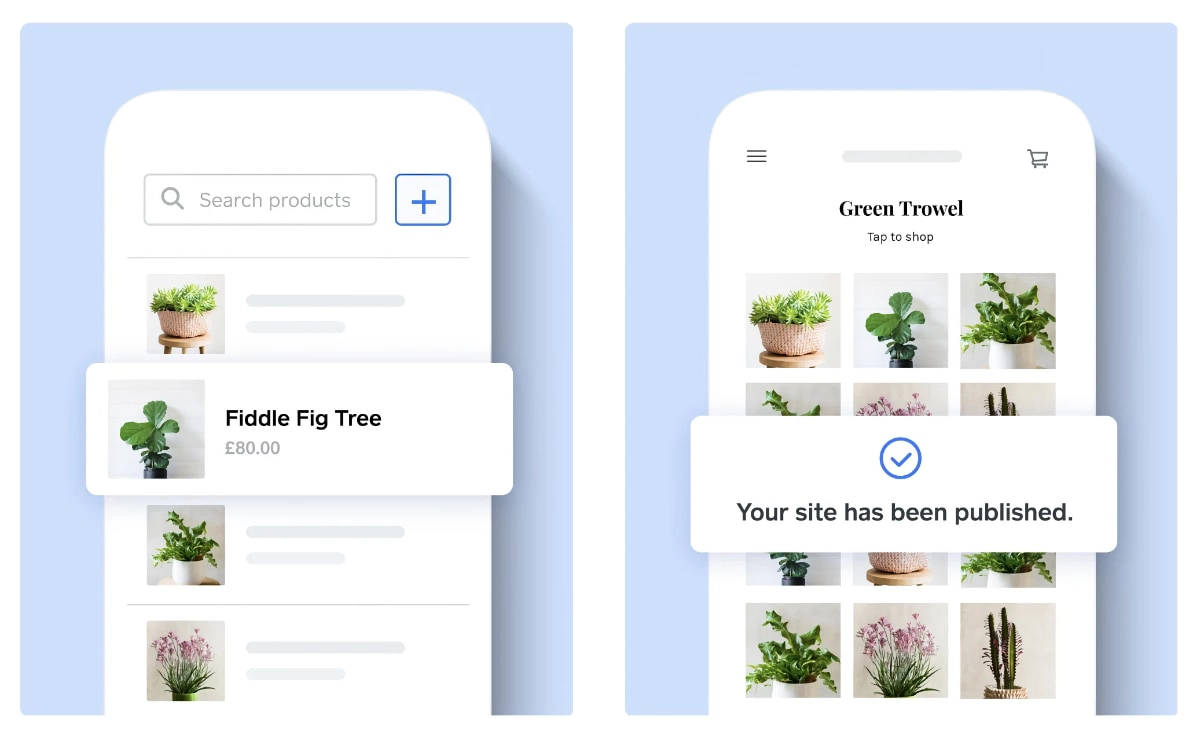 Easily create an Instagram shop page with Square Payments integrated.
You get a free online store with the ability to sell on social media, offer eGift card cards, sync inventory across sales channels and the ability to set up click-and-collect and ordering for delivery. More advanced ecommerce features require an upgrade to a paid plan.
Apart from ecommerce, there are many additional integrations with external software possible through the Square App Marketplace. For example, sync your QuickBooks accounting software with Square or use advanced inventory management software like DEAR Systems and Yellow Dog Inventory.
Customer service
Square customer service is only available on weekdays between 9am and 5pm (GMT). In contrast with Square for Restaurants that includes 24/7 support on the paid plan, there is no extension of support hours on Retail Plus.
Alternatively, you can email Square, which would yield a reply within 24-48 hours, or tweet the Square Support UK account on Twitter. The online help section has many articles with step-by-step guidance, explanations of features and much more, and there's a user forum where you can post and search for questions submitted by other merchants.
Square generally gets good reviews in the UK by its users, but Square for Retail as a product has yet to receive many comments since it's new in the UK. We have tested the Retail Plus plan and can personally say that all the features worked well at the time of testing.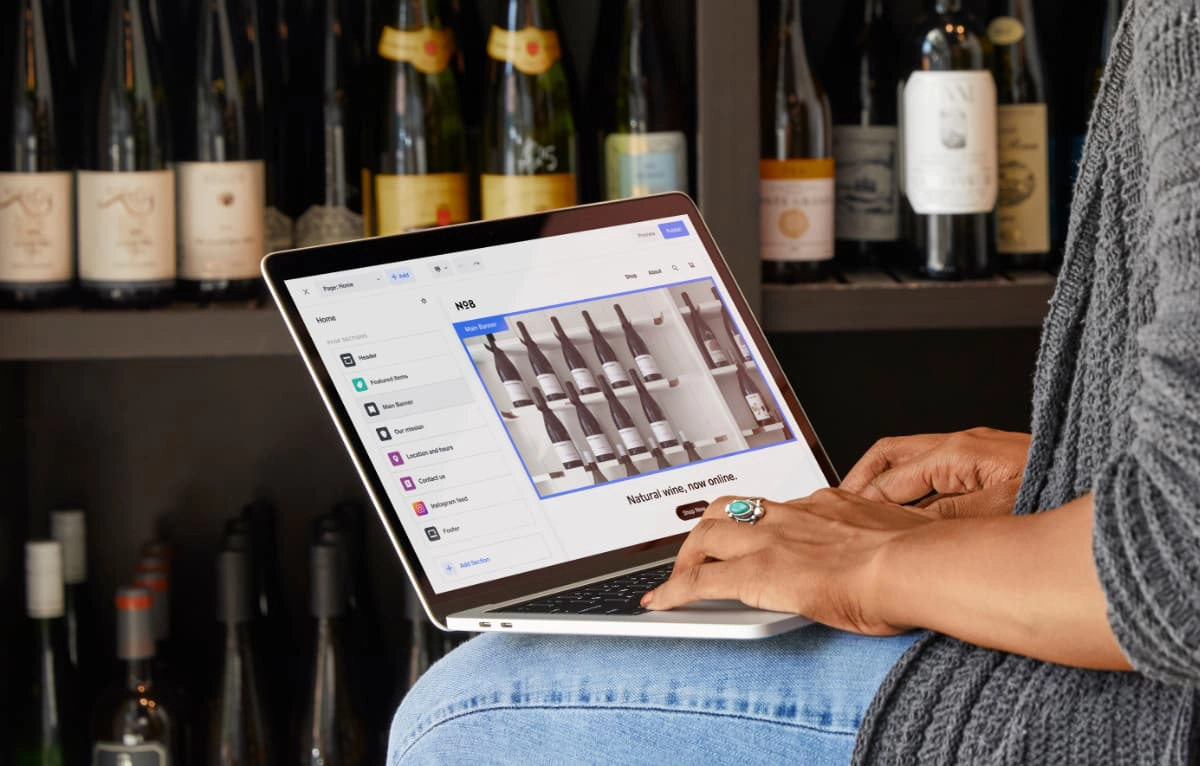 Brick-and-mortar shop editing an online store through Square.
Our verdict
Square for Retail is an inexpensive POS system suitable for multiple locations and busy, but small, shops. The rate reduction of card reader transactions on Plus is especially attractive for merchants wanting the lowest pay-as-you-go rate for all card types.
The POS system itself is easy and without superfluous features for a small retail shop. But larger stores requiring many specific inventory features would want to compare with other retail POS systems, as Square may not have everything needed. Furthermore, the fact that the app only works on Apple devices could be a hindrance for cash-strapped shops who'd prefer a cheaper Android till.
Nevertheless, in a world where many retailers now depend on an online presence to survive, Square for Retail has a big advantage with its online selling features.
Square for Retail is strategically curated to include the most valuable features for selling across sales channels (i.e. online and in store). Creating and managing orders for pickup and delivery are smoothly done from the till or Dashboard, and the range of available payment methods for remote and in-person transactions is wide.
In the end, the right choice of retail EPOS depends on how you prefer to handle shop operations, and details like your size of team and complexity of inventory. Integrating with other software can open up worlds of complex tools, but the till software is what it is, so we recommend trying the 30-day trial before committing long-term.