Payment links are an easy way to receive payments remotely without customers having to use a card machine. It's also a life-saver for merchants starting to sell remotely, or for any impromptu sales agreed on the phone, social media, online or in person. You don't need a website to accept payments via these links.
Depending on the merchant provider, you may be able to send a pay button via email, text message or social media. Fees for these transactions will be higher than for card terminal sales, given the fact that card details are entered manually rather than confirmed physically in a card reader.
There's still a big difference in the kinds of costs involved in pay links, as we shall see below. Moreover, pay by links (different term, same thing) work slightly differently with each provider. We'll cover that in this overview of the best payment links for small businesses in the UK.
iZettle Payment Links
An easy way for merchants to get started with payment links is iZettle that has no monthly fee or contractual commitment. It's free and extremely easy to create an account with iZettle, and then you only pay a simple 2.5% transaction rate for payments received.
After signing up through the online form, it may take a few days for your bank account to be linked, but you can start sending payment links straight away from the free iZettle Go app on your smartphone.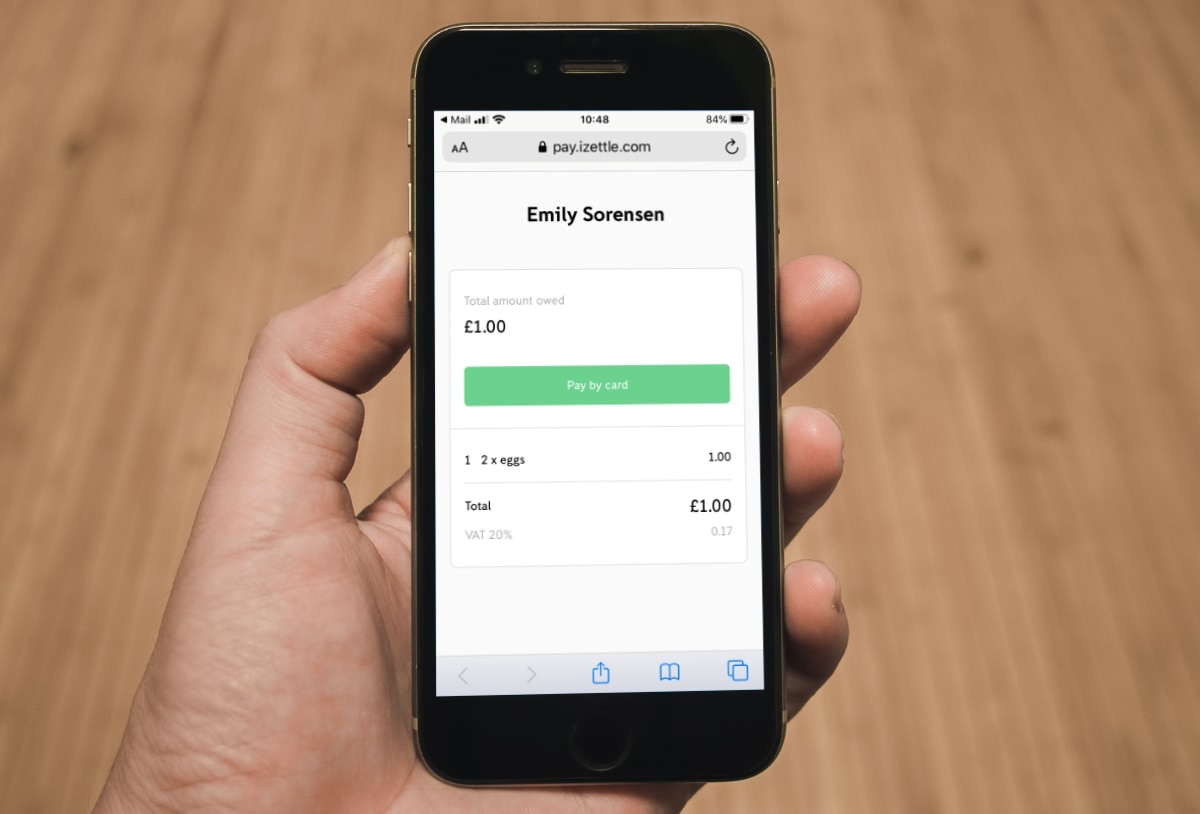 To send a pay link, you first enter a transaction total with a product description or add items from the product library to a new bill, then choose Payment Link as the payment method. After entering the name of the recipient, you get the option to send the link by SMS or sharing through any of the social apps on your phone including email.
There is also an option to show a QR code, but customers can only scan this through their PayPal app on their phone.
The recipient will get the link and fill in card details, pay, and choose to receive a receipt if they want. If you want to customise the message that comes with the link, you can do that after adding it to an email or message draft when choosing to share the link through an app.
PayPal.Me payment links
PayPal offers a very convenient service where businesses can create a pay link for free through the PayPal.Me service. It has no contractual commitment, no monthly fees, and payouts appears in the online PayPal account almost immediately after each transaction. If you need the money in your bank account, however, you will need to manually transfer it to your linked bank account, but even that is quick (a few hours).
It costs 2.9% + £0.30 to receive a PayPal payment link transaction, which is not that cheap, so it might be best suited for occasional or limited sales.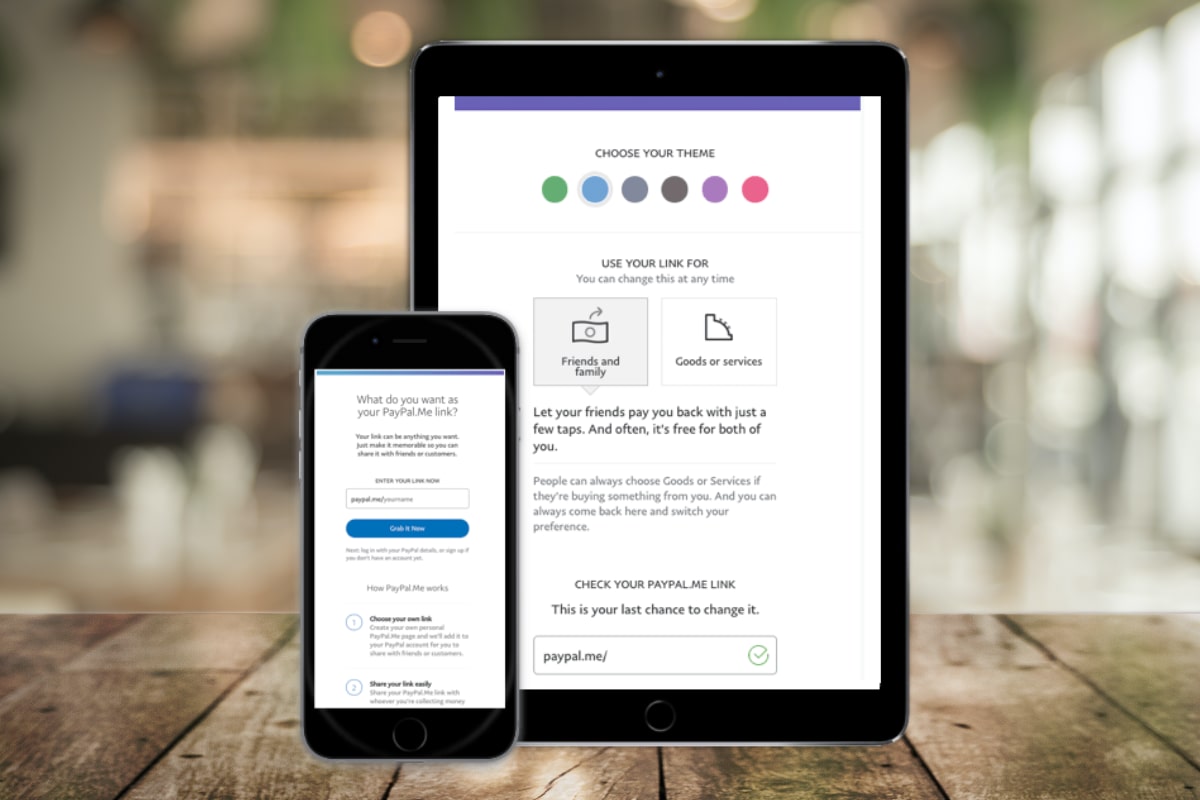 The links work like this: create a link URL in the format "paypal.me/yourbusiness" – this will be yours to use indefinitely. When you want to get paid, you send this link to the payer who will be able to enter an amount manually to pay, or you can pre-specify an amount for the recipient by adding the number at the end of the payment link ("paypal.me/yourbusiness/30" goes to a payment page for a £30 bill).
You can send the link in any context online, e.g. by text, chat message, email or any social media channel. Clients have to pay through their own PayPal account (with Buyer Protection), in any of 25 different currencies.
The fact you can choose not to specify a transaction amount for the customer means that PayPal's payment links are great for donations, while also suitable for any other business payments.
SumUp Payment Links
Without monthly fees or a contract, merchants can send SumUp Payment Links directly from an app to customers.
All it requires is to sign up online, order a card reader (SumUp is, after all, primarily aimed at face-to-face merchants) and start using the SumUp App. It may take a few days for your bank account to link up, but then you will receive payments directly in the bank account after 1-3 days. The only thing you're paying is a fixed rate of 2.5% per transaction.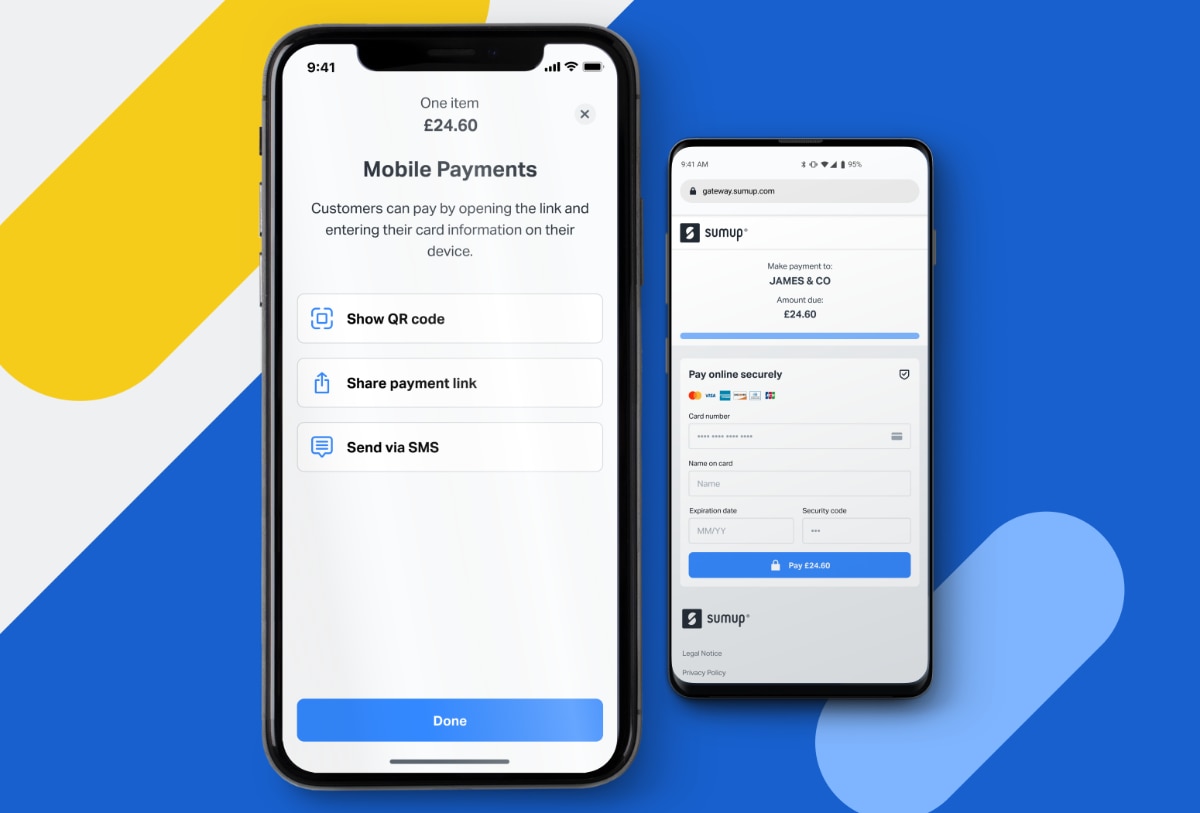 You can add products to the bill for itemised receipts or just set a pound total for the transaction before sending a link. There are actually few ways you can use SumUp Payment Links:
Send it via SMS
Share it through a social app on your mobile device
Copy the link to paste it into a message elsewhere
Show a QR code for the customer to scan with their phone (opening the link)
The customer can then pay on the checkout page that opens from the link, or if using QR code, they can pay through a special SumUp app where their card details are already saved.
Worldpay Pay by Link
Worldpay's Pay by Link allows you to send a Pay Now button in an email or embed it in a digital document for the customer. You can use it for creating email invoices, request deposits, finalise a booking or send a quote payable on a web page.
The service is best for those with a consistent monthly turnover because you have to pay a fixed monthly fee of £9.95 + VAT on top of transaction fees. Pay by Link is on a rolling, 30-day contract that can be cancelled with a month's notice to Worldpay any time.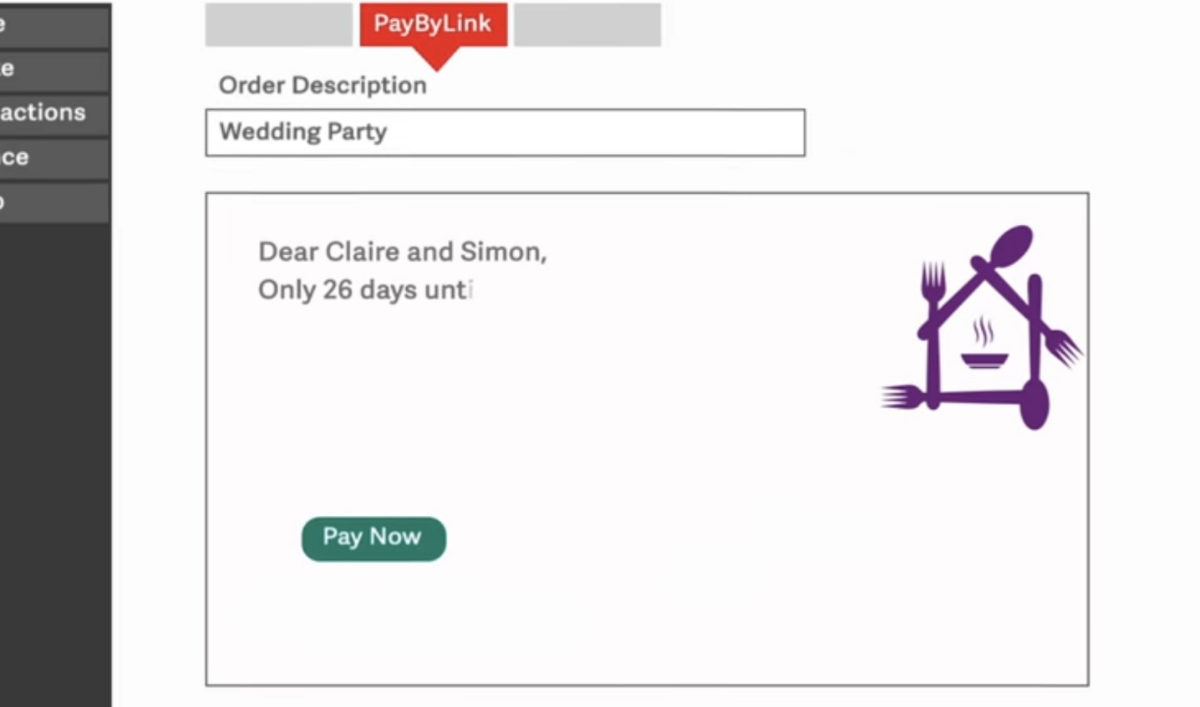 You get custom transaction fees based on sales volume, which is most competitive for a monthly sales volume above £2,000. UK-issued debit cards have the lowest rates and credit cards higher, while foreign, premium and corporate cards cost more to process.
Though it comes at a monthly cost, a Worldpay link does have some nice features. For example, you can set payment due dates to help chase up late payments, send payment reminders and customise emails with a pay button, logo and personalised message. A downside is that you have to log into an internet browser to send the links from a computer or tablet – it's not recommended to use a browser on your phone.
Square Online Checkout
Square Online Checkout is probably the most versatile payment link solution without monthly fees or a contract. Rather than generating links for a specific POS transaction, individual links are created for individual products or donations with fixed or open amounts.
You can then share these links via a social app or copy and paste the URL where needed. For example, you go to the Online Checkout menu in the Square POS app and pick the link for a certain sandwich, then send it to the customer who wants to buy it. You can also show or print a QR code to display at your business. Embed codes can even be generated for embedding pay links on your website.
In the Square Dashboard (browser), you can then see how many transactions have been accepted through the different links.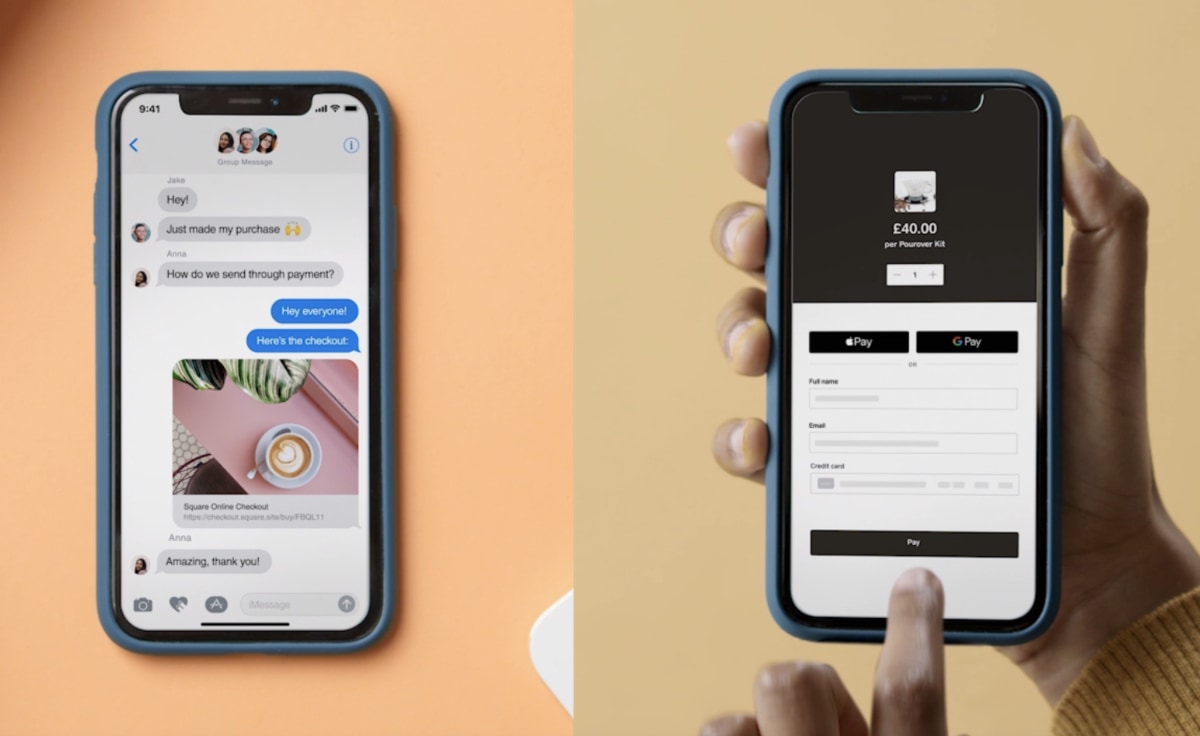 The customer opening the links will only need to enter their name, email address and card details for completing the transaction. If they access a link with an open amount, they will also enter the amount to pay.
Square has a simple sign-up form on their website, requiring you to connect a bank account for receiving the payouts. The only cost is a transaction fee of 1.9% for cards issued in Europe and 2.9% for non-European payment cards.
Takepayments Pay by Link
Takepayments (formerly Payzone) also offers payment links, but only for sending over email. As with Worldpay, you're able to customise the email to include your own logo and text together with a 'Pay Now' button, or you can copy and paste the pay button into a pre-written email. You also have the option to create and send electronic invoices with a payment button.
The links are created in your Merchant Management System account accessed from any web browser on a computer or mobile device.
Where Takepayments differs on this shortlist is the fact that you enter into a 12-month contract to use payment links. If you don't cancel your contract with enough notice, you will roll into a further 12-month contract term, or you can cancel early for a termination fee.
Transaction rates will be given during sign-up as they will be tailored around your business and typical turnover. Generally, Takepayments rates will only really be competitive with a consistent pay-by-link turnover of over £2k-£3k monthly.
Adyen Pay by Link
Adyen is a renowned online payments provider offering international card acceptance mostly for medium-to-large businesses. It is intended for businesses transacting at least £1.5-£2 million annually, and who would like to consider Adyen as their payment platform for all sales channels, not just payment links.
Transaction fees are a 10p gateway fee plus the interchange rate of the payment card which can be anything from 0.2% to 3% (e.g. domestic debit cards cheapest, foreign premium cards on the high side). This is good value for merchants accepting mostly UK-issued debit cards for transaction amounts averaging over £15.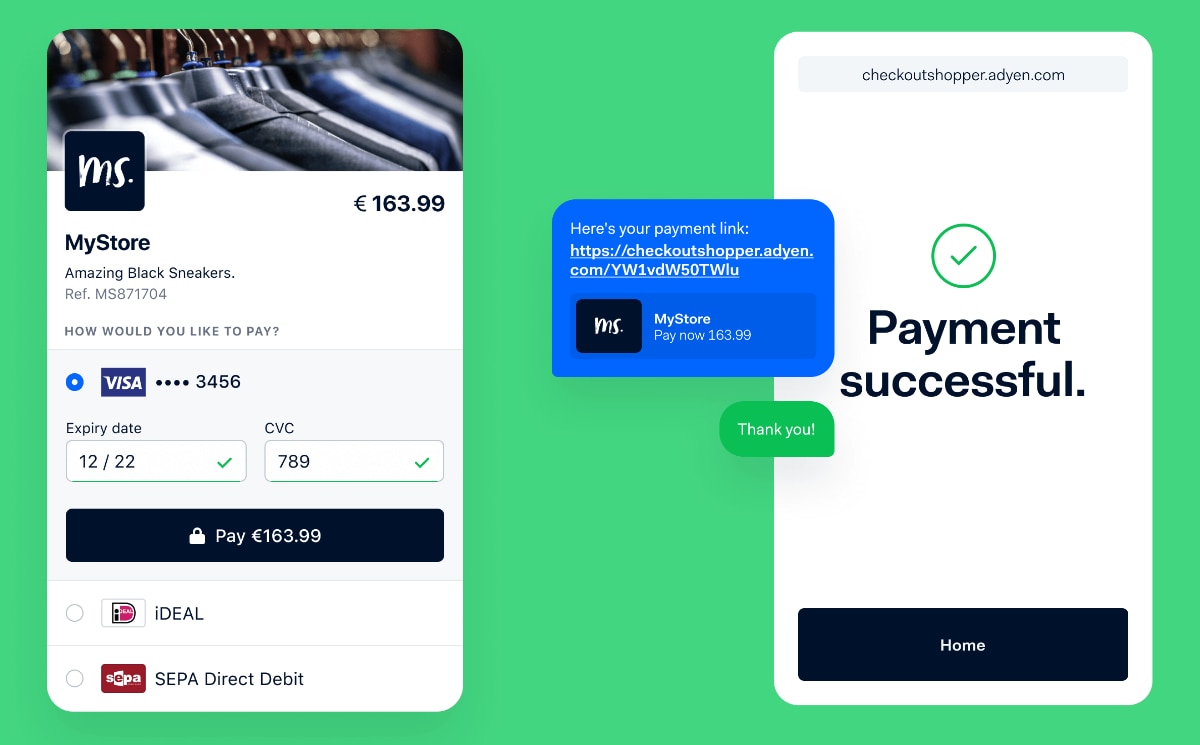 Although there are no setup, closure or monthly fees with Adyen By by Link, the company does require a minimum invoice of €100/US$120 per month. You also must pay a minimum of 500 EUR as a deposit (exact amount depends on the value of your goods) when the account is created, which is returned when the account is closed. To make this worthwhile, your card turnover through Adyen Pay by Link should be at least £20k monthly, in most cases significantly more.
Adyen accepts a long list of payment methods from across the world, not just the major card brands like Visa. The links can be sent via any channel online in various currencies and can be time-limited to expire after 24 or 48 hours. The built-in payment security tools such as '3D Secure 2' make Adyen more advanced than most payment links on the market. You can also customise the checkout page, create a QR code for the link and create open donation links.
Have you considered email invoices? We've reviewed the best invoice apps:
Which provider to choose?
Merchants with seasonal, temporary or short-term needs are best served by Square Online Checkout, SumUp Payment Links, iZettle Payment Links or PayPal.Me. They all offer quick ways to get started, require no monthly fees and have fixed transaction fees. Their links can also be sent to social media like WhatsApp, Messenger, Facebook, emails, texts and anywhere else you want to get paid online.
iZettle, SumUp and Square do have an edge (or more) over PayPal pay-by-links due to the low fixed transaction rates, choice of cards accepted and the fact you can easily send and view links through a mobile app. With Square and SumUp, you can even print QR codes for specific links to display on your premises for socially distanced payments.
On the other hand, PayPal.Me's quick settlement in the online PayPal account is great for those who need urgent access to money.