Our rating
Vend's product features make it one of the best EPOS systems around for retailers.
Vend POS software is built for inventory-rich retail businesses and used on iPad, Mac or PC. The till features are some of the best in class, with options to integrate with additional functions like ecommerce. Choose between monthly or annual plans that can be cancelled any time.
Highs: Rich inventory functions. User-friendly. Multi-outlet. Responsive 24/7 customer support.
Lows: Doesn't work on Android tablets. Limited features on cheaper plan. Dashboard could be more user-friendly.
Best for: Any retail shop, large or small, with complex inventories.
What is Vend POS?
Vend is a cloud-based, electronic point of sale (EPOS) for retailers of all sizes. It costs a monthly or annual subscription per till, which includes the software licence, automatic updates and customer service.
The inventory features are particularly strong, with integrated vendor management for stock supply orders. POS functions and the checkout interface look familiar to experienced shop workers, but are equally user-friendly for everyone.
The POS system is compatible with iPad, PC and Mac and requires an internet connection to work perfectly, although core features are available offline.
Pricing
As with many other POS systems, Vend is subscription-based where you pay a price per till using the software. The Lite plan costs £49 + VAT per month on an annual billing basis, or £59 + VAT if paying monthly, for each iPad, PC or Mac licence. This is for a single checkout point, good selection of features and monthly turnover of up to £15k.
Subscription
Pay-monthly*
Pay-yearly*
Lite plan incl. 1 till
(<£15k turnover/mo, 1 outlet)
£59/mo
£588 upfront (£49/mo)
Pro plan incl. 1 till
(unlimited turnover & outlets)
£89/mo
£828 upfront (£69/mo)
Per extra till
(any plan)
£49/mo
£468 upfront (£39/mo)
Pay-
monthly*
Pay-
yearly*
Lite plan incl. 1 till (<£15k turnover/mo, 1 outlet)
£59/mo
£588 upfront (£49/mo)
Pro plan incl. 1 till (unlimited turnover & outlets)
£89/mo
£828 upfront (£69/mo)
Per extra till (any plan)
£49/mo
£468 upfront (£39/mo)
If you exceed a £15k monthly turnover for more than three months in a year, you will need to upgrade to the Pro plan that costs £69 + VAT a month on an annual plan or £89 + VAT if paying monthly. This includes advanced features suitable for more established retail shops, and you're allowed to have an unlimited turnover.
Each plan includes a licence for one register (i.e. iPad, PC, Mac). If you need to use Vend POS on more registers, it costs £39 + VAT/month per extra device if paying annually, or £49 + VAT/month if paying on a monthly basis.
Bigger businesses and franchises can opt for an Enterprise package at a custom price to be agreed on with Vend, which includes a dedicated Account Manager and customised onboarding. Apart from that, it has all the same features as the Pro plan.
We recommend trying their 14-day free trial first, which should give you a feel for the software before committing to anything.
The above costs only apply to the POS software, so hardware is an extra cost. You can use an existing PC, Mac or iPad for the POS interface or buy new equipment. Also consider whether you need a cash drawer, receipt printer, barcode scanner or other accessories. A customer-facing display app is complimentary for Vend users.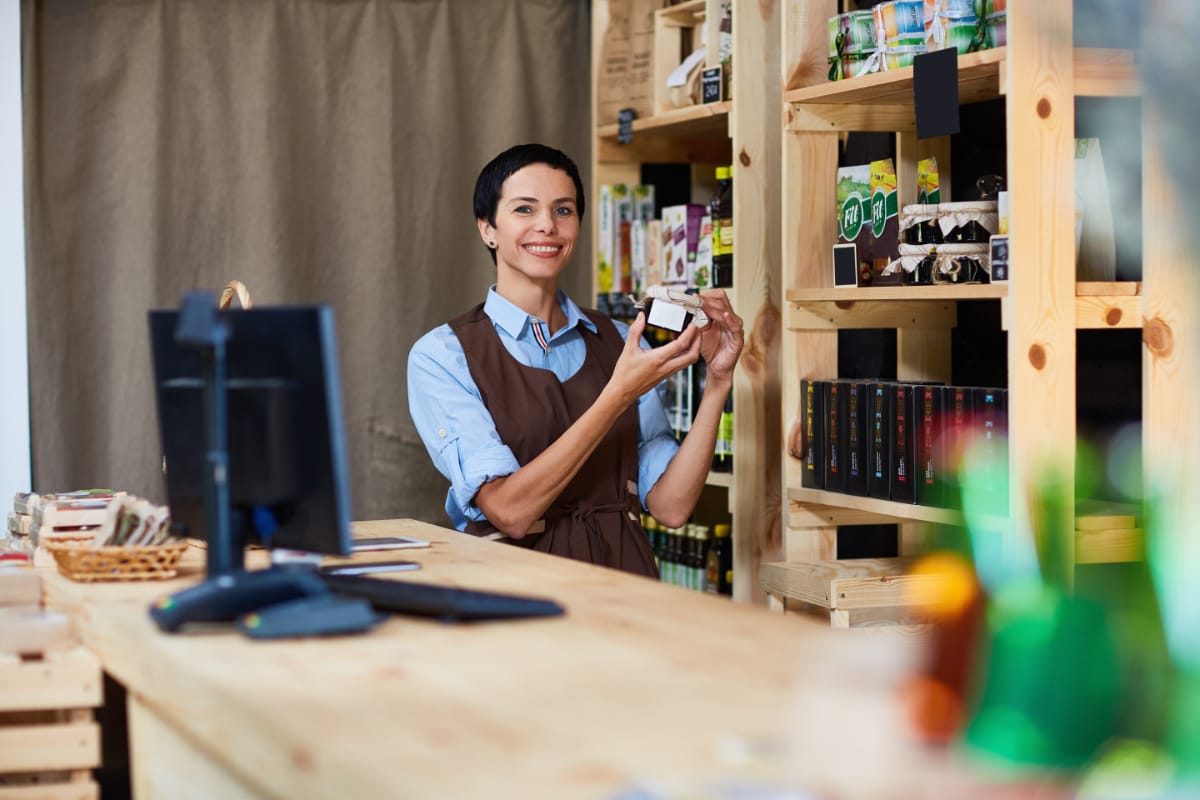 Vend can be used on PC as well as Mac or iPad, making it versatile for small to large businesses.
Ease of use and room for improvement
Vend's POS app is generally user-friendly. We tested it on iPad and it didn't fail while using with a stable internet connection.
A big plus is the ability to access the dashboard (for management and more advanced features) directly in the app. This is not a given in tablet EPOS, which you'll often find can only access shop-floor-related functions, unless you log in to the dashboard in a browser window on the tablet.
Image: Mobile Transaction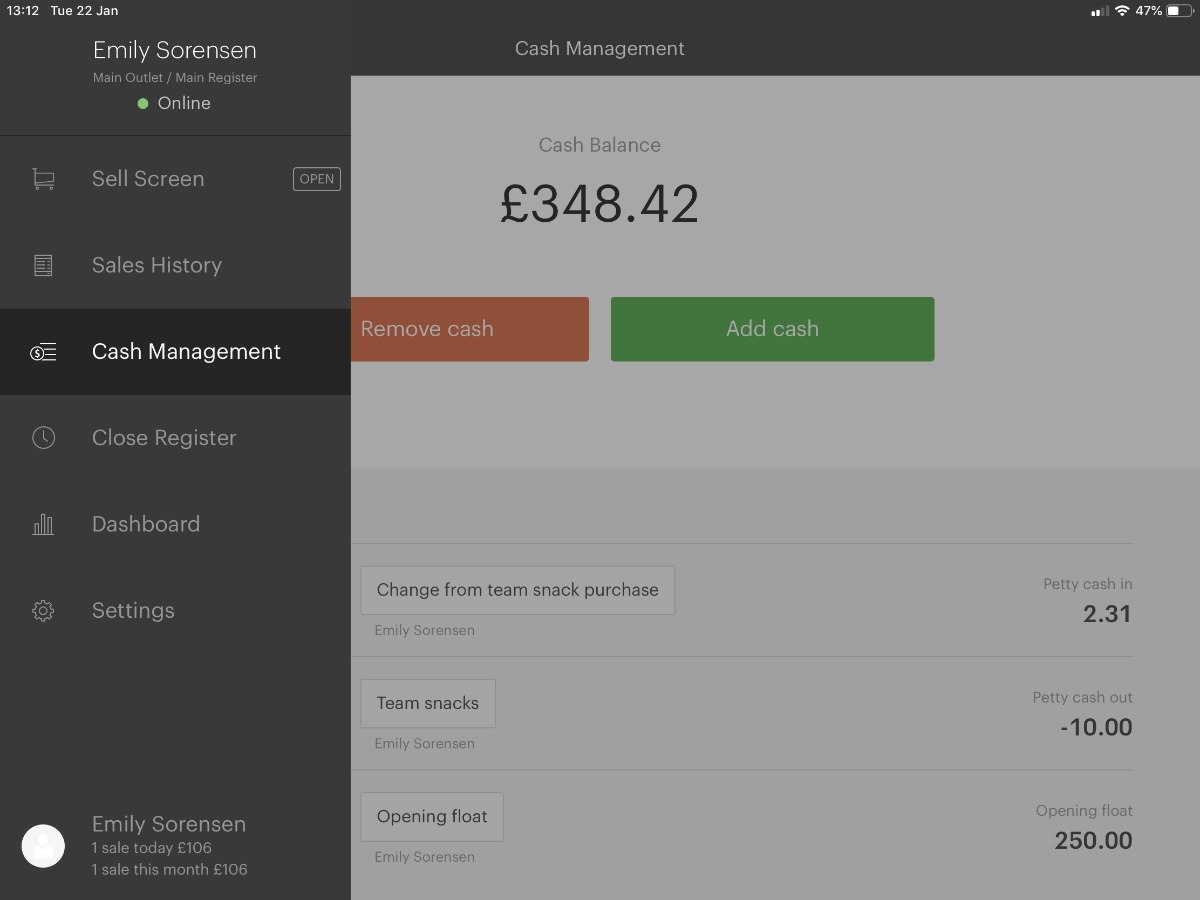 Main side menu in Vend iPad app.
With Vend, some features are still only accessible in a browser, but most admin settings can be used in the app. A slight downside to the in-app dashboard is that it's a bit slow to load, unlike the app-native checkout features.
Image: Mobile Transaction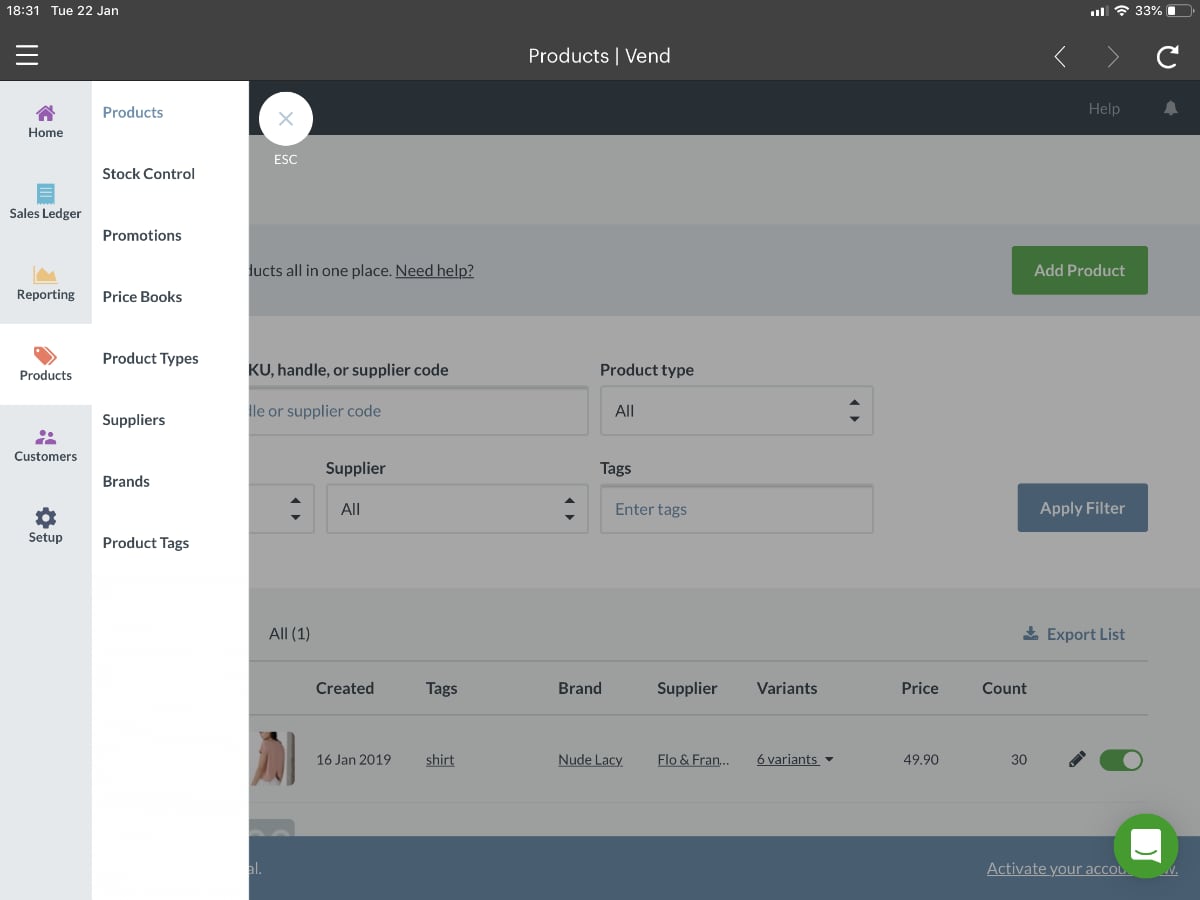 Vend dashboard settings menu which is separate from the day-to-day sales functions.
While generally intuitive to understand the different settings and functionality upon first use, certain features were not easy to find, such as where to customise receipts (under "Outlets and Registers" in Setup settings).
On an iPad Pro 10.5″, there were some responsiveness issues in the dashboard functions as well, e.g. scrolling didn't work at first touch on some pages. Printing a test receipt from the dashboard is not possible either – a small, but annoying, thing.
If you delve into the help section through the dashboard in the app and browse multiple pages, there's no home button to return to the main dashboard page at one click. You have to repeatedly tap the back button until you're back to dashboard settings.
So in our experience, most issues were related to admin features and help pages, while the day-to-day POS features were fine.
Features
Vend's features are extensive, particularly around product profiles and stock management. If you want a system that manages detailed supply information, stock levels, product information and flexible sales records, you will find that Vend meets all those comprehensively.
It should be said that many of Vend's features are standard in retail EPOS, but compared with alternatives, still quite advanced. The following features are just a slice of what's included.
Stock management: Perhaps the biggest strength of Vend is its ability to track and organise rich inventories in the system. If you already have a list of products in an Excel spreadsheet (CSV file), it is easy to import these into the system. Otherwise, manually add detailed product information in the library, to be displayed in the POS interface or found through search. Add notifications if someone is about to process something that's low in stock, and make use of the many other inventory tools designed to automate supply ordering and make it easy for you to organise stock across multiple stores.
Image: Mobile Transaction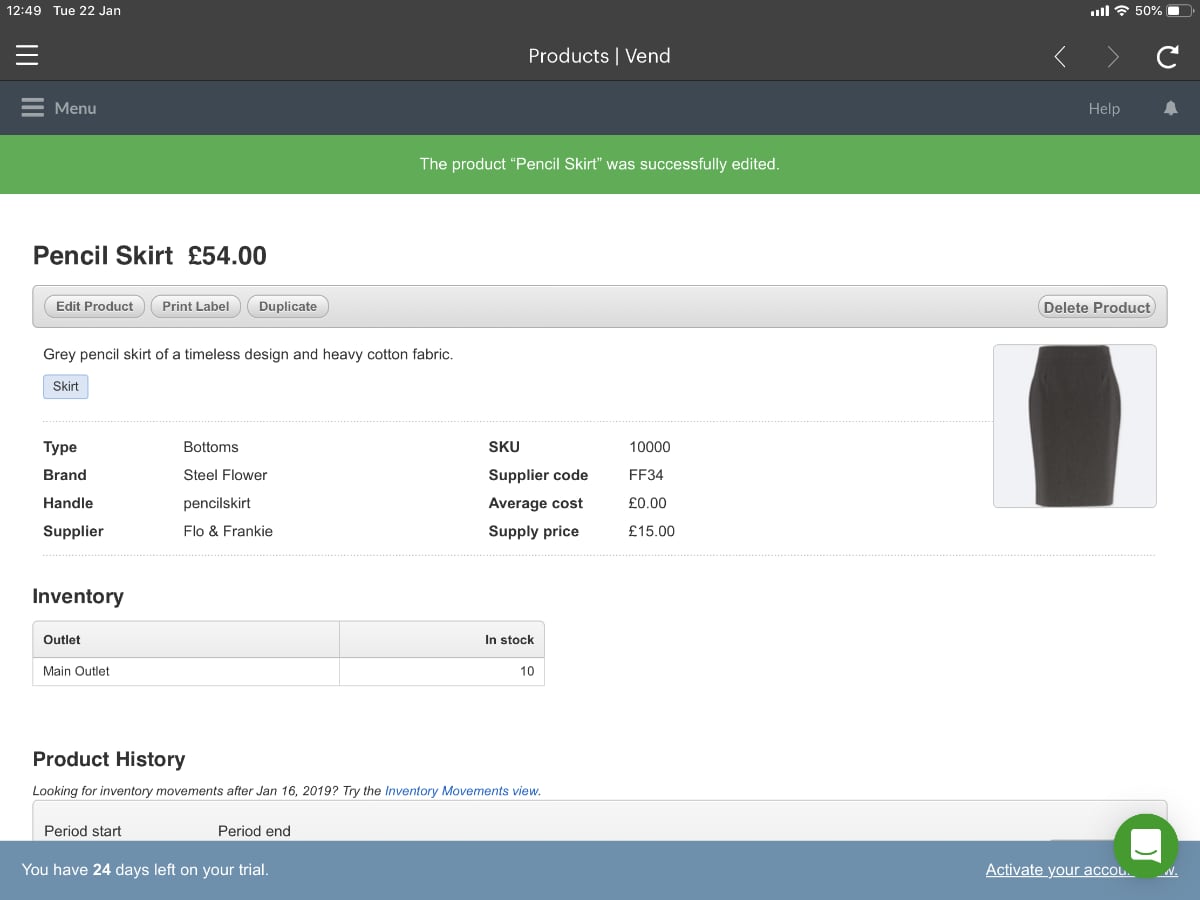 Product profile, which can be analysed and edited through the dashboard (in-app or in-browser).
Customer loyalty: As with most other EPOS systems today, you can save customer details in the system and attach sales to them. This allows you to give loyalty points, which the customer can use for payments, send digital receipts, organise deliveries, and much more. It is up to you what details are added about customers – there are plenty of fields to fill in, for instance address, date of birth, phone number, or a custom note about the person.
Float and cash management: At the start of each day, you enter the float amount to compare the end-of-day cash total with. During the day, record when you take out money that counts towards expenses, e.g. team lunch or an electrician's bill. In other words, the system works just like a traditional cash register, allowing a complete overview of payments, pay-ins/pay-outs, discrepancies and total takings in the cashing-up report at the end of each day.
Image: Mobile Transaction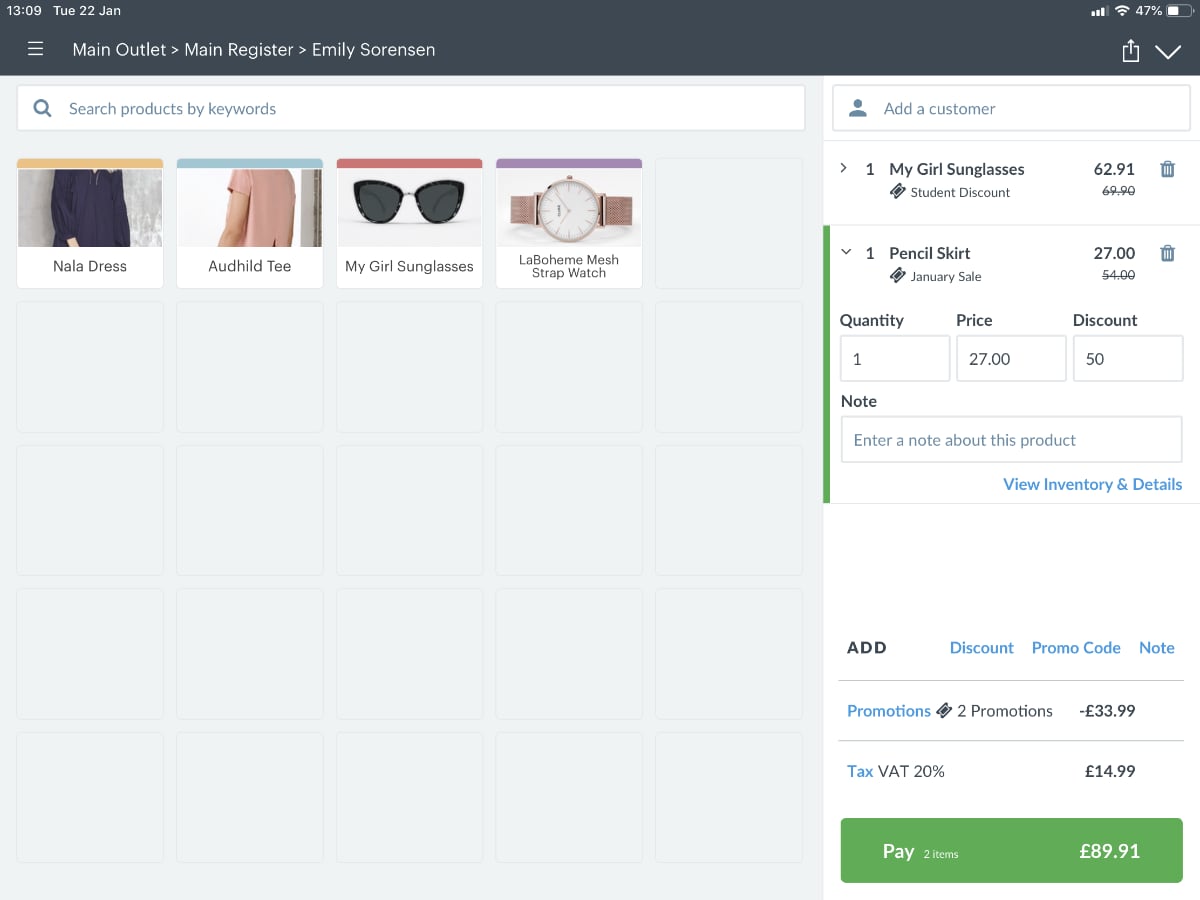 Checkout interface in Vend on iPad.
Sales, petty cash and refunds: Vend's transaction functions are impressive, even including an option to edit details of a sale after it took place (in case you want to e.g. attach customer details to a receipt later). Exchanges and refunds can be done from the app, and you can edit or lay away sales for later. You decide how staff void transactions: delete the items on the list, or void to be recorded in the sales report but not counted towards sales totals.
Discounts and promotions: Promotions and discounts can be applied to specific items, date ranges, customer groups (e.g. students, loyalty members), or you can apply promo codes at checkout. Specify whether the discount runs in-store or in your online store, or if it just applies when spending over a certain amount.
Image: Mobile Transaction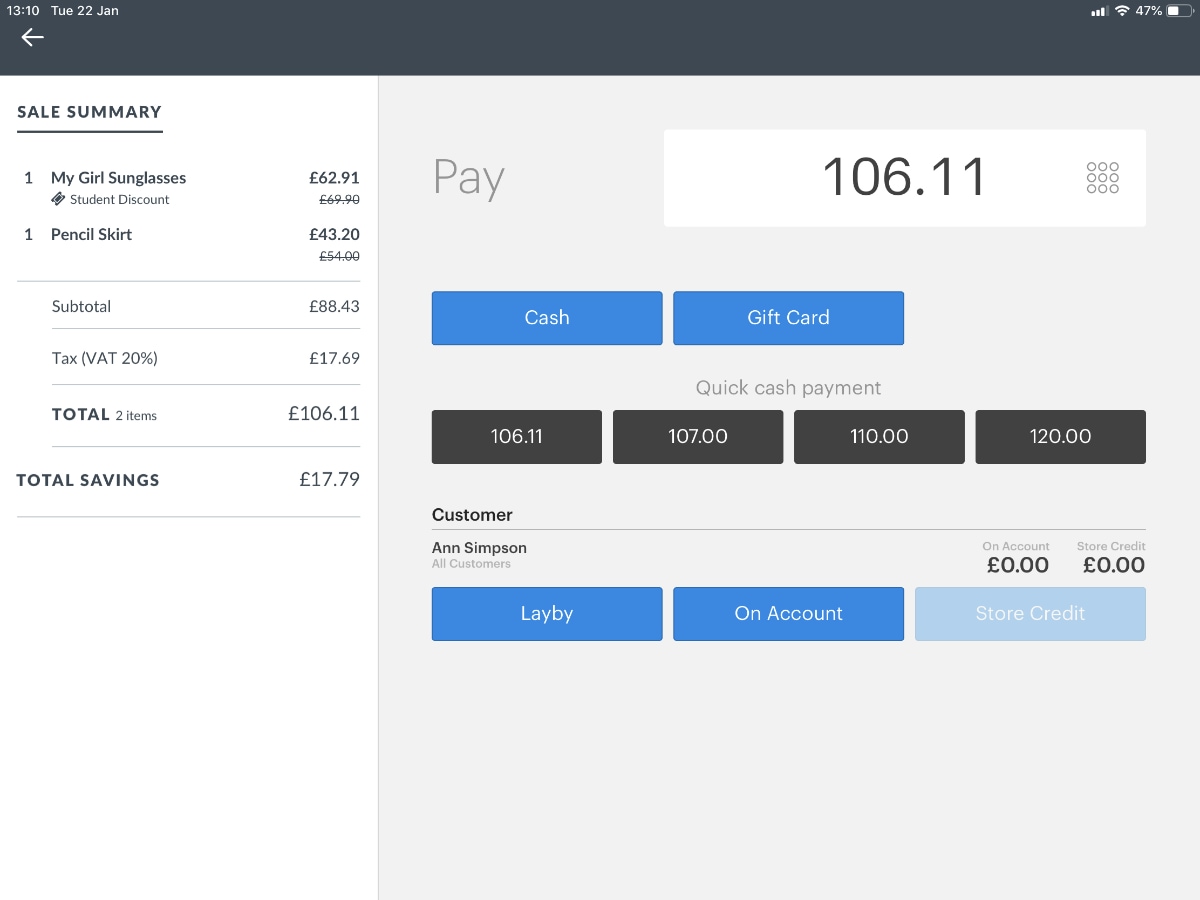 Payment screen at checkout. Only a few payment methods are shown here – add many more ways to pay in the settings.
Receipts: As with most cloud-based POS today, you can send digital receipts via email, either straight after transactions or later if the sale is attached to a customer record with email address. Receipts are customised in the browser dashboard, where you can make a different receipt for each outlet, add logo, written text and edit what kind of information goes on receipts.
Employee and store management: The system can handle multiple outlets and staff accounts, allowing you to look at sales and staff performance anywhere in your business. Manage users by Cashier, Manager or Admin role with varying permissions, and set sales targets for individual users.
As for differences between the Vend Lite and Vend Pro plans, these are the features that differ:
| Feature | Lite | Pro |
| --- | --- | --- |
| Reporting | Small-business reports | Advanced reports & analytics |
| Location management | Support for one store only | Multi-outlet retail management |
| Add-on integrations | Xero only | All add-ons & ecommerce channels |
| API access | | |
| Feature | Lite | Pro |
| --- | --- | --- |
| Reporting | Small-business reports | Advanced reports & analytics |
| Location management | Support for one store only | Multi-outlet retail management |
| Add-on integrations | Xero only | All add-ons & ecommerce channels |
| API access | | |
Regarding add-ons, only Xero (for accounting) can be integrated with Vend on the Lite plan. To integrate other third-party software, you'll need to upgrade to Pro, which gives you access to connect to a range of other platforms such as Deputy or Timely for scheduling and staff management, and WooCommerce or Shopify for ecommerce.
Online and offline use
As a cloud-based point of sale (POS) platform, all your Vend data are stored online rather than on a local computer or server. This enables you to access it anywhere at any time through an internet browser or the app, since it is backed up in the cloud and updated automatically.
Like many other cloud-based POS systems, Vend keeps core features available in the event of a situation where you find yourself offline, so you can keep running your business through those (hopefully rare) eventualities. Any card machine used with Vend, however, will need a network connection to process a card sale, so this won't work offline.