Our rating
Square Reader is the UK's smallest card reader, but is the in-app PIN pad practical?
Square Reader is the first keypad-less card reader in the UK that works with a smartphone or tablet. For just a flat 1.75% rate per transaction, Square gives you more tools and features than any other free payment apps.
Highs: Competitive, flat rate on all cards. Best free app features. Virtual terminal and invoicing included.
Lows: PIN entry on mobile screen could be a hassle. Customer support could be more responsive. Only accepts most popular card brands.
Buy if: You want the smallest card reader and/or the most POS features for free.
Get Square Reader for £19 + VAT. No monthly fees or contract.
Mobile Transaction is an independent payments industry resource that is trusted by over a million small businesses yearly.
Discounts do not influence our editorial content such as reviews or recommendations. Ratings are based on full retail price. (Full policy)
Lowdown
Square – or Squareup as it is sometimes called – was one of the first companies to release a card reader used in conjunction with a mobile device. In 2017, Square Reader for chip and contactless cards arrived in the UK.
Square Reader connects with a phone or tablet via Bluetooth, processing payments through an accompanying app. It works with most iOS and Android tablets and phones today.
Accepted cards










Contactless payments just require a tap near the white, square-shaped terminal, but PINs are entered on the phone's or tablet's touchscreen since there is no PIN pad on the card reader.
The mobile app works as a complete POS system with functions helping you run any type of business from just your tablet or phone.
The card reader accepts the most popular debit and credit cards including Visa, Visa Electron, V Pay, Mastercard, Maestro and American Express. It also accepts the mobile wallets Apple Pay, Google Pay and Samsung Pay.
Charges are simple and transparent
Square card reader fees is just a fixed-rate 1.75% per chip and PIN and contactless payment regardless of card brand or whether it is premium or from abroad. Cash payments are free to process through the app. No additional or monthly fees are charged on top of that for the core payment features.
Card payments
Fee
Chip, contactless, swipe
1.75%
Ecommerce, payment links
European cards: 1.9%
Non-European cards: 2.9%
Key-in, invoice, virtual terminal
2.5%
Instant Transfers
1% in addition to card fee
Refunds
Free
Chargebacks
Free
Card
payments
Fee
Chip, contactless, swipe
1.75%
Ecommerce, payment links
European cards: 1.9%
Non-European cards: 2.9%
Key-in, invoice, virtual terminal
2.5%
Instant Transfers
1% in addition to card fee
Refunds
Free
Chargebacks
Free
All payments that are not going through the card reader are charged a higher rate. That is, keyed-in, virtual terminal and invoice payments cost 2.5% of the transaction amount (the keyed rate applies to both when the customer is and is not present). Online payments through the online store, payment links or eGift cards are 1.9% for European cards and 2.9% for non-European cards.
With Square, you don't commit to a contract period, neither do you need to sell every month or have certain sales volumes to qualify for the card rates.
Nothing is charged for refunds or chargebacks, the latter being dealt with for free by a dedicated support team for payment disputes.
Payments are deposited in your bank account as fast as the next working day – by default automatically, but you can also set it to manual deposits if that simplifies bookkeeping.
Square also offers Instant Transfers, a setting that enables you to receive transactions within 20 minutes (may take up to 2 hours) – if your bank is a Direct Participant of Faster Payments. This costs an extra 1% of the transaction amount, i.e. a total of 2.75% for card reader payments. Note that merchants may not have access to this feature before they have a sufficient sales history in the Square account.
Square Reader costs £19 + VAT, and the optional Dock for charging and keeping the card reader in place costs £19 + VAT. The Square Stand, including Square Reader and Dock, is currently £109 + VAT (offer here).
As for the Point of Sale app, features are free except for additional employee permissions costing £20 per month per location (Team Plus subscription). Any integrated tools from other providers, e.g. for ecommerce and bookkeeping, are paid for separately through those other platforms.
Taking a payment
To start a sale, you can either enter the total sales amount or pick products or services from your product library (if you've added items there). Tap "charge" and the customer can use their card to pay, or even add a tip before payment. After each transaction, choose to email or text the receipt, or print it from a connected Bluetooth printer.
Contactless payments by card or mobile wallet are easy – just tap over the card reader and you're done.
Photo: Emily Sorensen (ES), Mobile Transaction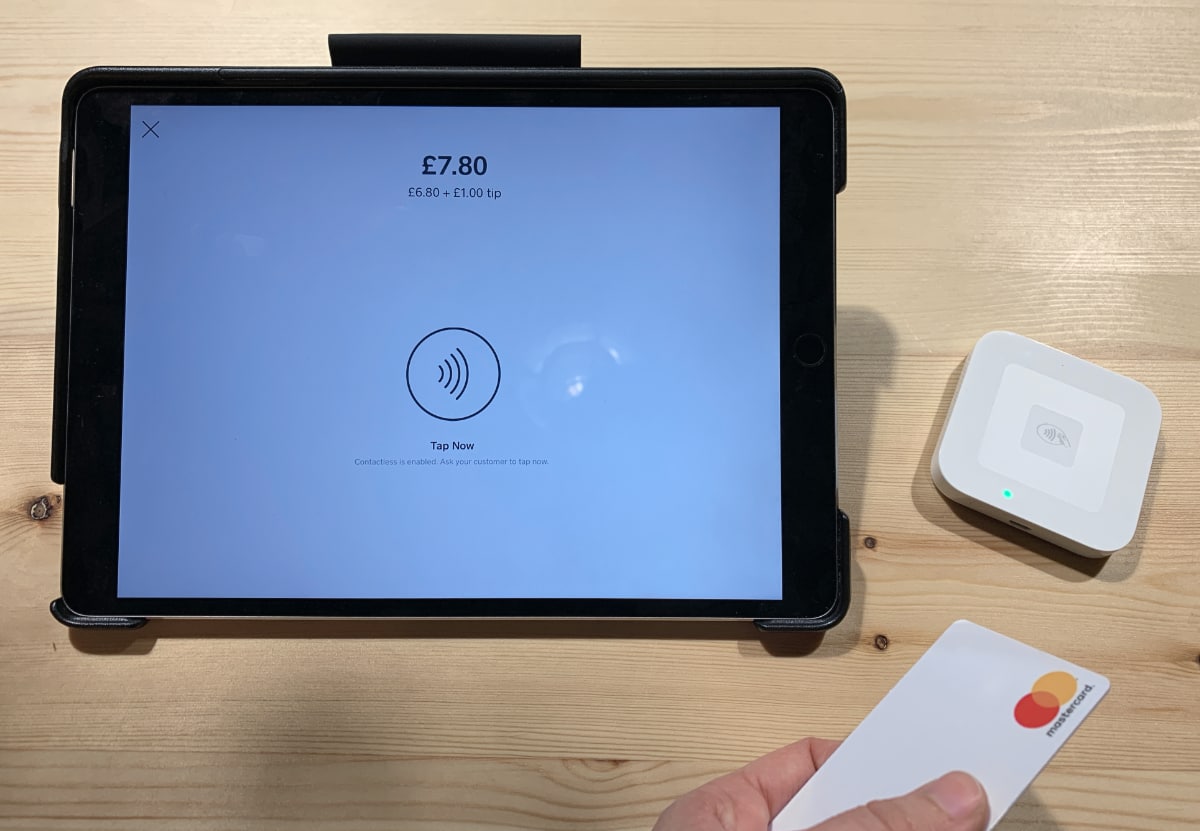 Contactless payments with Square Reader are effortless – just tap and go.
Where Square differs from other card readers in the UK is that customers need to enter their PIN on the touchscreen of the phone or tablet rather than a separate keypad for PINs – this is referred to as 'PIN on COTS' (PIN on consumer off-the-shelf devices), sometimes called 'PIN on glass' even though that is different. Also, the Square card reader has no display, meaning the amount is displayed only in the app.
Photo: ES, Mobile Transaction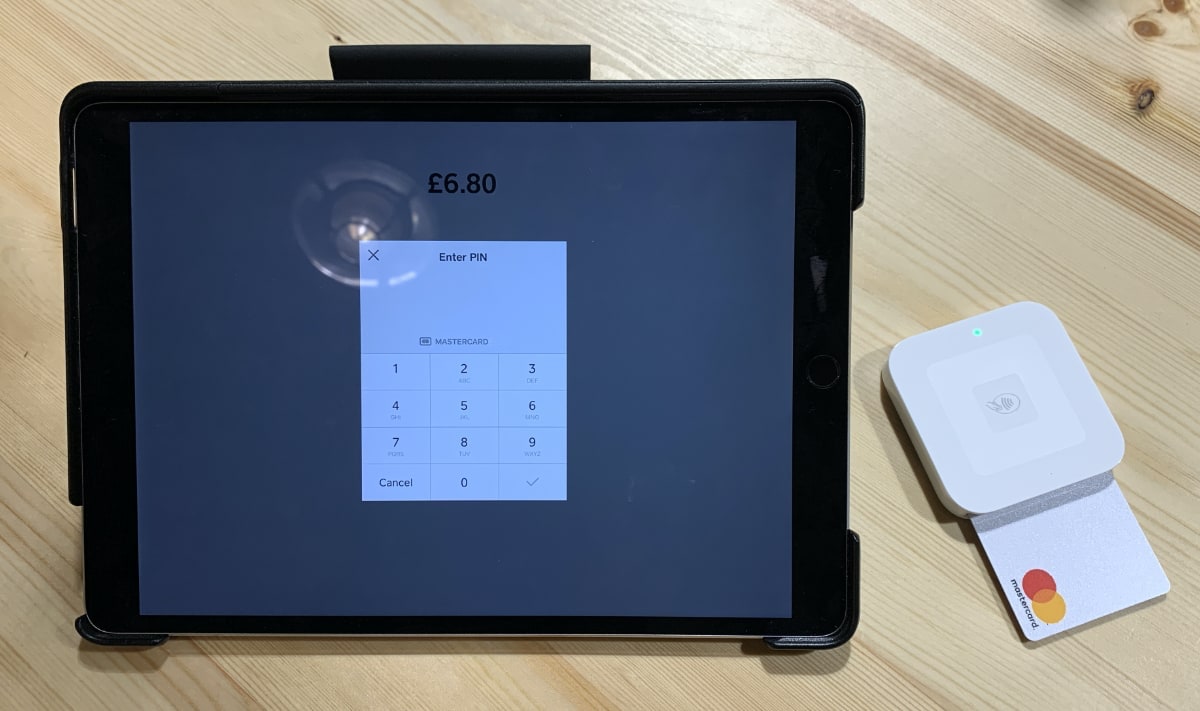 PIN entry happens in the Square Reader app on the smartphone or tablet screen, as seen here.
Some have been concerned that inputting their PIN using software on a multi-use consumer device is not safe. Protecting the PIN from visual skimming is another issue: if the tablet is on a stand of a certain height, PIN entry can be more difficult to hide compared to when entered on a countertop card machine.
PIN on COTS has been officially accepted by the PCI Security Standards Council, and we do not see cause for concern for merchants or payers. Still, some customers might not feel comfortable giving their PIN this way. If that worries you, you may want to consider alternative card readers.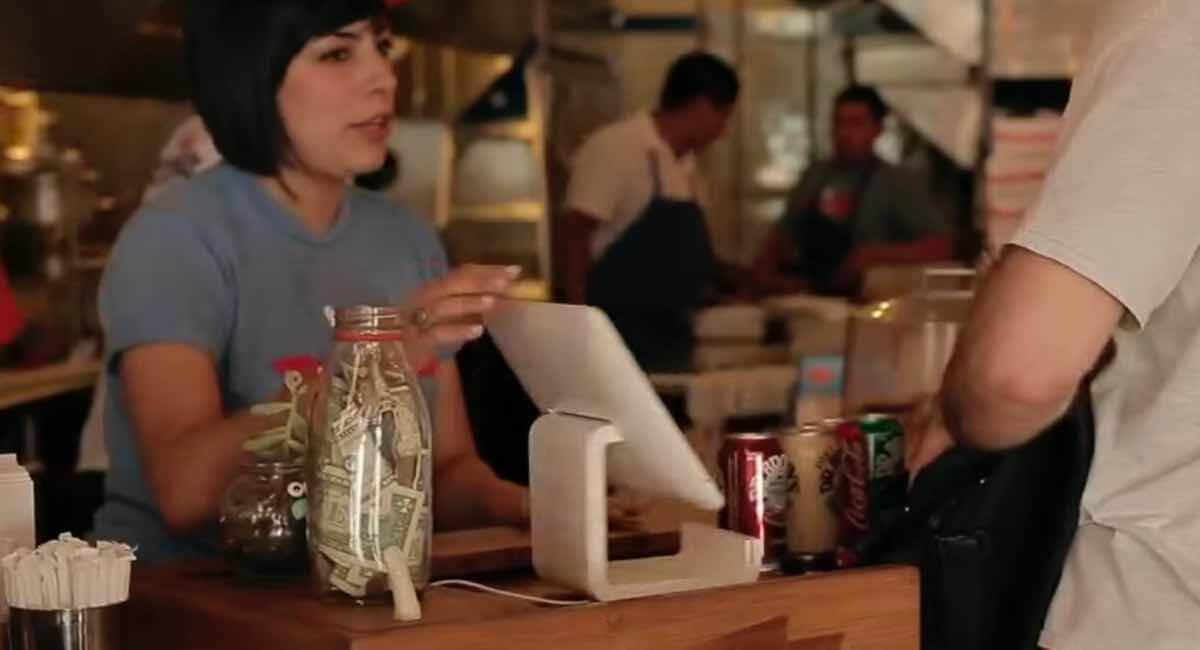 Square Stand swivels the iPad to face the customer when a PIN or swipe is required (there's a magstripe slot at the front).
When you buy Square Reader, you also get a tiny, complimentary swipe reader for magnetic stripe cards. This has a standard audio jack to plug in to your mobile device. iPhone 7 and newer models require a small adaptor cord to connect the audio jack with the micro USB socket at the bottom of the phone, which makes swiping a bit awkward.
However, it should be noted that the swipe reader does not work with chip cards, only overseas cards without a chip, so this should not be a major issue unless you have lots of overseas customers using swipe.
Which is the best card reader in the UK? Square ranks in the top alongside Zettle and SumUp.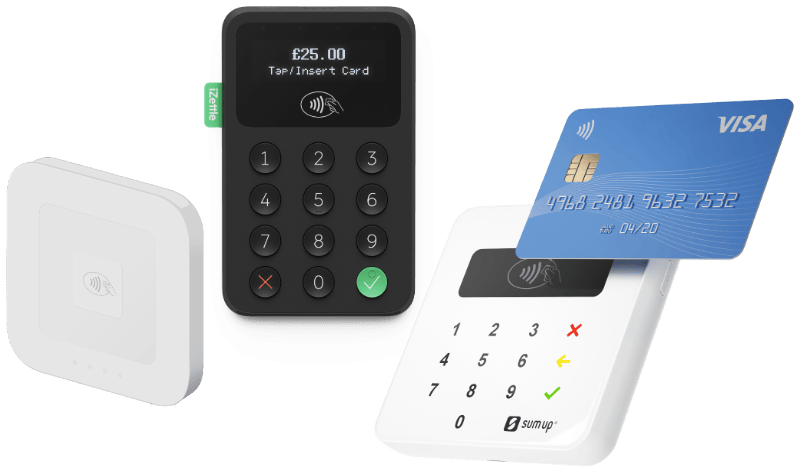 POS app features
The free Square Reader app called 'Point of Sale' is one of Square's biggest draws. Out of all POS apps in the UK, it has all the widest breadth of free features for managing sales and business operations from any compatible Android or Apple device.
Apart from accepting cards through the contactless/chip Square Reader and the magnetic stripe reader, you can manually enter card details, send invoices and accept cash. Create custom discounts, add tips and split the tender so customers can pay some of the transaction total with a card and the rest with cash. You can also sell gift cards (costs 1.9%–2.9%) sent via email, to be redeemed in your store.
The product inventory is great for tablets especially, as you can view a neat table of products, the layout of which can be customised. Each product can have a picture, description, types (e.g. red, black, pack of 2, pack of 5), different prices for each type, and stock levels.
Photo: ES, Mobile Transaction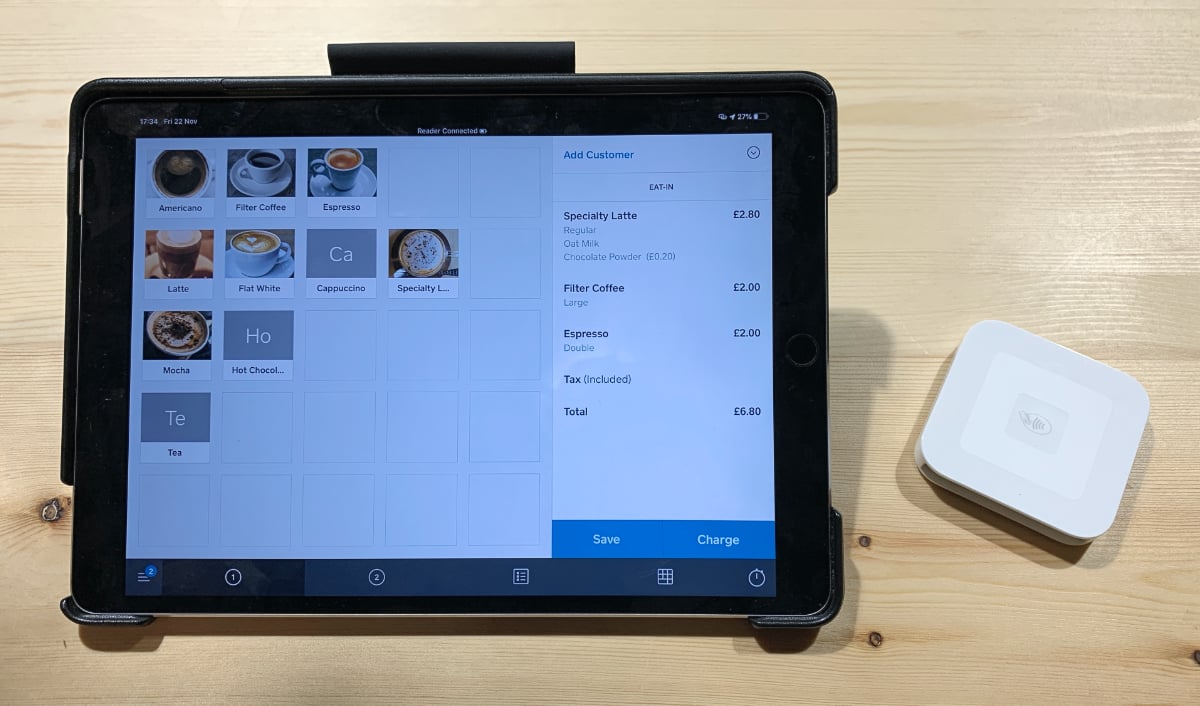 Add products, apply discounts, view stock levels, and distinguish between product types.
To get the most out of Square's tools, we suggest adding all the items you sell to the library before using the app. This enables you to track product popularity and differentiate between items when processing a refund. And of course, it makes it easier at checkout to just tap the product rather than manually entering each item or calculating a sales total, which are both possible as well.
Businesses with teams of staff can add each employee as a user with limited permissions in the app. Granting an account to each user also enables time sheets so you can track hours and overtime worked.
Transactions over the phone, mail order or online are also possible through the complimentary Square Virtual Terminal. From any desktop browser, you can log in to the Square account and go to the Virtual Terminal section where you key in a customer's card and transaction details.
Restaurants can upgrade to Square for Restaurants and retailers to Square for Retail, costing a monthly subscription for features tailored to those industries. It is also possible to integrate Square Reader with an entirely different POS platform such as Vend or TouchBistro.
Square Reader vs. Square Terminal
If a POS app on a mobile device is not for you, the latest card machine, Square Terminal, works independently. This is a touchscreen smart terminal with integrated POS features (similar to Square Point of Sale app) navigated directly on the card machine screen. It accepts chip and PIN, contactless and swipe cards, but PIN codes are entered on a touchscreen PIN pad, similar to a traditional card machine.
Given the large touchscreen and integrated software, Square Terminal is much bigger than Square Reader, like a conventional card machine. It also has a built-in receipt printer so you don't need a separate one.
While Square Reader works with 3G, 4G and WiFi through a connected mobile phone or tablet, Square Terminal only works with a secure WiFi connection or Ethernet cable (the latter only in conjunction with Hub for Square Terminal, costing extra). This makes Reader more suitable for on-the-go payments and Terminal best for a fixed location or area with a secure WiFi setup.
Photo: ES, Mobile Transaction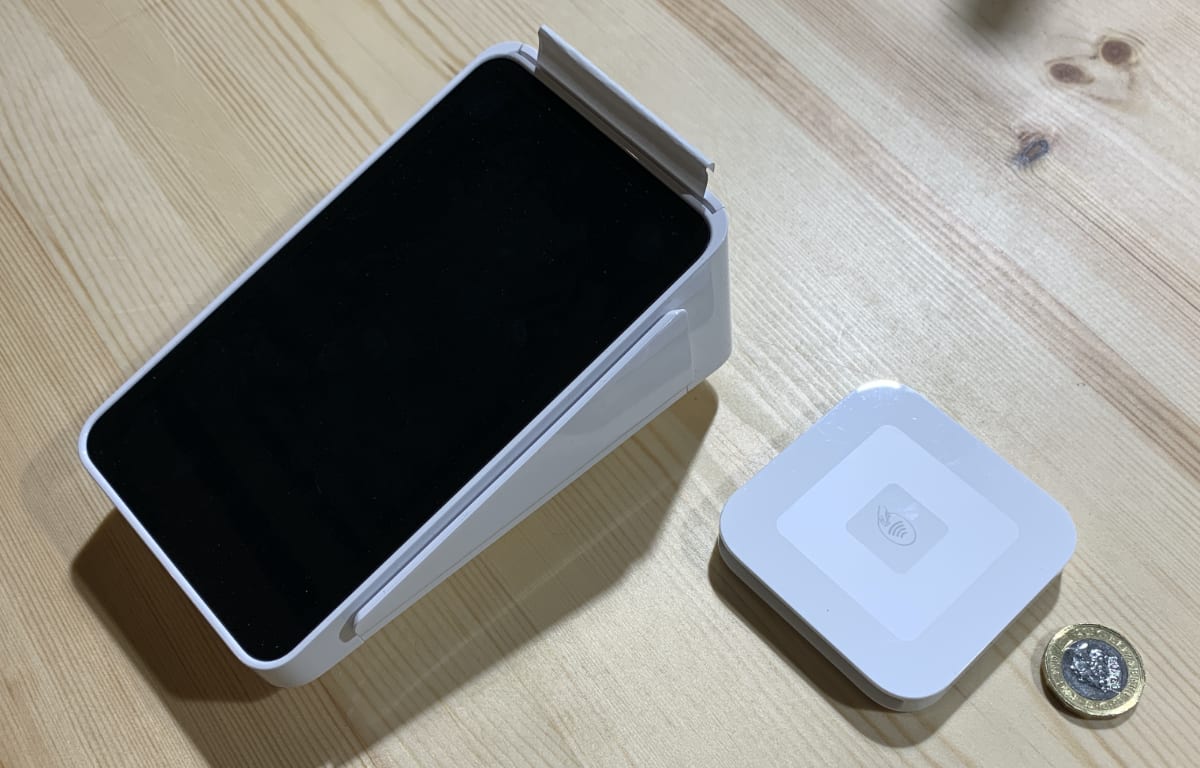 Square Terminal and Square Reader next to a pound coin.
Hardware and accessories
You can wirelessly connect Square Reader with compatible receipt printers, kitchen printers (for restaurants and similar), cash drawers and barcode scanners.
What other accessories are available? The Dock for Square Reader can be attached to a countertop and keeps the terminal charged all day.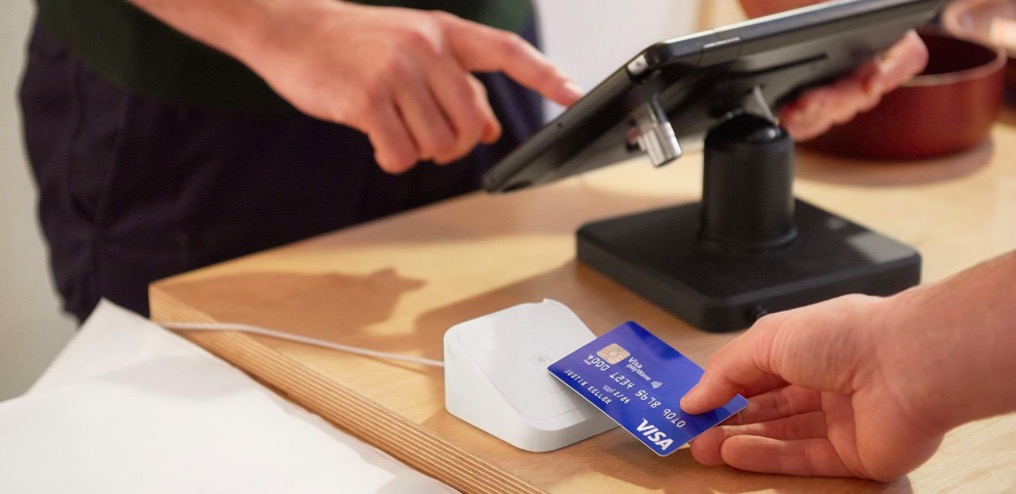 Square Dock keeps the Reader firmly attached to a countertop – and charged all day.
Square Stand for iPad enables you to swivel the tablet screen to face the customer who can then enter their PIN. In addition, the Square Stand has a swipe slot for magnetic stripe cards, used for American cards that still swipe. However, the tablet stand is only compatible with certain iPads. All Square-branded equipment looks very Apple-inspired – sleek and minimalistic – so perhaps not so surprising.
Quite a few receipt printers work with the Square system, but some only work via Square Stand in which case you need to use iPad, not Android. Countertop printers that do not need Square Stand include Star Micronics TSP143 and TSP654 models and Epson TM-T88V, among others.
If you want a portable receipt printer, the Star Micronics SM-S230i and SM-T300i Bluetooth receipt printers will do. The compatible Star Micronics SP742ML kitchen printer can withstand heat, ideal for printing order tickets in hot restaurant kitchens.
Reports and accounting
With all sales data in the cloud, you can log in to the Square account in any supported internet browser and even export data to Excel for local storage, reporting and accounting purposes. At the same time, your account is synced with sales activities in real time so you can always check in on how you're doing in the shop.
In the app, you can view transactions, amount of cash in the till drawer (if cash management is switched on) and general sales reports that can be emailed directly from the app.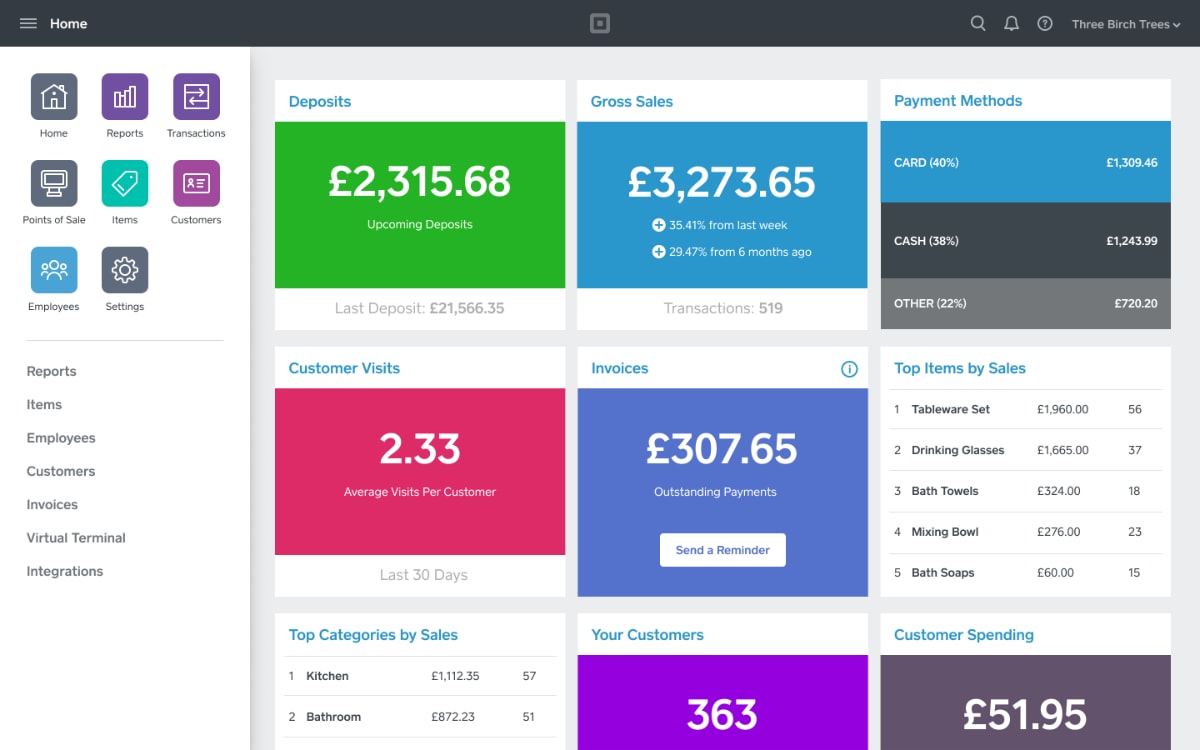 Square Dashboard analytics give you an overview of sales from any web browser.
Square analytics are in-depth compared to similar card reader services in the UK. In Square Dashboard, there's a colourful overview of key sales data, but more analytics are accessed in the Reports section. You can, among other things, analyse employee sales, taxes, product categories and which product modifiers have been applies to sales.
For more complex accounting features, you can integrate data with Xero, Zoho Books or other supported software.
Who is it best for?
Square aims to suit every business type. Having tested the POS app, we can verify it's especially useful in the retail and hospitality sectors – food-and-drink in particular – due to its comprehensive product library, checkout functions, tipping, analytics and staff management features.
Those selling at multiple locations can also distinguish between sales at different locations. And let's not forget: the very small size of the card reader makes it the handiest for on-the-go payments at, for example, market stalls, home visits and conferences.
A big advantage of Square is the many options to integrate with partner platforms covering a wide range of business tools. This means you are not stuck with the free tools. Rather, growing businesses can use Square in conjunction with partner platforms providing advanced software for e.g. inventory, scheduling, marketing and much more. Retailers can even delve into ecommerce through one of the Square's own Online Store plans.
As with other payment companies, Square has a list of prohibited businesses. Some of these industries include pharmaceuticals, adult products and services, certain marketing services, certain financial services, and illegal or otherwise questionable products and services.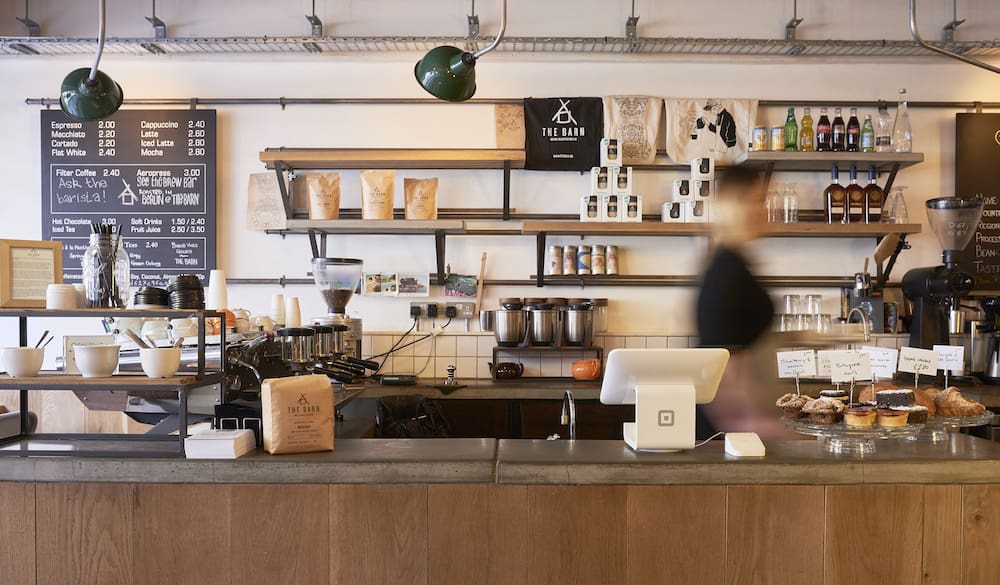 Square has been particularly popular with cafés and eateries.
Customer support, reviews and complaints
Square is available to phone or email between 9am and 5pm Monday to Friday. There is no weekend or evening support, which is fine if the system works, but not so good if you prefer support at night in a bar, for example.
Despite the promising features and sleek looks, Square has received a significant amount of complaints in its other markets and also some in the UK. The common complaints are around sudden 90-day account freezes, subsequent holding of money accepted through the card reader, account verification issues, and poor telephone support. Square has to comply with security requirements (especially PCI's software standards) and want to keep customers safe, but it's not nice when you're told they're "required" to hold your hard-earned money for 90 days for no clear reason.
About the support, customers have reported they can't get through to Square on the phone or haven't had an adequate resolution to issues. That said, the customer reviews are generally positive.