While it's not a legal requirement under the UK Sales of Goods Act to provide a customer with a receipt, it is nevertheless a good idea to provide one. A receipt protects not only you and your business, but also the customer – especially if there is a problem with the product or service. Many customers still prefer a printed receipt, even though you can email or text receipts to customers through the iZettle app.
Whether you're using iZettle at the same location or out and about, there are several iZettle receipt printers you can use. All of them are direct line thermal printers, which is a mechanism that uses heat to produce a print on specially treated paper. This means you don't have to buy ink for any of these printers – just the refill paper rolls in the size needed.
The stationary printers usually cost in the range of £150-£450 and the mobile printers between £200 and £600 (prices including VAT). Let's have a look at your options.
Types of printer connections
When you start to research printer options, it can get confusing with the many printer connection types and model numbers, so we want to first specify the connection types currently relevant to iZettle:
Bluetooth: Connects wirelessly by pairing the printer directly with your Bluetooth-enabled mobile device.
LAN/Ethernet cable: The printer connects with a router via an Ethernet cable. The router can then, through WiFi, connect the printer with your mobile device.
USB/Lightning cable: The printer connects through a Lightning cable with the iPad or iPhone (doesn't work with Android).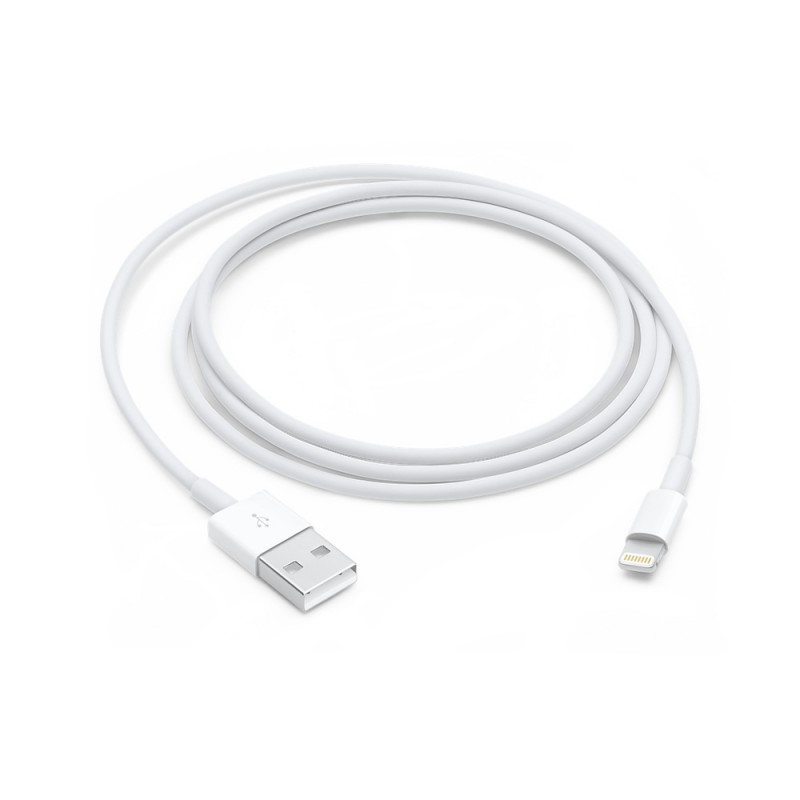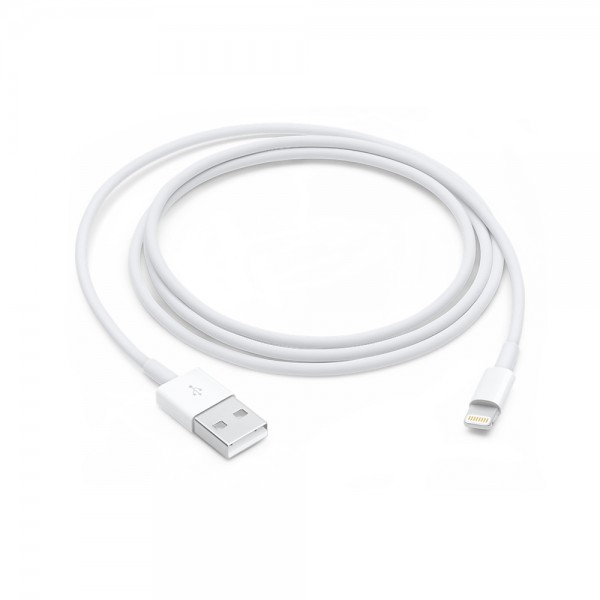 Lightning cable for iOS. Photo credit: Apple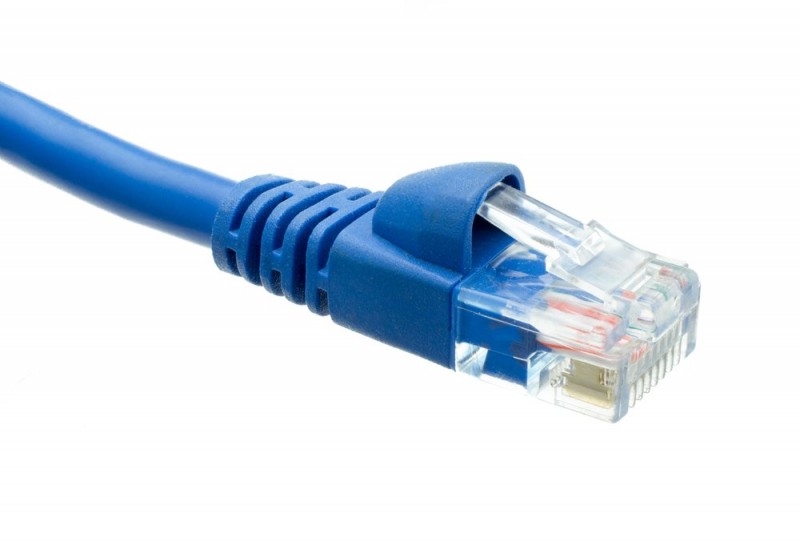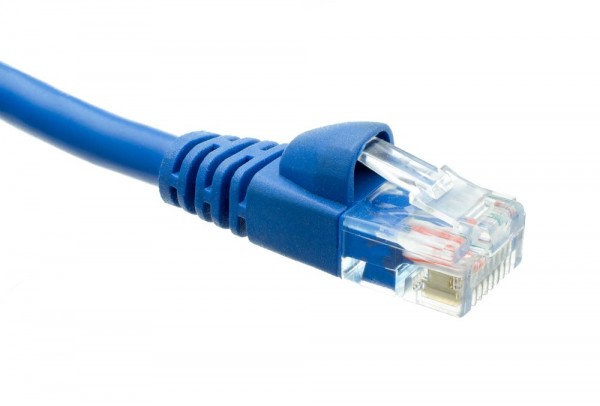 Ethernet cable. Photo credit: Fotolia
To add to the confusion, iZettle sometimes only refer to a printer model as "LAN", but the fact is that there is more than one type of LAN connection: through Ethernet cable and through WiFi.
The Wireless LAN/WiFi connects directly with the mobile device through WiFi while the Ethernet cable uses the router as a proxy. To the best of our knowledge, all the below Star Micronics LAN printers are for an Ethernet connection only, while Epson has a WiFi option.
Mobile printers
Star Micronics is the only company producing mobile receipt printers that iZettle support. It is a global company with 50 years' experience in manufacturing small printers, including over three decades of experience in POS printers.
All the below portable printers connect with your iZettle setup through Bluetooth. They also connect with both Android and iOS devices and print graphics as well as 1D/2D barcodes like QR codes, making them highly versatile mobile printers.
Let's have a look at all your mobile options.
Star Micronics SM-L200 – the smallest, most lightweight option
SM-L200 is one of the newer portable receipt printers from Star Micronics. It weighs just 220 grams, but still has a decent battery life of up to 12 hours. It's the smallest of the iZettle-compatible printers at 83 x 122.5 x 44 mm, but also the slowest, printing only 35 mm per second with a print width of up to 58 mm.
It is the first Bluetooth printer on the market that can connect with iPhones 4S (and newer) and 3rd (and newer) generation iPads without having to pair with them first, which could be handy in busy environments. The pack includes a battery, USB cable, belt clip and paper roll.
Currently, this is the official TFL-approved printer for licensed cab drivers in London. It has also become the most popular iZettle receipt printer, perhaps because of its affordability (costs around £200) and easy wireless pairing with the iZettle system.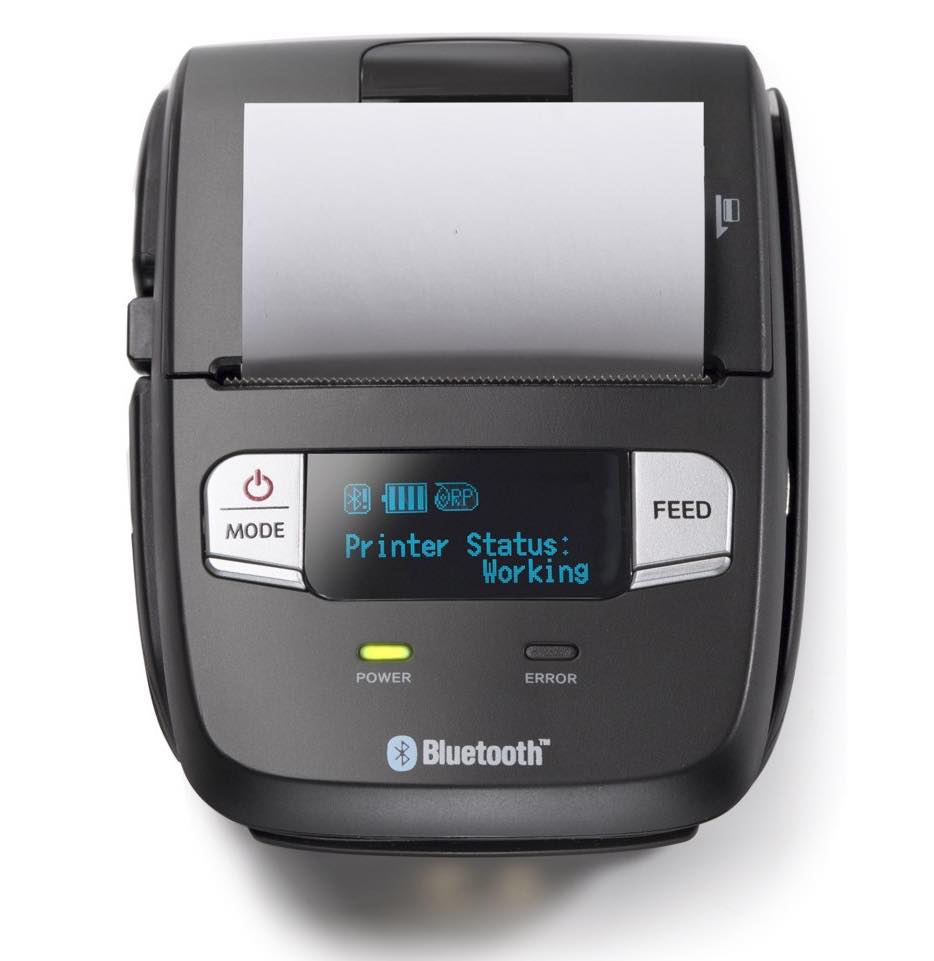 Star Micronics SM-S220i – the fastest print speed of the smallest printers
If mobility and print speed are both key concerns for your business, then the Star SM-S220i mobile printer could be your choice.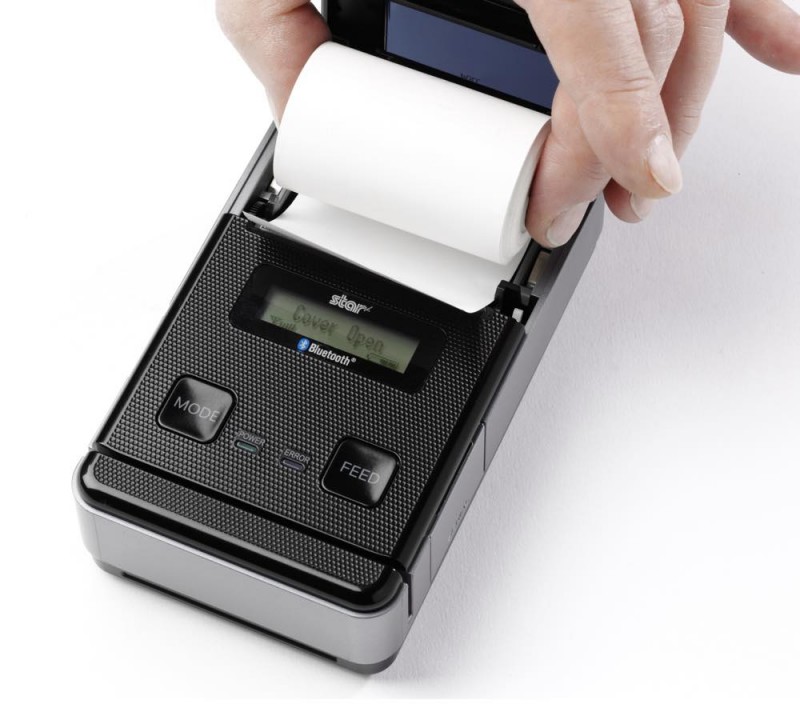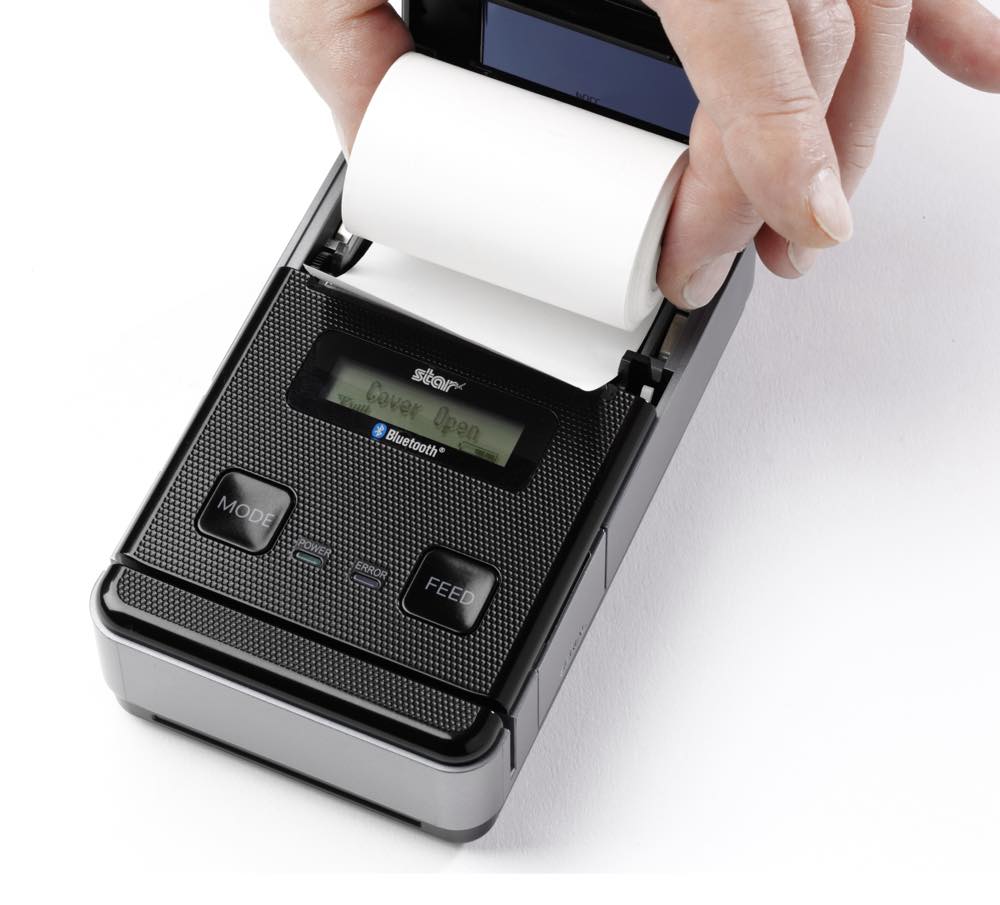 It's only 8 cm wide and weighs 288 grams with the battery (lasts up to 8 hours of active use), printing on thermal paper with a print width of 58 mm.
The printer has a print speed of up to 80 mm per second, which is only matched by the larger and heavier SM-T400i model below.
The pack also includes an AC charger, battery, sample roll, setup sheet and a serial cable.
Where to buy?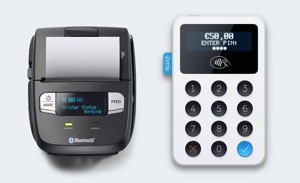 Few IT shops carry a broad selection of receipt printers. Amazon has lots, but make sure to double check compatibility.
iZettle also has their own accessories shop where you can find printers, cash drawers, barcode scanners and complete store kits. Check out the frequent discounts.
Star Micronics SM-T300i – rugged, dust- and splash-proof for rough handling
The Star SM-T300i is slightly larger with a 12 cm width and weighs 422 g with the battery, although it has a longer battery life of 11 hours.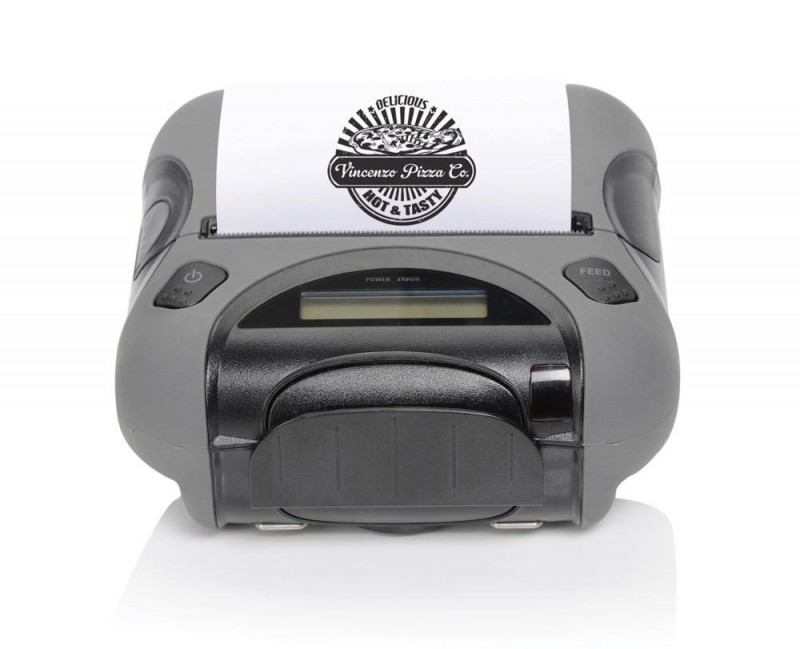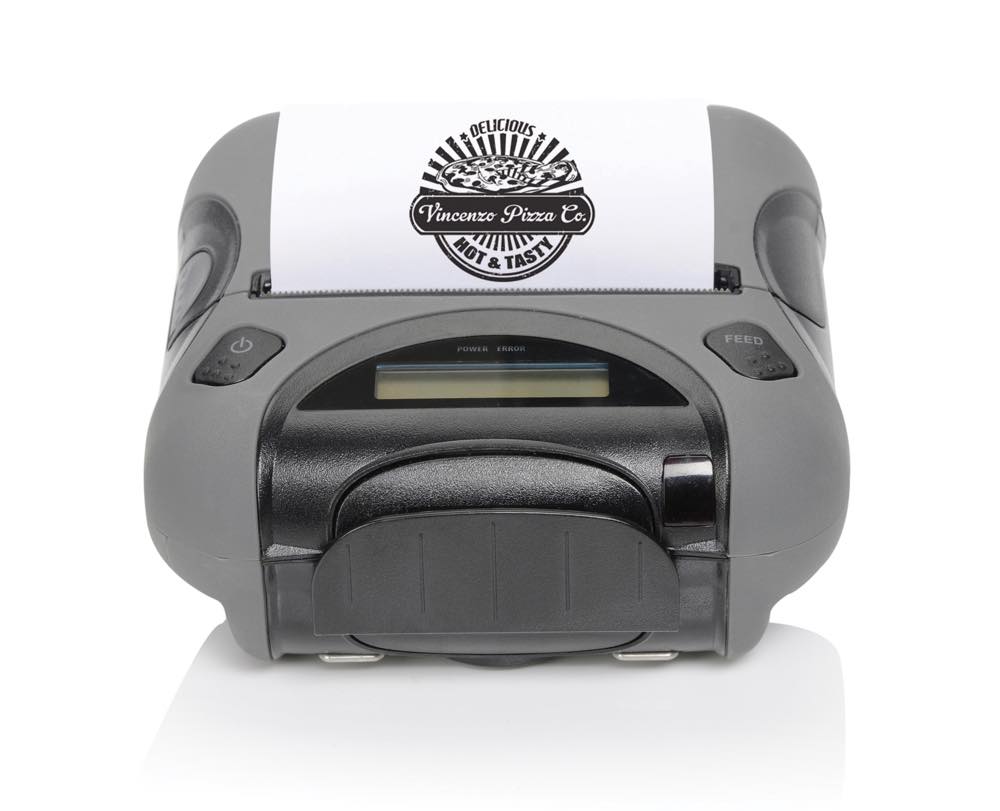 The printer is dust-protected and splash-resistant, making it ideal for outside field workers or anyone requiring a sturdy printer.
It has a print width of 72 mm and print speed is up to 75 mm per second. As with the smaller SM-220i, the mobile printer comes with a variety of accessories including a battery charger, battery pack, serial cable, but also a belt clip.
Star Micronics SM-T400i – durable, with the longest battery life
The Star SM-T400i is the largest iZettle receipt printer in the Star Micronics range and is 4 inches wide. It prints up to 80 mm per second on a print width of 104 mm and weighs 735 grams with the battery.
Although heavier than the other mobile printers, the battery can last up to 20 hours at a printing interval of 5 minutes – the longest battery life in the iZettle printer range.
Similar to the Star SM-T300i, it is dust- and splash-proof and comes with a range of accessories.
This range of mobile printers is ideal for all kinds of business environments – both indoors and outdoors – such as farmers' markets, fairs or for services at the customer's home.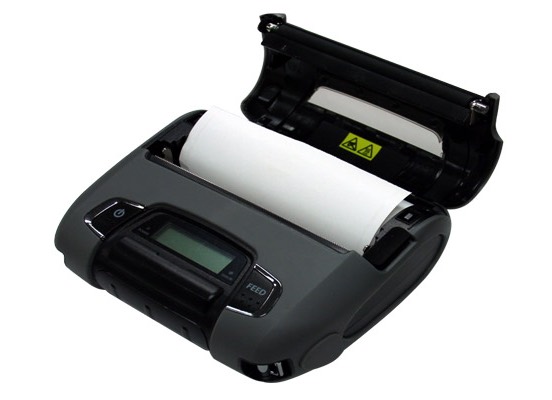 Stationary printers
Generally cheaper than mobile receipt printers, stationary receipt printers can be used as part of a full point-of-sale setup with a cash drawer. Even though they are bigger than mobile printers, they sit better on a counter and print speeds are significantly faster. Let's look at which printers are compatible with iZettle and how they differ.
Star TSP100III/TSP143III – effective, popular receipt printer
The TSP100 series has long been one of Star Micronics' bestsellers.
The newest version, TSP143III, is really easy to set up with your point of sale system through Bluetooth, LAN or Lightning cable. It is a compact printer that can print up to 43 receipts per minute on a standard 80 mm wide receipt with a print width of up to 58 mm.
The functional design of the printer means it can be used in both a vertical or horizontal position, and it even has a de-curl function for receipts. The printer comes with a range of accessories including a wall-mount bracket, cables and various software.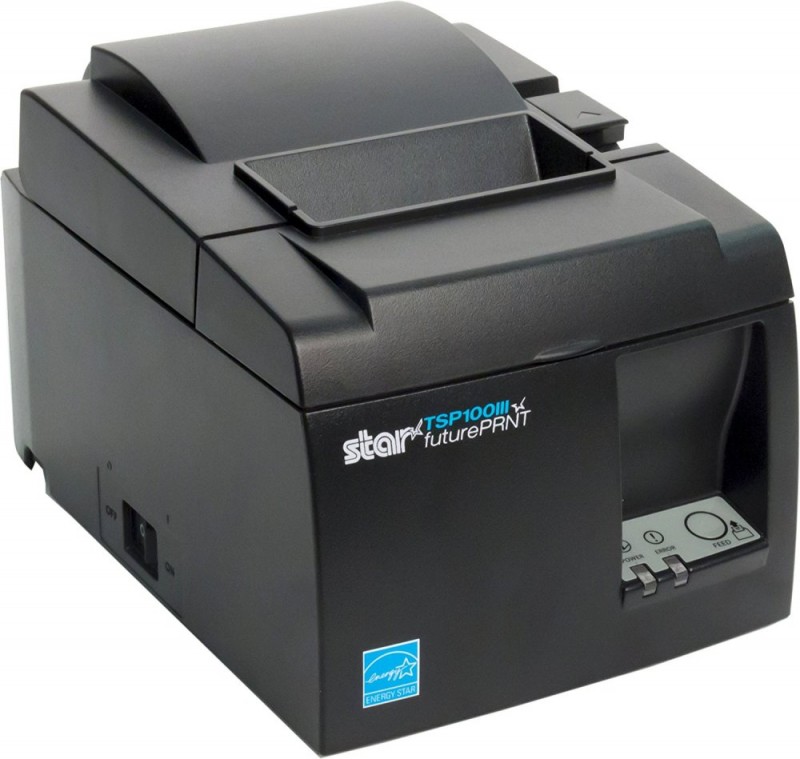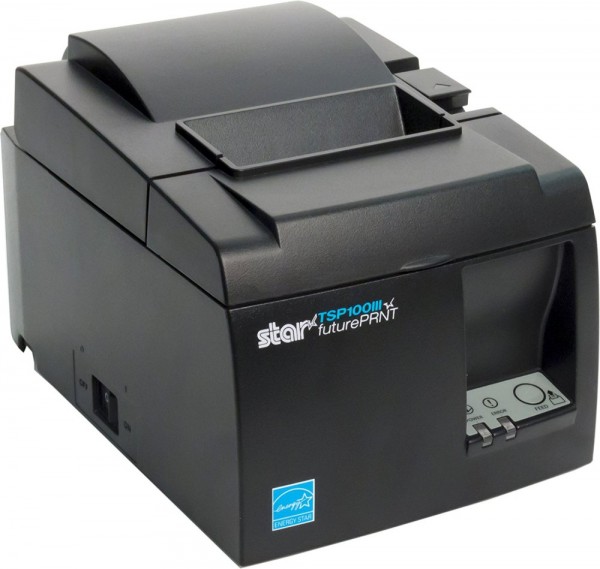 Star TSP650II/TSP654II – fastest print speed of the Star printers
The Star TSP650 series is a high-performance, reliable model that can print an impressive 60 receipts per minute or 300 mm per second. The design features a simple drop-in-and-print paper loading system and a guillotine auto-cutter to ease the checkout process.
The TSP650II models offer high versatility with its many connection options, although iZettle only confirms compatibility with a Bluetooth or LAN connection, and AirPrint if you use an Apple device.
The package comes with all the necessary software and accessories to start printing, also including a wall mount bracket and vertical mount accessory.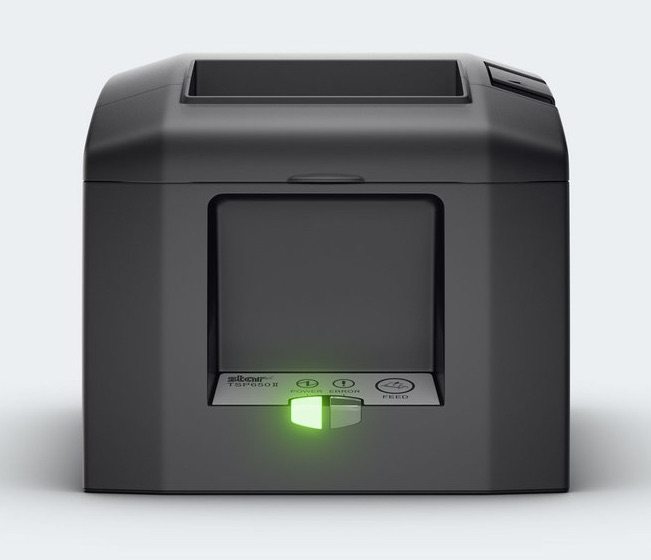 Star TSP700II – reliable printer built for high-volume businesses
The TSP700II model is great all-round receipt printer that is built to perform reliably in the long term.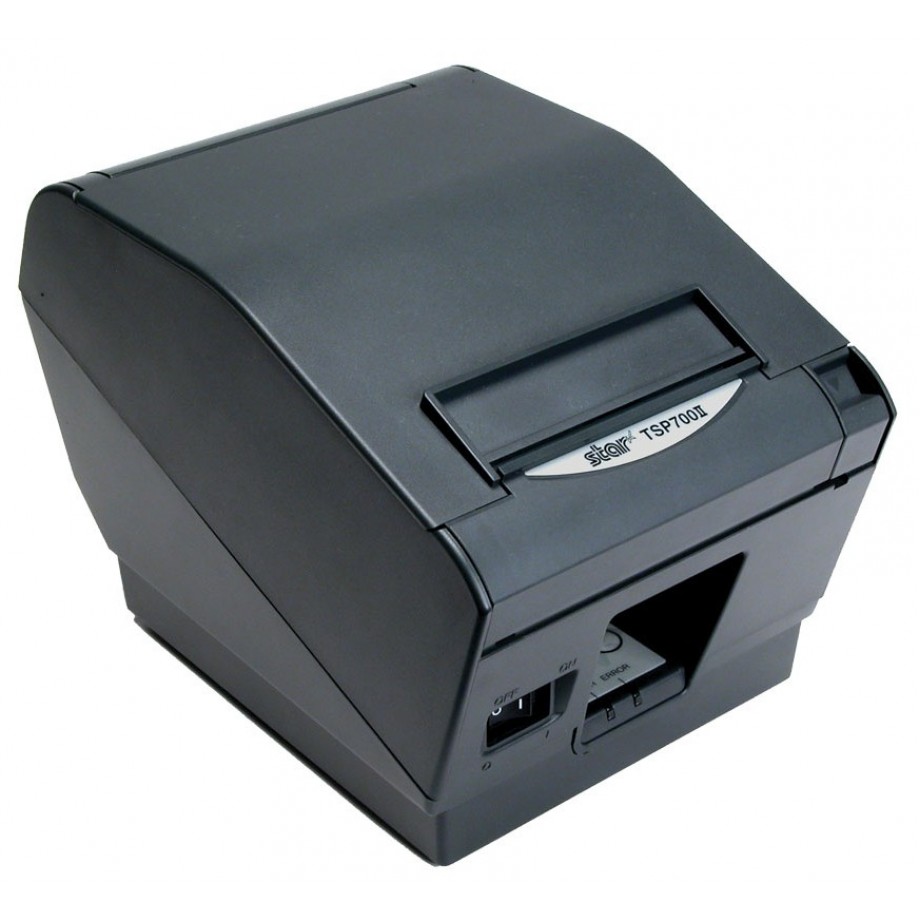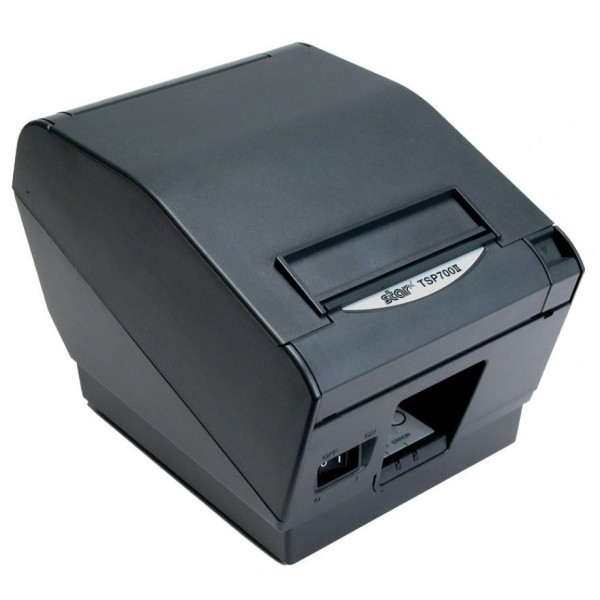 It can withstand dust and moisture in the surrounding environment, making it suitable for harsher environments.
It prints 250 mm per second or 45 receipts per minute and comes with a lot of connection options such as Bluetooth, USB, WiFi and more, but iZettle only lists the LAN connection as being compatible with iZettle.
That said, since it is built for stationary use, this is an excellent long-term choice for businesses with a high sales volume.
Star TSP800II – highest-performing printer for wide format printing
Star's TSP800II is the best iZettle-compatible desktop option for wide printing formats on paper up to 112 mm wide (maximum print width: 104 mm).
It is currently the only receipt printer on the market that prints wide formats at the high speed of 180 mm per second or 38 receipts per minute.
The graphics are even crisp clear, so if you want the best printer for detailed invoicing or wide receipt printing, this is an excellent choice.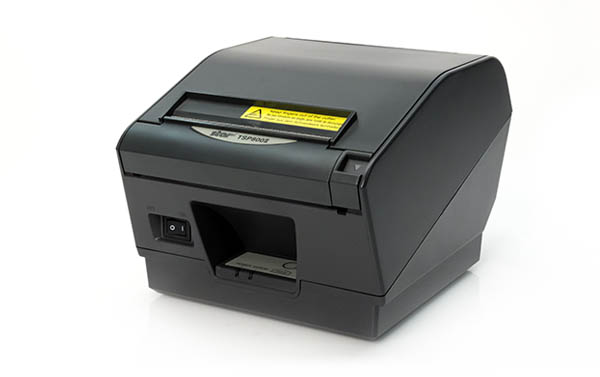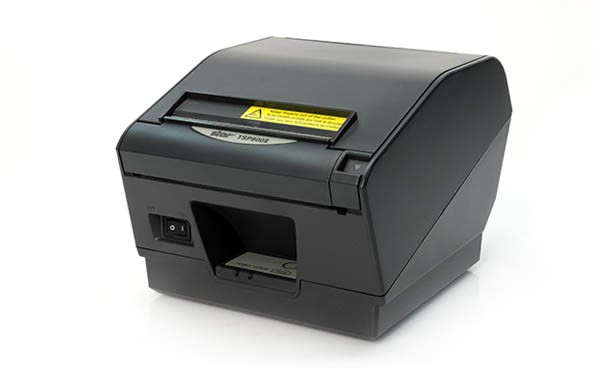 This printer connects with iZettle through Bluetooth. It is also possible to use it inside vehicles for businesses providing deliveries and on-location services.
Star mPOP – combined receipt printer and cash drawer
Another Star Micronics product, the mPOP, combines a Bluetooth printer and small cash drawer into one. The mPOP can be fixed from under the counter to the countertop.
Since it is only 10 cm high and 30 cm wide, it will suit small spaces and not look intrusive on a counter. A typical point of sale setup will include an iPad stand on top of the mPOP to use as the checkout screen, providing a compact solution at an affordable price.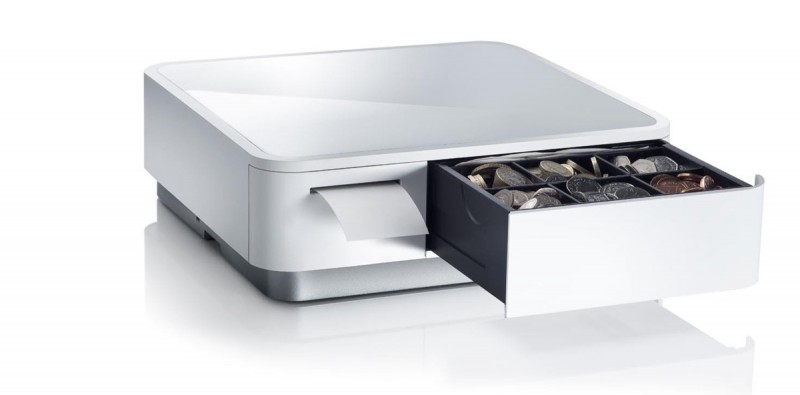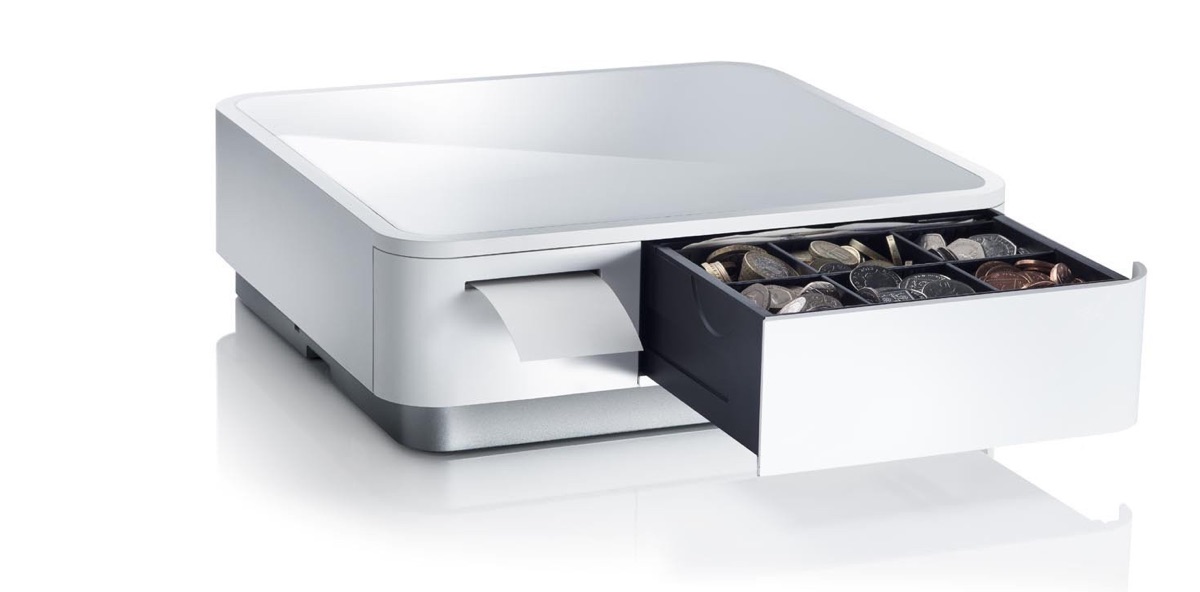 Epson TM-T88V and TM-T20II – low environmental footprint, but for iOS only
Alternatively, you can go for one of the two Epson receipt printers for your iZettle setup, although these are only compatible with iOS.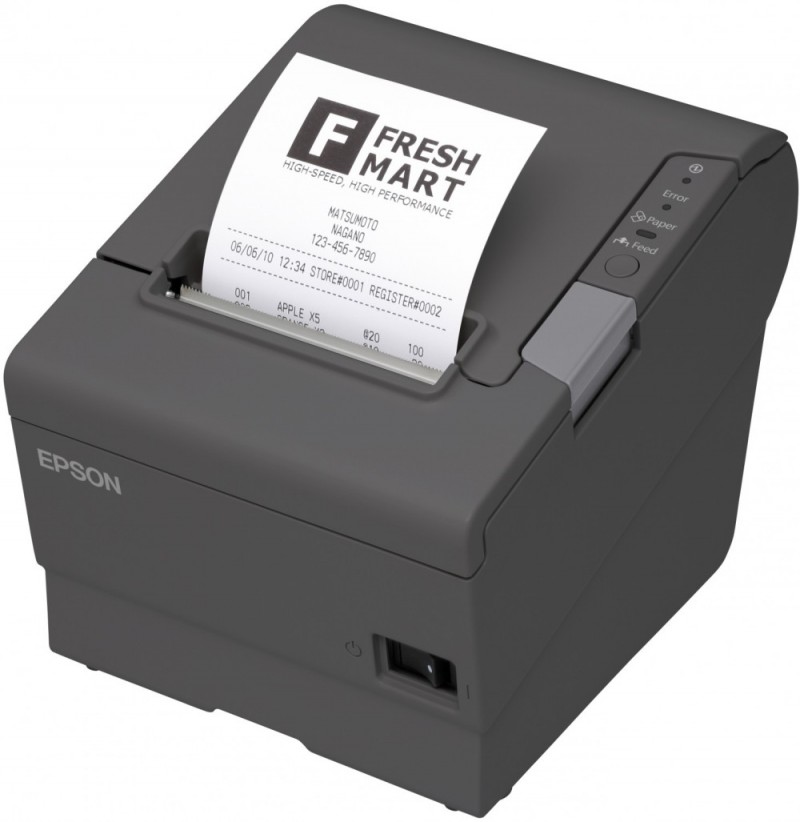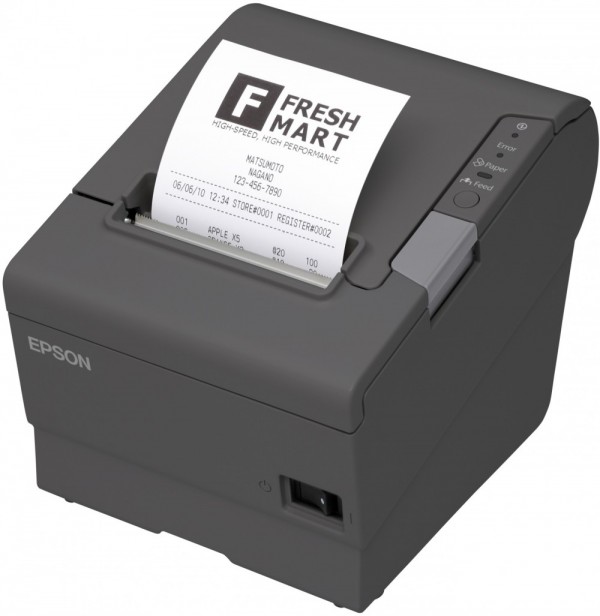 One of them – the Epson TM-T88V model – is the first thermal receipt printer to be Energy Star-qualified, with its paper reduction function designed to limit your environmental footprint.
It prints at 300 mm per second on paper that's 80 mm wide. The design is robust and the LAN/WiFi model enables wireless printing from your iZettle app.
There's also the slightly slower – but solid – Epson TM-T20II receipt printer.
It prints 200 mm per second and is more suited for those with a lower volume of sales and those who need a more affordable printer (costs around £150).
Similar to the TM-T88V, it is Energy Star-qualified, although it can only be connected through an Ethernet cable.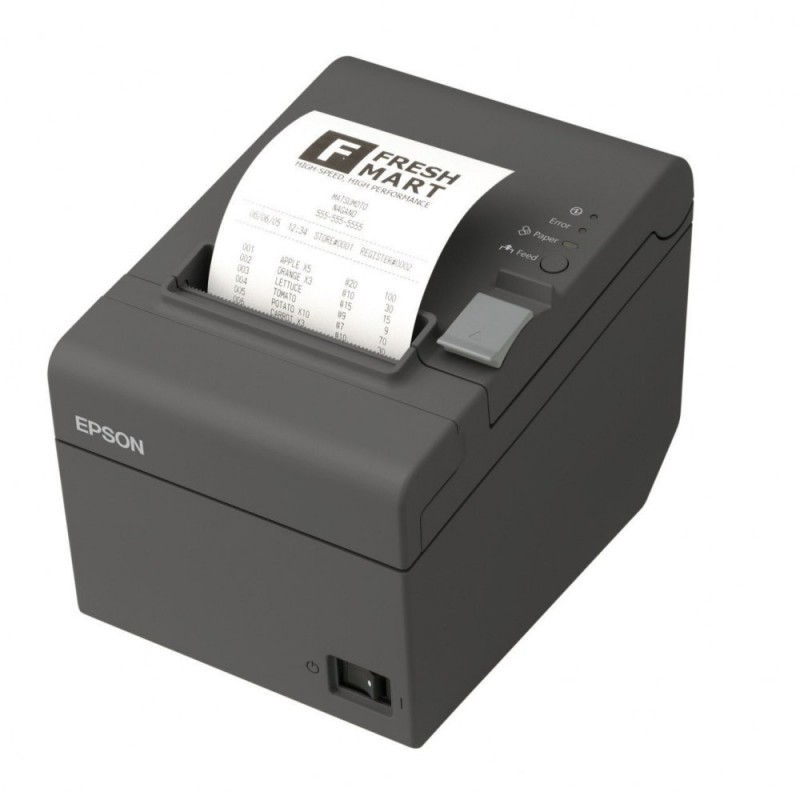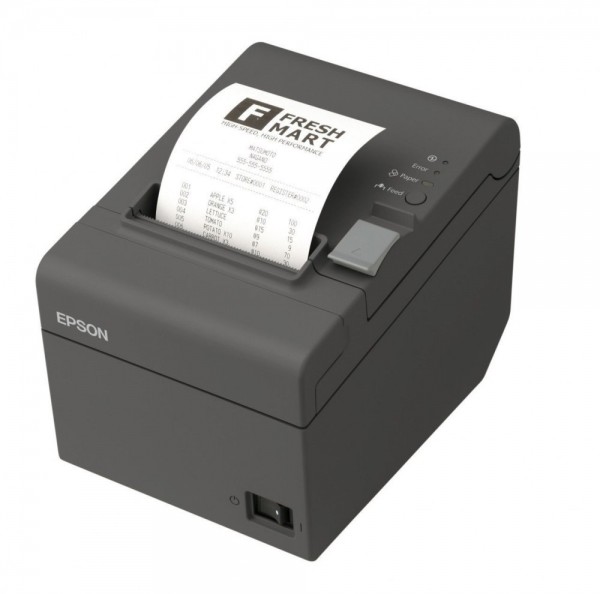 What about compatibility with iZettle Pro?
If you're using iZettle Pro, the more advanced, hospitality-focused POS system, not all of the above printers will be compatible with that. Some of them only work with iZettle's card reader, but others also with iZettle Pro.
Vice versa, some iZettle Pro-compatible printers can't yet be used with iZettle Reader. The below table gives an overview of the printers currently compatible with each.
| Printer | iZettle Reader | iZettle Pro |
| --- | --- | --- |
| Star SM-L200 (Bluetooth) | | – |
| Star SM-S220i (Bluetooth) | | – |
| Star SM-T300i (Bluetooth) | | – |
| Star TM-300i (Bluetooth) |  – | |
| Star SM-T400i (Bluetooth) | | – |
| Star TSP143III (LAN or Lightning cable) | | |
| Star TSP143III (Bluetooth) | | – |
| Star TSP654II (Bluetooth/LAN) | | |
| Star TSP700II (LAN) | | – |
| Star TSP800II (Bluetooth) | | – |
| Star mPop (iOS only) | | – |
| Epson TM-T88V (LAN, iOS only) | | – |
| Epson TM-T20II (LAN, iOS only) | | |
| Star SP742 (LAN) |  – | |
| Epson TM-T70 (LAN) |  – | |
| PowaPOS T25 (LAN) |  – | |
Printer
iZettle
Reader
iZettle
Pro
Star SM-L200 (Bluetooth)

–
Star SM-S220i (Bluetooth)

–
Star SM-T300i (Bluetooth)

–
Star TM-300i (Bluetooth)
 –

Star SM-T400i (Bluetooth)

–
Star TSP143III (LAN or Lightning cable)

Star TSP143III (Bluetooth)

–
Star TSP654II (Bluetooth, LAN)

Star TSP700II (LAN)

–
Star TSP800II (Bluetooth)

–
Star mPop (iOS only)

–
Epson TM-T88V (LAN, iOS only)

–
Epson TM-T20II (LAN, iOS only)

Star SP742 (LAN)
 –

Epson TM-T70 (LAN)
 –

PowaPOS T25 (LAN)
 –
AirPrint – additional option for iOS
If you are using iZettle with a device running on iOS, you can use any printer that supports AirPrint. This is a printing technology from Apple that enables printing without the need to install drivers – it makes it super fast to just connect and print straight away. However, only one of the above printers can currently use AirPrint, and that is the Star Micronics TSP654II model.