Our rating
The most comprehensive free POS app – with the caveat it only works with Square Reader.
Square Point of Sale (POS) is a very user-friendly system with all the standard POS functions small businesses need, regardless of whether you sell face to face or remotely.
Highs: Intuitive app. Quick to set up. Free software. Remote payment options included. No commitment.
Lows: Only works with Square Reader. Weekday-only customer support. Staff permissions cost extra.
Choose if: You want to start taking payments quickly without monthly costs.
In a nutshell
The Square Point of Sale app can be used on iPhone, iPad or Android devices as a main sales hub. Since everything is stored in the cloud, you can log in and use the app from anywhere, although certain things are only available from a browser.
As opposed to other EPOS systems, there are no monthly price plans to choose from – it really is a one-size system that is free to use. The only cost is Square Reader's 1.75% transaction fee for contactless, chip and swipe card payments.
The system also integrates with a wide range of paid partner apps, should you need more advanced tools.
Want to accept cards with Square POS?
Get started with Square POS for free with the card reader – pay just £16. No monthly fees or contract.
Mobile Transaction is an independent payments industry resource that is trusted by over a million small businesses yearly.
Discounts do not influence our editorial content such as reviews or recommendations. Ratings are based on full retail price. (Policy)
Costs and fees
The Point of Sale app and Dashboard functionalities are free to use, as opposed to paying a subscription which most other EPOS systems require.
The Dashboard includes a free Virtual Terminal, Online Checkout (payment links), digital gift cards, invoicing, online ordering page and online store features, which other providers normally charge for.

Extra staff management functions do, however, cost £20 a month per store location. If you want to integrate the POS with external ecommerce or other tools, this is paid for separately through those other platforms.
| Software | Price |
| --- | --- |
| Point of Sale app & Dashboard features | Free |
| Advanced employee permissions (Team Plus) | £20/month per location |
| Partner apps (e.g. ecommerce, scheduling tools) | Varies |
| Software | Price |
| --- | --- |
| Point of Sale app & Dashboard features | Free |
| Advanced employee permissions (Team Plus) | £20/month per location |
| Partner apps (e.g. ecommerce, scheduling tools) | Varies |
To take chip and PIN and contactless payments, you pay £16 + VAT for Square Reader with free delivery. There is one year's warranty on the device, with the option to return it within the first 30 days. A charging dock for for the reader costs £25 + VAT, or you can get the Square Stand package for £99 + VAT including an iPad stand, Square Reader and dock for the reader.
| Hardware | Price |
| --- | --- |
| Square Reader | £16 + VAT |
| Dock for Square Reader | £25 + VAT |
| Square Stand incl. Square Reader & Dock | £99 + VAT |
| Hardware | Price |
| --- | --- |
| Square Reader | £16 |
| Dock for Square Reader | £25 + VAT |
| Square Stand incl. Square Reader & Dock | £99 + VAT |
The card terminals accept chip and contactless cards and mobile wallets via NFC. These cost a 1.75% fee for contactless and chip card payments and 2.5% for keyed-in payments via the app, virtual terminal and invoicing. Online payments through the online store and payment links incur a 1.9% for European cards and 2.9% for non-European cards.
Next-working-day deposits to your bank account are free. For a 1% fee in addition to the transaction charge, you can receive Instant Transfers in your bank account in just 20 minutes from the transaction.
Card payments
Fee
Chip, contactless, swipe
1.75% per transaction
Keyed-in, invoicing, virtual terminal payments
2.5% per transaction
Pay-by-link and ecommerce payments
European cards: 1.9%
Non-European cards: 2.9%
Instant Transfers
1% in addition to transaction fee
Card
payments
Fee
Chip, contactless, swipe
1.75% per transaction
Keyed-in, invoicing, virtual terminal payments
2.5% per transaction
Pay-by-link and ecommerce payments
European cards: 1.9%
Non-European cards: 2.9%
Instant Transfers
1% in addition to transaction fee
Image: Mobile Transaction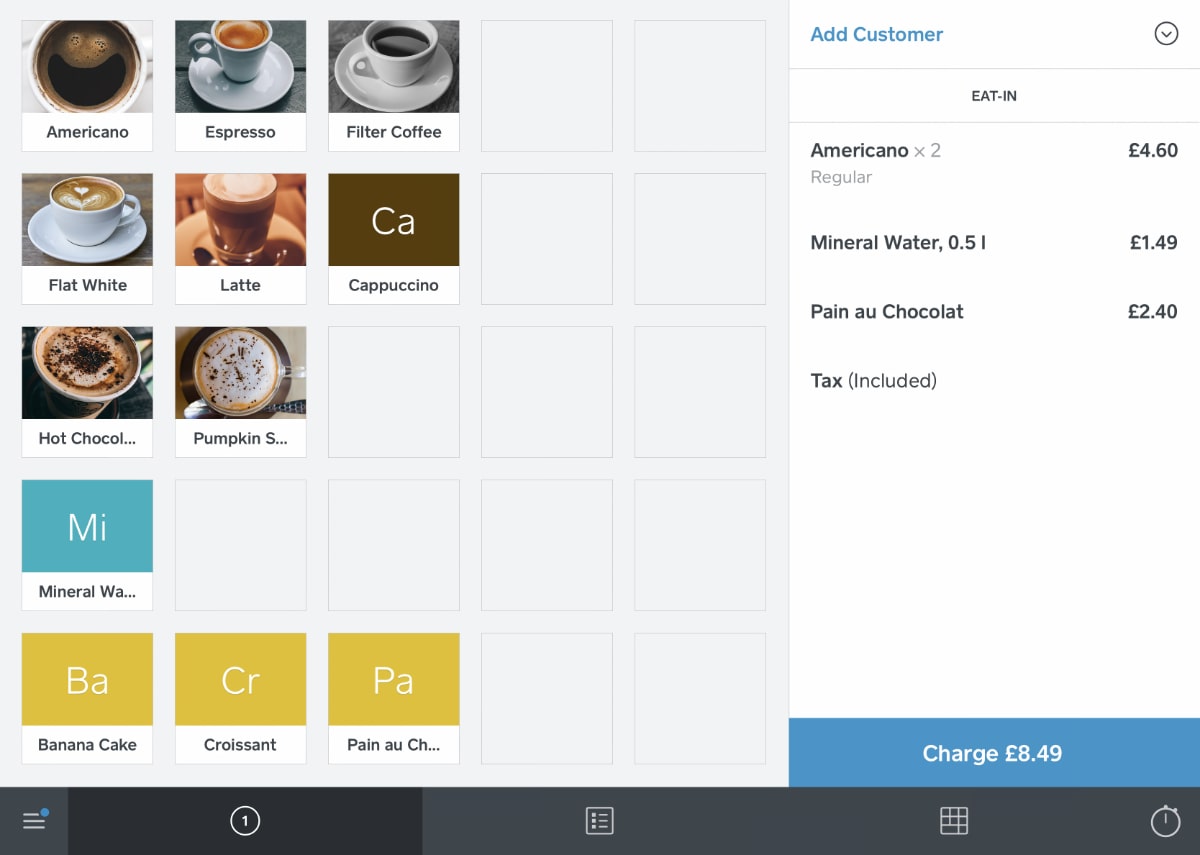 Square POS grid menu in iPad app.
Physical products can be added to the product library, so you can just tap to add them to the shopping cart. If you don't have the appropriate item in the product menu or sell a custom service, a custom amount can be added to the bill.
Image: Mobile Transaction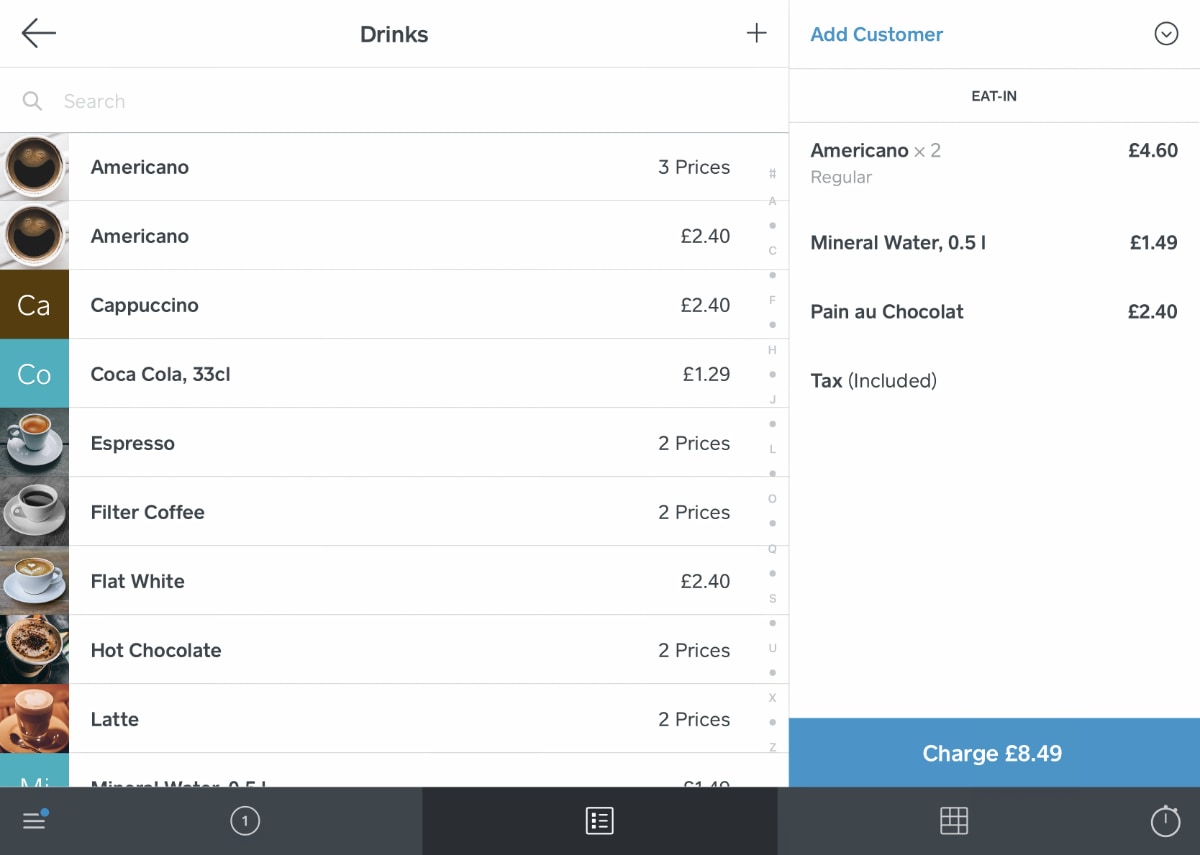 Product list menu in the Square POS app.
After tapping "Charge", the payment method is picked (invoice included in options). You'll need to be connected with Square Reader over Bluetooth to take contactless and chip payments at this stage. You'll also need to be prepared to pass your smartphone or tablet to the customer for PIN entry if using a chip card, since the PIN pad will be on its screen.
Image: Mobile Transaction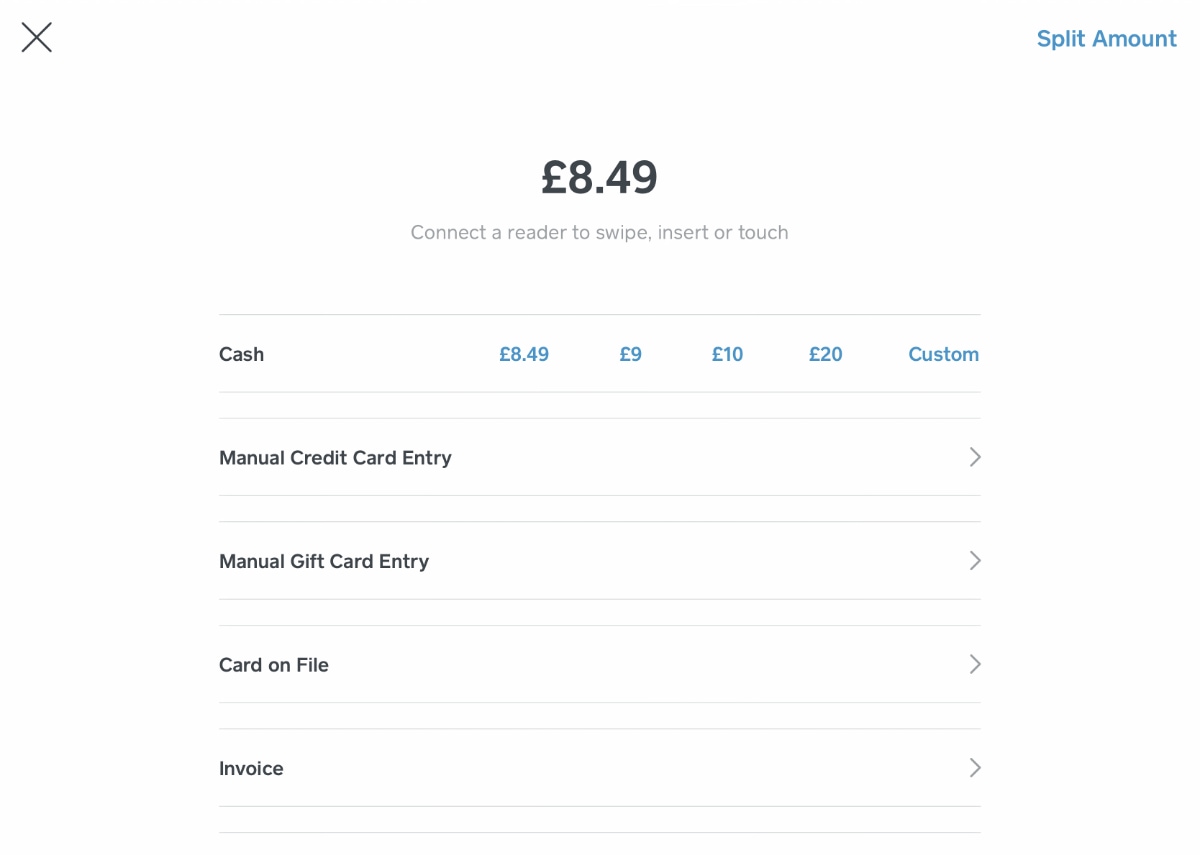 You can split the tender to allow customers to pay some of the amount in e.g. cash and the rest with card. This could prevent awkward situations where the customer may not have enough cash or card balance for the bill.
After the payment is processed, the app gives the option to send a receipt via email or text, or you can print it from a connected printer. Receipts can be customised in the web Dashboard so it pretty much includes all the details you want.
Even the first time of using it, the checkout process is straightforward enough to understand on the spot. However, we highly recommend adding all the possible discounts, VAT info, products and prices in advance so receipts contain all the payment information customers will want on record.
POS features
Square Point of Sale's features are more than just basic. It's got little extras here and there to help you run a business more smoothly. For example, stock level alerts elevate the basic inventory functions, and digital gift cards are a nice extra not usually included in POS apps.
Let's have a closer look at some of the noteworthy till features.
Inventory management: The inventory library keeps track of stock levels. You can differentiate between product types and add detailed descriptions and options around these. Using this also allows you to analyse what you're selling and who is selling what. When items are low in stock, the stock level alerts remind you of this.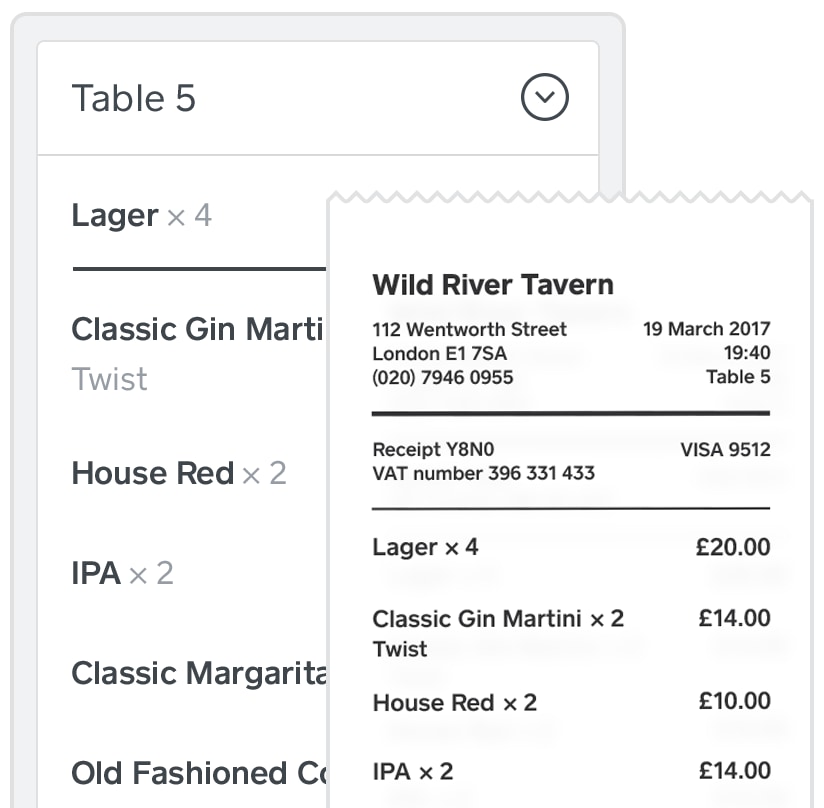 Open order list and example of a receipt.
Open orders and tipping: Cafés and establishments using customer tabs can use the open ticket features to juggle multiple orders at the same time. Tabs can be edited, merged and split into separate bills. Each order can be marked as eat-in, takeaway, delivery or pick-up, and you can add tips to any payment by adding a custom amount to the bill.
Despite Settings showing more complicated tipping options, when we switched these on, tipping did not show in the app as an explicit feature.
Refunds: Refunding is free and flexible through the app. Choose between refunding individual items from the transaction, or set a custom refund amount.
Customer loyalty: Create customer profiles that collect their sales history, save card details for next time, and let you text or email follow-up messages. Special discounts and vouchers can be applied to transactions – even time-limited offers can be automated. Get customer feedback through the digital receipts.
Employee management: Create multiple employee accounts that can sign in to the app separately. At the start and end of each shift, staff members can clock in and out, storing work hours in the backend, or you can manually create timesheets for staff.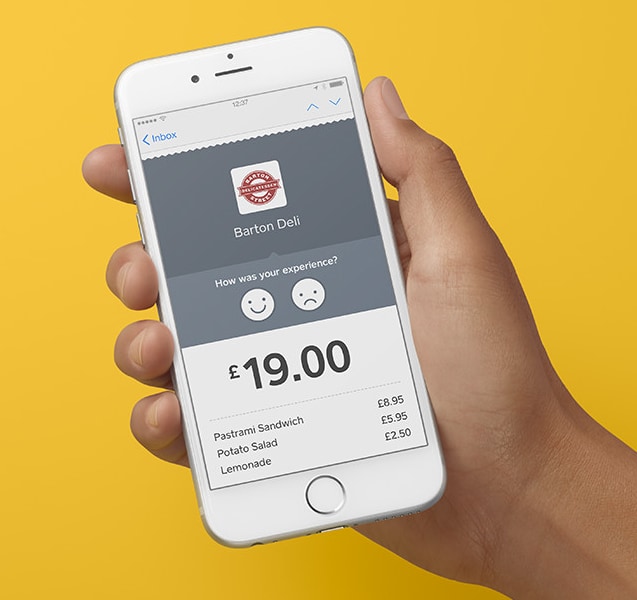 Customers can rate their experience from the digital receipt.
The only staff permission you can set for free is whether the person can issue refunds, but standard 'Mobile' users will have limited permissions compared to the Admin user. For an extra monthly fee, you can customise detailed permissions (on the Team Plus plan).
Offline mode: Is your network connection unreliable? Operate the checkout flow and take cash payments when the app is not connected to the internet. The system will sync the new data when back online. Some features won't work offline, and you won't be able to log in without connectivity, but once you're logged in, it should work.
Image: Mobile Transaction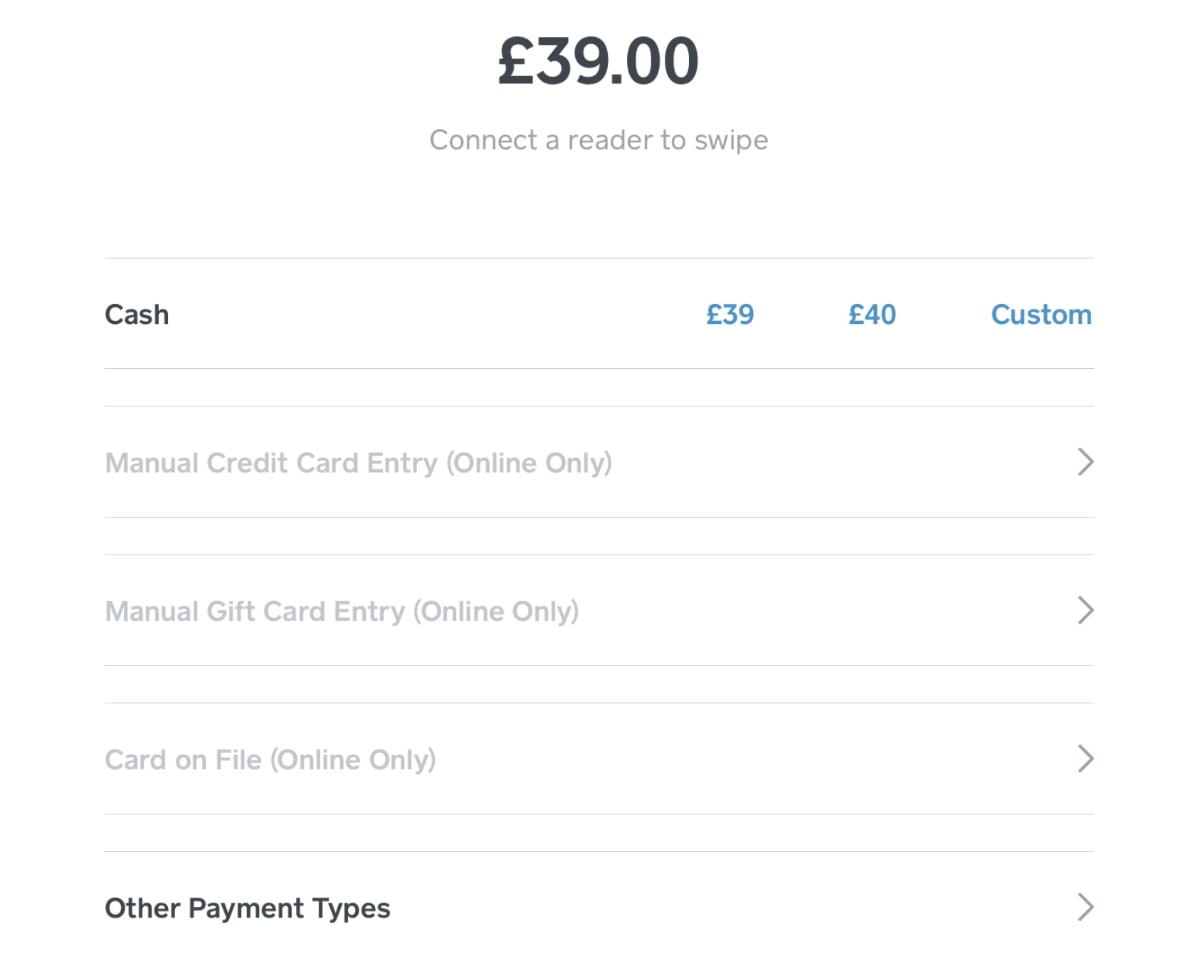 In offline mode, not all functions are available.
Gift cards: You can sell digital gift cards through the app and even offer a choice of card designs covering birthdays, 'get well' cards, 'thank you' cards and other common occasions. This features doesn't cost extra – you just pay the normal card transaction fee. At checkout, it will show the option to accept gift cards as a means of payment.
Image: Mobile Transaction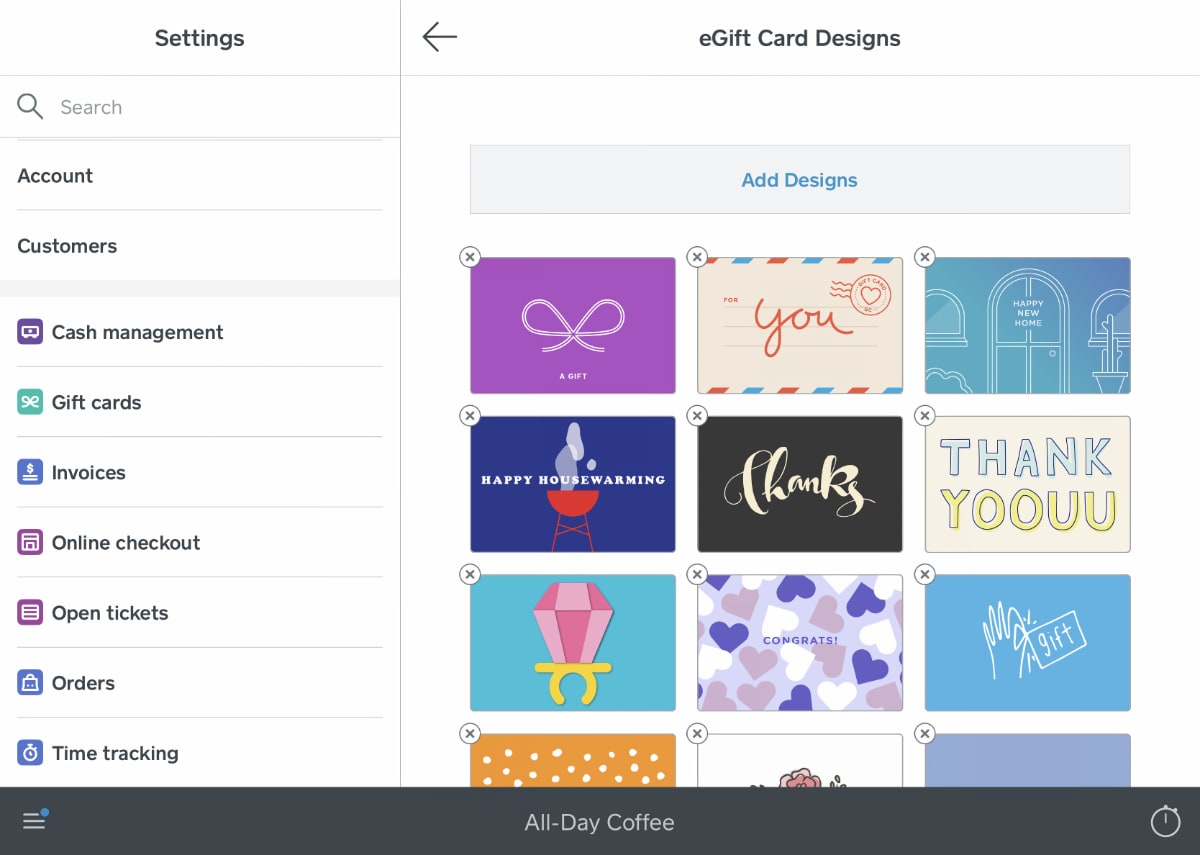 eGift Card designs as seen in app settings.
Multiple location management: Businesses with more than one store can add multiple locations to the Square account. This way, you can analyse location-based sales or transfer payments to separate bank accounts.
Reports and analytics: Because sales are recorded in real time, you can access the backend account to analyse sales figures any time from your browser. It's possible to run custom sales reports analysing various aspects like discounts, payment methods, sales trends and voids. At the end of each day, you receive a daily sales report in your email inbox. Should you need to send or store the sales reports, you can export these to Excel or Xero.
We should mention that some features are only available on iPad, but the far majority of POS functions will work on any device compatible with Square.
Card readers
Square Point of Sale only works with Square Reader for contactless and chip and PIN payments. With this comes a complimentary swipe reader which is only for international cards using swipe. If you prefer using another card machine, you will need to use a different POS system compatible with that terminal.
Square Reader differs from other UK card machines since it has no keypad on the reader, so customers need to enter their PIN on the smartphone or tablet screen in the Point of Sale app.
Technologically, this is no problem and has officially been deemed secure, but some sceptical customers may need a little convincing to feel safe entering their PIN this way.
A way to combat this is using the Square Stand for iPad, which can be swivelled between the till assistant and customer for PIN entry. The stand makes it look more professional, so you avoid second thoughts from the customer's side. Furthermore, Square Stand has a swipe slot at the front for magnetic stripe cards.
Square also sells Square Terminal, a touchscreen card machine with POS features built into the software on the device. This software resembles the Square Point of Sale software closely, with nearly all the same features. It will be connected with your Square account so you can use it for table-side orders in addition to the till system connected to Square Reader.
Remote payments
Square enables you to take payments whether your customer is present or not, but transaction costs are a bit higher for remote and keyed-in payments. Here are the remote payment options available to Square POS users.
Virtual terminal: You can take telephone and mail order payments through Square's virtual terminal by manually entering card and transaction details. This handy feature is accessible in your web browser only. Keyed-in card transactions can be done at checkout in the mobile app.
Invoicing: Send or schedule detailed invoices directly from the app, track the payments and see which ones are overdue. Invoices can include file attachments, and you can either send them by email or share an invoice URL manually. Customers who haven't paid can receive payment reminders. There is also a dedicated Square Invoices app.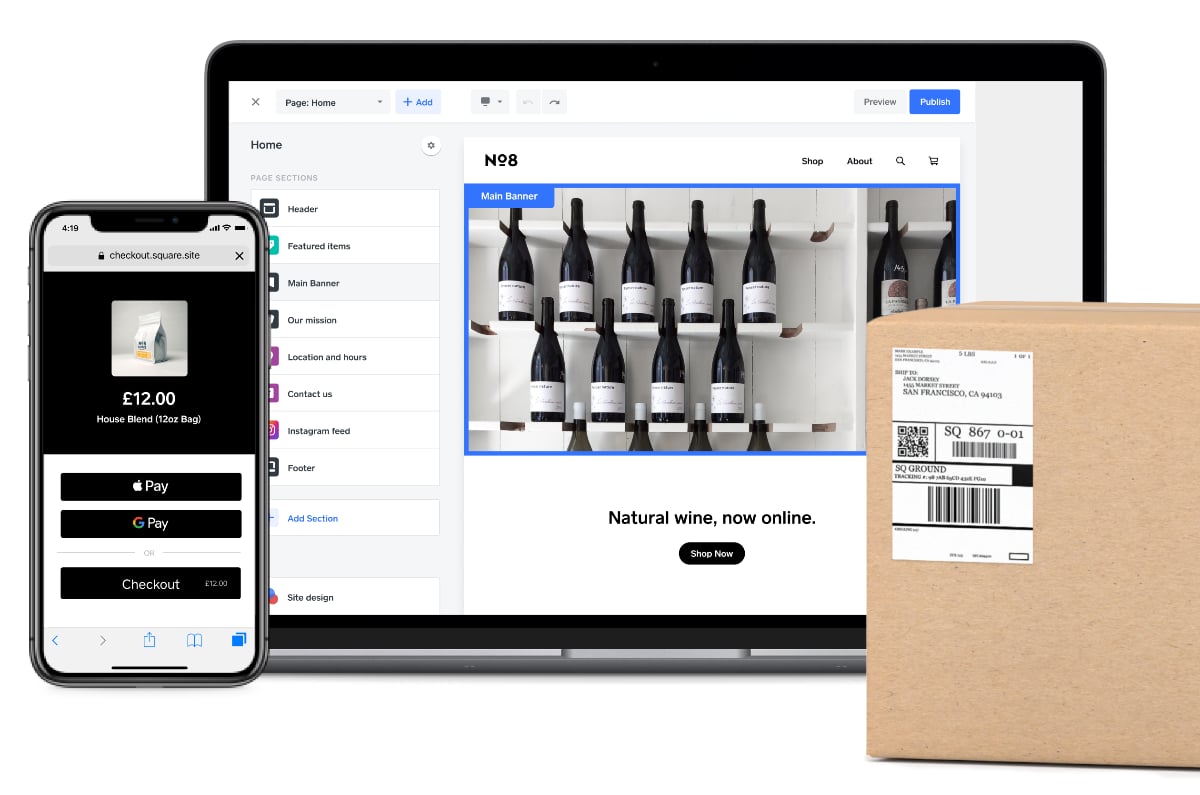 Square Online lets you build an online shop, click and collect service, and more.
Online store: If you plan to venture in to online sales, you can set up a Square online store for free or with a paid subscription for all the ecommerce features. Alternatively, you can integrate with other ecommerce platforms like WooCommerce and Wix, which costs extra depending on the other platform's pricing.
Payment links: Create payment links for a transaction, donation requests and product lines through the app or web browser. This generates individual URLs which can be sent to customers directly for them to pay on their own phones. In the POS app, a QR code is generated on the screen for the customer to scan in person.
Online ordering page: Food and drink businesses can create a free online ordering page for takeaway, pickup and self-serve ordering via a QR code displayed on your premises.
Till accessories
Square works with a range of shop-floor hardware, allowing the system to operate as a countertop POS system. It can also work as a pocket-sized point-of-sale from just the phone app and card reader for card payments anywhere with a network connection. The question is: how elaborate do you need the POS system to be?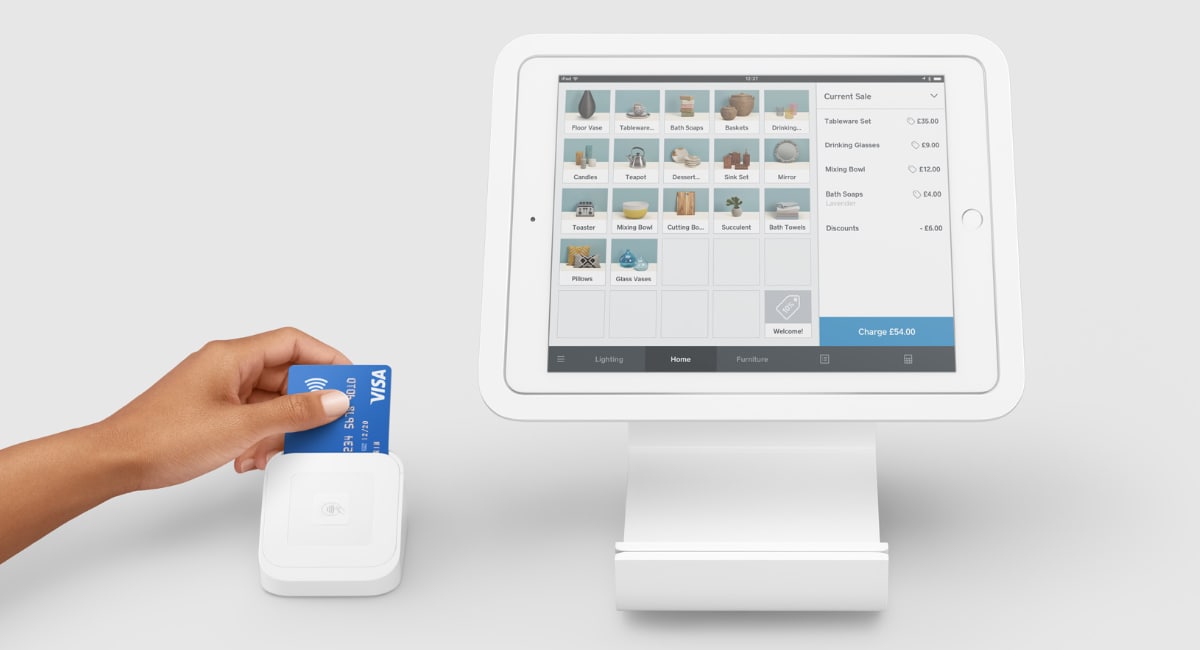 Square app on iPad in a Square Stand, with the card reader in accompanying charging dock.
At a stationary till point, it would be obvious to get the Square Stand holding an iPad. It has an inbuilt swipe slot for magnetic stripe cards and a swivel mechanism for turning the screen to face the customer for PIN entry. You can also get a charging dock for Square Reader, which not only keeps the card reader charged all day – it makes the till look more professional.
Most Square accessories are only compatible with iPad (including Square Stand), which is also what most Square users prefer. For a complete point of sale, an iPad would therefore be a crucial investment in most cases, particularly if you want to use a mobile receipt printer, since none of those work with Android. If you're using a USB-connecting printer, cash drawer or barcode scanner, you need Square Stand too because it has a USB socket which iPads don't.

Cash drawers must be connected to a receipt printer to work automatically.
The compatible hardware includes cash drawers, receipt printers, heat-resistant kitchen printers and barcode scanners. You can connect a keyboard via Bluetooth if using iPad. To open the cash drawer automatically, it must be connected to a compatible printer.
Note that the Square Point of Sale app only works with a tablet or mobile device. You cannot use a computer, whether Mac or PC, as your checkout screen, although the backend Dashboard functions can be accessed from any web browser.
Food and drink features: Square for Restaurants better?
Restaurant owners may prefer the Square for Restaurants app instead, but it does require a monthly subscription for the full range of features. There is, however, a Free plan of Square for Restaurants. How does this differ from the free Square Point of Sale app?
The Point of Sale features are included in the Restaurants app, but the latter is a different app geared towards food and drink. It looks different with no images to represent products, instead relying on customisable colour-coding and the option to have the interface in light or dark mode to match the till environment.
The following are the features of the Free Restaurants app not shared with the Point of Sale app. The £69/month Restaurants Plus tier has considerably more functions such as end-of-day reports and course management.
Square feature
Free Restaurants
app
Point of Sale
app
Table management
Menu management
Order management
Dining preferences
Fast order entry & repeat items
Service charges
Advanced discounts
Square
Restaurants
(Free) app
Square
Point of
Sale app
Table management
Menu management
Order management
Dining preferences
Fast order entry & repeat items
Service charges
Advanced discounts
A word of warning: Square for Restaurants does not work on Android devices – only on iPad.
There is also a Square for Retail POS app for retail-specific features not included in Square Point of Sale. This also has a Free tier as well as a paid subscription for the full range of shop features.
What are the upgrade and integration options?
Growing businesses can switch to a more advanced POS systems (Goodtill, TouchBistro or Vend) and integrate with a long list of partner apps including:
Accounting and tax – Enterpryze, KashFlow, SHOGO, Xero, Zoho Books, more

Booking and scheduling – Acuity Scheduling, Appointedd, Booxi, Checkfront, more

Delivery and orders – Craver, Cuboh, Deliverect, Pepper, Ritual, TapTable, more

Ecommerce – BigCommerce, Ecwid, GoDaddy, OpenCart, Wix, WooCommerce, more

Employee management – Deputy, Staffology Payroll

Form building – 123FormBuilder, Cognito Forms, Gravity Forms, JotForm, Wufoo

Invoicing and services – InvoiceBerry, Iris Works, PandaDoc, Táve, Zoho Invoice, more

Items and inventory – DEAR Systems, Shopventury, skuIQ, Yellow Dog Inventory

Loyalty and rewards – Digital Loyalty, Gift Up!, TapMango

Marketing and analytics – Domo, IFTTT, Mailchimp, Pointy

Restaurants – BevSpot, Fresh KDS, MarketMan

Ticketing and event management – Brushfire, SimpleTix
In other words, the free POS system can integrate with practically any kind of complex tools needed in most kinds of businesses.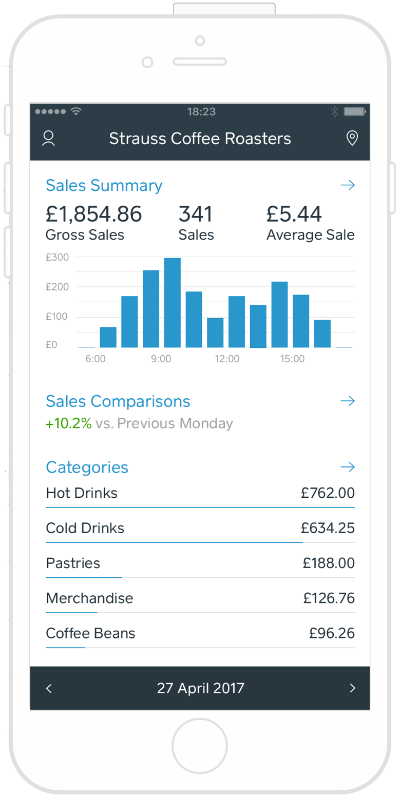 The analytics are great for those not wanting to splash out on complex reporting.
Its user interface is developed to be as intuitive and simple as possible so it doesn't require formal training to start using the system.
In fact, the first time you use the individual functions, you get walk-through prompts explaining the page and what you can do, which really help you on your way.
The online help pages for the UK offering are comprehensive enough to cover maybe 90% of users' questions. When the service initially launched in the UK, the help pages were not as good.
You can email or call Square between 9am and 5pm Monday to Friday. There is no customer support during weekends or nights (unless you upgrade to a paid Restaurants or Retail plan), so if you run into an issue during those times, you will have to wait until the support team is next working. Normally, the system runs smoothly and is simple enough to figure out, so this should not be a problem for most people.
Any kind of hospitality and service industries would also find the system adaptable to their needs, be it a yoga studio, barber or Bed & Breakfast. Professionals with more complex services (e.g. consultants, therapists) can use the tailored invoicing and virtual terminal features to take payments remotely.
Because of its basic inventory functions, the system is also good for small retailers and independent shops who could benefit from keeping track of their products and bestsellers. The product library facilitates a quick checkout experience – anyone selling physical goods or clearly defined services would benefit from this.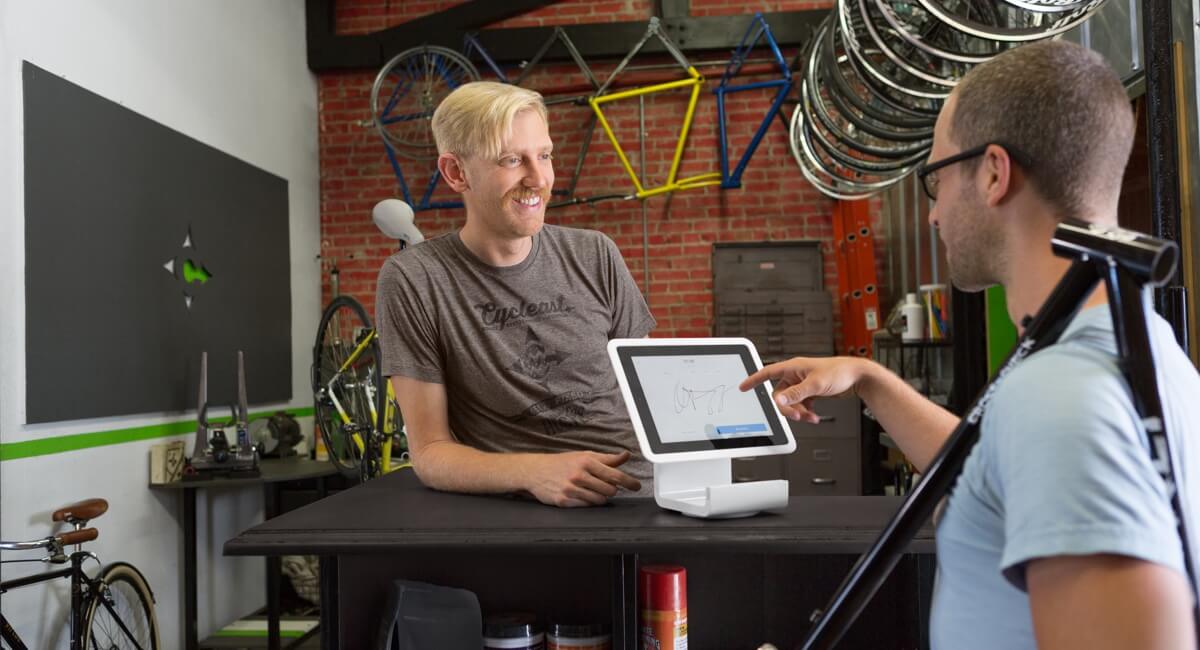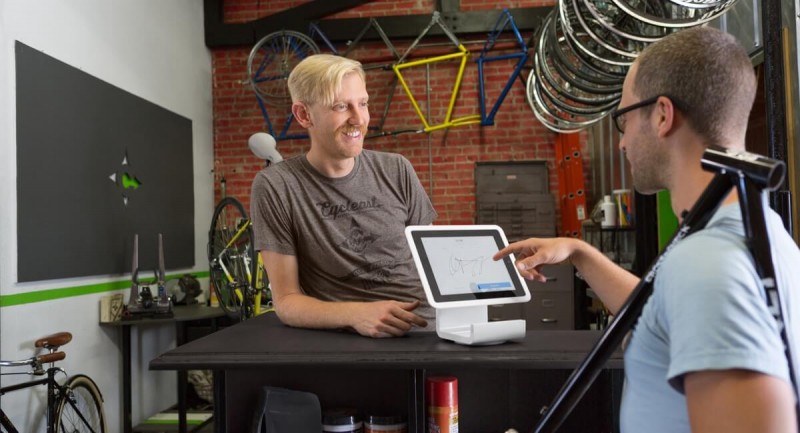 With Square Stand, your tablet is protected against theft.
Our verdict
Square Point of Sale is a polished POS system that's fully sufficient for many small businesses.
It includes essential features for running a shop, café, professional service or any other business that doesn't need something highly specialised. If you do eventually need more detailed tools, the available POS upgrades and partner apps will likely meet those needs – prices of which will vary.
In this COVID-19 era, Square has also done a lot to integrate online payments and ordering features with the app so those who need to balance online and in-person payments can manage with Square alone.
A thing to consider is whether you want to use Square Reader for face-to-face payments, as this will be the only compatible card machine. The payment flow with this machine is super smooth for contactless, but needs a little getting used to with the on-screen PIN entry.
Overall, we think Square Point of Sale is excellent value for small businesses who want to get started quickly without complicated pricing or a contract to commit to.