Our rating
Very user-friendly iPad EPOS for restaurants, at a reasonable price.
TouchBistro is an award-winning EPOS provider specialising in the food-and-drink industry. Recently used in Gordon Ramsay's 24 Hours to Hell and Back, it is an affordable, efficient choice for restaurants of all sizes.
This EPOS app for restaurants functions through your local computer network, but stores data in the cloud daily.
Highs: Offline capabilities. 24/7 phone and email support. Integrated remote aid by TouchBistro team.
Lows: Minimum one year's commitment. Doesn't work on Android systems. Can get costly to set up network of multiple iPads.
Pricing depends on number of iPads
TouchBistro is subscription-based and you commit to a minimum of 12 months. What you pay each month depends on the number of iPads you use TouchBistro on. The first iPad licence is £49 + VAT per month, then it's £45 + VAT or each second and third iPad, then £40 + VAT for each 4th-to-9th iPad. Those who need at least ten iPads can get a custom quote from TouchBistro.
The subscription allows annual, biannual, quarterly or monthly payments. You won't pay anything extra on top of the above licence prices for the TouchBistro POS software, which includes all software updates and round-the-clock customer support every day of the year.
Pricing
£49 + VAT/mo for 1st iPad
£45 + VAT/mo for each 2nd-3rd iPad
£40 + VAT/mo for each 4-9th iPad
Custom quote for 10+ iPads
The hardware cost, on the other hand, totally depends on your setup. TouchBistro allows you to fully customise your point of sale, as long as the hardware is compatible. Card payments are charged separately by your card processor, acquirer (if relevant) and card machine provider, the costs of which depend on your choices.
Customer loyalty features on top of standard TouchBistro functionality come at an extra cost, because they are integrated by a third party customer loyalty specialist called ReUp. The prices of these features vary greatly depending on your needs, business size, customer volume, and more, so you need to talk to TouchBistro to get a quote that applies to your situation. The general loyalty plans are grouped into three, each providing different levels of features:
Loyalty: starting at £29/month
Loyalty Plus: starting at £58/month
Loyalty Premium: starting at £111/month
TouchBistro offers a free 7-day trial so you can test the software on your iPad. If you register a username with them, you get a further 21 days for free, during which you're free to decide not to commit for a full year's paid use. If you haven't got an iPad to test on, you can instead book a demo by one of their EPOS specialists.
Although you commit to a year, you can cancel the plan without an early termination fee, but any prepaid amounts will not be refunded. To avoid the plan from auto-renewing another 12 months, you need to give at least 60 days' written notice before the end of the current 12 months.
Who is TouchBistro ideal for?
TouchBistro is exclusively adapted for restaurants, food trucks, breweries, pubs, bars, night clubs, and quick-service food-and-drink establishments. They take pride in having used food industry experts to build a POS system that knows what you need before you need it, which won't really benefit retailers or non-food service industries.
In fact, the TouchBistro customer support team consists of former and current restaurant workers, making them particularly empathetic to questions or issues raised when you deal with them.
If you're not quite sure where you're headed as a business, perhaps TouchBistro isn't for you, because you sign up to a minimum of 12 months' use. Other POS providers such as iZettle Pro and Lightspeed do not have a minimum contract, so they may be better for unpredictable startups.
Hybrid POS that works offline too
TouchBistro is a hybrid EPOS system that runs on your local network (for multiple iPads) or just the iPad if you're only using one. Although all data is stored on each iPad and/or the local server, its reporting is cloud-based and it backs up your data in the cloud on a daily basis. Because it runs on a local network, the system is ideal for working offline too.
If you use more than one iPad, you'll need an iMac (from £1,049), Mac Mini (from £799) or Mac Pro (from £2,999) and an accompanying mouse and keyboard to have them all synced up and connected to a central server. Mac Mini and Mac Pro also require a monitor, since they are basically just servers without a computer screen.
The cost of the extra Apple hardware can seem high, but offline capabilities based on a local network are not a given for EPOS software today. Lightspeed, for example, requires a Liteserver (from $650) to be used offline, as it is otherwise fully cloud-based.

A local network – kitchen printer, cash drawer, iPad stand, Apple Airport router, receipt printer, Apple Mac Mini, iMac, keyboard and mouse. Photo: TouchBistro
For card payments, you always rely on an internet connection, either through WiFi or a stable network connection through 4G or similar. TouchBistro recommends Apple's Airport Extreme router for stable, local WiFi, namely if you're running a food truck. However, Apple has actually discontinued their entire router range, so unless you can get hold of a secondhand Airport Extreme, you'll need to rely on your iPad's connection to the internet for sales outside a fixed location.
Generally easy to use, but not perfect
When we tested the EPOS app, it was easy enough to set up the various menu items and settings without looking at the website guides. Within the app, directly where each setting is, it explains what's required and what each thing means, even with imagery and diagrams in some places. This makes everything so much easier than in similar POS apps where you sometimes need a guide for know what you're doing.
Some things could be better, though. For example, not all the screens are perfectly responsive. The floor plan and menu screens have to be scrolled on an iPad Pro 10.5″, and sometimes, it doesn't upload images for menu items correctly while it doesn't give you an option to edit.
Some settings you're typing a description for are hidden behind the keyboard in landscape mode, so you have to turn it to portrait view to see that you're typing correctly. Of course, it's great that you CAN use it in both landscape and portrait mode, but iPads fixed to a stand in landscape mode could cause some annoyance while changing some settings.
Wealth of features, with a few shortcomings
TouchBistro lets you create a visual table plan of all the floors or rooms your establishment has, assign orders to each table, specify tips, create menus with modifiers and create multiple staff accounts. Apart from these common – but important – features, we will also highlight limitations and more unique extras to identify what makes TouchBistro different.
Table tab functions: Table management functions are detailed and helpful. You can, for example, attach details to each seat such as gender and the name of who is sitting there. On the in-app floor view, it shows the total amount of the current tab and how long the customers have sat there. You can split a person from the table, delete seats or combine with another seat, and split the bill by seat, evenly or let one pay the total amount. It's also possible to add table reservations from the app, but taking a deposit from the reservation screen is not an option.
Management of takeaways, deliveries and kitchen orders: The system gives you the flexibility to change orders, take customer details for takeaways and deliveries, and attach menu items to specific courses so the food comes out of the kitchen at the right times. You can use their Kitchen Display System (free to use), a specialised TouchBistro app enabling you track cooking times, orders, ingredients and everything else a busy kitchen would need to smooth processes. Generally, TouchBistro manages to avoid too much complexity on their order screens so it's possible to figure out what to do even the first time of using it.
Customer loyalty: TouchBistro partners with ReUp to provide customer loyalty features at standard, Plus and Premium levels. In the core TouchBistro app, you can accept gift cards and store customer details and preferences as well as track purchase history. Beyond this, you'll need to pay for ReUp's additional loyalty functions that include marketing features and the option to create physical gift cards.
1) Takeaway order menu screen, 2) checkout, 3) floor and table overview, 4) some of the staff permissions, and 5) add ingredient screen (example of in-app settings guidance). Photos: Mobile Transaction
Employee management: Apart from the unlimited staff accounts you can create with varying roles and permissions, you can assign each staff member to a group of tables in the app. Users can clock in and out of the app, and each user's performance can be analysed in the backend. You can also integrate with 7shifts for more detailed staff management of rotas and additional analytics.
Menu options: As expected in restaurant EPOS, you can add many products to a register screen where you can easily tap to add each purchased item. You can create food categories (soft drinks, wines, starters etc.), identify them by overall type (e.g. food, alcohol), combine menus and add so-called modifiers allowing you to customise a meal according to a customer's preferences (e.g. with or without cheese).
Self-service kiosks and customer-facing displays: TouchBistro offers a Self Service Kiosk app so customers can order food themselves and a Customer Facing Display app so they can see details of their order while you process it. As with the standard TouchBistro plans, you pay for a full licence for each iPad used for the Self Service Kiosk. The Customer Facing Display app is free to use in conjunction with the EPOS app. Both apps are highly customisable, so real gems if right for your business.
Stock management: The system allows you to list all ingredients of menu items, right down to measurements, unit price, stock levels and tracking of profits compared to costs. The two things it lacks are purchase-ordering tools and vendor management, so you'll need to use another system for this.
Card payments and hardware
Card payments are registered in TouchBistro's software, but processed through one of three card processors you can pick from in the UK: iZettle, Square or PayPal. Once you've signed up with one of these commitmentfree processors, you can connect that account to TouchBistro under admin settings in the TouchBistro app.
Apart from the mobile card readers you get from the card processors, you can integrate a range of compatible POS equipment to create a full point of sale. This includes receipt printers, a cash drawer, barcode scanner, kitchen printer, computer monitor, router, Apple servers and various accessories associated with each. TouchBistro has a list of compatible devices, and if you choose something else, they strictly won't provide customer support for it (even if it works).
TouchBistro only supports iPads and an Apple server setup because Apple has some of the most reliable technology and arguably the best warranty plan in the business.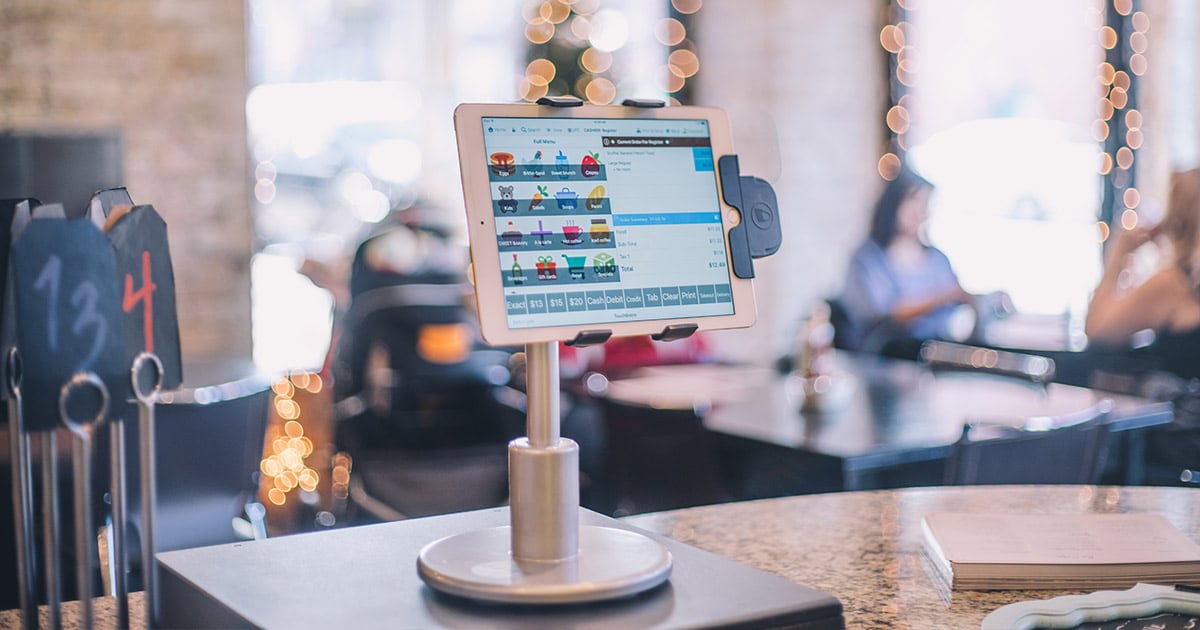 iPad using the TouchBistro POS app in a restaurant. Photo: TouchBistro
Reports and analytics
Sales and other analytical reports can be accessed in any internet browser or through the TouchBistro Reports To Go app on any mobile device from Apple or Android. You get the standard daily, product- and payment-specific reports, and you can analyse things like staff performance, hourly 'heat map' of sales, audits, employee shifts, menu item profit margins and up to 50 other types of reports you can customise.
All reports can be exported as CVS files or used in the accounting software Xero and QuickBooks via a Shogo integration. In addition, you can automatically email daily reports to key team members to keep them in the loop.
Customer support is made easy
TouchBistro has a lot to offer on the customer service side. Not only do you get friendly 24/7 support via email or telephone, you can also send screenshots to TouchBistro's support team directly from the app. This helps them identify issues quicker, giving you an overall smoother experience.
Their online support section has videos and plenty of screenshots, and the website is generally informative compared to some other POS providers who prefer you contact them for answers. However, the help section can lack some answers and clarity on what applies to UK versus other countries' merchants.
When we signed up for the free trial, we got contacted by phone within a day, then by email, then by text, to check in on whether we needed any assistance or wanted a demo of the EPOS. Although quick to hear from them, it felt friendly, and the customer service representative answered our questions promptly.
That being said, some merchants have reported a poor experience from the third-party hardware provider POSPortal, whom TouchBistro has a partnership with. Because they operate independently from TouchBistro, you should check the agreement with POSPortal carefully before going ahead with any purchase, to be on the safe side.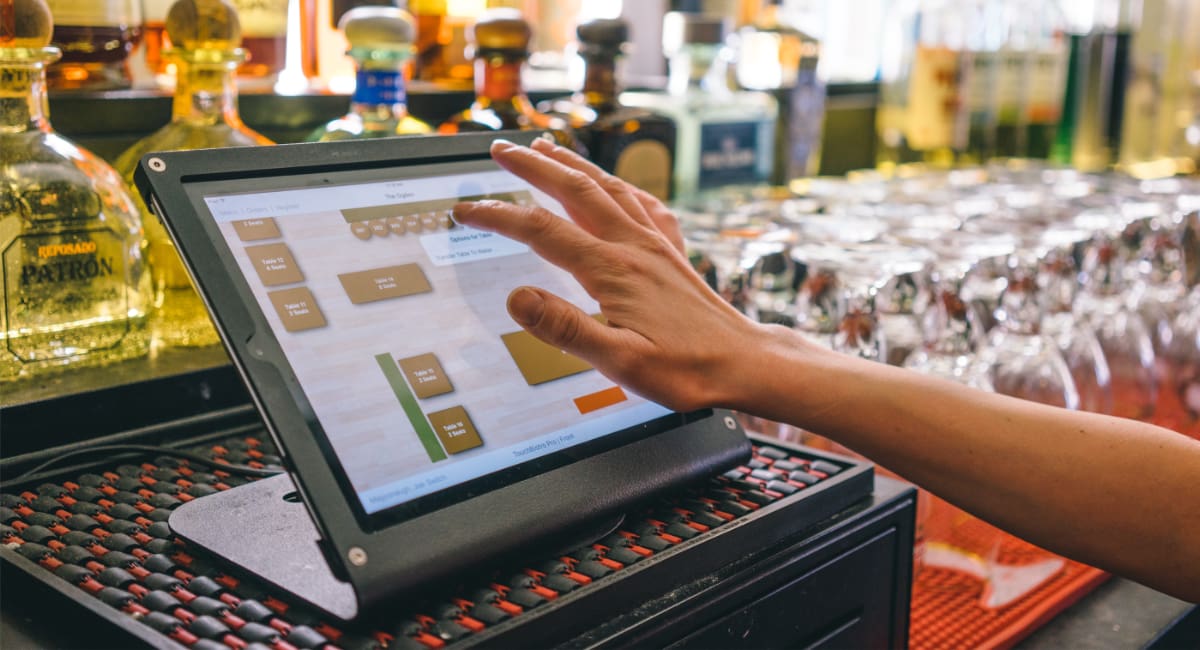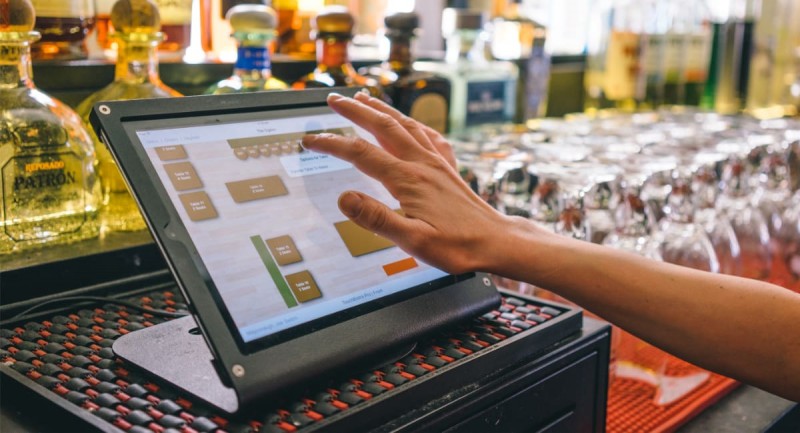 TouchBistro in use behind a bar counter. Photo: TouchBistro