Our rating
Paymentsense sells card machine contracts with capped rates and 18-60 months' lock-in.
Paymentsense is an independent sales organisation (ISO) offering card machine rental, online payment solutions and card processing contracts of up to 5 years. The packages suit small-to-medium businesses – but is the commitment too great a risk?
Highs: Quick to get started. Good card machines. Competitive transaction fees. 24/7 customer support. Reporting app.
Lows: Hidden fees. Long contracts. Pushy sales reps. Hefty termination charges. Slow settlement.
Choose if: Your business is stable enough to commit to a long card machine contract with decent card rates.
How it works
Paymentsense is one of the bigger independent sales organisations (ISOs) based in the UK. The company rents out card machines to small- and medium-sized businesses in a variety of sectors. It also offers online payment methods including payment links for email invoices, a payment gateway for online stores and over-the-phone payments.
The contract for payment processing is provided by Fiserv (previously called First Data). This includes a merchant account with transaction costs suited for your card turnover and type of business. The card machine contracts require a commitment of at least 18 months.
To sign up, you need to fill in basic contact details online, then await a phone call by a sales rep. In fact, the contact form forces you to include a phone number, postcode and email address, and there's no option to include a message. You can only get a quote over the phone after submitting additional details about your business verbally.
If the application goes well, you can start receiving online payments within 24 hours already, or by card machine within three working days.
Card machines
Paymentsense has a standard selection of traditional card machines for most uses. Their advertised models include three Ingenico card machines: one for a fixed countertop (Ingenico iCT250), a portable (Ingenico iWL250) and mobile model (Ingenico Move 3500).
All card machines accept chip and PIN, swipe cards and contactless transactions including Apple Pay and Google Pay.
Mobile card machine
Lightweight and portable Ingenico Move/3500 model

Can be used outside, on the go or at your premises wirelessly

With GPRS SIM card that connects to mobile network

With built-in receipt printer and colour display

Works a whole day on a single charge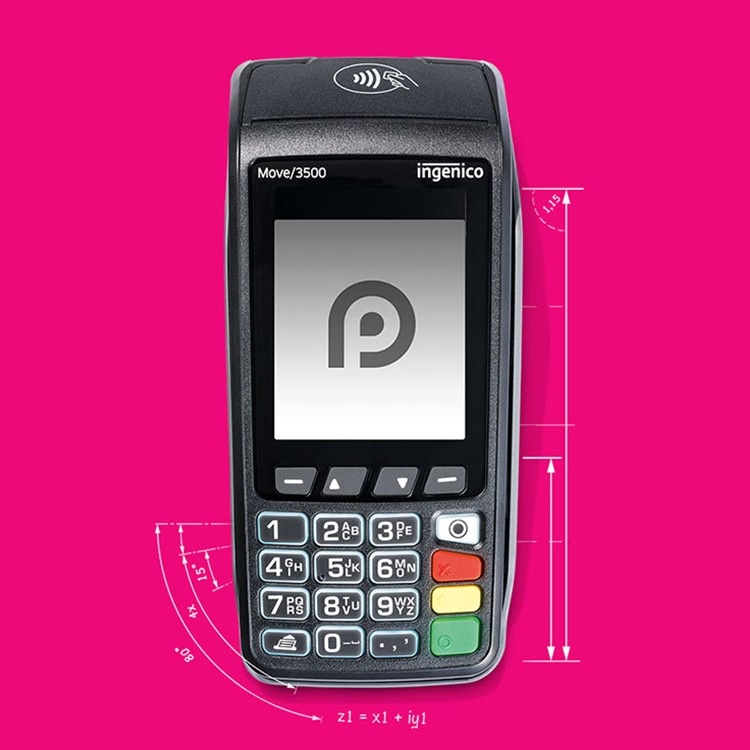 The mobile terminal model, Ingenico Move/3500. Photo: Paymentsense
Portable card machine
Light and portable Ingenico iWL250 model

Works wirelessly over Bluetooth within 100m of base unit

With built-in receipt printer and backlit display

Can integrate with POS system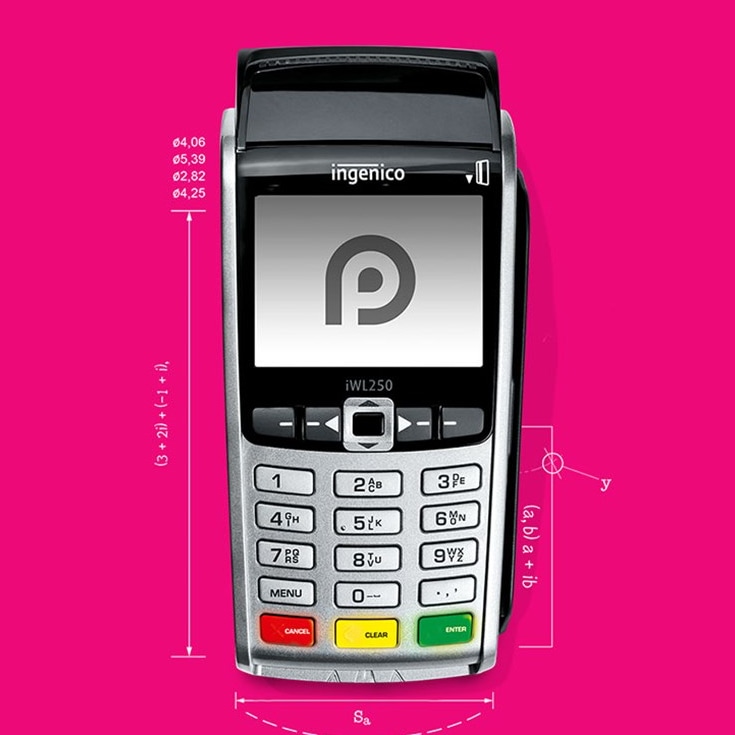 The portable terminal, Ingenico iWL250. Photo: Paymentsense
Countertop card machine
Ingenico iCT250 model that works with cable

Ergonomic design and backlit keypad

With built-in receipt printer and colour display

Can integrate with POS system

Uses your Ethernet connection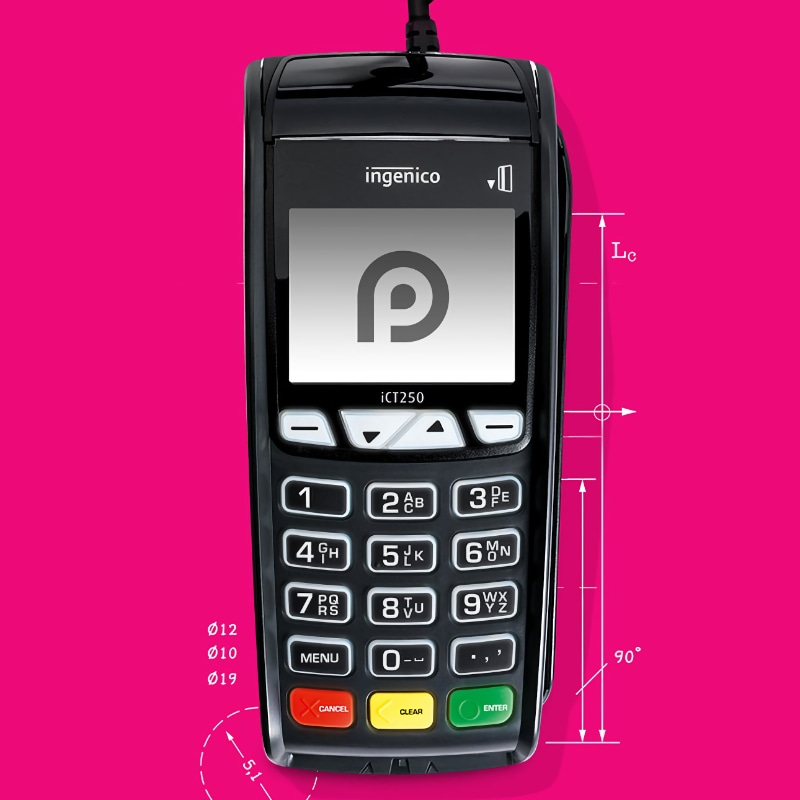 The countertop terminal, Ingenico iCT250. Photo: Paymentsense
The mobile terminal works independently with its SIM card inserted. This makes it ideal for e.g. couriers, taxi drivers, market stalls, plumbers and other professionals meeting clients in different locations.
The portable terminal is intended for use within 100 metres on fixed premises, for example for table-side ordering or queue-busting. The countertop terminal needs the power cable to function, so it can only be used at a fixed till point.
Both the portable and fixed terminals can integrate with compatible point of sale (POS) systems so you don't have to enter transaction totals manually on the card machine to accept payments. Instead, the POS software sends transaction amounts to the card machine, and the card machine communicates the status of payments back to the POS system.
Apart from these three models, Paymentsense can offer some Spire card machines. If you have particular hardware requirements or concerns about features, we recommend asking the sales rep about it.
Contractual commitment
Paymentsense merchants have to sign up for a contract of between 18 months and five years – the longer it is, the lower your transaction charges. This is a big commitment for a small business uncertain about its future, but may suit established merchants quite well. We've been alerted that some customers may have been offered 30-day rolling contracts with less than 12 months' lock-in, but we have not managed to verify this.
If you're in another card machine contract, Paymentsense can help you pay the cost of leaving that. The official promise is "We'll save you up to 40% on your current bill and can even pay up to £3,000 of your exit fees." Sadly, we've learned from users that Paymentsense doesn't always follow through on the promise to pay these compensations.
Another thing we've been made aware of is that card rates are capped throughout the contract period. This is not great if your sales turnover increases over the years, because lower fees are typically the norm for a high turnover. Others may appreciate peace of mind of not getting rate increases. You may, however, see unexpected charges throughout the contract instead.
You cannot leave the contract early without cancellation fees that are typically the equivalent of the costs you would've paid for the remaining months of the contract. This usually runs into hundreds of pounds, sometimes over £1,000 with many months left on the contract.
You should always cancel the contract by the end of it (the notice period should be shown in your terms), as otherwise it will auto-renew for another 18-60 months.
Paymentsense fees
A frustrating thing about Paymentsense is the lack of transparency around fees. You can't find specific costs on their website, but we do know certain things about the charges.
According to Paymentsense, their card transaction fees are low, but the only way to compare is by talking to Paymentsense for a quote and compare that to quotes from other companies. In any case, card rates depend on your average sales volume, type of business, how long you've been trading for, and types of cards accepted. UK-issued consumer debit and credit cards have the lowest fees, whereas corporate, premium and foreign cards have the highest fees.
The merchant account is provided by Fiserv. This ensures you can accept Visa, Mastercard and other card brands and settle transactions into your bank account in 3-5 working days. Next-day settlement is available to eligible customers, most likely at an additional cost.
To accept American Express, you need a separate merchant account with Amex, which comes at an additional cost.
| | Paymentsense pricing |
| --- | --- |
| Contract length | 18 months-5 years |
| Setup fee | May apply |
| Monthly terminal rental cost | Depends on terminal model |
| Monthly minimum charge | Agreed at sign-up |
| Account On File annual fee (merchant account) | £3.99/year |
| Transaction rates | Depends on business, card type & turnover |
| Chargebacks | £28 each |
| PCI-DSS compliance | £4.95 + VAT/mo (required) + non-compliance fee if applicable |
| Early termination fee | £120-£1,000+ |
| Online payments, monthly fee | £8.30-£19.95/mo depending on turnover & plan |
Paymentsense
pricing
Contract length
18 months-5 years
Setup fee
May apply
Monthly terminal rental cost
Depends on terminal model
Monthly minimum charge
Agreed at sign-up
Account On File annual fee (merchant account)
£3.99/year
Transaction rates
Depends on business, card type & turnover
Chargebacks
£28 each
PCI-DSS compliance
£4.95 + VAT/mo (required) + non-compliance fee if applicable
Early termination fee
£120-£1,000+
Online payments, monthly fee
£8.30-£19.95/mo depending on turnover & plan
You also agree to a 'monthly minimum service charge', which is the minimum amount that Paymentsense requires in transaction fees on a monthly basis. If this amount is, say, £24.95 and your month's card processing fees are only £20, then Paymentsense will bill you £24.95. If your processing fees are £30 for the month, then £30 will be charged. In essence, your monthly card processing fees will amount to at least £24.95 even when you're accepting few – or no – card payments for the month.
The monthly card machine rental price depends on the terminal model. Usually, a mobile terminal is more expensive, while portable and stationary models cost less. Integration with POS software does not cost anything, according to the website. There is no setup fee for the card machine, but you do pay extra for the 24-hour replacement service, should this be part of your agreement.
Chargeback fees apply (we've seen £28 quoted per chargeback) as well as PCI-DSS compliance (card security standard) that incurs a monthly service charge. If you don't complete the necessary PCI-DSS paperwork in time, non-compliance fees will also apply.
There are many other fees to pay, which you should ask about before signing up. For example, some users mention a surprise annual fee, charges for performance reports and receipt rolls, and costs from third-party providers. All these fees typically add up to at least £70-£80 monthly excluding transaction charges.

In contrast with in-person payments, the monthly cost of the virtual terminal, payment links and online gateway are disclosed openly on the website.
If you transact for less than £50k annually, you pay £9.95/month on a monthly contract or £8.30/month on an annual contract. A higher turnover of up to £250k per year costs £14.95/month with a monthly plan or £12.45/month on an annual plan. Processing up to £1.2m annually costs £19.95/month on a monthly plan or £16.60/month with yearly commitment. Other costs apply depending on your online solution, which are only disclosed when talking to Paymentsense.
Online payment tools
In addition to card machine payments, Paymentsense offers the following online payment solutions:
Online payment gateway: Checkout for an online store. Can be customised and integrated on your site (makes you responsible for PCI compliance) or hosted by Paymentsense on an external web page (PCI compliance is done for you). Compatible with over 40 shopping cart software solutions. Lets you accept different currencies for international payments, not just GBP.
Virtual terminal: Web page where you can enter card details to process payments on behalf of customers. Accessible from the Merchant Management System in a web browser. Ideal for mail order and telephone order (MOTO) payments.
Pay by link: Payment links for email invoices, so customers can pay from their end on a secure web page. Created and sent from the Merchant Management System in a web browser.
All these solutions are included in the monthly fee for online payments (£8.30-£19.95/month quoted earlier). You can either sign up for a monthly or annual plan for online payments. These can be upgraded or downgraded over time, as opposed to the fixed card machine contracts.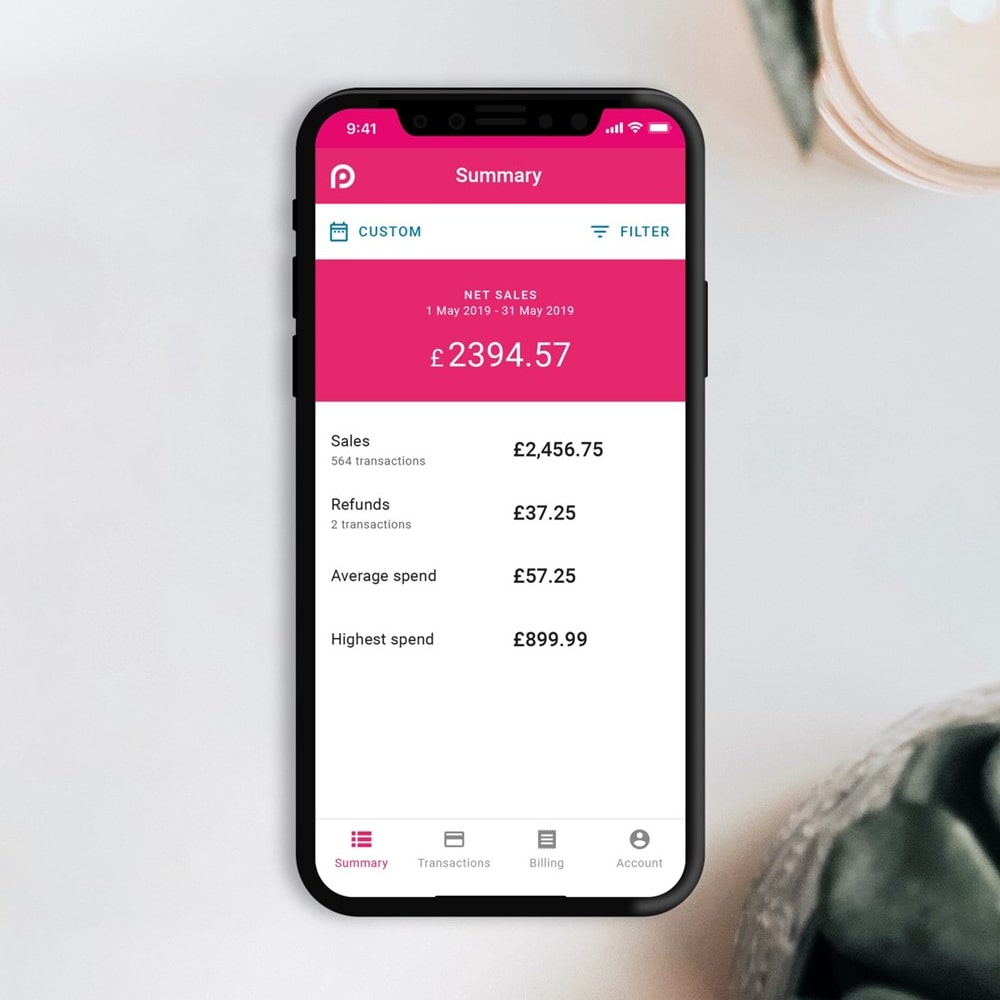 Paymentsense app for reporting.
The online Paymentsense portal is where you can send payment links from and use the virtual terminal. It can be accessed in a web browser, whether you're on a computer or using a mobile device. The portal also allows you to manage the Paymentsense account and oversee transactions, fees and more.
There is a Paymentsense app, which is specifically for tracking sales, transactions, billing statuses and exporting data for your accountant. This is useful for real-time reporting, but you can't send payment links or key in transactions from there.