Paymentsense and iZettle are two very different services. Paymentsense is an independent sales organisation (ISO) that opens a unique merchant account for processing payments through a traditional card machine. Monthly fees, transaction charges and other costs apply, and you commit to an ongoing contract.
iZettle, offering their own card reader, processes payments through a shared ('aggregate') merchant account and has no contract. There are no monthly fees for their basic service – just the flat, transparent transaction rate.
But can the pocket-sized iZettle Reader really compete with a sturdier, conventional card machine?
Price
Monthly fees – vary
£59 £29 via this link – one-off card reader purchase
Website
Fixed monthly fees
Yes, various
None
Transaction fees
Depends on card, package, volume & business type
1.75%
Software
Built into card machine
Controlled by iZettle Go app
on connected mobile device
Measurements
Ingenico Move/3500
169 x 78 x 57 mm
310 g
iZettle Reader 2
110 x 70 x 20 mm
125 g
Contract length
12 months – 5 years
No contract
Accepted cards





Contactless
Monthly fees
– vary
£59 £29 via link
– one-off purchase
Fixed monthly fees
Yes, various
None
Transaction fees
Depends on
package
1.75%
Software
Built in to card machine
iZettle Go app
on connected
mobile device
Measurements
Ingenico Move/3500
169 x 78 x 57 mm
310 g
iZettle Reader
110 x 70 x 20 mm
125 g
Contract length
12 months –
5 years
No contract
Accepted cards
Contactless
Traditional vs. app-based card machine
Paymentsense offers a selection of Ingenico and Spire terminals, classed into whether it's a stationary, portable or mobile model. iZettle only has one card machine, the iZettle Reader 2.
Paymentsense's mobile terminal of choice is Ingenico Move 3500. It can be used anywhere with a 3G/GPRS connection as it functions via a built-in SIM card. It comes ready to use immediately with unlimited data provided by Paymentsense, software installed and account set up before it arrives in the post. The terminal has a receipt printer built in, which Paymentsense provides receipt printer rolls for. You can use the card machine independently from a point of sale.
Similarly, iZettle Reader 2 functions through a mobile network provider or WiFi, but it requires a Bluetooth-connected mobile phone or tablet running the iZettle Go app. The card reader does not function on its own – it is auto-activated when tapping for checkout in the mobile app and the card reader is in the vicinity of the phone. For this to work smoothly, you pair the card reader with the phone in advance of the first payment.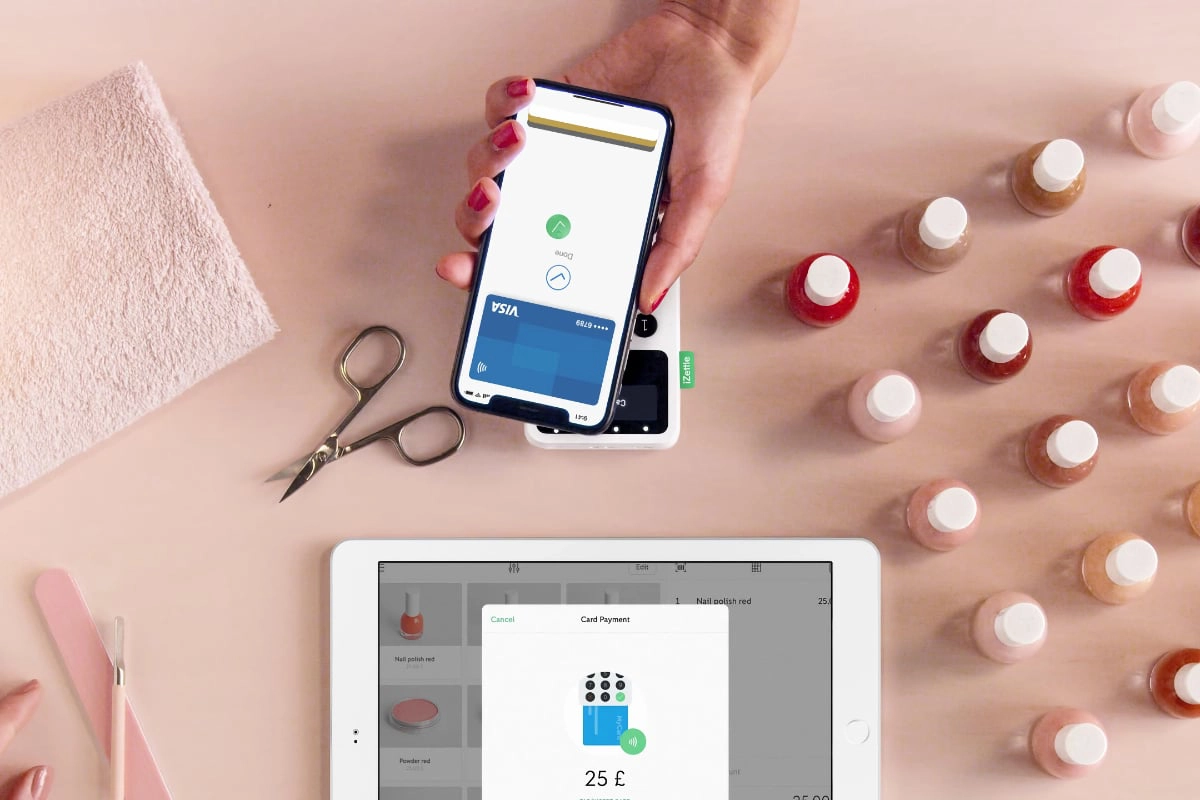 iZettle Reader works in conjunction with an iPad, iPhone or Android tablet or smartphone.
The card reader is considerably smaller than Paymentsense's, but this is because iZettle does not have an inbuilt receipt printer and relies on the software and hardware of the connected mobile device. Although an improvement from the first-generation iZettle Reader, the Reader 2 is not as hard-wearing in busy environments as Paymentsense's more traditional terminals, so in a busy café, for example, it would have to be replaced sooner, perhaps after 1-2 years.
Costs and fees – two very different deals
iZettle is a pay-as-you-go system with no contract or lock-in. Paymentsense, on the other hand, requires you to enter a contract of up to 5 years, and the only way to leave before the contract ends is to pay a heavy cancellation fee, typically several £100s. We've actually seen reports of people being charged the equivalent of paying the remaining contract months upfront, which can easily be over £1000.
That said, Paymentsense claims to have low fees compared to similar providers, so you should (hopefully) not want to leave them after committing.
Unfortunately, we've seen many customer reviews highlighting the many hidden and spontaneously added – sometimes unexplained – fees you notice only after signing up. Expect to pay over £70-£80 a month at least for just the basic charges before transaction fees, including fees for third party providers, receipt roll refills, 24-hour terminal replacement, capped rates, performance reports, etc. (quite a few more than listed in table below), even when you're not using any of these.
You will need to pay for PCI compliance on a monthly basis, with penalty charges if you do not complete the necessary PCI-DSS paperwork in the first two months, plus extra fees if you need help setting up.
| | | |
| --- | --- | --- |
| Card machine upfront cost | Rental-style plan | £59 £29 through link – machine is yours to keep |
| Setup fee | None for terminal, other setup fees may apply | None |
| Transaction fees | Custom quote | 1.75% per card (any) |
| Chargeback fee | £28 | Free coverage for up to £250 a month |
| Cancellation fee | Varies, typically £250-£1200 | None |
| PCI DSS compliance | £4.95/month for PCI Management (required) | No fees |
| Receipt printing | Inbuilt receipt printer in card machine, receipt rolls cost extra | Must buy separate receipt printer + receipt rolls yourself if needed |
No upfront device cost – rental-style
£59 £29 one-off device cost – yours to keep
Setup fee
None for terminal, others may apply
None
Transaction fees
Custom quote
1.75% per card (any)
Chargebacks
£28
Free for up to £250/mo
Cancellation fee
Varies, typically £250-£1200
None
PCI DSS compliance
£4.95/month for PCI Management (required)
No fees
Receipt printing
Inbuilt receipt printer in card machine, receipt rolls cost extra
Must buy separate receipt printer + receipt rolls yourself if needed
As for transparency, iZettle is definitely the better choice with all their few costs and fees shown on their website. Paymentsense requires talking to a sales rep for a quote. This is mostly because card fees vary between business types and monthly sales volumes, but also the kind of pricing structure you choose. The merchant account provider is likely to be Fiserv (previously First Data) who's a partner of Paymentsense.
If you're switching from a different card processor, Paymentsense promises to beat or match your current prices – and amazingly, they also offer to help with the cost of leaving an existing contract for theirs (this is not guaranteed, though).
iZettle has the same fee for all users, up until you sell for over £10k a month. At that level, you can negotiate better processing fees suitable for your business. At all times, you can just leave iZettle without consequences. Your fees are literally just the upfront card reader price, plus a 1.75% transaction fee for all card reader payments. If you don't use it, you don't pay anything. Refunds are also free, and chargebacks of up to £250 a month are free.
Paymentsense's fees are capped throughout the entire contract, which can be good or bad. You'll essentially be committing to the same fees for the duration of your contract without the option of lowering them if your business makes more money. However, you might feel safe knowing that Paymentsense wouldn't raise fees during the contract period.
Both can accept American Express, iZettle for 1.75% per transaction, while Paymentsense offers it as an "optional" card to accept. Transaction fees will vary greatly between Paymentsense's customers, but typically, Amex incurs premium transaction rates exceeding 3% for low-volume businesses.
Since Amex usually requires a special contract for acceptance, you can expect a setup fee for this. Again, iZettle does not charge you anything extra for taking Amex or any other international or premium cards.
Getting started is easy for both
Both providers make it easy to get started. iZettle just requires you to fill in a few pages online to sign up and then order the card reader. It can all be done in minutes without phoning them. iZettle will perform some background and security checks on your bank account to ensure it's the one used for your business, and that your business is not on their list of restricted trades (e.g. travel agencies, betting, alcohol).
There is no extra cost associated with PCI-DSS compliance with iZettle – but you will still be expected to comply with basic rules around card security and privacy.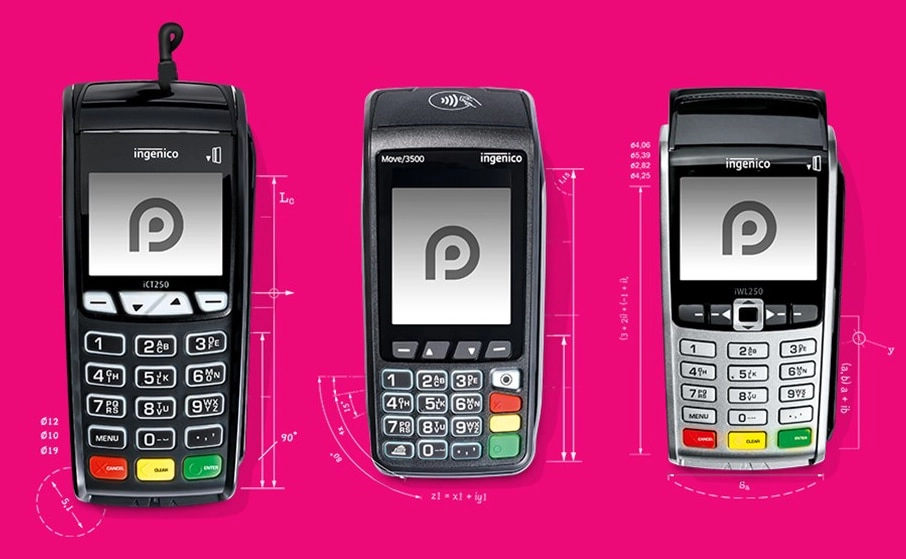 The stationary, mobile and portable Ingenico terminals offered by Paymentsense.
Paymentsense claims to be the "only provider who can set up a card machine in 3 days". They also make it easy to switch provider where they handle the transfer for you.
It will be necessary to talk to Paymentsense on the phone for a quote, after you have filled in basic details online about your requirements and sales volume. On this call, be prepared to ask questions and get all the stated terms and prices in writing before agreeing anything, as we have seen many users saying that the sales reps fail to mention important small-print details (even lying to the customer), contract terms and hidden fees.
It is also necessary to comply with PCI-DSS within the first two months, after which – if you do not submit the required compliance documentation – you will be liable to paying penalty fees.
Can integrate with POS, one more than the other
Paymentsense can integrate with most EPOS systems at no additional cost, whether it's one you're using already or a new one. They call this service Connect. Hence your integration options are wide, and you can create just the POS system you need with their card machines.
iZettle has a free POS application called Go, and iZettle Food & Drink with features specifically for food and hospitality businesses. It can also integrate with the Xero and QuickBooks accounting systems. Furthermore, other cloud-based POS systems like Lightspeed is compatible with iZettle Reader.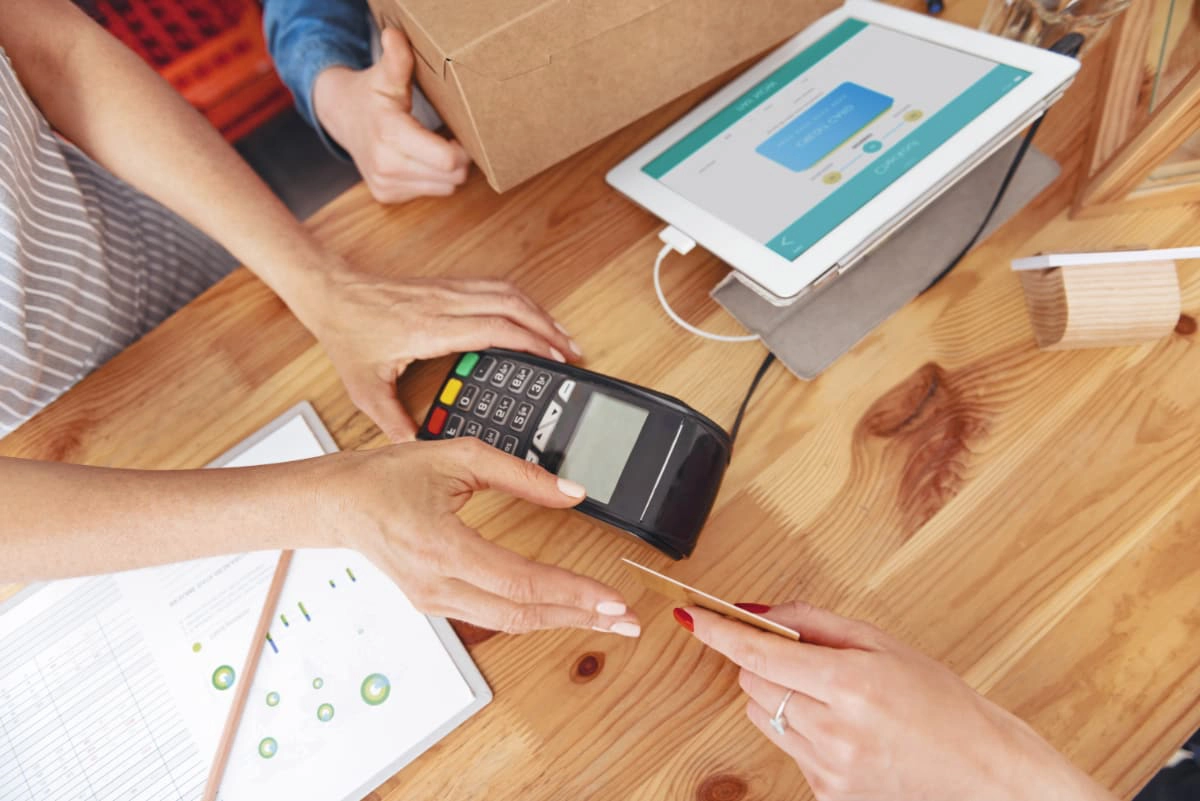 Paymentsense's countertop terminal can connect with many different POS systems.
Remote payment options
More than ever, it is important to be able to accept card payments remotely – whether online, over the phone or via payment links. What are the options with iZettle and Paymentsense?
iZettle Payment Link is a free feature that all users can activate in their iZettle app. Instead of using the card reader, you can basically send a payment link via SMS, Messenger, WhatsApp or email. The recipient can then pay on their phone. This costs a simple 2.5% per successful transaction. There is also an invoicing feature for the transaction fee, available to all iZettle users.
Paymentsense can also add payment links and email invoices to your account, but they cost extra on top of the card machine contract (between £8.30-£16.60 monthly depending on sales volume + transaction fees). However, this also includes usage of a virtual terminal for over-the-phone payments – which iZettle does not have.
iZettle has its own ecommerce platform for running a full online store, or you can embed products and the iZettle checkout system on an existing website. Paymentsense, on the other had, does not have its own website builder, but does integrate with many ecommerce systems for a tailored solution.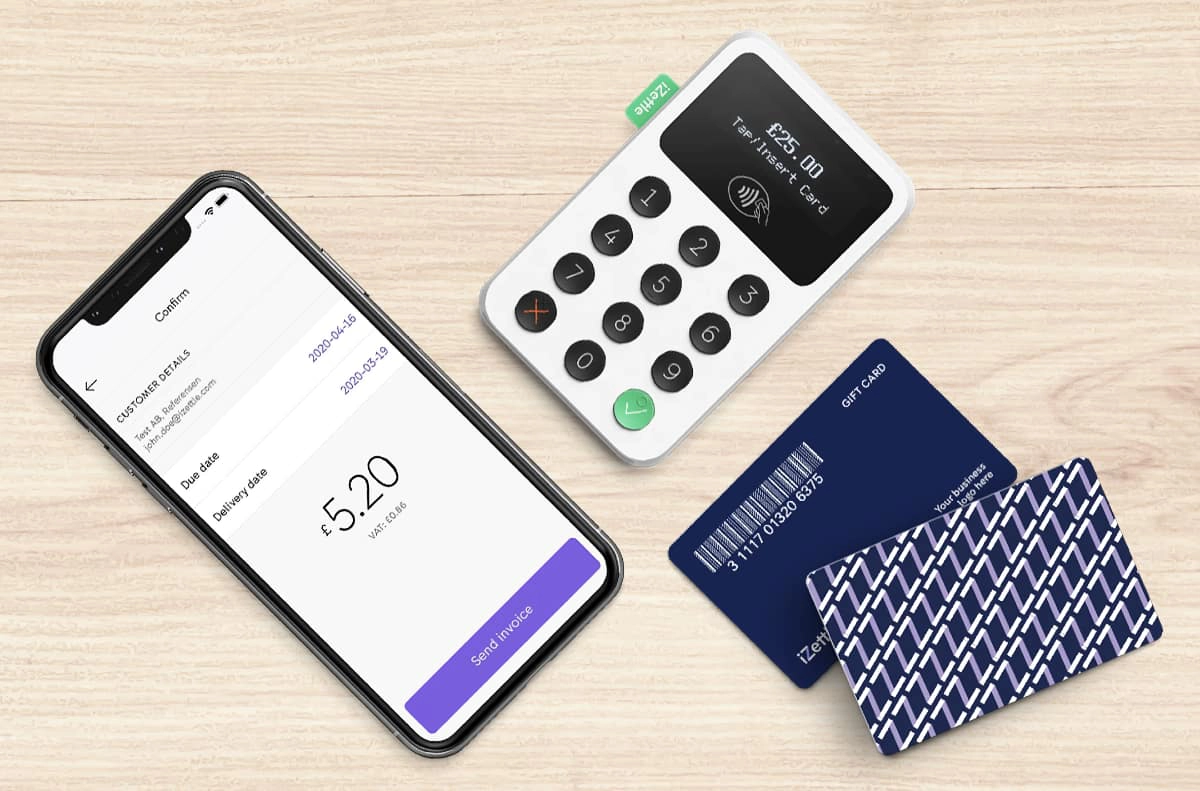 iZettle includes invoicing through the app, payment links and gift card options.
Stark vs. so-so concerns about customer service
One of Paymentsense's strengths, according to themselves, is their customer service, particularly at the start. It's quick to set up and receive a card terminal, but customer reviews online indicate it is then hit-and-miss whether concerns are dealt with adequately.
Paymentsense does have 24/7 customer support, but some customers report lack of support over weekends. Should your machine cease to work, Paymentsense will try to fix it over the phone first. If they can't, they aim to send a new terminal within 24 hours.
But if you've been oversold or there's an issue, you may need to go back and forth with them to resolve it. Many Paymentsense users have complained they signed on to something they later realised was not needed or they didn't want, and that they kept being charged for something they could not afford as a business.
Despite the poor customer reviews, Paymentsense scores an average 4.4 out of 5 on Trustpilot UK, out of which many look like typical fake reviews. Of course, it is likely many who have left positive reviews will have had a decent experience of the service.
Reportedly, Paymentsense's sales reps are commission-based so it pays to be prepared for what exactly you need, and what to ask, in advance of contacting for a quote.
iZettle gets 4 out of 5 on Trustpilot UK and is generally a favourite among small UK businesses. Of the poor reviews, some have had problems with their iZettle account and transactions, while others were not satisfied with the customer service.
It is hard to generalise the iZettle issues beyond this, as it seems they are highly individual to the affected account holders. Several users complain about things that iZettle does not claim to be suitable for in the first place, e.g. the transaction fee not being ideal for high-volume sales. So we recommend reading about what exactly iZettle can offer before signing up for a potential disappointment.
iZettle's card machine comes with a standard 12-month warranty and customer support on weekdays within working hours only.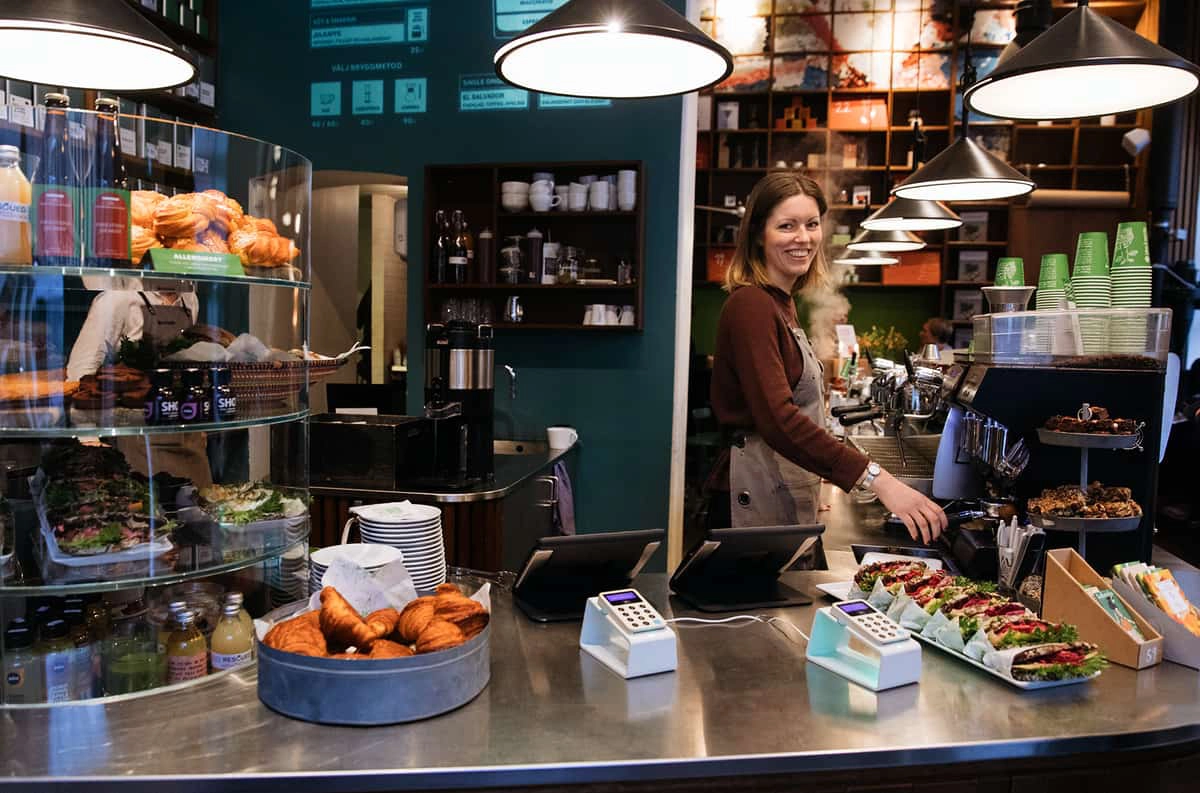 iZettle Dock allows you to keep iZettle Reader in place all day while the battery is charging.
Our verdict
Considering that most small businesses fail within a year (or a few), it's important to gauge how confident you are about future sales when picking a payment provider. You don't want to be locked into a years-long contract of monthly fees exceeding what you're able to pay just because a sales rep didn't give you the whole story.
Reportedly, Paymentsense's sales reps are commission-based so it pays to be prepared for what exactly you need, and what to ask, in advance of speaking to them. iZettle is easier to approach, since you simply sign up online after viewing all the fees and terms upfront.
Pick Paymentsense if you:
know what you want, and are prepared to deal with sales reps motivated to hide terms and fees.

can enter into a long contract with an early cancellation cost.

want a conventional PDQ machine with inbuilt printer.

want to integrate with a POS system that iZettle does not work with.