Our rating
Versatile card machine packages from industry-leading payments company.
Worldpay (merged with FIS) is a household name for high street chains and independent shops alike in the UK, but are their terminal solutions worth the charges and commitment?
Pros: Popular payment processor. Decent card machines. 24/7 customer support all year around. Remote payment options.
Cons: 18-month lock-in. Fixed costs add up. Problems with support.
Choose if: You're accepting over £100k annually in card payments and want a tailored solution.
The lowdown
Worldpay is a decades-old card machine provider for businesses of all sizes. In 2019, it was acquired and merged with the American company FIS (Fidelity National Information Services), so it is now referred to as Worldpay from FIS. The company did not thrive under US management, and by 2024 Worldpay is expected to have become a separate company again.
Although we will focus on the terminal solutions for brick and mortar merchants, the breadth of services handled by Worldpay means you can use it as a single provider for online, remote and face-to-face payments.
Accepted cards







With their card terminals, you can accept Visa, Mastercard, Maestro, UnionPay, Diners Club, Discover and JCB. It is also possible to accept American Express, but this requires a separate agreement. Card payments take on average 2-3 working days to settle in your business bank account.
Businesses are offered a price plan that suits their card turnover. Those who opt for Worldpay typically accept at least £100k annually in card payments, but Worldpay would also consider businesses with lower turn-over.
Card machines
Worldpay offers two card machine models: stationary Ingenico Desk/5000 and mobile Ingenico Axium DX8000.
Both have a built-in receipt printer and accept chip and PIN and contactless payments including Apple Pay, Google Pay, Samsung Pay and Alipay. They also process tips and refunds.
Their software is quite basic, mainly just accepting card payments and printing X or Z reports. If card-not-present transactions are activated, you can use the card machines for manual card entry too, most commonly used for telephone payments.
The most versatile card machine is the Android terminal Axium DX8000 with a 6″ touchscreen, used either as a portable terminal around your premises (through WiFi) or on the go as a mobile terminal (through 3G or 4G). It is powered by a rechargeable, long-life battery (adaptor included), covering hours of transactions from a full charge.
If it's used as a mobile card machine, the Axium will come with a SIM card that connects with any available EE, O2 or Vodafone network. It should therefore work anywhere with mobile coverage, with WiFi acting as a backup connection if the mobile network fails.
Photo: Emily Sorensen (ES), Mobile Transaction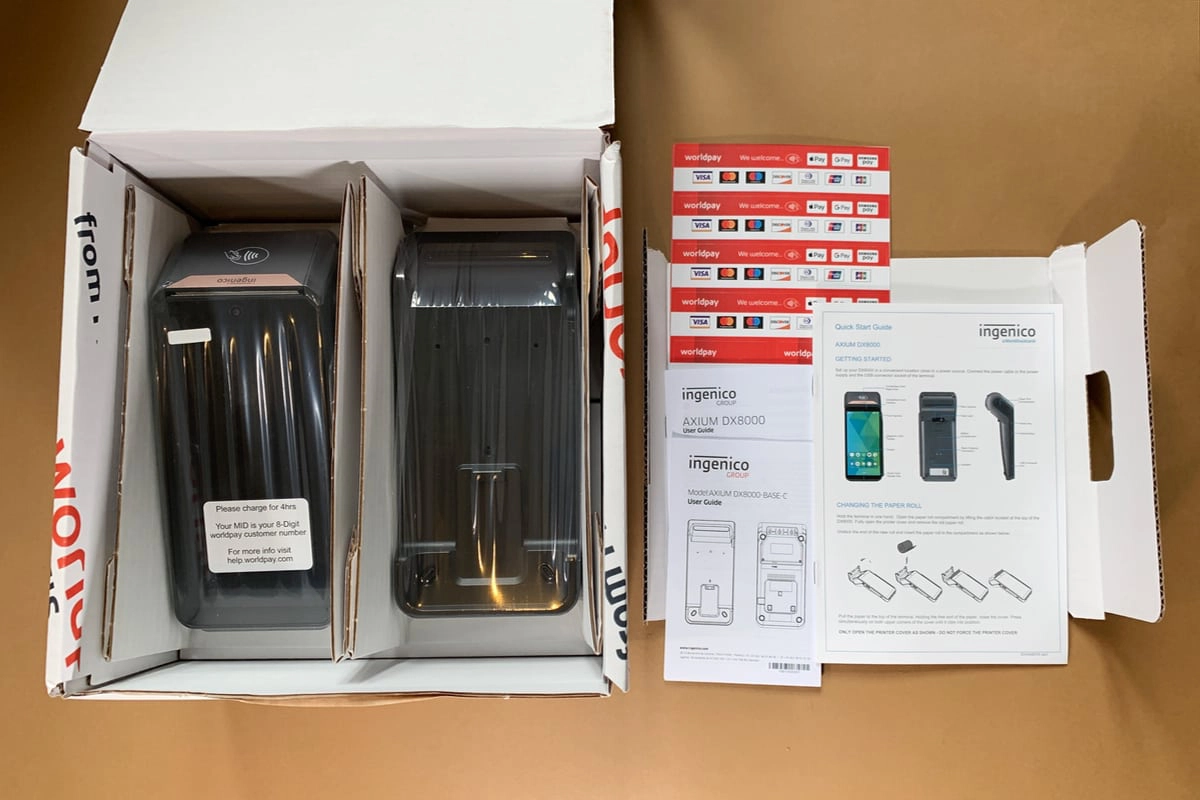 Worldpay's package containing an Ingenico Axium DX8000 card machine.
If you just need a portable card machine with WiFi only, it'll be Axium DX8000 you get as well. In fact, it's well-suited for table service and taking payments away from the till at restaurants, pubs and cafés especially. During quiet times, you can just rest it on the counter in the little stand that's included.
Since Axium has a large touchscreen, PIN codes are entered on a very visible virtual PIN pad with big-size buttons. We can't fault Axium's design of the payment interface with its bright colours, and you can adjust screen settings such as brightness or dark-versus-white theme in a settings menu. There's also a camera at the rear (and front), which could be used for scanning QR codes.
Photo: ES, Mobile Transaction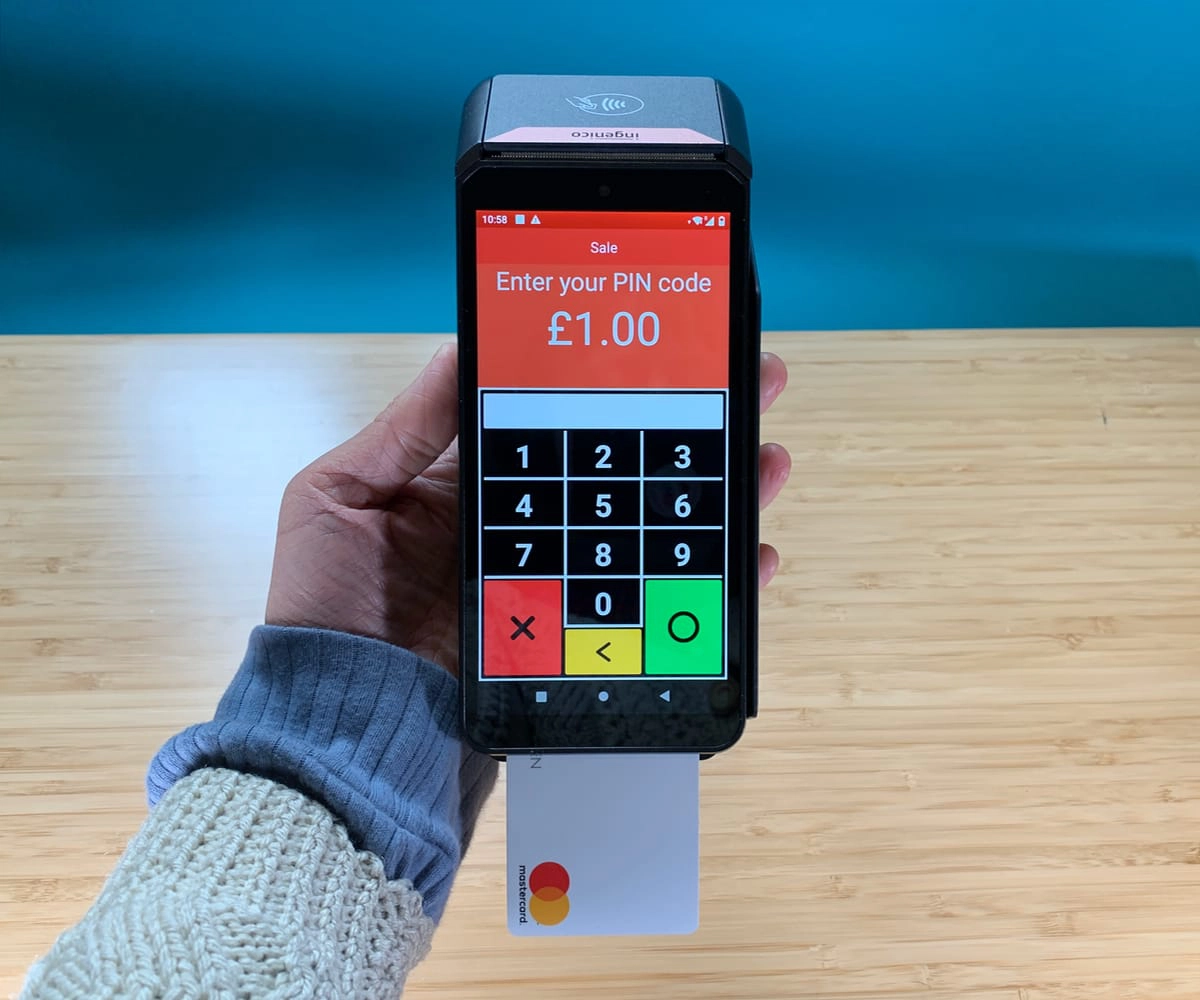 The Axium card machine uses 'PIN on glass' technology to accept chip and PIN.
Worldpay's countertop terminal of choice is Ingenico Desk 5000. It has to be plugged into a power socket at all times and uses a LAN cable to connect to your router or telephone line for an internet connection. It's only suited for a till point at a fixed location on your sales premises.
Although the lightweight Desk 5000's has a touchscreen, all the actions can be navigated via the push buttons below. From an accessibility point of view, this makes it better for blind people and others who need tactile cues for entering their PIN or using the features.
Photo: ES, Mobile Transaction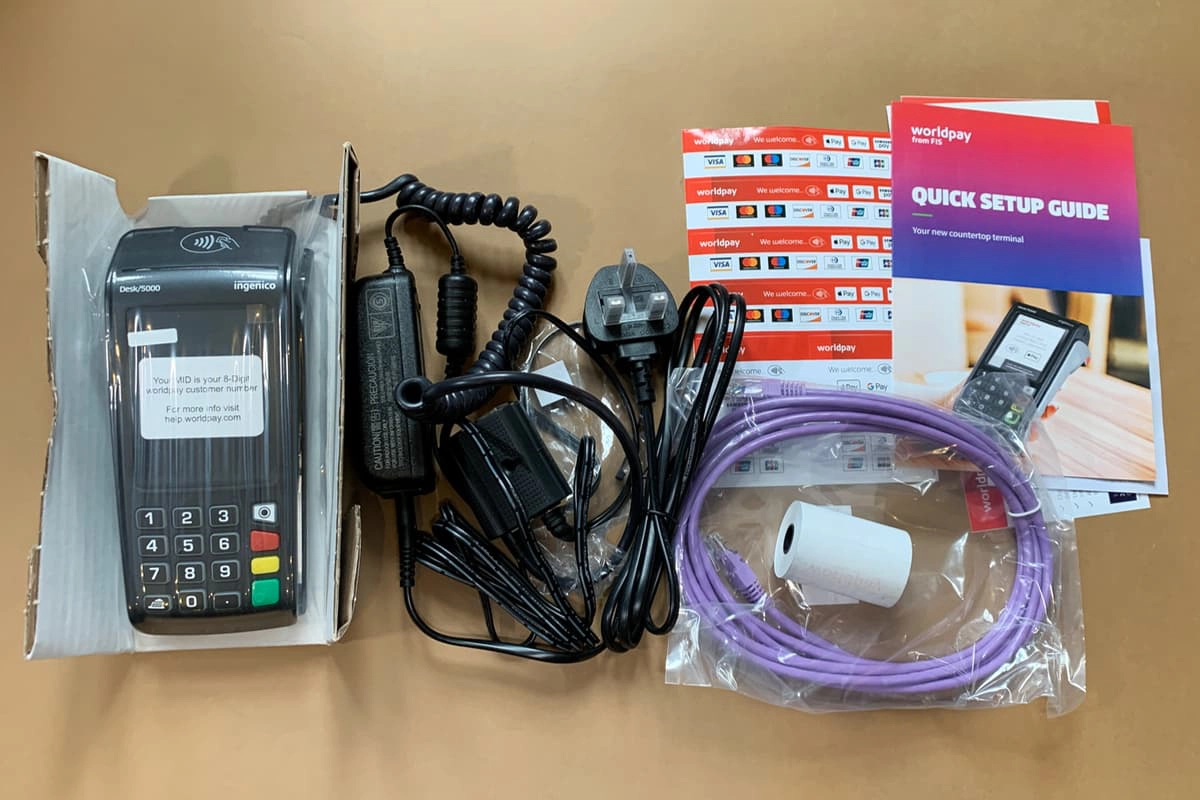 The desktop model Ingenico Desk/5000 and its included accessories.
Each terminal comes with cables, decals showing accepted card brands and a receipt roll. Axium also comes with a charging plug with cable and cradle it can be placed in on a table.
Photo: ES, Mobile Transaction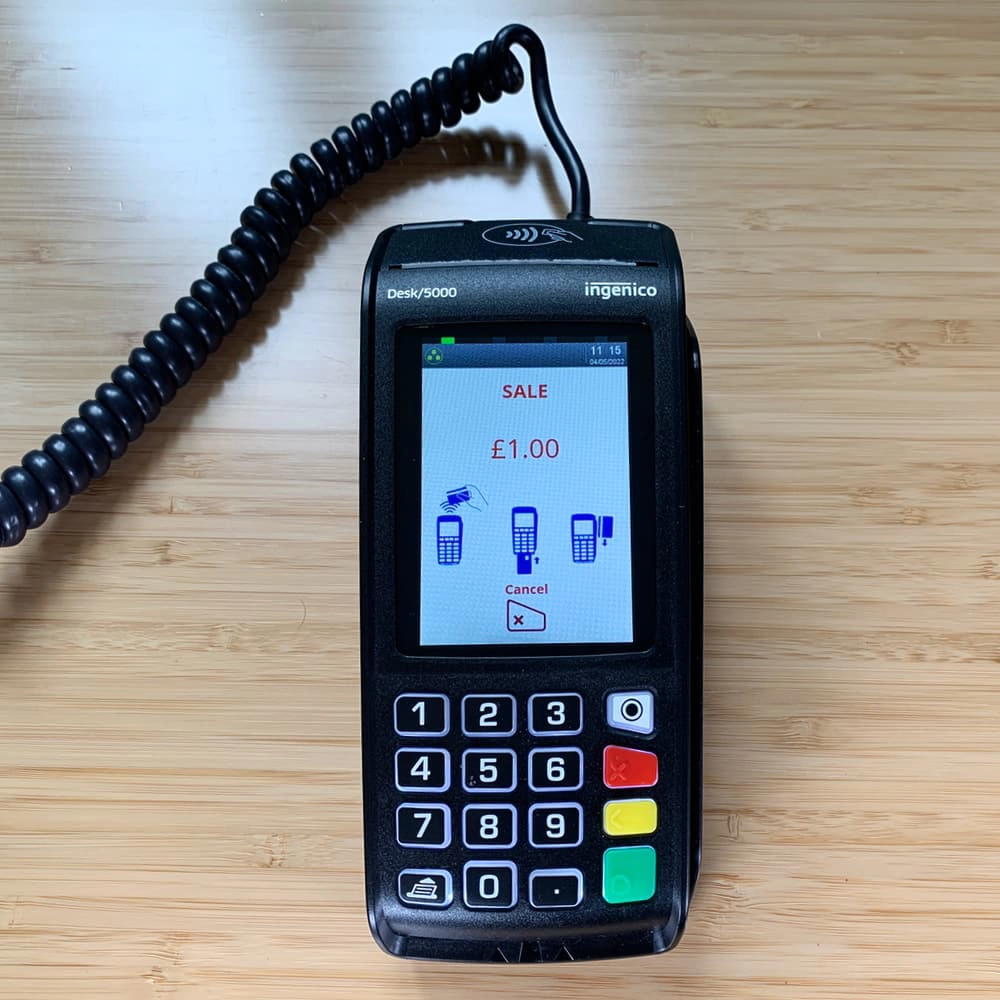 Desk 5000 has an ergonomic keypad.
Desk/5000 has bigger and longer cables because it needs a power socket and connects with wired broadband.
You should order extra receipt rolls right from the start if you plan on using the terminal immediately, because they (especially Desk/5000) print receipts for various little actions when you get started with the terminals and learn how to use them. Sometimes, you get a choice to skip the printing, but not always.
Worldpay used to offer the PAX A920 smartPOS terminal, but this was recently replaced with the Axium model above.
Worldpay fees and costs
To get a Worldpay card machine, you need to sign up for an 18-month contract with monthly charges and card fees tailored for your business.
The fees are partly negotiable (get a quote here), but certain costs are the same for everyone.
The more you know about your sales volume, distribution of cards accepted and overall requirements, the easier it will be to reach a fair quote. And the higher your transaction volume, the better are your transaction fees. Otherwise, you may end up with the higher total cost than what you can get elsewhere from the likes of Takepayments and SumUp.
What draws new customers to Worldpay is the Custom plan where you can get a tailored fees for debit, credit and business card. In this was mostly restricted to businesses with an annual card turnover of at least £100k, or typically above £250k. Worldpay can now also offer these tailored rates for merchants transacting for less, making it an option to consider also for sole traders.
Debit card fees are can get as low as 0.3%, but typically 0.6% for lower volume sellers. Credit cards issued in the UK would typically be in the 0.9 – 1.5% range, with the option to negotiate even lower fees for businesses taking in above £2 million. Business and non European card rates would be above2 2%, typically around 3% for the smaller merchants.
Overall, Worldpay gets bonus points for their transaction fees, as long as you are able to hold your own when negotiating the contract.
There are monthly minimum charge (from £15/month) if transaction fees do not reach the agreed minimum that month. Debit and credit cards have different rates plus an authorisation charge, but they are only specified during your chat with Worldpay.
You also pay from £17.95 + VAT for the desktop terminal or £23 + VAT monthly for the mobile terminal in rental, with merchant account costs added on top. PCI management requires a monthly fee of £5 monthly.
Smaller businesses accepting less than £100,000 can opt for the Simplicity plan. On this, you pay one fixed monthly fee that covers terminal hire, the merchant account and PCI compliance.
It has no monthly minimum service charge, but that's because you're paying a higher fixed monthly fee covering everything except for transactions, which have a rate of 1.5% for all cards without an authorisation fee.
We think that you are better served by the Custom plan though, especially if you accept mostly UK debit and credit cards.
Custom
Simplicity
Contract
18 months
18 months
Setup fee
Monthly fee
£17.95-£23*/mo terminal rental
Merchant account fee applies
One fee for rental, merchant account and PCI compliance
Transaction fees
Debit: 0.3 – 0.6%, Credit: 0.7 – 1.5%, Business: 2.2 – 3%
1.5%
Monthly min. charge
From £15*/mo
PCI compliance
£5*/mo
Reporting & analytics
£4.99*/mo
(3 months free)
£4.99*/mo
(3 months free)
Early exit fee
It's possible to accept American Express, but this requires a separate merchant agreement with Amex, which can be connected with your Worldpay card machines. Amex transactions are pricier than domestic Visa and Mastercard transactions.
All Worldpay pricing plans have free access to the online My Business Dashboard where you can view, export and print sales analytics and reports. Worldpay used to charge £4.99 + VAT a month for this service. It is possible to pay £10 a month for a Premium Dashboard access which allows the use of a virtual terminal,  to key in payment details taken over the phone.
PCI non-compliance fees also apply if you do not complete the required PCI paperwork through the Worldpay SaferPayments programme.
Receipt rolls are paid for separately, either through Worldpay or an online store selling compatible receipt rolls.
With any of the plans, there is an optional next-day terminal replacement service, except for when you request a replacement on a Saturday which will give you a terminal the following Monday. This service costs extra.
With any contractual commitment, significant early termination fees apply if ending the Worldpay contract sooner than you signed up for.
Reporting and My Business Dashboard
So where do you view transaction details and sales reports? All Worldpay packages initially include full membership to My Business Dashboard, which is the backend account showing transaction information on all payments received through the card machine.
The Dashboard is accessible in any internet browser. With the full membership comes detailed analyses of sales, and the ability to export transaction information or print end-of-day reports.
That said, we've seen reports that it can't integrate with accounting software, so you may have to manually upload the exported sales data into your preferred bookkeeping software such as Xero or QuickBooks.
After the initial free trial, you can choose to downgrade to the free Lite Membership – with limited functionality – or continue the full membership for a monthly fee.
Integration with the point of sale
The card machines work as standalone terminals for card payments with transactions and payment data viewable in My Business Dashboard. This data is separate from cash transactions.
It is, however, possible to integrate the terminals with EPOS systems to allow automatic communication between the POS software and card machine, and to gather all payment types into the same sales reports. Worldpay can refer you to specific partner POS providers offering complete end-to-end payment solutions.
One such partner is Epos Now that offers an out-of-the-box integration with Worldpay terminals. Some technical help may be required to set up some of these POS integrations.
Photo: ES, Mobile Transaction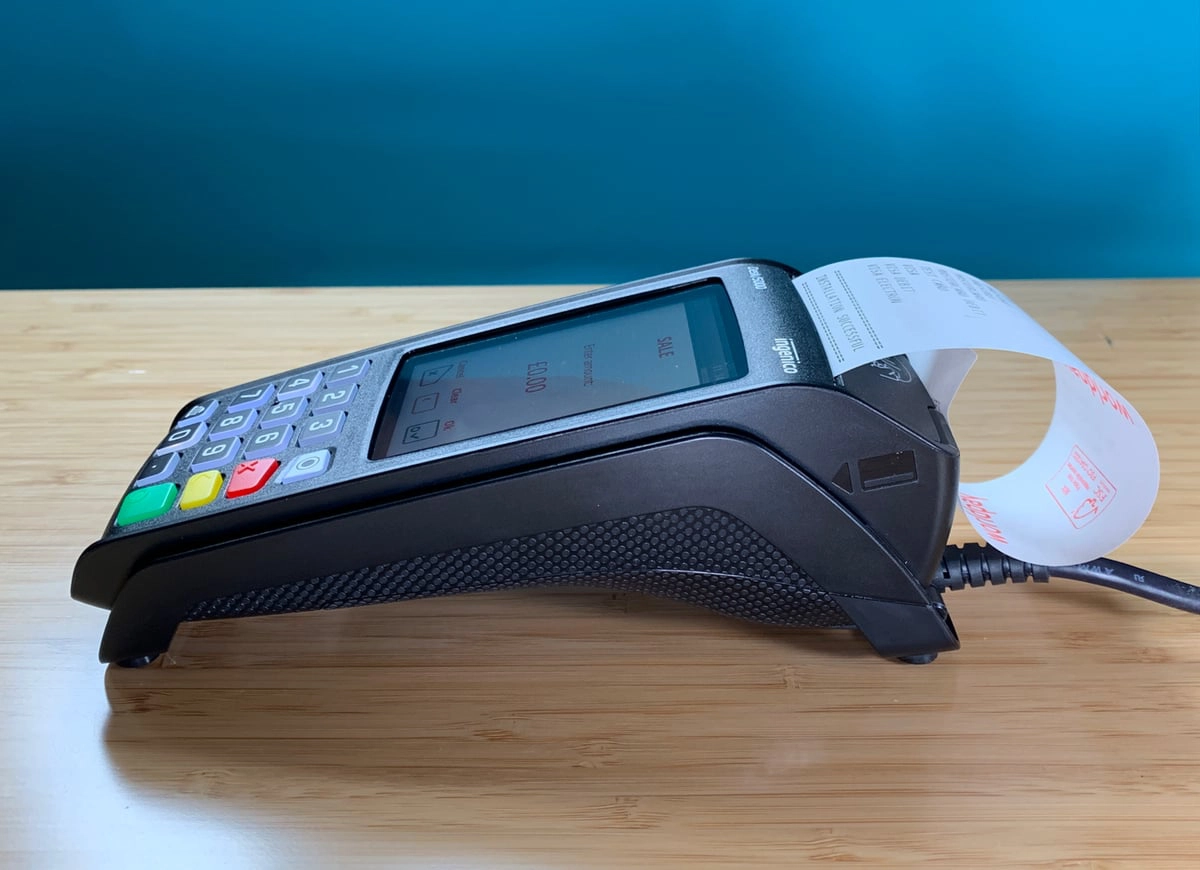 The Worldpay countertop terminal is ideal for connecting with POS systems.
Remote payments
A great thing about Worldpay from FIS is its add-on payment methods for remote transactions.
Apart from the card machines, you can add a Worldpay Virtual Terminal for over-the-phone payments. This contract costs a monthly rolling fee of £9.95 + VAT and can be cancelled any time with 30 days' notice. It includes access to Pay by Link which allows you to create payment links for email invoices or messages to customers.
There is also a Worldpay online gateway, which is basically an online checkout for your ecommerce business. This may require technical know-how to install on a website, but some website builders, such as EKM, already have a preconfigured setup with Worldpay to ease implementation.
Customer support and Worldpay reviews
Round the clock, 365 days of the year, you can call customer support for help with the card machine. The next-day terminal replacement service is a great service as well, provided you can afford it.
Unfortunately, we have seen many customer reviews expressing grief from their experience with Worldpay. If you consider their vast number of users, it is natural to also see more reviews (negative ones included) compared with less popular providers. However, some valid concerns are repeated:
Unexpected charges that are nonrefundable.

Payouts being put on hold for a long time.

Poor or slow communication when Worldpay needs to look into a complicated matter.

Lack of transparency about all costs and contract terms.
Since merging with FIS, the website has become even more confusing (sometimes inaccessible due to errors) so it is even harder to find the right information.
It's therefore important to close-read any new contract or agreement given to you by FIS/Worldpay and ask for clarification about charges before committing to anything.
There has been a general improvement in the quality of customer service over the past months, though. If Trustpilot reviews are to be trusted, the overall satisfaction has gone up. It seems the majority of users get sufficient support and are happy with their fees and products.
Worldpay Rewards
For businesses with a certain number of staff, the benefits programme of Worldpay can be interesting. The two main draws are discounted gift cards valid in a number of high street stores and supermarkets and prepaid Mastercard with 15% cashback.
Another benefits service is Worldpay Advantage, which offers potential reductions on mobile plans with Vodafone and insurance with AXA. The programme is marketed at offering significant savings, but our research found that similar deals could be negotiated directly with the providers.
That being said, Worldpay has significant bargaining power with its customer base, it is worth looking into the rewards and benefits offers if Worldpay is an overall good fit for your business. Just do not expect the rewards in itself to be the main attraction of Worldpay.
Who is it best for?
Worldpay from FIS is most popular for businesses that want to get good card rates on a Custom plan. Those with a monthly card sales volume below £100,000 a year consider the Simplicity plan, but as there are few instances where we would recommend this option over the Custom plan.
There are cheaper and perfectly viable solutions for less money and no commitment if your business takings are unpredictable or below the £100k mark. That being said, Worldpay is a trusted acquirer in the payments industry – undoubtedly a draw for merchants skeptical of newer, more techy payment solutions.
Multichannel businesses may prefer the versatility provided by Worldpay, as well as the trust consumers have in the brand (we've been assured that FIS has no plans to stop calling the service "Worldpay from FIS").
Photo: ES, Mobile Transaction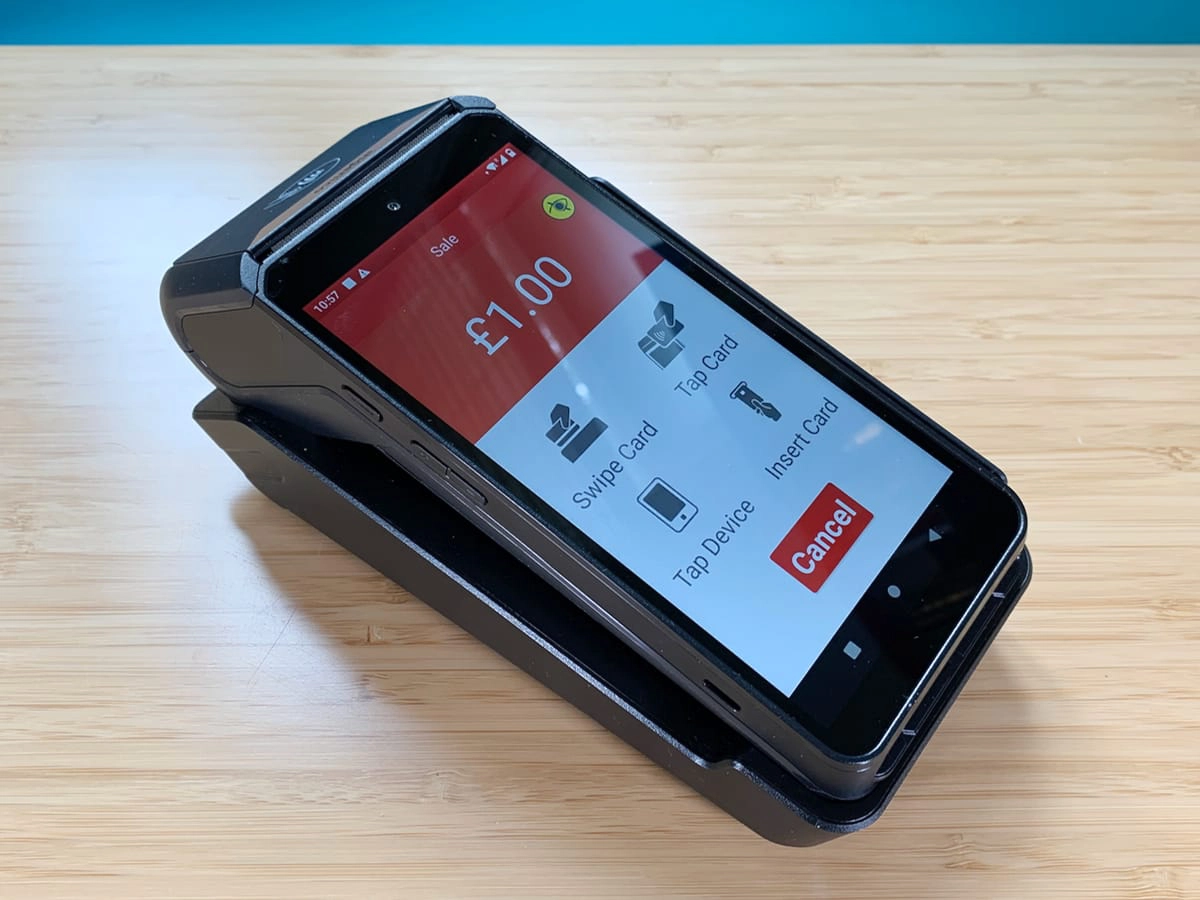 The mobile card machine looks great on a counter, not just on the go.
Our verdict
Many merchants trust Worldpay to handle everything card-related for their business, and for good reason: payment security is at its strictest, card processing is handled in-house, and they have been experts in card payments for decades internationally.
Furthermore, it is important for many established businesses to have a good-quality terminal, such as those from Ingenico, that usually last for years. We had no issues with the card machines, but the online features could do with more flexibility like the ability to integrate with accounting software.
| Worldpay criteria | Rating | Conclusion |
| --- | --- | --- |
| Product | 4.1 | Good |
| Costs and fees | 4.1 | Good |
| Transparency and sign-up | 3.0 | Passable/Good |
| Value-added services | 3.7 | Passable/Good |
| Service and reviews | 3.9 | Good |
| Contract | 2.5 | Bad/Passable |
| OVERALL SCORE | 3.9 | Passable/Good |
We didn't like the fact that fees are not transparent, so you have to contact Worldpay for even bits of pricing. Clear information about packages, contract and costs are important for many, and the sales pressure of a phone call is not ideal for the less confident who don't know their sales figures yet.
Small businesses prioritising low costs can find decent card machines elsewhere that are also highly secure and come with free extras. It used to be the case that good models had to come from traditional payment providers like Worldpay, but faster-growing fintechs like Zettle and SumUp are often better at catering to the needs of cost-sensitive merchants.
Conclusion: If you have a steady turnover above £10k monthly, need a traditional card machine package and are willing to lock in to a long-term contract, Worldpay from FIS is worth contacting for a quote.