As a self-employed hairdresser, barber or stylist, you don't want to be stuck with the wrong card machine. The wrong setup can complicate transactions, bookkeeping and just be too expensive – but there are several very affordable card machines for hairdressing sole traders.
We have picked the six best UK payment companies offering card terminals for self-employed stylists, hairdressers and barbers. All these options are mobile too, ideal for events and home visits.
| Company | Terminal price* | Best for | Offer |
| --- | --- | --- | --- |
| SumUp | £39–£129 | Lowest contract-free transaction rate | |
| Square | £19–£149 | Unbeatable free POS features | |
| Zettle | £29 (full: £59) | Stylish, all-round card reader with POS app | |
| Takepayments | From £25/mo (rental) | Multi-user touchscreen terminal | |
| Worldpay | Custom quote | Competitive for more established merchants | |
| Handepay | Custom quote | Can buy you out of another terminal contract | |
Before we cover the options, consider your needs. Perhaps you work your flair in a salon, but what if you're visiting clients? What if you sell styling products? How do you manage commissions? Can card sales be linked to accounting? Key questions:
Do you want to itemise transactions into services and products?
If you offer your own styling products, it's easier to use an app-based card reader.

Zettle, SumUp Air and Square come with a POS app with product library so you can itemise products on receipts and manage stock better. You can even list your services in the app even though they are not physical products.
Traditional card terminals only deal with transaction amounts entered manually, unless linked to an external POS system.
Are you receiving or paying a commission from your sales?
If you get commission from products sold in a salon, the salon's card machine should process those transactions. The payments will go to the salon's bank account, and it is the owner's responsibility to pass commissions onto you.
If you are renting a chair, room or booth in a salon and, instead of paying a fixed amount, you are paying the salon a commission from your transactions, there are two ways to go. Either you have your own card machine, in which case you receive payments in your bank account, then pass on commissions to the salon.
Or you use the salon's card machine and rely on the owner to keep the commission and give the rest to you. Card machines can only be linked to one business and bank account, not multiple.
What reporting functions do you need?
If you need to export sales to Excel, most of the below solutions can do that for free. Integrating with Xero and other accounting software can cost extra.
Can you commit to a long-term contract and do you anticipate a steady card turnover?
Worldpay, Takepayments and Handepay have lock-ins of 1-3 years. These contracts give you the best rates with a history of existing card turnover and steady income.
If sales are less predictable and you can't tell how much freelance work there'll be, SumUp, Zettle or Square have very competitive fees while also allowing you to accept a wide range of cards without a contract.

No ongoing fees, fixed transaction rate

Two models: with or without app
Settlement takes 1-3 working days
SumUp is popular, not least because it has the lowest card rate of all contract-free card machines, i.e. 1.69% per transaction. There are two card reader models: SumUp Air that works with a payment app on a connected smartphone or tablet, and SumUp 3G with an inbuilt SIM card enabling it to work independently via (you guessed it) 3G, but also WiFi.
Photo: Emily Sorensen, Mobile Transaction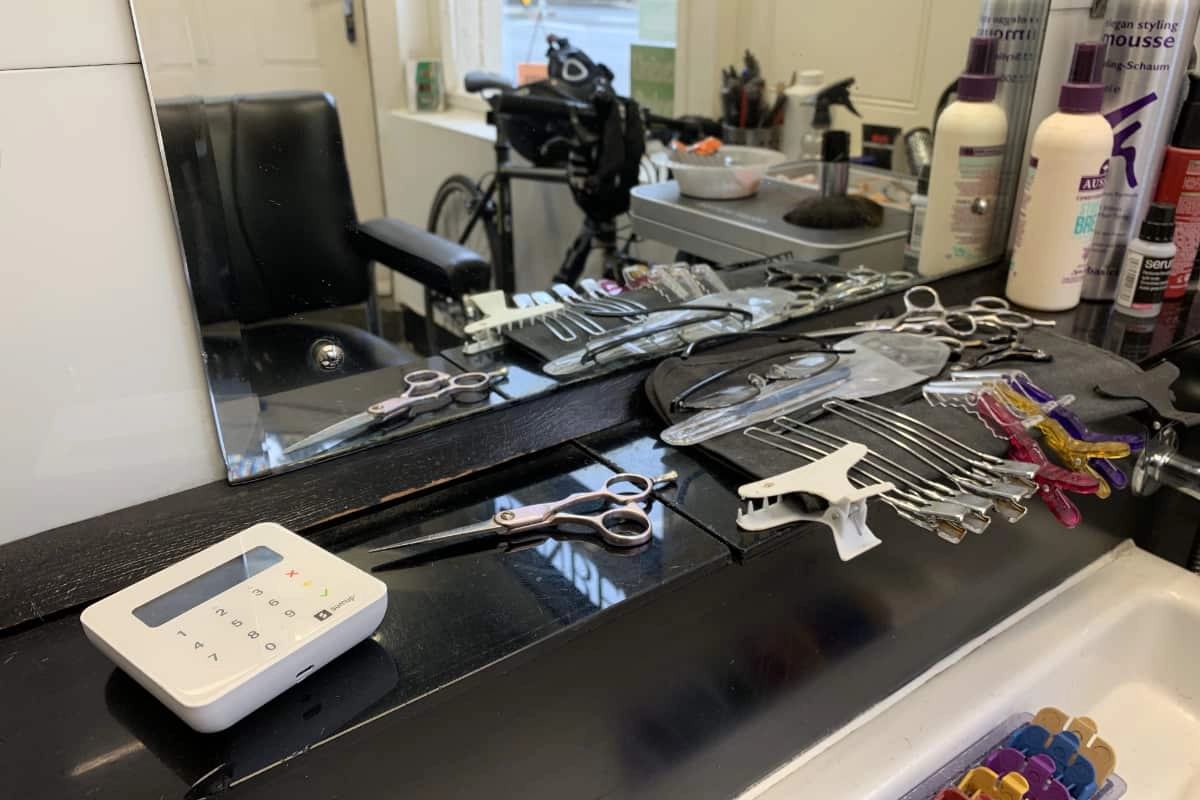 SumUp Air is one of several card readers used at Martin James Hairstylists, London.
There's no setup fee, monthly fees, monthly minimum sales charge or other ongoing costs. It's simple to sign up, buy the card reader and start accepting cards once connected to your bank account. Payouts automatically reach your bank account within 1-3 working days of each transaction, unless you opt to receive payments the next day – even on weekends – in an online SumUp Card account.
The app-based card reader, Air, is the cheapest because it needs the SumUp payment app on a Bluetooth-connected phone or tablet. It is very easy to figure out, with a product library for adding your services or hair products for clients.
The 3G card reader works independently so it's pricier upfront, but then you don't need a phone to authorise payments. You simply enter the amount, then let the customer enter their PIN for a chip card or tap to pay by contactless (or swipe if the client's card is American). The terminal is lightweight, fits into regular pockets and can be paired with an optional SumUp Printer for £129 + VAT when bought together.
The SumUp App lets you send payment links, accept QR code payments, create a basic online store and send invoices – all for 2.5% per successful transaction. All SumUp merchants can use this without monthly fees, regardless of whether you have the SumUp Air or SumUp 3G.
Accepted cards












Although reporting tools are available in the online dashboard, SumUp is the only solution on this list that does not integrate with external accounting software. You can analyse sales, receive payout reports by email and export to Excel, though.
Customer support is available between 8am-7pm on weekdays and 8am-5pm on weekends, which is the most support hours offered by a commitment-free card reader.
Overall, SumUp is a great low-cost card machine for mobile hairdressers who are not ready to commit to a contract or know what their freelance income will be over the next year.
SumUp Air with app: Cheapest no-contract card payments on the go
Price: £39 (offer here)
SumUp 3G: Simplest possible card machine for anywhere
Price: £129 (offer here)

No monthly fees, just a card rate

Works with POS app on mobile device
No contractual commitment
If you're going for most features, the deceptively plan-looking Square Reader is your best card reader-with-app solution. It accepts chip (PIN on mobile app screen) and contactless cards. The lack of PIN pad means it's the smallest of all card readers, and the most lightweight. It connects via Bluetooth to the Square Point of Sale app on your smartphone or tablet, using the mobile device's data/internet connection when authorising card payments.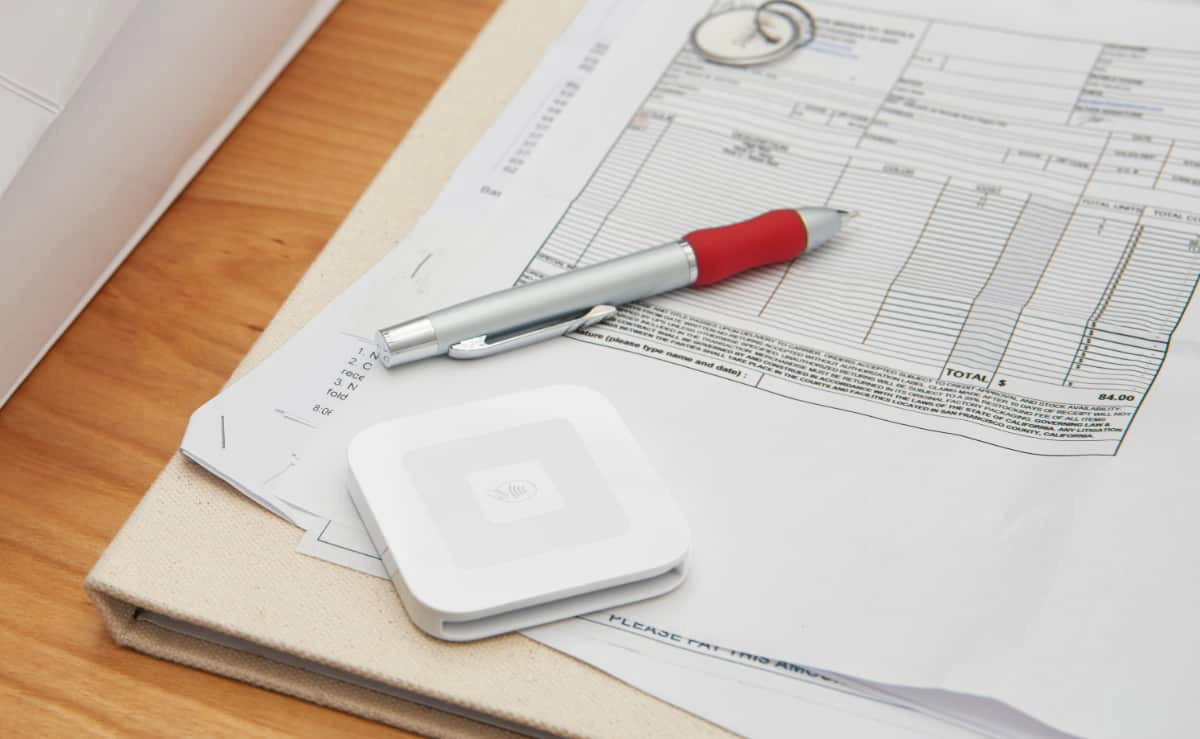 Square Reader is very small, so it's easy to bring to clients' houses and back to your desk.
The transaction rate is 1.75% for chip and contactless cards regardless of the card accepted. In addition, you get Square Invoices, over-the-phone payments, ecommerce and payment links as free extra tools without monthly fees. You can also manually enter card details in the POS app if you've forgotten the card reader and you're with the client and payment card (neither SumUp nor Zettle allow this in their apps).
There are no fixed charges apart from the card rate applicable to any of the accepted cards. If you need scheduling, accounting or nearly any other tools, you can integrate with a big range of partner platforms to connect sales and features.
For an additional 1% on top of the transaction rate, you can get instant payouts to your bank account, otherwise transactions will take one (max. two) working days to reach your bank account.
The free POS app has the most product and payment features out of all app-based card readers. For example, you can sell e-gift cards, get customer feedback through digital receipts and refund custom amounts.
Accepted cards










If you prefer a standalone card that doesn't rely on a connected tablet or smartphone, there is also Square Terminal for £149 + VAT. This is a beautiful, portable touchscreen terminal with POS software built in. It only works on a secure WiFi connection, not mobile network, making it best for a fixed location.
Photo: Mobile Transaction
Square Terminal is wireless and versatile with plenty of checkout features.
Overall, Square is excellent for its ease of use and the quick, online sign-up. It only offers 9am-5pm customer support on weekdays, but most merchants would not need help given the user-friendly interface and lack of complicated terms. There's no fixed contract, so you can simply stop using it any time, then resume when you need it next.
Square Reader with app: Tiny card reader with wealth of features
Price: £19 (offer here)
Square Terminal: Touchscreen terminal as a portable checkout
Price: £149 (offer here)

No monthly fees, only fixed card rate

Works with POS app on mobile device
Settlement takes 1-2 working days

No contractual commitment
Zettle Reader – previously known as iZettle Reader – is ideal for merchants wanting a cool-looking, pocket-sized card reader that can also pass as a mini POS system. The card reader connects via Bluetooth to the Zettle Go app on your smartphone or tablet, accepting payments over the mobile device's internet connection.
Photo: Emily Sorensen, Mobile Transaction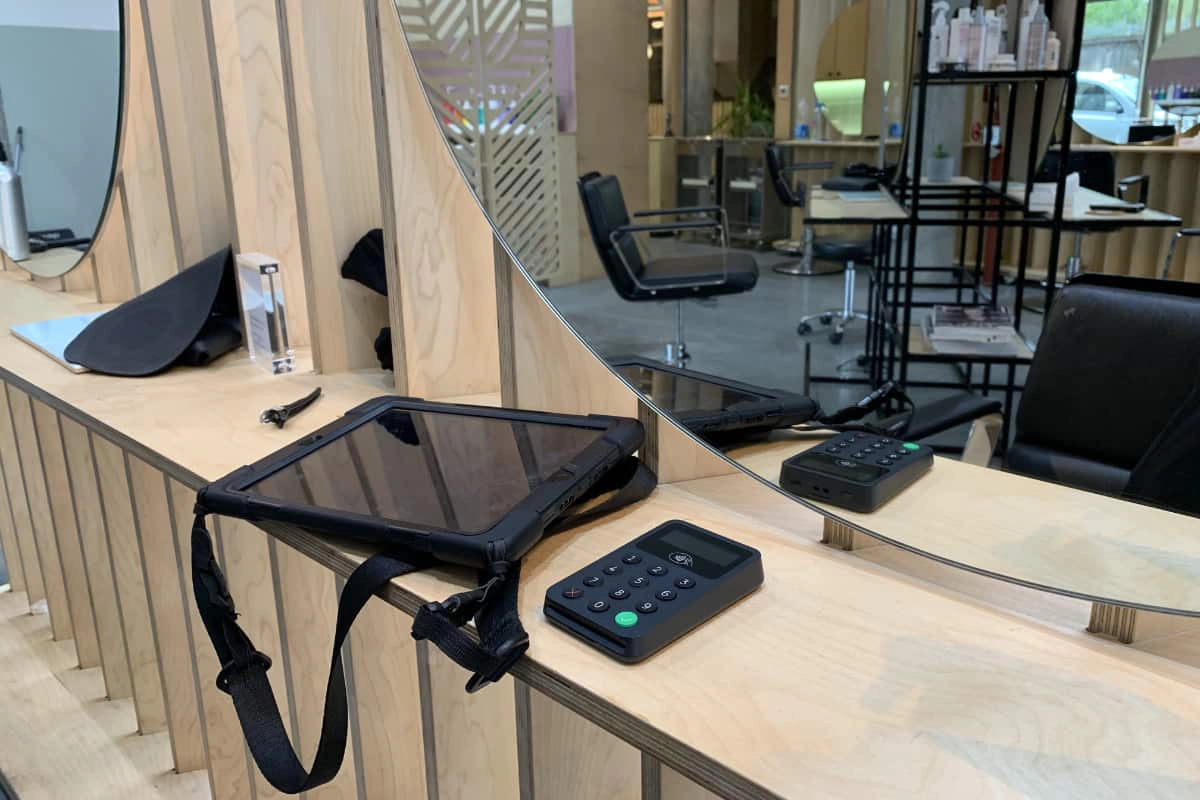 The black Zettle Reader is used by stylists in Kennaland hair salon in Hackney, London.
Zettle has no monthly fees, no minimum sales requirement, no setup fee – you only pay a 1.75% transaction fee per card reader payment. If you don't sell anything, you pay nothing. There's no contractual commitment either.
The POS app comes with a nice product library where you can add individual products and services, thereby track what's been purchased. You can also send invoices and payment links, which have a higher transaction rate, 2.5%. PayPal QR codes can also be generated for touch-free transactions.
The software includes reporting tools, viewed fully in your Zettle account from any web browser. It integrates with Xero and QuickBooks for more accounting tools, if exporting sales to Excel does not cut it for your books.
Payouts automatically go to your bank account within 1-2 working days, which is a bit faster than many competitors.
As to customer service, you can phone Zettle between 9am-5pm on weekdays, or email any time (although replies only happen during weekday work hours).
Accepted cards














Small businesses and self-employed professionals speak highly of Zettle for its easy of use and affordability (we have tested it and talked with Zettle customers, so we know). That said, recent negative reviews online complain about customer service and issues not being dealt with promptly. Overall, many merchants find Zettle the best-value solution for face-to-face services.
Learn more: Zettle Reader review – leading card reader with POS app

Touchscreen smart POS terminal

Customer support 7 days a week
Takepayments Multipay is a 'smart POS terminal' with a large touchscreen interface. Not only does it accept contactless, chip and PIN and swipe cards, it also allows you to create up to six user accounts with their own PINs so you can share the device among a team of professionals.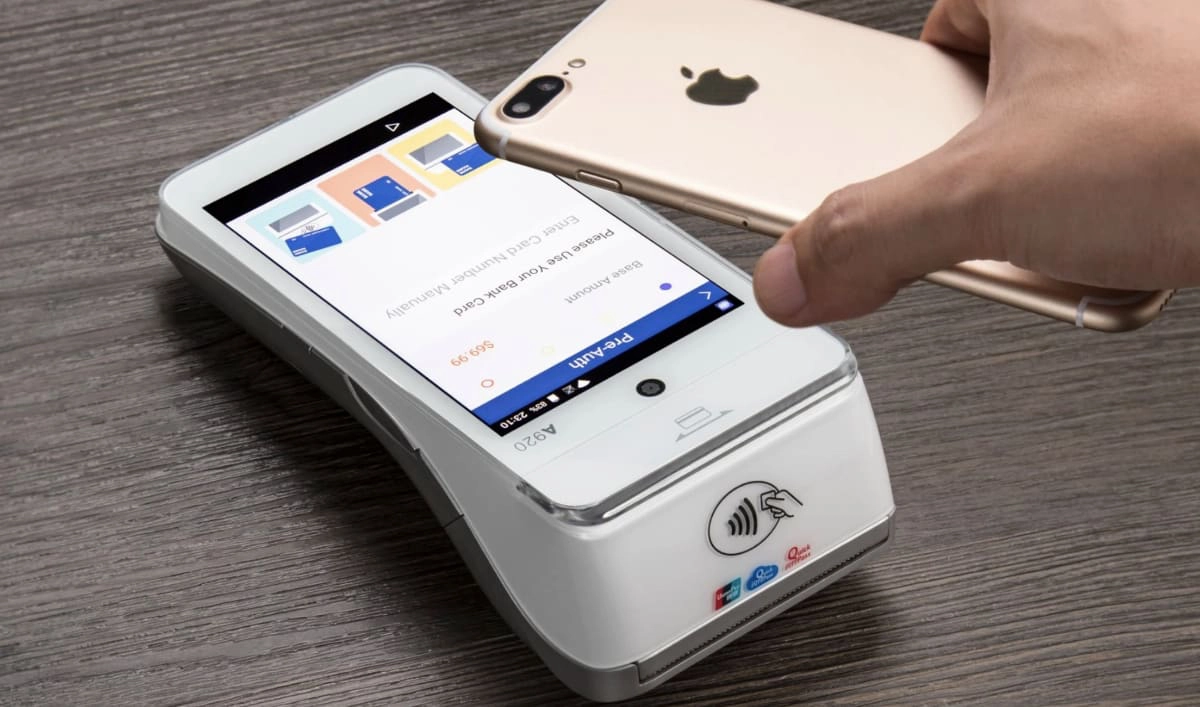 Takepayments Multipay is a versatile, sleek touchscreen terminal.
The terminal is actually a PAX A920 model, a card machine that is getting increasingly popular in the UK. The standard Multipay plan includes WiFi connectivity, which would make it work in a salon or other place with a secure WiFi connection. For a higher cost, you can get it with a built-in SIM card for mobile connectivity anywhere with 4G, for example when visiting clients.
There's no setup fee with Takepayments, but you do commit to a 12-month contract which is actually one of the shortest commitments on the market. The monthly fee for a WiFi Multipay machine is £25 + VAT per month. On top of this, you pay transaction fees ranging between 0.3%-2.5% plus a flat fee (the exact rate depends on the card and your contract).
Signing up requires filling in an online form, after which you receive a phone call. Takepayments tends to offer a visit on your premises (if relevant) so they can tailor your plan around your business needs.
Accepted cards







Apart from Visa, Mastercard and Maestro, American Express can be accepted with an additional agreement. This is common when you rent card machines, as Amex works a bit differently than other card brands.
The Multipay terminal is ideal for a salon with multiple hairdressers, beauticians or stylists. The multi-user option allows the business owner to allocate the correct tips, track sales and transfer the correct commissions according to what each professional has earned.
Takepayments' customer support is available every day of the week within working hours.
Learn more: Takepayments review – competitive, 12-month terminal rental

2-3 working days' settlement
Worldpay is a large merchant service provider in the UK, offering a wide range of card machine plans with varying charges depending on your turnover, type of business and cards accepted. The Custom plan with a 18-month lock-in is the most popular deal due to its tailored transaction fees, but it does come with an early termination fee if you decide to exit the contract early. A Pay As You Go plan is available, but this comes with a £150 + setup fee.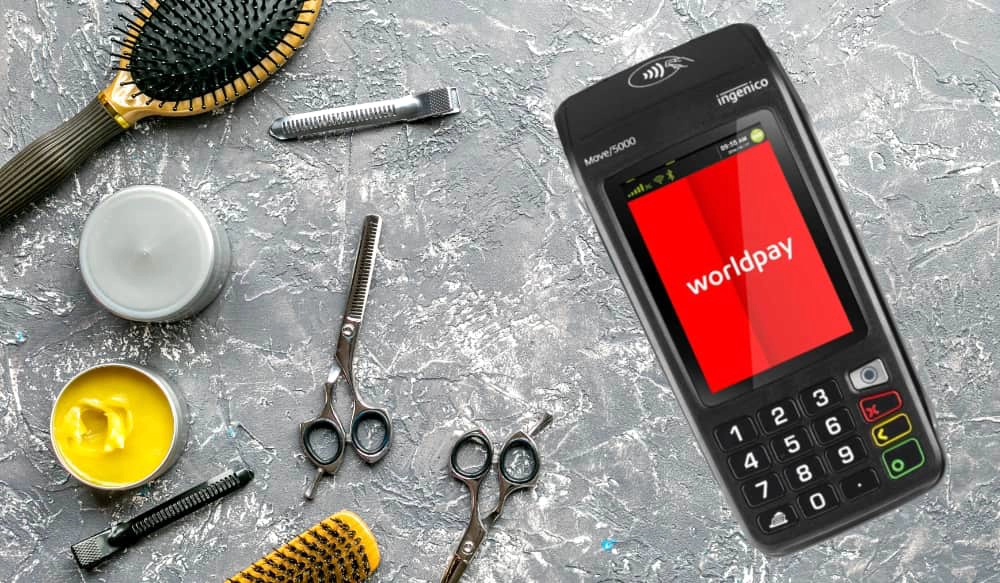 The Ingenico Move 5000 model is Worldpay's choice of mobile card terminal for mobile hairdressers.
The mobile card machine is a standard Ingenico-branded terminal which your clients will be familiar with from shops. It is high-performing, but won't fit in your pocket (unless large). With its built-in SIM card, you're able to accept cards on the go through the local 3G/4G network.
It does not link to POS features or a product library – it just accepts card payments. The backend dashboard shows your transactions, but expect to pay a monthly fee for decent reporting tools, or an integration cost if linking to accounting software.
Worldpay may be the better deal if you're an established professional with a history of card payments, and you're willing to negotiate card fees for a good quote before signing on to a contract. If you're clueless about card machine contracts or fees, it may be best to start with a commitment-free solution like Zettle, SumUp or Square.
You get 24/7 customer support with Worldpay, but historically speaking, large companies are prioritised more than self-employed merchants at a payment provider like this.
Accepted cards













The range of cards accepted is decent, but just like Takepayments, you need a separate agreement with American Express to accept Amex, which will cost you more.
If your terminal works and you have no questions about unexpected fees on your statement, then you could thrive with Worldpay. To get the best card rates, you need a steady stream of card payments within one of the 18-month contracts.
Learn more: Worldpay card terminals – decent provider with choice of plans

Monthly fee covers transactions
Payouts take 3 working days
Handepay is an independent sales organisation (ISO) offering traditional Spire card machines to small businesses including sole traders. The mobile terminal model has an inbuilt SIM card i.e. works independently via 3G. It won't fit in a regular pocket, but it's definitely portable and will appeal to those who prefer a traditional card machine. It does not link to a product library or POS tools – it merely accepts amounts manually entered on the terminal.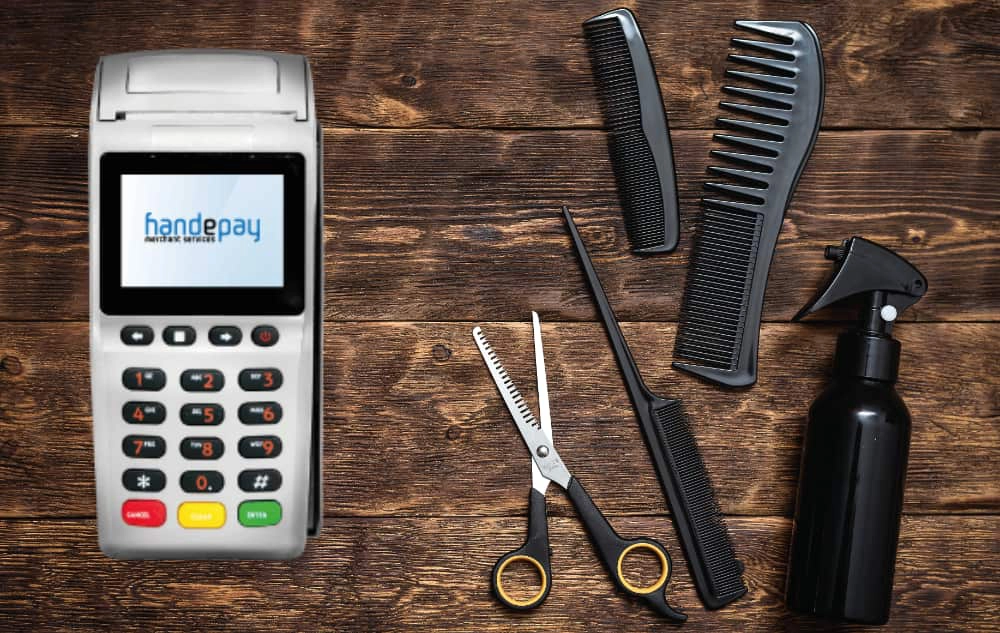 Handepay's mobile Spire terminal is heavier than the small card readers, but it's good quality.
If you prefer paying the same price every month instead of mixed fees, Handepay could be a good option since they offer fixed monthly costs that cover a certain number of transactions per month. There are other costs of course, as with any traditional merchant service provider, but Handepay has made an effort to reduce the cluster of fees.