If you're a self-employed taxi driver, you may need to install a card machine, and so do taxi fleet owners employing their drivers. In any case, most taxis would make more money with a card terminal so all passengers can pay the way they prefer. But what's the best credit card machine for taxi drivers?
Black cabs, private hire taxis and other licensed cab drivers in London have to abide by different rules than outside the city, which we'll cover in the last section. The rules mean not all the card machines on this list are approved for London. For example, the latest Zettle Reader and SumUp are not currently accepted. Still, all the options included here are ideal for taxis throughout the UK.
>>For Irish alternatives, see this article instead
Mobile Transaction's top picks of card machines for taxis: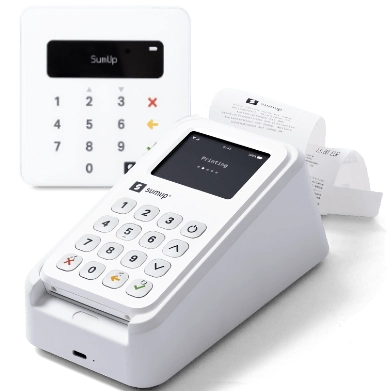 Not approved in London, but ideal for other taxis

SumUp Air needs mobile payment app, SumUp 3G works without it

Air needs Bluetooth printer for paper receipts, 3G + Printer combo can print
SumUp Air is a cheap card payment machine for taxi drivers. You buy it for £39 + VAT upfront, then pay only a fixed transaction fee of 1.69% for any card accepted. There's no contractual commitment or monthly fees.
Photo: Emmanuel Charpentier (EC), Mobile Transaction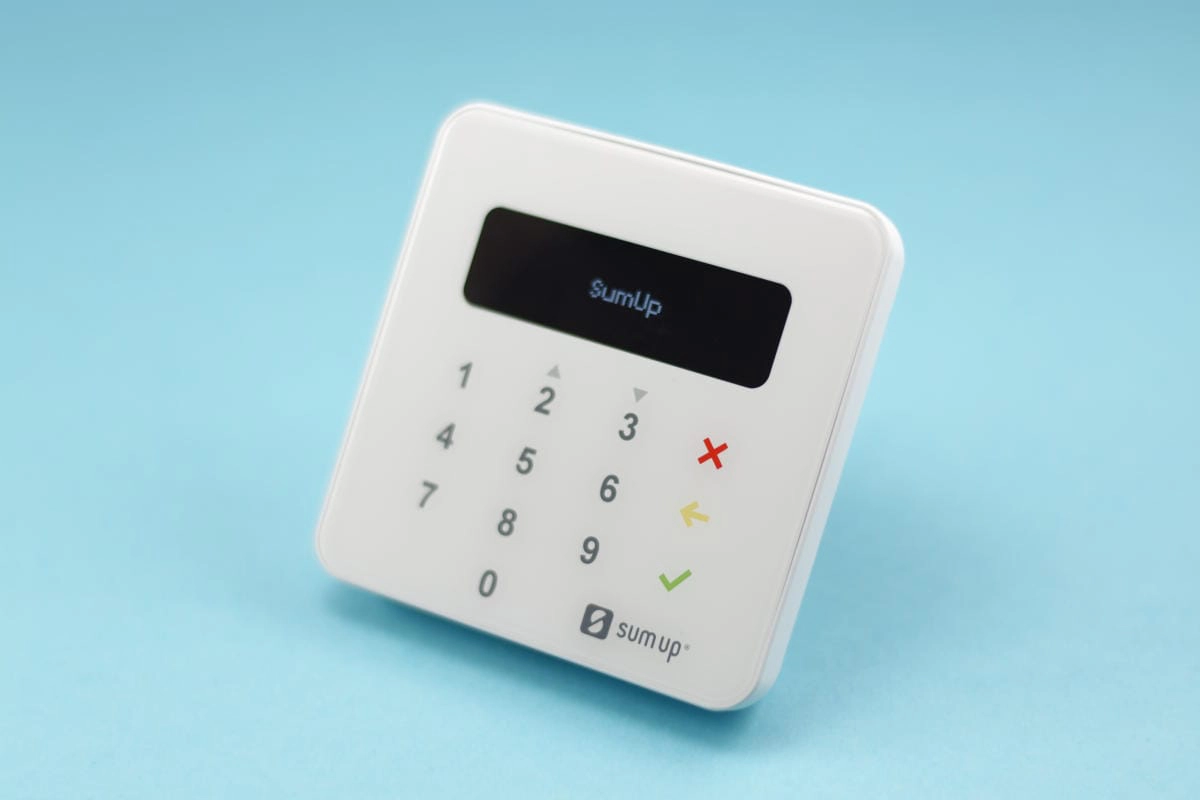 SumUp Air is a low-cost mobile credit card machine for taxi drivers.
The card reader connects with a SumUp app on your phone or tablet, using the mobile device's 3G or 4G network to process payments over the internet. The app is very easy to use, with standard features like adding VAT and viewing past transactions. You can also send payment links, take QR code payments and more from the app.
Payments are automatically cleared in your bank account within 1-3 working days for no extra charge. With the SumUp Business Account and Mastercard, you can access transactions the day after, including on weekends.
SumUp accepts contactless and chip and PIN cards by Visa, V Pay, Mastercard, American Express, Discover, UnionPay and Discover, as well as the mobile wallets Apple Pay and Google Pay.
The wide choice of accepted cards makes it a good choice for taxis serving lots of tourists (for example, airport transfers). Furthermore, the low fixed transaction rate stays the same for foreign and premium cards in contrast with most other card machine deals that have higher rates for such cards.
Accepted cards












SumUp App allows you to send a digital receipt via email or text after each transaction. To print a receipt, you need to buy a compatible receipt printer and connect it with SumUp Air over Bluetooth.
SumUp Air works best handheld, as there is no official card reader mount to install in the passenger compartment. This makes it unsuitable for licensed taxi drivers in London, where it is a requirement to have a fixed card terminal with the passenger.
Photo: EC, Mobile Transaction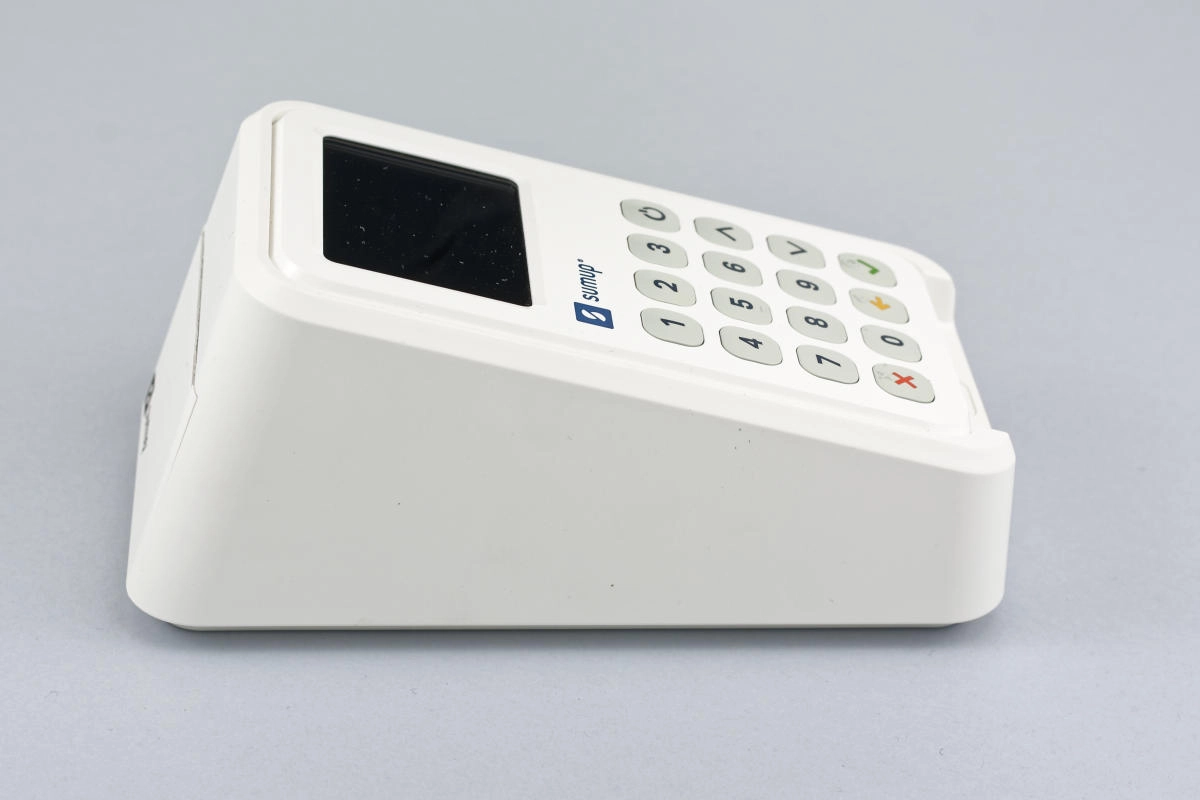 The SumUp 3G and Printer works without a connected mobile app and prints paper receipts.
Alternatively, you can use the SumUp 3G and Printer duo, the cheapest card machine with receipt printer in the UK. It works without a mobile app. You can use SumUp 3G separately, but it requires the printer-and-charging cradle to produce printed receipts anywhere with network coverage. You can otherwise send text and email receipts from the terminal display.
The card reader has a built-in SIM card with unlimited free data, working on low connections such as GPRS and 3G but also WiFi. The same transaction fee applies to this solution as with the Air reader.
Another independent card reader is the recent model SumUp Solo. It has the same simple card payment features as 3G and Printer, but without the printer and with a shorter battery life. We recommend 3G and Printer because its battery doesn't run out quickly, especially with the printing dock that acts as a charger too.
SumUp's customer support is available weekdays between 8am and 7pm and weekends between 8am to 5pm.
Learn more: SumUp Air review – easy-to-use with an affordable card rate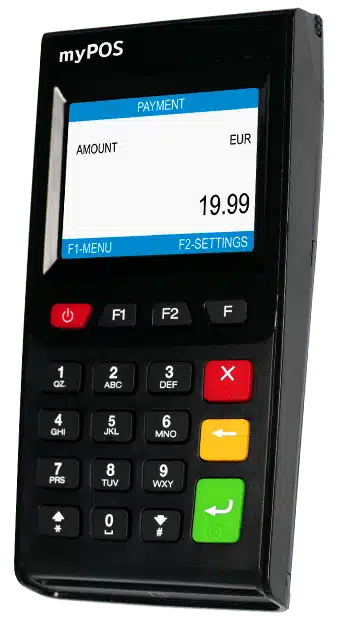 Not approved in London, but ideal for other taxis

Works independently via inbuilt SIM card

Payouts in e-money account, bank account settlement costs extra

myPOS Go: £39 + VAT
myPOS Carbon: £209 + VAT

Card rates: 1.1%-2.85% + 7p
myPOS sells a whole range of card terminals without contractual commitment or fixed monthly costs.
The myPOS Go terminal – for £39 + VAT plus a £6 delivery charge – is the cheapest and simplest model. It's ideal for taxis because it's independent, small and comes with a SIM card with unlimited data for card processing. Its mobile connectivity options (4G and lower) mean it should work even in rural areas.
Photo: EC, Mobile Transaction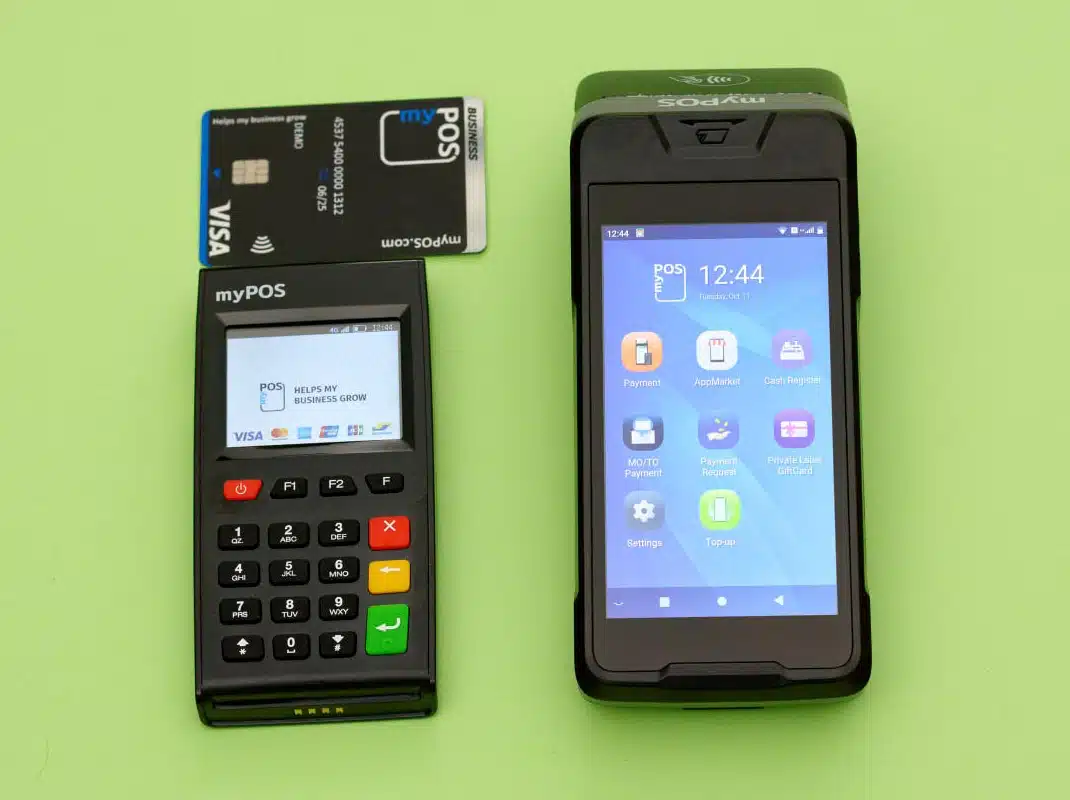 myPOS Go and Carbon come with a Visa card linked to an online account.
myPOS is more of a European company than UK-based. Their terminals and SIM cards work across the EU and EEA without having to put in a special agreement, so private hire drivers and taxis operating around the border (e.g. Northern Ireland/Ireland) could benefit from that flexibility.
Transaction rates are determined by the type of card and where it is issued. UK- and EEA-issued Visa or Mastercard cards issued cost 1.1% + 7p per transaction. American Express payments cost 2.45% + 7p and all other cards incur a fee of 2.85% + 7p.
Payments are settled immediately in an online myPOS e-money account, and you can access this money straight away through the complimentary Business Visa card. Transferring money from the e-money account to your bank account costs £1.50 per payout.
Accepted cards












Getting started with myPOS is not as simple as with SumUp, as you need to submit paperwork and have an identity verification video call before the account is set up. In the UK, myPOS offers round-the-clock customer support every day of the week.
If you like the idea myPOS's online merchant account, but prefer a better terminal, the myPOS Carbon touchscreen terminal with a receipt printer is available for £209 + VAT. On this, you can download additional apps that taxi drivers may find useful, such as dispatch software.
Learn more: myPOS – pay-as-you-go terminals with online business account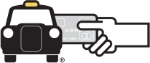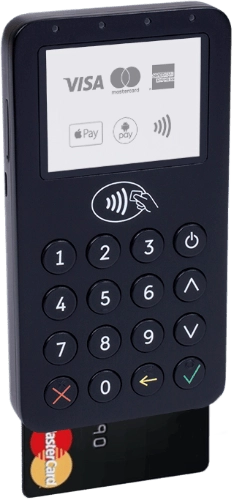 Approved for London taxis

Terminals work independently, SIM card and data included

Settlement in bank account or prepaid Visa card

Individual drivers: Card reader £99 + VAT, transaction rates 1.5% or 2.5% + 5p, no monthly fees

Taxi fleets: Tailored package, spread the cost of hardware over a contract term
CabCard Services is a UK-based company specialising in card terminals for taxi drivers. Over 10,000 taxi drivers use CabCard, and we can see why: the pricing is uncomplicated and very affordable, and it includes dedicated 24/7 customer support via phone, email and web chat.
What's more, CabCard's Pocket 3G Terminal (Datecs BluePad 55 model) has been approved by Transport for London for use in London's licensed taxis together with a DPP-250 receipt printer.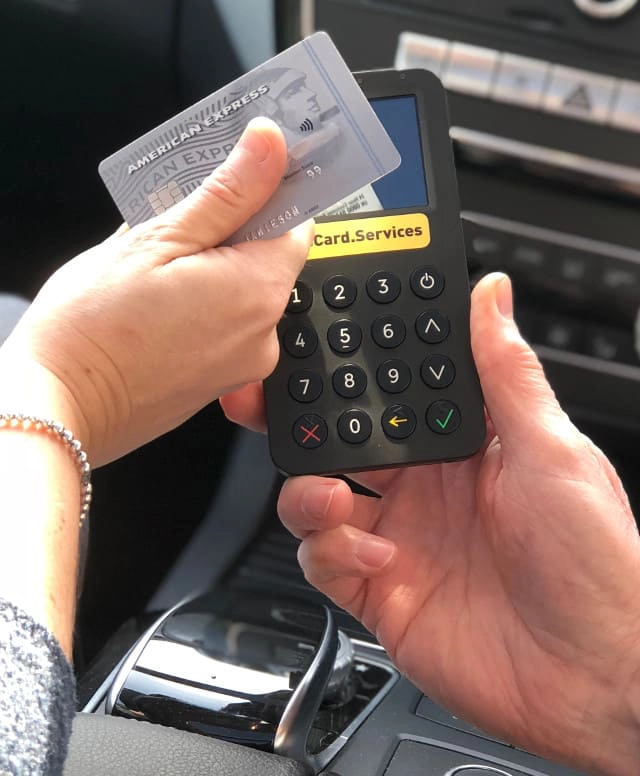 CabCard's 3G handheld reader is easy to use, with some of the lowest fees in the taxi sector.
Taxi drivers and fleet owners can choose between two card machine models: a larger terminal with receipt printing, and the Pocket 3G Terminal. The latter is the model featured for individual drivers.
CabCard Pocket 3G Terminal costs 99 + VAT upfront. It works independently, processing payments through the local 3G network through the built-in SIM card with data included. You can add tips directly on the card reader.
There are no monthly fees for this card machine, and the daily or weekly (your choice) bank account settlement is also free of charge. Instead of clearing transactions in a bank account, you can choose to process payouts to a prepaid Visa CabCard card.
For individual taxi drivers, all transactions incur a 5p authorisation charge in addition to the following rates:
Personal Visa/Mastercard debit and credit cards issued in UK/EEA: 1.5%
Business Visa/Mastercard debit cards issued in UK/EEA: 1.5%
Business Visa/Mastercard credit cards issued in UK/EEA: 2.5%
All non-EEA/UK Visa/Mastercard: 2.5%
All Amex: 2.5%
Accepted cards






Compared to SumUp's single rate of 1.69%, CabCard is marginally pricier for lower-cost journeys because of its fixed 5p added to transactions whereas longer journeys have a lower cost due to CabCard's lower 1.5% rate for most cards.
For example, a £15 journey can cost 27.5p through CabCard or 25.4p through SumUp, compared to 80p (CabCard) versus 84.5p (SumUp) for a £50 trip. But CabCard's 2.5% rate for international or premium cards can push fees higher (42.5p for a £15 journey, £1.30 for a £50 journey), making SumUp the smarter choice for airport journeys and tourist hotspots.
Taxi fleet owners can get special card rates (1% or less), the option to spread the cost of hardware over a contract term, and no setup or upfront charges. This includes software allowing you to monitor your fleet's sales and driver performance in real time from the backend account. Fleets can get their contract tailored in different ways, e.g. by deciding how drivers get paid through the CabCard system.
Self-employed taxi drivers also have access to view transactions and payout times in a CabCard dashboard on a tablet or smartphone.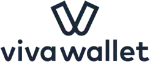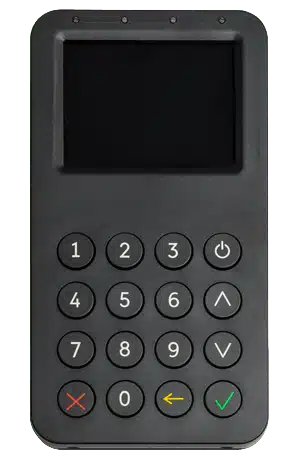 Approved for London taxis

Works with Viva Wallet app

Card reader: One-off price or subscription

Card rate: Requires quote
Possibility of 0% fee if using the Viva Debit Card for your business expenses
The Viva Wallet Black Cab Solution is a bundle containing a Datecs BluePad 55 card reader (same as CabCard's) with a holder for the customer compartment and wireless receipt printer. This makes it compliant with Transport for London's rules for Black Cabs, so it is on their list of approved card machines.
Taxi fleets and other private hire cabs can, however, also benefit from the taxi management features included in the solution.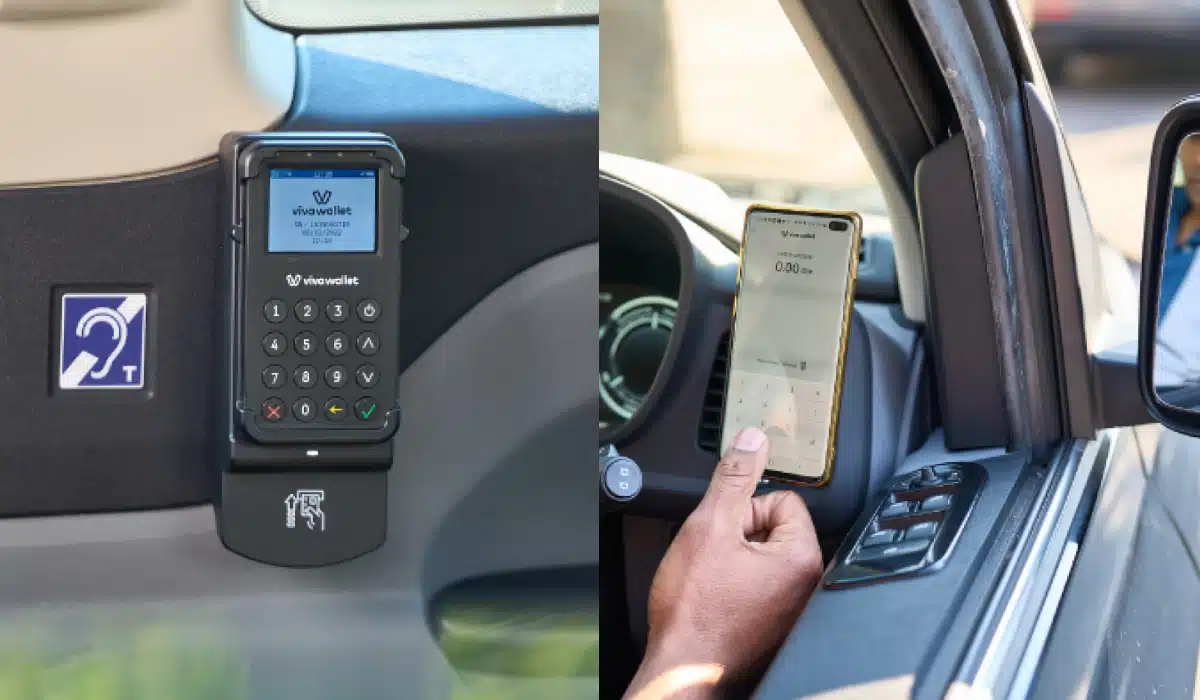 Viva Wallet's card reader connects with an app that controls it over Bluetooth.
The card reader requires downloading the Viva Wallet app on your smartphone. In this, you enter the transaction which is then sent to the card reader placed in the passenger compartment, ready for a contactless tap or chip and PIN transaction.
Pricing has to be requested from Viva Wallet directly, but everyone has the choice of paying either one upfront cost for the card reader (purchase) or a monthly subscription fee to avoid the upfront price. This can be cancelled any time – there's no long-term contract.
Transaction rates also need to be requested from the company. Promisingly, everyone has the option to earn back the cost of transactions by using the complimentary Viva Debit Card for business expenses.
Another cool feat of the Viva Wallet Black Cab bundle is the fact you can accept cards offline on the card reader. So if you're driving in rural areas or anywhere with a spotty network connection, this won't be an issue for card payments.
Just note that transactions are only fully completed the next time there's a live internet connection through the built-in SIM card, so there is a slight risk of it not going through if the card processor detects a problem then.
Accepted cards














Transactions settle in an online Viva Wallet business account the next day, though it is possible to manually deposit funds into a bank account, which takes a further 1-2 working days. The online account is linked to the Viva Debit Card, so it is most convenient to use this as your main business account.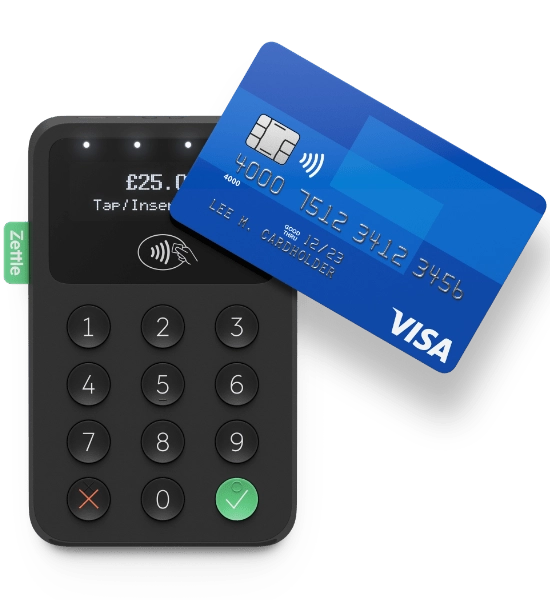 Not approved in London, but ideal for other taxis

Works with mobile payment app

Requires Bluetooth printer for paper receipts

Card reader: £29–£59 + VAT
Zettle Reader (previously iZettle Reader) is another low-cost card reader that works in conjunction with a mobile app. It normally costs £59 but the first one is £29 + VAT, and then you only pay a fixed transaction rate of 1.75% for any card accepted. There are no monthly fees and no contractual lock-in.
Photo: EC, Mobile Transaction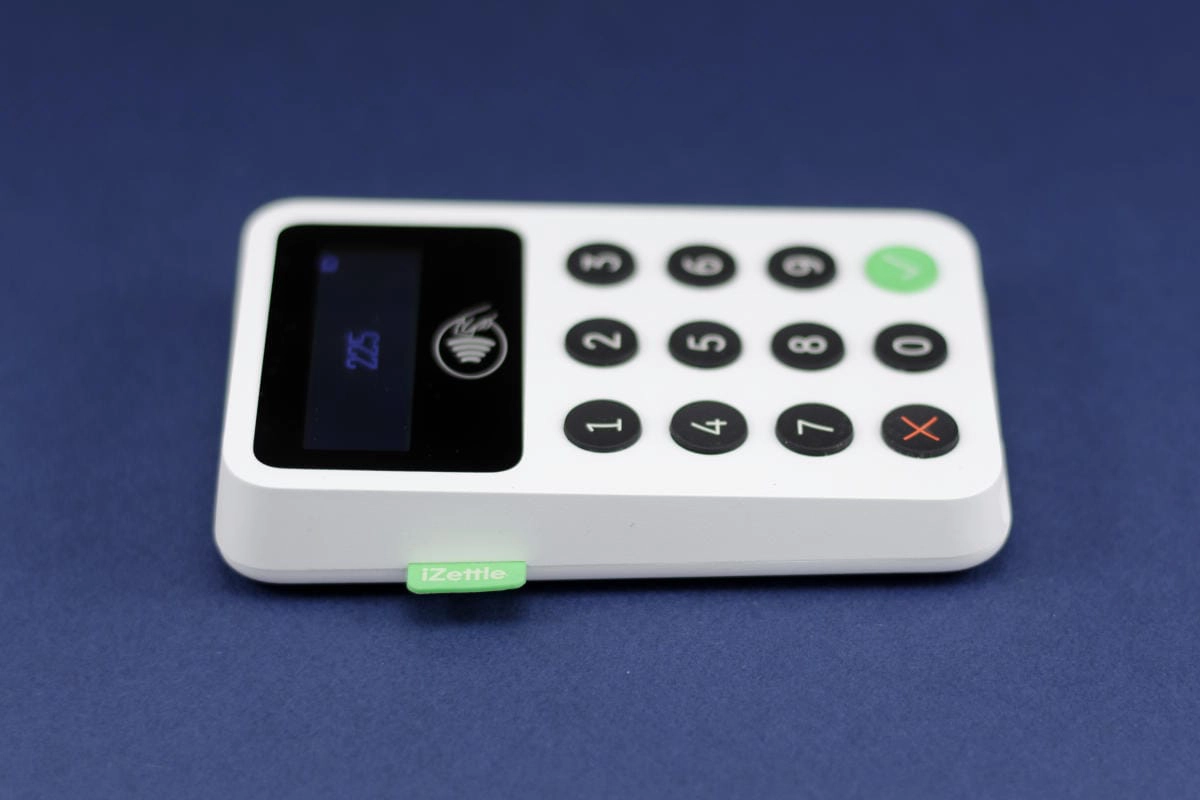 Zettle Reader is a modern mobile card machine for taxi drivers (it comes in black too).
Zettle accepts the widest choice of credit and debit cards out of all options on this list. That includes Visa, V Pay, Mastercard, Maestro, American Express, Discover, Diners Club, UnionPay, JCB, and the digital wallets Apple Pay, Google Pay and Samsung Pay. Like SumUp, Zettle's fixed rate is the same for premium and foreign cards unlike many other card machine services that charge more for these.
Payments go directly into your bank account within 1-2 working days. There are no payout fees.
The card reader connects via Bluetooth with a compatible iPhone, iPad, Android phone or tablet with the Zettle Go app installed. You enter the fare amount in the app, and the card reader switches on, ready to accept a contactless or chip and PIN payment.
Receipts are sent via email or text from the app, but it's also possible to connect a mobile receipt printer for paper receipts.
The payment app works like a simple point of sale (POS) system, with extra features like email invoices and tipping. You can also send payment links via text message or social apps for 2.5% per transaction, which could be used to secure an advance payment for a taxi booking. QR codes for PayPal payments in person are possible for 1.75% per transaction.
Accepted cards














Zettle's customer service team is only available on weekdays between 9am and 5pm.
Similar to SumUp Air, there is no official card reader mount to secure Zettle Reader in the passenger compartment. That means you can only use it handheld in the cab, so it is currently not approved by Transport for London.
Learn more: Zettle Reader review – pretty card reader with POS app