Gone are the days when small businesses had to enter into long contracts to accept card payments. In the UK, there is now a good selection of contract-free, inexpensive card readers enabling you to take cards through a connected mobile app.
How card readers work:
Wireless card reader connects to a mobile phone or tablet via Bluetooth

App on mobile device communicates transaction to the card reader

Payer enters their PIN or taps a card just like a normal card machine
These devices do not typically have monthly fees, lock-in or complicated fees. Instead, you just purchase the card reader upfront and pay a fixed rate per transaction.
This is very attractive for merchants who cannot commit to fixed monthly costs, and perfect for new businesses looking to get started quickly.
Another thing to consider is the accompanying app which may act as your main point of sale (POS) system. Some card readers for phones only work with a basic payment app, while others go beyond that with a product library, staff accounts, payment links and more.
The best card reader therefore depends not only on the build quality, but also the app, costs and potential to expand with other tools.
Compare app-based card readers in the UK:
No monthly fees, no lock-in

Next-day payouts in free account

Various online payment tools
SumUp Air is another popular card reader for iPad, iPhone and Android tablets and smartphones. The card reader has a smooth glass surface over its PIN pad, making it easy to wipe clean. It accepts contactless and chip payments from most card brands and mobile wallets.
Photo: Emily Sorensen (ES), Mobile Transaction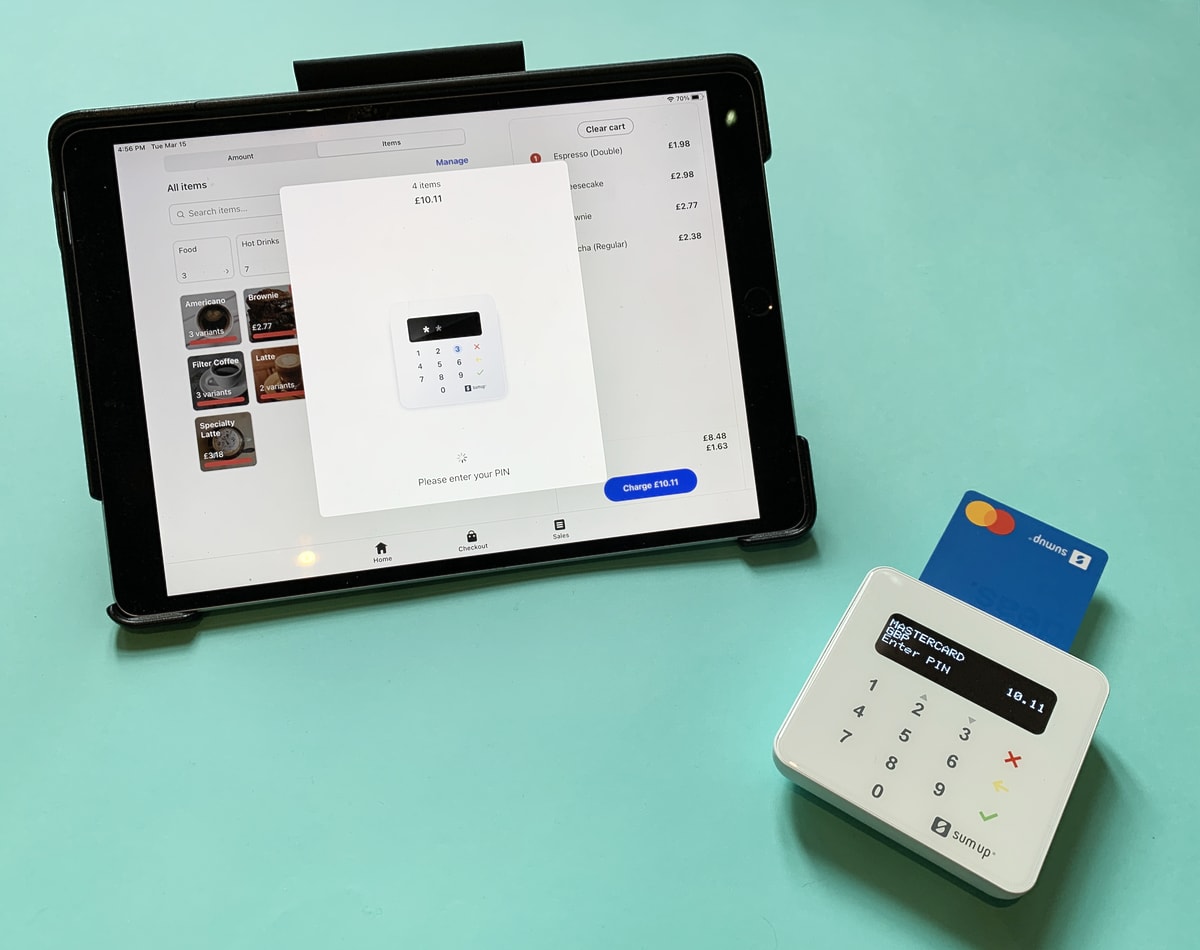 The card reader costs £19 + VAT and has no monthly fees or contractual commitment. All you pay is a fixed 1.69% per transaction for any type of card. There is also a stand for SumUp Air, which is in a bundle with the reader for £39 + VAT.
The Air card reader works with SumUp App, a simple POS system with a product library, user accounts, sales overview, payout reports and online payment options.
SumUp users can send email invoices or payment links, set up a basic online store from the app, display or print QR codes for payments and accept telephone payments through the in-app virtual terminal. You can also sell e-gift cards that can be accepted through the app.
Accepted cards












What's more, the free SumUp Card (Prepaid Mastercard) that's linked to your very own online Business Account provides access to transactions the day after, weekends inclusive. Alternatively, payouts can land in your bank account within 1-3 working days.
Instead of the simple SumUp App, the Air reader can be used with 'SumUp POS' software for more specialised functions. You can't currently integrate with accounting or external ecommerce software, but SumUp has recently built its own accounting system that you can use in any web browser.
Customer support is available on weekdays between 8am and 5pm. Signing up is easy through SumUp's online web form, after which you can order the card reader.
No monthly fees, no lock-in
Square Reader is an inconspicuous, square-shaped card reader without a PIN pad. Compatible with iPhone, iPad and Android devices, it takes chip (with PIN entry on your mobile device) and contactless payments. It's the smallest and lightest terminal on this list, but its app, Square Point of Sale, is the most comprehensive of them all.
Photo: ES, Mobile Transaction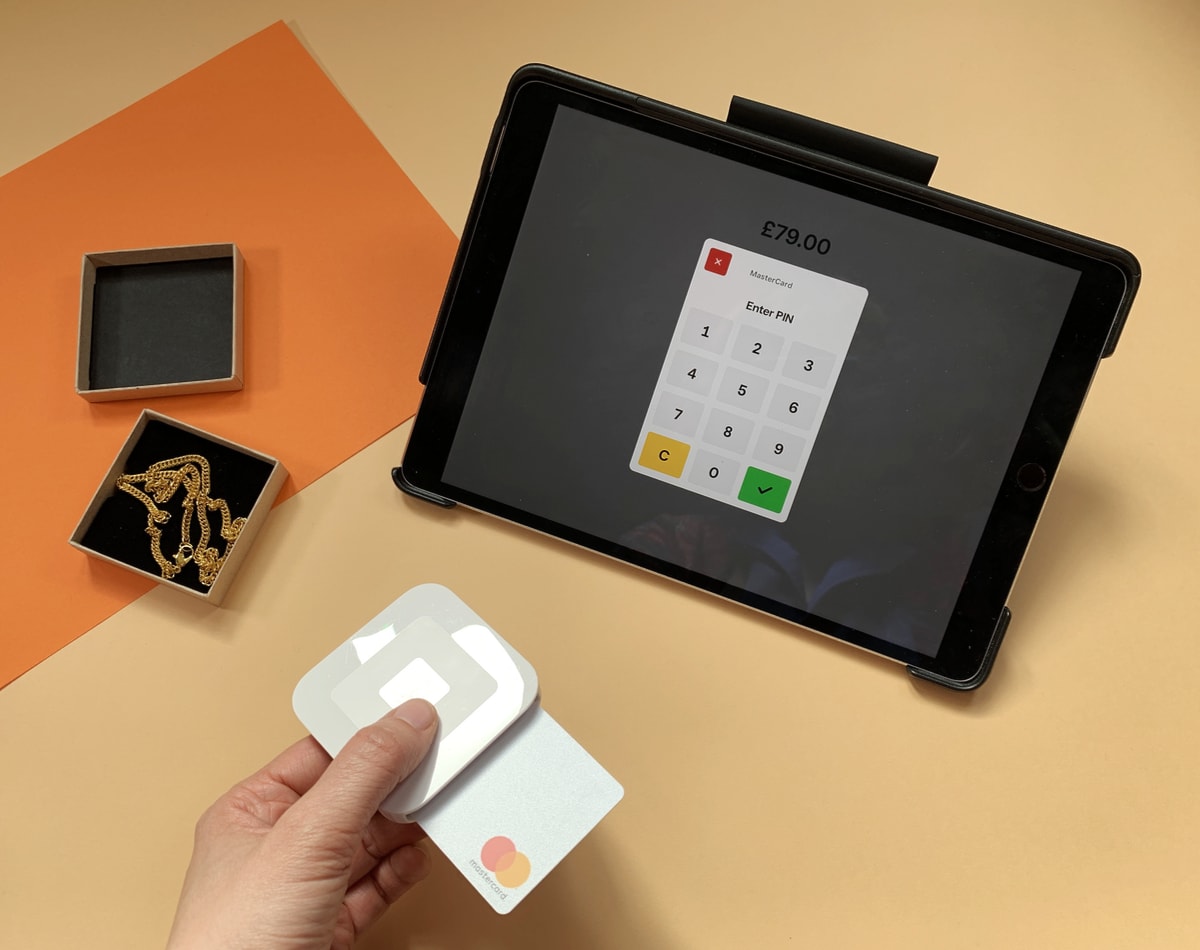 Square Reader only costs £16 + VAT, and the pay-as-you-go transaction rate is 1.75% for all card payments. There are no monthly fees or contract lock-in to worry about. You can get a charging dock for the reader for £25 + VAT too, and connect the hardware with receipt printers, kitchen printers, a cash drawer and barcode scanner.
The free Point of Sale app has enough features to serve most small businesses. Its inventory library tracks stock levels, and the till menu shows various product options and the ability to mark transactions for eat-in, eat-out, delivery or pickup.
You can schedule staff shifts, track breaks, export payroll data and analyse employee sales, while an additional app called Square Team lets staff log their own hours (more employee features cost £20/month per location).
Accepted cards










There are also customer lists, sales reports, order management, invoicing and more to access through the app. Electronic gift cards can be sold and accepted, payment links created, QR codes generated for contactless selling, and any payment method accepted through the checkout including Clearpay (Buy Now Pay Later option).
Square's web Dashboard has a free virtual terminal for telephone payments, an online store builder, detailed sales reports and options to subscribe to POS systems for retail, restaurants and a scheduling system. Square also integrates with many external software tools for e.g. accounting, online ordering and ecommerce.
Payouts reach your bank account in 1-2 working days, but there's an instant transfer option (not available to all) for an extra fee of 1%.
Square's customer support is available on weekdays between 9am and 5pm. You sign up online through a simple form, order the card reader and wait 3-5 working days for the delivery of Square Reader.
Most ergonomic card reader

No monthly fees, no lock-in

Widest range of accepted cards
Limited online payment tools
The most popular card reader in the UK has been iZettle Reader (now Zettle Reader without the "i") for some years. It was one of the first to introduce an inexpensive, contract-free reader without monthly costs. The card reader machine costs £29 + VAT upfront, and then you pay 1.75% per transaction regardless of the type of card used.
Photo: Emmanuel Charpentier, Mobile Transaction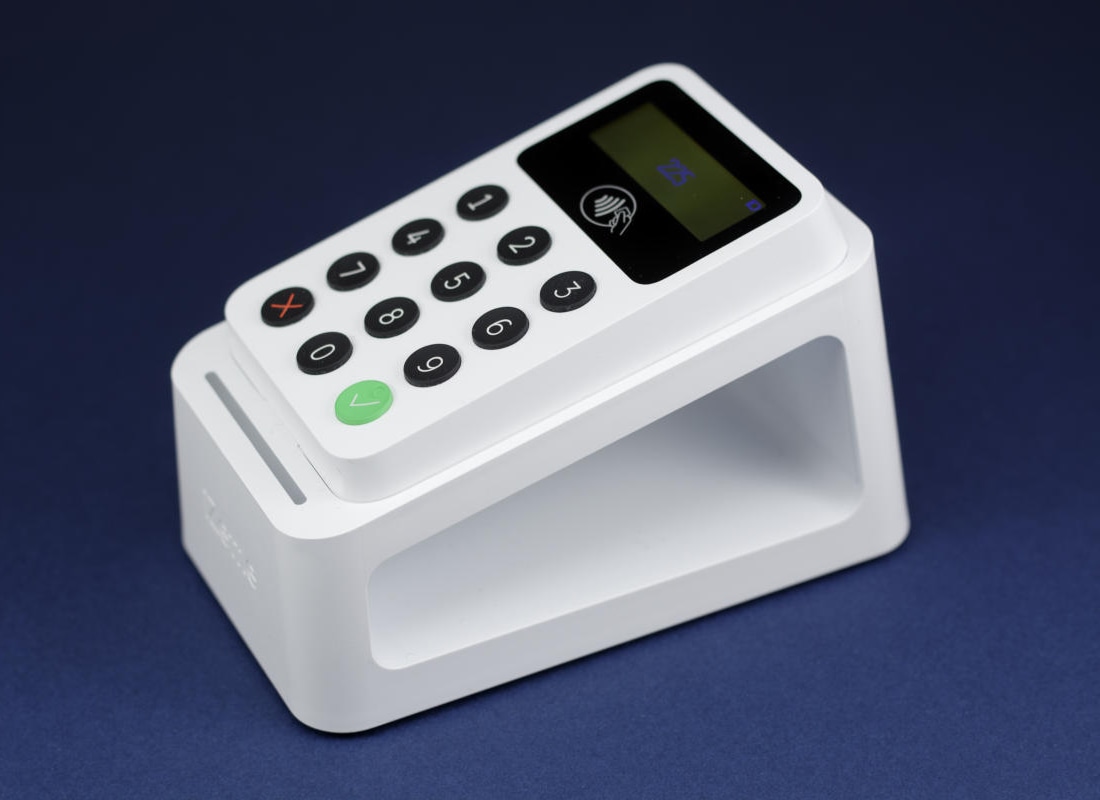 The latest version (Zettle Reader 2) is ergonomic, small, lightweight but sturdy – and elegant. It comes in white or black and can connect with a till drawer, barcode scanner and receipt printer. The optional charging stand (Zettle Dock) keeps it in place on a countertop.
Zettle Reader works with a free POS app called Zettle Go on most tablets and smartphones. It has a product library, transactions overview, basic sales reports, invoicing and the ability to accept cards, cash, payment links and gift cards. QR codes can be generated at checkout for customers with a PayPal app to scan it.
Accepted cards














The card reader works with other POS systems like Vend, Lightspeed, Revel, Tabology and more, so you are certainly not limited by Zettle's software.
Moreover, the Zettle account can integrate with Xero and QuickBooks for accounting and ecommerce platforms like Shopify, BigCommerce and PrestaShop.
Out of all card readers for iPhone, iPad and Android, Zettle accepts the most card brands via chip and PIN and contactless tap. Transactions are automatically cleared in your bank account within 1-2 working days.
Zettle only provides customer support on weekdays between 9am-5pm via telephone, email and chat. To sign up, all you need is fill in the short registration form online and order the card reader.
Good omnichannel features in app
Requires ecommerce subscription

Doesn't work with Android
Most known for its ecommerce software, Shopify also has a card reader to go with a POS app. It is called WisePad 3 Reader, costs £49 + VAT and works with Shopify Payments, which is only activated while you're on a Shopify ecommerce subscription.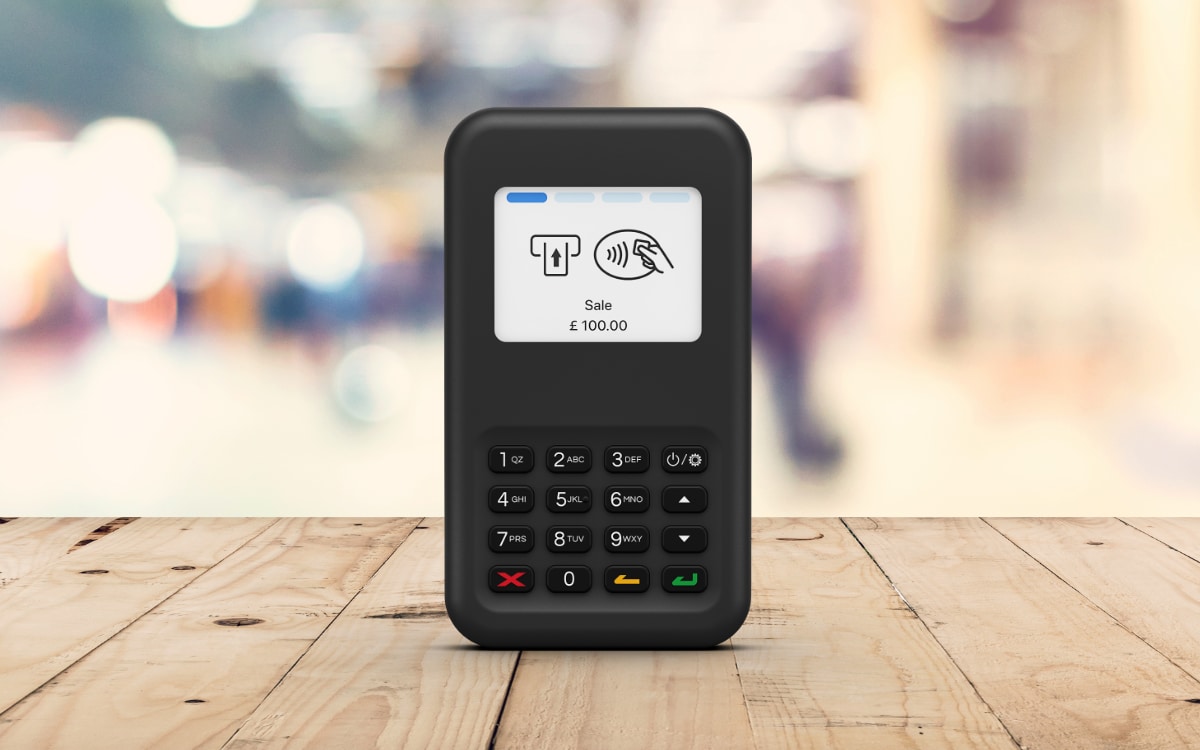 The cheapest subscription, Shopify Lite, is US$9 for a monthly plan (charged in USD) which mainly gives you Pay Buttons apart from the free version of the Shopify POS app. The following higher-tier plans include online store features: 'Basic Shopify' for US$29 monthly and a 1.7% transaction fee, 'Shopify' for US$79 monthly and a 1.6% transaction fee, and 'Advanced Shopify' for US$299 monthly and a 1.5% fee for all card reader transactions.
Because of the ongoing monthly cost, the Shopify card reader is only really worth it if you're also using Shopify for an online store or Buy Buttons.
The Shopify POS app is by default free (Shopify POS Lite), but you can upgrade to Shopify POS Pro for US$89 monthly per location in addition to the ecommerce subscription. This higher plan has many more features designed to unify online and in-store sales for a better customer service experience, for instance with a smooth Click & Collect system.
Accepted cards






The free POS plan has a good selection of features for e.g. product and order management, customer profiles, staff accounts and integration with hardware such as receipt printers, cash drawers and barcode scanners. POS Lite is recommended for on-the-go sales, whereas POS Pro is better for a full setup in a retail shop.
But the card reader only works with iPhone and iPad. A Shopify POS app is available on Android devices, but this doesn't connect with the card reader.
Transactions are settled in your bank account within 6 working days, which is the slowest in this comparison. All subscriptions include 24/7 customer support and online help guides.
Good business account features

Low rate for UK consumer cards
Support can be slow to help

Merchant account requires extra approval
Revolut Reader is a new contactless and chip card reader that Revolut Business account holders can purchase, if they have an approved Merchant Account which is separate from the current account. Transactions clear in the online account connected with a Visa debit card within 24 hours, which is super-fast.
Fees are low for domestic, consumer Visa and Mastercard transactions (0.8% + £0.02) while high for all other cards (2.6% + £0.02). The terminal itself costs £25 + VAT excluding a compulsory £5 shipping charge. You can choose to use a free Revolut Business account or upgrade to a subscription with more business (not POS) tools.
To get started, you first need to sign up for a Freelancer or Company account (free plan available), then apply for a Revolut Merchant Account that allows you to accept card payments online and through the card reader.
Photo: ES, Mobile Transaction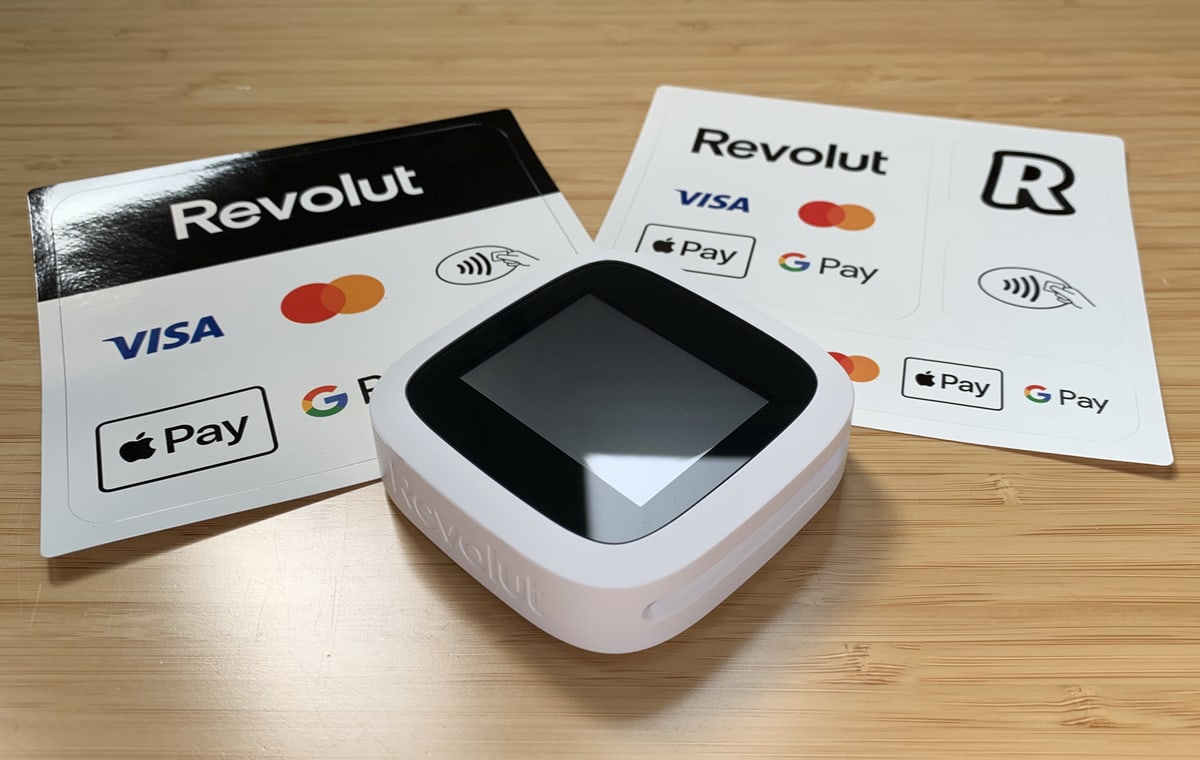 We do not recommend buying the card reader before your Merchant Account has been completely approved. We did the mistake of ordering it after the immediate, automatic approval of it, only to have the account on hold in the following days while Revolut requested additional information to process.
After receiving the keypad-less card reader – which looks functional and akin to a retro pocket gaming device in its plastic casing – we had some technical issues with it, but it was eventually resolved and we received a free replacement.
Accepted cards





We tried the chat support available to all Revolut Business account users, but the support agents were rarely able to help. It took several days and weeks to fix any of our issues.
Overall, Revolut Reader could be a nice extra for those who need simple in-person payments in addition to payment links and a business account. New features are gradually added, for example a product catalogue allowing you to itemise bills.
The hospitality POS system from Nobly also integrates with Revolut Reader, requiring a monthly or annual subscription.
No fixed monthly fee or lock-in
High fees for Amex, JCB, Diners Club and Discover
A big acquiring bank, Elavon, has a card reader called MobileMerchant. As with others, it has no monthly fee or contractual commitment, just a transaction fee that depends on the card accepted: 1.75% for Visa and Mastercard, 1.9% for American Express and 2.5% for Diners Club, Discover and JCB cards.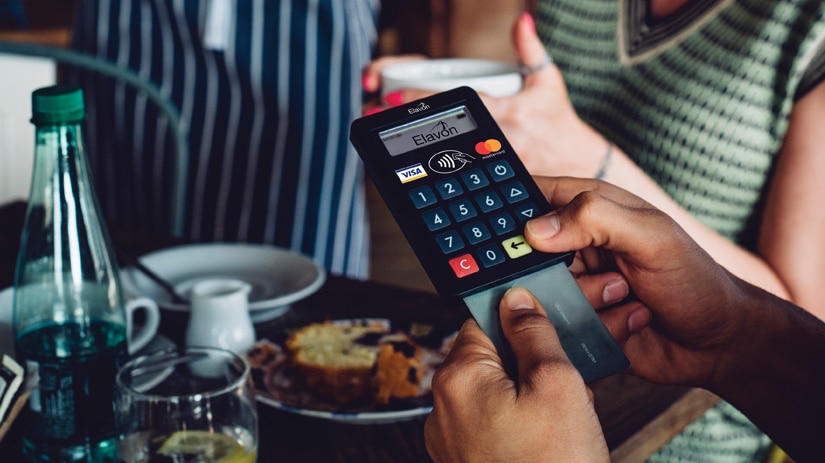 The card reader has a PIN pad, looks like a calculator and accepts contactless payments and chip and PIN cards. Elavon MobileMerchant does not connect with a cash drawer, barcode scanner or receipt printer, so it is purely for mobile transactions.
To accept a payment through the MobileMerchant app, you need to enter the transaction amount with an item description. It's possible to add a tip, discount and VAT, accept cash and send an e-receipt, but there are no other checkout options. There's no product library or other advanced features in the app.
The app was only recently updated after a 3-year break (not to add features, only to fix issues), so Elavon clearly does not prioritise this service. A healthy card reader app should be updated regularly to fix bugs and keep up with iOS and Android software, so it is unsurprising to see that users complain of technical issues preventing them from using the card reader.
Accepted cards









Elavon merchants can access a free virtual terminal in the web dashboard, where you can accept over-the-phone payments for a higher transaction cost. You can also benefit from fast settlement – one working day – but this is not guaranteed.
Customer support is provided 24/7 for merchants, which is a luxury for a pay-as-you-go credit card reader. Signing up is more tedious, though: you complete an online form (takes around 15 minutes) and have to submit various documents for verification. Once onboard, you can order the card reader.
Barclaycard Business offers a card reader called Barclaycard Anywhere without contract lock-in or monthly fees, just an upfront cost of £29 + VAT. The model (Miura M010) is not bad, but it is an old card reader with a very basic accompanying app for iOS and Android devices.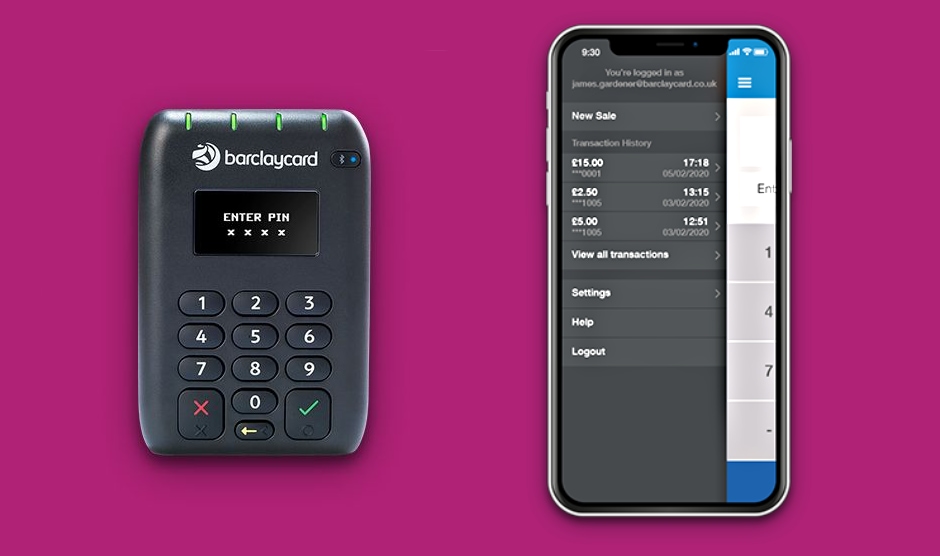 The card reader doesn't work with receipt printers, cash drawers or barcode scanners, but it does take swipe cards on top of contactless and chip cards. The 'Barclaycard' logo on the terminal may put some customers at ease, since it is a trusted brand.
You'd think a banking giant like Barclays would only have amazing products, but the app can only accept manually entered transaction amounts with a written description. You can't itemise receipts with different products. Other features include refunds, sending a digital receipt and viewing transactions (all apps on this list can do those things).
There is no product library or other useful features for merchants. What's more, the app was last updated 4 years ago, which means it is very likely buggy. In fact, user ratings are poor in Google Play and App Store, frequently mentioning bugs and connectivity issues.
Accepted cards







However, you can't fault the low transaction fee of 1.6% for any Visa, Mastercard or JCB card. This is the lowest fixed rate available for an app-based reader, except for the high subscription tiers with Shopify's card reader (where the fee is 1.6% or 1.5%) and Revolut for domestic cards.
That said, refunds cost 75p to process, whereas other card readers typically don't charge for refunds done straight after a transaction.
Payouts may take between 2 working days and a week.
To get started, you need to fill in an online application form, which should take about 15 minutes. Your chance of approval "depends on financial circumstance and borrowing history", which is stricter than other card reader sign-ups.
Card reader apps compared
Without doubt, Square comes away with the best and widest range of point of sale (POS) features in its choice of free apps. Where others lack these features, Square gives you free inventory tracking, split bills, many different payment methods and team management tools.
SumUp comes in second with its online payment tools and complimentary business account accessed in the card reader app. The POS features in SumUp App are, however, extremely basic and only for simple stores that don't need stock control or integrations with external software.
The Zettle Go app is easy to use, though even simpler than SumUp App with its fewer features overall. Online payment tools are very basic, although Zettle has slightly more checkout features than SumUp and can integrate with accounting and ecommerce software.
The Shopify POS app is excellent for product features when managing retail inventory across sales channels. It has good customer relationship management tools, promotional features and a customisable display, though it does require an iPad or iPhone for a card reader connection.
App
Product
library
Online payment
tools
App updates
Integrations
SumUp
Yes
Many

Regular

None

Square
Yes
Many
Regular
Many, various
Zettle
Yes
Few

Regular

Some
Shopify
Yes
Few

Regular

Many, various
Revolut
Yes
Few
Regular
Some
Elavon

No

Few

Rare

None

Barclaycard

No

None

Rare

None
App
Product
library
Online
payment
tools
App
updates
Integrations
SumUp
Yes
Many

Regular

None

Square
Yes
Many
Regular
Many, various
Zettle
Yes
Few

Regular

Some
Shopify
Yes
Few

Regular

Many, various
Revolut
Yes
Few
Regular
Some
Elavon

No

Few

Rare

None

Barclaycard

No

None

Rare

None
The apps from Barclaycard and Elavon are more basic and less reliable than Zettle, SumUp, Square, Shopify and Revolut who regularly update and improve their apps. In addition, Elavon and Barclaycard do not integrate with external software for accounting and ecommerce, nor do they offer payment links.
Elavon is slightly better than Barclays for its complimentary virtual terminal, online reports and more recent update (1 year ago, which is still too long ago). The Barclaycard Anywhere app was last updated 4 years ago, which often means a host of bugs and compatibility issues.
Revolut hardly has POS features because the platform focuses on business account features, not in-person payments. The Revolut Business app only lets you enter a transaction amount or add items to a bill, without superfluous options.
Compare card reader pricing
Prices and fees of app-based card readers tend to be similar given the healthy market competition. That said, they represent different values because of the varying quality you get for the price.
The cheapest card readers tend to be Square Reader, SumUp Air and Zettle Reader, on offer at various times. After purchase, you own them.
Unlike the other two options, Zettle Reader is most expensive from the second reader purchased (£59 + VAT) while the others remain at a low price (£29 for SumUp Air and £16 for Square Reader).
Barclaycard Anywhere advertises a low "one-off device rental fee", so you don't actually own the card reader despite the lack of a monthly fee. The card readers from Shopify, Elavon and Revolut are yours to keep after purchase.
| Card reader | Price* | Monthly fee* | Transaction fee |
| --- | --- | --- | --- |
| SumUp | £19 | None | 1.69% |
| Square | £16 | None | 1.75% |
| Zettle | £29 | None | 1.75% |
| Shopify | £49 | From US$9 | 1.5%-1.7% |
| Revolut | £25 | From £0 | 0.8% or 2.6% + 0.02% |
| Elavon | £29 | None | 1.75%-2.5% |
| Barclaycard | £29 | None | 1.6% |
Card reader
Price*
Monthly
fee*
Transaction
fee
SumUp
£19
None
1.69%
Square
£16
None
1.75%
Zettle
£29
None
1.75%
Shopify
£49
From US$9
1.5%-1.7%
Revolut
£25
From £0
0.8% or 2.6% + 0.02%
Elavon
£29
None
1.75%-2.5%
Barclaycard
£29
None
1.6%
Only Shopify requires a monthly fee, as you must subscribe to a paid ecommerce plan with ecommerce features. This includes a basic retail POS app, with an option to upgrade to the full range of POS features for $89 USD + VAT monthly.
Revolut also has a range of business account subscriptions, but they don't give you extra features for the point of sale. If using Revolut Reader with Nobly POS, a subscription applies to that. Square and SumUp have their own advanced EPOS systems you can upgrade to at various price points.
Zettle and Square share the highest fixed rate for all cards, only marginally higher than SumUp's. Barclaycard's 1.6% is the lowest rate that applies to all cards. You can get a similarly low rate with Shopify, but only in conjunction with a pricey online store plan.
Elavon distinguishes between Visa and Mastercard transactions (1.75%) and other card brands (1.9% or 2.5%) which could be expensive for businesses with tourists or business clients with corporate or premium cards.
Revolut has the lowest rate dedicated to UK-issued Visa and Mastercard transactions, but the highest rate of all options for other cards, plus a small fixed fee.
Other credit card readers
A few services have gone out of business: WorldPay Zinc, Worldpay Reader, Payatrader and Intuit Pay. PayPal Here has also been discontinued and replaced with Zettle Reader (PayPal owns Zettle).
The European neobank Viva Wallet offers a Mini Card Reader that works with its app, and this is available for UK merchants.
Then there's a Stripe card reader for existing platform users. Card machines by Stripe can be more complicated, as they need to be programmed and link with your online payment system.
You sometimes see other app-based card readers in the UK, but without the tech funding to update the software and adapt the product quickly, these products do not get good reviews. In the end, the fittest survive – which is good news for small businesses.
| Card reader | Advantage | Website |
| --- | --- | --- |
| | Great features for simple shops that sell remotely too | |
| | Most POS features in an app, many extra features available | |
| | Best card reader design with user-friendly app | |
| | Advanced integration with Shopify ecommerce | |
| | Business account features and low rate for UK cards | |
| | 24/7 customer support, but buggy app | |
| | Lowest fixed rate, but buggy app | |