This card reader solution from Barclays is okay, but not great.
Barclaycard Anywhere is an acceptable mobile chip and PIN solution that works with an iPhone or Android device, but comes with downsides compared with the competition – including reliability issues with the app and limited cards accepted.
Highs: No monthly fee or commitment. Lowest fixed-percentage card fee. Trusted banking brand.
Lows: Only accepts Visa and Mastercard. App not frequently updated. Refunds cost extra.
Buy if: You want a mobile card reader with the lowest fixed-percentage fee, and the app quality is not important.
Lowdown
Barclaycard wants to empower on-the-go tradespeople and small businesses to accept payments anywhere, so they created the card reader service Barclaycard Anywhere. With this, you can accept credit and debit card payments via an app on your Android device, iPhone or iPad, as long as you have the connected mobile card reader for chip and PIN, contactless and swipe cards.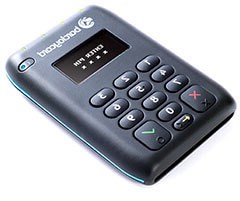 To get started, you fill in Barclaycard Anywhere's online application (should take about 15 minutes), where after you can order the card reader. Download the free app on your mobile device and pair the card reader to your mobile device via Bluetooth – and you are ready to accept cards.
The machine itself is okay quality – the same as that used by PayPal Here and Worldpay.
The model has not been upgraded for several years, so not the most cutting-edge card reader on the market, but it certainly works.
Transactions occur over your mobile device's 4G or WiFi connection. The transaction speed is comparable to an in-store card machine (assuming there is mobile connectivity of 3G or above). Customer service is provided by Barclaycard's existing telephone support.
Lowest fixed percentage fee compared to competitors
The Barclaycard Anywhere card reader costs £29 +VAT (one-off purchase, and then it's yours to keep) with a 1.6% fee being charged for each transaction, plus any separate mobile data charges that may apply for usage of 3G/4G on your phone. The transaction fee applies to any Visa, Mastercard and Maestro cards, whether they are debit or credit cards, commercial or Visa Business Debit cards. Refunds cost 75p to process.
Costs
Card reader: £29 + VAT
Transaction fee: 1.6%
Refunds: 75p each
This is currently the lowest default fee available for mobile card readers in the UK, which is a major selling point for Barclaycard Anywhere. All other card readers also require data usage from a separate phone or tablet, so that cost would be the same.
In terms of card reader cost, Barclaycard Anywhere is a similar price to those by Square, iZettle and SumUp.
The plan is pay-as-you-go with no contractual obligations, no monthly fees and no lock-in, so overall an economical solution for seasonal traders or other small businesses.
Few accepted cards is a limitation
Unlike several other card reader companies, Barclaycard Anywhere does not accept American Express, nor does it accept Diners Club, JCB and UnionPay cards. If you want to hit a broad range of end users, and especially if you frequently accept foreign cards, this is a limitation.
Barclays said in early 2015 that they were expecting to add new cards, but as of February 2019, this has not happened yet.
Cards accepted




Mobile app is simplistic and outdated
A major reservation with Barclaycard Anywhere is that the app has actually got worse. It hasn't been updated since June 2018 (Android) and August 2018 (iOS), which is quite bad and somewhat risky for businesses in need of a reliable payment service.
In 2015, the app could help you manage your business – including support for sales functions, stock monitoring, customer data and payment history.
However, the app version available in February 2019 is mainly just able to receive simple payments. There are no other till functions and no preprogramming of products. For each sale, you have to add the name of the product/service and the amount. However, last update did add a repeat payments function meant for accepting charity contributions.
From what we've seen in the past, the lack on investment in app development is unsurprising for a bank that does not specialise in mobile applications.
The latest app version has an average 2.5 stars in the App Store. Most ratings are 1 star, with customer feedback highlighting how basic or buggy it is. It is also apparent the app has not been adapted to newer iPhone X, XS and XR models.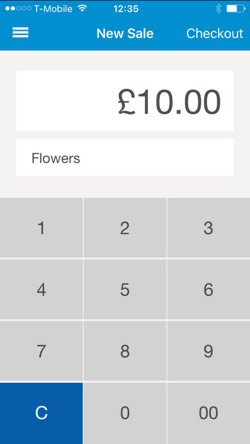 The Android app rating on Google Play stands at 2.6 stars. Here too, customer feedback has highlighted bugs and the app crashing on Android devices, but such complaints have reduced since last update.
Who is the service aimed at?
Barclaycard Anywhere's target users are sole traders who only take occasional payments rather than high volumes, and expect an annual turnover of less than £1 million.
This includes tradespeople of all kinds, small or mobile premises, seasonal traders, pop-ups, hairdressers, plumbers or merchants selling at events like concerts or trade fairs. The repeat payments function is ideal for charities and perhaps street musicians.
Barclaycard highlights the service is ideal for making customers feel safe about making a card payment away from a shop environment, which makes sense considering Barclays is a trusted bank and their logo is on the card reader.
All things considered, we would only recommend the card reader for businesses who are already banking with Barclays and insist on sticking with their bank for all their business dealings. The stripped-down app is only really suitable businesses who just need a portable card machine for very straightforward transactions.
Smartphone and tablet compatibility
Barclaycard Anywhere supports all Android devices with Bluetooth and Android 4 or higher. This includes the smartphones Samsung Galaxy S3 through to S7, Samsung Note, Note II, 3 and 5 as well as Google Nexus 4-9, among many other brands and models. Compatible tablets that have been tested by Barclays include Huawei MediaPads, Samsung Galaxy Tab E, S2 and 4, among others.
As for Apple devices, Barclaycard Anywhere is available on iPhone 4 onward, iPad 2 and above, and iPod Touch 5 and above (with iOS 8.1 or above installed).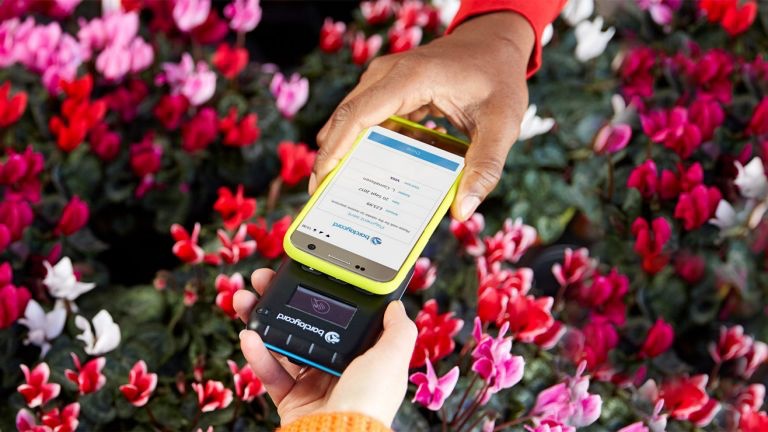 The familiarity of the banking brand could help a small business look more trusted. Photo: Barclaycard
Our verdict
Apart from a slightly lower transaction fee, Barclaycard Anywhere's service does not offer any decisive advantages over its competition. It represents a somewhat convenient service, but comes with a basic app with bugs in many cases. This can get problematic for merchants who depend on a reliable terminal service to keep afloat as a business.
It appears that Barclays has decided to rely on its strong banking brand to capture more conservative businesses as well as existing customers who may prefer to stick with something they already know. Barclays would probably claim that due to its banking experience, the Barclaycard Anywhere solution offers a higher overall level of security, but we do not see any major difference in this area as compared with other operators.
Overall, Barclaycard Anywhere could have been much better. We believe the majority of small businesses would be better served by solutions such as iZettle, SumUp or Square for their much better features, frequent app updates and bigger range of accepted cards.