Our rating
The wireless iZettle Reader accepts cards using your phone or tablet with the iZettle app.
iZettle's low-cost card reader and free payment app make it easy for entrepreneurs and small businesses to start taking cards. There are no monthly fees or hidden costs, just a 1.75% rate per transaction.
Highs: Excellent mobile app. No contractual obligation. Accepts many cards including Amex. Competitive rates.
Lows: No inbuilt receipt printer. Phone support only between 9am-5pm on weekdays.
Buy if: You want an easy solution for taking payments that comes with a ton of extras to grow your business.
Problems with the offer?
Enable cookies and disable ad blockers. This offer cannot be used with an existing account. If you cannot get it to work,
let us know.
As a Mobile Transaction reader, you can get the iZettle Reader 2 for only £19* (regular price £59) or iZettle Reader 2 + Dock for £45. No monthly fees or contract to worry about.
* Offer for new business users.
Mobile Transaction is an independent payment industry resource trusted by over a million small businesses a year.
We allow solution providers to offer product discounts for the benefit of our readers. These discounts do not influence our editorial reviews. Rating scores are based on full retail price. (Full policy)
iZettle Reader 2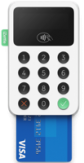 iZettle launched iZettle Reader 2 in November 2018. With the main distinguishable difference being the green button instead of a blue one, we consider it a minor upgrade from the first iZettle Reader.
While the previous reader is still portrayed in some pictures, this review has been updated to reflect changes with Reader 2.
The system operates on a pay-as-you-go model, which has been the main driver of iZettle's popularity in the UK. You simply pay a fixed transaction rate for card payments. There are no monthly fees unless you upgrade the free payment app to a more comprehensive EPOS solution.
Once bought, the competitively priced card reader is yours to keep.
In addition to the app, merchants get marketing, bookkeeping, invoicing and sales analytics tools. iZettle customers can also get access to small business financing based on sales history.
iZettle accepts one of the broadest ranges of credit and debit cards among card reader in the UK. Visa, Mastercard, Visa Electron, V Pay, Maestro, American Express, JCB, Diners Club, UnionPay and Discover are all accepted, as are the mobile wallets Apple Pay, Google Pay (formerly Android Pay) and Samsung Pay.
The new iZettle Reader 2 accepts contactless and chip and PIN (or signature for some cards) payments.
Cards accepted












Costs and fees
As well as being transparent and straightforward, iZettle's fees are on the low side compared with other payment solutions in the UK.
Until September 2017, iZettle's fee system operated on a sliding fee scale with the transaction rate starting at 2.75%, decreasing as the sales volume increased. The rate is now fixed at 1.75% for all card reader transactions regardless of card type and sales volume. Invoicing and payment links are included as complimentary tools, although these cost 2.5% per card payment.
1.75% per card reader transaction
2.5% per invoice, payment link and e-commerce payment
No additional fees for foreign or premium cards
No monthly fees
The card reader itself is excellent value at £59 excl. VAT (exclusive offer for our readers: £19 excl. VAT through this link).
There are no monthly fees, rental charges, monthly minimums or other fixed costs that traditional payment providers normally charge.
Refunds are free to process, and you also get the transaction fee refunded. Processing foreign cards does not incur extra charges, as is common with other providers.
Funds are credited to your bank account within 1-2 working days of each transaction, minus the transaction fee. Whether it's the following weekday or two weekdays after depends on your bank's processing times.
The iZettle Go Plus plan costing £29 + VAT monthly gives you a self-sufficient ecommerce platform where payments are charged at 2.5% per transaction.
Go Plus also includes extended phone support until 8pm and on weekends. It does not come with more POS features than the free iZettle Go app has.
| Go | Go PLUS |
| --- | --- |
| £0/month | £29 + VAT/month |
| Invoicing & payment links for remote payments | E-commerce platform included on top of invoicing and payment links |
| Phone & email support Monday to Friday 9am-5pm | Extended support weekdays 8am-8pm, weekends 9am-6pm |
iZettle gives you chargeback protection for up to £250 per month if you follow best practice for taking card payments. So if, for example, a customer signs for a payment, you should compare the signature with the one on the card and ask for a valid ID.
iZettle does have transaction limits, yet these are unlikely to affect most business accounts where the daily limit is £200,000. The lowest transaction amount possible is £1.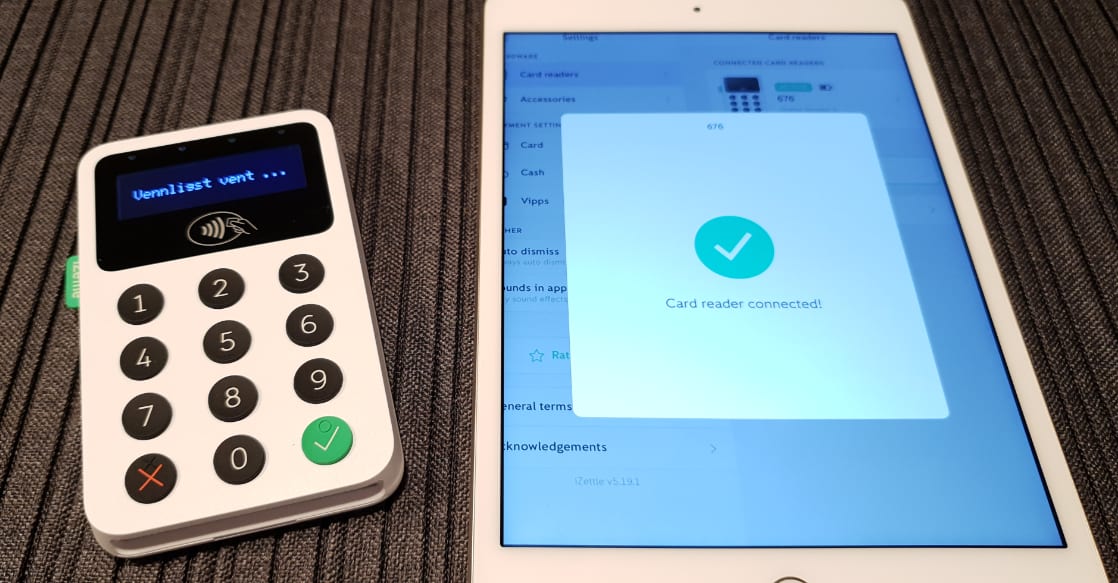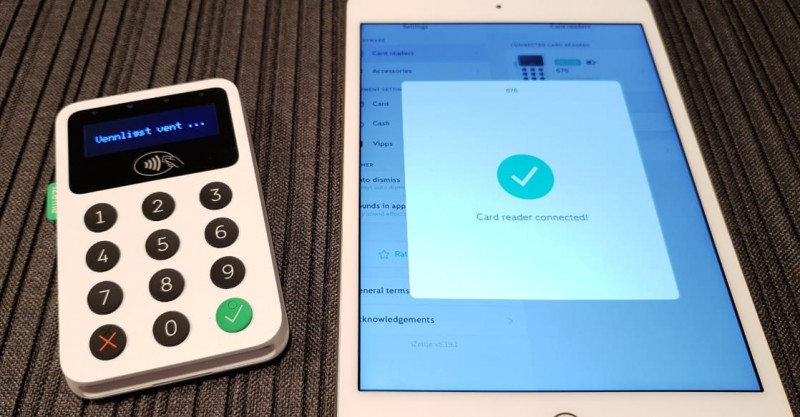 iZettle Reader connects to a tablet or mobile phone via Bluetooth pairing.
Technology and hardware
In contrast to conventional POS terminals using landlines or a GPRS SIM card, iZettle's card reader utilises the processing power of your mobile device and internet, eliminating the need for expensive equipment.
iZettle's newest card reader, iZettle Reader 2, looks very similar to the old one but has some important improvements.
Emmanuel Charpentier, Mobile Transaction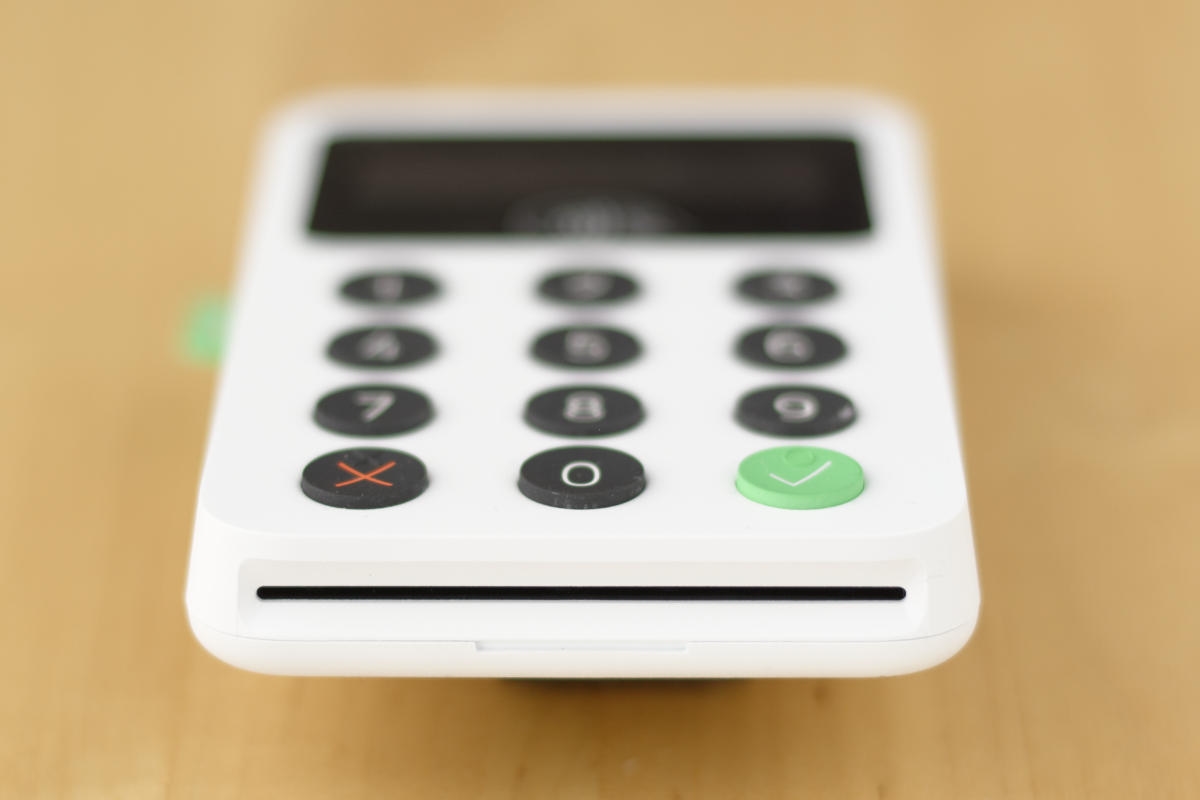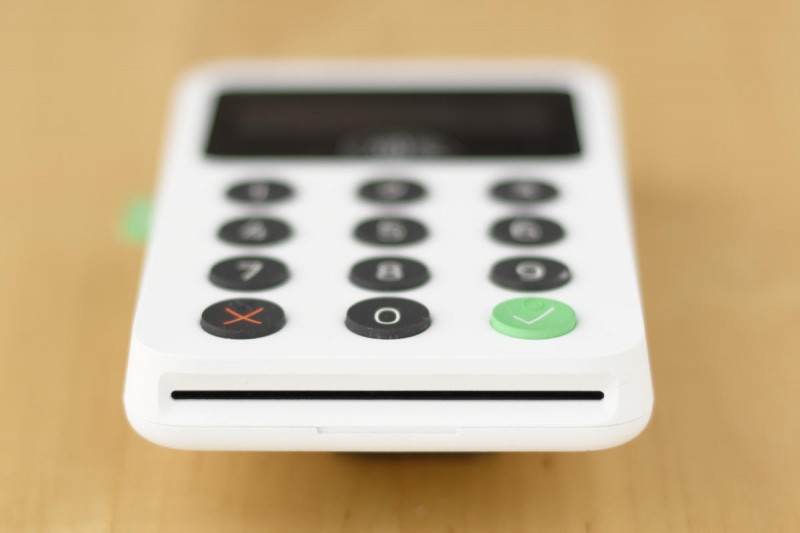 It's pretty straightforward to slide in a chip card at the bottom.
The new model is slightly prettier, more energy-efficient and with a coating that makes it more resistant to dirt. Beneath it, you have two rubber "sausages" to keep it firm on a countertop. You get the sense that you can just throw it on the ground without inflicting damage (of course we do not recommend trying this – we have seen examples of broken displays!).
We love the minimalist design, and the fact you can choose it in white or black gives you the freedom to pick one that blends in with either a light or dark environment.
Emmanuel Charpentier, Mobile Transaction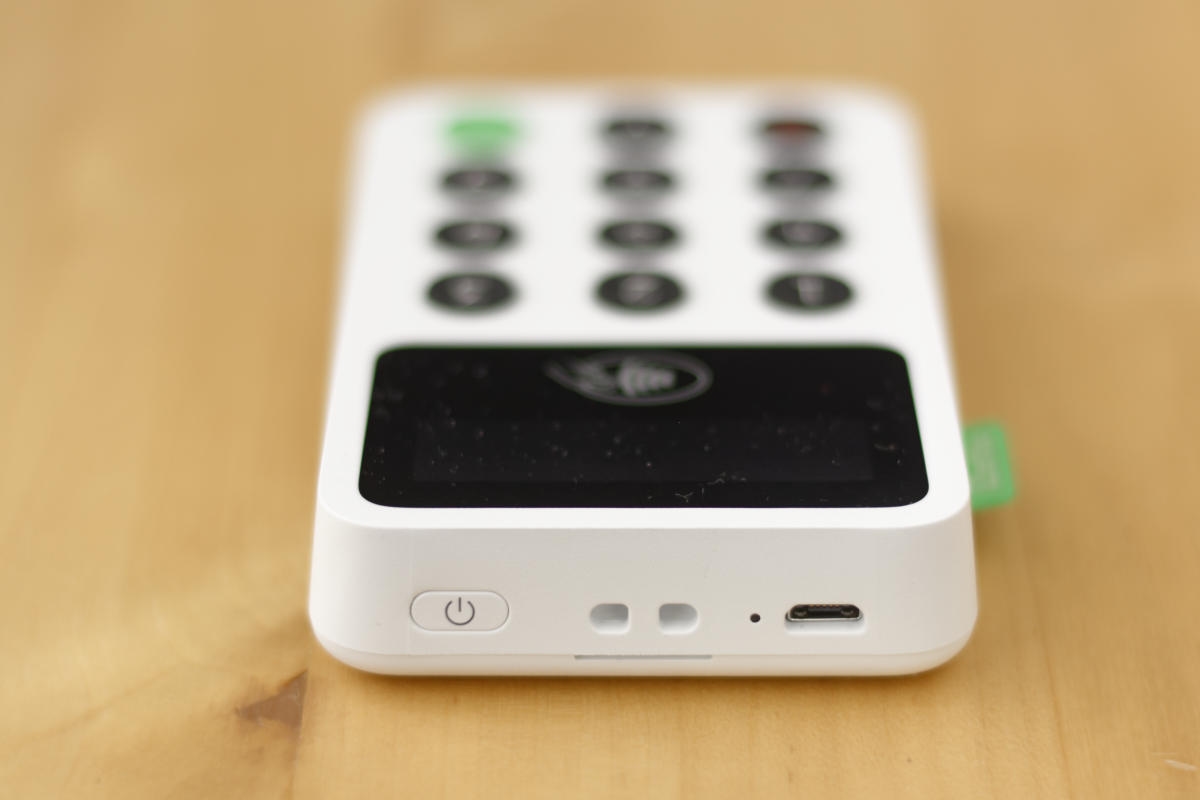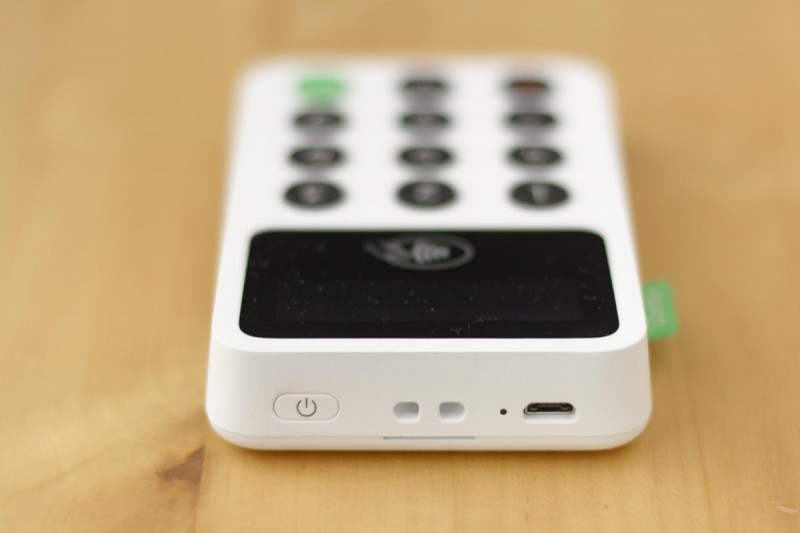 The new power button at the top is hard to press by accident.
Internet connection: To process a payment, the iZettle app connects to its servers using your mobile device's WiFi or 3G/4G connection. In the past, we've seen reports from users indicating they've had no problems using slower connections such as EDGE, so it appears the system is robust enough to work even with weak connections.
Mobile devices: In addition to the card reader and payment app, you'll need a compatible iPhone, Android smartphone, iPad or Android tablet. We have noticed that iZettle tends to release new features in the iOS app for Apple devices first. For example, it took some time before the Android app began supporting contactless payments, but new features seem to find their way to both apps eventually.
Battery: The card reader is charged with a micro USB cable. It will automatically go into sleep mode when not in use, and the battery therefore lasts longer than older models that received complaints about short battery life. Battery life is on average 8 hours with a transaction every 5 minutes, or 250+ transactions from one charge.
Businesses selling from a fixed location would want to use the card reader with a Dock (for iZettle Reader) or Dock 2 (for iZettle Reader 2) – a small stand with an inbuilt charger (available for £39 + VAT on their website). Placed in the dock, the card reader is automatically charged. Especially Dock 2 for iZettle Reader 2 is more stable compared to the old one which some users say is a bit flimsy.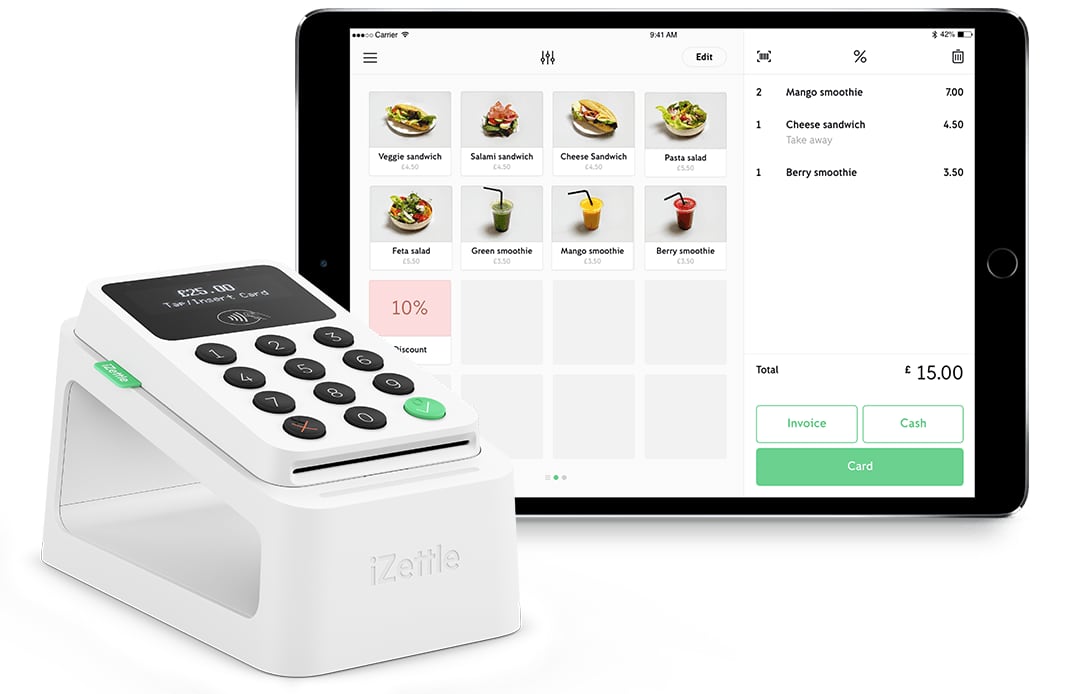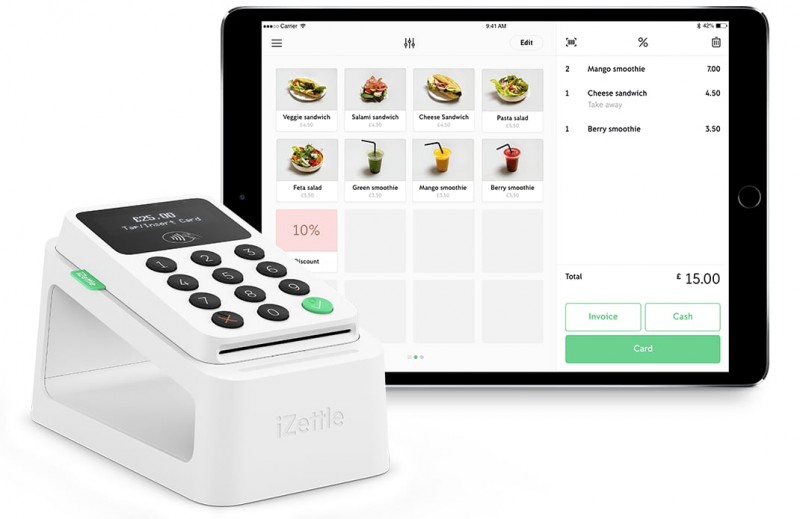 iZettle Reader 2 with iZettle Dock 2. The dock not only looks great, but keeps the terminal in place and always charged.
Receipt printers: Unlike the chunky, traditional chip and PIN machines, iZettle Reader doesn't have an inbuilt printer, so you have to buy that separately if you want to offer paper receipts. Fortunately, iZettle is compatible with a range of Star Micronics and Epson receipt printers, both stationary and mobile. The compatible printers connect either wirelessly or through a cable with the mobile device used for payments.
Other accessories: iZettle is also compatible with select barcode scanners and cash drawers, making it suitable for a busy, counter-based till point. Stationary iPad setups will also benefit from a tablet stand, which – apart from protecting the iPad – gives a proper feel to your customer-facing environment.
Signing up
Signing up is easy. In contrast to the strenuous application processes traditional payment processors require, you just go to iZettle's website to fill in some basic details to get started.
Upon signing up, iZettle performs a "unique risk assessment" involving a credit check to verify your bank account and identity. Only bank accounts in your company's or company director's name will be accepted. Sole traders and partnership businesses may need to submit additional documentation. When we tested registering as a sole trader, the automatic check went smoothly without the need to submit more than the information on the sign-up pages.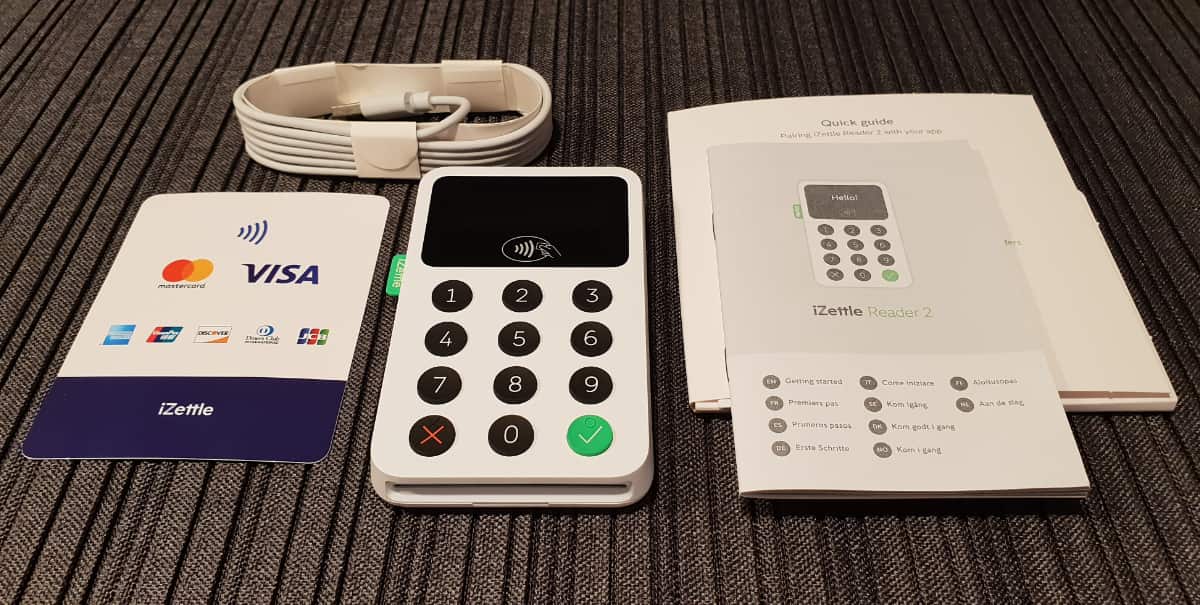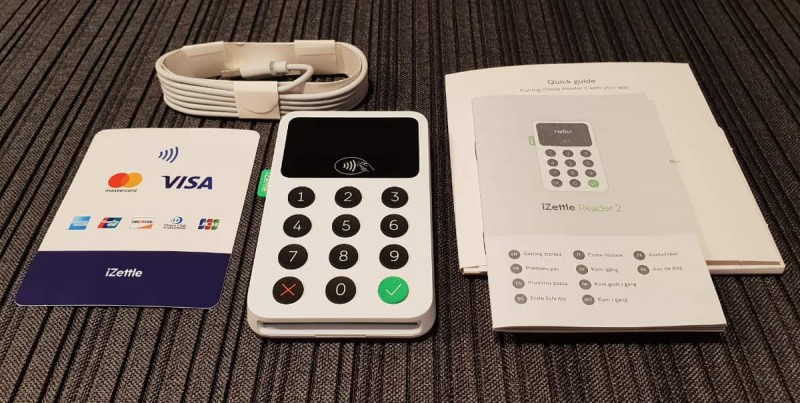 Box contents of an iZettle Reader 2 delivery.
Once signed up, you can order the card reader. It usually takes 1-3 working days to receive this by post – we got it two days after placing the order. DHL sent a text message the day before, saying when it would arrive and that a signature will be required. The package was neatly wrapped up in a padded envelope, and the card reader was ready to use immediately.
Taking payments
Before accepting the first payment, you need to pair the card reader with a Bluetooth-enabled mobile device. That is done swiftly by following some simple instructions via the Settings tab in the iZettle Go app.
Then you can take your first payment by entering the amount in the app and tapping "charge". Transaction details are sent wirelessly to the card reader through Bluetooth. The customer can insert their card in the card reader and key in the PIN on its PIN pad, or tap it with a contactless card or mobile wallet.
Inventory items can be preprogrammed, complete with names, prices, descriptions and even images. Tapping a product image in the app allows items to be added to checkout quickly. As such, iZettle is more than just a payment terminal – the free app is a POS system in its own right with the mobile device working as a cloud-based cash register.
For privacy reasons Vimeo needs your permission to be loaded. For more details, please see our
Privacy Policy
.
I Accept
Those who need to accept multiple payments of the same amount quickly, for example street musicians or charity fundraisers, can request access to iZettle's Repeat Payments feature. This is not a default option in the app, so iZettle will need to grant you that feature. Repeat Payments allows you to set a fixed amount to be charged via contactless, chip and PIN card or wearable tech without having to enter the amount over and over again. Customers can simply just pay and go without your needing to touch the card reader or app during the process.
POS app features
The free point of sale (POS) app, iZettle Go, has enough features to work as a self-sufficient till system. Here's a snapshot.
Product library and inventory: Add products – complete with image, description, types, barcode, and more – to a visually intuitive menu in the app, enabling you to just tap items to add them to the bill. Add a stock count to each item, helping you to keep track of stock levels.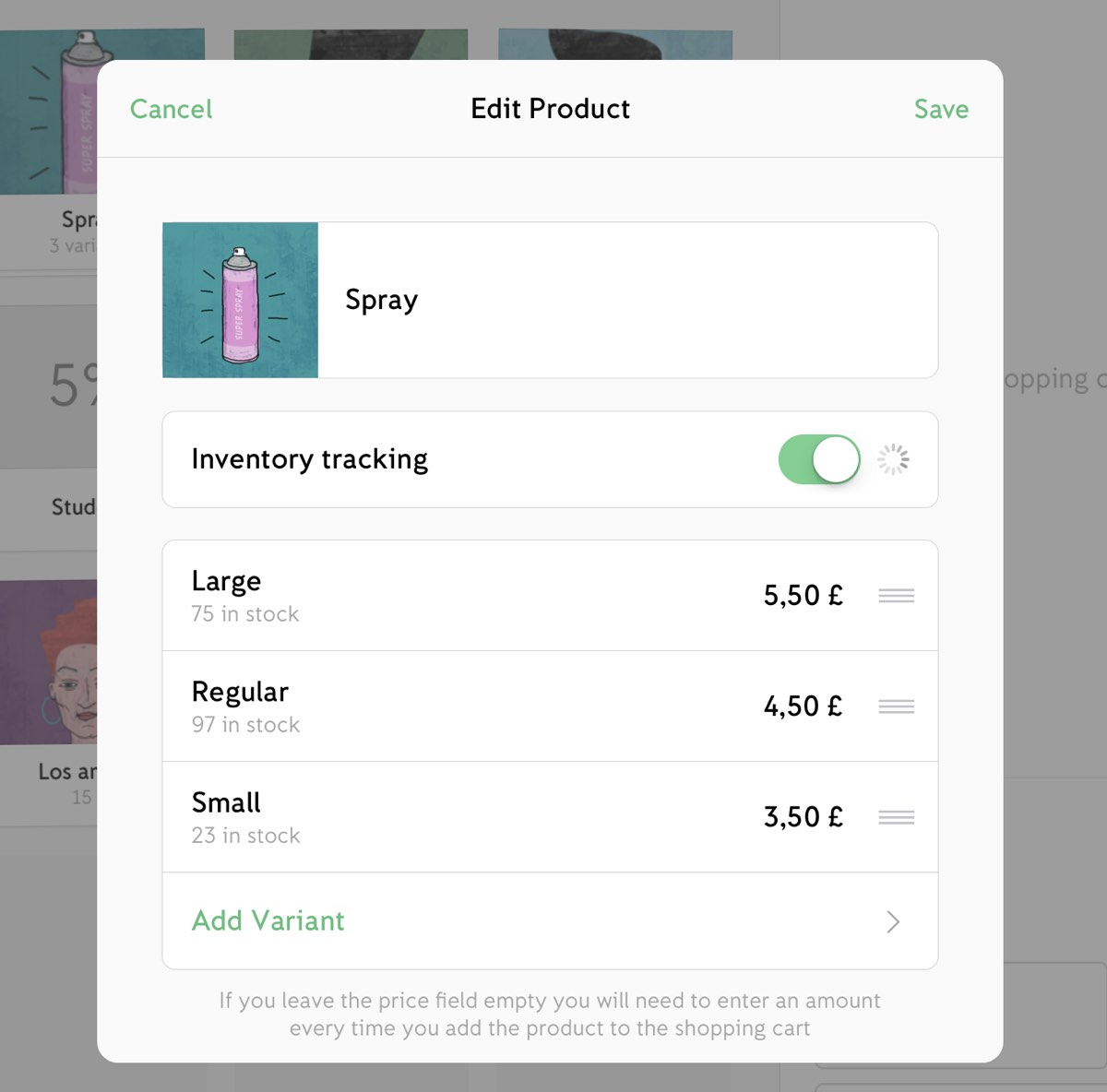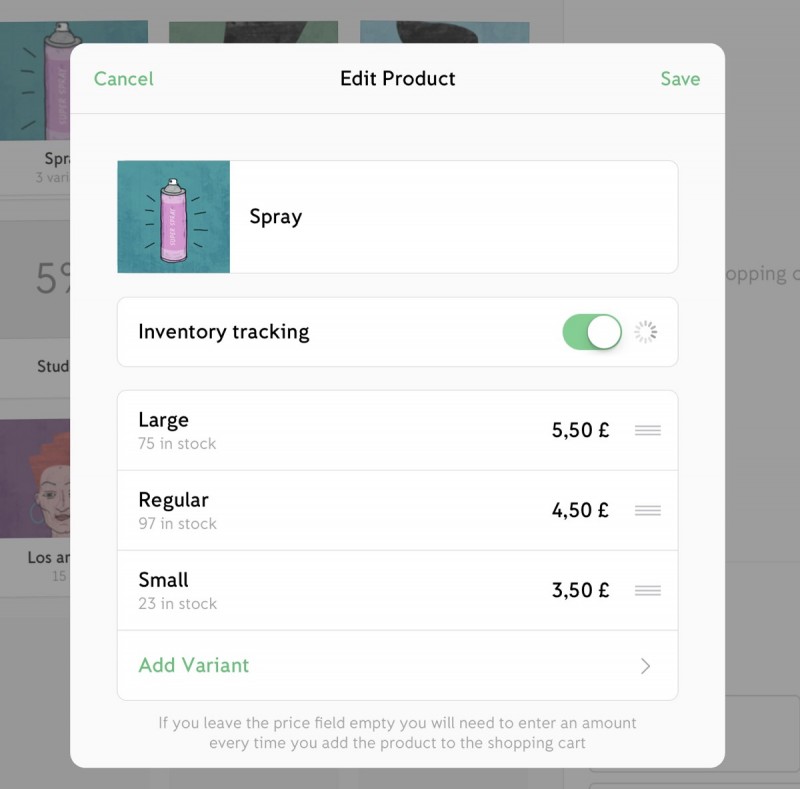 You can choose to track inventory and get alerts when stock levels are low.
VAT and discounts: VAT can be added to receipts at the rates of 20%, 5% and 0%, and customised discounts can be applied to individual products or the transaction total as a customised percentage or amount in pounds.
Tipping: iZettle has a tipping option in their free app to satisfy food and drink businesses. You only need to enable this in your settings, and then customers will be asked directly on the card reader display if they want to add a tip. If they respond yes, they can enter the tip amount manually before paying.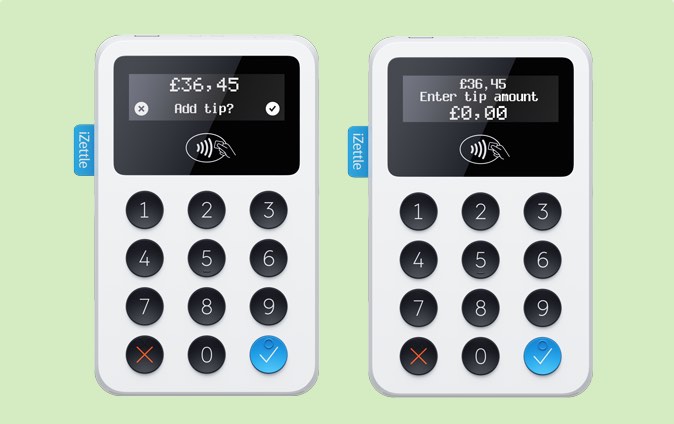 Tipping is a useful feature in the POS app, here shown on the first-generation iZettle Reader.
Accepting cash: Cash sales can be registered in the app for free to make the system more useful for accounting purposes. If you're selling at a fixed till point, you can connect a cash drawer with a standard 24V or RJ11 plug, but they need to be connected with a receipt printer to open.
Receipts: After each transaction, there's an option to send a receipt via text or email. Customise what to include on this receipt in your iZettle account. Printed receipts are also possible, although you'll need to invest in a compatible receipt printer to provide these.
Refunds: Refunds can be processed either for the full transaction amount or by picking an individual item from the list of products on the receipt. Currently, there is no option to do partial refunds for a single item, nor can you refund tips.
Barcode scanning: Use your phone camera as a barcode scanner, eliminating the need for a separate scanner. We tried this on iPhone, and it works smoothly. There is currently no option to use the scanner for internal audits, so this is purely for scanning items at checkout (barcodes should be registered in the product library beforehand).
Invoicing: iZettle allows you to invoice customers by email through the app. The customer can then pay by card directly through the emailed invoice securely. Regulars can even be added in a customer library so you only need to create a transaction, search for the customer and tap to send the invoice.
Payment links: iZettle recently added a pay-by-link option, which is the ability to send a unique link via text or various apps (e.g. Facebook Messenger, email, WhatsApp), which the customer can click to pay through from their end. Payment links are different from email invoices because they only count as a sale once paid, there's no payment due date, the customer is not obliged to pay, and there is no customer information with the payment link.
In the backend, i.e. your iZettle account in a browser, you have extra features not available in the iZettle Go app. For example, the Customers section enables you to invite customers to join your mailing list, and you can add staff members with different login accounts to distinguish between their sales in the analytics section.
Emily Sorensen, Mobile Transaction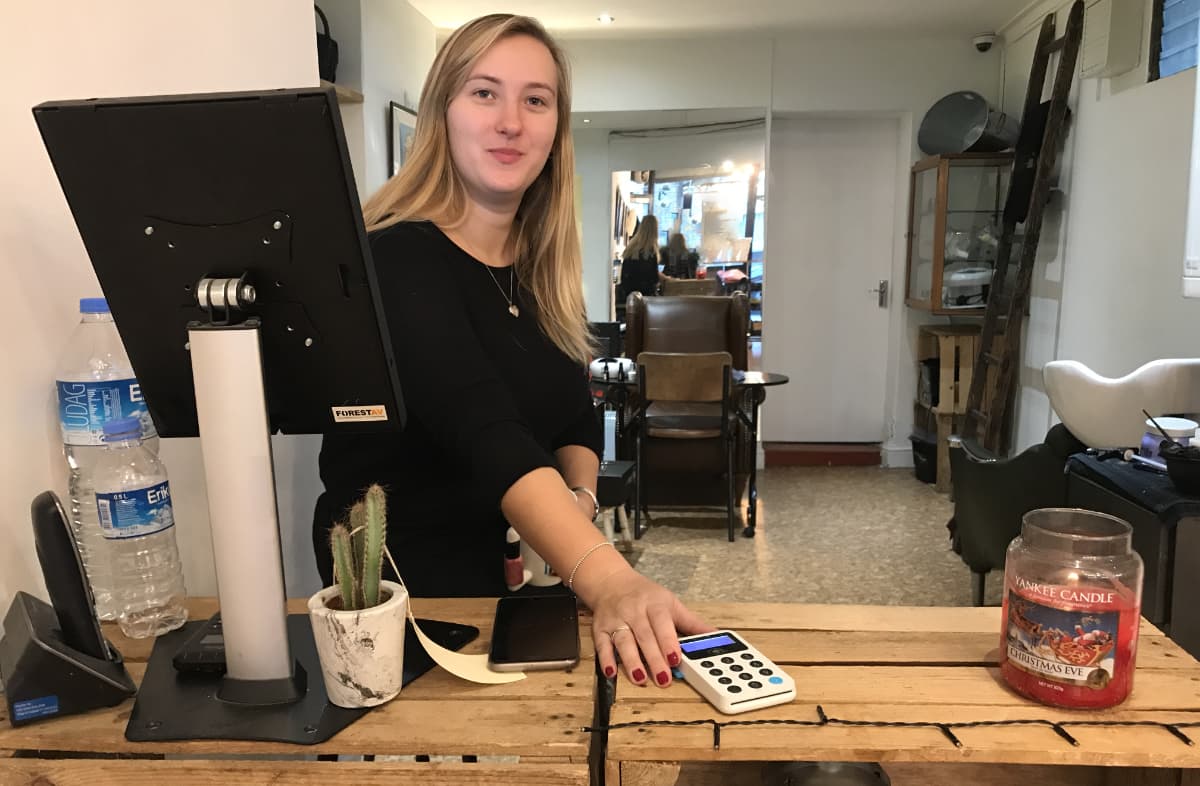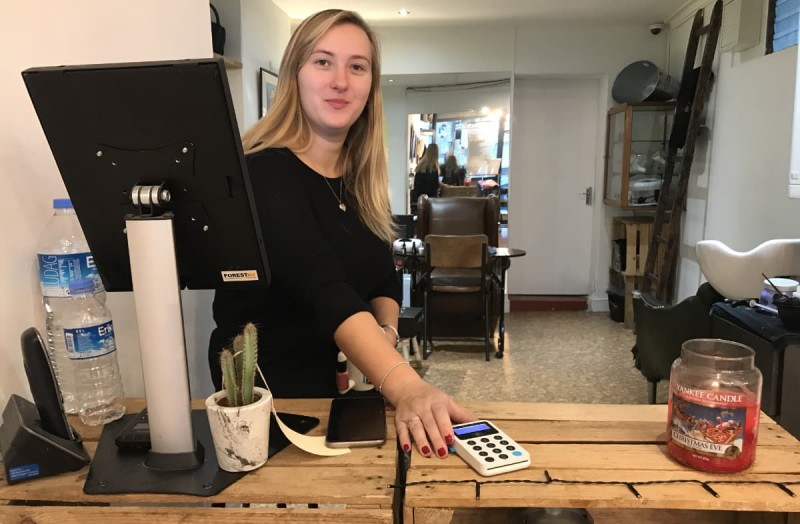 iZettle Reader is a popular choice for small beauty salons and hairdressers, here pictured at Beaut Box, London.
Upgrade options
Most small businesses will find the free POS features sufficient, but you always have the option to subscribe to iZettle Go Plus if you're branching into online sales or want more customer support.
Launched on 19th April 2018, Go Plus' iZettle E-commerce platform allows you to create an online shop directly from the iZettle account. You'll need a domain, and then the rest can be created, customised and hosted through iZettle. There are multiple website templates to pick from, similar to other website builders like Squarespace or WIX, and they're all highly customisable. If you already have an online shop elsewhere, you can still manage your ecommerce through iZettle as long as you've inserted the right buttons and checkout elements on the website.
Restaurants, cafés and bars will find the iZettle Pro system most useful, as it includes many hospitality-focused features such as table management functions and split bills.
All sales are recorded, and full sales reports are always available, including cash sales if you've accepted these via the app.
Free analytics tools are included to help keep track of inventory and identify repeat customers, as well as helping to spot business trends, such as revenue growth and top-selling products.
All reports can be exported to Excel or as CSV files.
Those who require bookkeeping beyond iZettle's capabilities can integrate with the cloud-based accounting system Xero and invoicing and accounting system Debitoor.
Small businesses in need of a cash injection may qualify for an interest-free business loan called iZettle Cash Advance. However, this is only offered on a case-by-case basis and only after accumulating enough of a sales history.
Integrate with Xero
iZettle data can be fed automatically into Xero. Offering all the standard features of a cloud accounting system, such as live view of your bank balance, Xero also includes payroll functions.
Read more: Xero integration with iZettle
Who is iZettle suitable for?
The iZettle platform is suitable for most trades and sectors. It's being used by a range of merchants from plumbers to barbers, retailers, street vendors, hairdressers, taxi drivers to coffee shops, pubs and restaurants.
The mobility of iZettle means it excels at trade fairs, markets, pop-ups and car boot sales. Many sole traders use iZettle, but since the app allows for unlimited staff accounts with restricted permissions, it is equally suitable for businesses with employees.
iZettle – like any other payments company – prohibits certain services and products from being sold through them. We recommend checking whether your business falls under any of these areas.
You can sell products online (Go Plus plan) and send send invoices or payment links directly from the app. These are the only ways to sell without the card reader or customer being present, so businesses who need to process phone or mail orders have to look for alternatives for those channels.
Emily Sorensen, Mobile Transaction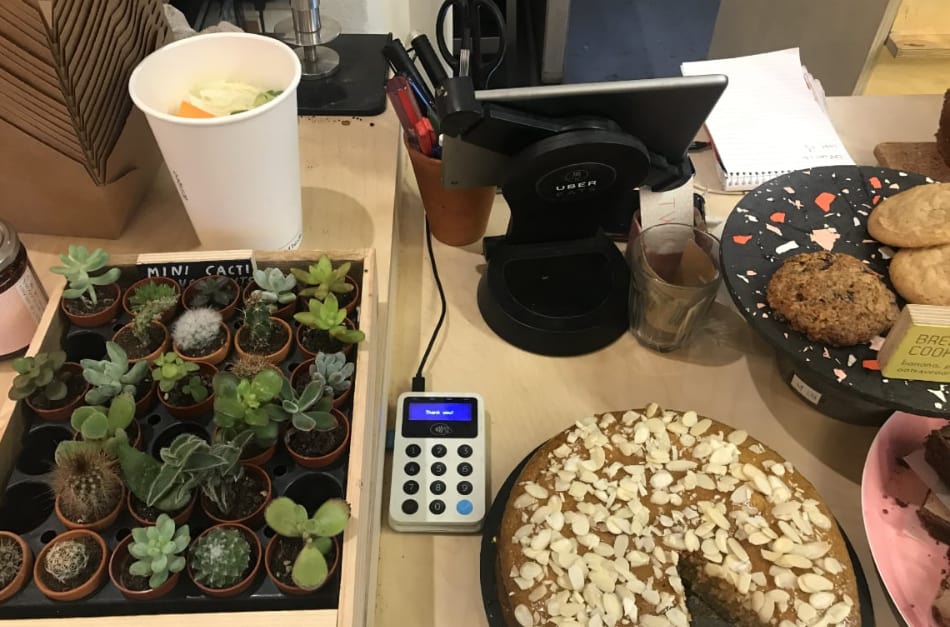 iZettle has become a frequent sight in independent coffee shops – here pictured in Twigs Hackney, London.
The free iZettle app doesn't yet offer table layout plans or split tenders usually required by full-service restaurants. However, the free app is definitely suitable for smaller food and beverage outlets such as cafés. iZettle Reader is actually thriving in this sector, in part because you can upgrade to iZettle Pro, the point-of-sale system with a ton to offer hospitality businesses, or integrate the card reader with more comprehensive restaurant EPOS systems.
Customer support and iZettle reviews
iZettle's customer service team is available to contact between 9am and 5pm on weekdays. You can phone or email them but will only get a response during those opening hours. It may take several days to receive a reply for non-urgent queries via email, so we recommend calling them during office hours for a faster response.
iZettle consistently ranks highly in customer reviews, currently scoring 7.0 out of 10 on TrustPilot UK. However, recent complaints highlight a lack of response when users have tried contacting to resolve issues with e.g. account holds.
Reviews in the App Store average 4.7 stars out of 5 (based on 2.75k+ ratings) and 4.3 stars out of 5 in Google Play (based on 33.8k+ ratings). We think the most worthy alternatives at the moment are Square Reader and SumUp Air.
Our verdict
iZettle's free app features have long been a draw for mobile merchants. The integrated barcode scanner, invoicing and payment links elevate what could have just been a basic POS app to a complete system for all your sales. Currently, only Square's breadth of free tools really compete.
Furthermore, iZettle accepts a wide range of cards at a transparent, low rate where it's usually the norm for card processors to charge high fees on foreign or premium cards like American Express.
All things considered, iZettle is hard to beat for any small business wanting to set up a robust, uncomplicated and highly affordable point of sale that does precisely what you need it to do. True, customer support is not always available, but needing it should be rare because the system is easy to figure out and just works.
Free POS app with more than basics
Highly rated in reviews
Many cards accepted
Expandable to full EPOS for hospitality
Receipt printer would need to be bought separately
Phone support limited to weekday working hours
Buy if: You want a dependable mobile solution for taking a wide range of payments, without any contract.