Our rating
The wireless Zettle Reader accepts cards via any phone or tablet with the Zettle app.
Zettle by PayPal's (previously known as iZettle) low-cost card reader and free payment app make it easy for entrepreneurs and small businesses to start taking cards. There are no monthly fees, commitment or hidden costs, just a 1.75% rate per transaction.
Highs: Great mobile app. No contractual obligation. Accepts many cards incl. Amex. Competitive rate. Remote payments.
Lows: No inbuilt receipt printer. Phone support only on weekdays. Slow to add new features.
Buy if: You want an easy card payment solution that comes with handy extras to grow your business.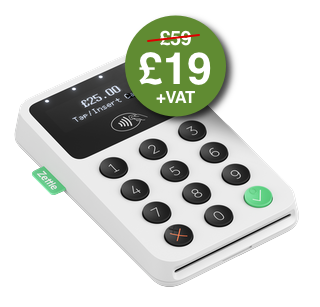 Problems with the offer?
Enable cookies and disable ad blockers. This offer cannot be used with an existing account. If you cannot get it to work,
let us know.
Get the Zettle Reader 2 for only £19* (regular price £59). No monthly fees or contract.
* Offer for new business users.
Mobile Transaction is an independent payment industry resource trusted by over a million small businesses a year.
We allow solution providers to offer product discounts for the benefit of our readers. These discounts do not influence our reviews. Rating scores are based on full retail price. (Full policy)