A green button instead of blue – that seems to be the only visible change with the iZettle Reader 2, which has just been launched in the UK. iZettle has been unusually quiet about the update, and a lot of the company material even mixes images of the 1st generation Reader with those of the new one. So what is actually new?
Read the full review of Zettle Reader 2
Let's admit it – we at Mobile Transaction consider the iZettle Reader one of the best card readers out there, and it's always exciting when a top-notch product gets even better. So of course we were the first in line to get our hands on iZettle's newest creation.
| | iZettle Reader (1st gen.) | iZettle Reader 2 |
| --- | --- | --- |
| | | |
| Introduced | July 2016 | November 2018 |
| Price | £59 excl. VAT | £59 excl. VAT |
| Coating | Rubbery surface prone to staining | More resistant to dirt, less smooth |
| Size | 11 x 7 x 1.5-2 cm | 11 x 7 x 1.5-2 cm |
| Weight | 135 g | 125 g |
| Sleep mode | Yes | Activates more intelligently = saves energy |
| Power button | Some users pressed it accidentally, turning off the device | More user-friendly, less likely to be switched off by mistake |
| Magstripe | Yes | No |
| Backside | Blank | Two rubber stripes makes it less likely to slide on counter |
| Payment indication | Switches on display when ready for card | Blinking light when ready to take payment |
iZettle
Reader
iZettle
Reader 2
Launched July 2016
Launched November 2018
£59 excl. VAT
£59 excl. VAT
Prone to staining
More resistant to dirt, less smooth surface
11 x 7 x 1.5-2 cm
11 x 7 x 1.5-2 cm
125 g
135 g
Has sleep mode
Activates more intelligently = saves energy
Some users pressed the power button accidentally, turning off the device
Power button more user-friendly, less likely to be switched off by mistake
Accepts swipe
No swipe reader
Blank backside
Two rubber stripes on the back makes it less likely to slide on counter
Switches on display when ready for card
A light blinks when ready to take payment
The quest for better and best
Over the years, iZettle has introduced several variations of a card reader, radically different from each other both in form and function. Pushing gadgets to the market with names such as iZettle Lite or Pro Contactless, the company seemed at times to be in search of not only the perfect product but also its own identity.
In June 2016, this search seemingly ended with the iZettle Reader, a device with a name so definitive that it alone radiates self-confidence. It was the card reader to end all card readers. And make no mistake about it – an unequivocal success it has been. A familiar sight at small businesses around the country, iZettle Reader has collected praise not only from users, but even won the Red Dot Award design prize in 2017.
Having created the quintessential European mPOS device, engineers at iZettle must have felt pride, but also uncertainty of whether their design can even be improved any further. That didn't stop them from evolving. As iZettle told us:
"According to user reviews, iZettle Reader has been our best reader yet. However, we still believed that we could make the reader even better. Therefore, based on our users' inputs we introduced iZettle Reader 2."
What's different about Reader 2?
Given the success of its predecessor, it's no wonder that iZettle ended up with a very subtle upgrade. Shaped identically to the previous model, Reader 2 is slightly sturdier, 10 grams lighter, but the same size as the first-generation Reader. As before, you can choose between a white and black card reader.
It has the same battery life as the old device at 8 hours, but the improved sleep function means it will consume less electricity than the first iZettle Reader and thereby last 250+ transactions instead of around 100 that the old Reader could do on one charge. The new device automatically turns off more readily compared to the old reader, hence more sparing use of the 8 hours maximum it will work without a charge.
New in iZettle Reader 2 is BLE (Bluetooth Low Energy) technology, which makes the pairing process faster, easier and more reliable. BLE also enables the ability to wake a powered-off reader directly from the iZettle Go app and helps improve battery consumption.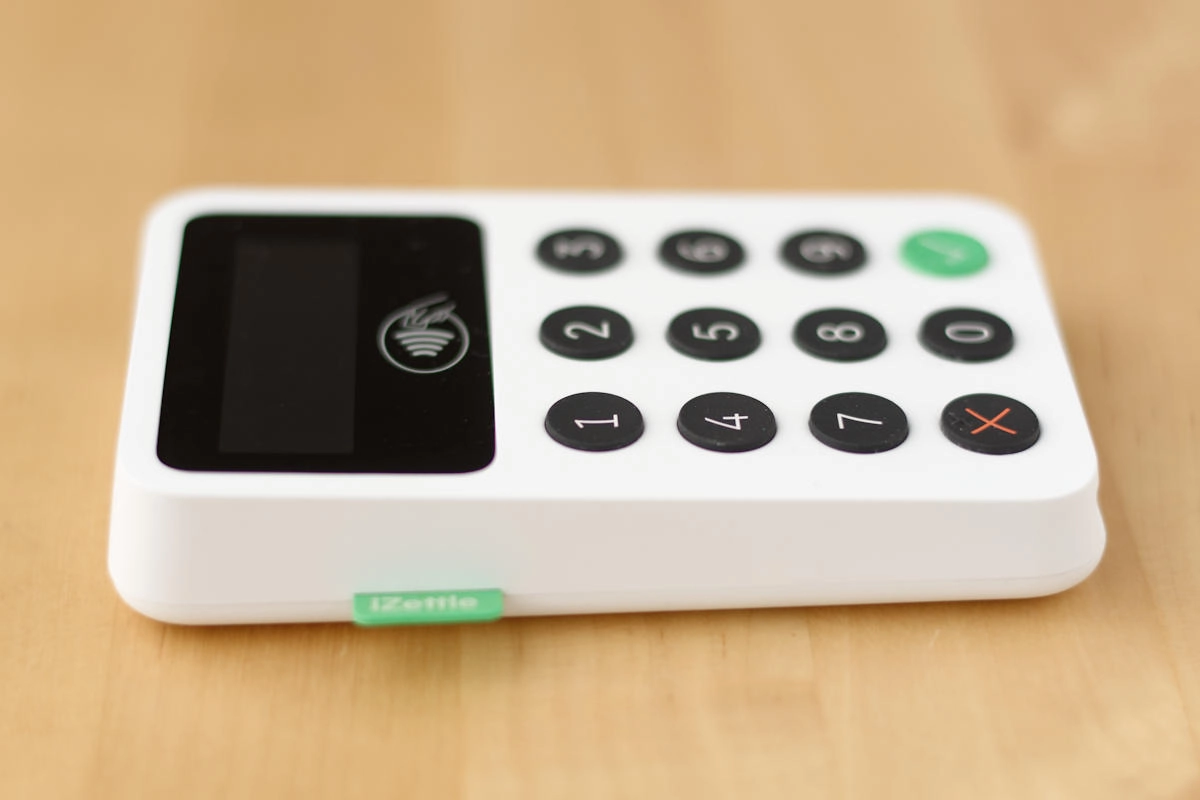 iZettle Reader 2 is beautifully sleek and compact, like the first-generation iZettle Reader. Photo: Emmanuel Charpentier (EC), Mobile Transaction
The surface of iZettle Reader 2 is an improvement on the first one. The plastic is tougher, and the surface less smooth while more resistant to grease – thereby easier to clean. The underside has two rubber lines stuck to prevent it from slipping on a smooth surface, while the touch of the keypad and overall feel of the device in your hand are nicer.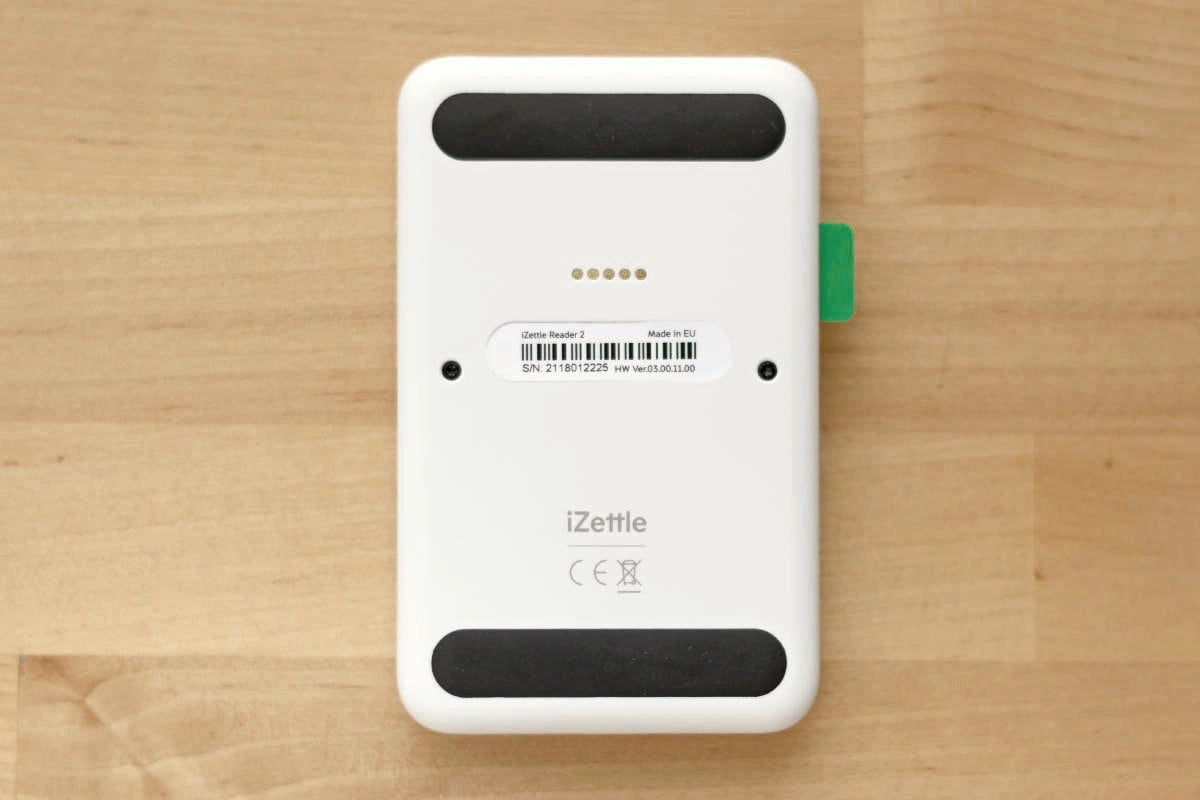 The two rubber "sausages" on Reader 2's backside keep it stable on tabletops. Photo: EC, Mobile Transaction
While before, it was more subtle when the card reader was ready for a payment (it lit up a green, non-blinking LED), the pulsating lights of Reader 2 should alert more customers to get on with the payment when due. And before you think the green button instead of blue is just a style choice – it was found that green is more intuitively indicate of "OK"/"confirm", making it the smarter colour for that button.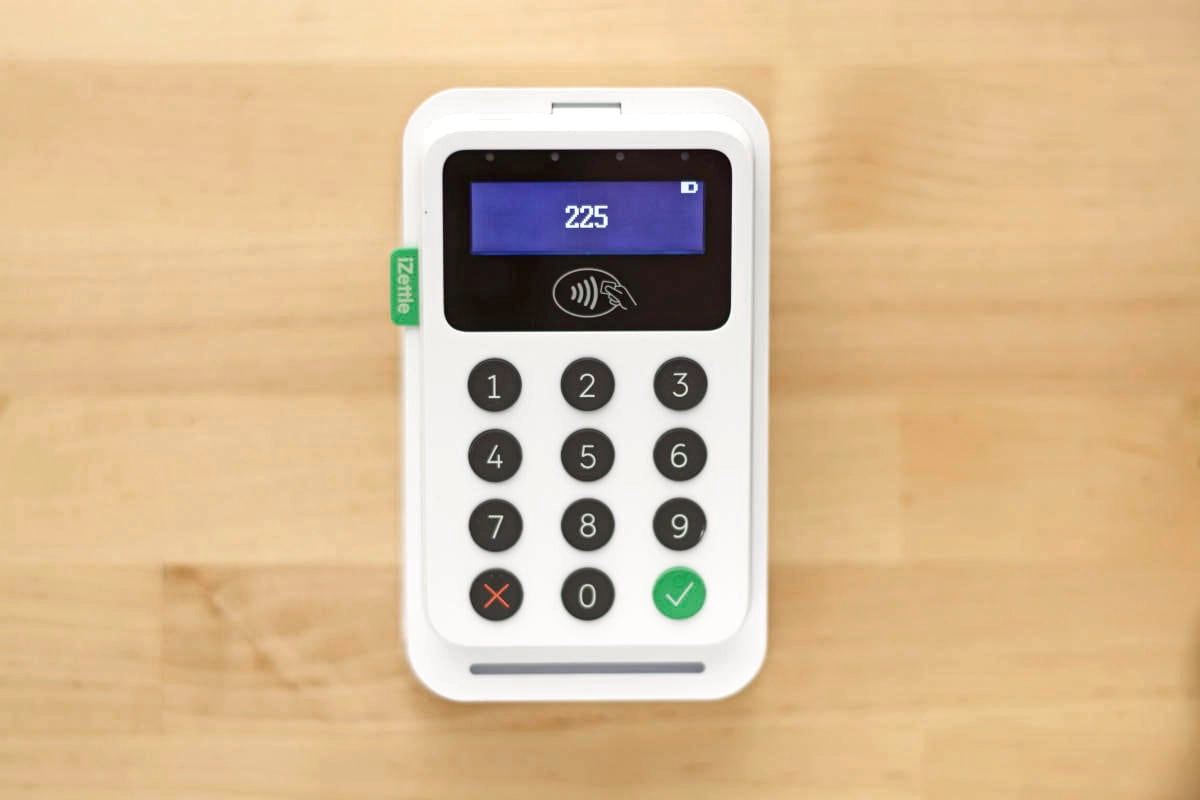 You see those four dots above the display? They will light up when ready for a card. Photo: EC, Mobile Transaction
iZettle states the new card reader is more secure, but what do they mean by that? The first Reader already complied with the strictest security standards set out by the industry, and it is tamperproof. The same applies to Reader 2. We asked iZettle and they replied:
"The security improvements refers to the removal of magstripe acceptance. For years, debit and credit cards have featured both chip- and magnetic stripe technology. Magnetic stripe is an older technology that today makes up for a very small part of Europe's card payments, and is being incrementally phased out by the card networks. With the iZettle Reader 2, we have therefore chosen to focus entirely on chip-based cards and contactless payments."
This explains why there is no swipe reader in the new model.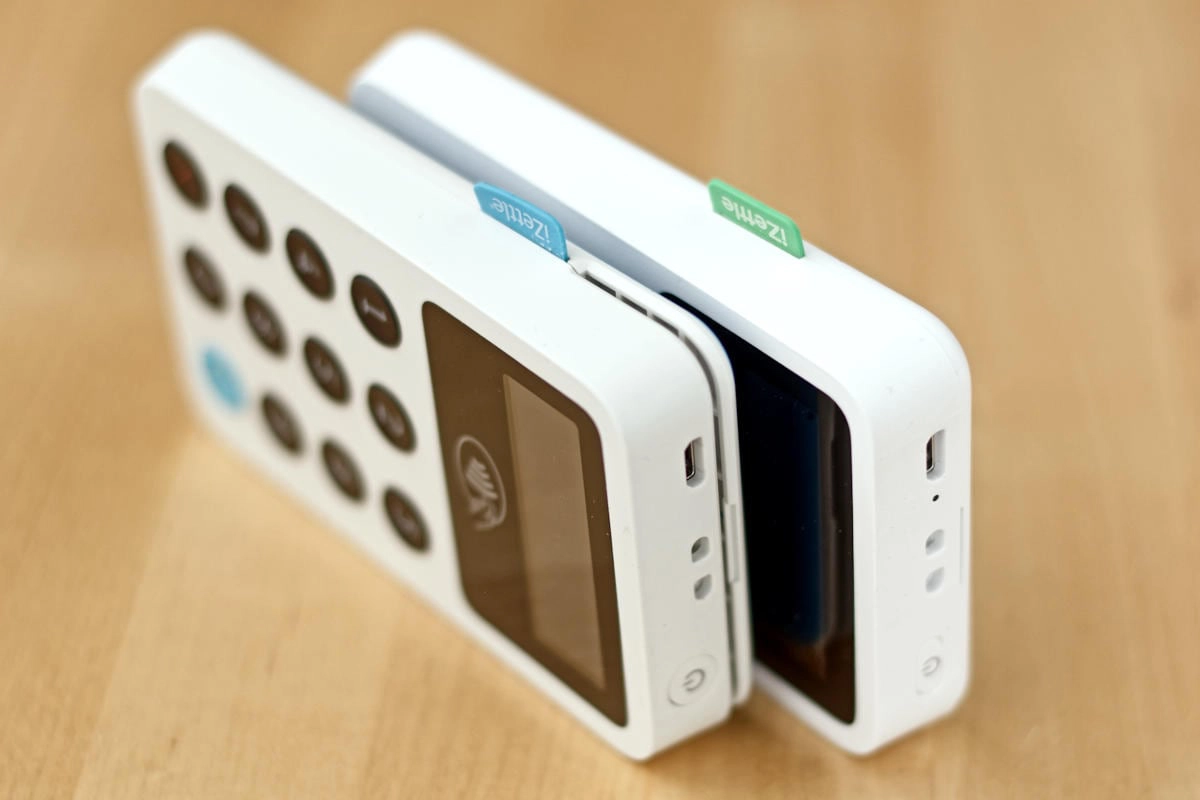 Reader and Reader 2 are the same size, but Reader 2 (on right) doesn't have the swipe slot. Photo: EC, Mobile Transaction
If you're one of those people who experienced that customers mistakenly pressed the power button and switched iZettle Reader off, you'd be pleased to hear Reader 2 is designed to prevent this. The button is smaller so it's harder to press by mistake.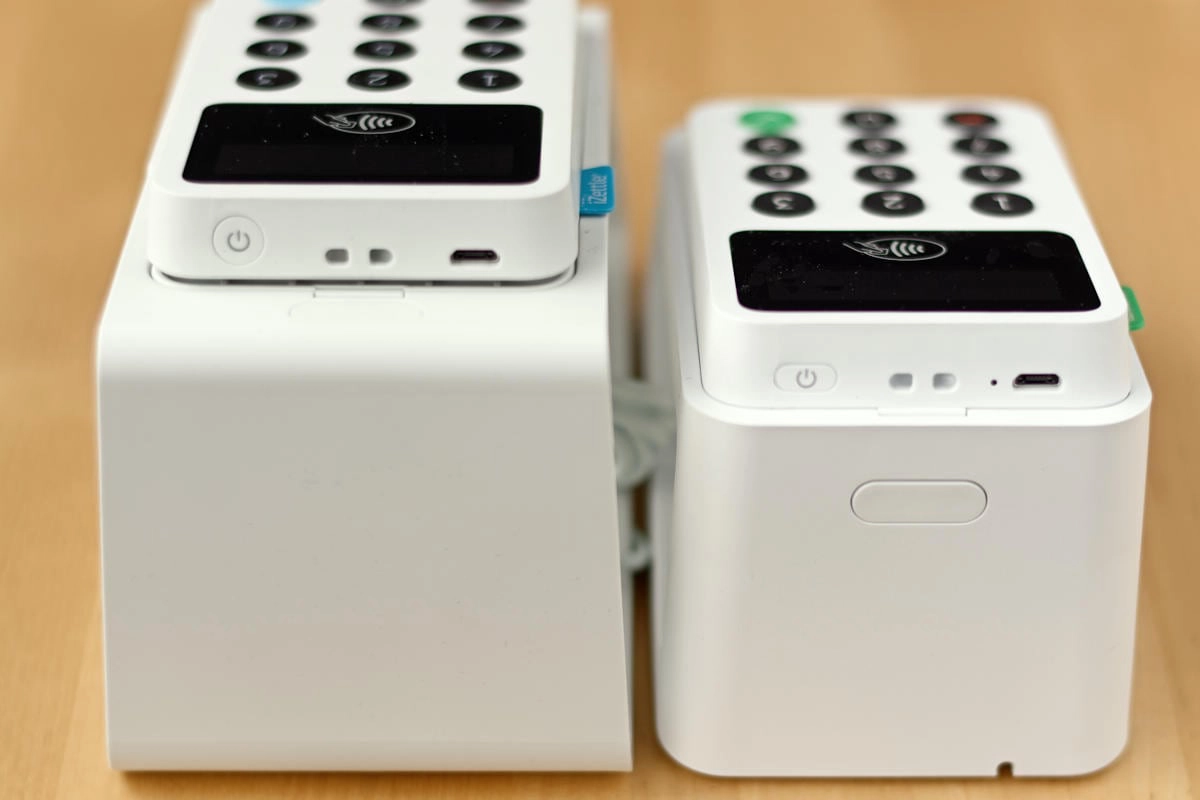 The power button on Reader 2 (on right) is smaller, narrower and harder to press by mistake. Photo: EC, Mobile Transaction
The Dock has undergone bigger changes – considerably sturdier than before, it is now more stable and pleasing to the eye. The release button is now on the rear side, hidden from the customer.
And if you break the cable, you don't have to replace the whole Dock like you had to with the first-generation Dock – you just get the cable, which is a separate component from the Dock itself. Sadly, iZettle Dock 2 is only compatible with Reader 2, just like the old Dock only works with the first iZettle Reader.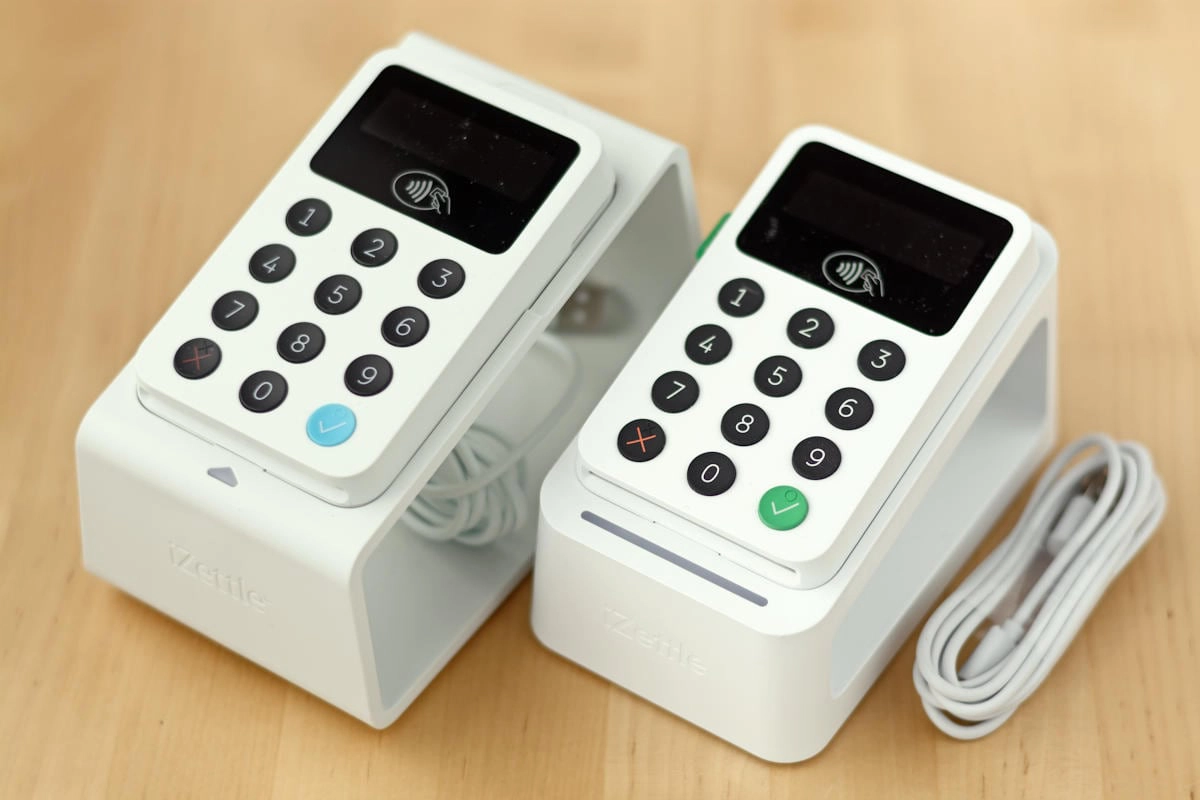 iZettle Dock 2 (on right) is smaller, but thicker and sturdier so it doesn't slide on a counter surface. Photo: EC, Mobile Transaction
The underside of Dock 2 is also improved. The two large adhesive strips that fixed the first-generation Dock to the counter (when you didn't use the supplied screw) have been replaced by four anti-slip pads. Furthermore, the new dock can rotate 360° with the help of a circular plate.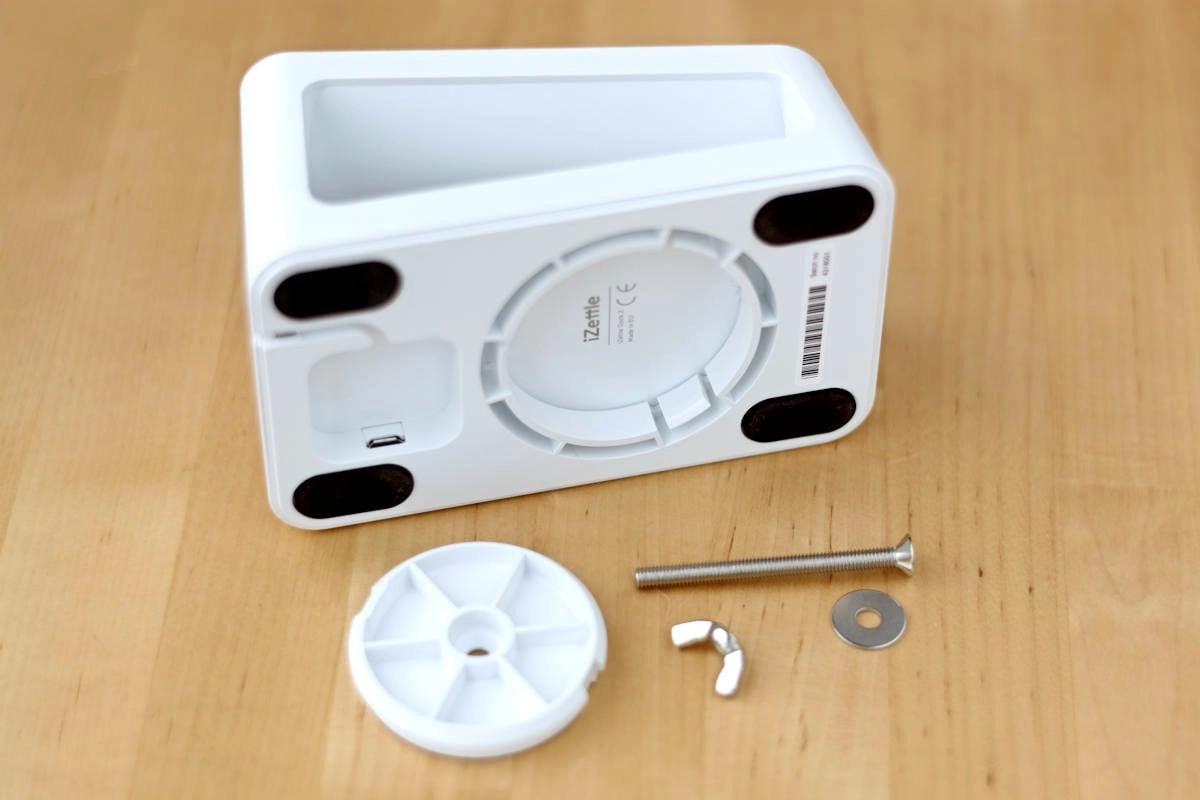 iZettle Dock 2 can rotate when attached to a counter with the supplied screw. Photo: EC, Mobile Transaction
Should I upgrade?
In short, probably no. If you have an iZettle model that is already several years old, we do recommend upgrading to this top-of-the-line model. But for those already using the ubiquitous iZettle Reader, this iterative upgrade may not be worth the cost. iZettle Reader 2 is a great device, but so is the original iZettle Reader.
For new customers, this is a great time to join iZettle, as everyone joining in the UK can now get the Reader 2 and benefit from its improved functionality right away. Hardcore iZettle fans, of which there are surprisingly many, might of course upgrade just to get the green button on their sales counter, a sturdier iZettle Reader and sturdier Dock. But for most businesses, the improvements are not big enough to warrant paying the full price of £59 plus VAT for a new device.