There's a much wider choice of card machines today than just a few years ago. While before, you had to do with a chunky chip and PIN machine stationed at a counter, small businesses can now take advantage of mobile card readers that work just as well.
Unlike traditional options, these app-based card machines are usually contract-free, affordable and without complicated fees – making it much easier for new or small businesses to start accepting cards.
In this shortlist, we look at card machines suitable for businesses with card transactions of less than £20k per month.
All the below options work in conjunction with an app on an iPhone, iPad or Android device that is connected to the internet through WiFi or 3G/4G. Although portable, they work well on a counter too.
How it works
The card machine connects to a mobile phone or tablet via Bluetooth
An app on the mobile device operates the card machine
Enter PIN or tap card on the reader just like a normal card machine
None of them have fixed monthly fees or require a contract (though some of them have subscription options). You just purchase the card machine and pay a transaction fee for the payments processed through them on a pay-as-you-go basis.
| Provider | Rating | Card reader price | To site |
| --- | --- | --- | --- |
| | | £19 (normally £59) + VAT | |
| | | £19 (normally £29) + VAT | |
| | | £29 + VAT | |
| | |  £45 + VAT | |
| | |  £69 + VAT | |
| Provider | Cost | To site |
| --- | --- | --- |
| | £59 £19 + VAT | |
| | £29 £19 + VAT | |
| | £29 + VAT | |
| |  £45 + VAT | |
| |  £69 + VAT | |
iZettle Reader – all-round safe choice

Widest range of accepted cards

White or black card machine
Fixed fee: 1.75% per transaction

Invoicing available through app
The UK market leader, iZettle Reader, is the most versatile card machine on our list. Its PIN pad machine is stylish, tamper-proof and comes in white or black – and there's no setup or shipping fee. iZettle has the highest customer ratings on Trustpilot UK as well as the App Store and Google Play.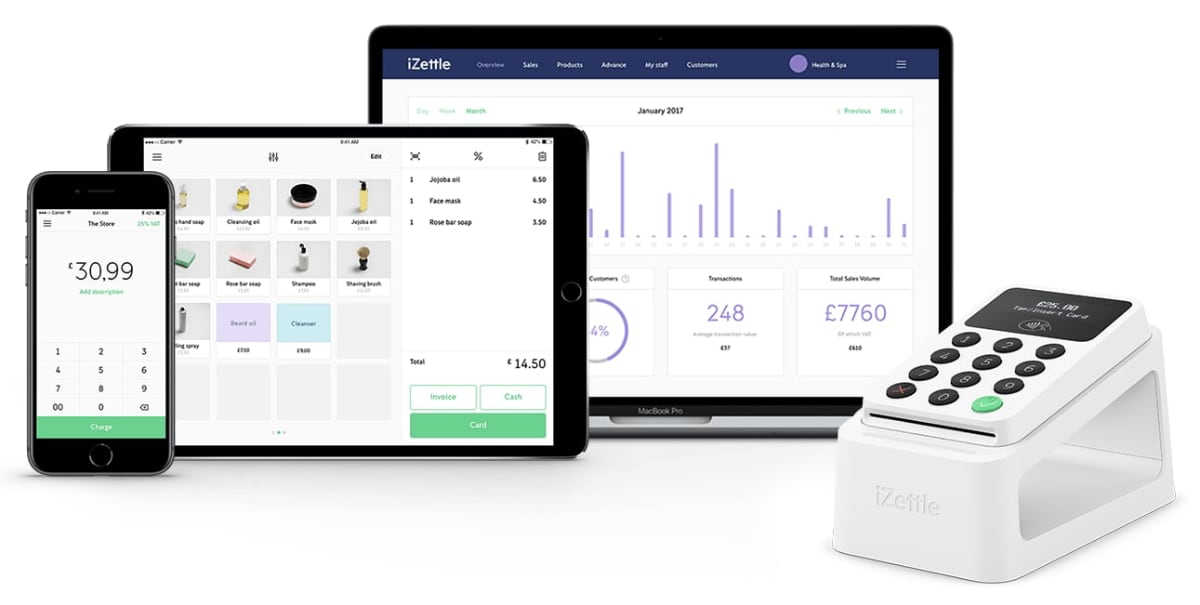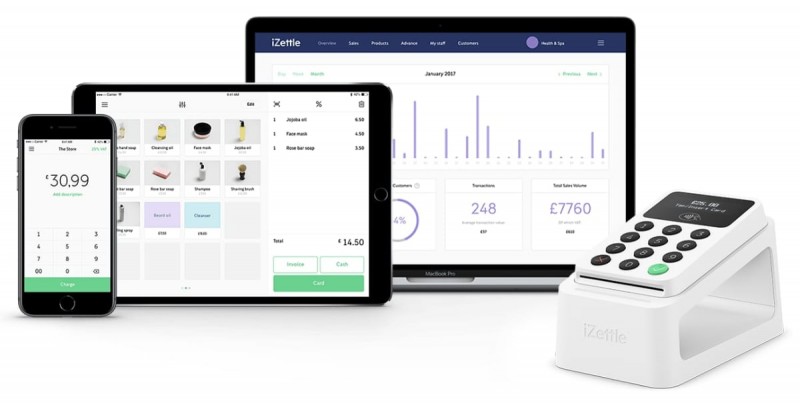 Signing up is straightforward: on iZettle's website, you just fill in some details about your business and bank account. They will verify your identity and perform a credit check to ensure everything is in order.
In most cases, you are accepted straight away and can order the card machine immediately.
iZettle accepts contactless, chip and PIN (or signature), all costing the same fixed percentage even for foreign or premium cards. Visa, Visa Electron, V Pay, Mastercard, Maestro, American Express, JCB, Diners Club, UnionPay, Discover, Apple Pay, Google Pay and Samsung Pay are all accepted.
The new, improved iZettle Reader 2 has a simple PIN pad and display where it asks the customer to enter their PIN or add a tip, if tipping is switched on. Just note that you have to keep the card machine connected through Bluetooth to the mobile device in order to take payments.
That said, the iZettle app is user-friendly and feature-rich, with options to subscribe to ecommerce and more advanced features for your business.
Accepted cards












If you need to bill your clients remotely, you can accept payments through payment links and emailed invoices for 2.5% per transaction.
Payments are credited to your bank account within 1-2 working days, minus the transaction fee. Refunds are easy and free to process through the app – and you get the transaction fee back for each refunded payment.
Learn more: iZettle review – simple, yet feature-rich, card payment solution for small businesses
SumUp Air – easy and economical

Accepts the major card brands
Fixed fee: 1.69% per transaction
SumUp Air is the most economical app-based card machine in the UK. It has the lowest card fee, and its free app has the basic functionality you need in order to take credit and debit card payments. There is no setup or shipping cost. You just pay the one-off cost for the card machine, then only the fixed percentage for card payments.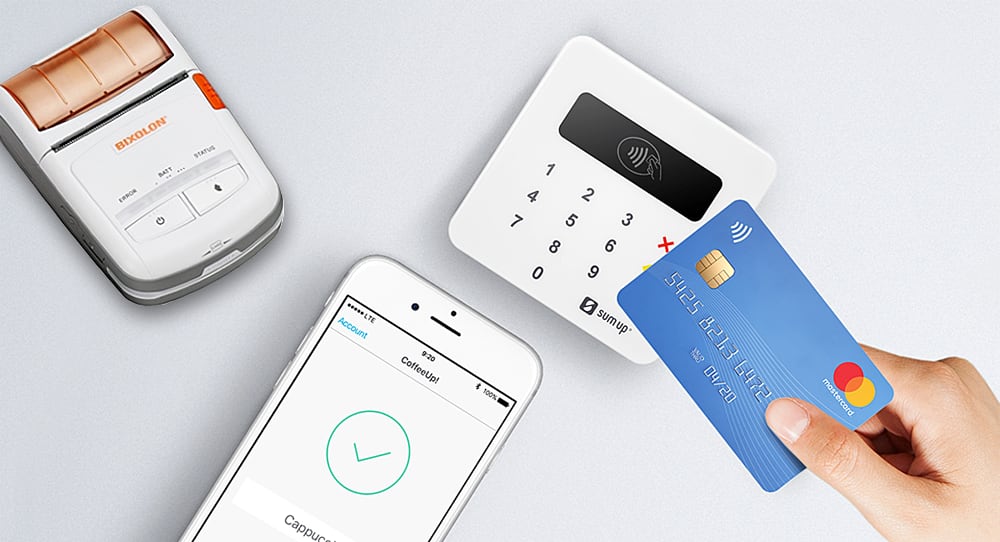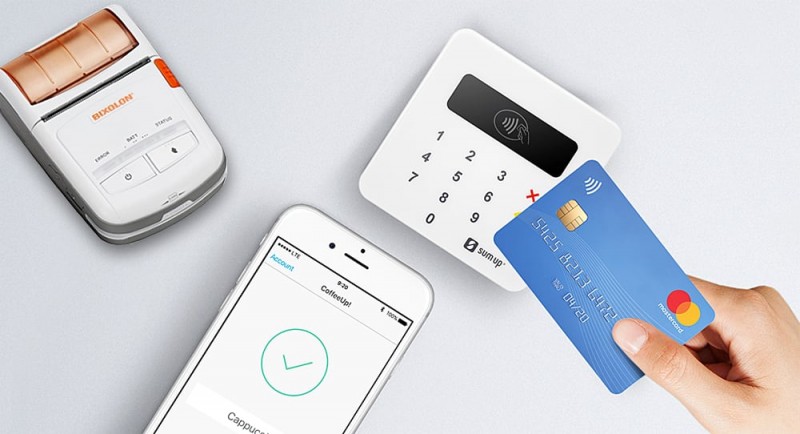 It's quick to sign up on SumUp's website, after which you can order the card machine. Shipping takes up to a week, which is a bit longer than the other options on this list.
SumUp accepts contactless, chip and PIN, and chip and signature cards.
The card machine is elegant and sturdy, with a shiny, flat surface over its keypad and display. It is certainly user-friendly with its simplified keys for PINs, and contactless cards can be tapped right over the card machine's display.
SumUp's free payment app is intuitive to use. You enter a custom amount or tap to add an item from your product library. At checkout, you can choose to pay by card or cash.
The app automatically connects with the card machine via Bluetooth when you tap to charge the customer's card, whereafter the card machine will display the appropriate payment instruction to the customer on its display.
Accepted cards











It takes 2-3 days for payments to reach your bank account, minus the transaction fee. SumUp charges you the transaction fee for any refunds you process, if the transaction has been paid out already.
Using SumUp also means you can accept over-the-phone payments (requires special activation) at no monthly cost apart from a 2.95% + 25p transaction fee.
Learn more: SumUp review – affordable, no-fuss way to take card payments
Square Reader – worthy point of sale app

Most comprehensive free app
Fixed fee: 1.75% per transaction

Keyed-in payments possible
Square Reader is the smallest, most light-weight card machine on this list. Instead of featuring a PIN pad on the card reader, PINs are entered in the free Point of Sale app on your mobile screen. It is literally a square-shaped plastic card machine that is white all over, but the technology makes it just as reliable as standard POS machines.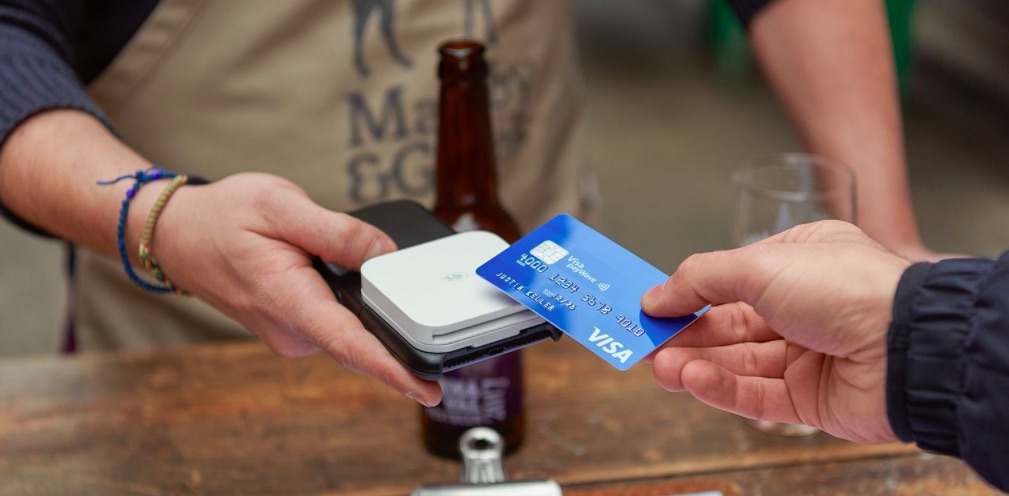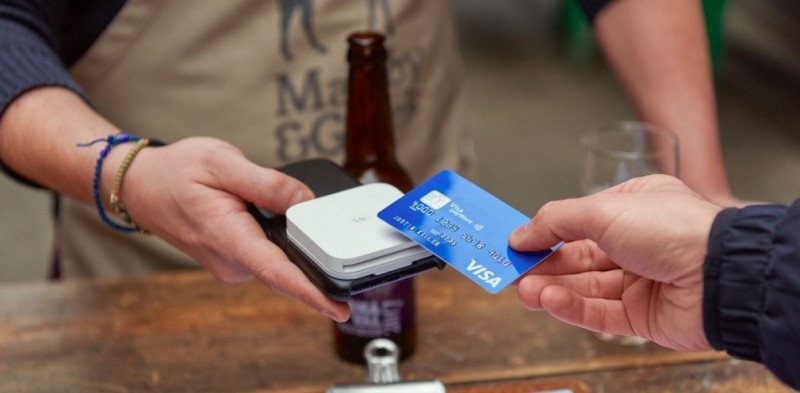 To get it, you first fill in Square's sign-up pages online, then order the Square Reader. It takes about four days to get your bank account verified, but you can start taking payments before that.
Square accepts contactless cards and mobile wallets, chip and PIN, and chip and signature cards. Included in the package is also a magstripe reader you can plug into the earphone socket on your mobile device, for international magnetic stripe cards only.
A decent range of cards are accepted, including Visa, V Pay, Visa Electron, Mastercard, Maestro, and American Express. The card machine also accepts Google Pay, Apple Pay and Samsung Pay.
It's simple to either add items from your product library to the shopping cart, or enter a custom amount for checkout, before choosing how your customer wants to pay.
Accepted cards








The mobile device will automatically connect to the card machine – provided it has already been paired with it – when ready to accept the card.
Hands down, Square's Point of Sale app has the most features of all the free card machine apps. On top of the free app features relevant to retailers and food-and-drink businesses, you get invoicing and an in-browser virtual terminal for phone payments at no extra monthly cost apart from a 2.5% transaction fee (relevant for other keyed-in payments and swipe too). Keying in card details directly in the app is possible at checkout.
Payments are usually deposited in your bank account the day after each transaction, depending on your bank's processing times. Refunds are free to process, so both the payment you received and your transaction fee paid to Square will be returned to the customer.
Learn more: Square card reader review UK: should the lack of a PIN pad be a deal-breaker?
PayPal Here – for PayPal diehards

Accepts PayPal and major cards
Transaction fees: 2.75%–1.0%

Fees depend on volume and card type
The PayPal Here card machine is integrated with your business PayPal account for an overview of both face-to-face and online PayPal transactions. The machine accepts contactless, chip and PIN, chip and signature and swipe cards, and comes in black only.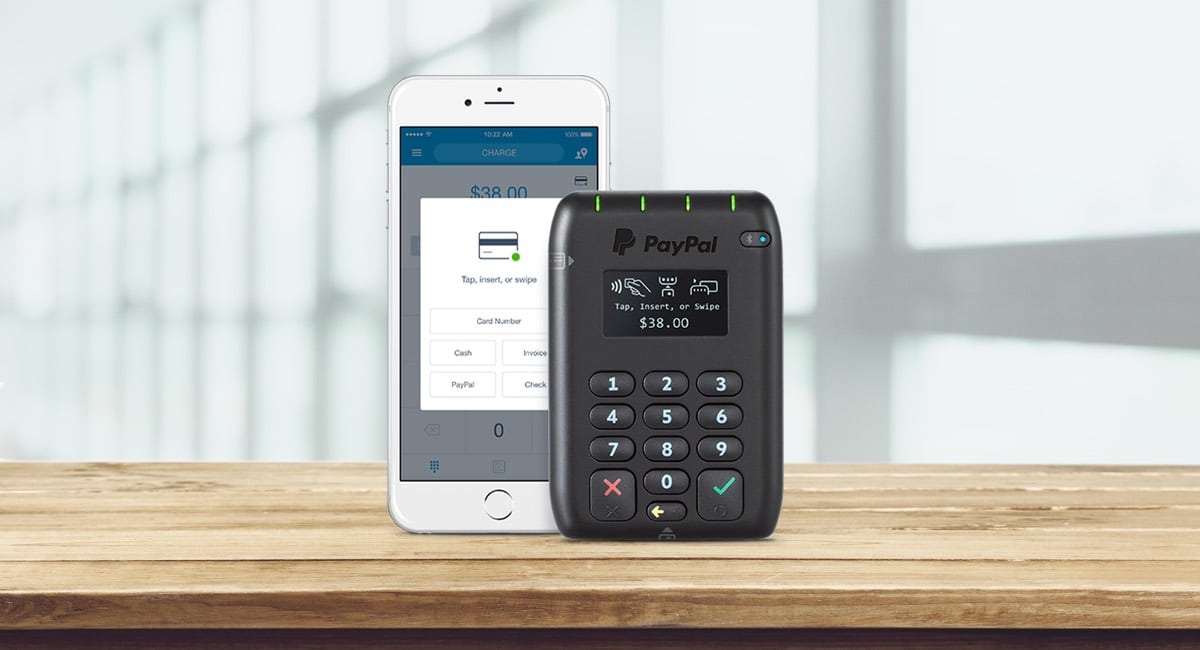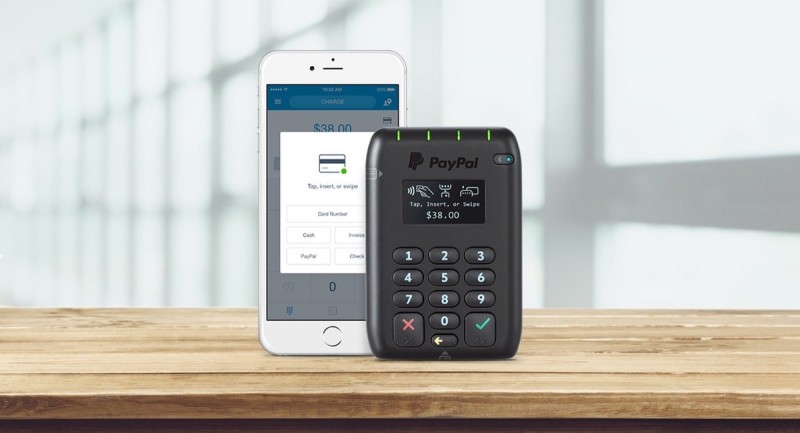 All you need to get started is to order the card machine from PayPal's website and download the free PayPal Here app on your tablet or smartphone. If you don't already have a PayPal account, you will be prompted to sign up for one. Verifying your bank account is usually quick, but some cases may require additional documentation from you.
While other card machines on our list automatically deposit transactions to your bank account, PayPal Here payments go directly into your PayPal account. In most cases, this transfer is immediate, but you then need to manually withdraw this money to your associated bank account.
The card reader only accepts the major cards Visa, Visa Electron, Mastercard, Maestro and Amex, but also Apple Pay, Google Pay, and – surprise, surprise – PayPal.
The payment app has the important functionality needed in face-to-face businesses.
Accepted cards








You also have the option to send electronic invoices and take payments over the phone – both of which incur higher fees than contactless and chip payments.
The fee system is complicated, to say the least. PayPal Here operates on a sliding fee scale starting at 2.75% per transaction until you sell for over £1,500 per month. Then it goes down to 1.75%, 1.5% if you pass the £6,000 threshold, or 1% if you sell for over £15K. Because this is calculated on a per-month basis, you will pay the fee qualified for the previous month. If you sell for less than that this month, your fee will be higher next month. Chip and contactless Amex cards are always charged 2.75%, manual entry and swipe cards 3.4% + 20p, and foreign cards have additional fees added on top.
In other words, PayPal has no "simple fixed fee", so your costs can vary month on month.
Learn more: PayPal Here UK review: how does it compare with iZettle and SumUp?
Worldpay Reader – best for phone support

Fees depend on turnover and more

Traditional payment company
Worldpay Reader is Worldpay's attempt to break into the app-based mobile payment market. It is the priciest card machine on this list, costing £69 + VAT + purchase fee, if you choose the pay-as-you-go plan without lock-in. After that, you pay a card fee determined by your monthly turnover, plus extra fees for premium cards and transaction authorisation fees. There is also a rental plan starting at £4.99/month, but this involves an 18-month contract.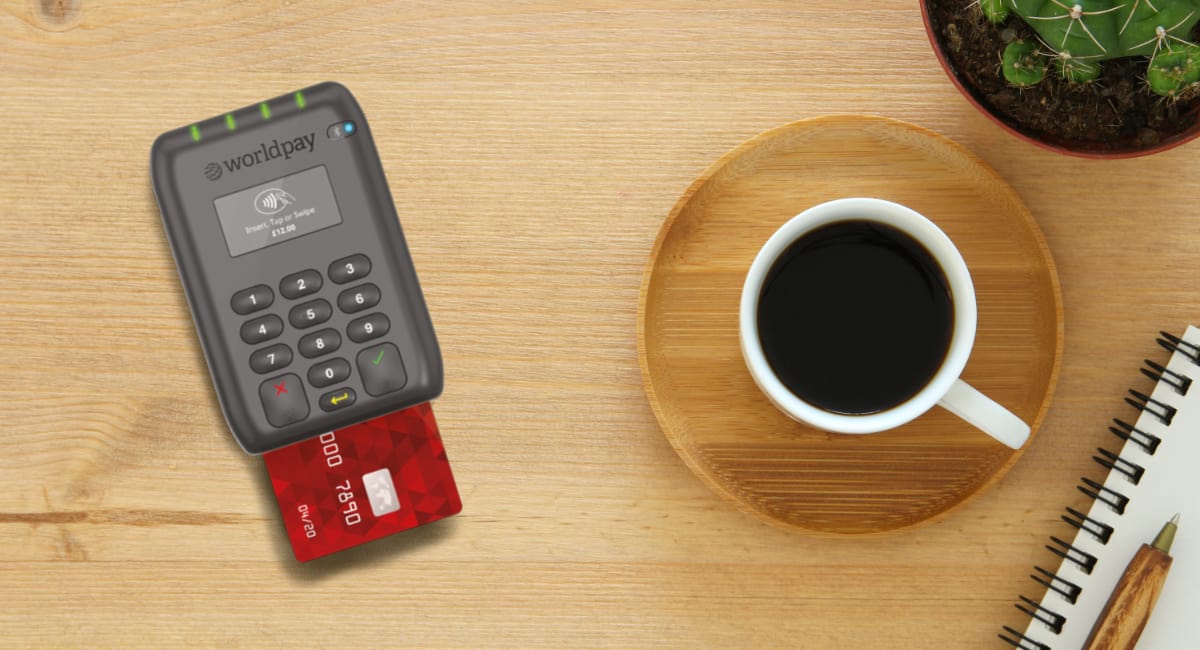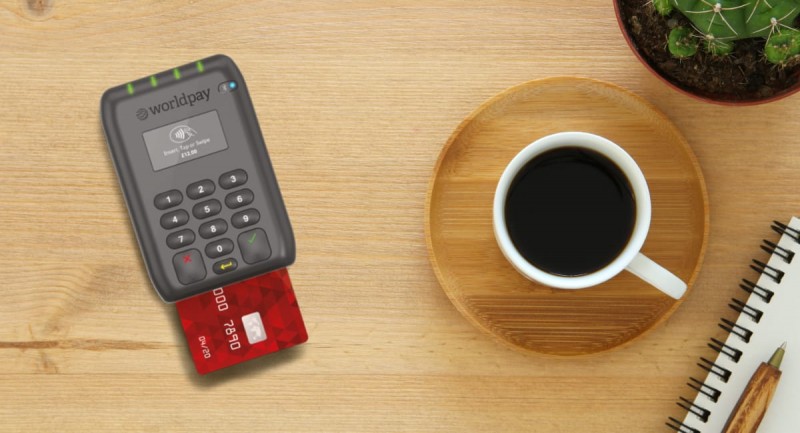 You can order the Worldpay Reader card machine by signing up online, after which you will receive a quote on the fees.
Do note that Worldpay may not be transparent about all fees, so make sure you get them to explain all the costs and responsibilities involved. For instance, they require PCI compliance, and if you fail to complete certain paperwork, they will charge you a £9.99 PCI non-compliance fee every month.
Worldpay only accepts Visa, Mastercard, Maestro, Apple Pay, Google Pay and Samsung Pay, and settlements take up to three days. The card machine is the same as that used by PayPal Here.
The accompanying Worldpay POS app is straightforward and frequently updated. There's a product library with images that you can tap to add to the basket, or enter a custom item, before proceeding to payment by card.
Accepted cards





The mobile device will connect with the card machine through Bluetooth so the customer can enter their PIN on its keypad, swipe their card or tap a contactless card, phone or Apple Watch.
Worldpay's main advantage is their free phone support 24 hours a day, 7 days a week. Only Elavon MobileMerchant offers this amount of support for free, although other providers can still offer swift responses despite a delay in availability.
Learn more: Worldpay Reader review: mobile card reader with a traditional service
Not making the cut
Barclaycard Anywhere is another card machine of the same model used by PayPal Here and Worldpay. It doesn't make the cut, largely because the app is buggy and very basic. They only accept a few cards, and their prices are in the high end – not worth it considering the subpar offering.
Elavon MobileMerchant was previously on our shortlist, but the fact that MobileMerchant can't print paper receipts and the lack of frequent app updates were enough for Worldpay Reader to replace its ranking above. Both of them are more costly than the rest of the top five.
The Shopify POS card reader comes with a rate that looks attractive: 1,7%. However, this requires a Basic Shopify package for £23 per month. Shopify POS and the card reader can make sense for businesses with a significant online sales volume and who already use the Shopify or Advanced Shopify packages.
A few services have gone out of business: WorldPay Zinc (replaced by Worldpay Reader above), Payatrader and Intuit Pay. We believe these did not measure up to the current top five. In the end, the fittest are surviving, which is good news for small businesses.