iZettle and SumUp have many similarities, but over the last few years, they've been branching out their offerings in different directions.
What they're perhaps best known for in the UK is their two mobile card readers: iZettle Reader and SumUp Air. These pocket-sized terminals cost less than £40 each and work in conjunction with a smartphone or tablet app, making them super-accessible for any small business.
What else do they offer? And how do these payment companies shape up in general? Let's have a closer look.


iZettle review


SumUp review
Terminal price range
£19 – £59 + VAT
£29 – £169 + VAT
Transaction fee
1.75%
1.69%
Contract
None
None
Monthly costs
None
None
Payouts
1-2 working days
1-3 working days
Next day with SumUp Card
Accepted cards
Contactless
 
 

iZettle
review

SumUp
review
Card terminal price range
£19 – £59 + VAT
(offer)
£29 – £169 + VAT
(offer)
Transaction fee
1.75%
1.69%
Monthly fee
None
None
Contractual commitment
None
None
Payouts
1-2 working days
1-3 working days
Next day with SumUp Card
 
 
SumUp sells 2 card terminals, iZettle only 1
You've probably seen iZettle Reader (newest version is called iZettle Reader 2) in cafés, small shops or at the hairdressers – if not that, then the SumUp Air.
Both connect to an iPad, iPhone or Android tablet or smartphone via Bluetooth with the associated payment app. Transactions happen over the internet, using the mobile device's 3G/4G network or WiFi. What's more, the app works like a till with a product library and other features to form a complete point of sale (POS) system.
Emmanuel Charpentier (EC), Mobile Transaction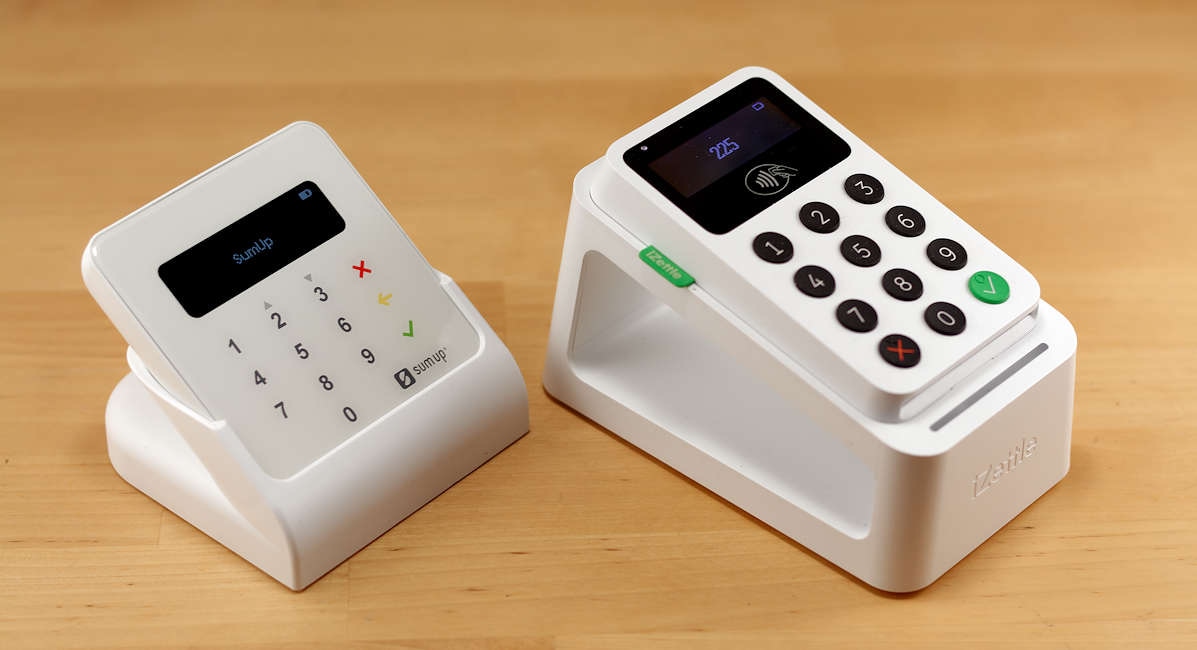 SumUp Air and iZettle Reader 2 on their charging docks.
In addition, SumUp also offers a pocket-sized terminal called SumUp 3G. Suffice to say, this model works with a 3G, GPRS or EDGE connection through an inbuilt SIM card with unlimited, free data and also WiFi. SumUp 3G is completely independent, meaning a linked mobile device is not required.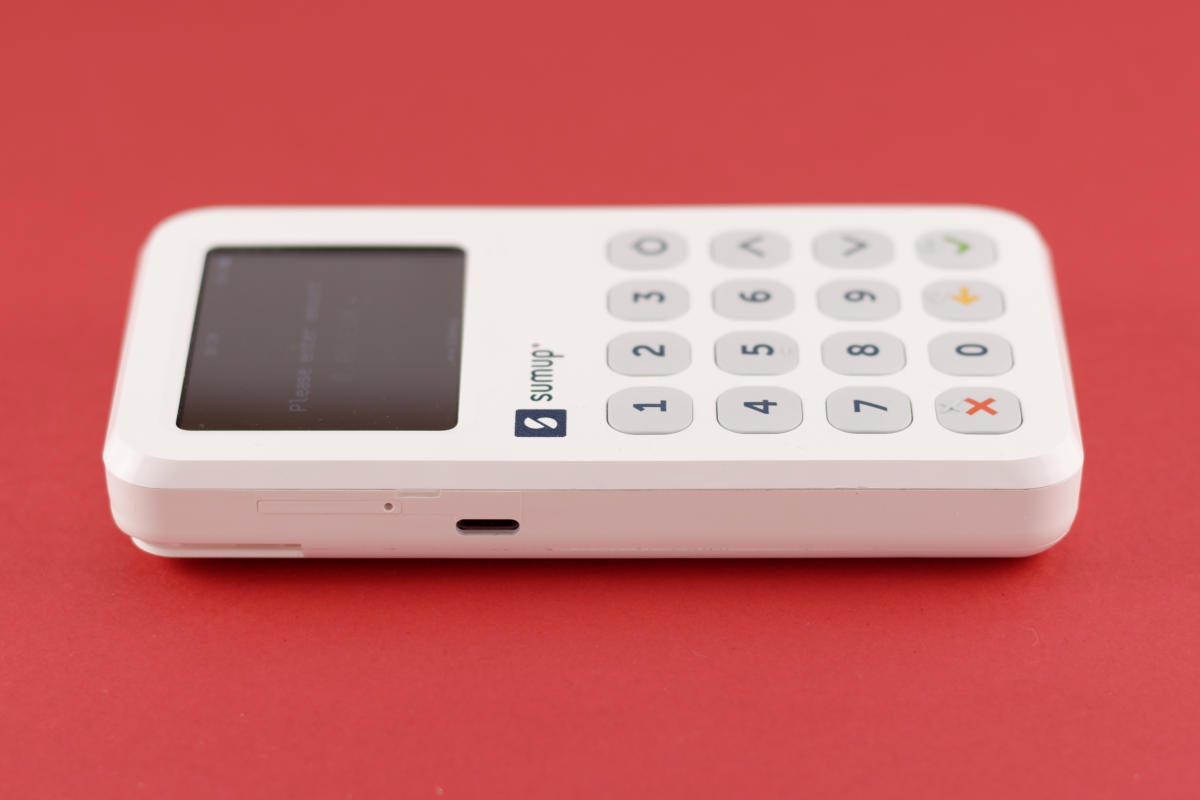 SumUp 3G is lightweight, small and works with 3G and GPRS.
Recently, SumUp started selling a printing-and-charging cradle to use with SumUp 3G (more on that further down).
Comparing iZettle vs. SumUp 3G, we should emphasise there is no standalone iZettle terminal – only the app-dependent iZettle Reader.
Pay-as-you-go pricing, with only small differences
iZettle's and SumUp's transaction fees are very similar. iZettle charges a fixed rate of 1.75% and SumUp 1.69% of all card transaction totals regardless of card brand – even when it is a premium, foreign-issued debit or credit card.
The app-based card readers are similarly priced: £19 (see offer here, full price £59) for iZettle Reader and £29 (offer here) for SumUp Air, exclusive of VAT.
SumUp 3G, on the other hand, is more expensive due to its ability to work on its own, costing £99 + VAT. If you get the SumUp 3G and Printer duo, you pay £149 + VAT (normally £169).
SumUp
iZettle
Terminal price*
Air: £29
SumUp Air & Dock: £55
3G: £99
3G + Printer: £149 (full: £169)
Reader: £19 (full: £59)
Delivery
Free
Free
Transaction fee
1.69% (any card)
1.75% (any card)
Monthly fee
None
None
Payouts
Free
Free
Sales minimum
None
None
Refunds
Free within 1-3 days, 1.69% after
Free
Chargebacks
£10 each
Free cover <£250 chargebacks /mo
SumUp
iZettle
SumUp Air: £29
SumUp Air & Dock: £55
SumUp 3G: £99
SumUp 3G & Printer: £149 (full: £169)
iZettle Reader: £19 (full: £59)
Delivery charge
Free
Free
Transaction fee
1.69% (any card)
1.75% (any card)
Monthly fee
None
None
Payouts
Free
Free
Minimum sales requirement
None
None
Refunds
Free within 1-3 days, 1.69% after
Free
Chargebacks
£10 each
Free cover for up to £250 chargebacks /mo
Low-volume merchants with card transactions of £2,000 per month will see no significant difference in fees – SumUp would charge £33.80 and iZettle £35. For medium-volume business, these card rates are comparable with negotiated rates from Worldpay, Sage Pay and other providers. iZettle's and SumUp's rates are really competitive for premium cards like UnionPay and Amex, which normally cost significantly more in processing fees through other providers.
Neither SumUp nor iZettle have monthly fees or other charges on top of the transaction fee. You could argue that SumUp's marginally lower card fee is compensated for through the blanket chargeback fee, or the refund fee if processed after the transaction is cleared in your bank account.
Payouts in bank account, or faster with SumUp Card
They both deposit payments directly into your business' bank account, minus the transaction fee which is automatically deducted. iZettle's 1-2 working days' settlement is slightly faster than SumUp's 1-3 working days' bank account transfers. It depends in part on your bank how fast the deposits take.
Settlement time for SumUp depends on whether the transaction was by debit or credit card. Debit card payments are credited within a day, while credit card payments may take up to three days to show in the bank account.
Alternatively, you can access payouts the next day with SumUp Card regardless of what day it is. If you accept transactions on a Saturday, for example, you can spend this money with the SumUp Card (a prepaid Mastercard) the day after, on a Sunday. There are no monthly fees for the card or transactions, or charges for transferring money from the SumUp Card to your bank account.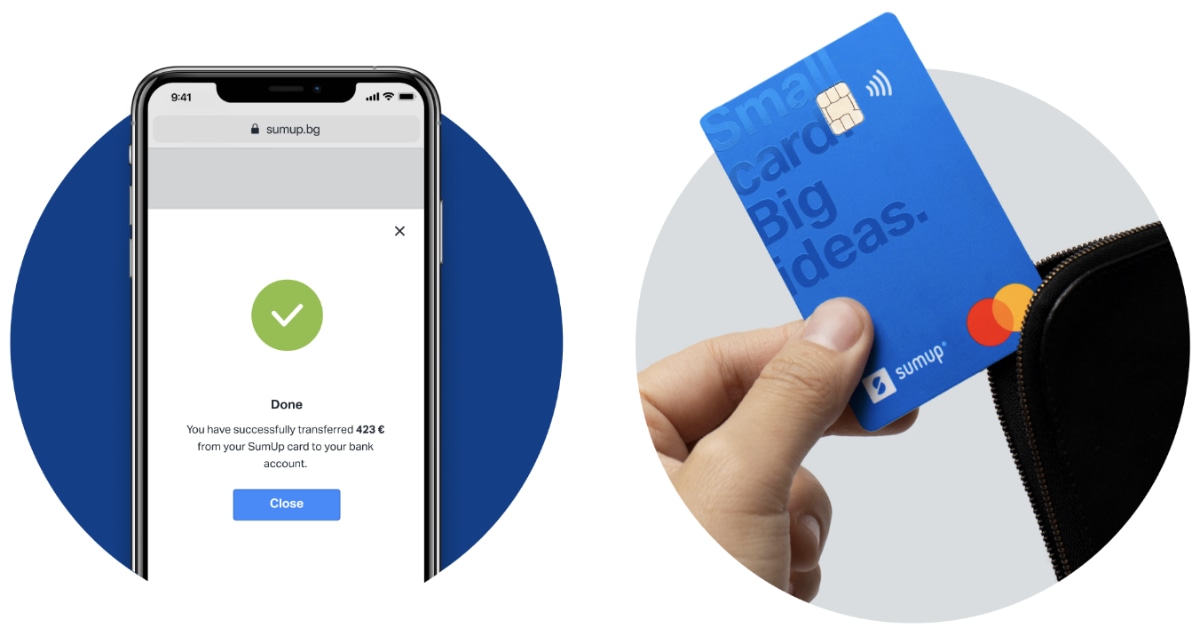 Easily transfer money from SumUp Card to your bank account, or receive payouts directly in a bank account.
New iZettle users can have their funds deposited directly in their PayPal Business account within 24 hours, but not on weekends like SumUp Card offers.
Both accept impressive range of cards
Both iZettle and SumUp accept the most common cards including Visa, V Pay, Visa Electron, Mastercard and Maestro, plus Apple Pay and Google Play. They also allow you to take American Express, UnionPay, Diners Club and Discover at no extra cost; a bargain compared to the cost a small business would pay with a merchant account of a typical acquirer.
With iZettle, you can accept JCB on top of the above cards. For any business dealing with Japanese tourists, this will likely bring you more (and higher) sales. Samsung Pay is similarly only accepted by iZettle.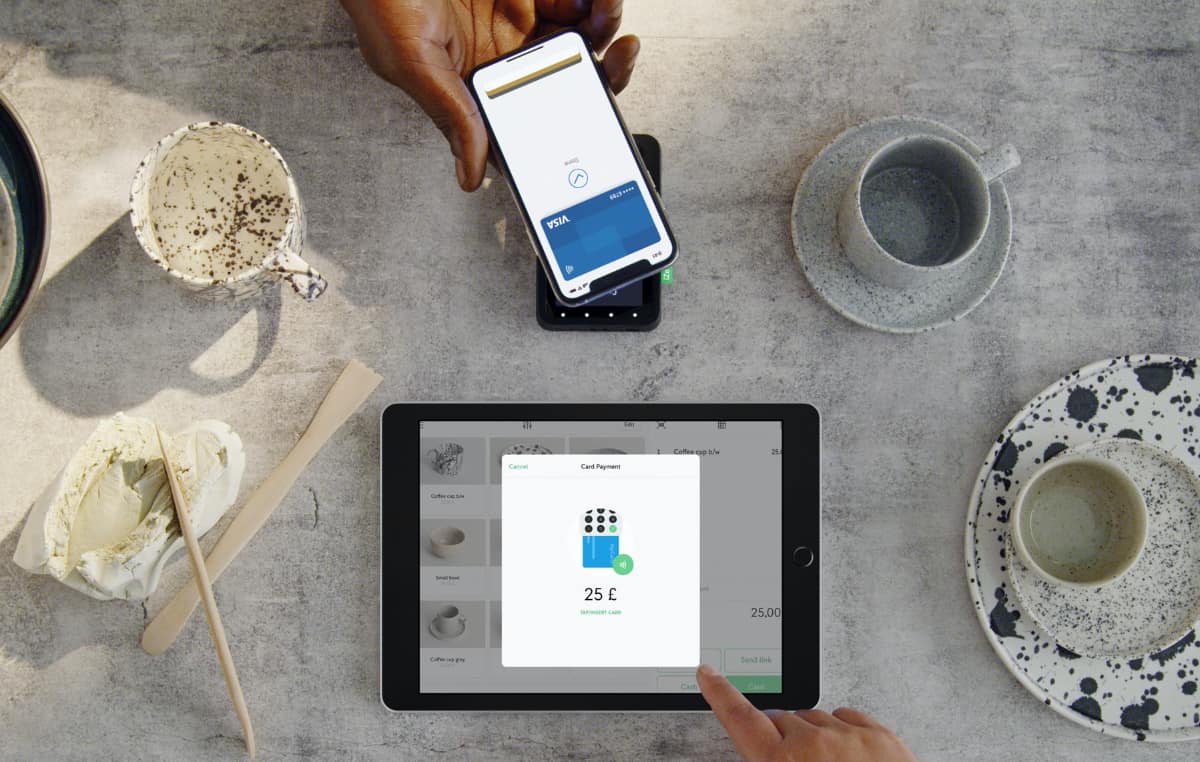 iZettle's POS app has more features than SumUp.
Receipt printing: cheapest solution by SumUp
Any of the POS apps would require an external receipt printer to produce paper receipts. Compatible mobile or stationary receipt printers for SumUp Air include Bixolon and Star Micronics models as well as any AirPrint (iOS) or Google Cloud Print (Android) printers. The iZettle app is compatible with many Star Micronics models, stationary or mobile, as well as AirPrint.
Only SumUp offers their own receipt printing solution: the SumUp 3G and Printer set. This is basically the SumUp 3G card reader attached to a SumUp-branded printing and charging cradle. Together, they form a very affordable, standalone card terminal that print receipts. In fact, it is the cheapest 3G card terminal with receipt printer in the UK.
Photo: EC, Mobile Transaction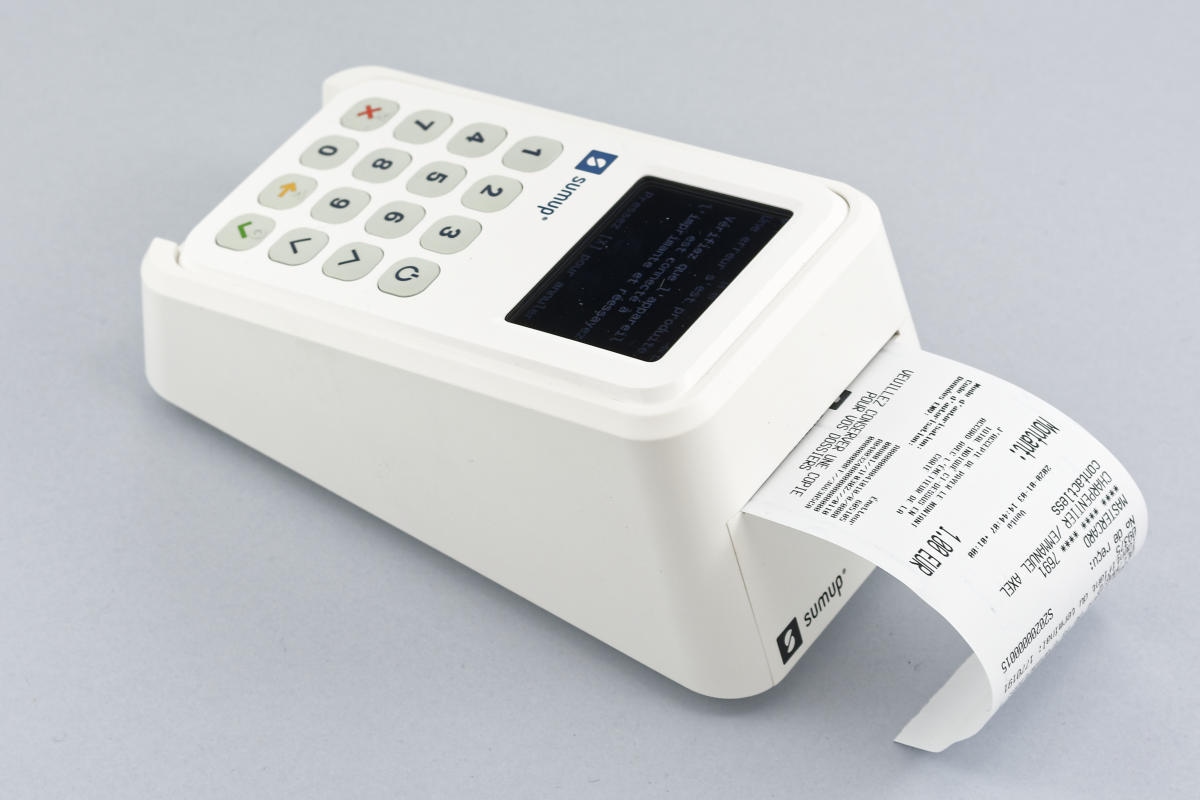 SumUp 3G can be attached to a special receipt-printing cradle manufactured by SumUp.
Distinct options for remote payments
SumUp gives you several remote payment options: a virtual terminal for over-the-phone payments, Mobile Payments including QR codes, SMS payments and payment links, email invoices and a basic Online Store. All but the virtual terminal cost 2.5% per transaction and can be managed through SumUp App.
You have to apply for SumUp's virtual terminal, as there are stricter eligibility requirements for that. It accepts Visa, Mastercard, Maestro, American Express, Diners Club and Discover via any browser logged into the SumUp dashboard. Virtual terminal transactions through SumUp cost 2.95% + 25p per transaction.
Although iZettle does not have a virtual terminal, invoicing and payment links (charged 2.5% per payment) are available to all their users, plus an ecommerce platform for a monthly cost of £29 + VAT.
With iZettle invoicing, customers receive automatic reminders if they haven't paid the bill yet. Payment links do not contain customer-specific information, but are instead one-time links sent by text, email or a social media platform.
Small-business reporting with some limitations
Both iZettle and SumUp give an overview of transactions in the online dashboard. There are enough reporting features to cover accounting requirements, including the ability to create reports and export sales to Excel.
iZettle has somewhat better business analytics with stock levels, most profitable days and times for certain products, discounts given, gift card tracking and more. SumUp's reports are more limited, but you still get card versus cash transactions, sales by employee and graphs of sales within a chosen period of time All reports are shown in a user-friendly interface.
Photo: EC, Mobile Transaction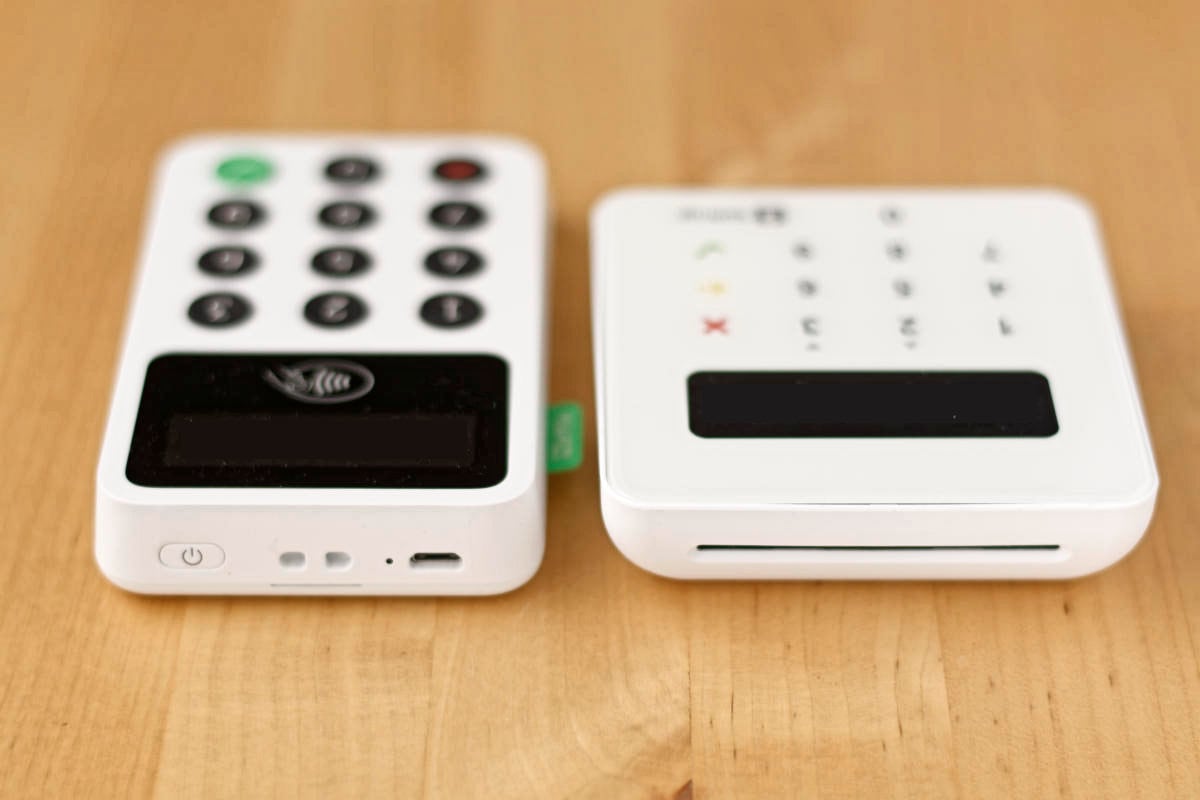 Tops of iZettle Reader 2 and SumUp Air.
More and more small businesses benefit from affordable, cloud-based accounting software because it saves time. Xero's features are hard to beat: inventory, payroll, workplace pensions, VAT computation, purchase orders, and so on. iZettle integrates with Xero and also QuickBooks – SumUp does not yet sync with any accounting software.
A caveat on the iZettle-Xero integration: while the financial side syncs perfectly, the product level does not. This means that if you sell an item with iZettle, the inventory in Xero will not be updated accordingly.
Neither SumUp nor iZettle has payroll functionality, but QuickBooks and Xero give you payroll features through the iZettle integration.
iZettle better geared towards growing businesses
With the slightly more sophisticated POS app and reports, iZettle could be more attractive for businesses intending to benefit from cloud services beyond payments.
iZettle's cash advance option is intended for small businesses that otherwise struggle to get a small business loan with favourable terms.
iZettle's cash advance option is intended for small businesses that otherwise struggle to get a small business loan with favourable terms.
Subject to sales history, existing iZettle users can qualify for an interest-free loan based on estimated future card sales.
If you accept the advance, you only pay off through a fixed rate on future card sales. The days you don't earn, you don't pay; the more you earn, the more you pay.
SumUp can be used across Europe
iZettle can be used in the UK only. The company says they are working on making it possible for UK vendors to use it elsewhere in Europe, but this is still not possible.
By default, SumUp does not work abroad either, but you can use it in countries covered by their operations in some circumstances. If you want to accept cards in Europe, just contact their customer support team providing the exact dates you want to trade abroad.
Photo: EC, Mobile Transaction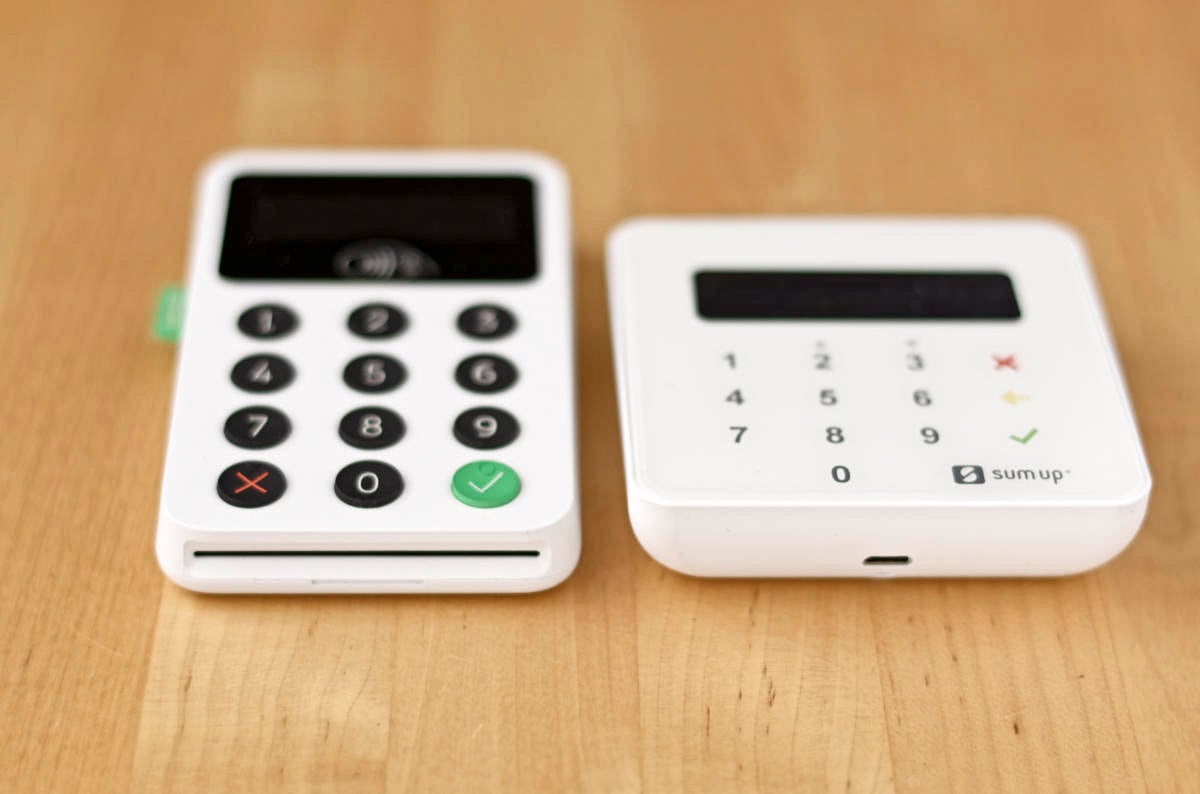 Bottoms of iZettle Reader 2 and SumUp Air.
Key points to consider
Both systems have attractive characteristics for budget-conscious entrepreneurs. The card readers are cheap, there are no fixed monthly costs, no minimum revenue requirements and the transaction fee is competitive for small businesses. SumUp and iZettle are therefore both suitable for occasional and regular use alike.
That said, if you are just interested in accepting cards and have a fairly low sales volume, SumUp's slightly lower transaction fee might save you a bit of money in the long run. For more POS features and integration options, it's probably best to opt for iZettle.
For the simplest card terminal, weekend payouts and cheapest receipt printing, SumUp is the best choice.