Our rating
iZettle Go is a free POS app, Go Plus has extra tools. Is it enough for your business?
iZettle Go is a mobile app with enough features to function as a complete POS system. Connect it with iZettle Reader to accept card payments face to face, or send links to customers for remote payments. The Go Plus plan gives you ecommerce features and extended support.
Highs: All app features are free. No contract. Very user-friendly.
Lows: No additional POS features on paid plan. Evening and weekend support only on paid plan.
Choose iZettle Go if: You're a small business wanting an easy, free POS solution for payments.
Choose iZettle Go Plus if: You're using iZettle already and want an easy way to sell online.
What is iZettle Go?
iZettle Go is a point-of-sale (POS) app for your phone or tablet, enabling your small business to take payments for just a simple transaction fee.
To get started, you sign up with iZettle online to get your business and bank account verified, then download the app on a mobile device (it does not work on a PC or Mac). Order iZettle Reader to take chip and PIN and contactless payments in conjunction with the app, or send invoices and payment links for a higher fee.
It works as a complete, cloud-based POS system for face-to-face businesses, including backend analytics and reports. If you upgrade to iZettle Go Plus, you can also build an online shop with payments all synced with in-store sales.
Fees
The beauty of iZettle is that the POS app, Go, is free to download and use. As opposed to other cloud-based EPOS systems, you don't pay a subscription fee for this. Only if you upgrade to Go Plus does it cost £29 + VAT a month. Neither Go nor Go Plus have any contractual obligations, so you're free to stop using it or cancel any time without further costs.
| | iZettle Go | iZettle Go Plus |
| --- | --- | --- |
| Monthly fees | £0 | £29 + VAT |
| Contract | No commitment | No contract, cancel any time |
| Card reader payments | 1.75% per transaction | 1.75% per transaction |
| Cash payments | Free | Free |
| Invoices & payment links | 2.5% per transaction | 2.5% per transaction |
| E-commerce payments | n/a | 2.5% per transaction |
| Refunds | Free | Free |
| Chargebacks | Up to £250 cover/mo free | Up to £250 cover/mo free |
iZettle
Go
iZettle
Go Plus
Monthly fees
£0
£29 + VAT
Contract
No commitment
No contract, cancel any time
Card reader payments
1.75% per transaction
1.75% per transaction
Cash payments
Free
Free
Invoices & payment links
2.5% per transaction
2.5% per transaction
E-commerce payments
n/a
2.5% per transaction
Refunds
Free
Free
Chargebacks
Up to £250 cover/mo free
Up to £250 cover/mo free
The main things you're paying for are the transaction fees and hardware (where relevant). If you're taking card payments at the point of sale, you will need iZettle Reader costing £59 (offers often apply). All chip and PIN and contactless payments through iZettle Reader have a 1.75% charge per transaction. Cash transactions are free to register in the app.
Payments through electronic invoices and payment links for remote payments cost 2.5% per transaction. E-commerce payments on the Go Plus plan are also 2.5% for each sale. PCI compliance, which typically comes at an added cost, is free.
All card payments automatically clear in your bank account within 1-2 working days.
Card refunds are transferred back to your bank account, including the iZettle transaction fee – so ultimately, refunds are free. iZettle covers up to £250 worth of chargebacks a month for free provided you follow basic security standards when you accept cards.
iZettle Go vs Go Plus
iZettle Go is the mobile app with point-of-sale features along with the backend browser dashboard where the admin can manage the iZettle account and analyse sales.
The Go Plus plan gives you two extra things: the E-commerce platform which can be synced with in-store sales, and additional customer support. All the POS features from the Go plan are the same in Go Plus.
iZettle Go
iZettle Go Plus
POS features
All
All
Dashboard features
All
All
E-commerce

Phone, email support
Weekdays 9am-5pm
Weekdays 8am-8pm
Weekends 9am-6pm
iZettle
Go
iZettle
Go Plus
POS features
All
All
Dashboard features
All
All
E-commerce

Phone, email support
Weekdays 9am-5pm
Weekdays 8am-8pm
Weekends 9am-6pm
Checkout and payments
The checkout screen in the Go app is pretty straightforward. It's recommended you first add products with images, which will then show on your screen ready to choose for the cart. If your products have a barcode, you can use the app's inbuilt barcode scanner. It is also possible to add a description of an item at checkout, for example, if none of the options in the product library matches what's being bought or you haven't added anything in the product library.
You can easily slide left to delete an item off the bill, add a discount and choose a payment method from the checkout screen, but there is no option to split the bill or use more than one payment method.
Photo: Mobile Transaction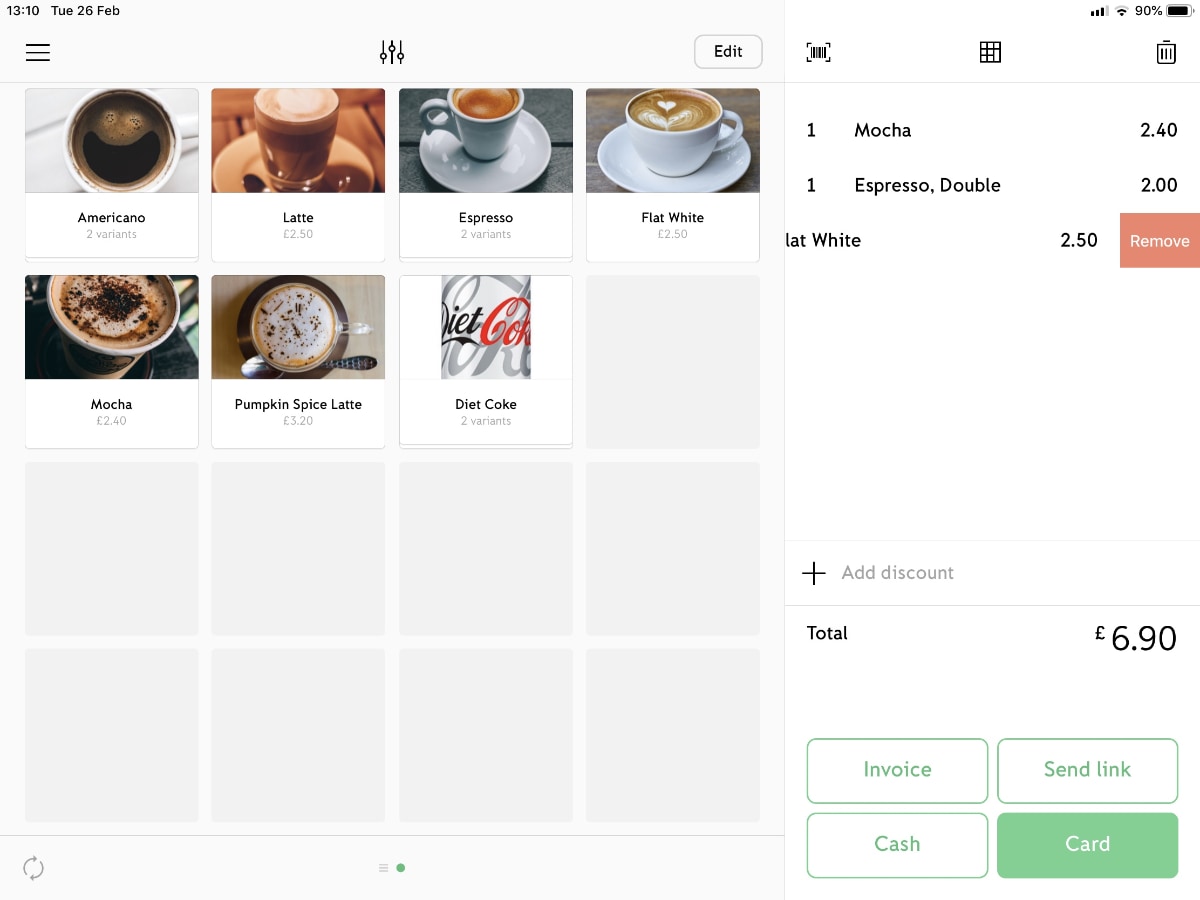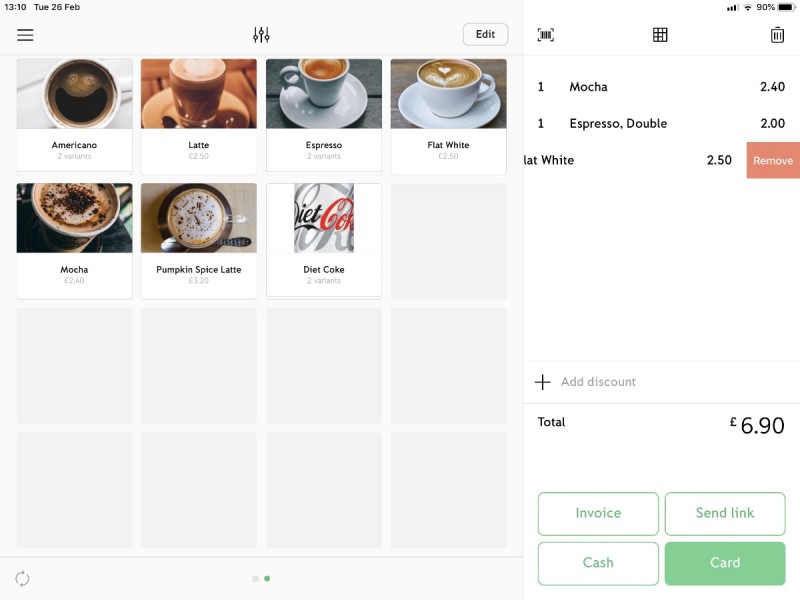 Checkout screen on iPad, grid layout.
To take card reader payments, you need to pair iZettle Reader with the app via the Settings menu. Just remember to switch on Bluetooth on your mobile device, as the card reader connects through Bluetooth. Once you have done that, you only need to switch on the card reader and have it in the vicinity of the Go app to activate it for any card payments.
If you take a cash payment, you register the amount given in change, and it will tell you what to give back.
Email invoices can be sent to new or existing customers saved in the customer library. Just tap the invoice button from the checkout and either choose a customer on the list or create a new customer profile including company name, email address, postal address and optional details. You can then pick a payment due date and delivery date (if relevant) and send it via email.
Payment links are different, mainly because there are no customer details attached to them. You simply enter the customer's name (as payment reference) and mobile number if you want to send the link by text, or pick a social app such as Gmail or Messenger if the customer prefers getting the link in another kind of message. Payment links don't expire, and the customer is not obliged to pay, as opposed to invoices with a due date.
Tipping is possible on the iZettle Reader – you can't enter a tip in the app directly. Instead, the iZettle Reader screen asks the customer whether they want to add a tip, prompting them to type a tip amount on the card reader.
Photo: Mobile Transaction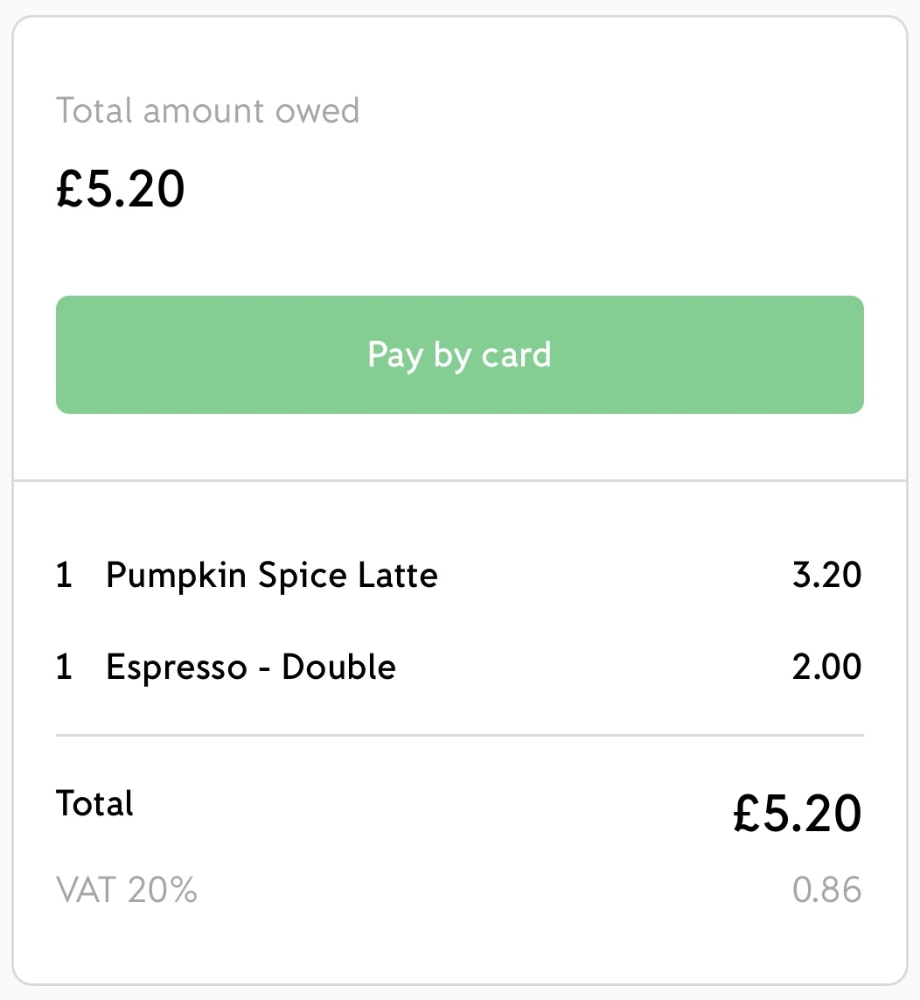 A payment link for a drinks order, as seen from the customer's end.
This will subsequently be added to the bill and registered in the system that way. For cash payments, you can add a tip manually on the checkout screen the same way as adding a custom item with a written description to the bill.
After each payment, the app gives the option to text or email a digital receipt to the customer. This, of course, requires a phone number or email address. The smart thing about iZettle is that once someone has requested an email receipt after a card payment, iZettle associates that email address with that particular debit or credit card. The next time he or she pays with any iZettle Reader, the till assistant only needs to ask if they want an email receipt, and they can send it without further details. Receipts can be customised in the back office account with terms and company information.
Inventory management
In terms of product management, iZettle Go is versatile enough for both food-and-drink businesses and retail shops.
Each product in the library can have a title, colour or photo, inventory tracking, price per unit (custom-add any unit type), VAT (0%, 5% or 20%), selling price, barcode (can be scanned from the app), stock count, cost price, SKU number and variants. Default variants include colour, finish, material, size and style, but you're free to add any custom variants too. Products can maximum have up to three variant options associated with them.
The ecommerce platform with Go Plus enables you to copy over all in-store products from the library to the online store, or you can select only some (or none) of them. This is a crucial benefit of iZettle Go Plus: the smooth integration between online and POS transactions, so all sales can be viewed together in the dashboard.
Switch on inventory tracking for individual products, and you get stock alerts to replenish items low in stock.
Although transactions are individually stamped with the payment location, there is no option to distinguish multiple locations with Go or Go Plus. The hospitality-focused iZettle Pro, on the other hand, includes location management.
Photo: Mobile Transaction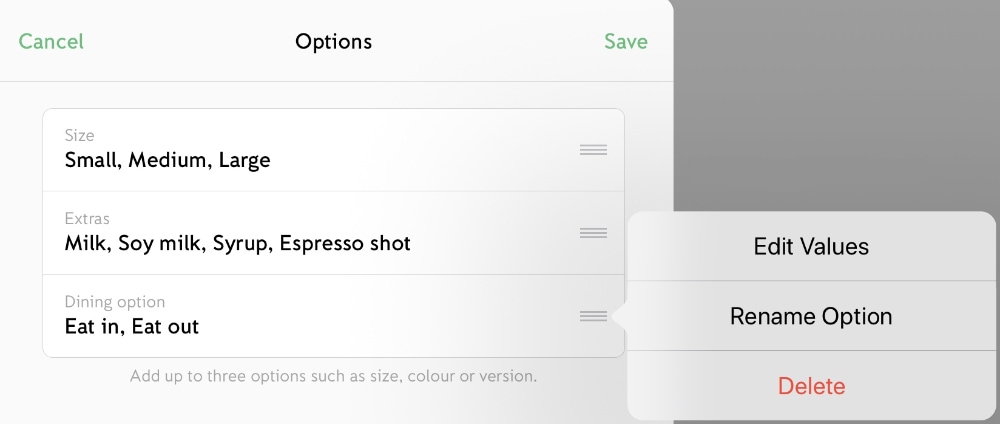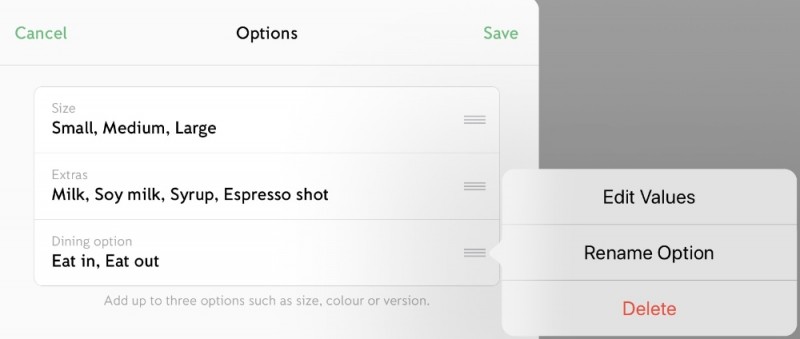 Example of product options for a café menu.
Employee access and permissions
To distinguish between employee sales, you can create separate app logins for each staff member. All you need is a name and email address from each person, and you can send an email invite. The recipient can then create a password. The admin can sort sales by employee in the back office and thereby check remotely what's going on in the shop.
With iZettle Go, there is only one admin account, but you can have unlimited staff accounts. The latter can only view reports and receipts related to their own sales, but they can see payment links created by anyone on the team. Everyone can refund from receipts displayed in the app. There are no permission settings to deal with – just simple user accounts without the ability to change admin details or edit products.
Timesheets are another thing you can't do with Go or Go Plus, but available in iZettle Pro.
Customer loyalty tools
Customer profiles can be created after sending a digital receipt. These profiles are essentially a list of your customers with an email address, which you can export as a CSV file for mailing lists or similar. Due to privacy regulations, customers are not automatically added after sending the invite – they have to click a link in the email, saying they accept having their email address, name and purchase details stored by you, and that receiving emails from you is okay.
Photo: Mobile Transaction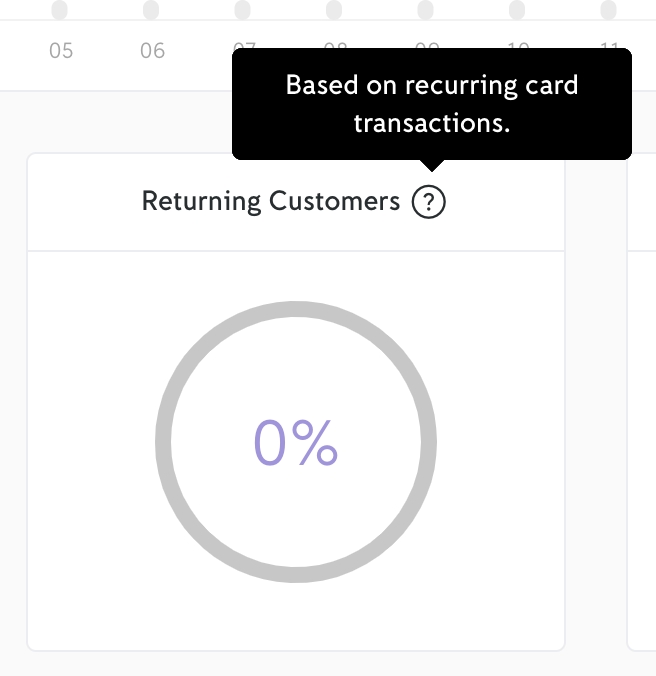 Returning customer statistic on iZettle's dashboard.
Whether or not a person has a profile, returning customers using the same credit or debit card will be marked as "returning customer" in the system – but only for analytical purposes so the dashboard can show the percentage of returning customers today or this month.
While there is no option for automatic, recurring promotions, you can give discounts on a product or transaction, either set by percentage or pounds. Name the discount at checkout, e.g. Student or Discontinued, to mark the reason for it. You can also add fixed promotions in advance, applied at checkout where applicable.
The system does not enable loyalty points, nor does it have an option for gift cards. But you can mark voucher points with a £ or % discount, naming the markdown "1 free coffee voucher" or whatever suits the situation.
Reports and sales analytics
Because the system is cloud-based, you always have access to sales and transactions through the iZettle dashboard in an internet browser, in real time.
View daily reports in the iZettle Go app, which can be printed directly via AirPrint or emailed the account holder. The app reports are limited to an overview of sales arranged by date, with no option to filter results except for viewing totals by day or month. They are basically like end-of-day/month totals used for cashing up or stored for accounting, with totals for card, cash and invoice payments and refunds via each method. Discounts and iZettle fees show here as well. Furthermore, it shows the top-selling products of the day along with quantities sold – handy for checking what stock to order back in for replenishment.
In the browser back office, we only noticed one extra search filter: seeing what individual staff members have sold (requires separate login accounts). Searching by product or location is not possible, but the percentage of returning customers based on the card used for payments is shown in the overview dashboard. For more detailed analytics, upgrade to the more advanced iZettle Pro.
That said, both the app and back office allows you to search any receipt, invoice and payment link. These contain detailed information about transactions, including purchase location and products sold. It is through these itemised receipts you can refund payments or individual items.
For more advanced accounting functions, iZettle can be integrated with Xero.
Hardware for the point of sale
For a till point, getting the iZettle Reader with accompanying Dock is recommended. The iZettle Dock will keep the card reader charged all day, securely stationed and ready for card payments. We also recommend a tablet for a stationary point of sale, placed in a tablet holder on top of a cash drawer if needed.
Although the app is compatible with Android phones and tablets, some features are made available in the iOS app sooner than on Android. However, any of the Android, iPhone and iPad apps generally work fine and have good average user scores.
Quite a few receipt printers are compatible with iZettle Go, both stationary and mobile ones. You can connect a barcode scanner and cash drawer, automatically opened when connected to a receipt printer.
iZettle Go and Go Plus are not compatible with any other card machines than iZettle's card readers. If you want another card machine, you will have to switch to another EPOS system.
Photo: Mobile Transaction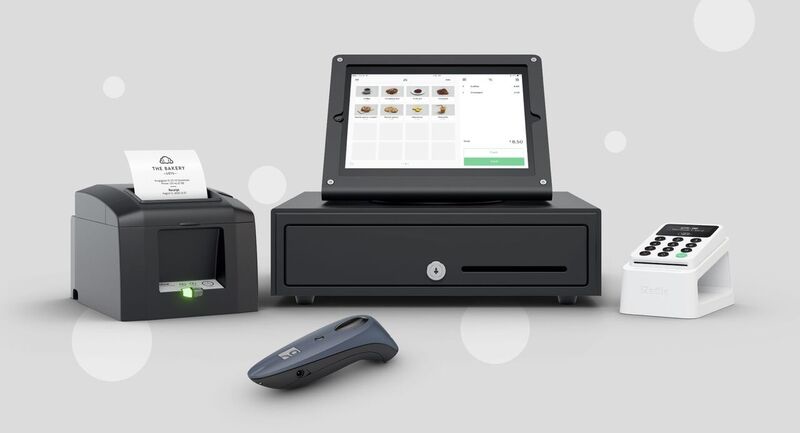 iZettle point of sale with iZettle Reader on a charging Dock.
Customer service
iZettle Go includes free customer support – but only between 9am and 5pm, Monday to Friday. During those hours, you can phone the support line with any queries or issues or email either directly or through a contact form on the website. They will respond via email as soon as they have an answer during the weekday working hours, maybe within an hour or a few days depending on the urgency and complexity of the matter.
Go Plus provides extended customer support one hour earlier and a few hours into evenings on weekdays (between 8am and 8pm) and on Saturdays and Sundays during the day (9am to 6pm). This is a definite draw for businesses trading after hours, such as pubs or restaurants, but the question is whether the monthly fee of Go Plus is worth that reassurance.
Do you need Go Plus for E-commerce or otherwise?
When should you consider upgrading the free system to Go Plus? We'd say when you need an efficient solution to selling online. That is the primary benefit of the plan. If you check out the E-commerce platform, you'll see how elaborate it is and the effort been put into smoothing the process of setting up a complete shop online. The additional customer support hours are a mere add-on in comparison with that.
Some businesses are willing to pay for weekend and evening support, but in many cases, this is not worth it. Why? It is a simple system with few things affecting whether it works at this moment: your network or WiFi signal, bugs in the app, the card reader, and how quickly you can work out a solution. Network connectivity is something you will have to address locally, not iZettle. The app works smoothly in most cases, and POS functions are generally easy to work out on your own (if not, there's a help section online).
It comes down to these questions:
Do you want an easy way to sell online while managing a brick and mortar shop?
Is the risk of revenue loss during trading too high to be without the extra phone support?
If the answer is yes to one or both, you should seriously consider Go Plus.
Photo: Mobile Transaction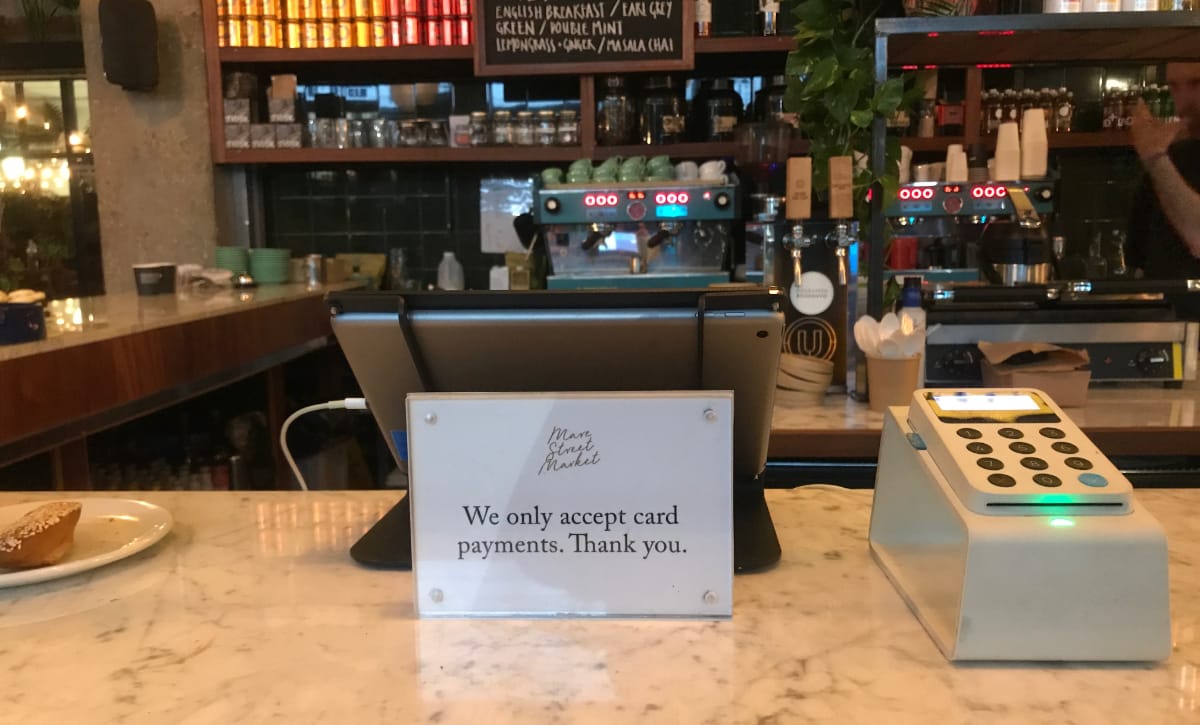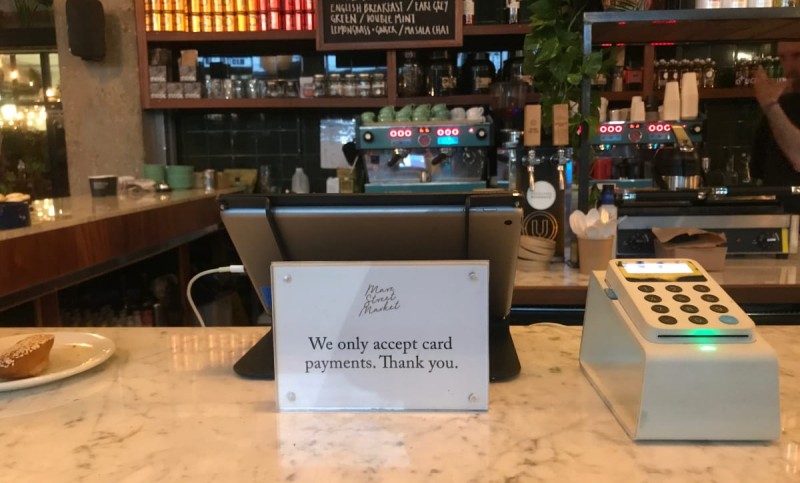 Some "younger" businesses keep POS systems simple by just accepting cards.
iZettle Go vs iZettle Pro
While iZettle Go and Go Plus are for many kinds of merchants, iZettle Pro is an EPOS app for iPad focused on food-and-drink businesses. As with Go Plus, you pay a monthly subscription of £39, but per iPad licence rather than one total fee.
iZettle Pro has many hospitality-focused features such as table layout, split orders, food modifiers and so on. Interestingly, it has a retail setting which changes the functions to focus on shop products rather than food- and menu-oriented. iZettle does not advertise this setting, leading us to wonder whether it is something they will quietly discontinue.
Upgrade options for growing businesses
Many new or small businesses start out using iZettle Go as an easy way to accept cards and manage all basic POS operations. At some point, you may need advanced features, in which case it is time to consider more extensive EPOS systems. You can still use iZettle Reader with several other POS systems like Vend and TouchBistro (in contrast, the Go system doesn't work with other card machines than iZettle Reader).
For more advanced accounting and payroll features, Go and Go Plus can be integrated with Xero, paid for separately. Invoicing features can be expanded through a Debitoor integration.
Our verdict
It's not due to any clever marketing campaign that iZettle is a top choice in the UK. The POS system is super-easy to work out, there's no contract to commit to, the card reader is cheap and payment fees simple. Add to that how easy it is to create an iZettle account, and nothing is stopping you from running a small business.
Cash-strapped businesses can opt for Go Plus for a user-friendly way to sell online without any technical assistance, except for iZettle's easy-to-understand guidance throughout the process.
The POS system covers essential features for retail shops, cafés, bars, market stalls, plumbers, hairdressers, beauty salons – you name it. There are hardly any superfluous functions to complicate the POS system; a plus for merchants who just need to cover the bases in a store. At the same time, the app is evolving with continuous updates and targeted tools in response to user feedback. It is a system that lives to give you maximum benefits for the lowest cost possible.