Opening a shop, restaurant or other face-to-face business? Then you probably wonder what it costs to set up a point of sale (POS) system.
There's both equipment and EPOS (electronic point of sale) software to consider, and many other things, so pricing can vary wildly between businesses. Let us give you estimates of the different upfront costs per component.
Overview of software and equipment costs
The cost of an entire POS system will vary depending on:
Type of business, which will determine functions and equipment required
Whether the equipment is consumer-grade or purpose-built
Whether offline functionality is required
Card payment solution
The following are common price ranges for a cloud-based POS system in a small-to-medium-sized business.
| Component | Purchase cost* | Compulsory? |
| --- | --- | --- |
| POS software | £30-£120 monthly/till | Yes |
| Touchscreen PC | £720-£1,320 | Either this or tablet |
| iPad or Android tablet | £70-£600 | Either this or computer |
| Customer-facing display | £200-£600 | Optional |
| Tablet stand | £60-£240 | Only if using tablet |
| Receipt printer | £120-£600 | Highly recommended |
| Kitchen printer | £240-£300 | Hospitality only |
| Cash drawer | £40-£120 | Yes, if accepting cash |
| Barcode scanner | £30-£72 | Retail only |
| Card terminal | £23-£720 | Yes |
| Card machine stand | £24-£96 | Highly recommended |
| Offline capability | £0-£500 per premise | Highly recommended |
| Item | Cost* | Needed? |
| --- | --- | --- |
| POS software | £30-£120 monthly/till | Yes |
| Touchscreen PC | £720-£1,320 | Either this or tablet |
| iPad or Android tablet | £70-£600 | Either this or computer |
| Customer-facing display | £200-£600 | Optional |
| Tablet stand | £60-£240 | Only if using tablet |
| Receipt printer | £120-£600 | Highly recommended |
| Kitchen printer | £240-£300 | Hospitality only |
| Cash drawer | £40-£120 | Yes, if accepting cash |
| Barcode scanner | £30-£72 | Retail only |
| Card terminal | £23-£720 | Yes |
| Card machine stand | £24-£96 | Highly recommended |
| Offline capability | £0-£500 per premise | Highly recommended |
Let us break down the individual costs and address possible alternatives.
POS software – cloud-based or onsite installation
POS systems today are mostly Software as a Service (SaaS) plans where you pay a subscription per month, quarterly, biannually or annually. The more you pay upfront, the lower the monthly cost is. The price also depends on number of features, sector and level of customer support. You usually pay a licence per tablet or computer using the POS functions, so the more tills, the more you pay.
Hospitality POS software is usually more expensive, since it deals with complex orders, ingredients and coordination of table service. It's common for food-and-drink businesses to pay around £50-£120 (including VAT) per month per till licence. The lower the price, the fewer features you get.
Retail systems are built for complex product inventories and vendor management, costing somewhere between £30-£110 (including VAT) per till licence. Again, the low-end prices generally refer to plans with the most basic functions you can get away with.
How POS software functions will affect cost (and ROI)
Regardless of sector, you may want to have certain business functions connected with the point of sale, for instance ecommerce, customer loyalty tools, payment integration and accounting tools. This can all cost extra as individually priced add-ons, or the POS system that already has it will be more expensive as a result.
Your return on investment (ROI) can be well worth a pricier POS system when it helps you save time and money, for example by automating stock orders when inventory is running low. For each feature, ask yourself: will this be valuable in my business?
Some POS providers still offer legacy EPOS systems that are not dependent on an internet connection. This requires a software installation on your computer or other onsite server, so you pay for the software and setup assistance upfront. This can cost around £600-£1,200 (VAT inclusive) depending on provider. Large shop chains can pay up to £10,000, so it also depends on the size of your store network.
POS interface – tablet or touchscreen monitor
Today's POS software requires a touchscreen interface of some sort rather than old-fashioned cash registers with physical button keys. A word of warning: many of the best cloud-based POS systems only work on iPad, not Android tablets or computers.
Businesses typically use one of the following:
Touchscreen PC monitor with hard drive: £720-£1,320
Custom supermarket-style displays: as high as £2,750
iPad (regular or Air): £320-£600
Android tablet: £70-£500
While touchscreen computers can already stand upright in a secure position, iPads and other tablets need a tablet stand at a till point to prevent theft and hold the tablet in the most ergonomic position for transactions. This can cost around £60-£240 with VAT.
iPad or Android tablet vs. custom-built touchscreens
There's an advantage in using off-the-shelf consumer devices like iPad or a Samsung tablet, because the POS system is not hardcoded on the tablet. This means you can switch flexibly between compatible cloud POS – or decide to use the tablet for something else entirely.
Touchscreen PC monitors have different advantages: thieves don't go for them like they do with iPad, and they are more sturdy for a POS environment. For instance, hospitality touchscreens are built to withstand liquid splashing and frequent cleaning.
It is possible to use a Windows PC or Mac computer that isn't touchscreen, but this relies on using a barcode scanner, mouse and keyboard for clicking and typing. You can get an iMac computer for £1050 including keyboard and mouse or MacBook Air for £950. Windows PCs can cost as little as £350 including keyboard and mouse.
We don't recommend Macs or non-touchscreen PCs for stores that need to process many products quickly. However, any computer works perfectly for backend functions like printing off end-of-day reports, analysing sales or editing products in the inventory library. These functions can usually be accessed on a computer away from the point of sale by the store manager in a web browser, but also on tablet or PC touchscreen browsers.
Also consider whether you want a customer-facing display screen so customers can view the scanned prices or offers you've programmed. This can either be a consumer-grade tablet or purpose-built display for point of sales – the latter can cost around £200, believe it or not.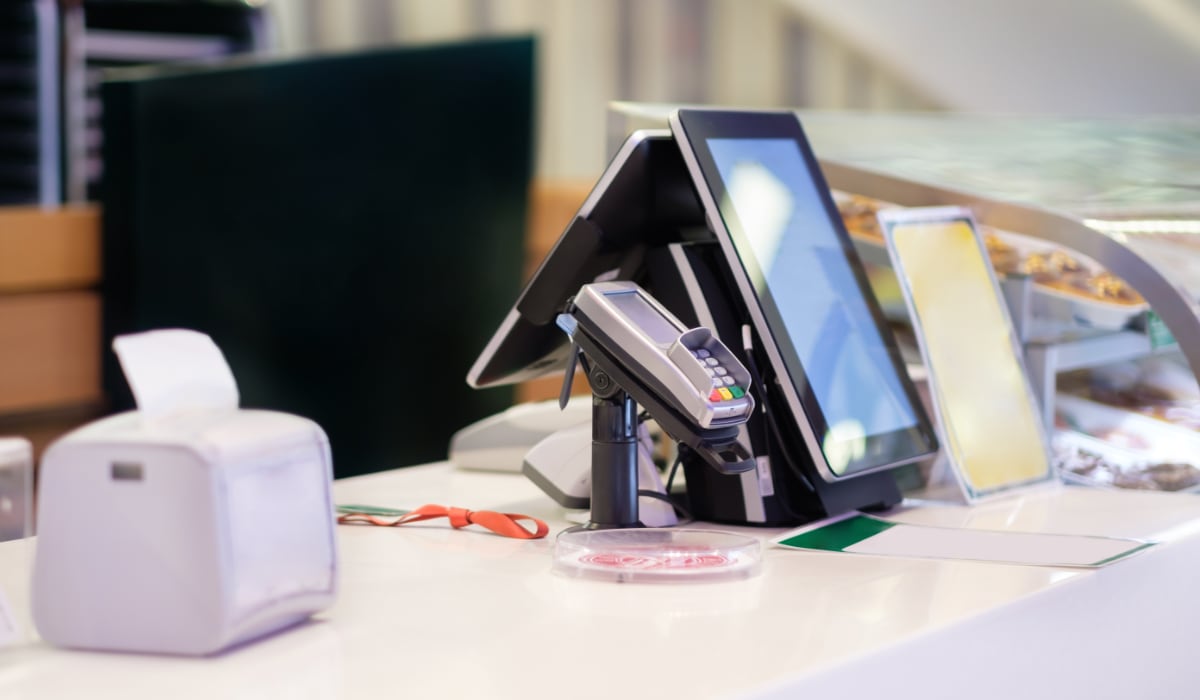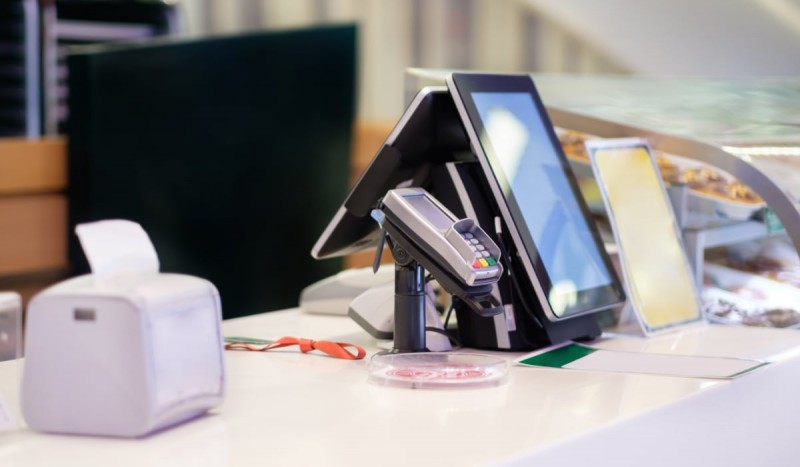 Customer-facing till screens can display timed promotions as well as line items in a transaction.
The old, analogue cash registers with inbuilt cash drawer, physical keyboard and receipt printer can still be bought for £100-£240, but modern cloud-based software is not compatible with this.
Cash drawers
A regular, secure cash drawer for any kind of store handling a decent amount of cash sells for £40-£120 including VAT.
Small shops might prefer a more compact cash drawer with inbuilt receipt printer, which is what Star Micronics mPOP Bluetooth Printer and Cash Drawer is – this costs around £360 with VAT.
Receipt printers
Most busy stores need a receipt printer, but what kind? There are portable and stationary options, the latter usually the cheapest. The most popular manufacturers of receipt printers are Star Micronics and Epson.
Stationary receipt printers are made for fixed till points. They cost between £120 and £420 with VAT depending on print speed, durability and design. Portable receipt printers cost between £200 and £600 including VAT.
Many restaurants also need kitchen printers that are specially designed to withstand the heat in this environment. These can cost around £240-£300 with VAT.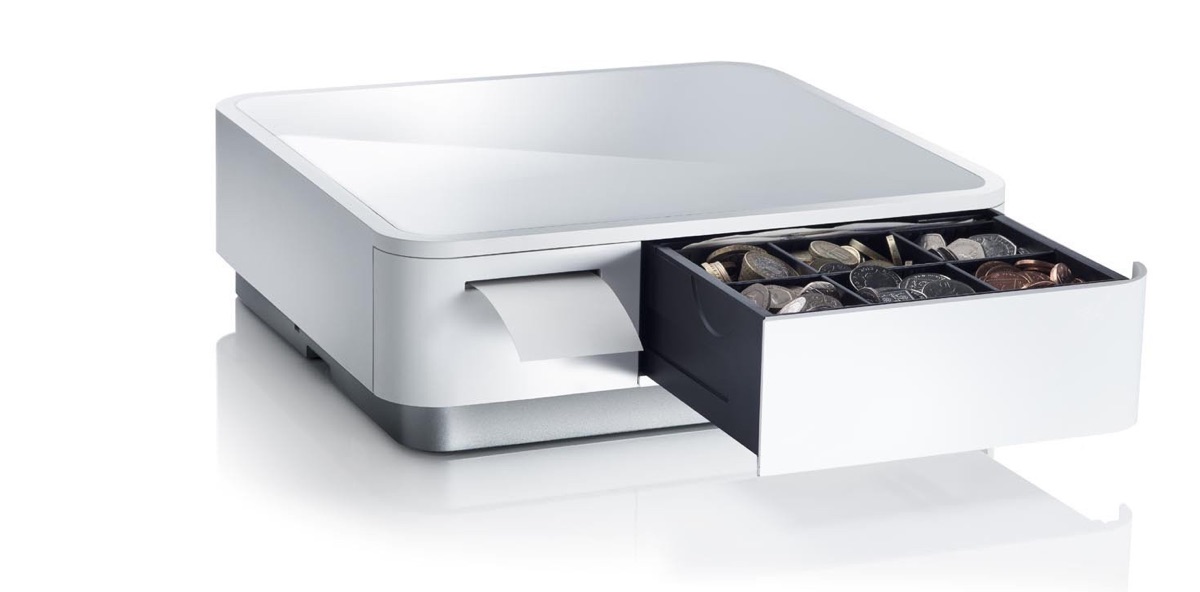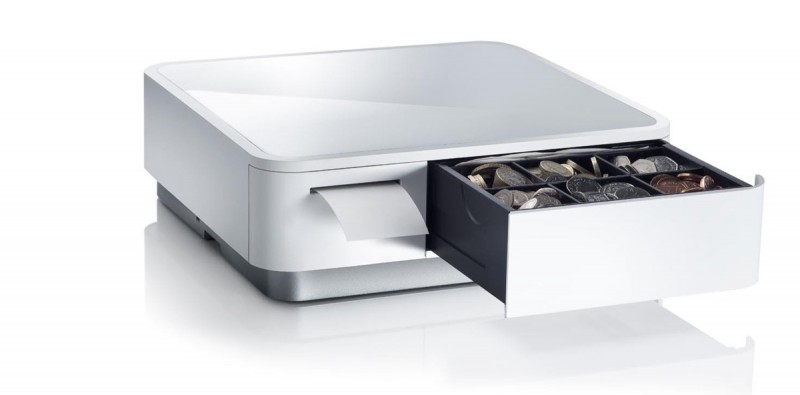 mPOP cash drawer with inbuilt receipt printer is ideal for a small space.
Barcode scanners
Barcode scanners also vary heavily in price, starting from £12 to £760 including VAT. A typical price range for a reliable retail scanner that can scan regular barcodes as well as QR codes is £30-£72 with VAT.
For £760 incl. VAT, you can get a high-performance, antibacterial scanner for healthcare environments where it is paramount it does not harbour any bacteria. There are scanners above this price, but these are mostly handheld inventory devices for logistical purposes or stocktake. Supermarket-style barcode technology can cost over £2k, but these are purpose-built designs that, for example, work below a table surface.
Some POS apps, such as iZettle Go and Lightspeed Retail, can scan barcodes directly through the application's smartphone or tablet camera at no extra cost.
Internet and offline functionality
The ability to run the EPOS system if the internet is patchy or non-existent is a hidden cost many don't consider at first, but your sales could be hit hard if you're unprepared for it. There are different ways around it.
100% cloud-based POS
POS software that is 100% cloud-based won't function when the internet is down. In that case, you need a backup WiFi connection that can connect to the POS software to avoid awkward scenarios where you can't make sales or access important data.
This could be a smartphone set to "WiFi hotspot" mode so the POS tablet can connect to it (using the phone's data plan). Or you can get a WiFi dongle that is independent of your local WiFi network, costing £5-£90 upfront as well as the ongoing data usage cost. You can also invest in WiFi boosters or extenders (£20-£180 each) to place strategically across your premises, to ensure all tills have the best chance of high-speed connectivity all day.
Hybrid POS system
You can also opt for a hybrid POS system, which allows you to use your browser cache to keep it going while it's offline. You won't sync with other tills in real time while offline (unless they are connected through a locally-hosted system), but you can keep using the till software on the individual devices. Ask the POS provider what functionality works offline, as this can vary a lot. For example, some apps do not allow you to log in if the internet is off, which could deem the in-app offline mode useless if you're logged out.
Some hybrid systems are dependent on a separate server to work offline, for instance Lightspeed Restaurant requires the Lite Server costing around £500. TouchBistro provides a server (undisclosed cost) if you're using more than one till in order to keep functions synced across tills during offline mode, but if you have just one iPad, the software uses the iPad's own storage to run during internet downtime.
Card payments
Although card payments can be accepted offline with some systems, it is not until the system is back online that the transaction can be approved by your card company. This means you don't know for sure if those payments will be successful until the card machine is back online and can process the saved transaction details. You can get around this by buying a spare card machine that works independently from the POS system and runs on a 3G or 4G connection, such as SumUp 3G costing £83-£120 with VAT.
Hardware bundles and custom equipment
Now you know about the individual equipment components, you may be more confused about the overall cost. Would getting a standard hardware bundle sold by a POS provider be a better deal than getting the things individually? It can be, but not always.
Some providers let you negotiate quotes for custom setups, which is recommended for bigger stores and restaurants with multiple tills, self-service displays and so on. Often, this includes the software setup too, which can cost £5,000 for just a single till location from a premium service provider. Small, single-location businesses can easily get away with a standard hardware bundle, though, which they can add to at a later time.
Retail bundles with iPad, tablet stand, cash drawer, barcode scanner and receipt printer can cost £1,200-£1,440 including VAT. Hospitality bundles with iPad, tablet stand, receipt printer, kitchen printer and cash drawer are sold for the same price. Hardware bundles with a touchscreen PC monitor can cost around the same and higher (up to £2,000) for a single till setup.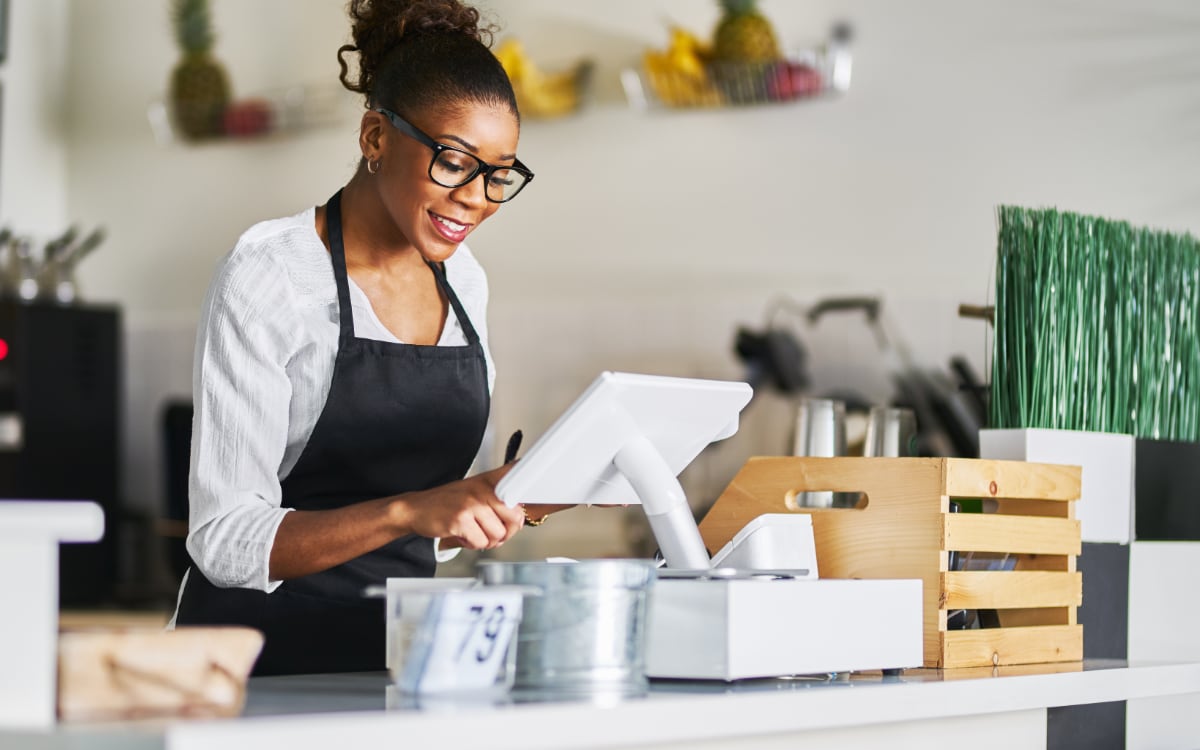 Clover Station POS is a compact point of sale ideal for small spaces like a café.
Alternatively, you can go for custom-built POS equipment designed for the point of sale. For instance, Clover Station Point of Sale (POS) is an out-of-the-box card machine, barcode/QR scanner, tablet and receipt printer in one, costing around £860 for the POS station + £250 setup fee. Clover's software is hardcoded on their POS terminals, built on an Android system for Clover users only, so you cannot use it for anything else.