Our rating
The Clover POS system is sleek and user-friendly, but the commitment could be a stretch.
Clover is an out-of-the-box EPOS solution for retail and food businesses alike. The stylish tills are a complete package of integrated card machines, trademark hardware and POS software, customisable for any merchant requiring a portable or countertop point of sale.
Highs: Aesthetically pleasing design. User-friendly start-up. Fully customisable. Dedicated restaurant software.
Lows: Can easily become expensive. Features cost extra per app. Requires merchant account.
Choose if: You want to invest in a long-term system that's unique to your business.
What is it?
Clover is a complete, out-of-the-box EPOS solution with Clover-branded hardware and software that can be combined to suit your point of sale. It is owned by the international acquirer First Data and sold through authorised merchant service providers and acquiring banks.
To be blunt, Clover's concept of simplicity from the outset is really a beast of complexity with limitations to be wary of. It is neither just a card machine, software package or point of sale equipment, nor does it involve one easy contract with straightforward fees. The only way to get clear answers about pricing, terms or which contracts are required is to talk to a sales rep directly and compare the fees between providers.
Let us look at what you get with the trademark Clover hardware and software in the UK, starting with the costs.
Pricing – complicated, to say the least
Clover hardware can be purchased or rented through authorised sellers, and costs are typically obtained by talking to one of their sales reps on the phone. They will give you the option to subscribe to a baseline Clover feature package, then you can add additional apps with more advanced software features directly from your Clover account.
Clover is always sold with a merchant account, which always comes with a contract and separate costs. Add to that the card fees determined by your business turnover, business type and more.
In short, you pay for the 1. Clover hardware, 2. software/apps, 3) merchant account and 4) card processing – and all the service fees associated with each. We have broken down some of the costs using First Data fee estimates as guidance.
Hardware costs*
Clover Flex, Mini or Station
Lease: £25+/mo
Purchase: £500-£1,400
Hardware setup fee
£250
Device maintenance fee
£4.75/mo
Device replacement fee
£150
*Costs are estimates based on reported data available.
Clover equipment can be rented or purchased, costs depending on the merchant service provider you're talking to. The purchase costs above are based on reported prices that were available to us.
Note that there may be other costs associated with using Clover. For example, ordering receipt paper rolls (which are specific to Clover) will cost extra, and if you damage the hardware, replacement costs may apply. Moreover, if you try to leave before your contract has ended, your service provider may, among other things, charge you for collecting the hardware.
Software costs*
Software licence
£30+/mo
Individual feature apps
£0-£26/mo per app
*Costs are estimates based on reported data available.
You also subscribe to one of two software packages on a monthly basis containing basic functionality for the Clover devices. Extra features are available in Clover's app marketplace for integrations and special features. These usually cost extra per app, many of which are advertised as being free, but actually come with a free trial followed by a paid subscription.
Merchant account costs*
Monthly fee
£10+/mo
Account on file fee
£5/mo
Minimum monthly fee
£15/mo
Paper statement fee
£5.95/mo
PCI compliance service fee
£15/mo
PCI non-compliance fee
£25/month
Early termination fee
Equivalent to paying the monthly fee of all remaining months of your contract
*Costs are estimates based on reported data available.
As well as a few merchant service providers (e.g. Fidelity Payment), three acquiring banks in the UK offer Clover: Fiserv (previously First Data), AIB Merchant Services and Lloyds Bank Cardnet.
Given their lack of transparency, it is unclear whether you need a Fiserv/First Data merchant account even if you go to AIBMS or Lloyds Bank Cardnet. Since the hardware is "powered by" First Data, and American users have reported that only a First Data merchant account can be used in conjunction with Clover, it is possible that only Fiserv can be your acquirer and/or card processor, while your choice of merchant service provider only affects the initial service during onboarding.
Card processing costs*
Transaction fees
0.2%-3.5% + 20p-40p
Chargeback fee
£25 + £250 review fee
*Costs are estimates based on reported data available.
Settlement times depend on the acquiring bank and possibly the type of payment card used. High amounts or unusual transactions may be subject to account holds.
Software plans: basic payment features vs. full POS system
With Clover, you pick a monthly subscription plan with a selection of pre-installed features, but unlike most other EPOS software, it is also possible to cherry-pick features from their app market. Clover offers two subscription plans to UK users: Payments Plus and Register.
| Feature | Payments Plus | Register |
| --- | --- | --- |
| All payment types | | |
| Email & text receipts | | |
| Sales reports | | |
| Shifts & staff accounts | | |
| Customer engagement tools | | |
| Open tabs | | |
| Discount-based rewards | | |
| Customer-facing display | | |
| Enhanced inventory management | | |
| Order management tools | | |
| Item-level discounts, rewards & taxes | | |
| Full access to App Market | | |
| Full hardware support | | |
Feature
Payments
Plus
Register
All payment types
Email & text receipts
Sales reports
Shifts & staff accounts
Customer engagement tools
Open tabs
Discount-based rewards
Customer-facing display
Inventory management
Order management tools
Item-level discounts, rewards & taxes
Full access to App Market
Full hardware support
Your merchant service provider will offer these monthly software package containing the above features, pre-installed and ready to use upon arrival.
Regardless of the plan, you can accept cards (contactless, chip and PIN, swipe), mobile wallets and cash. The cash can be tracked to check for discrepancies in the till. VAT can't be added to bills on Payments Plus, so you'll need Register for that.
The "enhanced" inventory features on the Register plan include options to manage simple items, SKUs, product categories, modifiers, variants, stock and cost tracking and exchanges. The many retail and food businesses requiring these therefore won't find the Payments Plus subscription sufficient.
The order management tools also just available on Register include options to create, save and refund orders, modify and combine orders, add order numbers, types and notes, and simply manage multiple orders. Hospitality businesses are therefore likely to require Register, as Payments Plus simply don't have the capacity to manage orders. Tipping is possible on all plans, though.
Clover Station (the largest Clover hardware bundle) requires the Register subscription that supports larger touchscreens, weight scales and kitchen printers. Payments Plus does, however, support a customer-facing display.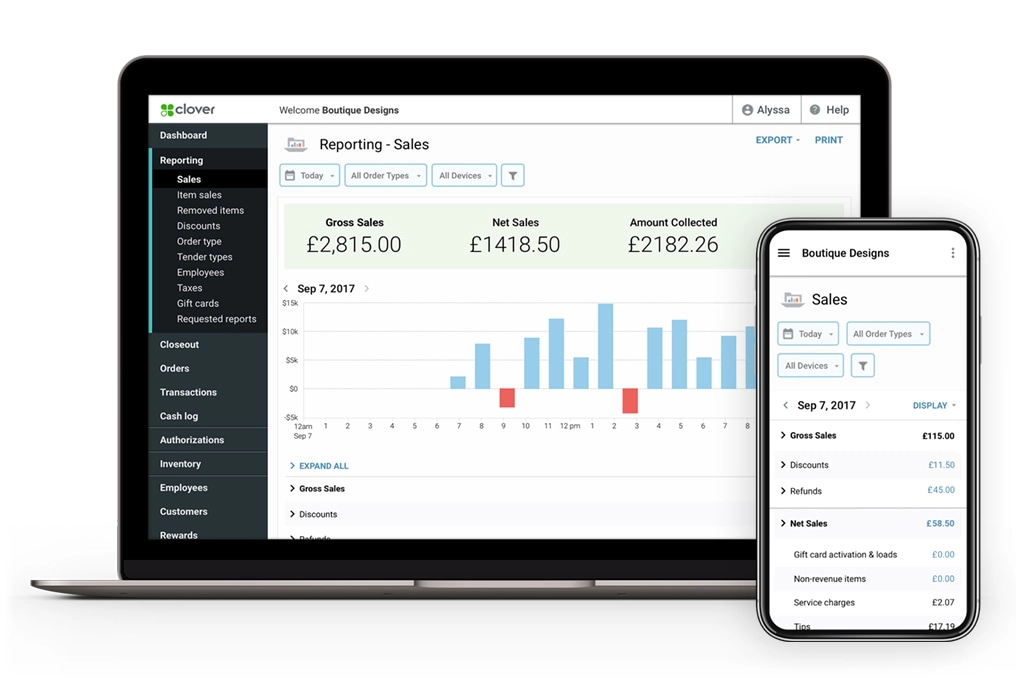 All subscriptions include web portal access to sales figures.
There is much room for customisation in the Clover App Market on your terminal – if you choose the pricier Register plan. You do not have access to all the apps on the Payments Plus plan.
In the App Market, you can download Android apps with specific features, whether free or subscription-based. Some of these are made only for your web dashboard (accessible from a remote computer), some are for the Clover interface only, and some are for both.
Unless you are okay with just basic sales figures accessible in the Clover web dashboard, advanced sales reports can be accessed through the Clover Reporting app. This app is free to use for 30 days – then it costs a monthly subscription.
Clover Dining: software for hospitality
Although the Register plan may have enough features for cafés and small eateries, the hospitality-focused POS system Clover Dining is the ideal software package for restaurants and other complex food-and-drink businesses.
The Clover Dining subscription gives you dynamic table plans for order management, the ability to assign waiters to orders, fire orders to the kitchen (and modify the orders live), split bills, happy hour promotions and much more.
The Clover POS for restaurants includes many of the same functions as Register, with additional features geared towards hospitality.
Touchscreen POS terminals with integrated printer
In the UK, there's a choice between three smart POS terminal solutions: Clover Flex, Clover Mini and Clover Station. They all accept contactless, chip and PIN and swipe cards from the major card brands like Visa and Mastercard, as well as Apple Pay and Google Pay.
Each Clover smart terminal has a touchscreen and inbuilt receipt printer, stylishly designed to be self-sufficient provided there's internet access for card processing and data syncing through the cloud.
Clover Flex
Clover Mini
Clover Station

Card machine, receipt printer, barcode scanner, and interface in one
Customer- and merchant-facing

Card machine, receipt printer, barcode/QR scanner, and interface in one
Customer- and merchant-facing

Card machine, barcode/QR scanner, and interface in one. With separate receipt printer
Merchant-facing, with option to add Clover Mini as customer-facing display
Clover Flex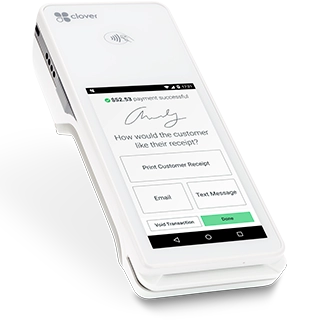 Card machine, receipt printer, barcode scanner, and interface in one
Customer- and merchant-facing
Clover Mini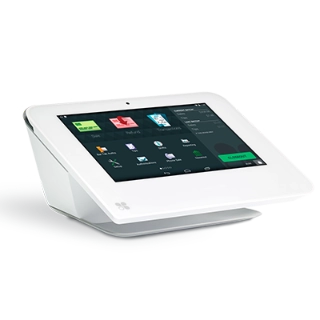 Card machine, receipt printer, barcode and QR scanner, and interface in one
Customer- and merchant-facing
Clover Station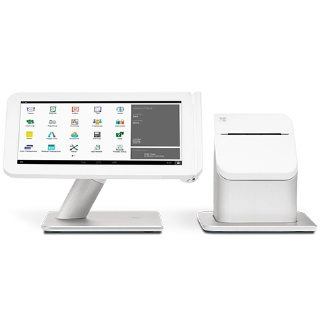 Card machine, barcode and QR scanner, and interface in one. With separate receipt printer
Merchant-facing, but with option to add Clover Mini as customer-facing display
Clover Flex: Portable. 8 hours' battery life. Works through WiFi or 3G. Suitable for on-the-go payments, table side orders, market stalls and businesses where a stationary point of sale could be supplemented with a mobile terminal for taking cards away from the till.
Clover Mini: Stationary. Works with WiFi. Suitable for small counter spaces where it's not feasible to have a separate receipt printer standing. Can be either merchant-facing or customer-facing in conjunction with Clover Station or by turning the screen between merchant and customer.
Clover Station: Stationary. Works with WiFi. Suitable for tabletops with space for a screen and receipt printer. Can integrate cash drawer, Clover Mini (customer-facing display), separate barcode scanner, and other compatible POS hardware in the setup.
They all have touchscreen interfaces for customer-facing functions (such as entering a PIN or showing transaction totals) and operational functions such as checkout features. The screens are made of antibacterial, durable glass designed for busy environments.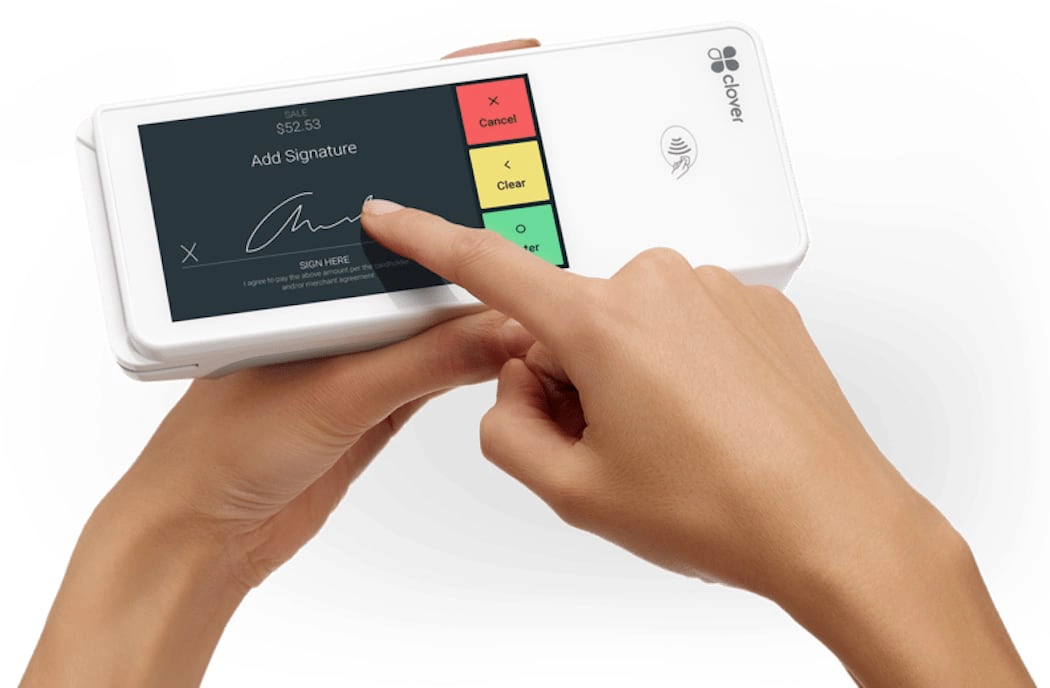 The displays are great for signature payments, but they also show a PIN pad when relevant.
All the devices work via the internet, but the Flex smart terminal can be used with a mobile network too. If the internet is temporarily down, the devices can still take cards for a limited period of time until the connection is up and running again.
Compatible receipt paper is expensive to buy through Clover, but you can get it from other suppliers at a lower price.
Customer support
Wherever you purchase or lease Clover from, the customer service will always come from Fiserv (previously First Data). Their support line is open between 7am and midnight, 7 days a week. Not all EPOS providers offer support every day, so that is a definite plus.
This being said, First Data's customer support has a poor reputation among users. While some report a smooth upstart and no problems, many others complain of unexpected, high fees and unresponsive customer support. Since most Clover users are US-based where First Data has a particularly tarnished reputation, it is difficult to know whether all these complaints apply to users contracted to Clover through a UK-based merchant service provider.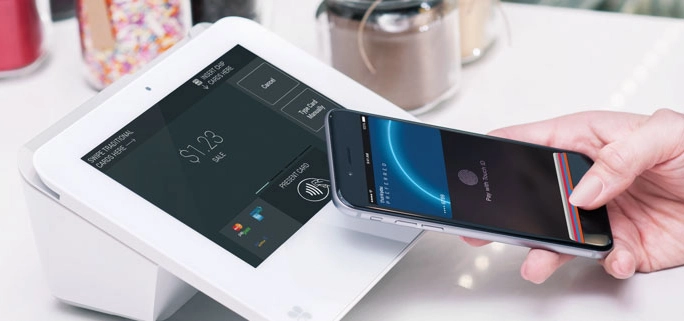 Contactless payments with Clover Mini are a breeze.
The fact you need a merchant account with the Clover packages means you need to pay particular attention to all the terms and fees associated with that contract. Clover hardware is made for smaller businesses, many of whom have never entered into complicated card processing contracts. These merchants should be extra careful, as Clover will most likely not be able to help if there is any contractual negligence from your side resulting in an unexpected consequence.
Who is Clover best for?
Clover is made for small- or medium-sized businesses from all sectors serving customers face to face. This could be food-and-drink establishments, retail shops, hairdressers, vets and more. The Clover Dining system makes it particularly good for food services.
Although cancelling a Clover subscription is possible, it is compulsory to enter into a merchant account contract, meaning you should be willing to pay for not only the Clover devices and software licences, but also any costs related to card processing and the merchant account. It's a commitment you enter into, so it's best for businesses that know they'll be around for a few years at least.
Clover appeals to style-conscious merchants wanting a pretty, but effective, solution instead of the usual, chunky card terminals and computer screens often used as a till interface. Moreover, the multi-functional hardware means you can save space on your countertop, and the portable Flex contains everything you need in one stylish payment device.
Verdict
When you go for a highly customisable system to ease business operations, it's common to see some trade-offs too.
With Clover, the equipment is proprietary, so if something breaks, it is Clover you deal with for a replacement service or support. If you go for more generic EPOS software, you're free to use your own equipment (e.g. iPad, card reader) and merchant account. In that sense, there's more freedom by choosing a system that's not specific to just one supplier.
On the other hand, you could make a Clover POS system uniquely suited for your business. The packages give a head-start with easy instructions and auto-installs of the core software features, whereafter you pick and choose any specific features through the app market. It has the potential to be your one-stop hub for all your business operations.
Ultimately, this all comes at a price and perhaps long, costly contract with potential headaches from all the fees and customer service hiccups. This is not a system you choose if you're not sure – it's a commitment you accept if you know it's the right till system.
Best for: Those prepared to invest in a unique point of sale and merchant account tailored to their small business.