Our rating
Shopify POS connects your online shop with face-to-face sales via a POS app and Shopify card reader. Is it worth it without an online store, though?
With a monthly subscription, you can make the Shopify POS system for iPad and other mobile devices work smoothly in your retail business. Particularly suited for retail shops, it could work well if you sell both online and face to face.
Highs: Excellent CRM. Advanced product management. 24/7 support by phone, email and live chat. Full integration with Shopify ecommerce,
Lows: Not the best option without an online shop. Monthly fee high for best POS package. Need iPad for all features.
Best for: Retailers who need to integrate a Shopify store with in-store sales.
How it works
With the Shopify POS app, you can turn your iPad, Android tablet or smartphone into a portable point of sale (POS) for your brick and mortar shop or on the go. The software keeps all your online and in-store sales synced in the cloud so your inventory and reports are always up to date wherever you access it.
Shopify POS works with the same barcode scanners, cash drawers and receipt printers you see most other cloud POS providers integrate with. You can have a fairly seamless checkout experience with relatively few limitations.
Costs and price plans
While our review is focused on the UK offering, it's clear that Shopify's main focus is their US customers. This has slowly been changing over the last few years. Shopify is now offering a card reader costing £59 + VAT for UK businesses and has started showing items from their hardware store in British Pounds. However, subscription billing still takes place in US$ based on the exchange rate on the purchase date, so prices below are approximate.
The software is available as a monthly, annual or biennial subscription and can be cancelled any time. You can choose between Shopify Lite, Basic Shopify, Shopify and Advanced Shopify monthly subscriptions. There is also a Shopify Plus, but this is for large and high-volume businesses. Lite starts at around £7 and you pay around £237 monthly for the Advanced plan.
| | Lite | Basic | Shopify | Advanced |
| --- | --- | --- | --- | --- |
| Subscription | £7/mo | £23/mo | £63/mo | £237/mo |
| Card reader fee | 1.7% | 1.7% | 1.6% | 1.5% |
| Online selling included | Only social media & "buy" buttons on website | Online store, social media, "buy" buttons | Online store, social media, "buy" buttons | Online store, social media, "buy" buttons |
| No. of tills | Unlimited | Unlimited | Unlimited | Unlimited |
| Products | Unlimited | Unlimited | Unlimited | Unlimited |
| Staff PINs | Unlimited | Unlimited | Unlimited | Unlimited |
| Admin users | 1 | 2 | 5 | 15 |
| Gift cards | | | | |
| Refunds | | | | |
| 24/7 email & chat support | | | | |
| 24/7 phone support | | | | |
| Sales channel reports | Limited | | | |
| Detailed finance, sales, payments, tax & web traffic reports | | | | |
| Custom reports & customer analytics | | | | |
Lite
Basic
Shop-
ify
Adva-
nced
Subscription
£7/mo
£23/mo
£63/mo
£237/mo
Card reader fee
1.7%
1.7%
1.6%
1.5%
Shopify Lite: You can't set up an online store on this plan. You can, however, sell products over social media and Facebook Messenger and add embedded "buy" buttons on your personal website or blog. With the Shopify POS app added on top, you are able to sell in your face-to-face shop.
Basic Shopify: The least expensive option with online store capability, 24/7 phone support and a competitive card processing rate of 1.7%.
Shopify: This package offers exactly the same features as Basic, but it throws in professional reports for better analytics, and support for gift cards.
Advanced Shopify: The £237 price tag is pretty steep for a monthly POS subscription. Extra features include custom report creation tools, customer analytics, real-time calculated carrier shipping and the ability to have up to 15 admin users.
Lite
Basic
Stan-
dard
Adva-
nced
Online selling included
Only social media & "buy" buttons on website
Online store, social media, "buy" buttons
Online store, social media, "buy" buttons
Online store, social media, "buy" buttons
Number of tills
Unlimited
Unlimited
Unlimited
Unlimited
24/7 email & chat support

24/7 phone support

Staff PINs
Unlimited
Unlimited
Unlimited
Unlimited
Admin users
1
2
5
15
Products
Unlimited
Unlimited
Unlimited
Unlimited
Gift cards

Refunds

Sales channel reports
Limited

Detailed finance, sales, tax & web traffic reports

Custom reports, customer analytics
Shopify offers a 14-day free trial – we would absolutely recommend trying that out first. But even then, it can be hard to know exactly which plan is most suitable for you. You can start out with Lite or Basic, then upgrade to the standard Shopify package for one month to see if the additional features are helpful (you can downgrade again after a month if you wish).
If you have a high turnover, the lowered processing rates with Shopify and Advanced Shopify might be worth the extra fee alone.
Shopify POS transaction fees
First off, if you're using Shopify POS in the UK, you're stuck with one card terminal if you want reasonable card rates: the Shopify Tap, Chip and Swipe (EMV) card reader. It is fully synced with the app, so works seamlessly via the Shopify Payments system. Card payments take 3 working days to reach your bank account. If you choose another card machine, Shopify will charge an additional fee of 0.5%-2.0%.
| Plan | Shopify card reader fee | Shopify fee for using other terminal |
| --- | --- | --- |
| Shopify Lite | 1.7% | 2% + fee from chosen provider |
| Basic Shopify | 1.7% | 2% + fee from chosen provider |
| Shopify | 1.6% | 1% + fee from chosen provider |
| Advanced Shopify | 1.5% | 0.5% + fee from chosen provider |
Plan
Shopify
card
reader
fee
Fee
with
other
terminal
Shopify Lite
1.7%
2% + fee from chosen provider
Basic Shopify
1.7%
2% + fee from chosen provider
Shopify
1.6%
1% + fee from chosen provider
Advanced Shopify
1.5%
0.5% + fee from chosen provider
The card reader accepts Visa, Mastercard, American Express, Apple Pay, Google Pay and Samsung Pay payments, as well as debit cards by Visa and Mastercard (they do not openly state which). It does not matter whether the card is premium or issued abroad – the fees are the same.
Let's look at the transaction fees for using the Shopify card reader.
For Basic, you are charged a 1.7% fee per transaction. The Shopify package charges 1.6 % and Advanced Shopify charges 1.5% in transaction fees, which in the case of credit cards is pretty competitive.
For a retail store with a card turnover of £8,000 per month, the 1.7% rate will cost £136 in card fees, and the 1.5% rate would cost £120. The difference of £16 is much less than the difference between the Advanced and Basic packages, so if you are motivated by better rates only, you need a higher card sales volume for that to make sense.
Accepted payments






If the monthly card sales is £20,000, the Advanced package will leave you with £300 in fees, and the Basic package £340.
You may have read about supported payment gateways or similar, but this can be disregarded because that information is only relevant to the Shopify online store.
Shopify card reader and POS hardware
Integrating hardware with your POS system is a beast of its own. Shopify launched its POS app in the UK before it launched its own credit card reader. The app was not of much value then as it did not offer a seamless checkout experience with an integrated card terminal.
This changed with the Shopify card reader, which is of the same make as PayPal Here's and an older iZettle model (now upgraded to the iZettle Reader 2). It is called Shopify Tap, Chip & Swipe Reader and accepts EMV, contactless and magnetic stripe cards.
The Shopify POS app works with iPad, iPhone and Android devices, but the card reader only works with iPad and iPhone.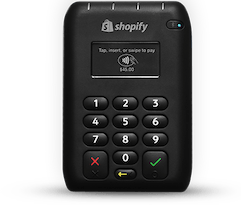 Previously, you had to subscribe to a Retail Package in order to access several POS features that are now part of the main plans, and this wasn't compatible with Android. In fact, you couldn't integrate the Android app with cash drawers and other hardware, which was a bit of a pain.
Now, you get the most app features in the iPad app, i.e. some functions simply don't work on iPhone or Android. Crucially, the Tap, Chip & Swipe Reader doesn't connect with Android phones or tablets, so we do not recommend Android devices unless you primarily accept cash.
Here's are some shortcomings of the iPhone app compared to the iPad app.
| | iPhone | iPad |
| --- | --- | --- |
| Accept physical gift cards | | |
| Multi-staff login with PIN | | |
| Till shifts | | |
| Cash float tracking | | |
| Save cart function | | |
| Summarise daily totals | | |
| | iPhone | iPad |
| --- | --- | --- |
| Accept physical gift cards | | |
| Multi-staff login with PIN | | |
| Till shifts | | |
| Cash float tracking | | |
| Save cart function | | |
| Summarise daily totals | | |
The compatible hardware is all pretty standard, but beware that only the equipment with the specific product numbers listed by Shopify will work. Shopify has a hardware store for the UK with some of the compatible models. Otherwise, you can buy from any POS provider as long as the item is compatible.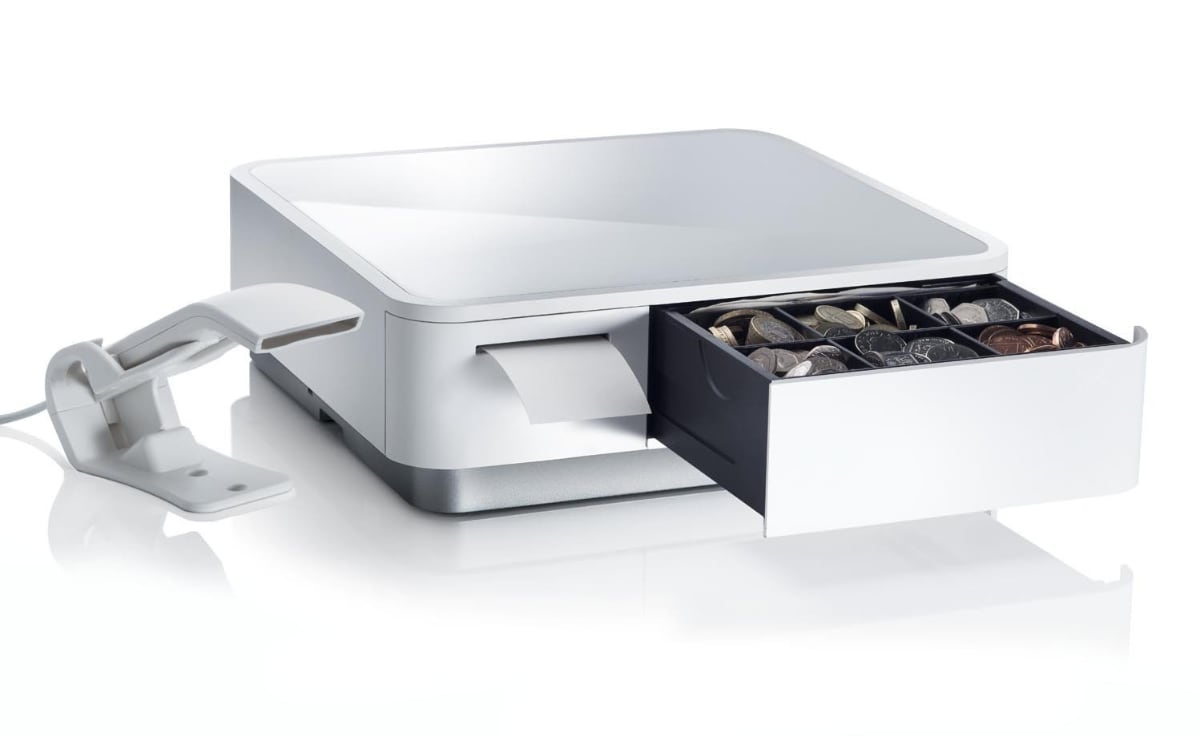 Star mPOP cash drawer with built-in receipt printer works with a barcode scanner and Shopify POS. Photo: Shopify
Several receipt printers are compatible with Shopify including models from Star Micronics. You can also integrate a barcode scanner. If you're selling at a counter, you can get specific cash drawers from Windfall, Star Micronics and Vasario.
There's a caveat to opening the cash drawers, though: they connect through a connected receipt printer. This means that unless you have a compatible receipt printer, the cash drawer will have to be opened manually.
How easy is it to get started?
The easiest way to set up Shopify POS is starting on the web, not in the app. The sign-up process takes you through the basic steps you'd expect from any similar service. The whole process takes just a couple of minutes to complete. By the end of it all, we were able to jump into the service with a free trial that did not require us to enter any payment information beforehand.
If you take this route, or already have a Shopify POS store, this is a great place to start adding products. We found the product management from this page to be exceptionally responsive and never had any issues adding products, keeping track of sales or creating categories and collections to help customers who may want to view our shop online.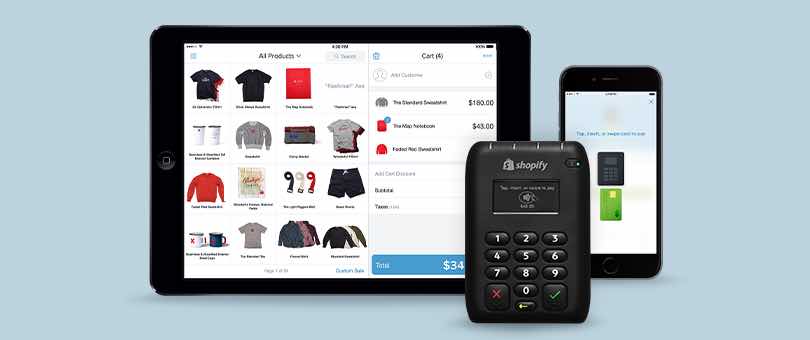 Straight off the bat, the mobile POS app provides a login screen for previous Shopify POS users to access. Everything syncs up perfectly from the desktop version we signed up to earlier, and we were able to log in straight away.
The POS app on a smartphone does offer limited information when compared to the desktop backend. Whilst we could easily add items and attach photos, it didn't seem possible to add a description to each item, and the item descriptions could not be displayed in the app either. The iPad app, on the other hand, is more feature-rich and closer in line with the backend we mentioned above.
Everything else about the Shopify POS application works smoothly. The interface has a fresh purple and white colour scheme that's easy on the eye, and the entire app uses symbols and menu systems that are universal across the majority of iOS and Android apps, so it's very easy to understand.