Our rating
Shopify POS connects your online shop with face-to-face sales via a POS app and Shopify card reader. Is it worth it without an online store, though?
With a monthly subscription, you can make the Shopify POS system for iPad and other mobile devices work smoothly in your retail business. Particularly suited for retail shops, it could work well if you sell both online and face to face.
Highs: Excellent CRM. Advanced product management. 24/7 support by phone, email and live chat. Full integration with Shopify ecommerce,
Lows: Not the best option without an online shop. Monthly fee high for best POS package. Need iPad for all features.
Best for: Retailers who need to integrate a Shopify store with in-store sales.
How it works
With the Shopify POS app, you can turn your iPad, Android tablet or smartphone into a portable point of sale (POS) for your brick and mortar shop or on the go. The software keeps all your online and in-store sales synced in the cloud so your inventory and reports are always up to date wherever you access it.
Shopify POS works with the same barcode scanners, cash drawers and receipt printers you see most other cloud POS providers integrate with. You can have a fairly seamless checkout experience with relatively few limitations.
Costs and price plans
While our review is focused on the UK offering, it's clear that Shopify's main focus is their US customers. This has slowly been changing over the last few years. Shopify is now offering a card reader costing £59 + VAT for UK businesses and has started showing items from their hardware store in British Pounds. However, subscription billing still takes place in US$ based on the exchange rate on the purchase date, so prices below are approximate.
The software is available as a monthly, annual or biennial subscription and can be cancelled any time. You can choose between Shopify Lite, Basic Shopify, Shopify and Advanced Shopify monthly subscriptions. There is also a Shopify Plus, but this is for large and high-volume businesses. Lite starts at around £7 and you pay around £237 monthly for the Advanced plan.
| | Lite | Basic | Shopify | Advanced |
| --- | --- | --- | --- | --- |
| Subscription | £7/mo | £23/mo | £63/mo | £237/mo |
| Card reader fee | 1.7% | 1.7% | 1.6% | 1.5% |
| Online selling included | Only social media & "buy" buttons on website | Online store, social media, "buy" buttons | Online store, social media, "buy" buttons | Online store, social media, "buy" buttons |
| No. of tills | Unlimited | Unlimited | Unlimited | Unlimited |
| Products | Unlimited | Unlimited | Unlimited | Unlimited |
| Staff PINs | Unlimited | Unlimited | Unlimited | Unlimited |
| Admin users | 1 | 2 | 5 | 15 |
| Gift cards | | | | |
| Refunds | | | | |
| 24/7 email & chat support | | | | |
| 24/7 phone support | | | | |
| Sales channel reports | Limited | | | |
| Detailed finance, sales, payments, tax & web traffic reports | | | | |
| Custom reports & customer analytics | | | | |
Lite
Basic
Shop-
ify
Adva-
nced
Subscription
£7/mo
£23/mo
£63/mo
£237/mo
Card reader fee
1.7%
1.7%
1.6%
1.5%
Shopify Lite: You can't set up an online store on this plan. You can, however, sell products over social media and Facebook Messenger and add embedded "buy" buttons on your personal website or blog. With the Shopify POS app added on top, you are able to sell in your face-to-face shop.
Basic Shopify: The least expensive option with online store capability, 24/7 phone support and a competitive card processing rate of 1.7%.
Shopify: This package offers exactly the same features as Basic, but it throws in professional reports for better analytics, and support for gift cards.
Advanced Shopify: The £237 price tag is pretty steep for a monthly POS subscription. Extra features include custom report creation tools, customer analytics, real-time calculated carrier shipping and the ability to have up to 15 admin users.
Lite
Basic
Stan-
dard
Adva-
nced
Online selling included
Only social media & "buy" buttons on website
Online store, social media, "buy" buttons
Online store, social media, "buy" buttons
Online store, social media, "buy" buttons
Number of tills
Unlimited
Unlimited
Unlimited
Unlimited
24/7 email & chat support

24/7 phone support

Staff PINs
Unlimited
Unlimited
Unlimited
Unlimited
Admin users
1
2
5
15
Products
Unlimited
Unlimited
Unlimited
Unlimited
Gift cards

Refunds

Sales channel reports
Limited

Detailed finance, sales, tax & web traffic reports

Custom reports, customer analytics
Shopify offers a 14-day free trial – we would absolutely recommend trying that out first. But even then, it can be hard to know exactly which plan is most suitable for you. You can start out with Lite or Basic, then upgrade to the standard Shopify package for one month to see if the additional features are helpful (you can downgrade again after a month if you wish).
If you have a high turnover, the lowered processing rates with Shopify and Advanced Shopify might be worth the extra fee alone.
Shopify POS transaction fees
First off, if you're using Shopify POS in the UK, you're stuck with one card terminal if you want reasonable card rates: the Shopify Tap, Chip and Swipe (EMV) card reader. It is fully synced with the app, so works seamlessly via the Shopify Payments system. Card payments take 3 working days to reach your bank account. If you choose another card machine, Shopify will charge an additional fee of 0.5%-2.0%.
| Plan | Shopify card reader fee | Shopify fee for using other terminal |
| --- | --- | --- |
| Shopify Lite | 1.7% | 2% + fee from chosen provider |
| Basic Shopify | 1.7% | 2% + fee from chosen provider |
| Shopify | 1.6% | 1% + fee from chosen provider |
| Advanced Shopify | 1.5% | 0.5% + fee from chosen provider |
Plan
Shopify
card
reader
fee
Fee
with
other
terminal
Shopify Lite
1.7%
2% + fee from chosen provider
Basic Shopify
1.7%
2% + fee from chosen provider
Shopify
1.6%
1% + fee from chosen provider
Advanced Shopify
1.5%
0.5% + fee from chosen provider
The card reader accepts Visa, Mastercard, American Express, Apple Pay, Google Pay and Samsung Pay payments, as well as debit cards by Visa and Mastercard (they do not openly state which). It does not matter whether the card is premium or issued abroad – the fees are the same.
Let's look at the transaction fees for using the Shopify card reader.
For Basic, you are charged a 1.7% fee per transaction. The Shopify package charges 1.6 % and Advanced Shopify charges 1.5% in transaction fees, which in the case of credit cards is pretty competitive.
For a retail store with a card turnover of £8,000 per month, the 1.7% rate will cost £136 in card fees, and the 1.5% rate would cost £120. The difference of £16 is much less than the difference between the Advanced and Basic packages, so if you are motivated by better rates only, you need a higher card sales volume for that to make sense.
Accepted payments





If the monthly card sales is £20,000, the Advanced package will leave you with £300 in fees, and the Basic package £340.
You may have read about supported payment gateways or similar, but this can be disregarded because that information is only relevant to the Shopify online store.
Shopify card reader and POS hardware
Integrating hardware with your POS system is a beast of its own. Shopify launched its POS app in the UK before it launched its own credit card reader. The app was not of much value then as it did not offer a seamless checkout experience with an integrated card terminal.
This changed with the Shopify card reader, which is of the same make as PayPal Here's and an older iZettle model (now upgraded to the iZettle Reader 2). It is called Shopify Tap, Chip & Swipe Reader and accepts EMV, contactless and magnetic stripe cards.
The Shopify POS app works with iPad, iPhone and Android devices, but the card reader only works with iPad and iPhone.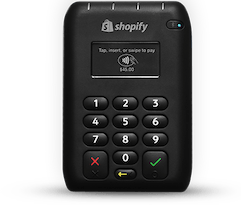 Previously, you had to subscribe to a Retail Package in order to access several POS features that are now part of the main plans, and this wasn't compatible with Android. In fact, you couldn't integrate the Android app with cash drawers and other hardware, which was a bit of a pain.
Now, you get the most app features in the iPad app, i.e. some functions simply don't work on iPhone or Android. Crucially, the Tap, Chip & Swipe Reader doesn't connect with Android phones or tablets, so we do not recommend Android devices unless you primarily accept cash.
Here's are some shortcomings of the iPhone app compared to the iPad app.
| | iPhone | iPad |
| --- | --- | --- |
| Accept physical gift cards | | |
| Multi-staff login with PIN | | |
| Till shifts | | |
| Cash float tracking | | |
| Save cart function | | |
| Summarise daily totals | | |
| | iPhone | iPad |
| --- | --- | --- |
| Accept physical gift cards | | |
| Multi-staff login with PIN | | |
| Till shifts | | |
| Cash float tracking | | |
| Save cart function | | |
| Summarise daily totals | | |
The compatible hardware is all pretty standard, but beware that only the equipment with the specific product numbers listed by Shopify will work. Shopify has a hardware store for the UK with some of the compatible models. Otherwise, you can buy from any POS provider as long as the item is compatible.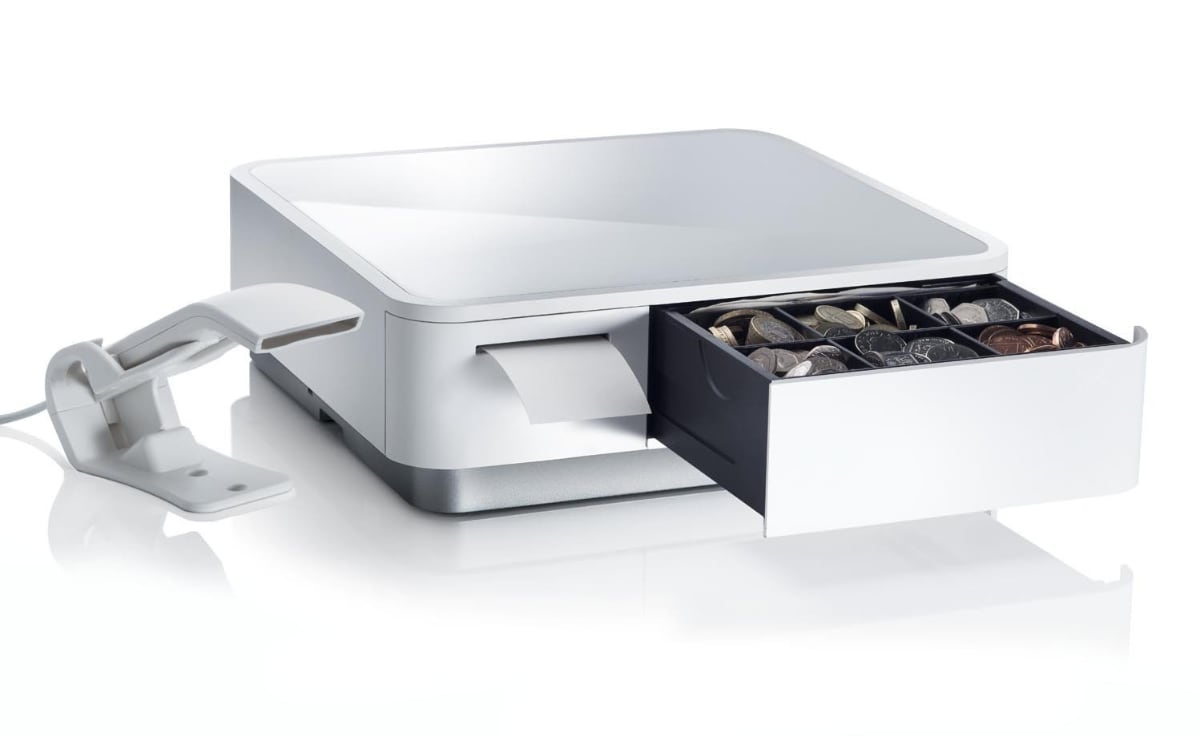 Star mPOP cash drawer with built-in receipt printer works with a barcode scanner and Shopify POS. Photo: Shopify
Several receipt printers are compatible with Shopify including models from Star Micronics. You can also integrate a barcode scanner. If you're selling at a counter, you can get specific cash drawers from Windfall, Star Micronics and Vasario.
There's a caveat to opening the cash drawers, though: they connect through a connected receipt printer. This means that unless you have a compatible receipt printer, the cash drawer will have to be opened manually.
How easy is it to get started?
The easiest way to set up Shopify POS is starting on the web, not in the app. The sign-up process takes you through the basic steps you'd expect from any similar service. The whole process takes just a couple of minutes to complete. By the end of it all, we were able to jump into the service with a free trial that did not require us to enter any payment information beforehand.
If you take this route, or already have a Shopify POS store, this is a great place to start adding products. We found the product management from this page to be exceptionally responsive and never had any issues adding products, keeping track of sales or creating categories and collections to help customers who may want to view our shop online.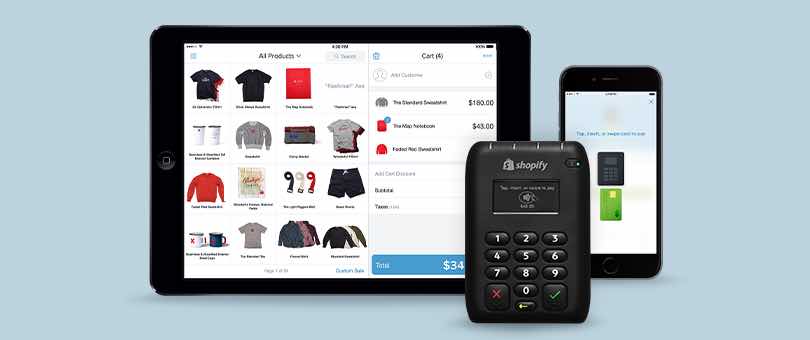 Straight off the bat, the mobile POS app provides a login screen for previous Shopify POS users to access. Everything syncs up perfectly from the desktop version we signed up to earlier, and we were able to log in straight away.
The POS app on a smartphone does offer limited information when compared to the desktop backend. Whilst we could easily add items and attach photos, it didn't seem possible to add a description to each item, and the item descriptions could not be displayed in the app either. The iPad app, on the other hand, is more feature-rich and closer in line with the backend we mentioned above.
Everything else about the Shopify POS application works smoothly. The interface has a fresh purple and white colour scheme that's easy on the eye, and the entire app uses symbols and menu systems that are universal across the majority of iOS and Android apps, so it's very easy to understand.
Taking payments
If you want to sell an item with only an iPad and no external hardware like a barcode scanner, you can just tap on the product to create a shopping cart. The checkout button is visible at all times so it's easy for you to prepare your customer's purchase, cancel an item or edit their cart at any point.
The payment types available depend on your store setup, but with credit card and cash as the default payment types, it's quick and easy to accept the main payment methods.
As for cash payments, you can note the amount a customer has handed you and the app will give you a summary of the change due whenever necessary. Shopify POS will then make a note of the sale.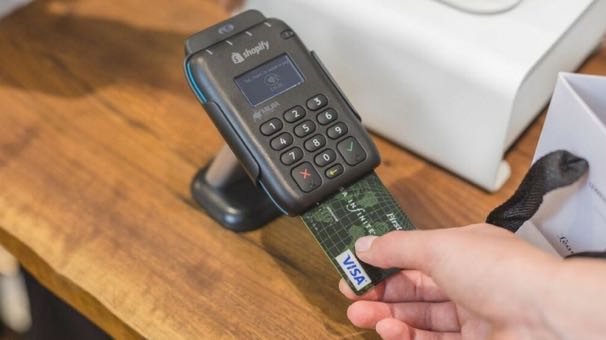 Shopify Tap, Chip & Swipe Reader can be secured to a countertop on a compatible card reader stand.
With credit and debit card payments, check out as usual in the app and select card as payment method. The amount to be paid will be visible to the customer on the card reader display (provided it is connected already via Bluetooth). The customer completes the transaction via chip and PIN or contactless tap (swipe is available as a backup), and the payment will be registered with the system. It's an easy, seamless experience.
Once your sale is processed – and if your device is connected to the internet – your order will automatically sync with your account. Shopify will track the transaction, and by default, an email will be sent to you with details of the transaction, unless you have deactivated this feature.
One last thing before the order is complete…
Even if you made a sale in-store, Shopify will automatically list your item as unfulfilled, but it's easy to head to your order page and bulk-select all of the sold items and fulfil them with the click of a button. You could do this in your spare time or at the end of the day before cashing up.
It doesn't matter either way, as long as you complete the action. It's mostly there as a reminder system for when an order is placed online – in this case, you should post your item before fulfilling it.
It is fairly easy to remedy any mistakes made while creating an order, but it would be nice if the Android version of the app had a better system for removing items. We found that currently, we would be forced to the checkout page before being able to do this.
The iPad app has a better experience overall compared to Android tablets or phones. It's definitely filled with the kind of features that would otherwise be exclusive to the desktop software found on the Shopify website. The Android version, however, is more limited. It works well, but it's not the comprehensive experience you may have hoped for.
If you plan on using the Shopify POS app for your retail shop, we recommend picking up an iPad for a better experience.
What about offline performance? Not great
Offline support for the Shopify POS app is unfortunately very blotchy. While offline mode is (sort of) available, it doesn't always work and there are too many issues that could potentially kick you out of the service until you reconnect with WiFi again.
For example, if your iPad restarts or the app closes, you will need the internet to sign back in to the application. Without internet access, you'll be shut out. We had trouble making sales without internet access as well, although it is possible to run transactions through offline on iOS.
With Android, it seems to be different – we couldn't even progress to the checkout page without an internet connection, and what made it worse was that we couldn't edit the items in the shopping basket until we could connect to the checkout page. This could make offline sales very confusing.
When offline mode does actually work (mostly in the case of iPad) things are stored locally so you can sync up new data once you're back online. However, it is impossible to create new customer profiles offline, so if you have a loyalty programme running, you're going to have to throw out a lot of apologies if your internet cuts out.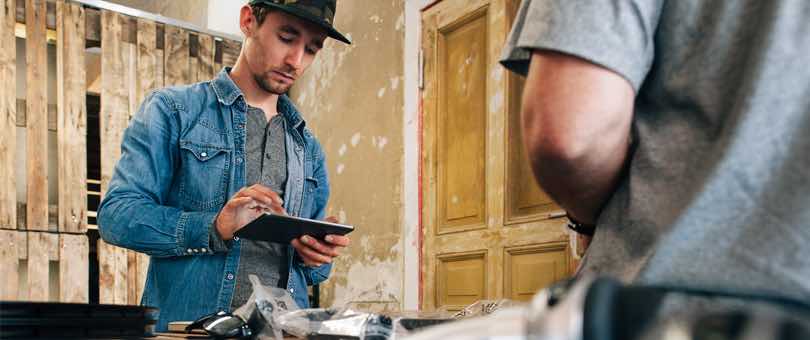 If your internet is intermittent, consider setting up a second WiFi connection as a backup for Shopify POS.
POS app features
In some Shopify POS plans, you see limitations for certain functions, while other things are the same across plans. Let's go through some popular features.
Product management: Shopify was developed for a complex online shop, so you probably get all you need there. All plans allow you to add unlimited products that show in the app. In addition to categories and subcategories, you can add variants such as sizes and colours. You can also organise items into collections to create some order. The last step is to add pricing and quantity information, alongside SKU number. Product details can be edited any time.
Inventory management: Shopify will help you track stock levels. You can set up product tracking in the admin section of the backend. If the quantity reaches zero, the product will not be available for sale in your online store. Through your retail app, though, the product will be available for purchase as it is assumed that if the customer comes to you with an item for checkout, you had it somewhere even if your admin account says zero. Shopify will not alert you if stock is running low, but through the Shopify App Store, there is a free low-stock warning app you can integrate to do just that.

Physical gift cards can be customised and ordered online.
Gift cards: Gift cards are exclusive to customers with the Shopify or Advanced Shopify subscription. If you feel gift cards are essential to your business, you'll be happy to hear that they work exceptionally well with Shopify. You can activate the payment option for physical gift cards and gift cards that can be printed and emailed to customers. If you'd like physical gift cards, order them via the gift cards page in payment settings. The gift cards are beautiful, but perfection does not come cheap, e.g. £139 for a pack of 100. The bigger the package, the lower the price per card. And beware – the app can only process gift cards on iPad.
Backend reports and analytics: The reports page on the Shopify POS website provides users with a wealth of accessible reports and analytics. While the home page gives a quick overview of your latest sales data, it's the reports page that will come in handy for managing revenue and preparing information for tax purposes. If you'd like to quickly access reports by month, hour, SKU or traffic source (for online sales), the Standard reports may be beneficial. That being said, a lot of the additional Standard reports are geared towards better online store functionality as opposed to extra POS retail analytics, although the reports do work for both. Thankfully, it is very easy to export Shopify reports as CSV files.
Invoice generator: POS aside, you can also create invoices online (online payment rates apply), which you email to customers. It has the sleek design you would expect from Shopify.
Shopify has other free tools and features, like the purchase order generator, bill of lading generator, barcode scanning and QR code generators.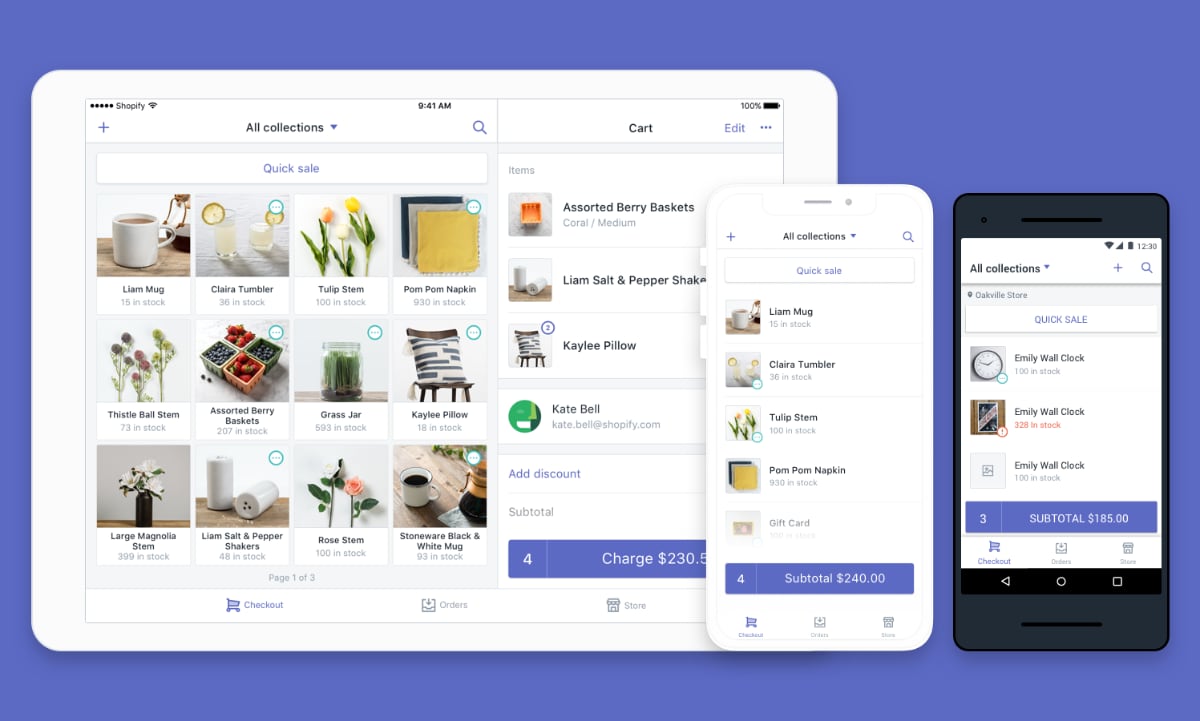 Online store integration and add-ons
Shopify is best known for their ecommerce, and we were impressed with how well the POS side of things are integrated with a Shopify online store. This is probably where it is the superior provider on the market. Unless you opt for the Lite package, your web store is set up as you add new products to your inventory. Each item that is added for intended sale within your retail store can be sold in your online shop too.
You will find an overview of all the other free and paid integrations and add-ons available in the Shopify App Store. If you want to take analytics and accounting one step further, Shopify integrates with Xero and a number of other cloud accounting and invoice apps.
Customer service and support
Shopify offers 24/7 email and chat support on all plans. Round-the-clock phone support is included on Basic Shopify, Shopify and Advanced Shopify only, so not on Lite. When we tested it, the response time is usually within minutes, even on weekends. We've seen user ratings have gone downhill, though, indicating slow response times and issues not being resolved.
We like that Shopify lets you know what the current wait time will be, whether it is chat, email or phone. The first time I contacted them by email, I got a reply within six hours. My second time emailing, I was told the average response time was 14 hours. I got a response 21 hour later.
Chat support is faster, but during certain times of the day, expect to wait up to 20 minutes to get an agent. Our experience is that the customer service team is friendly and knowledgeable, although their experience with UK specifics is not yet as strong as the standard North American service. We've seen this improve since 2016 as Shopify rolled out its card reader and secured more customers, but customer reviews indicate there's still some lack of knowledge on the Shopify team.
Recent users have also reported regular server issues on the ecommerce side, but we see that the POS app is regularly updated to address bugs and improve features.
Who is it best for?
Shopify POS is created for retail businesses. If you're running a restaurant, bar or coffee shop, other EPOS systems will suit you better simply because the features included in Shopify's packages do not cover hospitality functions. Instead, Shopify is particularly suited to complex product management with multiple variants of products.
Shopify targets small-to-medium businesses, although they offer a Plus plan for bigger enterprises. To hear about prices for this, you'll need to contact them directly.
Where Shopify POS works and where it doesn't
That just about wraps it up! If you're still not sure whether to take the plunge, here's a summary of the benefits and where it can let you down.
Pros
Combines the online and in-store sales channels
Card payments integrated with POS and web store
Works for stores with many products and product variants
Intuitive design, easy to use
Lots of perks like gift cards and discount system
Cons
Stores with unreliable internet should not rely on Shopify's offline mode
If you don't have an online shop nor plan to set one up, other EPOS systems would work better
Gift cards require a pricier subscription and physical gift cards must be purchased
In short, if you're opening a retail store and prefer to use Shopify for your online store, Shopify POS can be a great choice.