Forget clunky cash registers. iPad-based point of sale (POS) systems are a growing trend among the millions of retail outlets, restaurants, gyms and other customer-facing businesses across the globe. They offer more flexibility and lower start-up costs than traditional POS equipment.
iPad POS can also be synonymous with your brand. For example, Victoria Beckham's London boutique is more akin to a modern art gallery than clothing store, and iPad technology fits in with her simple, sleek and elegant branding.
If you have or are considering adopting an iPad point of sale for your business, then you may have given some consideration to where it will be placed. There is now a wide range of iPad POS stands on the market. We have put together five of the most stylish and functional ones.
1. Heckler Design WindFall
The number one preference for many a shops, the minimalist Heckler Design WindFall may well be the ideal choice for you. It retains the slim profile of the iPad, yet provides the strength and durability needed for constant use.
Cut from high-quality powder-coated steel, the Heckler stand is available for different iPad models, in a range of colours and with different prices based on your requirements.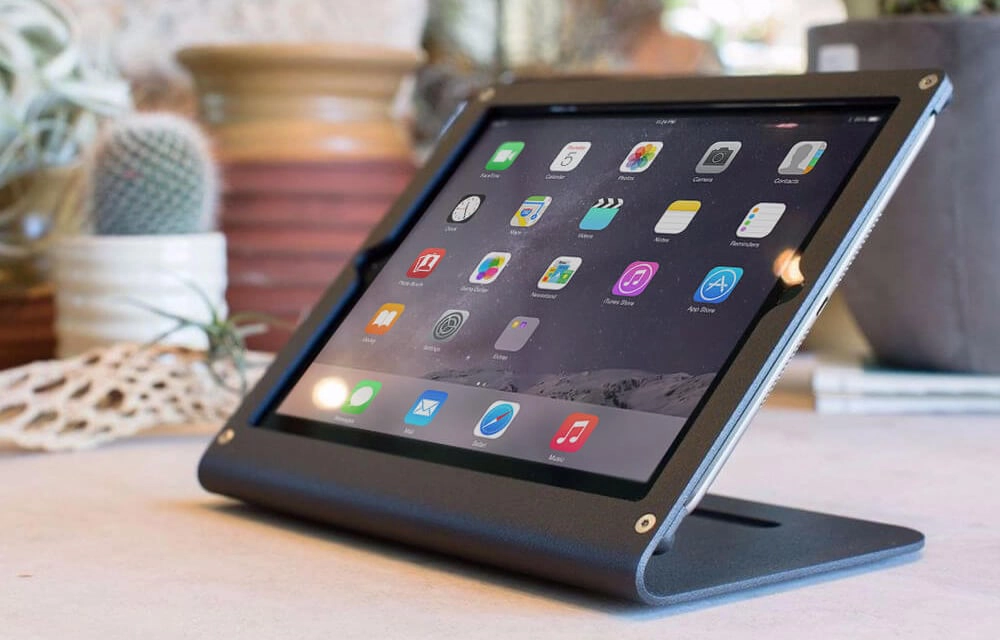 WindFall Stand Prime for iPad. Photo: Heckler Design
These secure stands in powder-coated steel are not fully enclosed, meaning all connectors, switches, speakers and microphones are fully accessible and functional. A wireless connection to receipt printers and cash drawers would complement the minimalist look of the stand, which can also be securely mounted to the counter to prevent theft.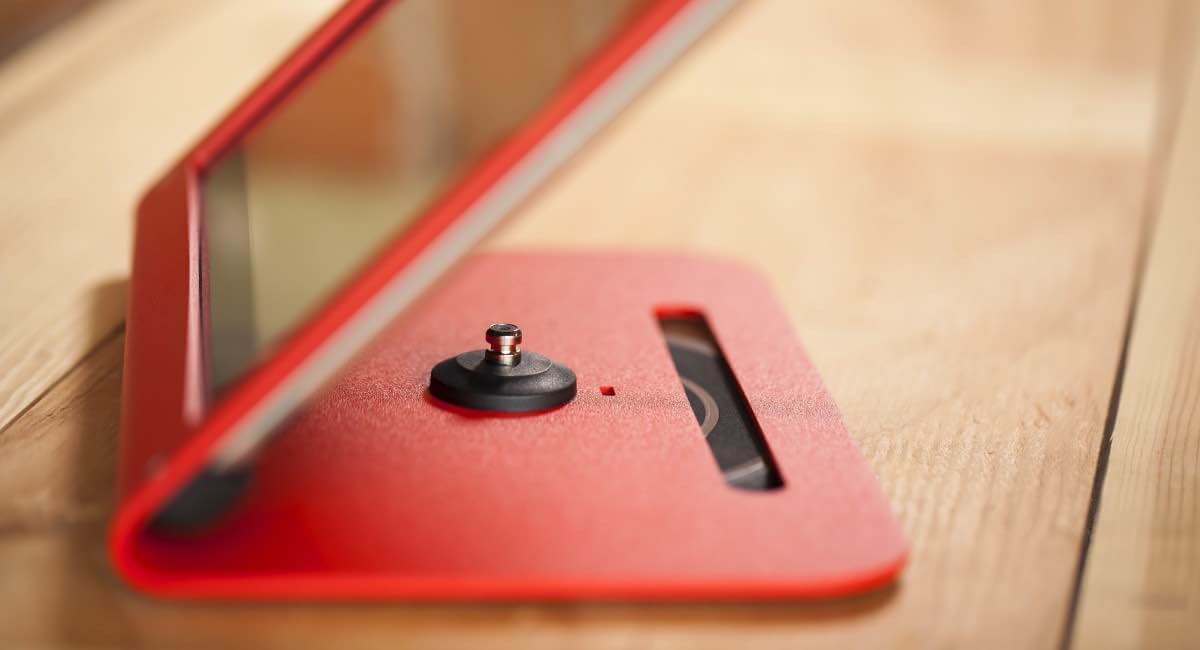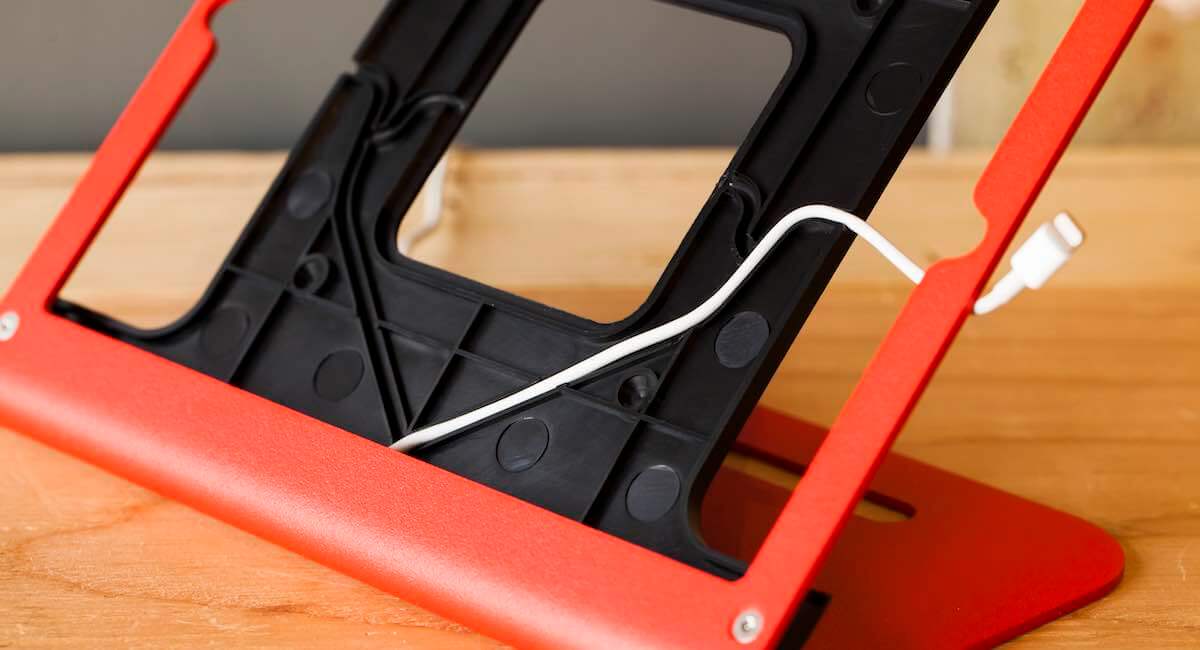 The WindFall sells for £99 + VAT in iZettle's accessories store, referred to as "Tablet stand for iPad" and suitable for 9.7″ iPads. Other online stores sell different sizes and more colours at different prices.
Although a flip would have been useful, there is no denying that the slide function and huge selection of colours available make it easy to find one that is suitable for your counter.
2. iZettle Stand
An alternative to the ever-so-popular Heckler stand, iZettle has launched an all-new iZettle Stand, suitable for a 9.7″ iPad. The iPad holder is made of textured aluminium, incorporating a smart cable solution.
It comes in black or white, matching your choice of black or white iZettle Reader. However, you do not need to be an iZettle customer to use this stand, as it fits elegantly with any iPad till system. The holder is elevated from the table so it is more comfortable for the neck to look at the screen.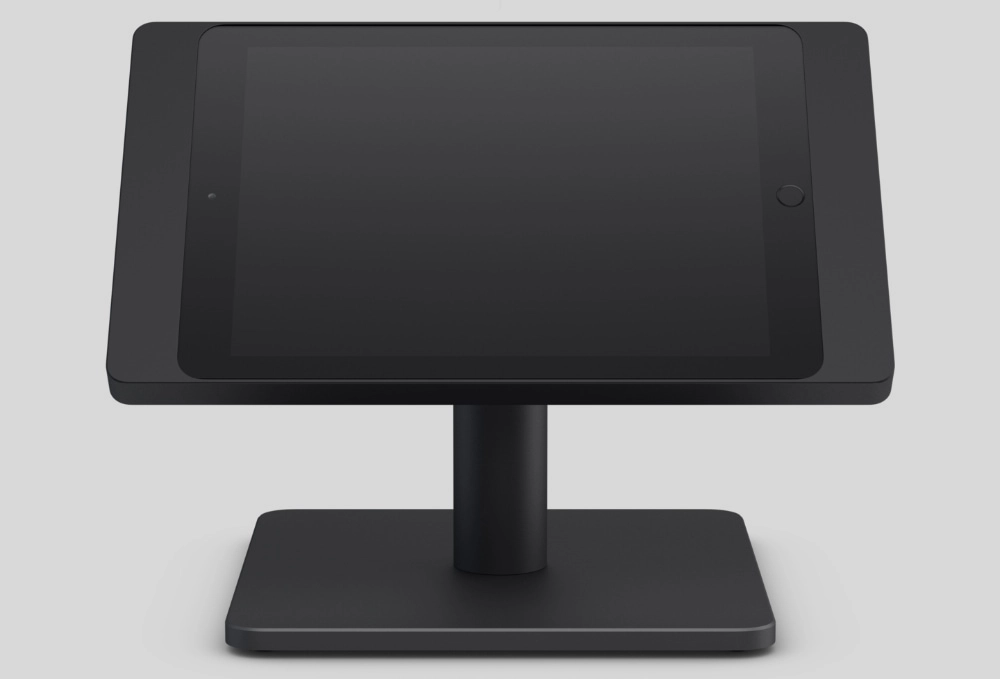 You can get iZettle Stand in black or white.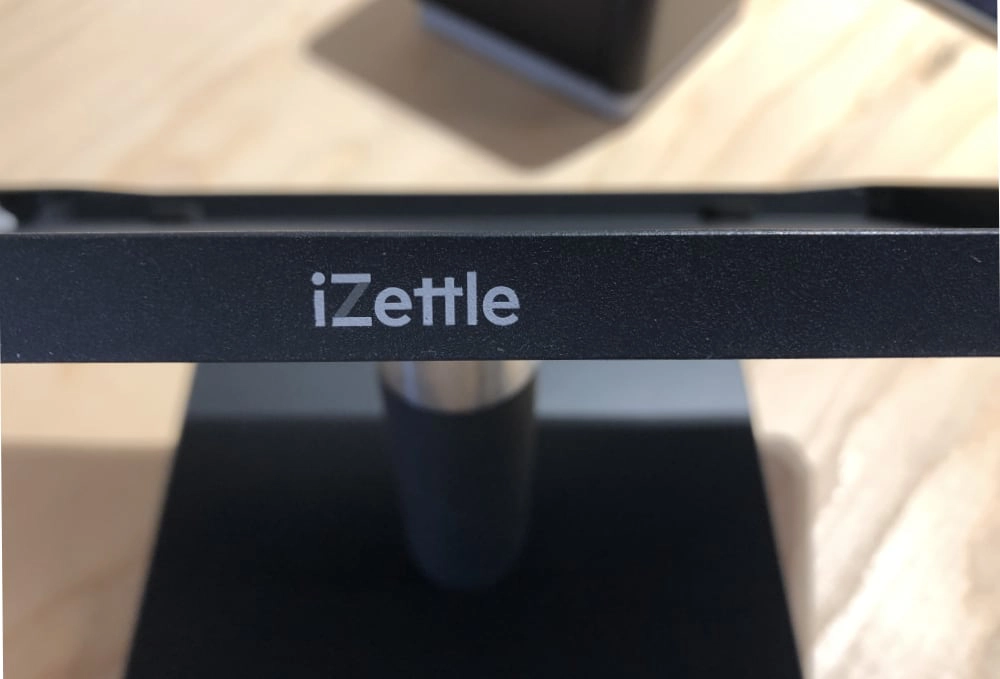 iZettle Stand has an iZettle logo printed on the top edge.
The iZettle iPad stand is purchased in the online store for £99 + VAT. If you're going for one iZettle's equipment bundles with the card reader, the stand is included (prices starting at £189 + VAT).
3. Powered iPad Swivel Stand by Studio Proper
Minimalism is the key defining feature of the Proper Powered iPad Swivel Stand (although maybe not in price). Standing 7.4 inches tall and made of silver aluminium, it is almost imperceptible beneath your iPad, giving it the appearance of floating just above the counter.
It is a durable piece of equipment with a swivel rotation of 180 degrees for easy screen sharing and 80 degrees flip-angle adjustment for an ergonomically better viewing experience. You can use it in landscape and portrait configurations. The sleek design is also complemented by integrated cable routing through the base.
The Swivel has been designed for use with Proper's Lock Belt – a beautiful aluminium clamp that fits snugly to your iPad, secured with two clamp screws. The Lock Belt has an anchor point which acts as a complete anti-theft solution.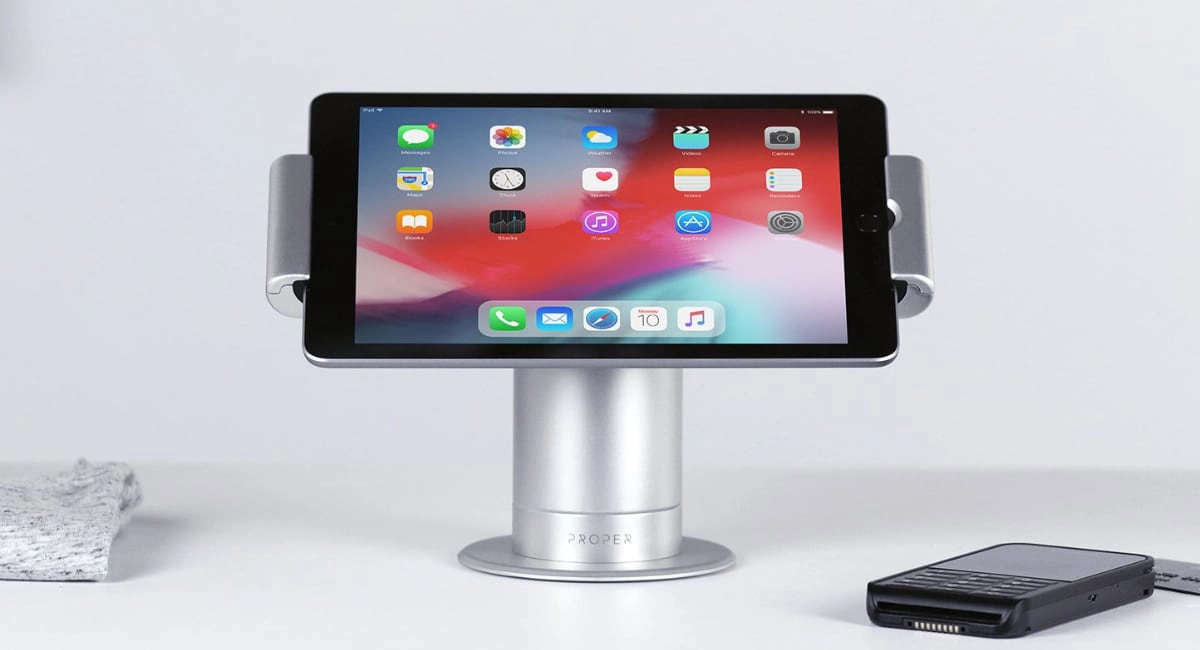 Powered iPad Swivel Stand. Photo: Studio Proper UK
If you're searching for one of the most hard-wearing iPad stands, you can purchase the Swivel for £245 which is compatible with a 9.7″ iPad, and an additional Lock Belt that fits either iPad Mini (£45), iPad Pro 10.5″ (£56) or iPad Pro 12.9″ (£70).
4. Square Stand
Much chunkier than others on the market, the Square Stand is also heavier at 2.24 kg and more visible at 23.9 cm high. The robust metal skeleton is finished with a moulded plastic exterior available only in one colour: glossy white. While this looks clean and modern, it isn't the easiest design to blend with branding and could stick out like a sore thumb in some environments.
The stand supports iPad Air, Air 2, Pro 9.7″, 2017 (5th generation) and 2018 (6th generation). A key benefit is the ability for the base to turn towards the customer who can then enter their PIN on the screen (a necessity for chip and PIN payments via Square Point of Sale). iPads can be locked into the stand, while the included security kit lets you keep it firmly attached to the sales counter, decreasing risk of theft.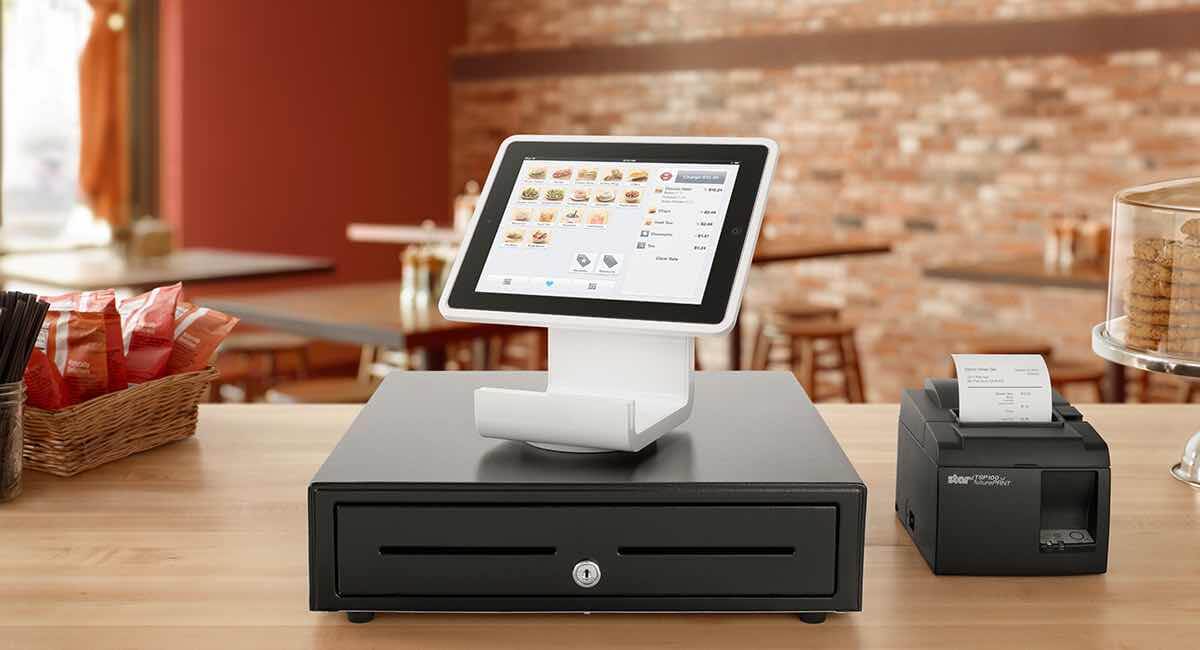 Square Stand on a cash drawer. Photo: Square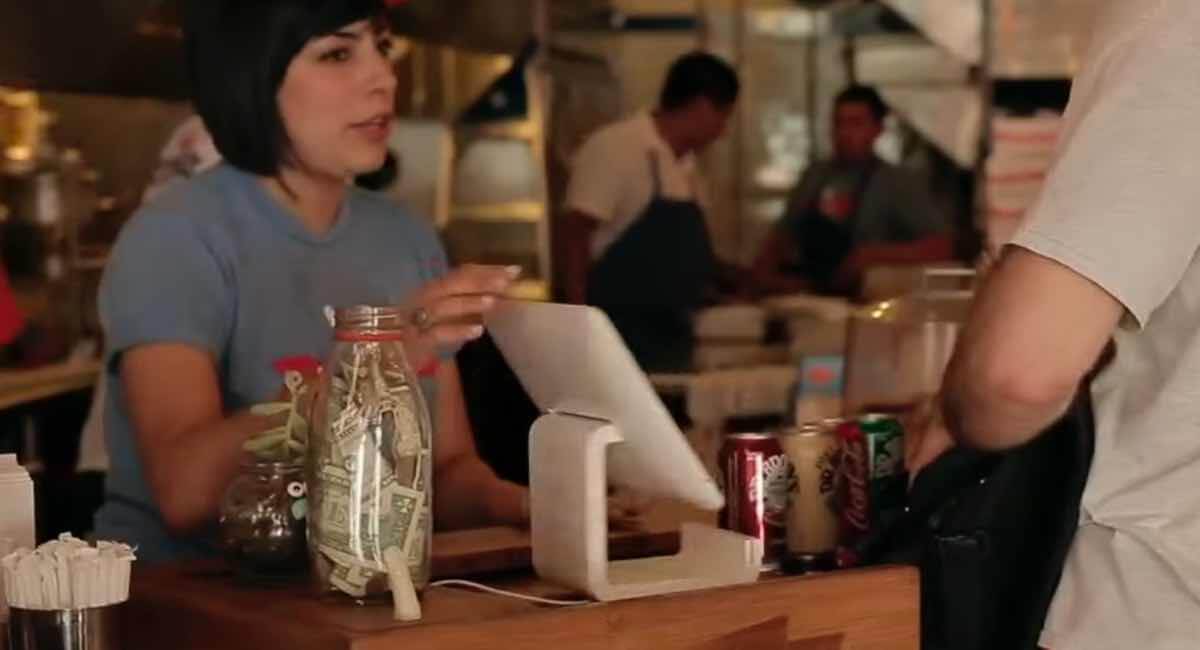 Square Stand swivels to allow for easy PIN entry on the iPad screen. Photo: Square
Square Stand has a functioning swipe slot at the front for magnetic stripe cards, which is great if you need to accept payments from American tourists with swipe card.
The stand can be purchased for £99 + VAT (offers may apply) as part of a set including the Square Stand, Square Reader and charging Dock for the card reader.
5. SumUp Tablet Stand
If you are looking for a tablet stand that is ethical, natural and beautifully designed, the SumUp tablet stand may be your perfect choice. Created from PEFC-certified ecological and ethically sourced wood from the German forests, the ergonomic beech and oak design is finished with a clear lacquer to give it more resilience to dirt and wear and tear.
A turntable on the foot makes it fully rotatable, and the stand can be secured to your countertop using the provided lock and thread.
The iPad can also be mounted and locked to the stand, keeping it safe and secure.
The only real negative is that your iPad needs to be attached to the mounting plate with adhesive, which is tricky to remove. However, this makes it compatible with any size and variety of iPad.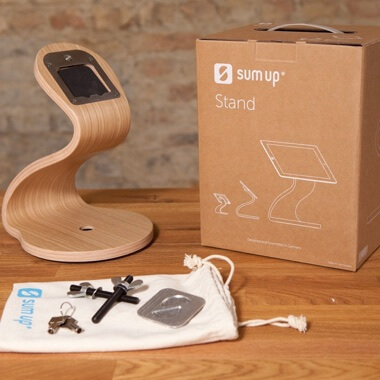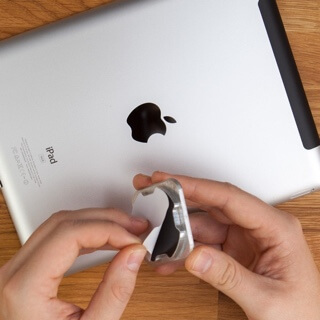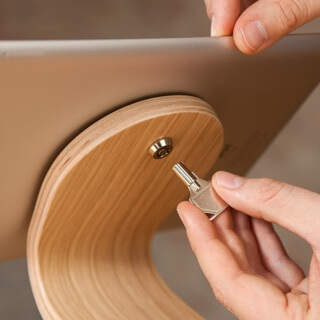 While it has been developed for SumUp's point of sale system, it will look good with any POS counter in need of a wooden touch.
This unusual iPad stand is available as part of a POS hardware package from SumUp, whom you will need to contact for a quote. However, you can now also buy it on its own online from the UK-based Pos-Hardware Ltd for £89 + VAT.
Honourable mention: Bouncepad Flip
We end with another pricey iPad POS stand: the simple – but sturdy – Flip from UK company Bouncepad. Although not the prettiest design on the market, it is definitely functional. The prism base hides the power adaptor, offering robustness and supreme stability.
The stand features a wide iPad faceplate and is made of powder-coated stainless steel painted black or white.
Weighing between 2.86 kg (Mini size) and 3.4 kg (Mega size), the Bouncepad Flip is one of the larger designs on the market. As well as freestanding use, it can be attached to the counter top using a 4-screw system, minimising risk of theft. As the name suggests, the design allows the iPad to be flipped over for easy screen sharing.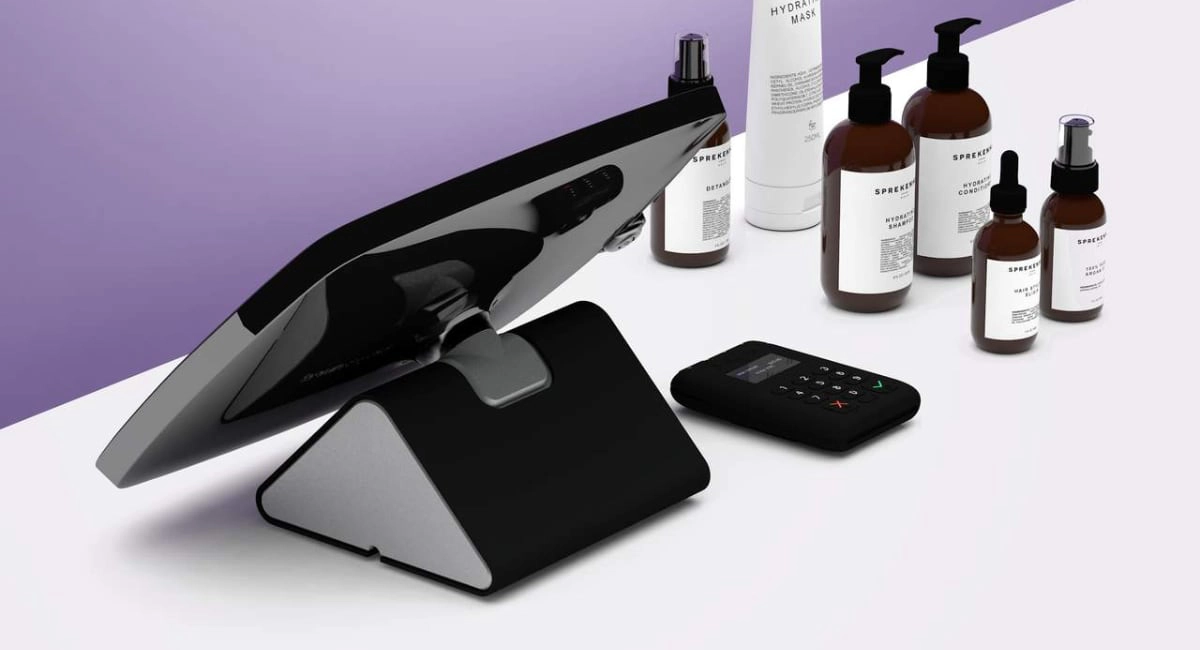 Bouncepad Flip in black. Photo: Bouncepad
Bouncepad Flip can be bought for most iPads from year 2012 up to today's models. It costs £195 + VAT.
If larger, intensive-use iPad stands are going to be more suitable for your point of sale, the Bouncepad Flip is a decent contender.