The iPad has proven itself effective for web-based point of sale (POS) systems. What's more, it looks smart and is cheaper than purpose-built touchscreen tills, making it a more realistic entry point for small businesses than Windows-based POS systems.
That said, you want a service that resolves software bugs quickly and offers prompt support so you can run the business uninterruptedly. So how do you choose an iPad POS system?
There are many providers out there, and we are not convinced they will all survive the competition in the next few years. Here, we consider the best iPad-based till systems for small businesses.
Best iPad EPOS in the UK:
Best for: Adaptable functions with choice of add-ons
Pricing: £59+/mo
Suitable for: Retail, any food-and-drink
Lightspeed is an adaptable EPOS solution with Retail and Restaurant packages to suit small and medium-sized businesses. It can handle multiple store locations and connects online with face-to-face sales for a seamless multichannel business.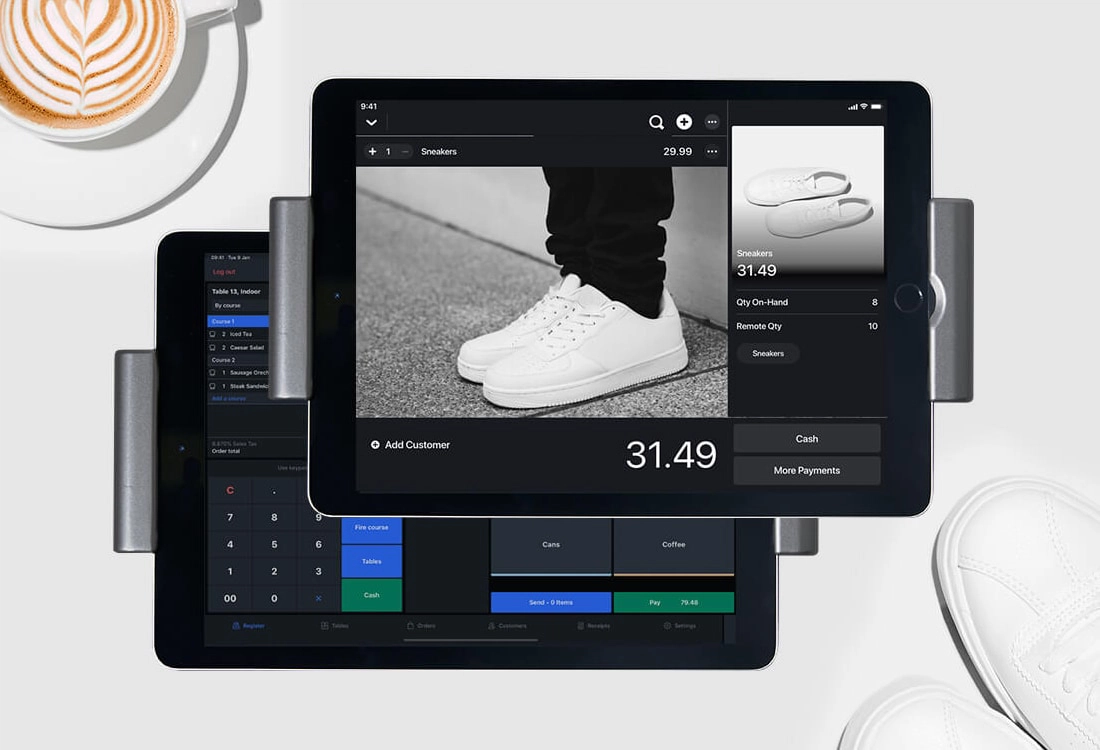 The Lightspeed apps for hospitality and retail are different.
All the POS subscriptions include Lightspeed Payments, an integrated card processor with a fixed 1.6% rate per card machine transaction. The plans are tiered, with more features for a higher monthly or annual cost.
Lightspeed Restaurant has a neat table management overview and QR code ordering (on the pricier plan) that can be customised, along with many other food-and-drink features to help you run the kitchen, bar, waiting and table areas. It also works offline, so internet outages aren't going to be a problem.
Price per iPad licence
Retail: From $99 USD/mo (annual) depending on plan
Restaurant: From £59/mo (annual) depending on plan
Lightspeed Retail gives you advanced, store-related functions such as detailed inventory management and customer loyalty profiles so you can anticipate what to offer regular customers. If a customer can't pick up a product, the system allows you to create and print delivery documents so you can ship it to them directly and avoid losing their business.
The ability to integrate with an online store or click-and-collect (extra costs apply) makes this a good solution for businesses aiming to sell through as many channels as possible. The ecommerce option for retailers even includes tools to increase online exposure.
Payment integrations: Lightspeed Payments, Paymentsense, SumUp, Zettle
Best for: Inventory management and intuitive retail features
Pricing: £39+/mo
Suitable for: Retailers of all sizes
Vend (owned by Lightspeed) is one of the leading till software providers for retail shops in the UK. It's a powerful system that caters to all store sizes, from independent, small shops to big high street chains.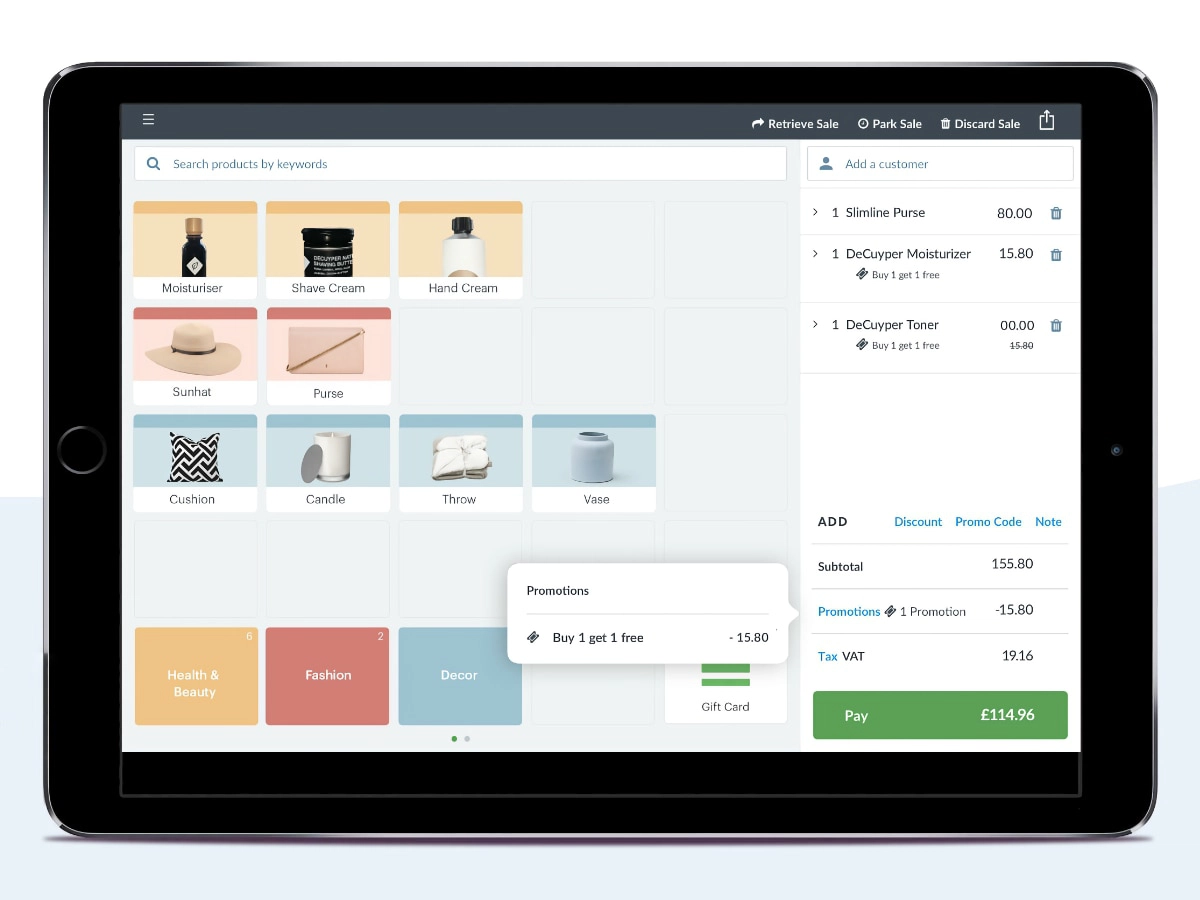 Vend POS interface on iPad.
Vend's comprehensive features cover everything you need for inventory management, a detailed product library, customised reports and the ability to take payments offline. The analytics let you dig deep into sales, view employee performance data and track how individual products are performing.
Price of 1st iPad licence + Lightspeed Payments
Lean: £39/mo (annual), £49/mo (monthly)
Standard: £59/mo (annual), £69/mo (monthly)
Advanced: £99/mo (annual), £119/mo (monthly)
Vend works on iPad, Mac and PC, but not smartphones, so selling on the go will require an iPad or laptop. It can be used with the 'Lightspeed Scanner' app for smartphones for scanning product barcodes or doing inventory counts.
If you're looking for the most advanced retail POS solution for the price, Vend by Lightspeed is certainly worth considering.
But note: the listed costs are if you use Lightspeed Payments as the card processor – higher subscription fees apply when opting for another payment integration.
Payment integrations: Klarna, Lightspeed Payments, Paymentsense, PayPal, Square, SumUp, Zettle
Best for: Free all-round features with plenty of specialised add-ons
Pricing: Free
Suitable for: Retail shops, small food-and-drink, services, beauty salons
Square's POS apps form part of a comprehensive payment ecosystem that's entirely free to sign up for. The catch is you need to use it with Square's card machines and payment system. This is not bad if you're good with a competitive, fixed card rate for all cards without the hassle of a contract (there are no hidden fees).
Photo: Mobile Transaction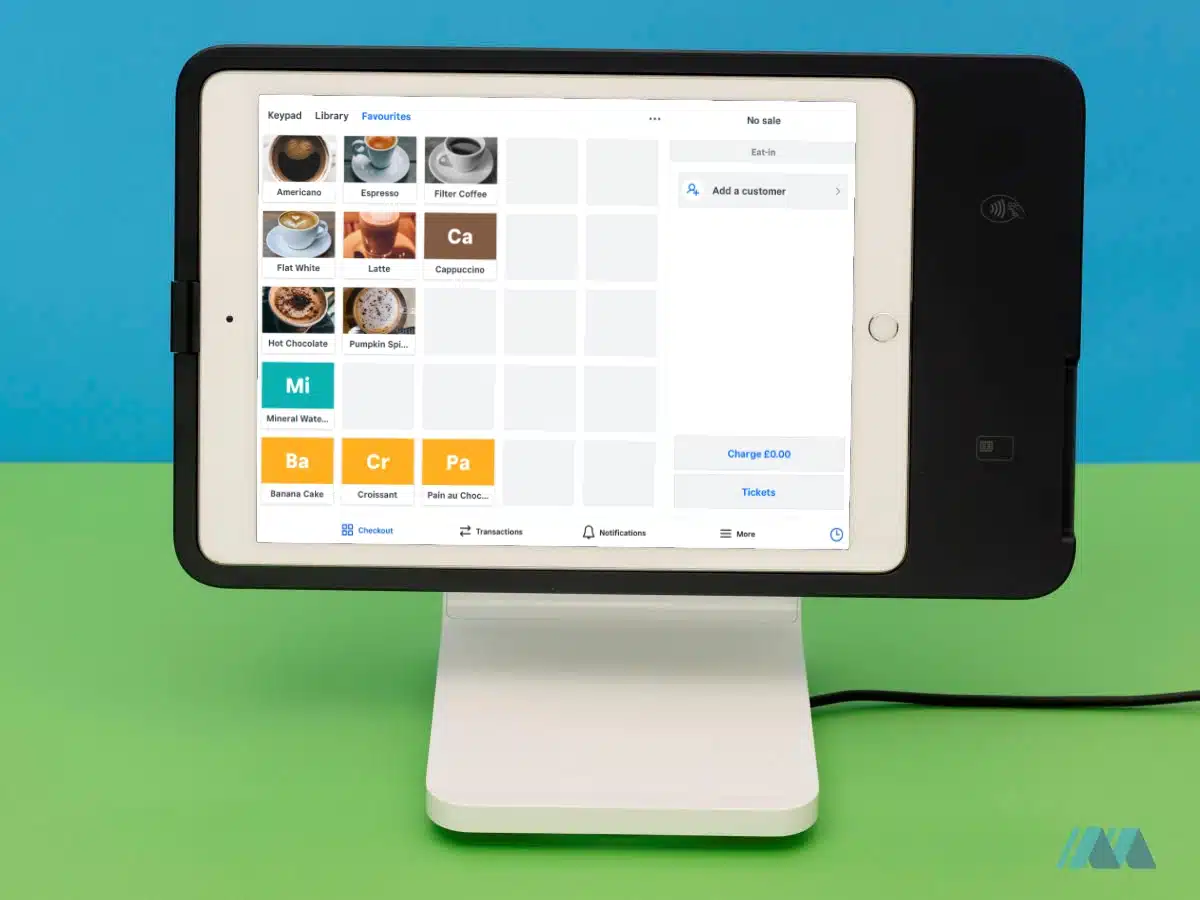 Square Stand with the Point of Sale app.
The totally free Square Point of Sale app is geared towards "all businesses", but the hospitality-related features and inventory library make it particularly good for cafés and small shops.
Price per iPad licence
Point of Sale app: Free
Square for Restaurants: Free or £69 + VAT/mo
Square for Retail: Free or £49 + VAT/mo
Square Appointments: Free or from £29 + VAT/mo
You can, for example, add various product information, track stock levels, send invoices and manage staff permissions and time sheets.
Restaurants can upgrade to the iPad POS app for specialised food-and-drink features, retailers to Square for Retail, and various professionals to Square Appointments – all requiring a paid subscription for advanced features, but free plans are available.
If you log into your Square account in a browser, you can use a virtual terminal, online store builder, contract templates among many other business features also included in the system.
For more advanced tools and systems, many software integrations are available such as Mailchimp and Xero.
Payment integration: Square
Best for: Budget-conscious merchants who want the easiest solution
Pricing: Free
Suitable for: Retail, small food-and-drink, services
Zettle (previously iZettle) is the most popular POS system with mobile card reader for small businesses. Signing up gives you free access to the Zettle Go app and backend dashboard where you can create reports, manage employees, send invoices, and more.
The free app can be used on most mobile devices and works as a standalone system for a wide variety of small businesses.
Photo: Mobile Transaction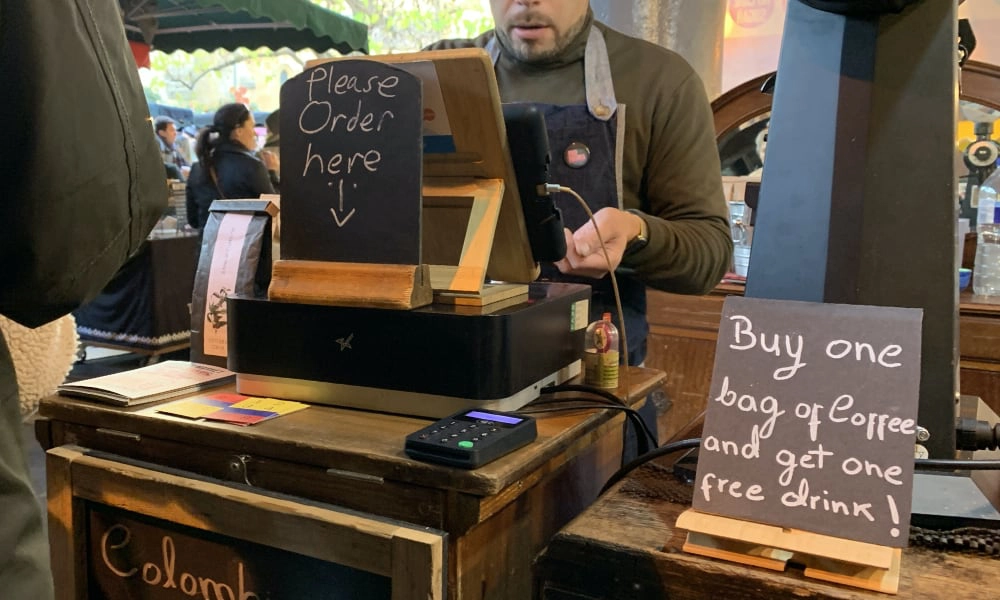 Zettle POS at a food stall.
The iPad app has a product library, transactions overview, basic sales data, barcode scanning (through iPad camera), stock counts and invoicing among other basic features. It is not an advanced app, which is great for simplicity but problematic when your business needs specialised features.
Licence price
Zettle Go app: Free
The free Go app is easy to use, friendly-looking and integrates seamlessly with Zettle Reader payments. There is one fixed rate for all card payments: 1.75% per transaction through the card reader. Various equipment bundles are on offer with e.g. receipt printer, barcode scanner and cash drawer.
If you get to a point where more advanced features are needed, you can still use Zettle Reader and its payment tools by integrating with another iPad POS app such as Tabology or Revel.
Payment integration: Zettle Reader
Best for: User-friendliness and range of till features
Pricing: £49+/mo
Suitable for: Various food-and-drink
TouchBistro is the restaurant EPOS that comes out most favourably in our tests of iPad POS. It is highly user-friendly with lots of genuinely helpful features designed to make your day-to-day sales and management easier.
TouchBistro is perhaps the most user-friendly restaurant POS for iPad.
If using more than one iPad, or offline capabilities are important, it is necessary to set up a local computer network with an iMac or Mac server to keep them synced at all times. The system only runs on Apple devices, although it is possible to connect receipt printers, cash drawer and other hardware needed at your point of sale.
Price per iPad licence (annual plan)
1st: £49 + VAT/mo
2nd-3rd: £45 + VAT/mo each
4-9th: £40 + VAT/mo each
10+: Custom quote
Although more than plenty of settings and features are included in the TouchBistro app, it is possible to integrate with certain partner apps. For example, you can get advanced customer loyalty features through a third-party integration, but this comes at an additional monthly cost.
Where online ordering is concerned, you can integrate with Uber Eats and Deliveroo through Deliverect (extra cost).
Payment integration: Barclaycard Business
Is iPad always the right touchscreen?
iPad has its benefits, like enhanced security and software reliability, but have you considered whether it's the right hardware for your particular till?
As a commercial product, iPad is built for personal and professional use, but has some limitations when it comes to hardiness.
For instance, it is not waterproof like some brand new phones are to an extent. This means you need to keep it dry and shouldn't be tapping it with wet hands, like you might in food and drink areas. Similarly, the screen is not dust-, bacteria- or dirt-resistant, so needs a good wiping-down regularly.
Busy checkouts will need to keep it charged or connected to power to avoid it switching off at the wrong time. And it won't work with wired internet – only WiFi, Bluetooth or mobile connections.
As a consumer product, the lifespan of iPad may be shorter than a purpose-built touchscreen till, though not necessarily since Apple products are generally high-end. But then again, the high quality of iPad makes it popular to steal. This can be solved with an iPad holder for the till, mounted securely to the countertop.
What about expanding to other screens?
New businesses may prefer an iPad point of sale to simplify tings, but it's not the only kind of till.
Some merchants benefit from a cheaper Android tablet if the EPOS is compatible. Shops and food-and-drink businesses might even prefer a PC computer, Mac or purpose-built touchscreen register, customer-facing display or kitchen display system (KDS).
Either way, it's possible to choose an iPad till that can be expanded later with custom hardware or used on other devices. Our top POS systems above have these compatibility options:
EPOS
iPad
Android
PC
Mac
Custom
register
Lightspeed
Vend
Square POS
Zettle Go
TouchBistro
Lightspeed and TouchBistro only work on iPad, so choosing them is a commitment to using Apple products. Vend is the only one with EPOS software for computers.
Square and Zettle both work on Android devices (tablets and smartphones), making them truly flexible for cash-strapped merchants. In addition, Square offers a unique Register with an Android-based touchscreen built in as the POS interface.
Honourable mentions
While our top five list above covers the most trusted iPad till software, there are plenty other options worth mentioning. Out of all the iPad POS we've researched, these are some of the best alternatives for UK businesses:
Epos Now – Higher prices, but many types of till setups
SumUp Point of Sale – Previously Goodtill, pick-and-choose features
Shopify POS – Connected to your Shopify online store
Nobly – Simple, entry-level POS for small hospitality
Revel Systems – Expensive, but serious choice for hospitality
Looking for a more specific iPad POS system?