Our rating
Restaurant-specific iPad POS that is highly customisable. Advanced interface with tons of features for food and drink businesses.
Lightspeed Restaurant is adaptable enough to be confusing at times, but offers comprehensive customer support and the integration possibilities are many.
The Lightspeed Restaurant POS is cloud-based and runs from an iPad or iPhone app. Apart from its many specialised features, it boasts a range of integration options with e-commerce and partner apps.
Highs: 24/7 customer support. Advanced features. No long-term commitment needed.
Lows: Not always that intuitive to use. Price on the high side. Offline function requires on-site server.
Who is Lightspeed Restaurant suited for?
As the name suggests, Lightspeed Restaurant is specifically made for use in restaurants and other food-and-drink establishments. We definitely recommend using a restaurant POS instead of one meant for general use (that's why Lightspeed Retail POS is a different product).
Out of all POS systems for hospitality, Lightspeed Restaurant is one of the most comprehensive available in the UK. It's not the cheapest one, costing from £79 + VAT per iPad each month, but we think it's worth it. Let's get back to the pricing options in a bit, first let's take a look at the product itself.
The Lightspeed software is highly adaptable to your needs. It is best suited for restaurants where customers are seated at tables, but also suitable for small cafés, bars, pubs and the like. It even supports stretching across multiple locations and grows in line with changing customer habits. There are some cool functions like self-service iPads which make it possible to let people order by themselves at their table.
Those who also accept orders online will like the integration with Lightspeed eCommerce. Multiple other integration options with other tools ensure that you are not limited to using just the Restaurant POS for all your needs.
Software pricing
From £79 + VAT/month per iPad licence
Self-Service Menu: £99/month per iPad for order and pay, or £9/month for order only
Account creation, onboarding and 24/7 customer support included
Hardware pricing
Hardware: prices vary
Pro installation: prices vary
Lightspeed Restaurant is one of the best POS systems for hotel restaurants, since it integrates with several property management systems like Amadeus, Oracle Hospitality, Protel and others.
But are all these features already too much for a simple restaurant?
Cloud-based, but can work even offline
The system is split in two parts: the iPad interface that is used by the floor staff, and a so-called Manager account which can be used from anywhere with a web browser (it also works with Windows).
The point-of-sale app only works with Apple iOS devices and is best used with a dedicated iPad or even multiple iPads. Staff log on using their own accounts which can be set up by the business admin.
The iPad application uploads all transaction details and changes made in the app to the cloud in real time, so the restaurant admin can view and analyse these from anywhere. For this to work, the iPad of course needs to be connected to the Internet via WiFi or 3G/4G.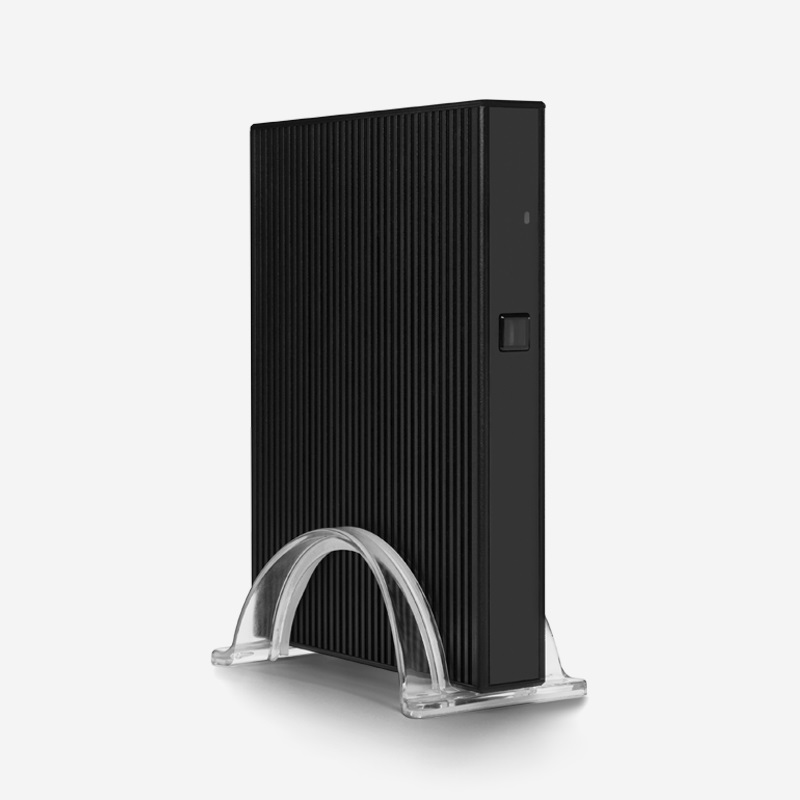 Offline mode will not work without the Lite Server on your premises. Photo: Lightspeed.
Setting up your restaurant
As a new customer, you're entitled to a personalised introduction webinar where you're assisted through using the software. Lightspeed makes a big deal out of onboarding and phone support, and we can see why.
For someone with no experience using restaurant POS systems, using the app and functions can be overwhelming, because there are so many settings to customise and information to add in order to enable a complete checkout experience in the app. Many of the functions are not explained clearly in the interface, making it more suitable for seasoned restaurant POS users than newbies in the trade.
That said, feedback from professional restaurateurs seems to be overwhelmingly positive. In the real-life feedback we have seen, Lightspeed's interface is often described as simple and sensible, especially by industry veterans with experience of the clumsy old systems.
Once everything is set up and running, the first logged-in screen that is visible to your staff in the app is your default floor plan. It is fully customisable, i.e. one can add, remove, resize and move chairs and tables. There are more customisation features in the backend account, but the basic setup can also be edited directly in the app.
Daily operation
To start an order, you tap on a table after which you see the products and order screen. This is where you can tap on individual food items and scroll different categories set up in advance in the admin. There are various bottom, left and top button rows with different functionality, some of which are disabled depending on your user account permissions, order type, product type and hardware setup. The Pay screen contains different payment and order status options too, depending on what's set up in the Manager interface.
The app layout itself is okay, but not that intuitive unless you have worked with similar interfaces before. New staff members need some training to use the POS, as otherwise they can get lost in what the different buttons mean or where the different functions are.
Once you know the drill, it's quick to use. Problems arise only if you're dealing with lots of complicated orders where you need to type additional notes to kitchen staff, or individual staff members forget to finalise orders or clock out.
Don't get this wrong. For most people who have worked in restaurants before, Lightspeed's interface will be easy to learn. In fact, ease of training new staff was one of the most frequently mentioned advantages when users were asked to evaluate Lightspeed Restaurant POS. We just think there are even simpler systems (looking at you, Touchbistro).
Floor plan, order screen, and checkout page in Lightspeed Restaurant POS. Photos: Mobile Transaction.
It's not perfect
During testing, we noticed a few places with unnecessary extra steps. For instance, drag-and-drop had to be manually enabled on the product setup page in Manager before you can use it. Another limitation is that images can only be added in Manager, not with the app. On the other hand, this can help keep things in order so that staff will not accidentally mess things up with the iPad.
Some functions feel counterintuitive. If you accidentally tap on a table on the floor plan, it starts a new tab that can only be undone by tapping "Pay" and "Finalize" instead of just going back to the floor plan (which, if done, marks the table as taken).
Takeaway and delivery orders also have to be initiated through dedicated tables regardless of whether you have physical tables for those or not. This affects the visual layout of the floor plan, since you may need to adjust it to accommodate for these virtual tables. You can add multiple different floors to each location where needed.
Lightspeed seems active in developing their software and adding features, and as a user you will always have access to the newest version of the app and backend functions.
Features (and more features)
Custom-built for the hospitality industry, Lightspeed Restaurant offers a myriad of features relevant to the needs of food-and-drink establishments. Whatever basic functionality (such as tipping) you may be thinking of, it is probably there. Here's a snapshot of others.
Advanced table tab functions: Assign orders to specific seats at a table, so the waiter knows who's getting what. Customer switching table? No problem – just transfer the tab to the new table. Customers can also split the bill in any way needed, for instance choose to split by seat, pay in equal parts or just let each table person pay for selected items.
Location management: Not only can you set up multiple floor plans with various table types (e.g. bar, takeaway, regular tables) from the app, you can also add multiple physical locations and coordinate stock exchanges between them. The software is, in other words, built to accommodate for chains and non-static food establishments.
Timed offers: Running a happy hour deal, Saturday promotion or any other limited offers? Set up timed discounts in Manager that apply to specific products, so staff don't have to check the time and apply discounts manually.
Modifiers: Lightspeed's 'modifiers' are additional choices assigned to a product or category to provide more details about the order. For example, add type of salad dressing, cooking temperature or preferred side dishes out of a selection. In other words, modifiers enable customised orders sent directly to the kitchen so they can start preparing the meals while the waiter takes the order.
Customer loyalty features: Create or pay by gift cards directly in the app. Returning customers can be added to the customer library to enable quick checkout and easy delivery orders. Each customer profile contains as much or little information as you add, but also tracks what they consumed, payment information and when they last bought from you.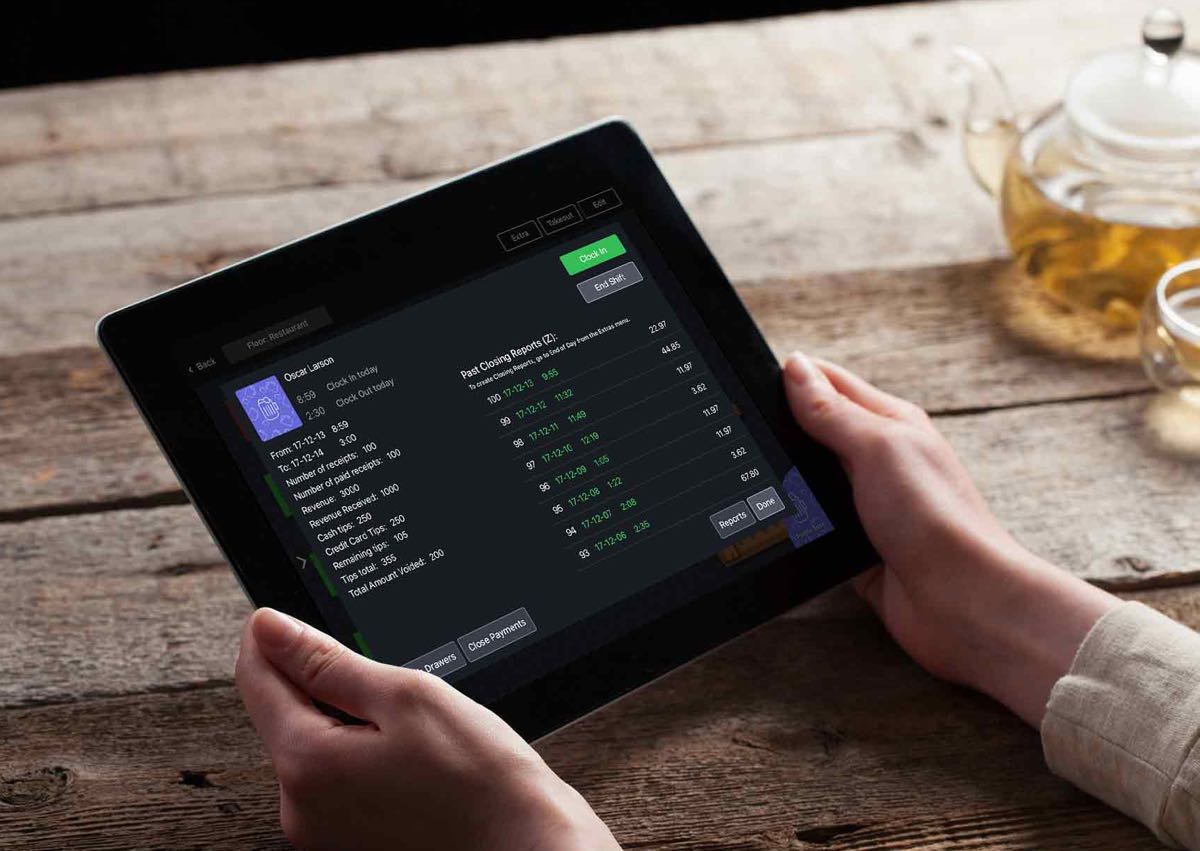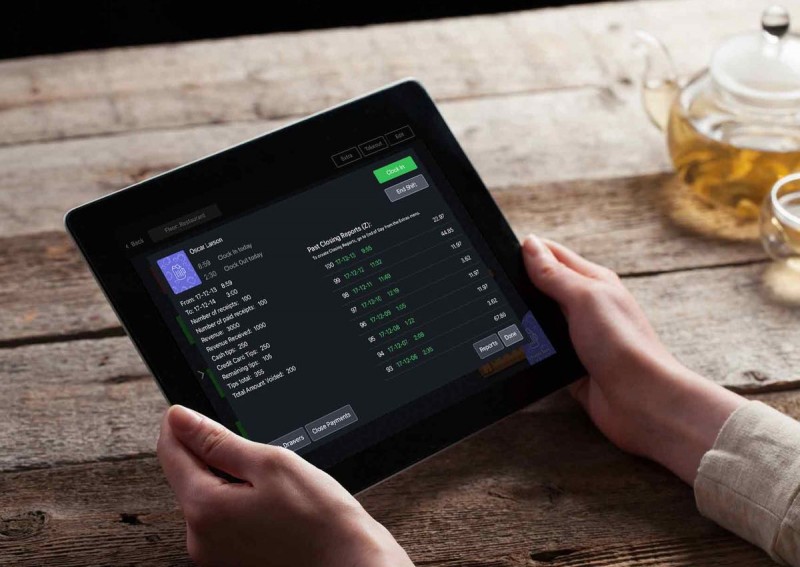 Each staff member has their own account in the Lightspeed app, enabling staff tracking and an individualised overview of orders. Photo: Mobile Transaction.
Employee management: Set up multiple staff accounts with highly customised permission sets for each role. We were impressed by the number of permissions you can toggle on or off (60+ different permissions, e.g. "Allow edit discounts", "Allow viewing cash drawer history" etc.). Each user clocks in and out in the app to mark their shifts, and you can analyse each staff member's sales data any time in the backend.
Reservations management: Take table reservations in the app at selected times, adding number of customers, status of reservation, and a note about any other details.
Menu options: You don't just add individual products to the POS – combine items to make up meals, and group meals into categories like side dishes, mains and desserts. Add upselling reminders about related products that customers might want to buy when specific items are selected, so you won't miss an opportunity to sell more. For an extra cost, you can set up a self-service iPad (a separate app called Self-Service Menu) that is left at the customer's table, through which they can either just order off your menu or both order and pay, while your staff is busy serving other people.
Stock management: Keep track of what stock is running low by enabling inventory tracking on individual products. Curiously, we noticed that stock level count doesn't apply to food ingredients directly, but to the complete product purchased by the customer. The way it works now, you can view ingredients consumed, but not the current stock level of ingredients, so you still have to keep track of what you have in stock when it comes to this.
Card payments and hardware integration
Lightspeed POS can be integrated fully with the card machines iZettle Reader, and Verifone VX680 and VX820. Each card payment provider has their own transaction fees, so your total monthly cost will depend on which provider you go for.
You also have the option to use a non-integrated card machine, where you accept the cards independently while processing the order in the POS app and manually clicking "finalise" when the credit card has been accepted through the card machine. Using any of the above integrated solutions will enable an automated flow where the card machine is synced with the POS software and checkout process.
Unless you only want to email customers their receipts, you'll need to integrate the POS with a compatible receipt printer. Lightspeed is compatible with a long list of Star and Epson printers as well as the Orient BTP-R880NP printer, all shown as options in the Printing menu of Manager. Cash drawers can also be integrated, and restaurants can connect to a kitchen printer and even a kitchen bell.
Just like you keep candles in store for power outages, you may want to guarantee your restaurant runs smoothly even if the WiFi stops working. Lightspeed has an offline mode, but it only works in conjunction with a Lite Server that you must purchase separately from them. Buying this allows you to use Lightspeed even without an Internet connection, so front-end staff will still be able to serve customers. Any new changes will be synced with the Lightspeed cloud when connected next time.
Having said that, your card machine will probably need an Internet connection to process payments anyway, so instead of going for the Lite Server, one option would be to get a cheap backup Internet connection such as a mobile 3G hotspot.
The aforementioned Lite Server for the POS offline mode can be purchased directly through Lightspeed, but they can give you quotes over the phone. They offer hardware bundles too, which they are keen to talk about if you reach out to them.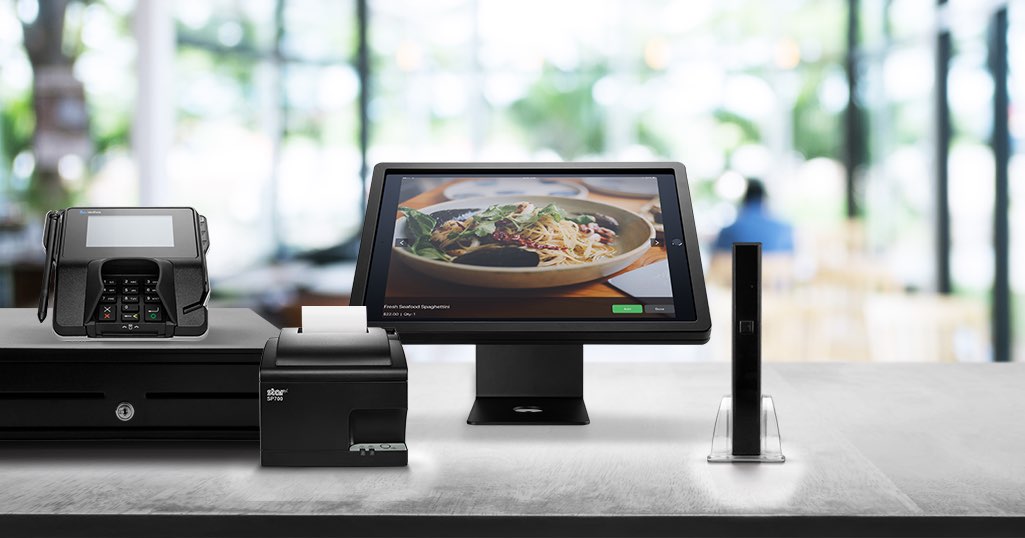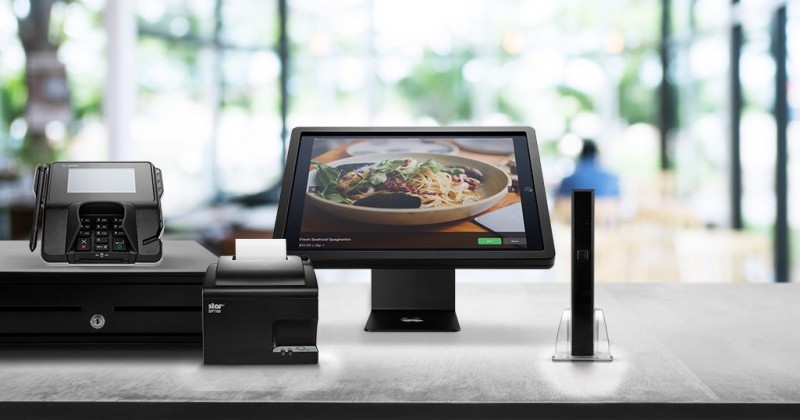 Lightspeed offers hardware bundles to suit your establishment.
Reports
Sales reports, such as Z and X reports, can be printed directly from the app and accessed only by users with permission to view the data.
In the backend, it's possible to view various customised reports that can be exported as PDF or CSV files. Analyse things like staff performance, daily, weekly or monthly sales, ingredients used, products sold and shift reports.
In the 'Advanced Reports' tab, you can fully customise the layout and content of your report through drag-and-drop, although this needs to be activated by contacting customer support first.
Customer support
Lightspeed offers phone support 24 hours a day, 7 days a week for customers as part of all their packages. In fact, when we signed up for the 14-day trial, they phoned on several occasions to discuss our needs, and even sent an email after some days. The phone support is knowledgeable and they are even willing to answer your questions over email or their website chat.
Paying customers get a free onboarding video session with a Lightspeed consultant, where you get introduced to the software and can have all your questions answered. The online support forum answers a lot of questions, but still lacks certain important topics like listing compatible printers.