Need to take payments over the phone, but not sure which virtual terminal to choose? Quite a few payment providers in the UK offer virtual terminals, but only few are truly good value for a small business.
Compared to card machine payments, manually typing card details is more expensive because there's a greater risk for the card company to accept a card that is not physically read in a terminal.
There is, however, a lot of variation in costs between phone payment terminals. Some providers require a monthly fee, formal PCI-DSS documentation and fees per transaction. Others only require the transaction fee, completely bypassing a traditional contract and subscription charges.
What is a virtual terminal?
Web page for entering card details securely to accept a payment from a person who is not present.
Does not read payment cards in a card machine – instead, credit card processing is done through an internet browser.
Commonly used for mail orders and over-the-phone payments.
So which is the right one to choose? Our virtual terminal comparison gives you an overview.
Best virtual terminals in the UK:
Provider
Costs
Rating
Website
£0/mo
2.5% card fee

Best for range of free features
£9.95 + VAT/mo
Custom card fees

Best for high-volume payments
Monthly or annual fee
Custom card rates

Tailored fees, 12-month contracts
£20/mo
2.9% + 30p standard card fee

Connected to other PayPal tools
£0/mo
2.95% + 25p card fee

Access in both app and browser
| Who | Cost | Link |
| --- | --- | --- |
| Square | No monthly fee, 2.5% card rate | |
| Worldpay | £9.95 + VAT/mo, custom card fees | |
| Takepayments | Monthly or annual fee, custom card rates | |
| PayPal | £20/mo, 2.9% + 30p standard card fee | |
| SumUp | No monthly fee, 2.95% + 25p card fee | |

No monthly cost, only pay card fee
Very simple and user-friendly
If you're looking for no commitment, quick registration and no monthly fees, Square is your best solution. The only thing you pay is a fixed transaction fee per Virtual Terminal payment.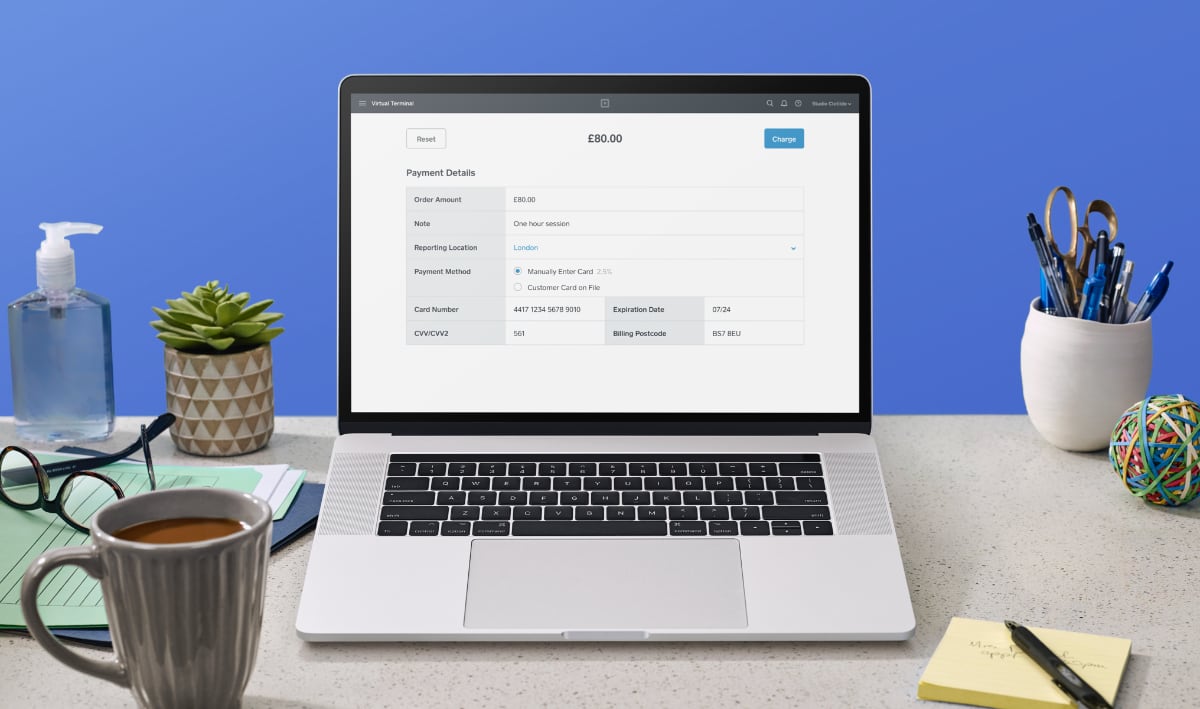 Square Virtual Terminal is a very versatile solution without ongoing costs. Photo: Square
You can go many months without using the terminal, without being charged anything, and it will still be available as a complimentary feature in your Square account.
Square Virtual Terminal accepts Visa, Visa Electron, V Pay, Mastercard, Maestro and American Express.
The virtual payment terminal page is straightforward – enter the card details, amount to be paid and a short note that will be shown in your sales reports (i.e. not for personal details), or itemise the bill with products from your library (or new custom items), taxes, discounts and variants.
Pricing
Monthly cost: Free
Transaction fee: 2.5% for all cards
PCI compliance: No fee
If you've saved a customer's card details in the system, you can pick that for the payment, or start a recurring payment if charging for a subscription or ongoing service. It is also possible to record the payment in cash, gift card or other tenders, and split the transaction into different payment methods.
Square really has lowered the threshold for getting started with payments, whether it's for the point of sale, invoicing, ecommerce or in this case a virtual terminal. With a Square account, you can take payments in any of these ways for a fixed percentage rate. There is no requirement to submit PCI documentation with Square, but they do expect you to follow general safety check recommendations in line with PCI regulations.
Best for: Small, new or seasonal businesses needing an easy, not-committing option for remote payments.

£9.95 + VAT/mo + transaction fees

Card rates determined during sign-up
Advanced online interface

Rolling, cancellable 30-day contract
As the biggest payment processor in the UK, Worldpay offers everything from card machines to online payments, including virtual terminals. Transaction rates are shaped around your card turnover, business area and card types accepted.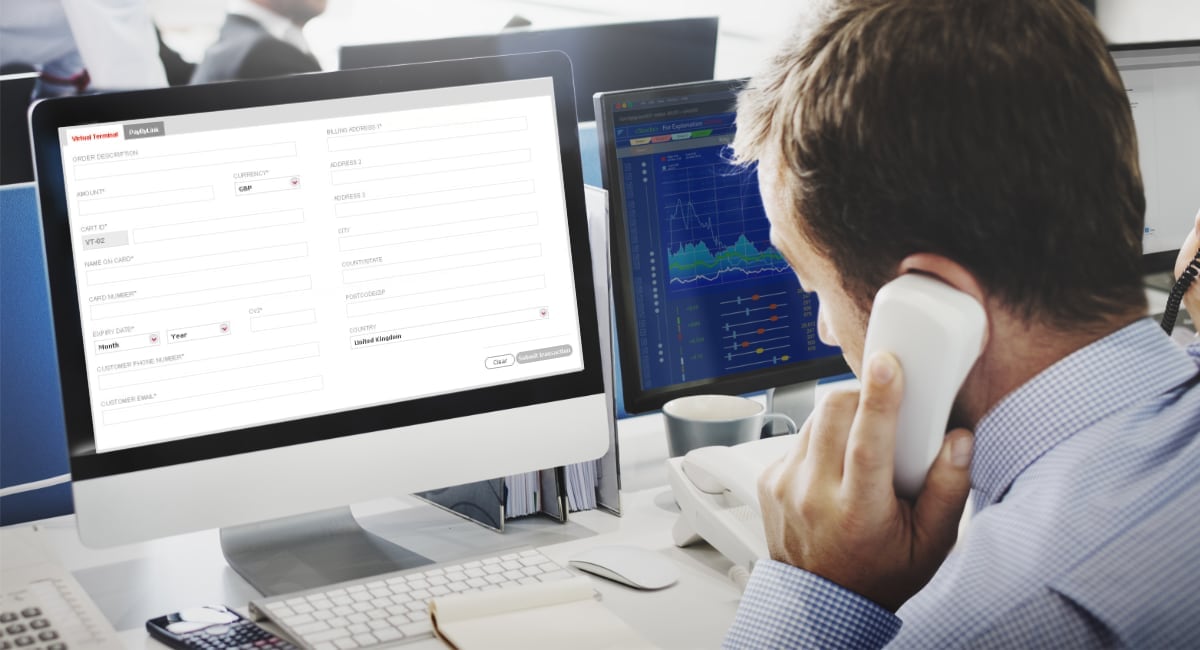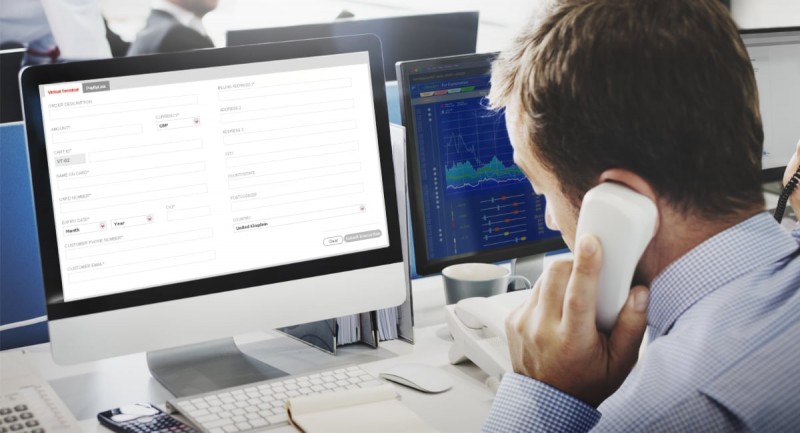 Worldpay Virtual Terminal allows you to add a billing address.
Precise card rates are given by Worldpay when you contact them, but one thing is sure: the Virtual Terminal, on its own, has a fixed monthly fee of £9.95 + VAT. You pay for transactions on top of the monthly cost, and the plan can be cancelled any time with 30 days' notice.
Worldpay has a broad range of features for remote payments, including recurring payments and pay-by-link where customers can pay via an email link. If you want a payment gateway and pay-by-links together with the virtual terminal, it costs £19.95 + VAT per month.
Transaction fees can be negotiated to comprise of a fixed amount like 10p or 20p + a percentage based on the card type. Debit cards are cheaper (from 0.5%) than credit cards (from 1.4%), and foreign, corporate and premium cards like American Express cost even more (from 1.9%). With no transaction history, you may just get a fixed general rate like 1.75%.
Pricing
Monthly cost: £9.95 + VAT
Transaction fee: Depends on plan, card type & turnover, higher for premium & foreign cards
PCI compliance: Additional costs apply
Visa, Visa Electron, Mastercard, Maestro, American Express and Diners Club are accepted through the Worldpay virtual terminal, but it is possible they allow other card brands with an extra agreement.
Some features – such as advanced reporting – may incur extra fees, and the monthly costs would not be suitable for businesses who only use the virtual terminal occasionally. Customer service is available over phone and email 24/7.
Best for: Businesses with a relatively stable monthly turnover of over £2k monthly, accepting mainly UK-issued debit cards.