Our rating
PayPal Here is a respectable pay-as-you-go solution for face-to-face payments, but transaction fees are not that competitive.
PayPal Here is PayPal's own card reader and app for in-person payments, with easy sign-up and no contract. The service is best for small businesses, but merchants with low or inconsistent sales volumes may find it a little pricey.
Highs: No contractual lock-in or monthly fees. Tools for online payments. Integrated with PayPal business account.
Lows: Complex fee structure with least competitive rates for small businesses. Only accepts the most popular card brands.
This is a review of the UK version of PayPal Here. Read about PayPal Here in the United States and Australia.
Lowdown
PayPal Here, the chip and PIN reader by PayPal, has a lot in common with the other leading mobile card readers in the UK, iZettle Reader and SumUp Air. Before you decide on one, there are three important differences you should be aware of: price, functionality and accepted cards. Let's see how PayPal compares with the UK competition.
| | | | |
| --- | --- | --- | --- |
| | | | |
| | | | |
| Solution type | Card reader + mobile app | Card reader + mobile app | Card reader + mobile app |
| Card reader price | £45 + VAT (offers may apply on website) | £19 (normally £59) + VAT (link to offer) | £29 + VAT (link to offer) |
| Size | 10.3 cm x 7.1 cm x 1.8 cm | 11 cm x 7 cm x 2 cm | 8.4 cm x 8.4 cm x 2.3 cm |
| Chip card fee | 2.75%–1.0% depending on sales volume | 1.75% | 1.69% |
| Swipe card fee | 3.40% + 20p | No swipe | No swipe |
| Cards accepted |   |      |    |
| Contactless | | | |
| Settlement | Instantly to PayPal account, few hours/days to bank account | 1-2 working days | 3 working days |
| Tipping | Yes | Yes | No |
| | | | |
| | | | |
Card reader + mobile app
Card reader + mobile app
Card reader + mobile app
Price
£45 + VAT (offers may apply on website)
£19 (normally £59) + VAT (link to offer)
£29 + VAT (link to offer)
Size
10.3 cm x 7.1 cm x 1.8 cm
11 cm x 7 cm x 2 cm
8.4 cm x 8.4 cm x 2.3 cm
Chip & contactless card fee
2.75%–1.0% depending on sales volume
1.75%
1.69%
Swipe card fee
3.40% + 20p
No swipe
No swipe
Cards accepted
 
    
  
Contactless
Deposits
Instantly in PayPal account, few hrs/days to bank account
1-2 working days
3 working days
Tipping feature
Yes
Yes
No
The first version (v.1) of PayPal Here launched in 2013, but was phased out after the current v.2 card reader (which accepts contactless payments) launched in mid-2015. This current version is similar to what used to be called iZettle Contactless Pro before it upgraded to the iZettle Reader. Even though PayPal Here is rather bulky compared with the sleeker iZettle and SumUp card readers, it is actually a few grams lighter.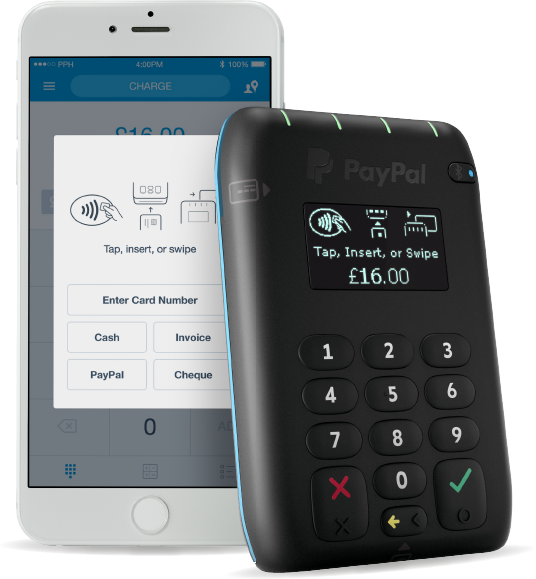 The contactless card reader connects via Bluetooth to a phone or tablet running the PayPal Here app.
If you use an Android, make sure it has Bluetooth 2.0 or higher. It does not work with certain Samsung Galaxy models like Galaxy Ace, Galaxy Ace Advance and Galaxy Pocket. Windows phones are not compatible.
PayPal Here is suitable for any business that's looking for a low-cost card reader (although pricier than iZettle and Square readers) with no monthly costs apart from transaction fees. It is only available for businesses – and only those with an approved PayPal business account.
It's ideal for payments on the go in areas like food delivery services, cab drivers, market stalls and festivals.
PayPal Here supports Visa, Mastercard, Maestro and American Express. For amounts up to £30, customers can tap their contactless card on the device without entering a PIN. Manual entry and swiping cards are also possible, but these incur higher fees (see below).
In addition to what PayPal offers, SumUp and iZettle both accept V Pay, Diners Club, UnionPay and Discover, while iZettle also accepts JCB. (See why this matters.)
Apple Pay and Google Pay (formerly Android Pay) are accepted by PayPal Here, but Samsung Pay is still not. With Apple Pay, transactions of over £30 can be processed.
Accepted cards








Chip and contactless
2.75%
– 1.0%

Chip and contactless
2.75%

Manual entry and swipe
3.40%
+ 20p
Foreign cards
+ variable fees
Getting the card reader is the easy part. It normally costs £45 + VAT but is occasionally on offer. Given that you then own the terminal and have no further monthly rental charges, it is affordable. Shipping is included for UK addresses. The accompanying app is free on iPhone, iPad and Android devices.
It's with the transaction fees that things start to get difficult. Your rates depend on your monthly sales volume, type of cards used and whether the card payment was made via chip, contactless, swipe or manual entry. Whether the card was issued in the UK or not is another cost factor.
Visa and Mastercard can qualify for a processing rate of lower than 2.75% if your total monthly card turnover is over £1,500. Amex is always processed at the top rate of 2.75%, or higher if swipe or manual entry is used.
The simplified rates-by-card table above shows the blended pricing rates. There are, however, two types of pricing structures to choose from: Blended pricing and an Interchange Plus plan.
The fee structure for Interchange Plus includes two elements: the interchange fee set by Visa and Mastercard and the fee set by PayPal. Blended pricing is more predictable – you pay one rate regardless of type of interchange fee charged by Visa and Mastercard.
| Total monthly sales | Blended fee | Interchange Plus |
| --- | --- | --- |
| Up to £1,500 | 2.75% | IC + 2.5% |
| £1,500.01 – £6,000 | 1.75% | IC + 1.5% |
| £6,000.01 – £15,000 | 1.5% | IC + 1.25% |
| £15,000.01+ | 1.0% | IC + 0.75% |
IC = card interchange rate. Varies from 0.2% to 2.0%
Total
sales/
month
Blended
fee
Inter-
change
Plus
Up to £1,500
2.75%
IC + 2.5%
£1,500.01 – £6,000
1.75%
IC + 1.5%
£6,000.01 – £15,000
1.5%
IC + 1.25%
£15,000.01+
1.0%
IC + 0.75%
IC = card interchange rate. Varies from 0.2% to 2.0%
There are some exceptions to the above rates. Manual entry of card details or swiping the magnetic stripe costs 3.4% + 20p (Blended fee) or IC + 3.15% + 20p (Interchange Plus). American Express cards are charged at 2.75% for chip and contactless payments and 3.4% + 20p for manual entry and swipe. Additional cross-border fees for cards issued outside the UK may also be applied.
Interchange Plus is worthwhile for more mature businesses that predominately accept debit cards.
Most debit cards issued in the UK and the European Economic Area (EEA) carry a 0.2% interchange fee. This would make the total transaction charge 2.7% for a monthly sales volume below £1,500 if you only accept UK-issued debit cards.
As soon as you start accepting credit cards, especially corporate cards, the charges become less affordable and for many businesses less acceptable.
…with the Interchange Plus plan, funds take 1-2 business days to reach your PayPal account, whereas the blended-rate plan deposits money to the PayPal account immediately.
Corporate Mastercard typically applies a 1.6%-to-1.9% interchange rate. If you accept cards like these under the Interchange Plus plan, you pay 4.1% to 4.4% per transaction for monthly sales under £1,500.
Another difference is that with the Interchange Plus plan, funds take 1-2 business days to reach your PayPal account, whereas the blended-rate plan deposits money to the PayPal account immediately.
Fees compared to the competition
SumUp charges a flat fee of 1.69% and iZettle 1.75% for all transactions regardless of card brand or type. Only PayPal applies a sliding rate starting at 2.75% (Blended plan) although monthly sales must be over £1,500 for one month before any reduction comes into effect.
PayPal charges additional fees for foreign cards, which can be a deal-breaker for some businesses.
App experience
The PayPal Here app mimics a basic point of sale system. You can set up products for sale with images, add them to categories and set variants, VAT rates and discounts.
To enter a new sale in the app, either enter the amount manually or select an item from the inventory. Note that there are no inventory management functions to keep track of your stock.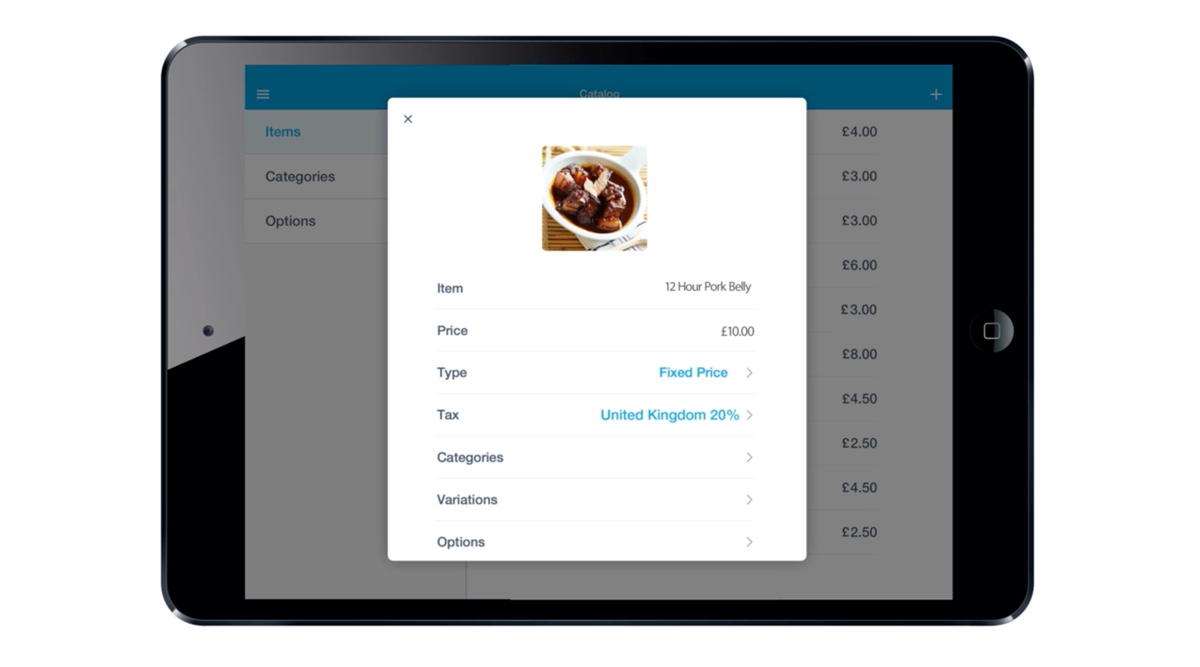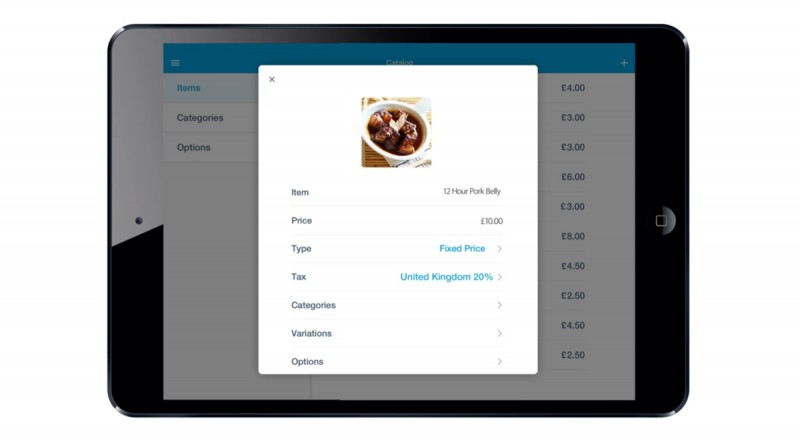 The PayPal Here inventory (product list) is easy to manage, with optional barcodes and images.
Tipping is a nice feature in the PayPal app. You can set up suggested tips as a percentage or flat rate as part of the payment process. You can also set up your PayPal Here app for up to 200 users with different levels of permissions, track payments (including cheques and cash) and issue invoices and receipts.
On your PayPal account, you will see both online PayPal sales and sales through PayPal Here. This might be attractive for merchants who already conduct business online with PayPal.
For a more advanced point of sale system, you can integrate PayPal Here with Vend EPOS for retail shops. This gives you a full suite of inventory features with payments processed though PayPal.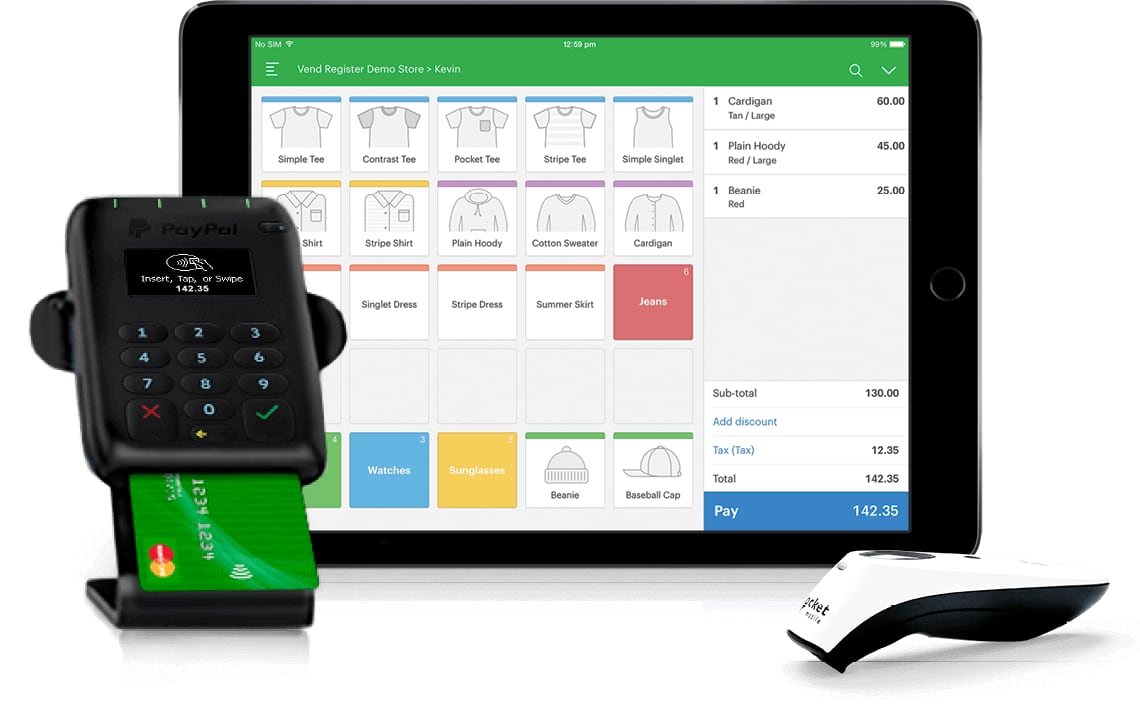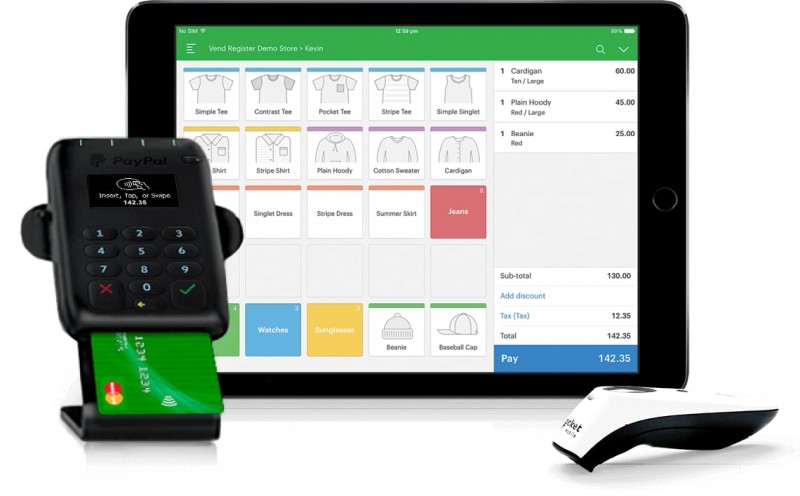 With the Vend + PayPal integration, you can use the PayPal card reader with Vend's advanced retail POS. Photo: Vend
The real advantage: PayPal integration
As we have seen, PayPal does not have the most competitive prices. Its device is more expensive, and unless your monthly sales exceed £1,500, you will pay lower fees with iZettle and SumUp.
What does make PayPal an attractive option for some businesses is the integration with an existing PayPal account used for online sales or phone payments. If you already receive a significant portion of your revenue through PayPal and you like the sales tracking it offers, sticking to PayPal for in-person payments can make life easier.
The payments you receive in the online PayPal account will add towards your total monthly sales volume, which can reduce your transaction fees.
Payments received in the online PayPal account will add towards your monthly sales volume, which can reduce your transaction fees.
Another great thing about PayPal integration is that you can use PayPal to sell online (integrated on your website), through the app, through easy invoicing (the customer receives an email with a payment link) and of course face to face with PayPal Here.
There are, however, fees associated with all of these solutions, which can end up pricier than the card reader fees. But if you're looking for one solution that fits all these needs, PayPal is certainly worth considering.
Photo: Emily Sorensen, Mobile Transaction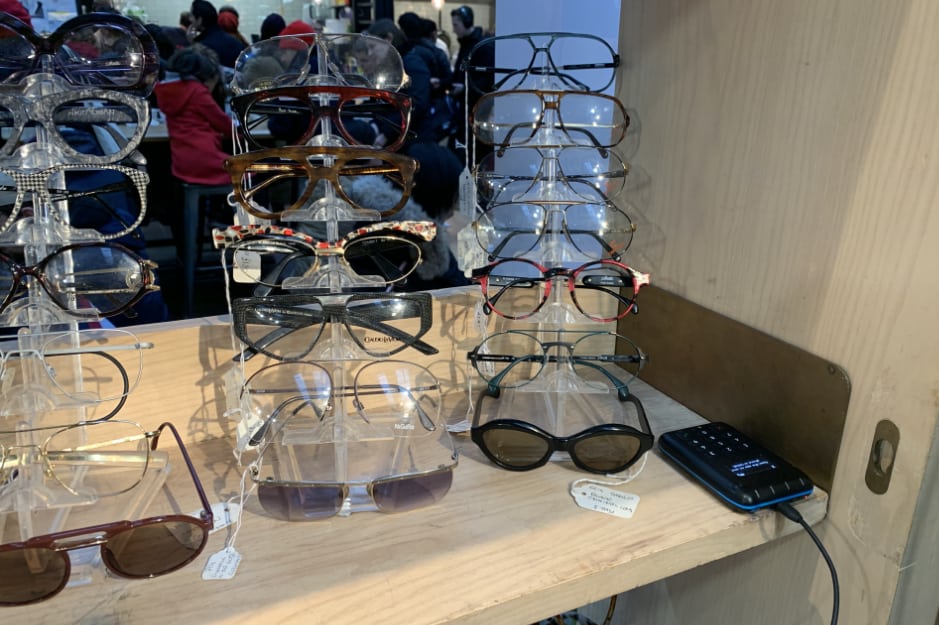 PayPal Here card reader in a market stall in Spitalfields, London.
Finally, if your main concern is to receive the money from transactions as quickly as possible, you might prefer PayPal. Card transactions go straight into your PayPal account, and from there, you can manually withdraw that money to your associated bank account. This could be a fairly immediate transfer or take a few hours or more depending on your bank. However, you'll always have to make this withdrawal manually as opposed to other payment providers who automatically transfer the money to your bank account in 1-3 working days.
PayPal is also known to be stricter around account holds and transaction limits than other payment aggregators (more on this further down), which could cause delays in making some payments available to you.
Receipt printers
PayPal Here works with Star Micronics receipt printers that can be connected either via Bluetooth or WiFi depending on which model you choose. Star SM-L200, SM-S220i and SM-T300i are portable receipt printers that connect to your phone via Bluetooth. The paper width is 57 mm, 80 mm or 112 mm depending on which model you choose. These printers also work with iZettle – see our mobile printer review for more information.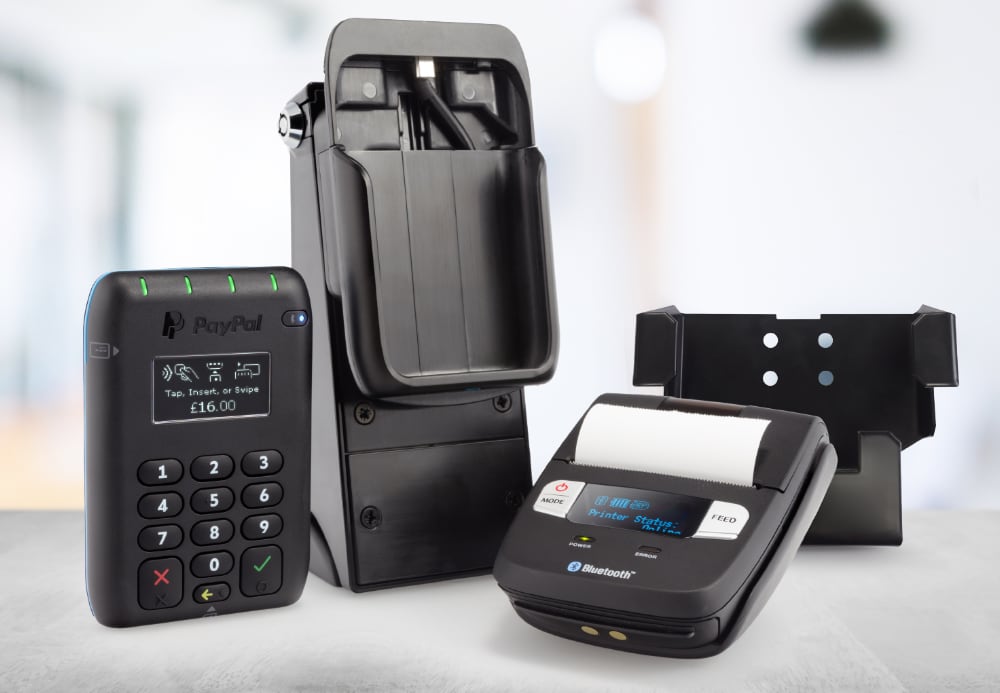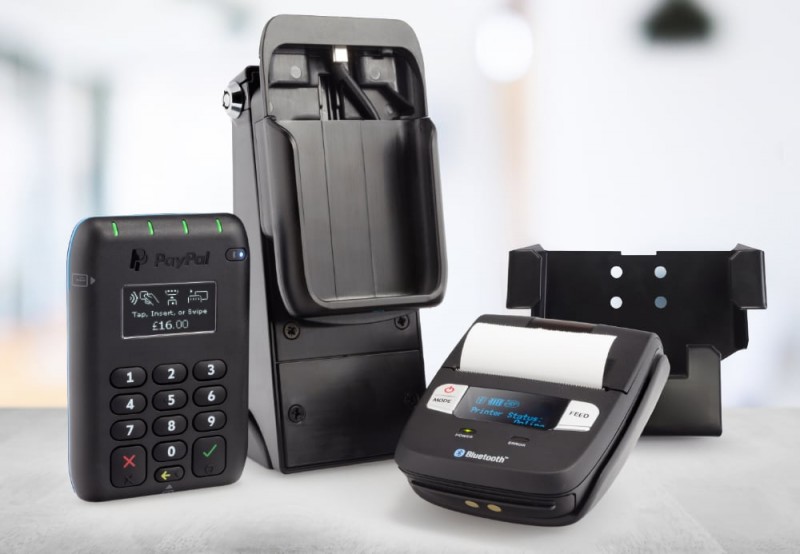 The PayPal Here cab bundle includes card reader, Star SM-L200 receipt printer, mounts, receipt rolls and power converter for the printer.
Some of the compatible desktop printers include Star TSP654IIBi (Bluetooth) and Star TSP113 LAN/TSP143 LAN (WiFi).
If you decide from the outset that you need a receipt printer, you might be better off buying a bundle that includes the device and a printer that matches your needs. A cab bundle with a PayPal Here card reader, mobile Bluetooth printer, card reader mount and more is available for £323.
What about customer service?
It's no secret PayPal gets a lot of stick for its poor customer service. The company website covers most of what you need to know when setting up the PayPal Here account, but getting help on more specific issues can sometimes be frustrating.
According to PayPal's website, you can easily contact their UK-based customer support team by email, telephone or within the PayPal Here app. If you're phoning, the team is available 8am–8.30pm Monday–Saturday and 9am–8.30pm on Sundays, but it can take sometimes take ages to get through.
Account limitations extending to PayPal Here
Many users of the company's online payment service will be familiar with PayPal's dreaded account limitations emails, notifying them that they will not be able to access their account or withdraw money until the "issue" has been resolved.
Within the first six weeks of PayPal Here's launch in the UK, users who'd downloaded the accompanying app reported having their accounts frozen, leaving them unable to access existing funds for up to 30 days. Thankfully, we've seen fewer of these reports in 2017. We will continue to monitor the issue and update the review as and when we get more information.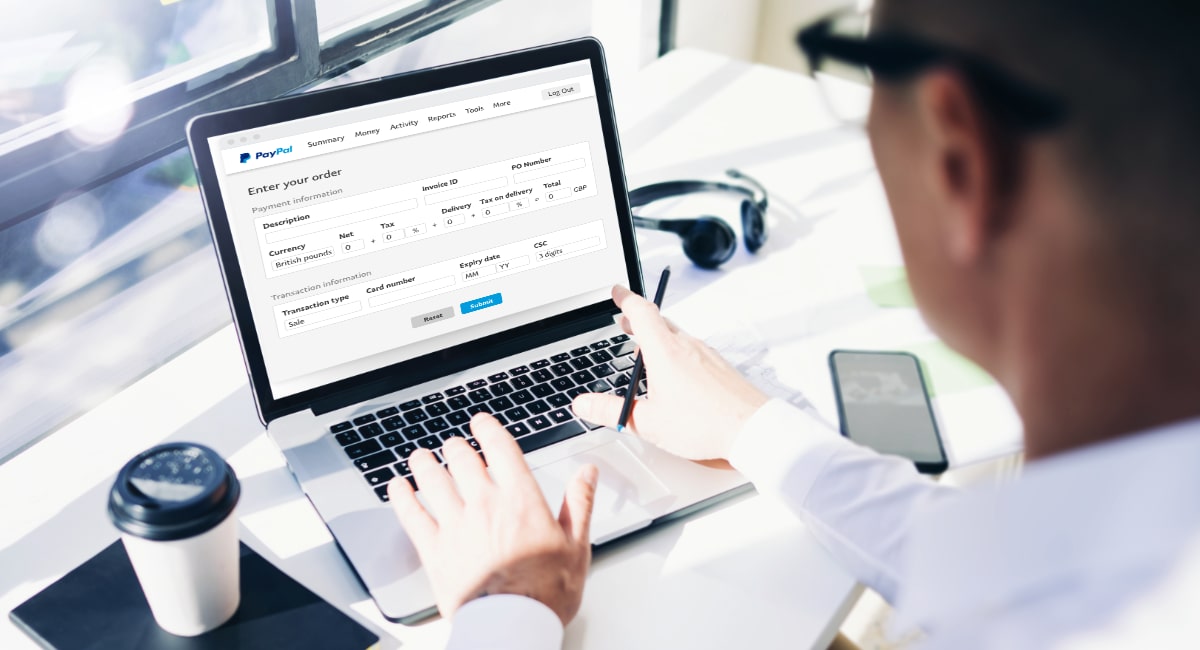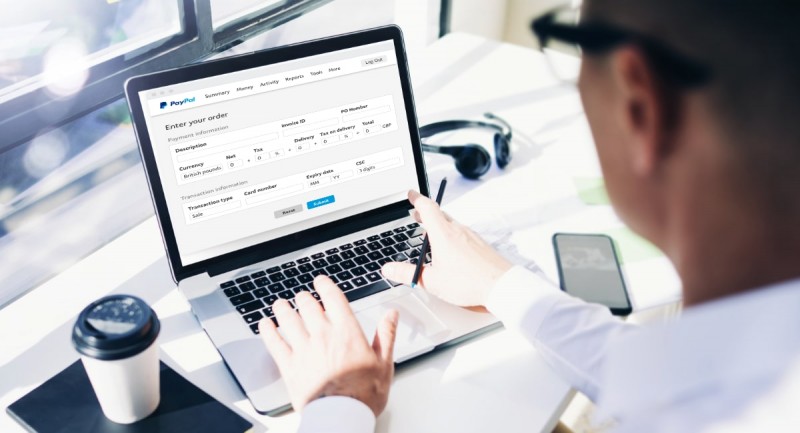 PayPal is likely going to continue developing online services like the virtual terminal (pictured), while iZettle excels in face-to-face payments.
How is PayPal Here affected by the iZettle acquisition?
Already PayPal's largest market outside the United States, the UK is PayPal Here's first attempt to penetrate the European mobile payments market – that is, until it acquired iZettle in May 2018. While the two companies continue to operate separately, we think that PayPal Here will maintain their offering, but is unlikely to evolve much further, and the mobile POS market leader iZettle will probably continue to innovate their product (they have in fact updated the iZettle Reader).
That being said, we doubt PayPal would remove a service from their customers without an alternative, so we do not think the PayPal Here product will be phased out until they can recommend iZettle in a more integrated way with PayPal. So far, PayPal Here has been one of the more decent alternatives to iZettle and SumUp, especially as they last year invested in making the app more up to par with iZettle. Unfortunately, PayPal's fee scales remain as complicated and uncompetitive as before.
Our verdict
For a small business, cost are often paramount to choice. If you earn above £1,500 monthly through PayPal, the card rates become closer to iZettle's and SumUp's – that is, if you only accept chip and PIN or contactless and avoid Amex. The downside is you'll need to keep up the card volume every month to avoid being downgraded to the higher transaction fees the following month.
As for POS features, you'll get more from iZettle, while SumUp is best for simplicity in the app. If you're a regular user of PayPal's online tools, you may benefit from reduced card rates and all-in-one-place reporting with PayPal Here.
Pros:
Integrated card reader payments, cash, cheques and PayPal check-in
Connected with your PayPal account and its invoicing, virtual terminal and ecommerce integrations
Improved app experience since first version
Useful resources on the website
Cons:
iZettle and SumUp offer better rates and cheaper card readers
You have to keep selling at least £1,500 a month to maintain lower fees
Account holds and limitations can be a critical issue
Manual entry, swipe, Amex and foreign cards have higher fees
Also consider:
iZettle
Flat rate of 1.75% even for Amex
No extra fee for foreign cards
25% faster payment processing
Accepts V Pay, UnionPay, JCB, Diners Club and Discover
More POS features
SumUp
Flat rate of 1.69% even for Amex
No extra fee for foreign cards
Accepts V Pay, Diners Club, UnionPay and Discover
Option to accept phone payments (needs activation)