Our rating
Safe EPOS choice for food, drink and hospitality. 1.25% card fee with iZettle Reader.
Cloud-based iZettle Pro (formerly Intelligentpos) is a simple, low-cost EPOS app that runs on an iPad. Getting started is easy and usually won't need any technical assistance, but the UK-based support team is on hand every day of the week.
Highs: Clean interface. Decent hardware support and card reader integration. In-depth reports. Low transaction fee with iZettle Reader.
Lows: The more iPads, the more you pay. Not as comprehensive as other restaurant EPOS. No ready-made gift cards available.
Choose if: You want a reliable, budget-friendly EPOS system without committing to a contract.
The pricing is reasonable for what you get, but if you want to use multiple iPads, the costs can start to rack up.
We recommend taking advantage of the free trial, which you can cancel before the trial period is up or resume as a paid subscription. There is no lock-in contract, so you can cancel any time you like without penalty charges. Just note that iZettle will keep any subscription charges you have paid already.
Software pricing
Each iPad licence:   £39 +VAT/month
7 days/week tech support included
Hardware pricing
Hardware bundles:  from £450 + VAT
Pro half-day installation: £210 +VAT
Self-installation easy for most
iZettle Pro integrates with iZettle Reader where all payments are charged at 1.25% per card transaction for Pro subscribers. This rate includes the premium cards American Express, UnionPay, JCB and Diners Club.
Who should get iZettle Pro?
iZettle Pro has been designed specifically for hospitality businesses (e.g. hotels, B&Bs, gyms, spas, beauty salons, campsites and transportation) and food and drink businesses from full-service restaurants to pubs and coffee shops, bars and takeaways, food trucks and mobile cafés.
iZettle Pro, in reality, is probably good enough for many typical quick-service-type places like small cafés. We have spoken to several cafés during the summer, and they said they did not miss features in the app, but the truth is that for a more complex restaurant operations, iZettle Pro is probably not the go-to POS system.
Retailers might want to check out iZettle Go or other POS systems instead, as iZettle Pro has a lot of functions irrelevant to shops.
That said, it can be used for retail when you switch on the retail functionality in the app, as was the case for Intelligentpos before it was named iZettle Pro. We don't recommend getting this for a retail shop, though. iZettle markets iZettle Pro to the food sector, so you never know if they eventually decide to limit the retail functions that are still available in the app.
Partially works offline
With the old Intelligentpos, it was possible to use the POS when you couldn't connect to the internet. Most app functionality remained intact in offline mode, and once reconnected, all your data would sync back to the cloud.
The current iZettle Pro similarly supports offline use of some features. But in order to use all features, there has to be a WiFi or data connection to keep everything synced and connected. Payments with the iZettle card reader won't work either without a network or WiFi connection.
We subjected iZettle Pro to a train ride between London and Edinburgh on a single iPad, and the app held up well under the fluctuating connection speeds. In fact, there were no interruptions while different settings and orders were manipulated, but we did not accept card payments since these require a network connection.
Some other POS providers such as Lightspeed Restaurant POS offer offline functionality which only works in conjunction with an on-premise backup server to step in when there's an internet outage. You can expect to pay extra for such a server in any cases where you need to ensure offline capabilities, so iZettle Pro is actually an excellent option for the budget-conscious businesses with an unstable network connection.
User experience – simple, familiar layouts
iZettle Pro is an iPad-only solution – a curse or blessing depending on your technology preference. But we found that the app works really smoothly, perhaps because it's not totally dependent on a WiFi connection.
It has a main page, which we'll call the 'till menu'. This is where most sales operations will happen – if you have retail experience, you'll be familiar with the overall layout. The till menu includes all of the products you have marked as visible, colour-coded and organised neatly. Curiously, it is not possible to add images to products and categories.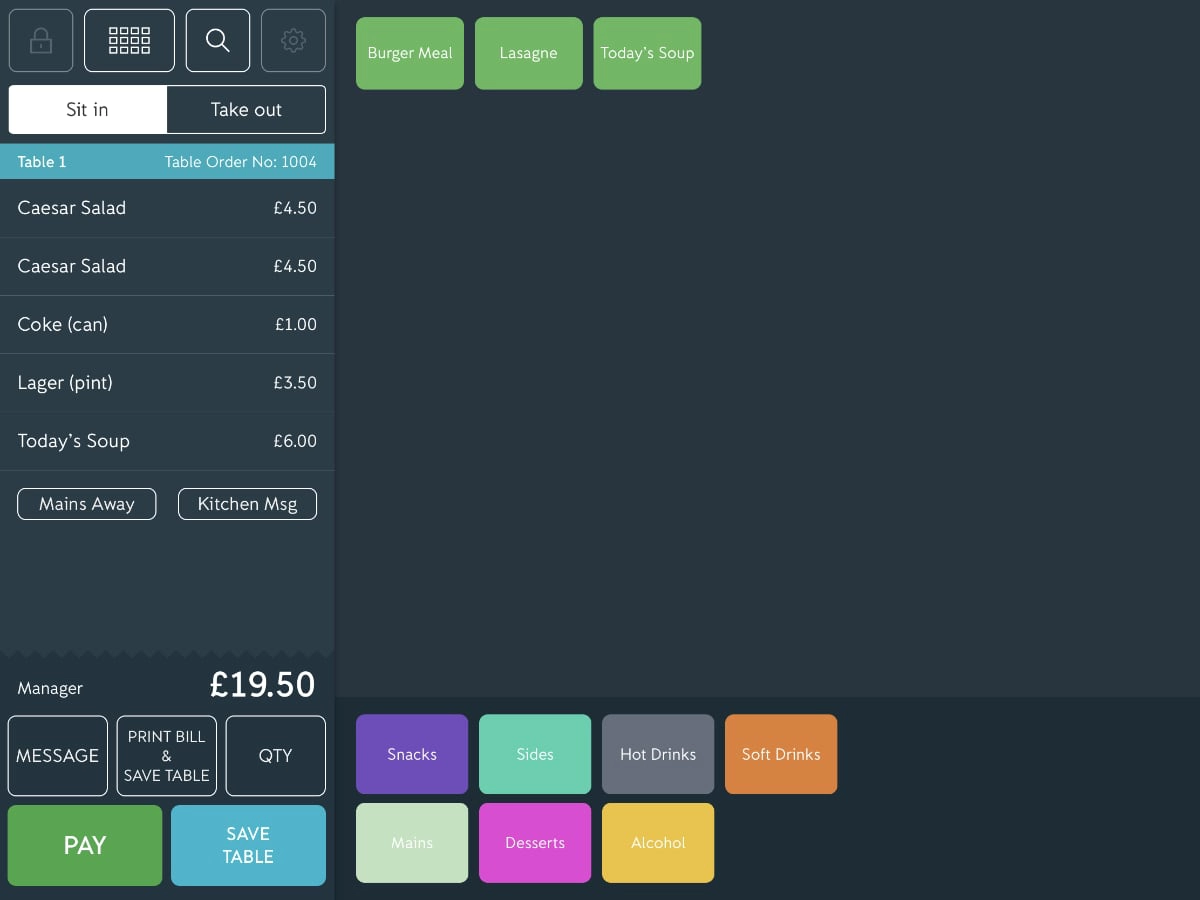 iZettle Pro till menu screen, where you can add products to checkout and edit orders.
The top right portion of the screen is dedicated to the products of a selected a product category. The bottom right shows the different product categories so you can switch between them. Tapping a product will add it to the order panel on the left, where you can also delete and make adjustments to the items before proceeding to payment.
You can edit products, categories and more through the hidden app menu, accessible via the cog link in the till menu.
From here, you can also add users to the app and give varying permissions to them. Users can be classed as a supervisor, manager or staff member and will have their own PIN for login, which allows quick switching between members at a moment's notice. A lot of the backend content can easily be locked out, allowing managers to restrict a staff member's access from the things they don't really need.
In Settings (accessible via the cog link in the till menu), you can set up most things in the app, including employee account permissions and product information.
The Functions menu is an extra screen (accessible via the till menu) with functions to search for products, cancel orders, add a promotion, scan a loyalty card, manage a gift card or make any other on-the-fly changes before you ask for payment.
The only significant downside in terms of user experience is that the different app sections do not show enough explanations for settings that are not intuitive to understand for POS newbies. You'll need to either contact customer support or find answers on iZettle's online help pages to know for sure how to perform certain actions – or even discover the full potential of the features.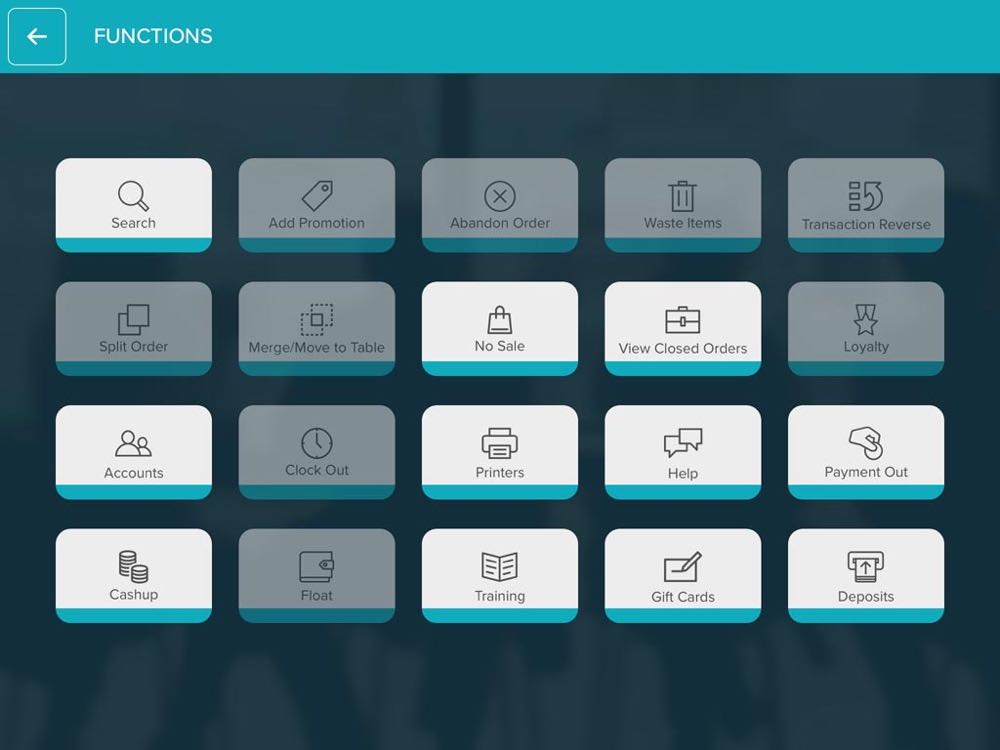 The point-of-sale Functions menu, accessible via the till menu in the app.
Features are relevant and good enough
iZettle Pro is not as comprehensive as many of the other restaurant POS services. Most of the settings can be expected from standard restaurant POS,  but there are also some extras that make it a good budget choice for some food establishments with advanced needs. Let's have a look at some of the features.
Sit in/take out orders: Choose whether the order is for eat-in or takeaway. You can still pick out a table in case you would like to tell a takeout customer to sit down and wait – just switch between each option with the tap of a button.
Table management: Use the table management tool in the settings menu to create a virtual table layout of your restaurant. The different table shapes and sizes enable you to mimic your table layout in the app, so staff can easily track which order is for whom. Orders are attached to each table, but you will also be able to merge tables or split orders for customers to share the costs of a meal.
We would have liked to see a quick tutorial to help new users understand how to use the table functionality properly. Without it, using the table management tool is a little clunky and hard to understand at first.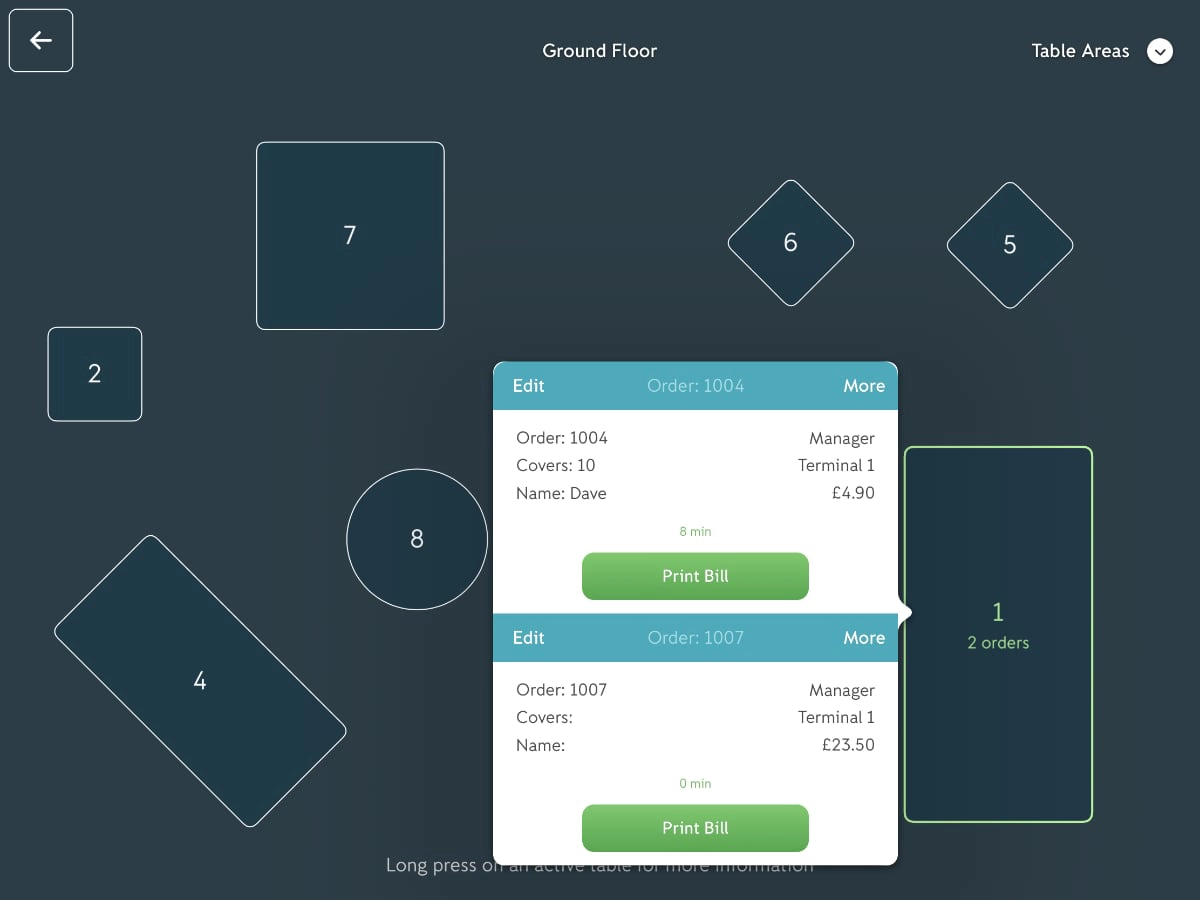 The table management functions are sufficient for restaurants, but we've seen more advanced design functions in other restaurant apps.
Loyalty and gift cards: You can set out how many points are awarded per £1 spent in-store and give a value to each point. By default, a single point has the value of £0.01. You can also determine what products can be purchased with loyalty points. For tracking points, iZettle Pro sells a batch of 501 plastic loyalty key tags for £179.99. The key tags can include your own artwork and logo.
A gift card option is also available. Unfortunately, they do not sell gift card bundles like they do with the loyalty key tags. Instead, users can either print a gift card for a customer via a receipt printer or email the customer a gift card for printing.
Promotions: Special discounts can be set by a percentage or £-value. Assign this to all or individual products or limit to specific categories. Promotions can be set on an on/off or lifetime basis, or activated by a certain level of loyalty points.
Time-keeping: If you enable this feature, employee hours can be recorded on your dashboard. At the end of the week, you will see a time card with total hours worked. You can edit this if needed, then export it as a CSV file to run your payroll.
Training mode: A pretty handy feature for when you get started or take on new staff is the training mode. Users can play around in this mode without affecting sales records. The only feature that will not work with this is the integrated card payments, but you can opt for cash sales to get a feel for the whole process.
Stock management: While adding products is possible from the app, further control and stock management is only available in the back office. The stock manager section of the back office has a range of tools you'd expect to see, like viewing and editing product data and stock levels. These tools can be used to track supplier contact information as well. A stock-holding report is available and can show you an updated view of your current inventory.
Card payments: iZettle Reader
iZettle Pro integrates out-of-the-box with iZettle Reader (both the first-generation Reader and updated Reader 2). We've reviewed this payment service extensively and have found it to be one of the top card readers in the UK in terms of ease and affordability. With iZettle, you'll have no fixed monthly, annual or hidden fees and only pay 1.25% transaction fee per card sale when used in conjunction with iZettle Pro (iZettle usually charges 1.75% per transaction).
Processing is fast, and you'll be able to accept the widest range of cards including Visa, Mastercard, Maestro, American Express, Diners Club, JCB and UnionPay without signing any additional agreements with acquirers. Contactless is also accepted including Apple Pay, Google Pay and Samsung Pay, and of course you can register cash sales too. A bank account at any bank will be fine.
The card reader is tamper-proof and lives up to the highest industry standards. We quite like the design and feel of it compared with other mobile card readers on the market today.
For till sales, we recommend the iZettle Reader 2 with the iZettle Dock 2, which will look attractive on a counter and leave the machine on a constant full charge.
Hardware compatibility
iZettle Pro offers a range of different hardware bundles. While you can send receipts by email and text, most businesses would want a receipt printer. iZettle Pro is compatible with several receipt printers, all easily set up in the app settings.
If you order a hardware bundle from iZettle, you'll get a Star Micronics printer that has been thoroughly tested and classed as reliable.
If you are selling on the go without a counter, your only option is the portable printer Star Micronics TM-300i.
The cheapest retail store kit currently costs £679 (excl. VAT) as a bundle and features an iPad stand, cash drawer, receipt printer, Bluetooth barcode scanner, iZettle Reader and iZettle Dock.
Compatible receipt printers
Star Micronics
TSP654II (Bluetooth/LAN)
TSP143III (LAN or Lightning cable)
SP742 (LAN)
TM-300i Mobile Printer (Bluetooth)
Epson
TM-T70 (LAN)
TM-T20II (LAN, iOS only)
PowaPOS
T25 (LAN)
With the hospitality bundle, you'll get the same minus the barcode scanner for £450 excl. VAT. Beware that for the cash drawer to open automatically, it has to be connected to a compatible printer (list above).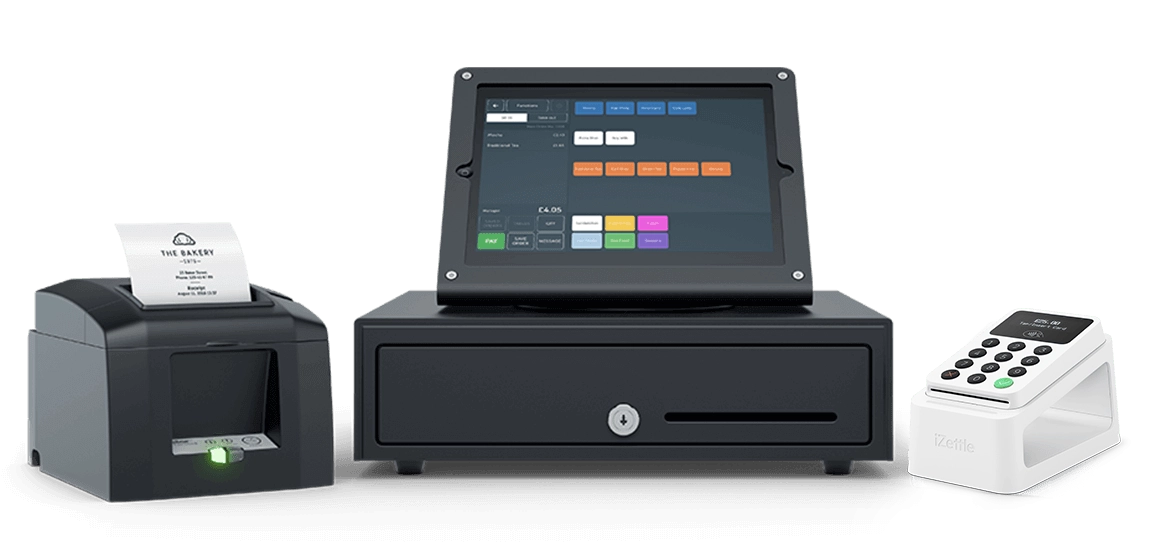 All the packages are good value compared to buying each item separately. If you have existing compatible hardware, you can negotiate special packages.
Reports are dynamic in the backend
In-app live data on your sales and transactions are available, but it is limited. From within the app, you are given an overview of your sales for the day, cash or card transactions, refunds, vouchers and money paid out. It's also possible to print out daily reports from the iPad.
Further reports can be accessed, but only through an internet browser. You can go to the back office login page through the Settings menu in the app or directly enter the URL from any computer browser.
After logging in, you can view an incredibly detailed dashboard that can be customised in a lot of ways. For example, categorise data for tax purposes, track revenue, manage sales and stock – starting right from the dashboard.
For more advanced bookkeeping functions, you can integrate iZettle Pro with Xero.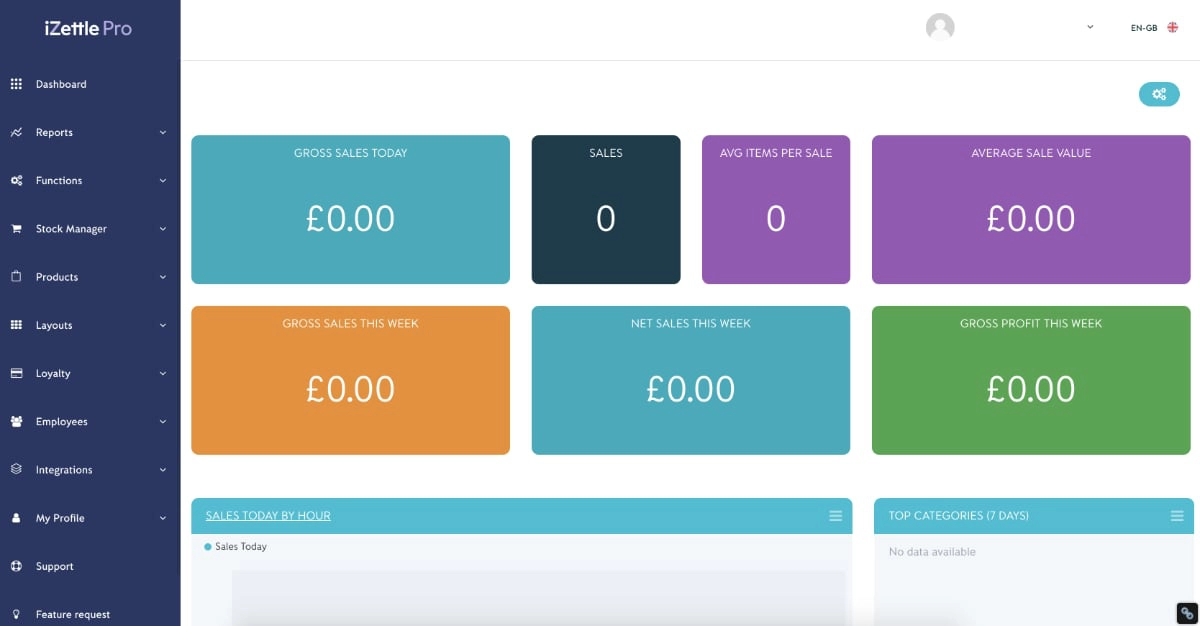 iZettle Pro's back office dashboard contains detailed analytics that can be customised.
Convenient customer support
While you only get weekday support with the iZettle card reader, the iZettle Pro subscription includes phone, live chat, email and online ticket support 7 days a week, 8am-8pm on weekdays and 9am-6pm on weekends. In fact, the live chat has been integrated directly within the iPad app to allow for a smooth experience when you need it on the floor.
The company also offers extensive support and training that go beyond their call lines and live chat – namely, iZettle Pro can install hardware for you in person. The prices vary, but a typical half day's hardware installation can cost £210 +VAT.
Features are great value for the budget-conscious.
Can work offline without a costly local server.
Customer support every day.
In-depth reports are available.
Easy to get started.
Could include more in-app guidance to make features more user-friendly.
Additional iPads will cost you more.
In-app reports are limited.
Table management functions could be more advanced.
Can't add images to products.